This post may contain affiliate links.
Travel is our passion and we made travel with kids our lifestyle and our business. We can show you how. We decided to travel the world with our kids to expand their horizons and education, 6 + years of non-stop around the world family travel later, we run this world travel blog and resource.
Our kids are teens now but we continue to travel and share the world through this site. Our offbeat life has had its ups and downs, but we wouldn't change a thing. It's been quite a ride!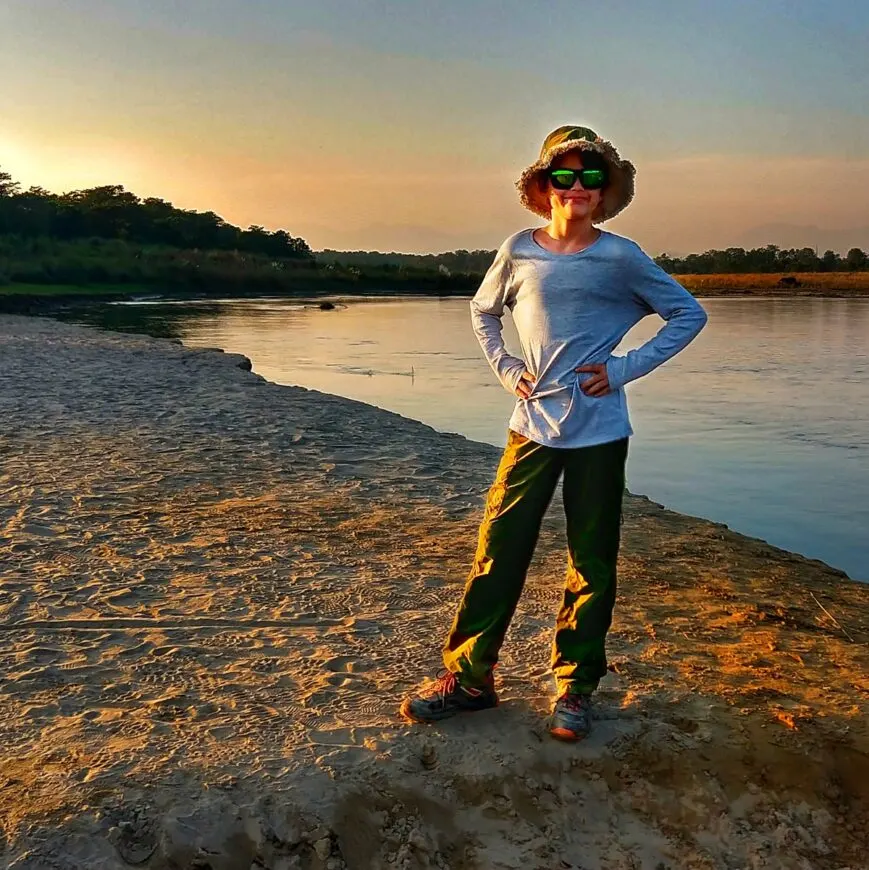 World Travel Family Travel Blog will help you plan holidays and vacations with your kids, (just search by location or use our places and destinations page in the top menu) and can also help you plan long-term, world travel, or gap year travel.
You just need to find the right section of our site and with over 900 pages – I might need to help you with that. I've shared some key links and pages below, or use the contents menu to find the information you need.
Family World Travel, Because Life is an Adventure
Travelling with our children has been the best part of our lives to date, and a key part of the children's education and development.
My son made the short video below to explain a little more, and introduce ourselves. If you let the videos play, they'll all play in succession.
Some are about particular destinations, from Tibet to Thailand.
We don't have videos on every page of this site but some do. We make about 50% of our living through advertising. They should play between videos.
Travel With Kids Tips and Information
What can we help you with on our site that relates to travel with kids and travelling the world as a family? Some ideas below as to how to travel more.
Travel or family travel in Europe, Australia, Asia, South East Asia, The Middle East ( Dubai), some parts of the Americas ( USA, Guatemala, El Salvador, some Canada), and Africa ( Egypt, South Africa ). For a better idea of the destinations we cover, visit our Places and Destinations page.
Long-term world travel with kids, the how and the problems of travel with kids.
Travel with teenagers, tips, destinations, and ideas.
Flying with kids – our tips and ideas.
Feeding kids abroad – what will they eat?
Insurance – this is the company we use for open-ended travel insurance
Vaccinations – our pre-trip jabs and our final decision to get rabies shots.
Mosquitos – tips for avoiding mosquito bites.
Are you planning long term travel or a family gap year? If so you want our family gap year section.
Please tell us in the comments what information you need me to add here.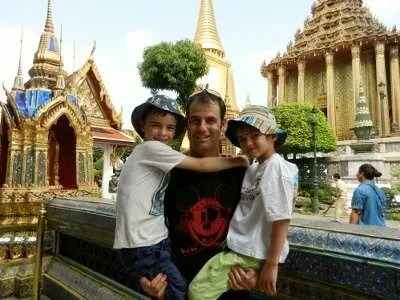 Is Travelling With Kids Safe?
We think it is. After 6 + years, full-time, on the road in over 50 countries, we're still alive and nothing too bad happened.
One of my major drives in starting this blog was to show people that the world can be safe, kind, and fascinating. There is too much fear, prejudice, and misunderstanding these days so our site isn't just about our family travelling the world, it's to reassure and help other families.
Why Travel With Kids?
There are so many benefits of getting your kids out into the wider world.
We have a video explaining why travel with kids.
We did it for the children's education. Maybe you just want a holiday, that's cool too!
What Travel Styles Work With Kids?
Most travel styles work just fine with kids. Our travel style has included backpacking (tips on backpacking with kids here), luxury resorts, camping, glamping, private islands, cruise ships, package holidays, hotels, villas, trekking, tours, and small group adventure holidays . We do it all!
I think parents just have to have reasonable expectations. Once you become a parent life changes. It will also be changed when you travel.
Finding Family Accommodation
Hotels, hostels, guest houses, and B & Bs have family rooms. It's harder to find family rooms than rooms for 2 and if you have 3 kids or more it gets harder again, but family accommodation does exist.
Maybe join AirBnb – you might want to rent an apartment or house, there are heaps on Airbnb, but they are also on the major platforms, like Booking dot com or Agoda. Watch out for extra cleaning charges on that first booking site.
Something else you may want to look into is home swapping, house sitting, WWOOFing and Couchsurfing, maybe even working or volunteering. See our post on how to travel for free for more information on those options.
How Much Does It Cost To Travel The World With A Family?
I'm going to give you a ballpark figure of $50 – $100 US per day for a family of 4. Obviously, it's a very rough idea and this is for budget travel or long-term travel.
A lot depends on the age of your kids. Can you still take up 1 child stays free deals? Are you happy to bed share? How much do you eat and of what? What countries are you travelling in? And so on.
In our first year we managed $50 / day in Asia but then by adding the UK, USA and 2 cruises, plus buying a lot of electronics, we came in at roughly $100 per day.
We still find $100 per day comfortable in most parts of Asia (not Singapore obviously) with teenagers. So that's my guestimate.
You may spend more, I'm not you and you're not me, but know that we don't scrimp and we like a few beverages. In Australia, London, Japan, this figure will at least double.
Keeping Kids Happy While Travelling
Maybe you're worried that your kids won't enjoy travelling? Well maybe they won't, but mine did and do.
My elder one pushes for adventure, my younger one still wants to visit theme parks.
They both love hotels with buffets. Cruise ship buffets are a particular favourite.
I think parents just have to make them enjoy it, fit in plenty of playground time, take them to the theme parks (there are great theme parks all over the world, Malaysia, Singapore, the US, Paris, Germany – we've been to them all! ) and splurge on cake and ice cream.
Your trip is as much for the kids as it is for you, so do what they enjoy. My kids hate beaches and swimming pools, they love snorkelling and scuba diving, they enjoy zoos and most museums, they like some art galleries.
Mostly they enjoy food, all and every food. Go to the countries with the best food for them!
You'll find stuff for kids to enjoy, everywhere. I hereby challenge you to find a travel destination that's not good to visit with kids, let me know! We've not found one yet, although Tibet was challenging.
How Do Families Afford To Travel?
How we saved for our first year of travel is in the posts below along with what that first year of family travel cost. The general rule for travelling families is – you make travel your priority, you cut unnecessary spending and focus your financial efforts on the travel.
What Travel Gear Will You Need?
Well, this depends on you, your travel style, your destination and how much you want to carry. Most people pack way too much.
Check out our travel gear page or our travel essentials page. You'll find posts on specialised activities like trekking gear on our site too. Just remember that, usually, you can buy what you forgot at your destination.
How is Travel With Kids Different to Adult Travel?
A very few hotels and hostels won't take kids. Most do. If you want to book a group holiday or tour, you may have to find special family tours, but on the whole, there are few restrictions as to where you can take your kids.
Our children have been to Everest Base Camp and to luxury resorts, they scuba dive and ski. Family travel really can take you almost anywhere.
We can give you some ideas and tips on the practicalities of travel with children. It's not a picnic, you have to adapt and change your travel style to accommodate them, but it is possible with maybe a little more slow travel and a little less rush.
Full-Time Travel With Kids: Our Story So Far, Briefly.
We travelled the world with kids and you can too. We travelled long-term, for over 6 years, we were what's called a nomadic or digital nomad family. There are more of us out there than you might think!
These days we take shorter trips, vacation style from various home bases. If you're looking for either style of family travel you found the right people.
My name is Alyson, I'm the creator of our family travel blog or website, my husband is Chef, for he was one, and the kids are D and Boo. This site belongs to us, our family, we make it ourselves.
My husband and I had the idea so we sold the "stuff", I created a website and we set off with our backpacks. This is a tale of travel and freedom, of education and adventure, of ultra-budget to luxury, leading to a new profession and a location independent lifestyle.
If you don't want to read our story that's cool, just hit one of the links above, but here it is. It's rather long.
We travelled from the UK to Australia in with a toddler and a baby. They were both born in Twickenham but mostly we lived in Richmond London. A few years after moving we started getting inspired to change our lives, we learned that travel is cheaper than staying home and would give our family greater freedom. We started saving.
In spring (northern hemisphere spring) of year 1 we left to travel full-time. In our first year, we lived our lives in Malaysia, Thailand, Laos, Sri Lanka, England, and Wales before taking an Atlantic cruise to New York.
We road-tripped our way around the USA and visited Canada. El Salvador followed from Florida and we travelled overland to Guatemala before returning to Florida for our 2nd Atlantic cruise back to Spain.
From there we returned to London for a change of pace and family re-unions. All of our first year of travel was paid for with savings.
This could have just been a family gap year, but we didn't want to stop. We worked and regrouped in London, our home town, determined that our new travel lifestyle must continue. Chef worked, I blogged, we figured it out.
At the start of year 2 we set out for Turkey and Dubai, before boarding a cruise ship to Singapore. From there we headed to Bangkok before spending a month travelling around Cambodia and then a month in southern India creating our India Travel Blog section.
We were desperate to return to Nepal after completing the Annapurna circuit trek years ago, unfortunately, the tragic Nepal earthquake saw us change our plans, instead, we headed to Romania and fell in love with this country. We put a deposit on a house there.
After enjoying a Romanian winter and ski season we headed to one of our favourites, Sri Lanka, via Dubai, in January.
February saw me fulfilling a life-long ambition, to get close to Mount Everest. Trekking the Everest Region of Nepal with kids was spectacular, a couple of years later we went all the way to Everest Base Camp. We hung out in Pokhara and Kathmandu, where we met Prince Harry. A short stay in Dubai and we were back in Romania for spring.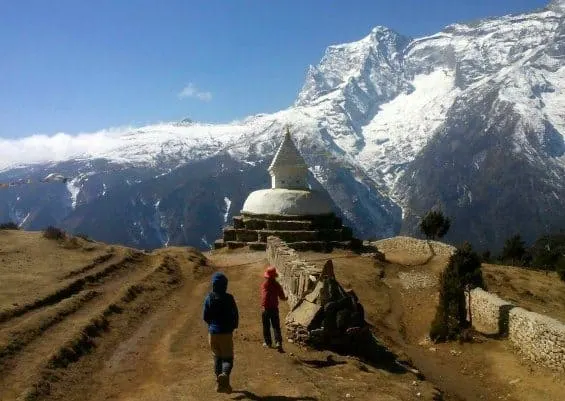 One of the joys of being based in Europe was the freedom to travel easily by land, driving from London to Romania is something we did often in our much-loved TARDIS blue truck, she was called Sexy, stopping wherever we pleased (or where she broke down) along the way.
May took us to Greece, summer to our home in London, autumn to several European countries and November to Thailand. Christmas, meant Romania to us.
The next year we visited Egypt because the kids just love Egyptology.
In years 6 and 7 we headed back to Nepal and Tibet after leaving Romania, maybe for good. By Christmas of year 6 we were back in Australia, but not for long! Within weeks we were back in Asia but also taking the chance to explore more of Australia.
This is where I stopped counting in years. We can't really claim to be full-time travellers any more after setting foot in our original home.
Bookmark to Pinterest, spread the word!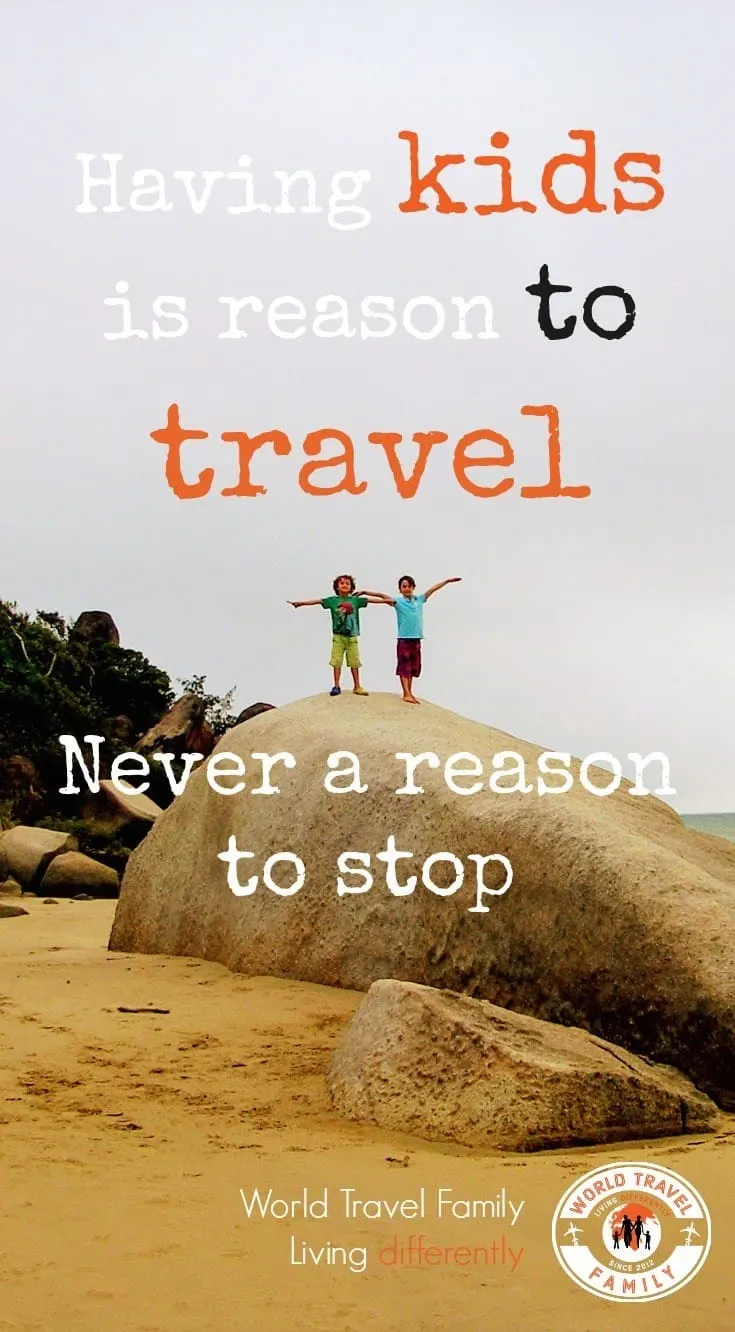 About This World Travel Blog
On this blog you will find stories from life on the road as well as in-depth factual destination guides, tips and personal experiences. We can tell you about snorkelling on the Great Barrier Reef or about trekking in the Himalayas. We cover money, blogging, health, family life and, of course, travel and education. The blog started as my hobby.
Blogging has opened doors for us and we are now offered amazing opportunities within the travel world. This blog isn't just a family travel diary, it's one of the biggest in the world and the exposure we can offer to big companies is valuable to them.
If you're new to the world of travel blogs you might not know that it's an industry. If you're interested we have a blogging section.
We get to share the world with you and with our kids, we promote, plan, educate and publicise. It's the best job in the world.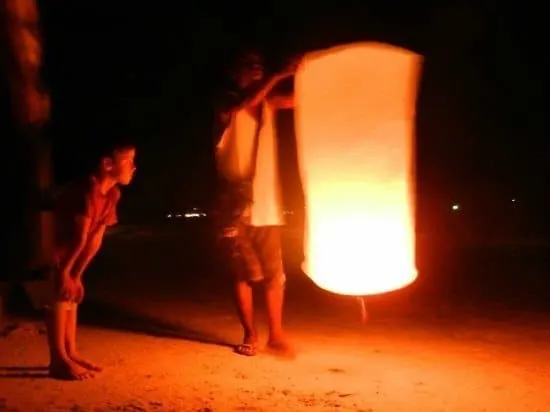 Travel With Children is Hugely Beneficial
Travel with children adds a whole new dimension to any trip. Parents can enjoy more by seeing the world through a child's eyes and witnessing their enjoyment.
Seeing things through children's eyes is magical and it is so, so good for the kids. Our boys are grown-up teens now, but we've been through all of the stages of family travel, babies, toddlers, preschoolers, tweens to now. Kids of any age can be a joy to travel with but, sadly, some adults don't see it that way.
People can find the idea of setting out into the world with just a backpack or suitcase a little scary. Add children to the picture and it can look impossible, but it's not. All of the information you need to travel is available here on our blog, for free. I will never sell a course.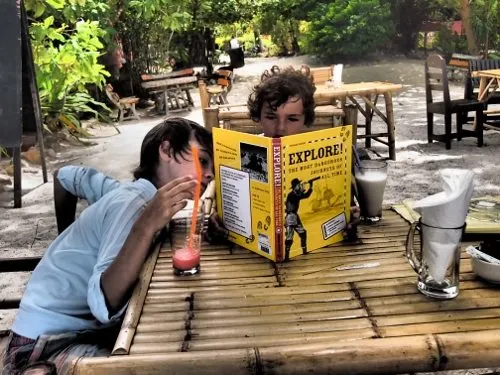 What Do Travelling Children Do For School?
The children don't go to school. We were registered as homeschoolers 2 years before we left Australia and it was working brilliantly despite the paperwork. We then homeschooled under the British system, which was far less troublesome, no registration or forced curriculum required.
The kids followed online university courses and worked on their own, and our, income streams, plus volunteering in various ways. We hold the Google #1 spot for all things homeschooling and travelling and we're prominent in world schooling too.
We can share with you help and tips on the most educational destinations, the places that will open your children's eyes and brains and support on your own alternative education journey. There is education everywhere, you just need to see it.
Think about this, computers weren't around when I was in school. In the last few years, I've taught myself to create websites and manage them and how to be an online marketer as well as a writer. I get paid to travel and to write about it. Were there any teachers or classrooms involved? No. So tell me why kids should need them?
This story is not at its end yet, my children are still in full-time education and will be for several years to come. Unless they have another plan or business idea, they will be entering tertiary education. One is in the midst of iGCSEs, the other will sit them soon. The pandemic grounded us, we were bored, so I put them in an online school. That turned out to be a great move. Read why we stopped homeschooling here. I never planned for them to sit exams, we never worked towards that goal, but they did and did well. We proved that all those years in a classroom aren't necessary at all. That pleases me immensely. In my estimation, the "worldschooling" didn't affect academic outcomes at all, in either direction, but it opened their eyes and shaped their outlooks and relationships. They also had the best childhood you can possibly imagine. Read what the kids disliked about travel here.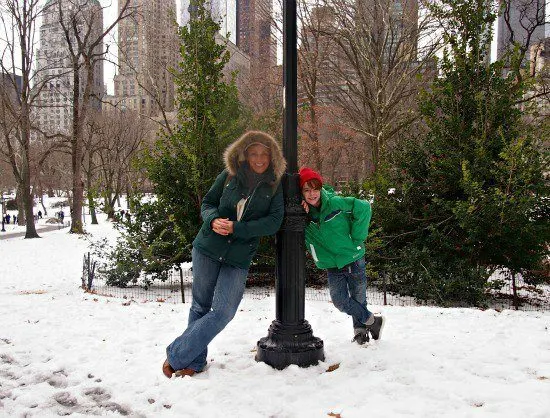 How Do We Afford Long Term Family Travel?
Extreme budget travel was how we started, but those days are largely gone. Minimalism, savings, working hard, finding the best bargains and making money online are part of the story. The big secret is to make travel your priority. This journey isn't just about travel, it's about finding full financial and location independence. We were digital nomads, a digital nomad family. I had no skills in working online when I started this site, but we figured out how.
Will We Stop Travelling?
I don't think we ever will. We will keep travelling for as long as we're enjoying it and as long as we can fund it. This started with a one-way ticket to Malaysia and that is how we continue, we're fairly unplanned travellers.
We have created a lifestyle that works perfectly for us, one of travel at all budget levels, and of physical rest and intensive work (that means studies for the kids) in home bases we love. I adore my new job, the kids are happy, Chef loves his travel and Ironman events. This life is too good to stop.
So what about you? Is this the lifestyle you're looking for?
Travel With Tweens and Teens, Toddlers and Babies
We've done this family travel thing for years and methods constantly change. We can help you travel with kids of any age because we've done it.
With older kids you can take on more adventurous destinations. Our kids being older means we travel for work more and let the boys guide our path more often. It's good to let the kids be involved and very soon they'll be off travelling without Mum and Dad.
The kids are a part of the World Travel Family Travel Blog team. They help with all aspects of our business and because they are more independent I have more time to work. We focus on a few favourite countries, so sometimes our travel is to get to know every aspect of a country, for the website and to help you. We're out in the world researching, as well as enjoying and learning.
Travel Resources We Use To Make Travel With Kids Affordable
We usually browse online accommodation booking sites to find the best deal. However, sometimes we don't book in advance, we wing it, this is much cheaper in Asia if you are comfortable with this style. Our preferred online booking site for Asia is Agoda.
This is the only travel insurance we can use, and it's great.
For car hire we use Holiday Autos to compare prices and find the best deal.
In the USA we swear by Wyndham Rewards and Priceline.
Sky Scanner is our number 1, every time, first stop for finding flights. Compare all cheap flights with Skyscanner and find your best day, best destination and best airline at a glance. I've written a post about our tips and tricks for using this flight engine like a ninja.
Very occasionally, for longer-term apartment rentals, Airbnb works out cheaper, mostly we find cheaper hotels give us better value. Airbnb works best for long-term (1 month+) stays. We've recently found good deals on there outside Asia, particularly London apartments and also in Egypt. We rented one of our rooms at home through Airbnb to help us save to leave. Airbnb is something you have to sign up for, we're rare Airbnb users, we prefer Agoda and Booking dot com. The same apartments are often on these platforms
We've tried Housesitting but rarely do it. We don't couch-surf but we do host couch-surfers at home. We like to pay our way and not be reliant on others.
When we're looking for cruise ship bargains we often check Cruise Direct and the Cruise lines' own websites, and keep checking, prices fluctuate hugely with demand. We have a post on finding great cruise deals. Our cruises worked out cheaper than flying.
Enjoy Our Website – World Travel Family – Family World Travel
I was born with wanderlust and I met my husband through travel . Having children slowed us down for a while, but once the boys were 6 and 8, they were ready to get a lot out of an adventure. We built this family world travel blog along the way.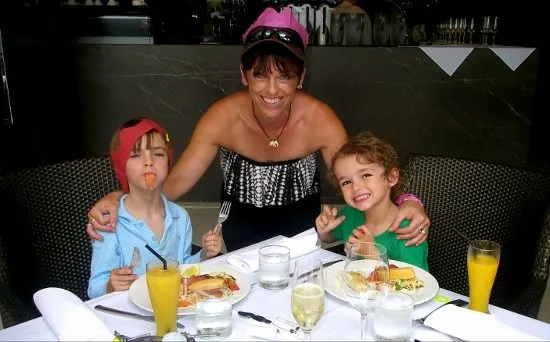 Thanks for visiting, I hope I can inspire or encourage you to try long term travel, or any travel, with children, or without, maybe to more challenging destinations. I'm just a Mum with a passion for my family, travel and, education. It's not such a big scary world out there and anybody can travel with children if they want it badly enough. You can follow our family adventure and plan your own through our infrequent newsletters, alternatively, there is Facebook, Twitter, Instagram, or Pinterest. We're not big on Instagram and we don't really do YouTube, our website is where you'll find us but having followers, particularly if they share and like, helps us directly. Thanks for reading, hope you come back soon.
Try our Travel with Kids roundup page or choose from our Travel Destinations page.
If you'd like to hire a car during your stay, use this car rental comparison tool to find the best deal!

We also suggest you take a look at this company to get a quote for all kinds of the more tricky adventure or extended travel insurance.

Try Stayz / VRBO for an alternative way to find rentals on homes/apartments/condos in any country!