This post may contain affiliate links.
In this India Travel Blog page, we'll try to prepare you for India and give you some tips to make travel easier, smoother, and less stressful.
We'll also give you a few ideas on where to go on your India trip, which amazing attractions and places to see, and how to get around India.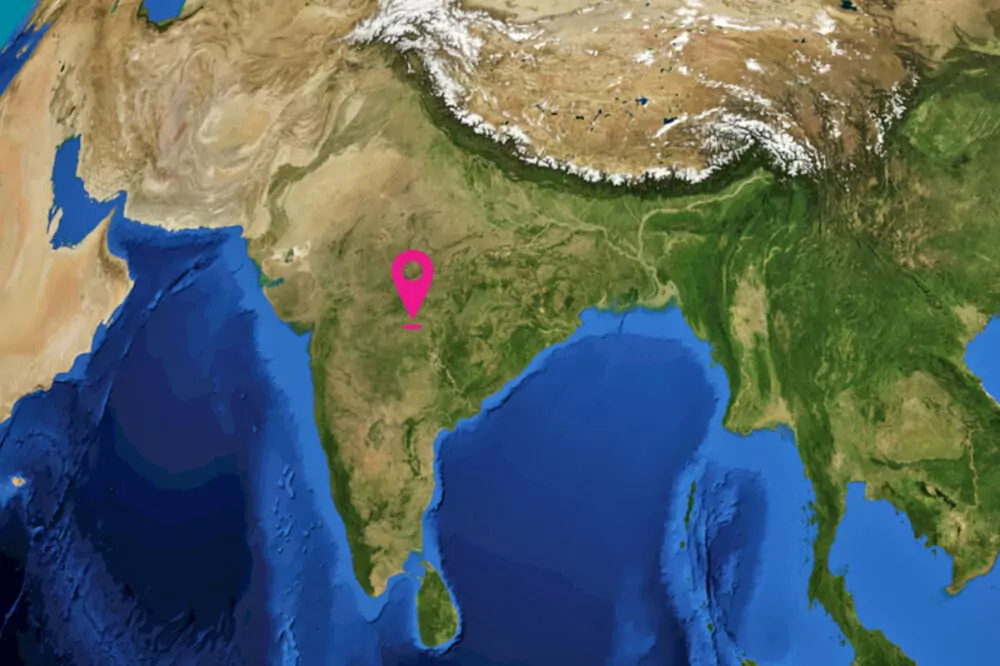 India is a fantastic country, I absolutely love it and can never get enough. Many feel the same but others never visit put off by perceived difficulties.
Travel in India is challenging, even more so with kids. Travelling around the country of India and learning more about Indian culture are fascinating and immensely rewarding.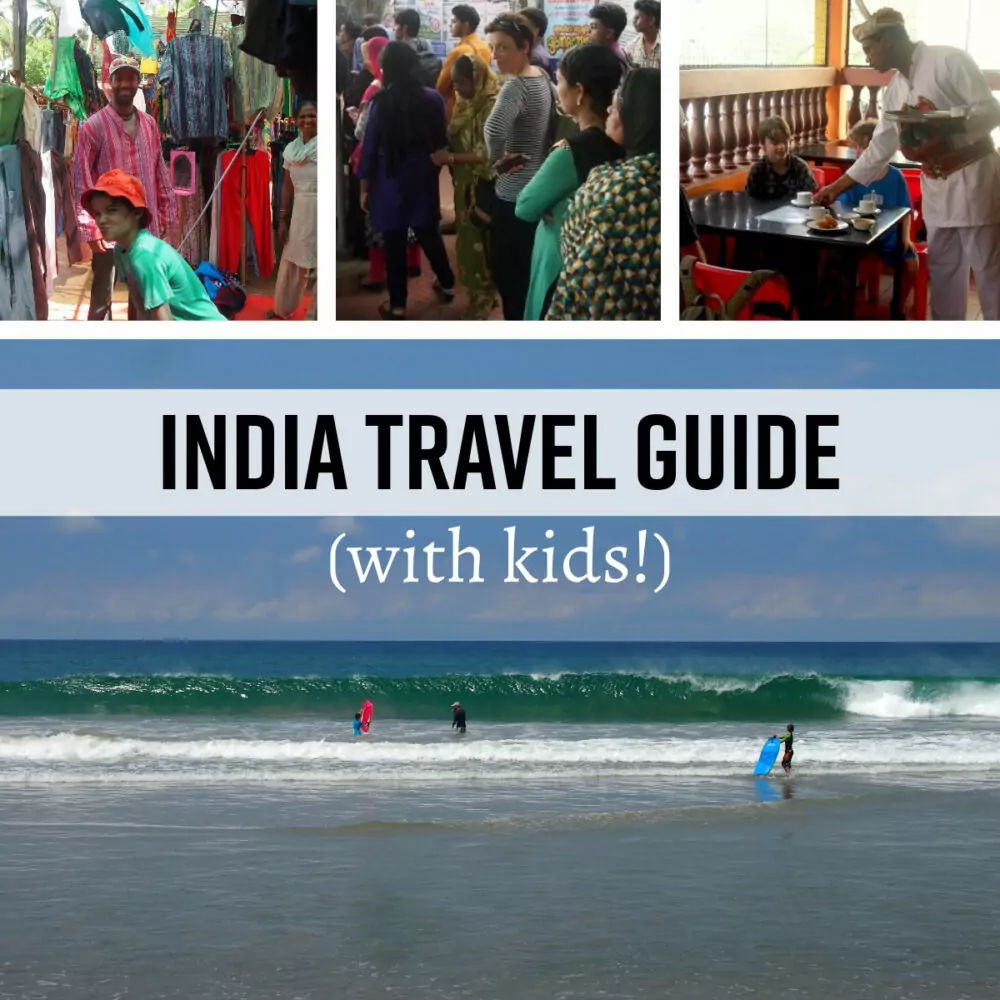 We've enjoyed 20 years of India travel, as couple travellers at all budget points, ultra-budget to luxury, and as a backpacking family.
We've taken package holidays to Goa, spent months exploring the country as independent travellers, and, most recently, backpacked around India for a month with kids.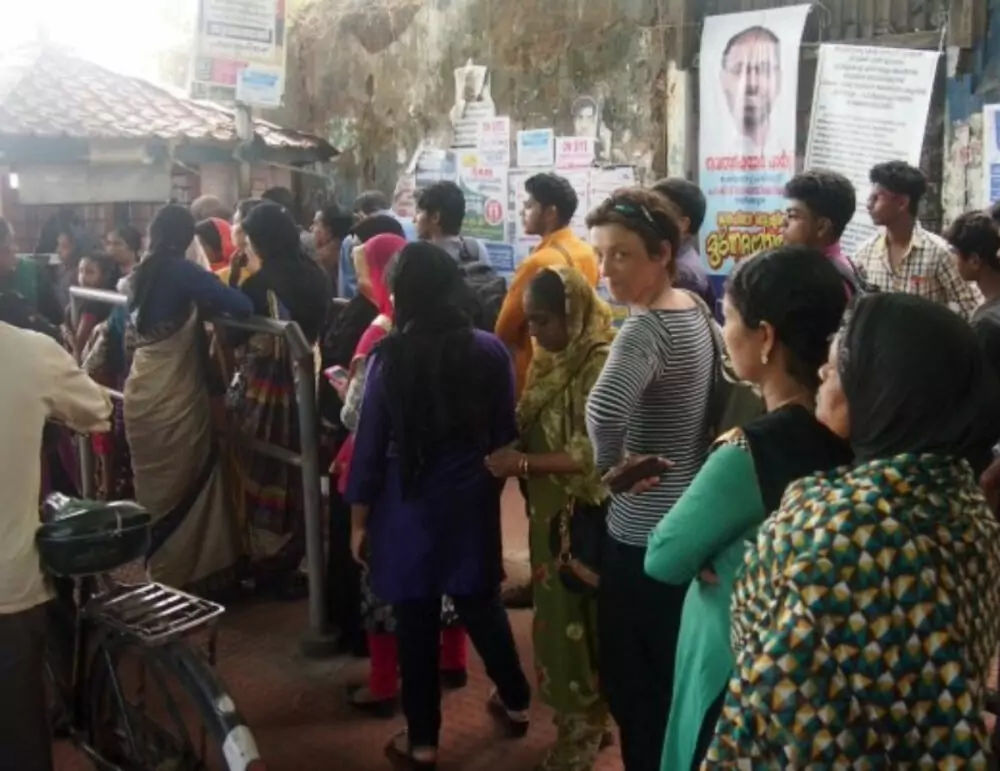 India with children is quite an experience.
You'll find many travel blogs about India, some written by Indian travel bloggers, ours is from the perspective of Western travellers, but it is genuine, we have spent months in India.
We're here to help you with that. Welcome to our India travel blog home page, family travel, with kids, or otherwise. We want you to love India as we do, to be prepared, and to have your best trip to India possible.
Welcome to my favourite country!
India Travel Blog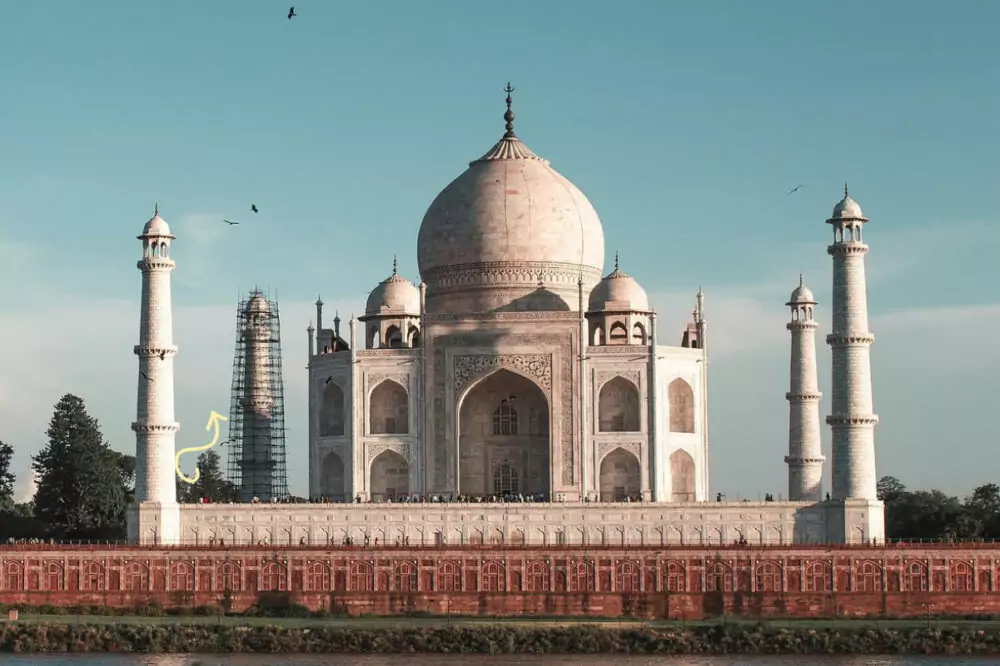 Highlights of India
India has some incredible world-class attractions that most visitors will want to see. Some of these include:
The Taj Mahal
The Beaches of North or South Goa including Anjuna Market
Kerala's Beaches and Backwaters
Mamallapuram
Wonderful Fort Cochin, Kerala
The Dalai Lama's residence in McLeod Ganj
The Golden Temple in Amritsar
The Ancient City of Hampi
The Wonderful Cities of Rajasthan
Varanasi and mother Ganga
Mumbai for The Gateway to India, Elephanta Island, and Mumbai itself. Formerly Bombay.
We've been to them all, except, would you believe, The Taj Mahal.
I honestly don't know why we've never been.
India is a huge country and has it all, beautiful beaches and quiet backwaters, arts, crafts and culture, great food, fascinating peoples and religions, and of course, incredible history and heritage.
You can even find snow and skiing in India in the Himalayas which lie to the north. Parts of India that we already cover on this website include:
Kerala's Beaches and Backwaters. We post about Kovalam Beach, we were there quite a while.
Kochin or Kochi. Our Post is about staying in Fort Kochi Kerala.
Mumbai and Elephanta Island
Mamallapuram chilling in lovely Mamallapuram famous for stone carvers and The Shore Temple. Mamallapuram is also considered a beach destination and is south of Chennai, Tamil Nadu.
Hampi – Our Post is on Hampi to Goa and includes visiting Hampi.
We have visited far more of India and we're adding more content every day.
Travel in India With Children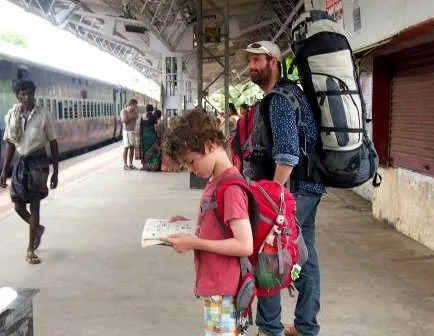 My children were 8 and 10 when they first visited India.
We knew what to expect and we grown-ups thought we were expert enough at this part of the world and travelling with our kids, to get them around the country without traumatising them too much.
The boys had briefly visited Mumbai and the Kerala backwaters already, both wanted to return and loved the people we met and their "happy moustaches."
We did OK, but we had some tough times.
I'm talking about long-term independent travel here, backpacking, if you like.
If you visit India with your family on a package holiday or on a more structured trip based around resort hotels or a tour of the cultural highlights, you'll experience a much smoother ride.
That first trip was an amazing experience for the boys and it was a joy for us to share it with them but I have to be honest, I would not take much younger children to India.
People do, and Indian children live there and survive just fine, but I wouldn't be comfortable with it.
Certainly not before the children are old enough to stop putting objects and fingers in their mouths.
If you're just going on a short 2-3 week holiday, fine, no problem, or maybe taking a guided tour with air conditioning and transport pre-arranged, but longer trips with constant moving around, no, it's not for very small kids.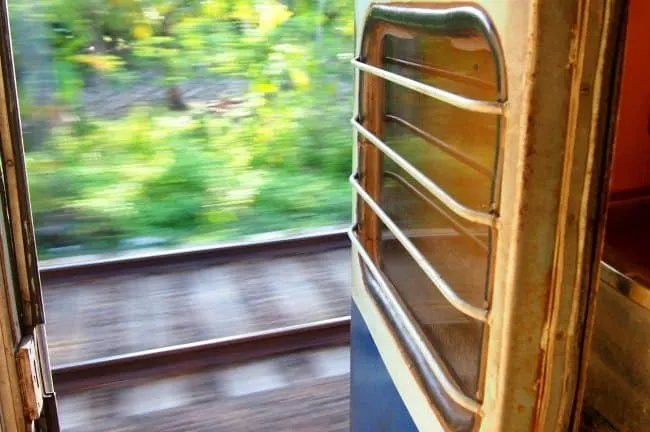 I have many reasons for saying that, the intense heat could be too much for them, the safety concerns on trains and buses, the restricted diet that inevitably causes weight loss and decreased immune function, tummy bugs and high fevers that little ones just can't cope with.
Also the constant crowds and sensory bombardment.
Children are more likely to feel culture shock, something I've never felt.
A lot depends on the child, I have one highly sensitive son, he struggled at times, particularly on packed trains.
The other was absolutely fine and "got" my love for this country.
He's picked up the India bug, just like me.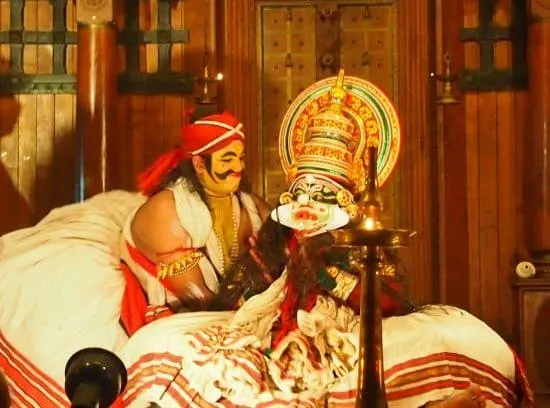 I love India and even I find it hard some days, every visitor to India has times when they want to flee. But most always want to return.
Hotel and guest house conditions at the backpacker end of the market generally weren't great.
We had nights where we sweltered in power cuts on greasy pillows in Mamallapuram, rooms with more holes in the windows than glass to allow in ravenous mosquitos in Hampi, long journeys, break downs, packed trains, sea snakes, bucket and scoop bathrooms, and a good measure of grime.
Of course, the thing that worried the kids most was the very on-off wifi and power situation. Squat toilets are less troublesome than no internet.
At first, the boys didn't want the food and were pretty unhappy with us for not providing cereal and pizza, but they got used to it.
I wouldn't say they ever truly loved Indian food, outside of the delicious non-spicy carbs like naan and chapatis, but they were cool with it by the end.
One of the kids is very sensitive, he hated to see beggars and disfigurements, stuff like that really upsets him.
He also didn't like being crowded by curious strangers on trains and buses, but he coped.
We saw one or two people with very disfiguring leprosy, some child beggars working the trains.
He really empathises with these people and feels some of their pain.
As a mum I worried more than usual, filth levels are high in parts, particularly on trains and I was forever cleaning grubby hands. In the end, just my younger son and I got sick, quite badly.
This was my first ever sickness in India, but he recovered from high fever, nausea and vomiting in lovely Kovalam far more quickly than his mum.
Goa and Kerala were pretty easy, particularly Kochin which is very developed for up-market tourism.
Hampi was probably the toughest, but they did love touring the Hampi ruins riding shotgun with our tuk-tuk guide.
There were plenty of good times too, so much to see and experience and we rounded off our trip with a week on the beach, bodyboarding and swimming.
It was a great experience for them and they're glad they got to see some of India. Would they willingly go back? They're not keen. D did once say that I'd have to drag him back to India kicking and screaming.
But that was a few years ago, I think he's changed his mind now.
Getting Around India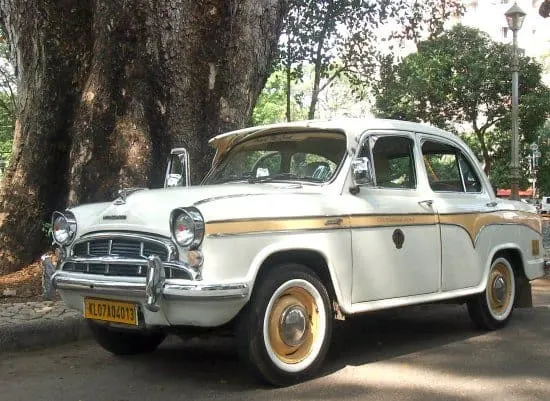 These days it's easy to fly between cities, but most backpackers still use the excellent and remarkable train system.
The railways are complex in India and the booking system, along with the class system of the carriages, could cause the inexperienced a few headaches.
We love travelling by train. Train travel in India is an experience in itself and one not to be missed, but you need to know the system.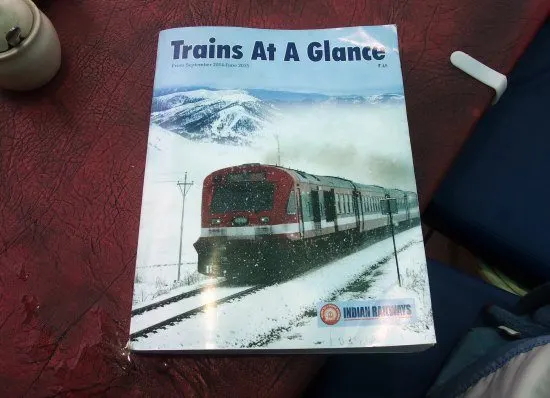 We'd suggest, that if you have limited time to get around India and a set itinerary in mind, you book major train journeys well in advance, the trains fill up with India travellers at peak times.
On our last trip we were totally unable to get on a train to the north, they were all full.
Single travellers would be fine, but as a family of 4 needing sleeper berths all together, it proved impossible.
Buses can be fun, as can tuk-tuks (rickshaws). Look out for the different styles of motor rickshaw you'll find across India, some are quite bizarre.
You can get a taxi, the old Hindustan Ambassadors still exist but are rarer nowadays and in some cities, you'll even find bicycle and foot rickshaws.
Take your pick, transport is cheap, but may not be outstandingly safe, the death toll on Indian roads is the highest in the world.
Get More Out of Your Trip, Read Before You Go.
Books on India for Adults.
Books on India for Kids.
There are many, but just to give you some inspiration, here are a few. There are some great movies and documentaries you could watch before your trip, too. Preparing kids for travel in India is a good idea, but more so with India, for them to make sense of the country as it unfolds before them.
Food in India
Food in India is sometimes superb, and sometimes terrible, it's the same in every country.
Indian cuisine is one of my own world favourites, I prefer the light vegetarian dishes of the south, my husband (the chef) enjoys the heavier, meatier dishes of the north.
These northern dishes are the dishes you'll be more familiar with from western Indian restaurants and one of the joys of travelling around India is observing how regional foods change.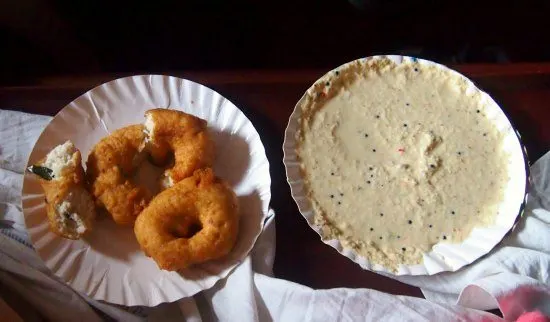 In most towns with a tourist industry, you'll find western food easily if that is what you need. Menus will list all the backpacker favourite, banana pancakes, toasted sandwiches, even pizza.
I'm very cautious about ordering anything that hasn't been cooked to a very high temperature in India so we tend to avoid western dishes.
Occasionally, in small towns and on trains, you'll be faced with a bewildering selection of foods you've probably never seen or heard of before. The good news is, it's usually delicious. The other good news is, train platform shops sell biscuits, crisps and chocolate.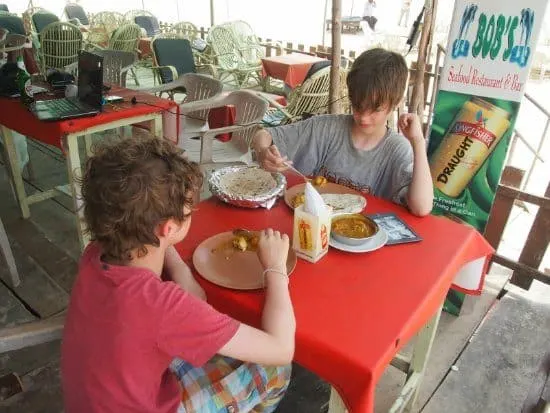 At times we struggled to find food for the children. They developed a taste for Indian dishes as the month wore on, but they ate a lot of omelettes and pancakes for the first few weeks. In a couple of places, we couldn't even get them that and they grudgingly had to put up with dosa, dahl and chutneys for breakfast (my favourite!).
The turning point came in Colva, where a lovely guy from one of the beach shacks cooked them a "special" chicken massala for lunch. They never looked back after that.
Coffee and tea were a major problem for me. Chef and the kids love chai, it's hot, sweet, and milky. My worst nightmare. Black tea and black coffee were almost impossible to find, you certainly won't get it on the trains.
Visas for India
India is one of the more difficult countries when it comes to visa applications although things are starting to improve. I can't cover visa regulations for every country on the India travel blog page, but I can start to give you ideas. Things change, please double check.
In the past we've spent weeks (on UK passports) procuring Indian visas, visiting the London Indian Visa Application Office, picking up the paper forms, filling them in, getting the exact right size photos at higher expense, submitting birth certificates and family history for the children, providing a letter of authorisation from my husband as he wasn't travelling with us. Then on top of the hassle, the visas cost a fortune. It was not fun!
The High Commission of India no longer handles Indian visa applications. Now the Indian Government has introduced an e-visa on arrival system at most airports. It's still not straightforward and only certain airports are involved in this system (see link above). You do need to apply online and pay before arrival. This E-Tourist visa is valid for 30 days.
Obviously, the degree of visa hassle depends on which passport you hold, Australians have had the visa on arrival available to them for longer, Americans need to check US regulations. The system is incredibly complex.
Alternatively, various online Indian visa agencies exist to smooth the process of gaining your Indian visa. They can check your application for mistakes or omissions that could lead to you having to re-apply at your own expense.
What is the Best Time of Year to Travel in India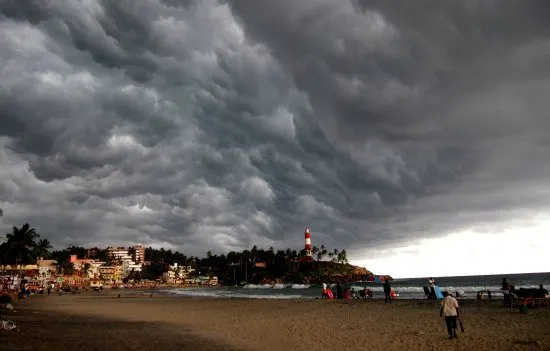 India is a huge country with corresponding climactic variations, so any time of year can be a good time to visit.
Some will tell you not to visit in the hot pre-monsoon period. We'd disagree, we've been in Rajasthan and Southern India and that time of year, yes, it was hot, but we still had a great time.
Travelling off-peak will save you cash too.
I've never experienced India during the monsoon (wet season), which starts in May in the south and then works its way north and east over the next 6 weeks, but it's something I'd love to see.
Chasing The Monsoon by Alexander Frater gave me a fascination for this weather system, I'd love to experience it for myself and highly recommend the book.
Diseases, including malaria, are more of a risk during the monsoon and flooding is a possibility, so maybe this is only for risk-takers like me.
Electricity and Internet in India for Travellers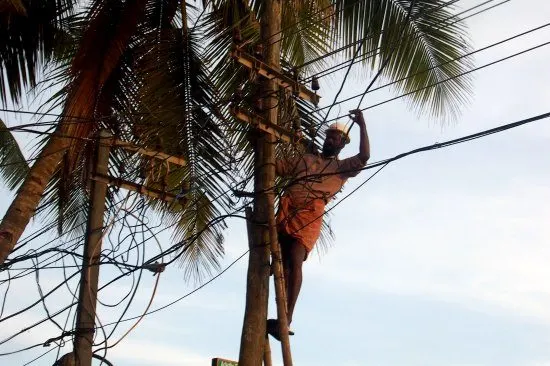 Powercuts seem to happen all the time in India, everywhere we've visited.
When the power goes out, so does the internet (often along with fans or air conditioning), not much fun when you're putting an India travel blog together.
I can't speak for the whole of India, but this has been our experience so far. Sometimes generators kick in when the power goes out, sometimes not.
We found Indian internet connections to be slow and unreliable. Not good news for people like us, we are digital nomads, travel bloggers, our wifi connection is vital for our business and the kids' worldschooling endeavours.
The best speeds we found were in Kerala, but every power cut (often brought on by thunderstorms) would knock it out.
The figures are here, India has the second slowest average connection speed in the Asia-Pacific region. This list puts India in the 15th position for download speeds in Asia.
Indian electricity sockets supply 250V 50Hz ac and have 3 round holes in a triangular configuration, or, sometimes, 2 round holes.
In order to get a 2 pin adaptor into the 3 hole socket, we had to use a pencil in the top-most round hole (the larger earth connector), this lifts the protectors to the bottom two pins.
It would be far easier to buy a dedicated Indian adaptor. This one, converts UK plugs to Indian sockets and has the tricky 3rd pin. I'm looking for US and Australian versions.
Vaccinations and Getting Sick in India
Mild bouts of traveller's diarrhoea are inevitable in most countries and are nothing to worry about.
Our experience with sickness in India is as follows, my husband was very sick in Varanasi and Calcutta on our first 3-month backpacking trip.
He was in bed for several days with pain, diarrhoea and vomiting. We didn't seek treatment, he got better and now thinks he may have had Dengue.
On our last 1 month trip, my younger son and I both had something that gave us severe diarrhoea, pain and fever for a couple of days. My travel thermometer told me we had fevers of 103 °F plus. We didn't seek treatment.
And that's all, nothing else. The sickest my boys have ever been was in London with norovirus. You can get sick everywhere.
Travel vaccination and malaria advice vary. Before we left on our last trip my GP told me that malaria prophylaxis was now unnecessary in India (excluding the far northeast), so we didn't give it a second thought.
The most important thing is to avoid mosquitos.
On our 3-month backpacking trip, we took nothing for malaria. Yet years ago we were prescribed antimalarials for 3 weeks in Goa.
We have never had a rabies vaccination. (Update: we have since, see why we finally decided to get rabies jabs) Rightly or wrongly, we have had most travel vaccinations, but not Japanese Encephalitis.
That's just what we do. Do your own research and do whatever you are comfortable with, nothing will spoil your trip faster than worrying about health every day.
Can You Drink The Water in India?
No, not at all. We don't even clean our teeth with it.
It's not just bacterial contamination you need to worry about, there are other pollutants, metals and chemicals too.
Years ago there were reports of bottled water being unsafe to drink in India because of unscrupulous producers. I heard stories of people re-using plastic water bottles and buying machines to re-seal them after filling them with tap water.
I can't find any recent information on this.
We drank bottled water everywhere in India, it was easy to get and always looked fine.
Keep an eye on the caps, make sure they are properly sealed. These days I would advise you against plastics, take your own reusable water bottle with either chlorine (or other water purification tablets) or something like a Life Straw.
What To Wear in India?
In India, above all other countries, be mindful of what you wear.
For me, this means long trousers and a flowing long-sleeved top.
My husband and the boys fit right in with the Indian men depending on where we are.
In the south, my husband often wears a lungi (a sarong of sorts) but this is terribly out of place in the north.
Mostly they wear jeans and T-shirts, the same as the locals.
I wear jeans, constantly, I've spent years in the tropics and find them comfortable in the heat.
You will probably prefer something a little more loose and airy in natural fabrics.
I'm not a fashion expert, I'll just stick with my jeans. Natalia has written a far more in-depth post on what to wear in India.
I'll warn you that being properly dressed is no protection against being groped, they call it Eve Teasing, it will probably still happen.
It even happens to me at my age and did on this last trip.
That's all I've got for you right now, I'm still working on this India travel blog page. Please let me know, what do YOU need to know about travel in India? Stick it in the comments. Thanks!
If you'd like to read more about travel in India, including blog posts on the destinations we have visited recently go to our India directory page here, or see the related posts, below.
If you'd like to hire a car during your stay, use this car rental comparison tool to find the best deal!

We also suggest you take a look at this company to get a quote for all kinds of the more tricky adventure or extended travel insurance.

Try Stayz / VRBO for an alternative way to find rentals on homes/apartments/condos in any country!