This post may contain affiliate links.
Arriving in Mamallapuram (Mahaballipuram) on the west coast of India by bus from Chennai, we set about finding lodging and enjoying the sights in this beach-side town. What is Mamallapurum like? Where should you stay? What are the things to do in Mamallapuram? This post is our Mamallapuram travel blog and we'll touch on those things, but mostly, it is our story of our travels in India.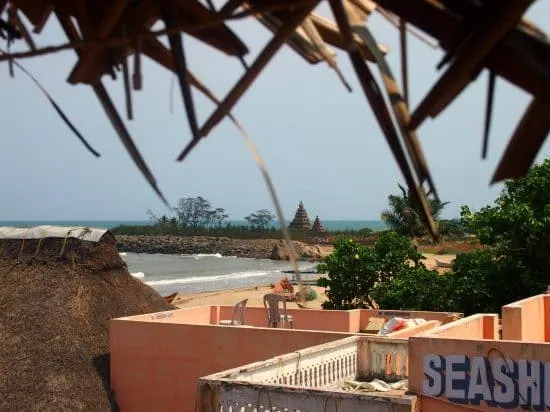 Mamallapuram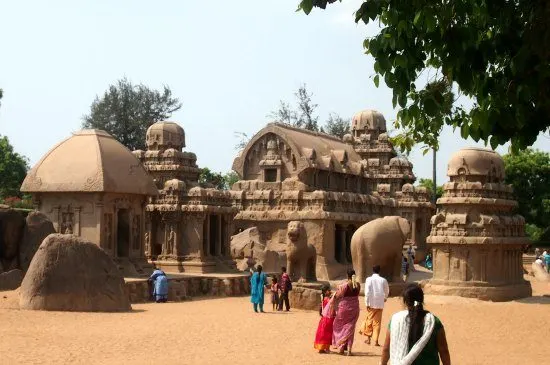 I'm making no secret of the fact that I was worried about this India trip. Anxious, wound-up stressed and tense too. Mamallapuram has knocked most of that out of me.
On our first night in Mamallapuram things didn't go so well (the first day in India post is here) we were too hot, badly fed, caffeine-deprived and exhausted.
Happening upon Sea Waves Guest House and Carrie the next day turned the trip around for us. Her guest house was cleaner, the sheets and pillowcases were freshly washed, (in the other accommodation they felt like they'd been used a dozen times already), and we felt comfortable with leaving the window open at night to stay cool. They weren't completely mosquito screened, but Velcro to hold net curtains in place is a genius idea.
The shower didn't work so well but washing India-style with a huge bucket and scoop is totally fine by me and the bathroom stays clean and washed down .
Our balcony had a swinging wicker chair and views of beach and fishing boats and on the next floor, a flat roof with shady palm frond thatch gave us space to relax in beautiful sea breezes. We could dry our washing, work, skip, paint, chill and talk with views right down to Mamallapuram's famous Shore Temple.
Mamallapuram (also known as Mahaballipuram) is famous for ancient stone works. If it's made of rock, it's got a carving on it in this part of the world.
There are literally dozens, maybe more, of sites, sculptures, temples, caves and beautiful intricate ancient whatnots wherever you look.
Normally I do a bit of research and give you dates and names for local attractions, but I'm working offline and this is a journal post, not a post made to draw search traffic, so I can only tell you that they're around 1500 years old. The information-packed posts will come when I have more time, India is making us be more in-the-moment, and that's a good thing.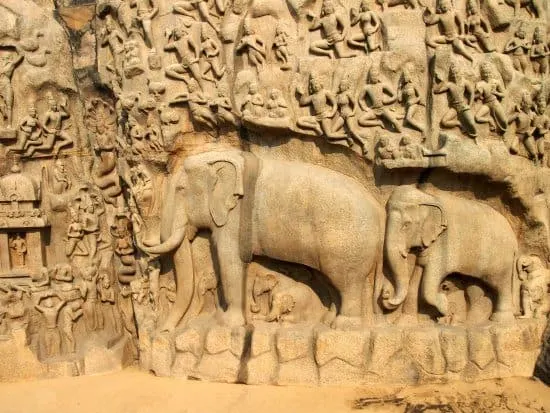 The stone carving tradition is kept alive today, this is a centre for stone masons, producing magnificent art works of a size small enough to hang around your neck or mammoth enough to decorate your garden or hallway.
Backpackeristan Mamallapuram
The streets in the backpacker part of town, near the beach, are lined with shops, eateries and guest houses, all aimed at us, the budget tourists. The Lonely Planet calls it Backpackeristan, I think the Lonely Planet needs to get over itself, it's lovely.
Sure, most of the shops are selling trinkets from Nepal and Tibet, but why not? They're beautiful. You can fill your bag with clothes and souvenirs and order food from most corners of the world.
We were very happy with omelettes and pancakes for breakfast and Indian vegetarian food in the evenings.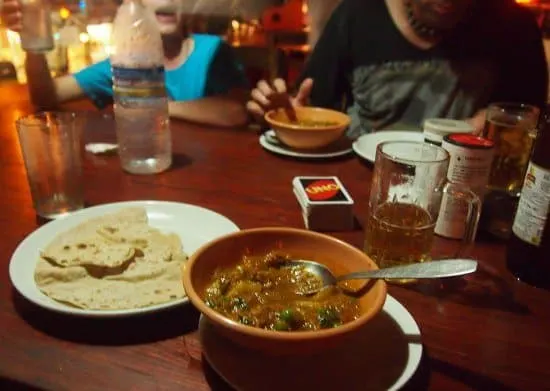 Mamallapuram also has a more upmarket tourist industry, some big resort hotels and package holiday destinations can be found further along the beach. The hotel based tourists wander into town sometimes, but while we were there (off season) it was very, very quiet.
Mamallapuram – Relaxing
I always find that things go better if you let your guard down, if you accept that people are there to help you rather than rip you off. We HAVE been ripped off a few times around the world and in India tourists can often be seen as walking cash dispensers, so I was pretty tense. But they weren't like that in Mamallapuram.
People were helpful, honest and kind, as most people in the world are, but seemingly more-so.
Beach Gypsies in Mamallapuram
The gypsies I met on the beach were maybe an exception and they easily fleeced me for cash. I was an easy target as a mum, their toddler was adorable.
I honestly didn't mind because 100Rps is nothing to us really, no matter how skint we claim to be.
Carrie told me not to give them money for the fathers to spend on alcohol. She said these families DO have government provided housing and free education for their kids if they choose to use it. They choose begging and sleeping on the beach.
I'm not judgmental about these things, I think people should be free to make choices about how they live (as with our Australian first-residents), but I see the sense in stopping the cash hand-outs, maybe. Instead of giving cash, this German girl works with the gypsy children, she lets them play in her guest house, cutting up plastic bottles and painting them to make beautiful decorations to string around the roof.
My boys joined in with one little local girl, painting, skipping and dancing. This child was 10, the same age as D, and under half his size.
When we left this morning this adorable child held my hand as we walked up the street and hugged me goodbye. She never once stopped smiling.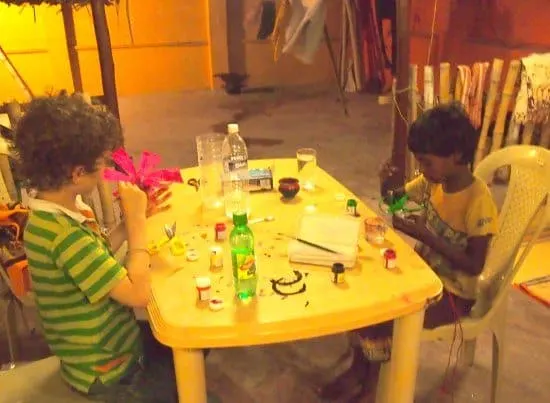 I went through our bags this morning and left a few surplus items of clothing for these kids. I wish I had more to give. When I get back I will try to send parcels of clothes, books and toys. Maybe postage will make it unfeasible, maybe not, I can try.
I loved the people of Mamallapuram. I loved that they took such great pride in their town and kept it so immaculate.
In the early mornings they would fill their water containers from the communal taps, not every home has running water, before sweeping and washing the streets. Just about every home and shop had a freshly created chalk design at its threshold, on the clean, swept concrete road. Some are simple, some incredibly elaborate like the one below.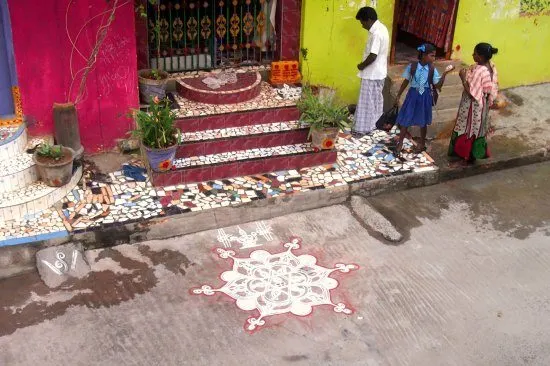 I loved that people smiled, said hello, chatted and were just nice. Everyone, from the chai stall guy, to the stonemason who gave D a lesson, to the guy who saved me from the wrath of an angry mumma cow as I stupidly stroked her new-born baby.
We rarely buy souvenirs, but we needed a few things in Mamallapuram, hand-made shoes, bags and a necklace or two. When you see how much work goes into creating these items you realise how ridiculous it is to beat vendors down to the lowest possible price.
The little turtle necklace D made took maybe an hour, plus 15 years of training on the part of the craftsman. They sell for 35 RPS, 35p. I wasn't even going to try to knock that price down.
These aren't mass-produced pieces of plastic crap from some factory, these are beautiful items, hand crafted and I'm going to pay a fair price, not the cheapest one I can get.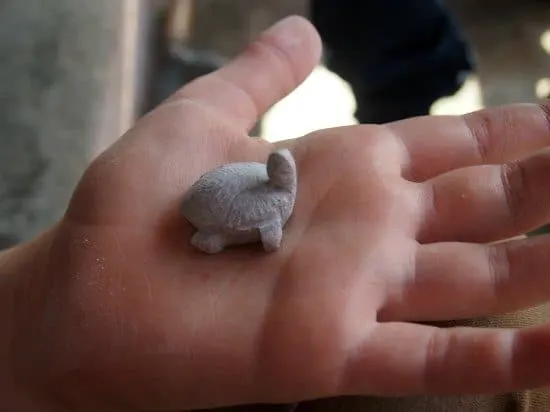 She also introduced us to the kindest most helpful friend, a travel agent who nursed us through the train booking process and helped minimise my anxiety about arriving at our destination tomorrow at 2am. It's all taken care of, he made phone calls.
I have details for Sea Waves Guest House and for the above Travel Agency. If you need them just let me know, I'll add them to this post when I get a chance and recommend both wholeheartedly.
I have loads more photos that I want to share but the internet is so beyond terrible that I have to give up. I'm going for a sunset beer on the beach in Goa. Another installment to write, I'm days behind.
Onward Travel From Mamallapuram
Post 2 of our adventure in India, day 6, I think.
Here's a first, I'm on an Indian train, just pulling out of Chennai Central Railway Station (not to be confused with Egmore) writing a post on my laptop.
Don't get over-excited, there's no wifi, but I can spy a mobile charging point or two, they may keep my batteries running for the next 13 hours. Yes, 13 hours, it's a sleeper train.
We've gone upmarket for the first time and bought ourselves berths in second class-AC. Back in the olden days, when we travelled around India pre-kids, we always went sleeper class non-AC (bars on the open window, 3 bunks on either side of each cubicle). The price differential is vast, this trip cost 1300Rps in AC, in non AC it was 350 Rps. (each). The kids are half price, which is amazing and astonishing as they take up what could be an adult berth.
For our money we have glass in the windows (which makes me feel a little cut off) a comfortable temperature, plus fan and only 4 berths per cubicle, with two on the other side of the walk-way. No doors to separate us, just curtains. If you want doors you need 1st class. We are currently being supplied with clean sheets, pillows, and blankets and a very smartly dressed ticket inspector has just arrived.
" Thank you Sir."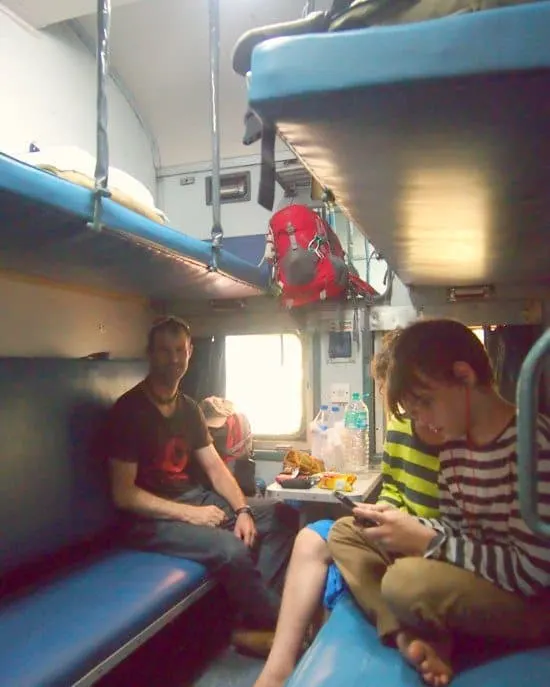 I'll write another post about Indian train travel, this is just a diary-sort-of-post.
Oh, I should tell you about the ladies' waiting room. The kids and I got to sit in clean, cool comfort at the station, by virtue of my gender. Reserved passengers only. I'm very reserved so that's OK.
Where is Mamallapuram?
Mamallapuram is a small coastal town on the east coast of India, in the South Asian subdivision of Asia. On the map, Mamallapuram's location is37 miles 60 km south of Chennai and almost due north of the tip of Sri Lanka. It is in the Indian state of Tamil Nadu, southeastern India on the Coromandel Coast of the Bay of Bengal. It is a popular destination in India for a beach holiday for package tourists and backpackers and makes an interesting alternative to Goa for a hotel or resort winter sun holiday.
Best Hotels in Mamallapuram
There are some fairly luxurious resort hotels in Mamallapuram along with the cheap backpacker accommodation. Check out the Radisson Blue for a nice hotel. For the backpackers and budget travellers, try the Sea Waves.
Read more of our India Travel Blog here for guide, tips, and the how-to of travel in India. Next is how we left Mamallapuram by train to visit Hampi and from there Goa.
If you'd like to hire a car during your stay, use this car rental comparison tool to find the best deal!

We also suggest you take a look at this company to get a quote for all kinds of the more tricky adventure or extended travel insurance.

Try Stayz / VRBO for an alternative way to find rentals on homes/apartments/condos in any country!