What Can World Travel Family Do For You?
We want to share the world with our readers and help them travel further, better and more. We can help you promote your region, hotel, attraction or restaurant through custom posts and social media. 5+ years of blogging gives us reach, 20 years of personal travel, at all price points, gives us know-how, 20 years in hospitality gives us credibility. We have a reputation for honesty and reliability.
World Travel Family is one of the biggest family travel blogs in the world. We are professional travel bloggers and we love what we do.
Alyson Long is the voice of World Travel Family blog. She is a full-time professional travel blogger and published writer. She is also a full-time home educator and well known in alternative education circles. She has a degree in zoology and was a chief medical scientist in London.
World Travel Family is happy to work with all credible advertisers and sponsors relevant to our area. We are a global travel blog and rank high on page one of Google for multiple search terms. This is because:
We know SEO and keyword research inside out.
We produce credible, well researched, top-notch content.
We care deeply about what we do and methodically build our travel experience and knowledge
Other search terms that put us at the top of Google page 1 include:
Thailand with Kids
Sri Lanka Travel Blog
Nepal with Kids
Egypt Travel Blog
Thai Food Guide
Malaysia Travel Blog, plus many more.
All are high competition keywords. We can put your region, hotel or attraction on page 1.
We are normally based in Australia or London, but for the last 4 years we have travelled full-time. World Travel Family is a real travel blog, we're out there doing what we are passionate about, travelling. We travel to build our knowledge to the deepest levels so that we can share that information with our readers.

We are on  US based Red Tricycle's top travel blogs to follow list , a report that has occupied the top spot on Google for quite some time. We are one of the top 20 biggest travel blogs in Australia and New Zealand ( Pre-traveller compiled)  and one of Holiday Lettings (Trip Advisor's) Top 20 Travel Blogs in the World . We are also one of Queensland Tourism's recommended best travel blogs and top of Meriton's list of Australian Top Travel Blogs. We're also in the top 20 of Feedspot's ranked top 100, below.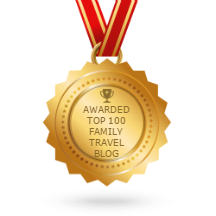 .
We deal with travel, education, food and all things wonderful.
 photo credits Stefanie Harrington .com
Would you like your product or service to reach our Audience of over 110,000 (Google Page Views) per month?
We are open to the following advertising and promotional options:
Hotel, guest house, cruise ship, campsite, long-boat, mud hut or hostel reviews and promotions
Giveaways and product promotions.
Freelance writing commissions.
Sidebar or footer advertising.
Sponsored trips, tours, cruises and stays
Sponsored posts.
Social media promotions and campaigns
Theme park and attraction promotions, we've worked with some of the best in the world.
Product reviews
Restaurant and food reviews with professional credibility from my husband, The Executive Chef.
We also provide a paid trip planning service to our readers. It's always a good idea for the planners to know about a place, hotel, service or product.
Lets not forget Chef!
Photo by Alyson Long
We have a 5 star executive chef on the team. He doesn't always travel with us, but he's crazy about food, as are we all.
We can promote your product, area, attraction or hotel on blog posts and on social media with a potential reach of 6 million individuals.
Need to know some stats?
Max Monthly Page Views: 80,000+ The most important metric.
Google PR 3 From the last Google update, several years ago, I doubt it will ever be updated.
Alexa Rank:  we no longer chase Alexa ranking but ours sits comfortably below 200,000
Page Authority 51
Domain Authority 43
Facebook Followers 6,800+ ( all genuine, not bought, giving good engagement and weekly reach)
Facebook Private Mentoring Group Members 900
Twitter Followers 11,900+
Pinterest Followers 18,500+
Instagram Followers 3,800+
If you need to know more about us and our readership, please ask for our media kit.
all stats correct at time of publication.
We Also Offer VA or Social Media Services

We provide virtual assistant services to businesses. Benefit from our skills, experience, native English and existing social media audience. If you need help growing your social media presence, we can help.
Who Have We Worked With?
Here are a few we've collaborated with recently:
Novotel Karon Beach
The Brown's Hotel Group Sri Lanka 
Boutique Small Hotels Worldwide          
NASA Kennedy Space Centre              
The Wildlife Habitat Port Douglas
Otherways Magazine (print)
The Clink Prison Museum 
Cutty Sark                      
Goddard's of Greenwich                        
Minecraft Homeschool    
Max Wadiya Full Service Luxury Villa
Art Venture                                        
Recent Testimonials
"We went to Bangkok over Christmas and New Year and did almost everything you said we should. Amazing."
"Thanks so much for your blog, it has helped immensely in planning our very fast approaching trip."
"Hi Alyson, We have been searching for a travel agent half as knowledgeable as you to help us plan our quick stop in Sri Lanka and have had no success so far. Your blogs have been immensely helpful and a major source of information for us, so thank you."
"Such a great travel blog! You have really managed to convince us even more that we did the right thing booking a 3 week journey with our children."
If you feel that our audience of highly engaged travellers could help you grow your business or promote your attraction, don't hesitate to get in touch with us at:
contact@worldtravelfamily.com