We were, we were in the clink a few days ago. The original Clink , the medieval prison that gave its name to all other prisons, and it was a lot of fun! A review of The Clink London and some background history.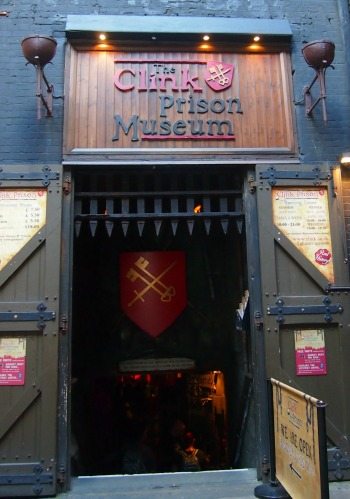 Any post on this site may contain affiliate links. We earn commission on these should you make a purchase. All recommendations are genuine and we are not paid to include products, hotels, and so on.
The Clink London
The Clink Prison Museum sits on the site of the original prison in Clink St. on the South Bank of the Thames at Southwark.
The street is named after the prison, not the other way around. It's thought that the name came about through the clinking sounds of cell bolts and leg irons as tormented inmates begged for money, food and clothes at the barred street-level windows. Sounds fun doesn't it?
Southwark is a fascinating part of London with a colourful history and this little lane is particularly well preserved.
Next door, the ruins of the Bishop's Palace still stand.
It was the Bishop of Winchester who started the gaol, back in the 12th century, there had been a cell or cells associated with Winchester Palace for 200 years before then, but 1108 is commonly given as the opening date of the prison.
The medieval priory for the London Borough of Southwark was nearby and exists today as Southwark Cathedral, an impressive building overlooking Borough Market and London Bridge.
The original prison was burned down in 1780 by the Gordon rioters but the Clink Prison Museum have done a great job in recreating some of the atmosphere of the old gaol.
We Think The Clink Museum is a Lot of Fun
There are some very large, very popular, horror based attractions in London. The London Dungeon has been going a long time and now it's been joined by the London Tombs and London Bridge Experience. We've been trying to decide whether or not to take the kids, and in the end, decided against it. These attractions are incredibly well done and great for older children and adults, but just a bit too scary for one of my boys. Maybe we'll send Chef along to the London Tombs to check it out, he's a big fan of the London Dungeons and took me there on one of our first dates, he's so romantic.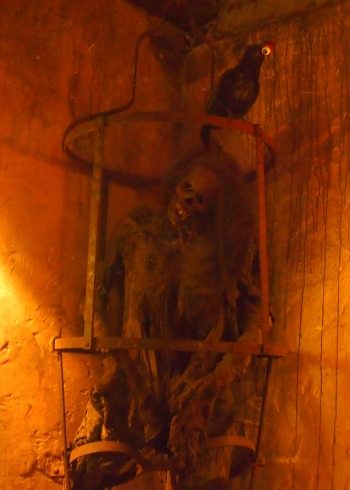 The Clink, although a relatively small attraction, was a great place for us to spend a fun hour or so and learn more about the darker side of London history without being totally spooked or grossed out.
The prison museum tries to recreate the conditions the ancient prisoners endured, while highlighting punishment methods from the era and padding the experience out with some great historical facts.
Do you know your stocks from your pillories and gibbets? I'll hold my hand up, I didn't.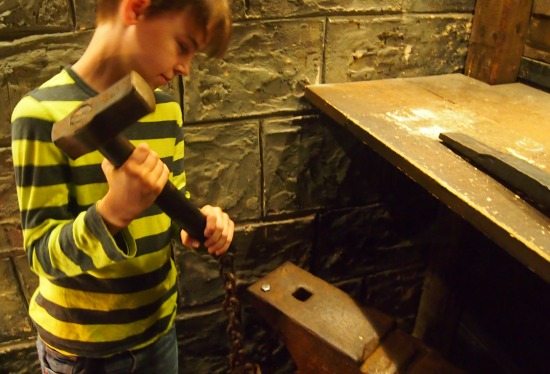 There are plenty of gruesome details and models of decaying corpses hanging in gibbets, but nothing terrifying, no bad dreams for my two after this day out and a fair chunk of solid education went on.
Thanks to The Clink, we now know that a vertebra from King Charles II was gold plated for use as a salt shaker at The Tower of London until Queen Victoria got wind of it and was not amused.
There are plenty of interesting facts like these to discover and learn at The Clink, along with hands-on fun with torture implements.
We think it's a great little museum. This was actually a return visit for me, I went years ago and knew the kids would enjoy it. Maybe we'll move on to the big horror attractions ( The London Tombs and London Dungeons- we have now visited all 3) when they're a little older, for now The Clink is enough for us.
Alyson is the creator of World Travel Family travel blog and is a full-time traveller, blogger and travel writer. A lifetime of wanderlust and now over 7 years on the road, 50+ countries allowed the creation of this website, for you. She has a BSc and worked in pathology before entering the travel arena and creating this website. World Travel Family Travel Blog has been helping you travel more, better and further since 2012, when Alyson and James first had this life changing idea. On this site you can find endless travel information, tips and guides plus how to travel, how to fund travel and how to start your own travel blog.