This post may contain affiliate links.
The London Science Museum is one of the very best museums in London and is perfect with kids and interesting for adults. It is a short distance west of Central London and is easy to get to for most visitors to London. Our post covers, admission, tickets, how to get to the Science Museum, plus our London Science Museum review.
We've been to several science museums and attractions all over the world. Maybe I'm biased, but in my opinion London's Science Museum is the best. Some, like Canberra's Questacon, Malaysia's Petrosains or Cardiff's Techniquest have more of a focus on hands-on areas for children but London Science Museum is, for us, a winner. Want to know why? It's a free museum. These days they request a donation but the Science Museum remains free and taking your kids along is a fantastic thing to do. They have areas for younger and older kids to get hands on, along with regular displays to fascinate people of any age.
London with kids and London's attractions are our speciality, our kids were born in London and we are frequent visitors as professional travel bloggers for over a decade.
London Science Museum With Kids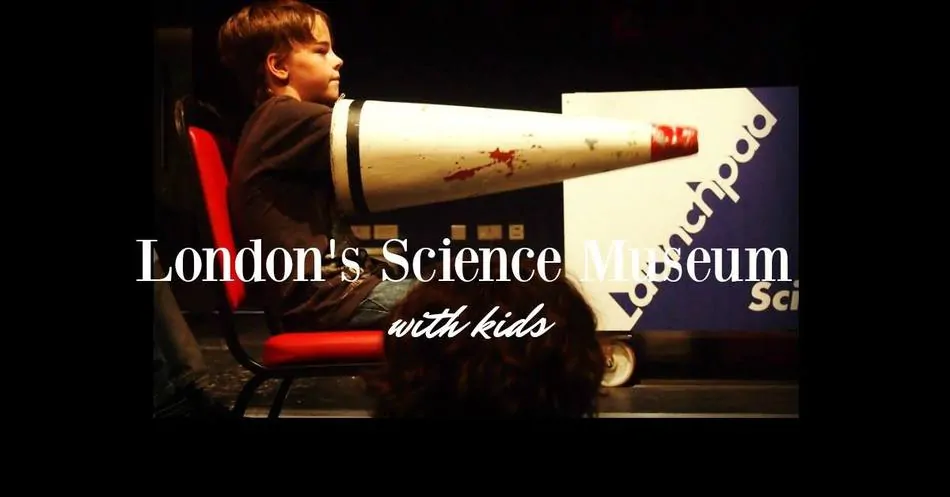 Why All Museums Aimed at Kids Should Be Free
My children are quite old now, at 10 and 7 they get a lot out of a visit to a museum, particularly one with excellent children's interactive installations. However, they are still kids and their attention spans are relatively short.
To get the most out of any museum we need to go multiple times to fully explore and repeat activities to make the learning stick. Paying to go multiple times is prohibitive for most families. Therefore these educational resources, once you add an admission fee, will cease to serve their purpose.
London's museums are vast, you could spend weeks visiting the Natural History and Science Museums alone (they conveniently stand next door to each other). They are so impressive and absorbing that the kids want to go back time after time. My kids still ask they to visit at 13 and 11 year olds after spending their whole childhoods being regular visitors.
London has got it right, free access to these incredible educational resources should be free for all, particularly children. At the moment the museums have a suggested 5 pound donation, but it is just that, a suggestion, nobody puts any pressure on you to pay. We visit time and time again, sometimes for an hour, sometimes for four, sometimes just to buy a coffee or support them by using their shop. We put money in the box when we can.
Museums should be public resources, there for the community to use and dip into.
London is exceptional in that it offers its resources for free to visitors of all nationalities, not just locals. Sure, we, the locals, pay extra in our taxes to keep them free. I'm very happy and proud to do that. Our free museums are a very special part of the London experience.
Other Reasons London's Science Museum is Awesome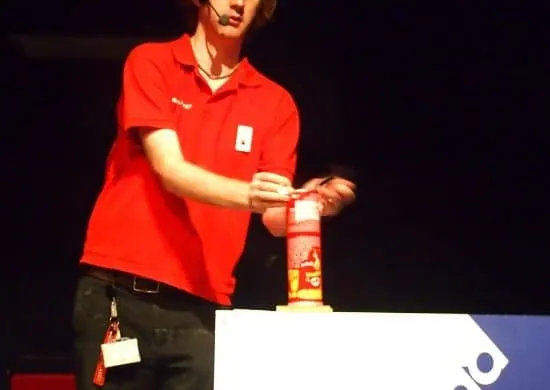 London Science Museum Location
The London Science museum is in central London, a short walk from South Kensington tube station. It's a beautiful area that houses other major London museums, the Natural History Museum is next door, the Victoria and Albert museum is just over the road.
Launchpad at The Science Museum, London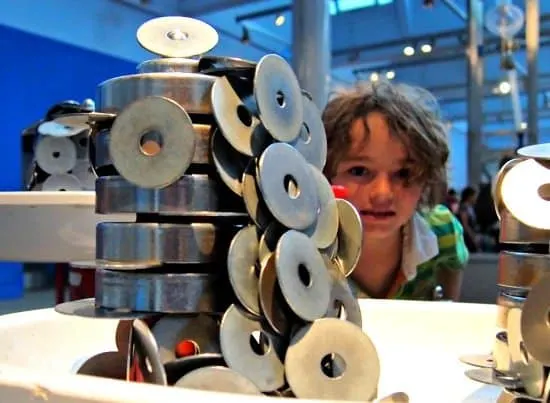 Launchpad, on floor 3 is an incredible hands on science resource for school aged kids. Every exhibit carries explanatory notices, but if you're still stuck there are plenty of lovely and enthusiastic staff just waiting to explain a bit more science to you or the kids. There are live science shows in the theatre, sciency computer games to try and regular demonstrations. We love it.
The Science Museum For Kids Under 8
On the ground floor Pattern Pod kept both of my boys busy ( OK, one is 10, but he still loved it). Multisensory displays and activities were perfect for tiny tots but complex enough to keep the bigger kids interested. We loved that the ages are segregated to an extent, it kept the older school groups away from the little ones. School groups can be a bit full on and come in large noisy groups, get their early or visit on weekends to avoid them.
On floor B the Garden Area is a hands on science experience designated for visitors up to 6 years old.
Changing Displays at The Science Museum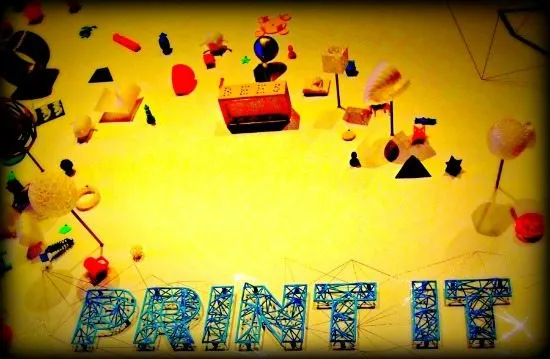 Special exhibits and shows pass through the London Science Museum. We caught the 3D Printing the Future display and over the summer we hope to be back for The Energy Show, that one does have an admission fee. These special exhibits help fund the museum and we gladly pay from them here, at the Natural History and British Museums.
I-max and Simulators at The Science Museum
For a bit of extra fun and excitement there are simulators and an I-max theatre inside the Science Museum building, you have to pay for these exhibits.
Historical Displays at The Science Museum
Stephens' original Rocket is at the London Science museum, along with Watson and Crick's DNA model and various space rockets and vehicles. The collection spans history, right back to the 1700s. It's amazing to see all this stuff in the flesh.
Here's one for you to save to Pinterest!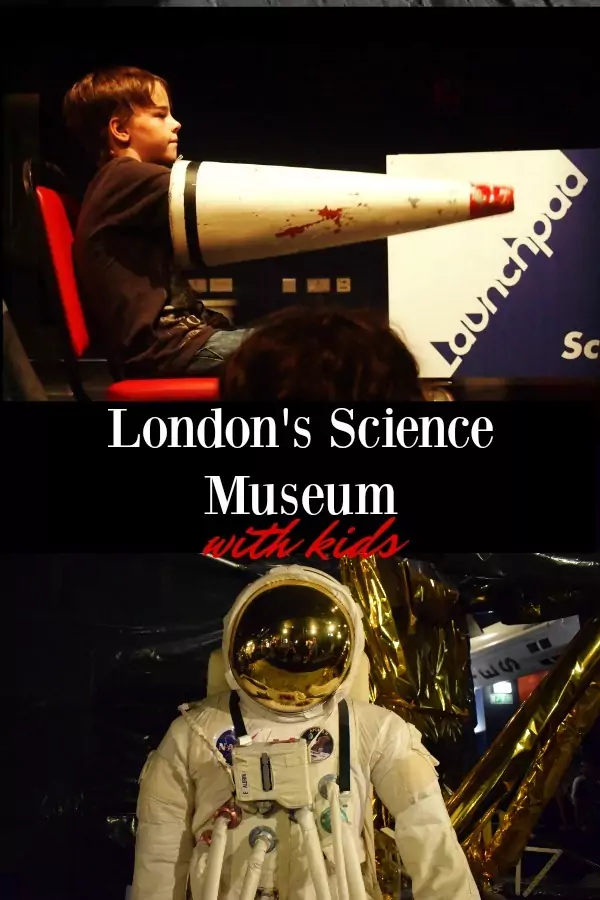 Where is the Science Museum London on the Map?
The Science Museum in London is in North London, UK, in South Kensington. South Kensington is home to 3 of London's best museums and is a London district west of Central London in the Royal Borough of Kensington and Chelsea. You can easily walk to the Science Museum from central parts of London.
For instance, Oxford Circus is approximately a 12 minute walk from the Science Museum (2.5 miles, 4 Km)
The Science Museum does not have its own tube station but South Kensington does, and it's one of the busiest tube stations in London, there will be crowds.
The nearest underground stop is South Kensington Tube Station on The District and Circle Line and Picadilly Line. It is in London Travelcard Zone 1. From this tube station the Science Museum is a 5 minute walk, or less.
The tube station exit for the Science Museum is directly outside the London National History Museum, continue along Exhibition Road for the main entrance to the Science Museum
Alternatively, to skip the crowds at South Kensington, get off the underground at Gloucester Road Station or Knightsbridge (Harrods), you could even get off the tube at Lancaster Gate and enjoy the walk accross Hyde Park past the Royal Albert Hall.
The Science Museum is on the map below, along with the closest tube stations. The map may take a second to load.
You will also find restaurants and places to eat near the Science Museum on our map. There are a lot of restaurants in South Kensington, but they are likely to be very busy.
Tickets For The London Science Museum
London's museums are very busy at peak times, so in school holidays, weekends, or any busy period, you should book an admission slot for the Science Museum. Admission is free, but booking a time slot guarantees you admission. you can do that here on the Science Museum website.
If you visit the museum early on a quiet day you may be able to get in without a booking, but many of London's larger museums now have this booking system. We have a post about London's Museums which may give you ideas on which museums to visit if you haven't booked in advance.
If you don't have a booking and you really want to see the Science Museum, it is worth trying to get in, you may be lucky if they're quiet, we have been.
Science Museum Opening Times
According to The Science Museum London website, the museum is open from 10.00am to 6pm, seven days a week, with last entry at 17.15. Christmas Day – closed usually. See our post on London at Christmas.
Galleries start to close 30 minutes before the museum closes. You should check for changes in opening for holidays etc. here.
Where to stay near London Science Museum?
If you're looking for a apartment on condo rental near London's Science Museum, we suggest you check VRBO/Stayz here. Otherwise, our list below starts with hotels and other accommodation near the Science Museum, as you scroll down through the list the distance from the museum gets greater. This is a really useful tool, hope you like it.
The best hotel near the Science Museum in London is probably this one, The Rembrandt, or this one, The Queen's Gate. (links take you to these hotels on Booking.com – a reliable provider)
For a cheap place to stay near the London Science Museum, try Notting Hill Gate Hotel. London is an expensive city for accommodation, and this part of London is particularly expensive.
Luckily, the Science Museum is one of the many free things to do in London.
How Much Time Should You Allow for The Science Museum
You should allow at least half a day to visit The London Science Museum. This depends on your interest levels, but the Science Museum is a large museum with much to see. If you are visiting with children they may like to spend a lot of time in the hands on play areas. Try to see the free kids' science shows, you'll need to check times. There is good food at the restaurant at the museum and good rest rooms.
If your time is limited it is worth visiting the Science Museum for an hour or two, or you could easily spend a full day there to explore every exhibit in detail. We have visited dozens of times and it is worth visiting if you have been before as exhibits and diisplays change,
I could write more about London Science Museum with kids, and I will, when we've been back many more times to explore every floor and exhibit. It's a vast and fascinating national treasure. We think you should go. Back to our main London Family Travel Blog page. Back to our main UK Travel Blog page.
If you'd like to hire a car during your stay, use this car rental comparison tool to find the best deal!

We also suggest you take a look at this company to get a quote for all kinds of the more tricky adventure or extended travel insurance.

Try Stayz / VRBO for an alternative way to find rentals on homes/apartments/condos in any country!