This post may contain affiliate links.
You asked for tips on what to do in London at Christmas time, so I did a bit of hunting around to see what I could find. This year is going to be different, so I've tried to find out what's open, what's closed in London for next Christmas 2023. I've spent 8 Christmases in London as a resident and when we lived in Wales I'd come to London most years to see the lights, do some shopping, maybe take in a show. I'm sure we can help you plan on a wonderful few days, a special outing, or weekend in London over Christmas.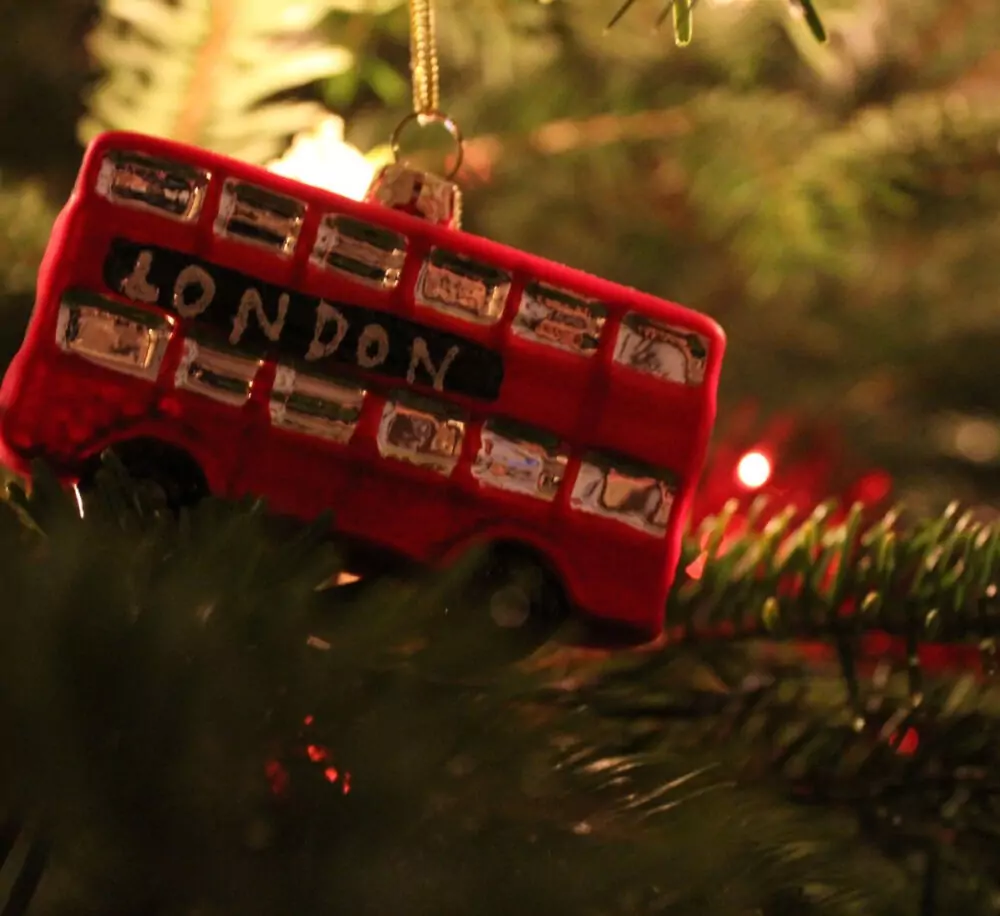 London is always fun at any time of year but at Christmas, she has extra magic.
The darkness of the late afternoons helps make the lights and decorations all the more spectacular as you munch on your roasted chestnuts and sip a mulled wine.
So if you're thinking of visiting London this Christmas, we have some up-to-date tips and recommendations for you.
Some dates are not yet out and many events were cancelled last year, we're adding confirmed dates as fast as we can.
A lot of London's Christmas events, including the ice rinks, are hugely popular, pre-booking may be the best idea, particularly in 2023.
Everything is subject to change of course, but the UK and London have been open quite a while now and fingers crossed everything will stay stable.
But double-check everything we mention here! We give you links where we can.
---
London at Christmas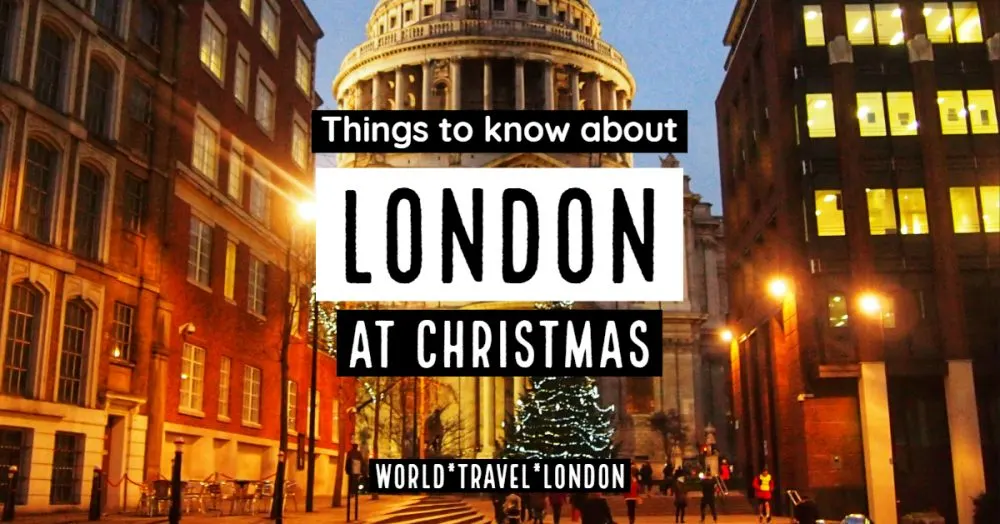 ---
We update this post every year to give you dates, timings, train closures, and special events. We're adding 2023 information as soon as we can find it.
But obviously, The Holiday Season is still a long way away and this year things in London could change.
If a Christmas event is not in the post yet it's most likely that dates have not yet been released or our information from last year is still displaying to give you an idea.
London Attractions You Can Book This Christmas
The attractions below could be perfect for your Christmas outing or special treat. London Zoo is normally open over Christmas but booking are required, see here for details.
Some museums, for instance, the Natural History Museum, were accepting bookings for their special exhibitions.
Things got back to new normal in London from summer 2021. Hopefully, this Christmas (2023) will be business as usual! Fingers crossed.
Christmas Lights and Decorations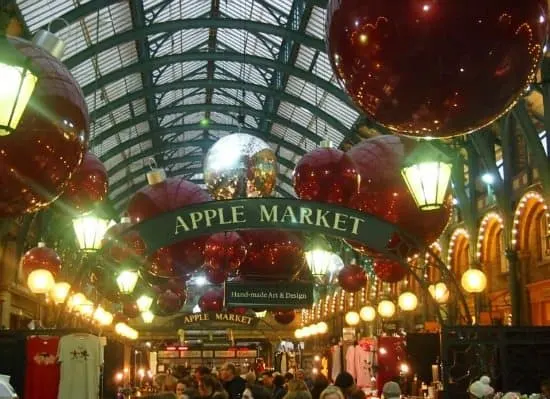 London is all lit up like the proverbial Christmas tree early, you'll see lights on almost every street in the city.
The lights are normally switched on in the first week of November.
See dates for Londons Christmas Light Switch On Events here. for 2022 switch on dates.
Our favourite spots for amazing festive lights and decorations are:
Covent Garden (pictured above)
Oxford St
Regent St
Bond St
Carnaby St
Probably the best way to see the lights this year, and avoid the crowds, would be to book this open-top Christmas lights bus tour. If I were there that would be top of my wish list for next Christmas.
If you're visiting London with small kids at Xmas, Tootbus have a Christmas lights tour by bus aimed at younger passengers.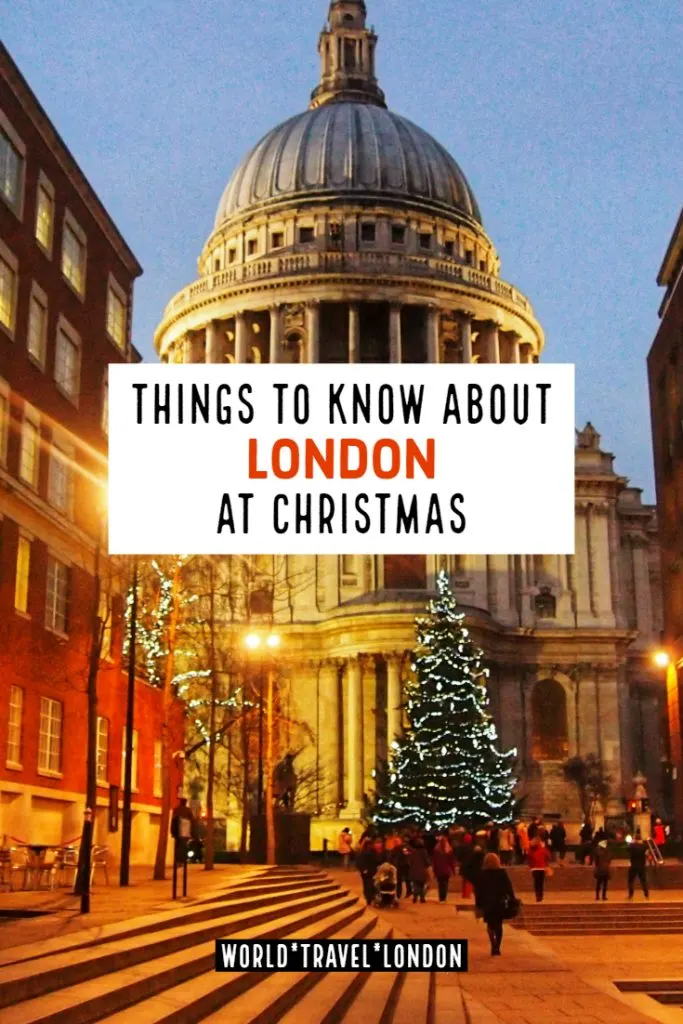 London's Christmas Shop Windows
Stores in London really pull out the big guns at Christmas, you're in for a treat of window dressing art:
John Lewis on Oxford St.
Fortnum and Mason in Picadilly
Harrods in Knightsbridge
Harvey Nichols Knightsbridge
Selfridges on Oxford St.
Dolce and Gabbana on Bond St
Tiffany Old Bond St.
Hamleys on Regent St.
Liberty Regent St.
London Christmas Trees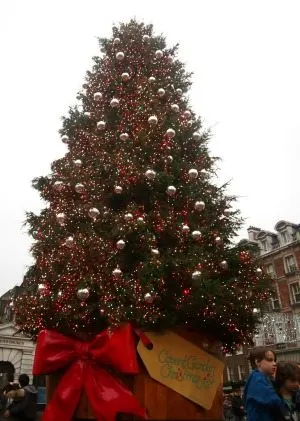 The most famous tree in the world, the Trafalgar Square tree will be lit on (unconfirmed as yet) December.
The tree is an annual gift from Norway to the UK in gratitude for its assistance in WW2.
Covent Garden usually boasts a large and impressive Christmas tree too (pictured above)
London Outdoor Ice Rinks at Christmas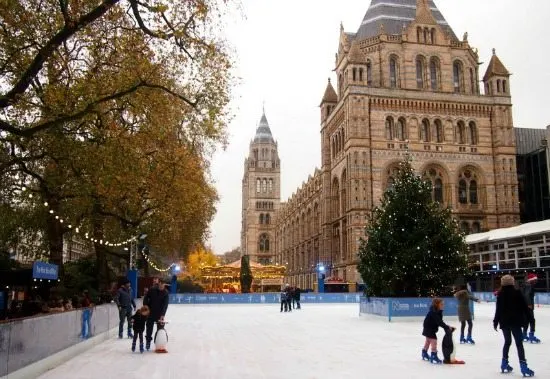 Sadly, most of London's ice rinks were not open for Christmas 2020 but they should be back this year.
Hampton Court Palace and The Queen's House ice rink in Greenwich were reportedly open. Please check, things are changing constantly.
London Christmas Markets and Fairs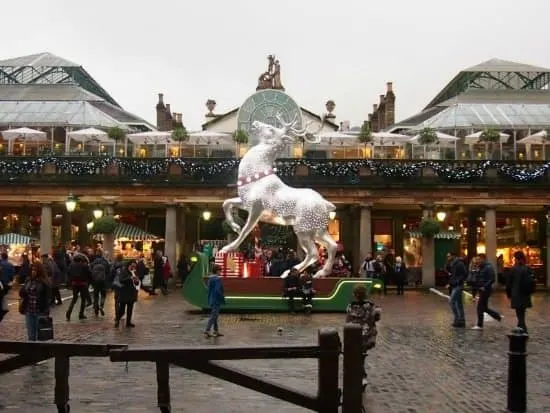 There are usually one day Christmas Markets and events all over the city, but the biggest and longest-running attractions are below.
Borough Market will most likely be open, along with Selfridges Christmas Market, Pexmas in Peckham, and Festive Flea at Vinegar Yard.
Leicester Square has had a small market, a carousel and a scary looking ride.
Outside the Tate Modern there was a large market, lots of food, alcoholic winter drinks and crafts.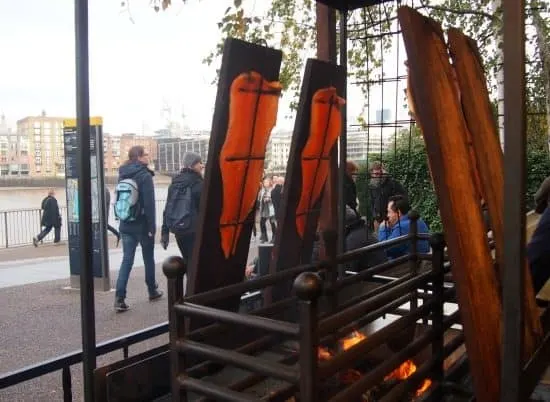 Special Christmas Events in London
Christmas at Kew, an after-dark experience of magical lights at the famous Kew Botanical Gardens. There is something happening at Kew this Christmas but you'll need to check their website for details.
Winter Wonderland Hyde Park, has it all, ice rink, big wheel, food stalls and a circus. This event runs for weeks and is absolutely huge.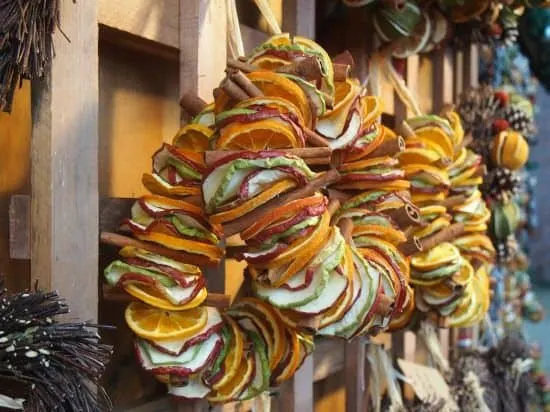 More Christmas Activities in London
If you'd like to book a tour of the most Christmasy sites in London, you can do that. Walking tours and guided tours by taxi, open top bus, and more, are available. There are also special Christmas cruises and dining. Use the button below.
Of course, most of London's attractions and places of interest will be open around Christmas time. As Christmas is very busy for Londoners, British visitors, and international tourists, we strongly recommend you book and reserve your spot at your must-see London attractions. For instance, you can book the following.
Christmas Day in London
Christmas Day is the quietest day of the year in London, take the opportunity to walk in the parks and see the Christmas windows and lights.
There's something special about being in London at Christmas time but Christmas day itself in the city is a unique experience.
Very few places will be open in London on Christmas Day.
The annual Christmas day Serpentine swim in Hyde Park is worth a watch if you're out and about at 9am.
Will The Museums Be Open on Christmas Day?
No, most, if not all museums in London will be closed on Christmas Day this year.
According to their websites the Natural History Museum will not be open on Christmas Eve, Christmas Day, and Boxing Day.
The British Museum has no tickets available over the Christmas period, 24th, 25th and 26th of December. (confirm here). London's Science Museum, check if they're open at Christmas here.
London has dozens of museums, some may be open on Christmas Day, but the main museums close for the holidays.
Where Can You Eat in London on Christmas Day?
Some hotels and pubs will be serving food on Christmas Day.
The Lamb and Flag in Covent Garden, The Sanctuary House Hotel in Westminster, The Ship in Southwark, The Swan in Hyde Park and The Star Tavern in Belgravia are currently listed as open for Christmas.
But obviously, please check.
Most British pubs will be open and very busy on Christmas Eve and Boxing Day.
Hopefully, you can find a cosy family-friendly pub to enjoy some good British pub food over the Christmas period.
London Public Transport at Christmas
Getting around London is tricky over Christmas, London's public transport system is excellent, cheap and efficient, but Christmas is the worst time to experience it.
The huge crowds of shoppers make life very difficult for most of the Christmas school holiday period and every weekend.
On top of the crowds, there are also closures.
Remember there is usually no tube, overground or bus service on Christmas Day in central London and reduced service over the holiday period.
Check with Transport for London for latest details.
How Do British People Celebrate Christmas?
Well, obviously, it varies between families, but if you're visiting London from abroad you might be interested, so I'll tell you.
In my family, it was traditional to open our Christmas presents from under the tree and Christmas stockings stuffed by Santa (Who we usually called Father Christmas) very early on Christmas morning.
The rest of Christmas Day was either spent at home, cooking and eating a huge Christmas lunch, yes, we eat our turkey at lunchtime, not dinner time, or at a relative's home.
British people tend to call lunch dinner if it's a large roast.
We never watched the Queen's speech, some do, we didn't, although I'm very fond of our monarch.
Christmas lunch would be roast turkey, stuffing, pigs in blankets (sausages wrapped in bacon) roast potatoes, mashed potatoes, gravy, bread sauce, lots of vegetables.
The vegetables served should always include roast parsnips and sprouts.
A flaming Christmas pudding with cream (I don't like brandy butter) would follow.
In the evening we'd normally eat turkey sandwiches, cheese (stilton), trifle and snack foods. Wine, port, and sherry would flow freely.
Relatives would come to our house for lunch or we would go to their homes.
It was a family time and we didn't venture out much other than for a crisp afternoon walk maybe.
So as the British population tucks into their lunch and enjoys their presents, expect the streets of London to be the quietest they will ever be on Christmas Day. But Christmas Eve is another story, we'll normally be out in force drinking and merrymaking, expect huge numbers.
What Time is The Queen's Speech?
The Queen's Speech or Christmas Message is normally aired at 3pm on Christmas Day.
Booking a Transfer from Heathrow into London on Christmas Day or Over the Christmas Period.
Several people have asked me about this now. The best I can do is send you here (opens in new tab).There are cars to pre-book your airport transfer and also bookings available for the Heathrow Express, but check dates and availability (see below).
Taxis can be very expensive in the UK so be cautious and look out for extra charges at Christmas time.
The Heathrow Express website here (opens in new tab), states that there will be maintenance work this Christmas and closures, check this for your dates.
We'll add more Christmas information for London just as soon as it becomes available. For more on visiting London head to our main London Travel home page. We hope you enjoy visiting London, our favourite city, this Christmas
If you'd like to hire a car during your stay, use this car rental comparison tool to find the best deal!

We also suggest you take a look at this company to get a quote for all kinds of the more tricky adventure or extended travel insurance.

Try Stayz / VRBO for an alternative way to find rentals on homes/apartments/condos in any country!