This post may contain affiliate links.
Everything on living in Hoi An after almost 6 months here. This post started out as a bit of a whinge about how dull it was sitting still for a couple of months but in our second month, after starting this post in the wee small hours, we went out for breakfast and a bike ride and I found myself falling under a car.
Being alive and content in an ultra-charming little riverside town with its wonderful people suddenly wasn't so bad. More on my accident down the page, back to the slow travel thing.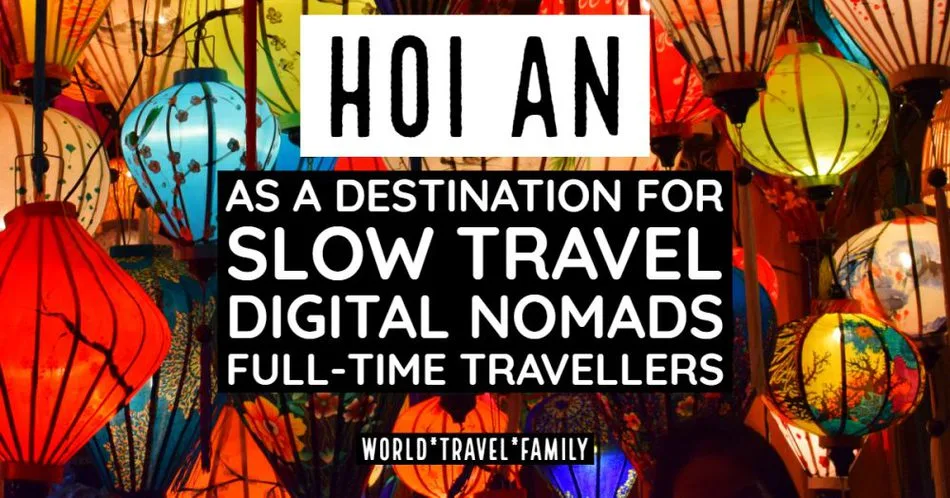 Over the last 5+ years of nomadic travel we've had several slow travel periods but it's never been a style we've embraced and has always been brought on by necessity. We've spent months on end in both London and Romania but I can't think of anywhere else, in 50+ countries, where we've stayed in one place for more than a few days at a time.
We ended up living in Hoi An for over 2 months before leaving and returning for another 3 months. By the time we left we were in love with this town and not one of us wanted to leave.
Living in Hoi An
D (my son) worked hard to put this little video together for you. As you can see, we're working on getting YouTube up and running with talking to camera videos, but we're not quite ready to publish yet. This just gives you a taste of life in Hoi An, the place, the food, lifestyle, and our house. This video was all taken before we invested in proper video equipment. Unfortunately, we can't go back in time and re-shoot with what we have now.
I Love Hoi An And I Love Vietnam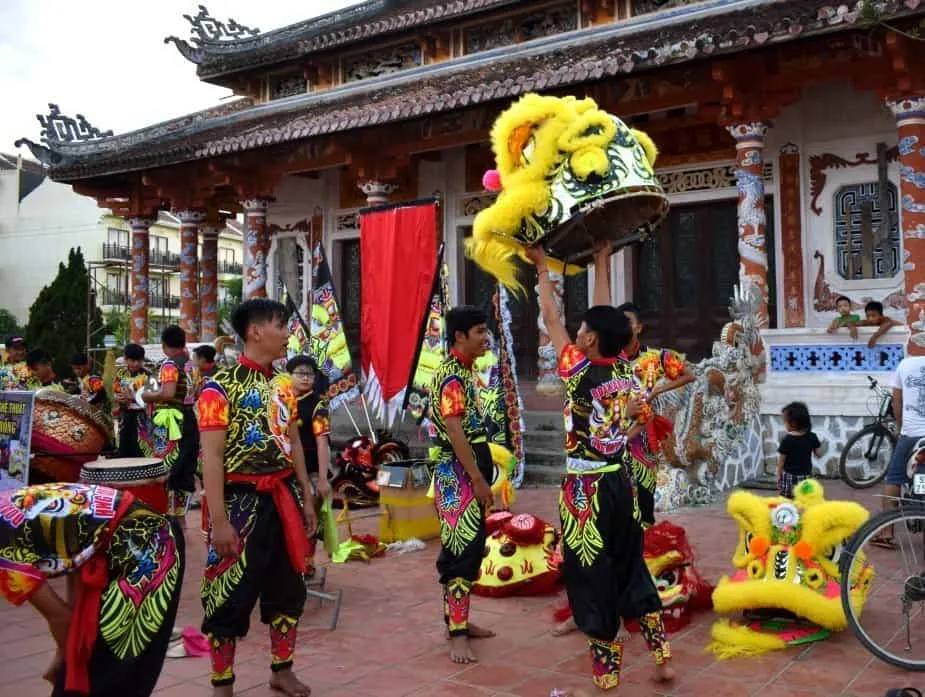 Hoi An is a lovely town for expats or digital nomads, it's not another Chiang Mai, there's no malls, movies, co-working spaces or ice skating, but it's a lovely town with cute shops, interesting markets, beautiful countryside to explore, wonderful people and great food. For malls you need to visit Danang, they are there along with the ice rinks and Starbucks, about half an hour up the road.
The house we rented just outside the Old Town was amazing, brand new and very budget friendly and there are some big day trips to do to nearby places. It's not perfect for a long stay but it's extremely pleasant. There are beaches in Hoi An too, but we're not generally beach people. So although I sometimes struggle with slow travel and feel that my wings have been clipped, I LOVE this town. In many ways I didn't want to leave.
Finding a House or Apartment in Hoi An
We arrived in Hoi an From Ho Chi Minh with an Airbnb reservation which went bad, thankfully. When we saw our planned Airbnb we took to Facebook and found ourselves a beautiful, brand new, 3 bedroom house within hours.
It cost us under $20 per night. We can put you in touch with our landlady, Dao, she has a couple of houses and is one of the nicest people you could meet. Contact her through the Facebook page of her tailor's shop, Khan Tran Tailor Shop. she also makes excellent shirts.
There are plenty of places to rent in Hoi An but you'll sometimes need a minimum of a 3-month visa because of government regulations. Expats mostly stay out of town, some towards the beach, many near Cua Dai Rd., some prefer paddy fields, we chose to be within walking distance of the Old Town. Check the flood maps if you are staying in the wet season.
Hoi An Life, Routines and Food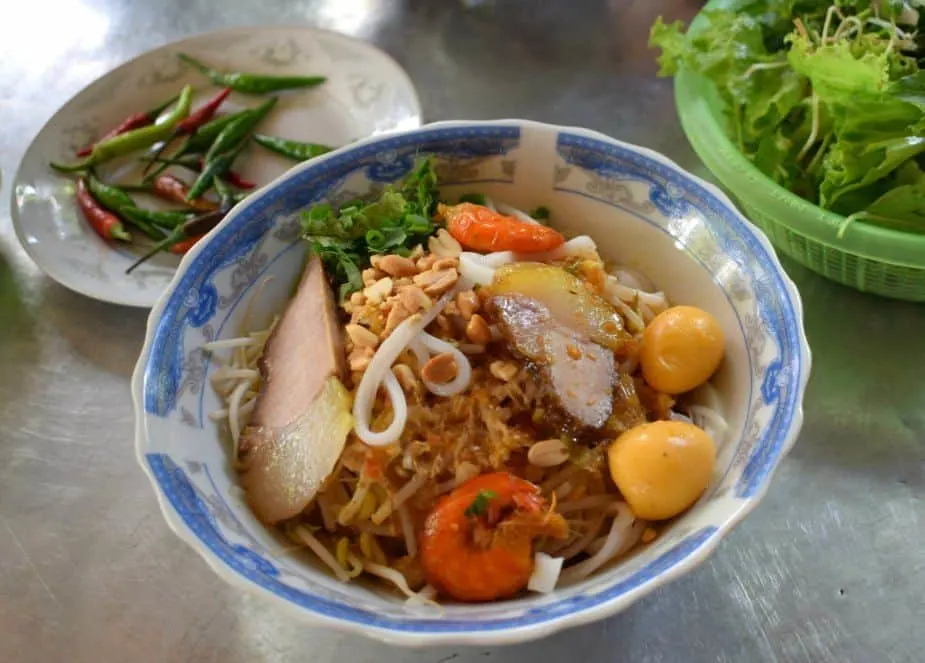 During our first few months in Hoi An Chef's training took priority and if you know what Ironman is you'll know that he was training for 3 disciplines, swim, run, bike. A stupidly long swim, an insane bike ride and then a full running marathon at the end.
He trained for hours, 6 days a week and we let him have the prime 5 am to 9 am slot. That's when I would have liked to be running, going to yoga or practicing my photography, but I couldn't and that didn't help with my stir-crazy feeling.
Once that was all over I could do all of the above and it was great, we had a small gym almost opposite our house and I was able to run in the countryside, this is a perfect place for fitness-minded people but you need to be used to the heat. Between November and March temperatures were very pleasant, even cool.
We normally ate out at least once every day. Breakfast was usually pho or mi quang from a street stall and we'd have a restaurant meal in the evening. We rarely eat 3 meals, usually just late breakfast and dinner so with the ultra light, ultra delicious ( but not spicy) Vietnamese food we all lost a fair bit of weight. That was great for me, not so great for the boys and our Ironman.
We bought fruit at the market to make smoothies at home and I rarely cooked much more than eggs, veg, tofu and fresh rice noodles. We could order pizza online and have a movie night on our huge flat screen TV, we found great pizza and they accepted our Payoneer card ( that's Amazon paying for our pizza, thanks Amazon!) They could deliver Vietnamese dishes, Indian and baguettes, it was almost like having room service, but I prefer to be out mingling.
If you crave western food and company, head to Jim's Snackbar or The Happy Buffalo, but be warned, once you hit these places the weight starts going back on.
Costs of Eating Out in Hoi An
Prices start around 20-30,000 Dong for superb street food. You could eat mi quang, cau lau or pho 3 times a day and pay no more than $3-5. Of course if you hit up the tourist restaurants you'll pay more but some good restaurants, the markets, street stalls and pho joints will feed you incredible, healthy nutritious food for minimal cost.
If you need western food expect to pay from around $4 at Mix Greek restaurant, around $5 and up for a pizza, around $4 for a great burger at Jim's snack bar and so on. A western style coffee at Mia comes in around $1.30, their cheesecake is superb at roughly $2. Take yourself to the Happy Buffalo for beers and incredible, well priced Vietnamese/Western fusion bar food, it's a great place. ( It has now changed hands)
Vegetarian and Vegan Food
I prefer to eat vegetarian or vegan but my family are omnivores so compromise is needed. I haven't as yet found a vegetarian street food stall but most restaurants have a good selection of vegetarian options.
They do tofu well in Hoi An. Vegetarian and vegan restaurants do exist but my boys mostly won't go to them without bribery. Try Cafe 43 on Trang Cao Van for a good mix of vegetarian and meat lovers' dishes, or opposite Minh Hien Vegetarian restaurant is exclusively meat-free.
Prices for a vegetarian dish in either of these two restaurants start at around 40K Dong A lady on this street also sells great Mi Quang in her front room at just 20 K Dong. It's not vegetarian. Most Mi Quang stalls charge us 30K .
Staying Fit, Running, Cycling, Gym and Yoga in Hoi An
We can recommend Trinh Xuan gym on Nguyen Tuan, it's a solid, cheap, basic gym. For a more up-market gym with air-con try Super Fit Gym and Yoga on Ly Thai To. Nomads Yoga is also good, find them on Facebook for their daily schedule, in summer they also offer beach yoga. We run and cycle seriously, the road to Danang and beyond is OK for bike training. There is a local Hash House Harriers group that meets infrequently. If you Hash, get in touch, if they know there are a few people in town they are more likely to organise an event.
Danang (Da Nang) Nearest Big City to Hoi An
Danang has most modern conveniences from fantastic cinemas ( with plenty of movies in English) to shops and supermarkets selling genuine goods. It also has the amazing Dragon Beach which shoots fire and water on weekend evenings. Transport between Danang and Hoi An is easy enough with local buses and taxis readily available. Danang also has the nearest airport to Hoi An and nearest railway station. Marble Mountain, just outside Danang, is well worth seeing.
Wi-Fi Speed and Powercuts in Hoi An
The wi-fi is the best we've encountered anywhere in the world. It's strong and it's fast. In the run-up to APEC we had one full day when power was off and one period of 4 hours. We had notice that power would go off both times but it was still incredibly hard to cope with in the heat. Often one side of town has power, another doesn't, so you can get on your bike and find a cafe if you try. People talk about the wi-fi going down in Vietnam because of under sea cables ( there is some truth in sharks chewing the cables apparently). We got the chance to talk to a Hanoi IT professional ( through our local Hash House Harriers meets) and he said it hasn't happened in the last 2 years, but you never know.
The Hoi An Admission Ticket for Long Term Travellers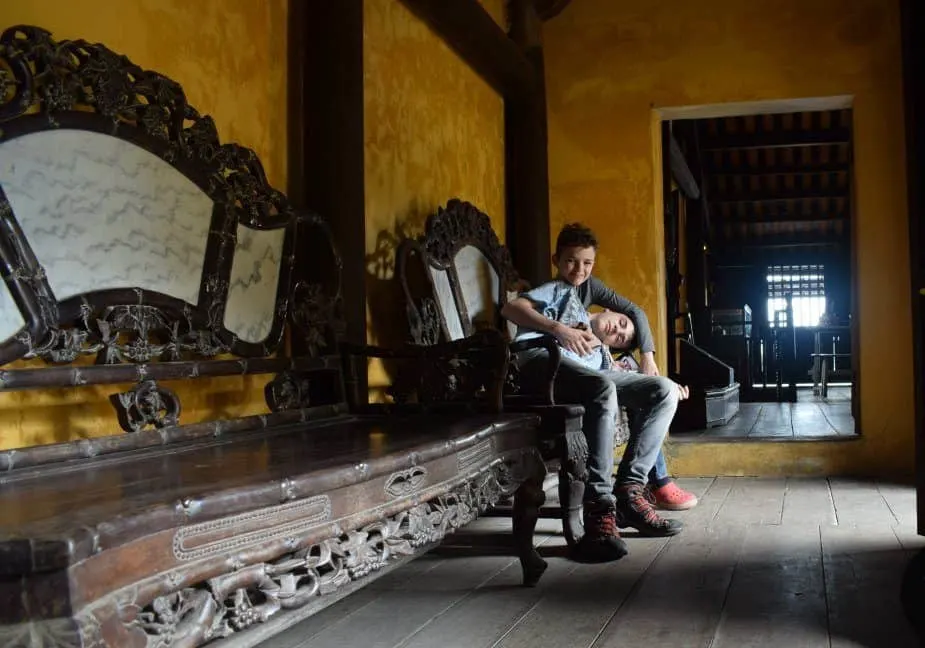 This is a tricky one to get information on before arrival, but now we are here the infamous Hoi An ticket is no problem at all. Adult visitors ( kids are free) need to buy a Hoi An ticket to go into the numerous museums and ancient building that are open to the public around town. You DO NOT need a ticket just to wander around Hoi An.
The only snag with this is that the Japanese covered bridge is considered a ticketed item, so visitors simply wanting to cross can get very angry when they are asked for a ticket. I've seen it happen.
There is a second bridge that you don't need a ticket for just metres away, but I guess they don't realise. If you visit early or late there is rarely anyone checking tickets on the bridge and I've walked over it dozens of times without a ticket.
I have bought a ticket and we spent a pleasant half day exploring some of the museums with the kids, it's a nice thing to do and with them being free it's an absolute bargain. The ticket will only get you into 5 attractions of your choice.
Pre Wet Season Heat (September- October in Hoi An)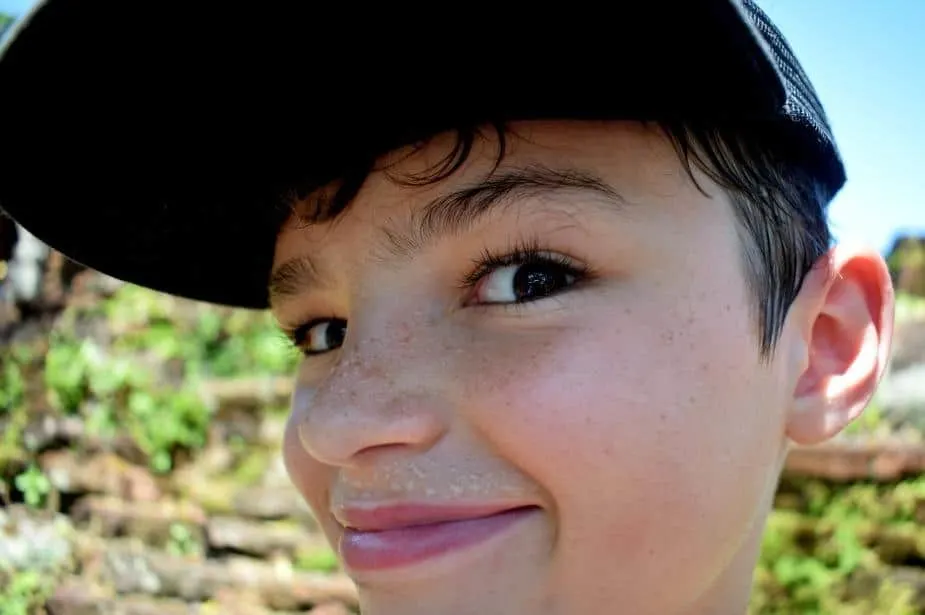 It's insanely hot, from 30-37º C here right now ( September). The wet season will be here any day and we've already had a near-miss with a cyclone.
Mostly we've had blue skies with rainless thunder clouds rolling in around sunset. It's dramatic, beautiful and hot.
We picked this climate for Chef's training, but we'd much prefer it cooler. For most of the night we need to run the air-con, we're used to tropical heat but this is intense. We only have air-con in our bedrooms, that's typical here. By day we're fan only.
It's rare to find anywhere with air-con, no restaurants or coffee shops ( other than Dingo Deli) have it. It's OK, everyone manages. But laundry piles up incredibly quickly and we're very glad of our washing machine.
The video below is Chef and I cycling in the downpour the cyclone brought.
Living in Hoi An in the Wet Season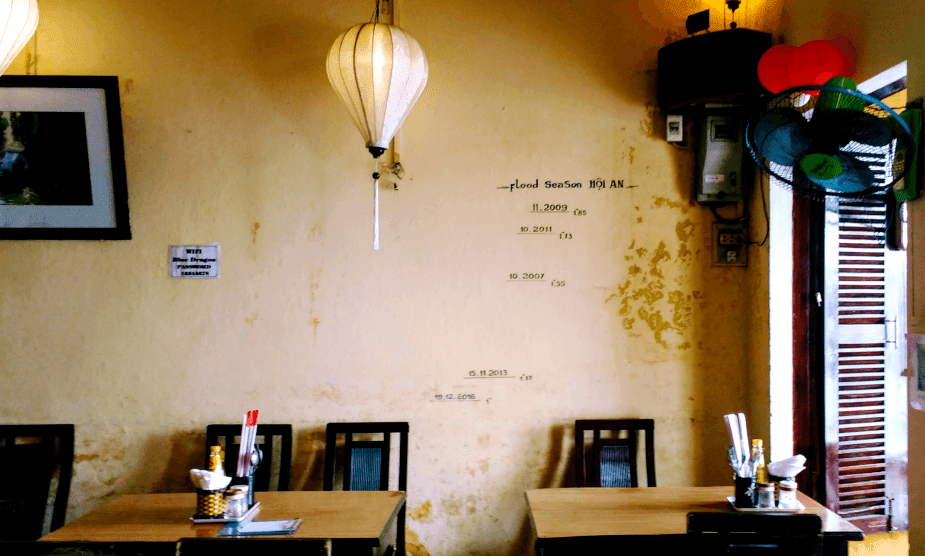 The wet season hit us in late October, days of torrential rain, but interspersed with sunny periods and a welcome drop in temperatures. It was still warm enough for fans, but no more air-con. The rain wasn't much of a problem until a cyclone or typhoon came too close, then 4 days of torrential rain brought on the typical Hoi An floods.
Living in Hoi An When it Floods (November to December)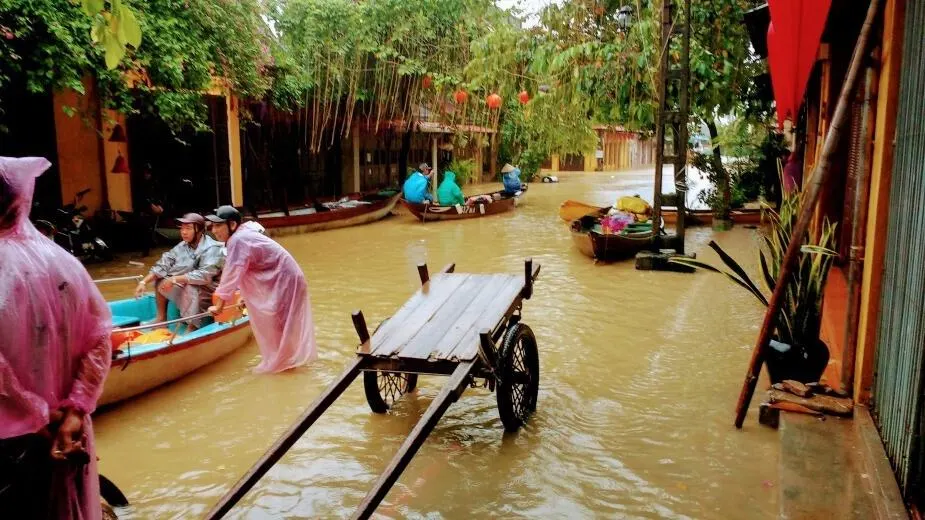 Life just went on. Today you'll need a boat to get around the old town and there are plenty. Some roads outside the Old Town are flooded, some aren't, we still have power and wi-fi but we can't get an Uber and no restaurants are delivering food. There is a full post on Hoi An flooding experiences here.
If you're thinking of staying in Hoi An through the wet season take a look at the flood map before you rent a property.
Living in Hoi An in January
January has been cold! Daytime temperatures sank to 17º C and we needed a light fleece in the evenings. Locals wrap up in coats hats and scarves, I guess it's the only chance they get to wear them. There was also a lot of rain in January but interspersed with some sunny periods or even days. We swam in the sea one day in January, air temperature was good but the sea remained very chilly. On other days the beach was gloomy and cold, the water rough and murky.
Coffee in Hoi An (and wine, tea, and beer)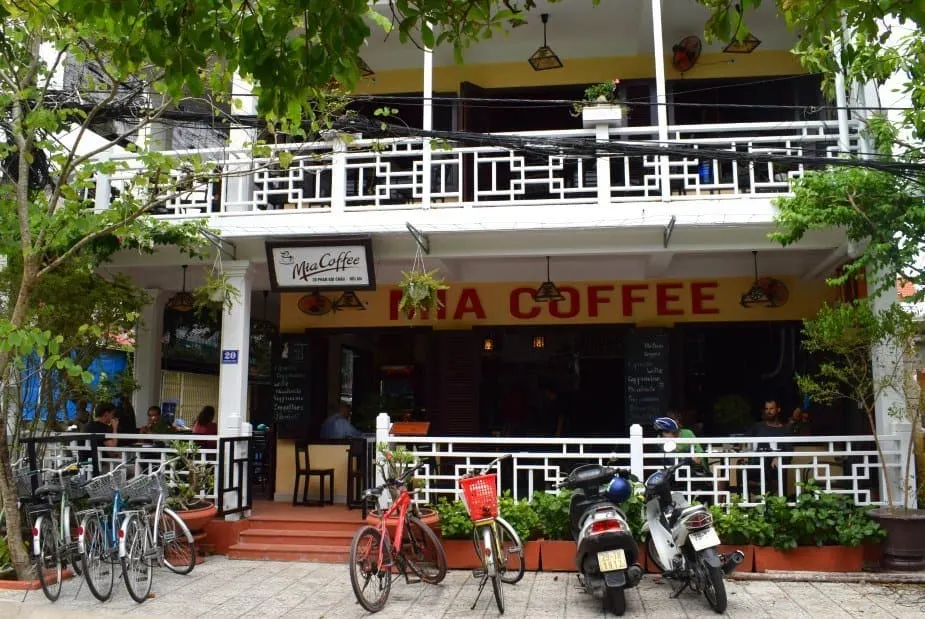 If you've been reading for a while you'll know that my veins flow with Americano black coffee, Earl Grey tea and red wine. I have all three here in Hoi An.
Coffee is semi problematic as we can't buy instant and we don't have a cafetiere, Aeropress or any other travel coffee maker with us. But we've found a couple of fixes.
Firstly, the little stainless steel over-cup Vietnamese coffee filter works just fine and you can buy one for around a dollar in any market. Secondly, our favourite coffee shop, Mia, sells great Arabica beans which they grind freshly for you.
Vietnamese coffee tends to be sweet, chocolatey or caramely and we don't like it. There are loads of western-style ( mostly Australian style) coffee shops and roasteries in Hoi An, as well as traditional Vietnamese coffee joints. Mia wins hands down for us, they also do great carrot cake and cheesecake. Unfortunately, they don't have air-con so I can't really sit down there to work. Dingo Deli has coffee and air-con but their coffee leans more towards Australian long black than Americano, also it's a lot further away.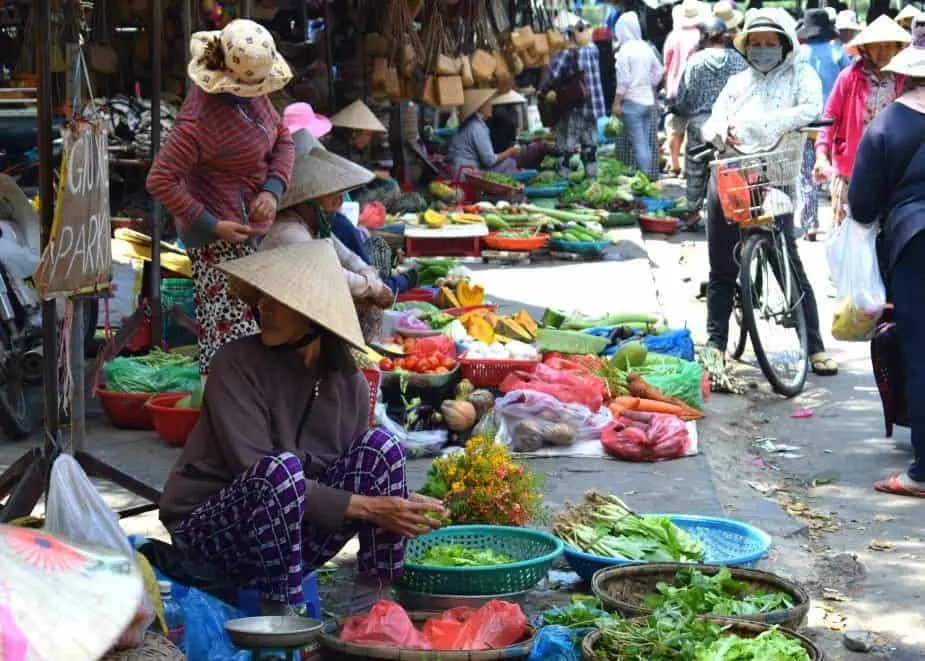 I bought my Earl Grey with me from Sainsbury but there are plenty of fancy tea shops around and most local supermarkets in expat areas have a selection of western goods. Every corner shop sells wine ( from $7 up ). Although mostly I'll have a Saigon Green (from 50c up) if we're out, it's colder and wetter.
Things to Do in Hoi An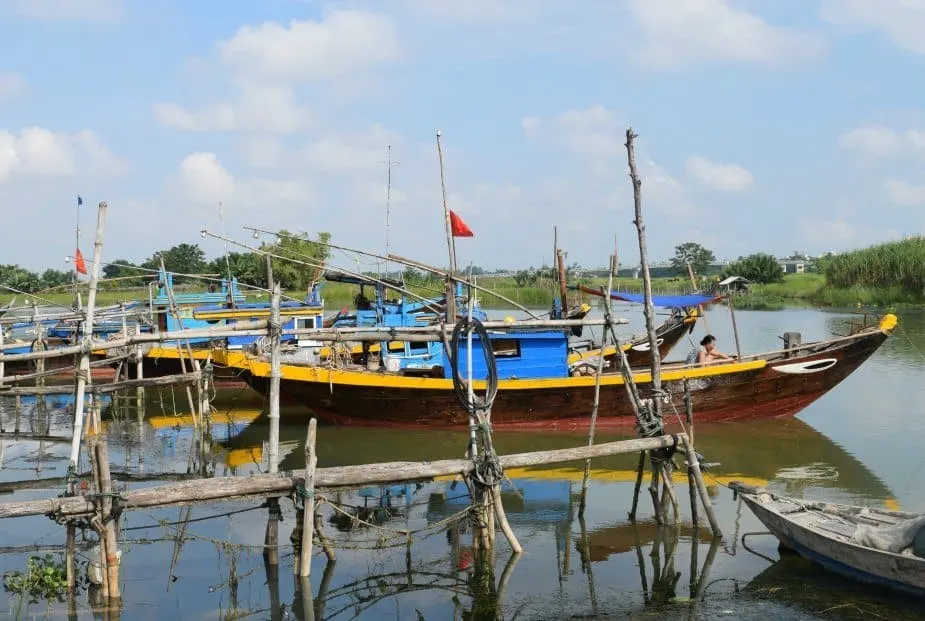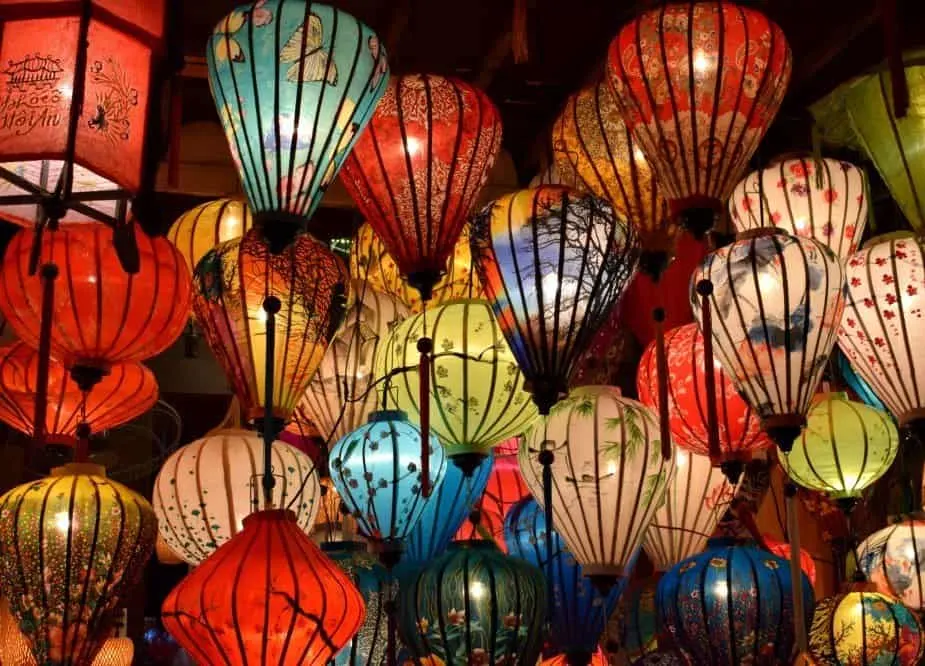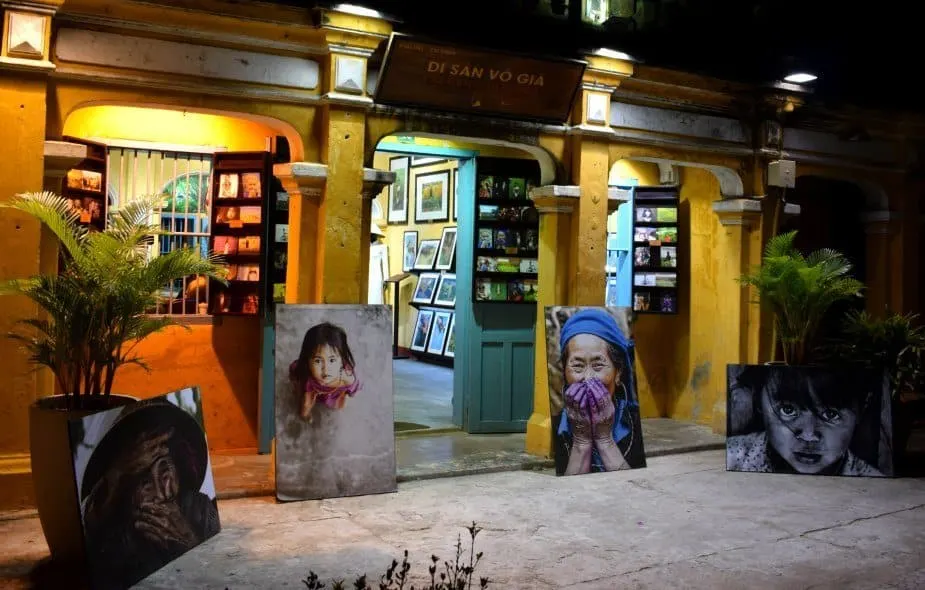 The Night Market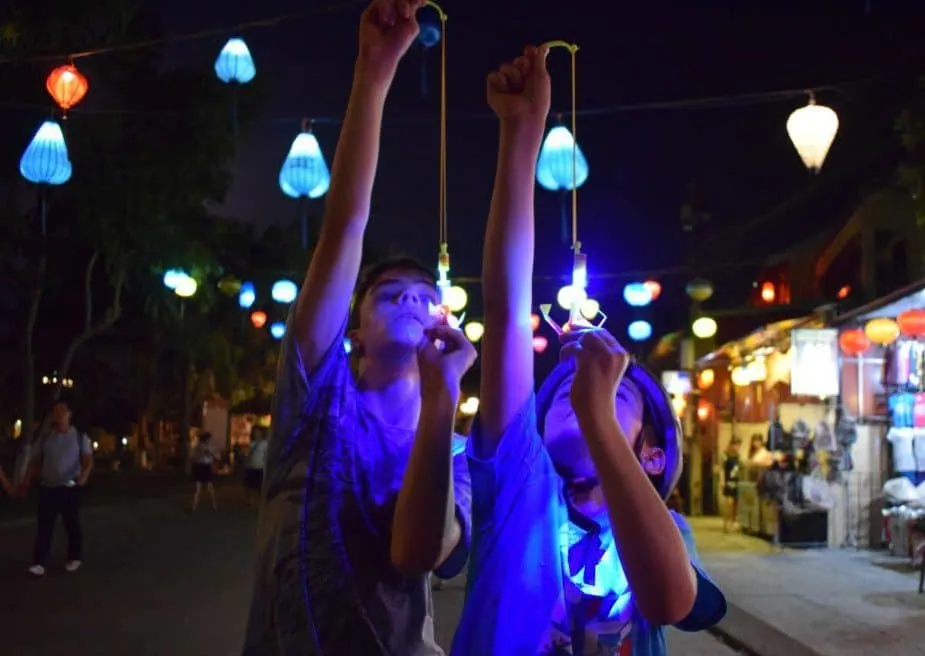 The night market is on the far side of the river, opposite the old town. It's pretty tacky but fun. This is the "party" side of the river with plenty of bars, there are also nightly fun games and attractions along the water's edge, it's fun for kids. More on Hoi An with kids here.
There is an abundance of street food and cheap restaurants over this side, quality is variable. See our full Hoi An food post here.
Getting Around Hoi An
We hired bicycles at $1 per day, others prefer motorbikes or scooters. Uber is OK in Hoi An and cheap but quality of service has deteriorated in the last 6 months.
There are plenty of taxis around. Taxis, as in most of SE Asia, are cheaper than Uber or Grab. We have NEVER been ripped off by a taxi driver not had any difficulty. They've all used their meters and we tip them well. There are local buses to take you to Danang .
The Traffic Accident and the Fabulous Vietnamese People
We'd already be blown away by how nice everyone is here, hotel owners, our landlords, the guy at the corner shop, my mi quang lady, just about everyone, but my accident brought this into sharp focus.
What happened was this, we were all out cycling. Mostly it's pretty safe round here, there are plenty of push bikes and mopeds but not too many cars and trucks.
Some streets in the Old Town are pedestrianised and bicycle-only and in the countryside, you see little on the road other than ducks and water buffalo, so we use the bikes a lot.
Yesterday morning we were passing the market on a congested, slow-moving traffic street. I got distracted, I wasn't looking at the road and I hit a drain cover causing my bike to topple towards a passing car. There was nothing I could do to stop myself falling. The car hit my foot and pushed me back the other way towards the gutter.
It's a bit of a blur, I'm not sure exactly how it all happened but I have one bruised foot, one skinned foot, a big bruise on my hip and a mangled bike. I was very lucky to not go under the car.
It wasn't nice. I've always ridden bikes, I cycled across Cuba for my 30th birthday and I biked to work every day in London. I just lost my concentration and took my eyes off the road and it's the first time I've fallen off a bike in about 25 years. Falling seems to hurt more at 50. But there you go, stuff happens when you least expect it.
Chef falls off from time to time too, it's inevitable. He's caught his wheels in train tracks, skidded on wet surfaces, cars have run him off the road (never in Vietnam), all sorts. He's usually moving fast with his feet clipped in as part of his Ironman training and yes, it scares me but so far he's been sore, nothing too major. Always take out travel insurance, it's vital
What I wanted to talk about was the response from the local Vietnamese people. I've never experienced such extreme kindness anywhere in the world. They scooped me up, sat me down, massaged me with tiger balm, got ice onto both feet, gave me a drink and a shoulder rub.
It was so nice of them. From our experiences here it seems pretty typical, the Vietnamese just are nice, happy people.
I have no idea why Nomadic Matt famously had such a bad time in Vietnam that he left. Seems crazy. Anyway, I asked Chef to take this picture to prove my point. Did you ever see such a kind bunch? So thanks ladies and gent of Hoi An, you're superstars and I'm a bad cyclist.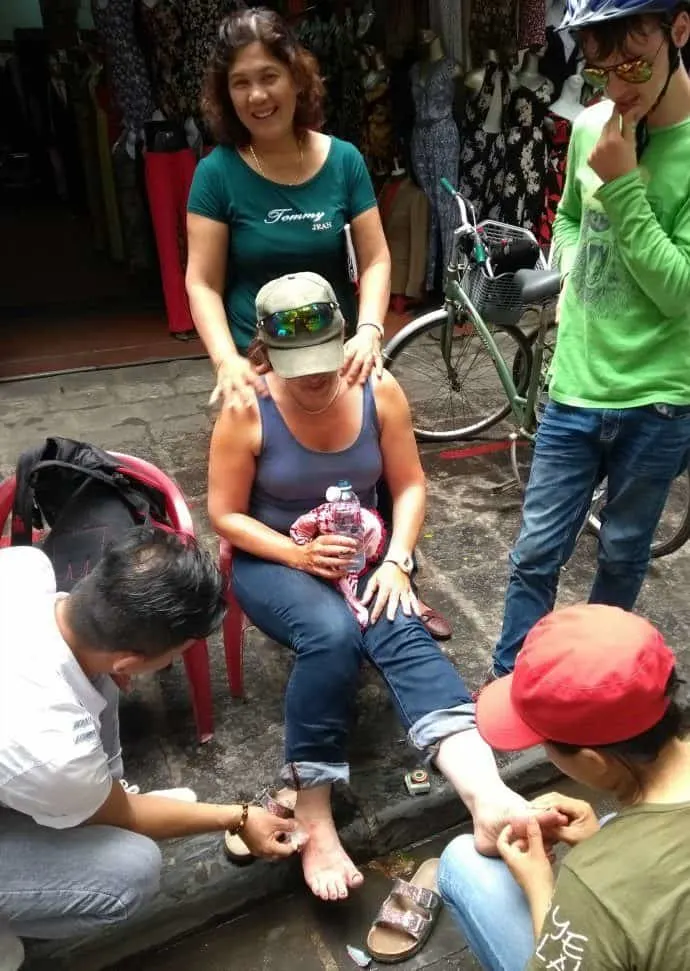 My bike was fairly badly damaged, I was expecting to have to pay for repairs. Instead, our landlords took the bike away, welded it back together, bought me dressings for my feet and were just very concerned. Amazing kindness, they see human beings, not dollar signs.
We have only good things to say about the Vietnamese of central Vietnam, they are extremely friendly and welcoming and a smile and a sense of humour goes a long way.
What is Slow Travel?
You can't put a time limit on it, it's a matter of slow-for-you. We tend to stay as long as we need or want to stay and then move on. We can't right now. But that's what we prefer.
So the time you spend depends on how much there is to do and how much you want to do. We cope much better in London, with endless places and events to keep us busy and strangely, in Romania.
You'd think there was nothing to do in a tiny village but Breb (one of our other home bases) works its magic on me, I just have to look out of the window to be perfectly happy there.
It's related to climate too, we don't like this extreme tropical heat so we do tend to stay indoors more to escape it. In contrast, we love getting out in the snow, we all do. Everybody is different and everybody's definition of slow travel will be different.
The Advantages of Slow Travel?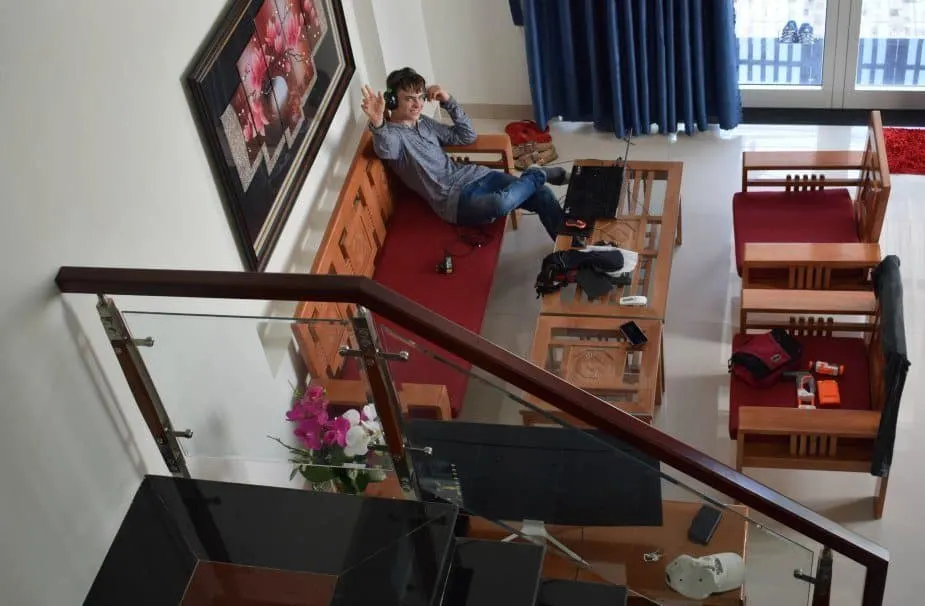 There's a list of advantages of slow travel that most people can recite. Slow travel is cheaper, it's better for the planet and you really get to know a place. I think that's about it.
They're not big enough advantages for me. We didn't discover much more in Hoi An in the third week than we did in the first one but what happens over time is you become part of the local scene.
We live here now and are generally accepted as locals, we fit, it's home, we have friends. It just makes it so much harder to leave.
We've undoubtedly saved a lot of money. Our house rental cost us way less than any hotel round here ( under $20 per night) and included washing machine, internet, drinking water, and gas for cooking. I'll give you the final cost when we see our electricity bill.
We're running the air-con all night almost every night in two bedrooms and it's going to cost us. We're used to the tropics and rarely used air-con at home in Queensland, but it's seriously hot here right now.
Is Slow Travel Necessary With Children?
For my children no, absolutely not. They love what we're doing now, they love that we're not doing much so they get to play more computer games. I don't love that. I'd rather they were busy and getting out and about more, so that's a big part of why I don't enjoy slow travel so much.
Once we reached the 6-month mark in Hoi An, they had local friends that they were sad to leave.
When they were younger we could take them out to playgrounds but they're too big for that now and I couldn't let them go out alone here. That was one of the big attractions in Romania, they could wander the village freely and safely, here that's out of the question with the obstacle of the main road traffic.
We have taken them to pottery classes, Vietnamese lessons, bike tours, shows, cookery and painting sessions. They enjoy them once we get them there. They enjoy riding the bikes, they like Vietnam and adore Vietnamese food, but it wasn't very exciting for them at first because we weren't doing enough and were initially too isolated in the house.
It's one of the reasons I'd rather stay in a hotel or guest house, being in a house puts you behind high walls. After a few months that all changed and we had far too many social opportunities, how you live your life changes with duration of stay. We have a full post on things to do in Hoi An with kids.
Is Slow Travel Necessary as Digital Nomads?
Yes it is. It's very, very hard to travel at any kind of pace and work at the same time. Although this slow, 5 months plus in one place, isn't required.
Generally, if I'm working I feel bad that the kids are doing nothing (they're perfectly happy, it's a mum thing). But quite honestly I'm hardly doing anything you could call work even though my days are relatively empty.
When we travel faster I seem to be more productive. It must be the pressure.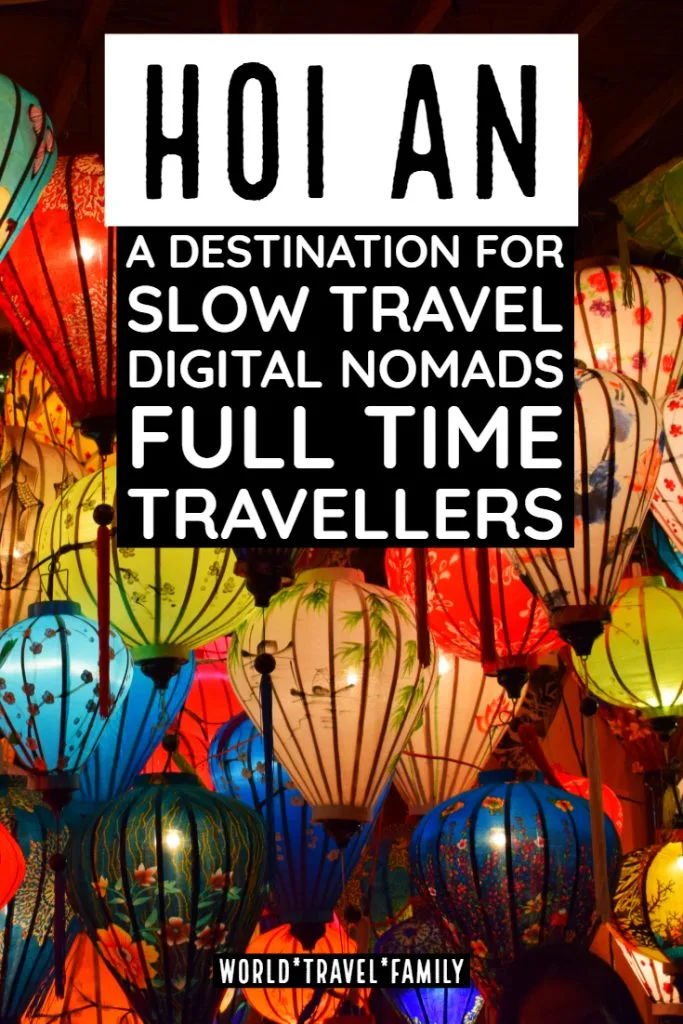 What Do Our Future Travels Look Like, Will They Be Slow?
I doubt it. When we travel, we travel fast, but sometimes we stop to live-a-while. Hoi An has certainly become one of our living places and we will be back.
I was incredibly sad to leave our new home and honestly wondered why we were leaving. Yet again, we've lost our hearts to a destination.
More on Hoi An life and things to do soon ( this post will be updated and others added) For now we're busy creating our complete Vietnam travel blog and guide, check it out.
How are your plans looking and have you tried slow travel or settling for a while? Do you dig it?
If you'd like to hire a car during your stay, use this car rental comparison tool to find the best deal!

We also suggest you take a look at this company to get a quote for all kinds of the more tricky adventure or extended travel insurance.

Try Stayz / VRBO for an alternative way to find rentals on homes/apartments/condos in any country!