This post may contain affiliate links.
The best way to get from Danang to Hoi An is by road. Most travellers will stay in Hoi An, the picture-perfect UNESCO Heritage-listed town but will arrive in Danang by air or rail. This is because Hoi An has neither a railway station nor an airport, but don't worry, it isn't far and below I'll cover the quickest, cheapest, most luxurious, budget and comfortable ways to get between Danang and Hoi An.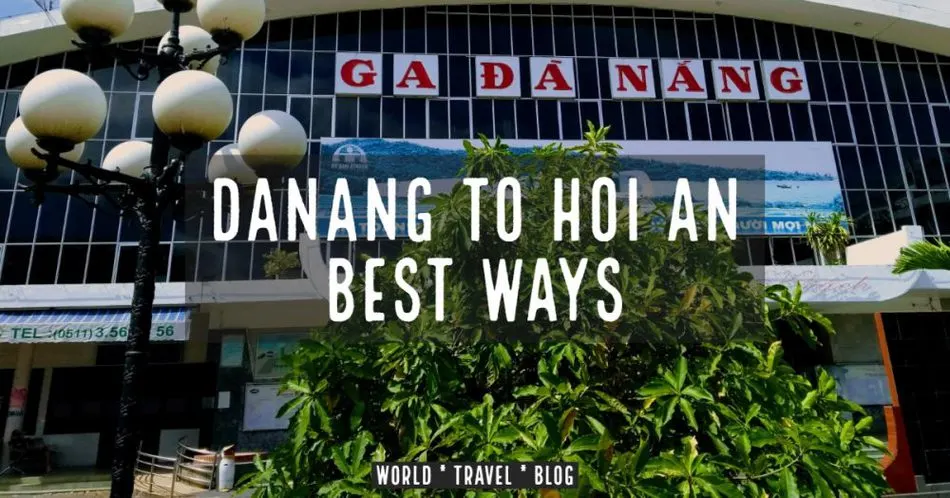 The easiest way to get from Danang Airport, city, or station to Hoi An is to book a shuttle bus or car, these are cheap and far simpler than any other option. Check out the shuttles here, and reserve your place, using Viator, the cost is just $22 US at time of writing. If you wish to spend an evening in Hoi An (night markets, lanterns, sampan rides) from your vacation hotel in Da Nang, take a look at return tours to Hoi An here, you can book these through Viator, or here on GetYourGuide. Marble Mountain and Ba Na Hills are very close to Da Nang, and these tours can also be booked from either Da Nang or Hoi An. Just use our links above.
If you want to take the public bus, taxi, or other options, keep reading! If you'd like to book a private vehicle and driver with child seats or booster seats, check out KiwiTaxi.
Danang to Hoi An
We made the short video below using our real and frequent experiences of travelling between Danang and Hoi An.
We further explain your transport options and how to organise them further down the page.
We were in Hoi An as a family and would make this trip often, with kids, it's not hard to do and we felt safe taking the bus between Danag and Hoi An.
Likewise taxis on this route were comfortable and felt safe. They cost more but are still very cheap by western standards.
You could, of course, find a motorbike and driver, a scooter taxi to take you from Danang to Hoi An. As there were four of us this was impractical and dangerous. Both Uber and Grab offer motorbike taxis through their apps when available.
If you're looking for further information on Hoi An we have guides to Hoi An with kids, Hoi An Food and Restaurants, and Hoi An Markets. We were also living in Hoi An during the floods, we can tell you all about Hoi An during flooding.
Flooding normally occurs from about October to December and lasts a few days. The Old Town will be under water, but every year it re-opens once the flood waters recede. Flooding probablt won't affect your transport from Da Nang to Hoi An.
Most holidaymakers or backpackers heading to Hoi An will have to arrive via Danang, either from the airport or train station. This post aims to make that journey easier for you.
Getting to Danang from Saigon (Ho Chi Minh) is easy, there is a sleeper train (Reunification Express), Vietnamese semi-recliner buses (coaches), minivans, or, obviously, you could fly. We have a full post on this journey too. The link is in the first line of this paragraph and will open in a new tab.
Da Nang to Hoi An Map
As you can see from our map of Da Nang and Hoi An, below, you can take a coastal route or an inland route between Da Nang and Hoi An.
The inland route is a little faster but the coastal route will give you views of Da Nang's beaches and take you over Da Nang's famous Dragon Bridge.
Vin Com Plaza – the best shopping mall, with cinema and ice rink is also on this route, right next to the bridge, you may need to come to this shopping mall as there is no sizeable mall in Hoi An.
Hoi An's bus station is the green marker just outside Hoi An Old Town. This is the link to a fully functional Google map of this route.
Da Nang to Hoi An Distance
Da Nang to Hoi An is a distance of 29Kh, 18 miles. The journey from Danang International Airport or Da Nang train station to Hoi An Old Town can then be competed by road and should take around 45 minutes.
You can easily catch a taxi, local bus, motorbike taxi, Grab or Uber car to Hoi An. The cheapest to get to Hoi An from Da Nang is to take the local bus to Hoi An bus staion, located outside the Old Town.
Private Transfers From Danang to Hoi An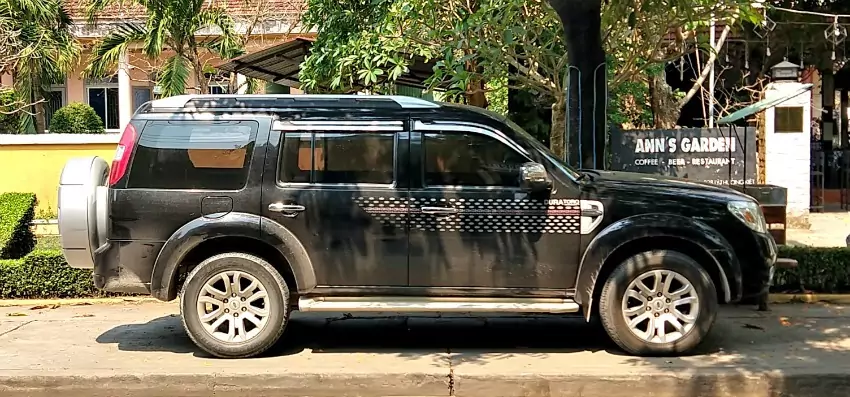 Both the quickest and most luxurious way to travel between Danang and Hoi An is to book a private transfer vehicle with driver.
You can arrange a private transfer from Da Nang City, Da Nang International Airport or Da Nang Railway Station to Hoi An.
Remember that some parts of Hoi An Old Town are pedestrianised so your vehicle won't be able to take you to the heart of the old town itself, but should be able to take you to your Hoi An hotel.
This gives you total control in both time and vehicle type. Whether you're a group of 4 or alone, you can tailor your journey to suit you.
Want a fancy car? Simple pay a little extra and specify what you want.
Transfers can be booked and paid in advance so that you can be met as you step out of the airport or railway station and delivered straight to your hotel.
No worrying about finding a taxi, local money or explaining the destination address.
Private transfers are the most expensive way to get from Da Nang to Hoi An but give peace of mind and mean that your holiday gets off to the best possible start.
I'd recommend private transfers if this is your first time in a destination and your time is limited.
You can also use private transfers to explore further field such as up to Hue via Hai Van Pass and the DMZ. Finding a great trustworthy hire car and driver can make the difference between a great or bad holiday. To find a private transport book here.
Da Nang to Hoi An by KiwiTaxi
A Kiwitaxi journey from Da Nang to Hoi An is easy to book online, with various types of vehicle, prices start around $28 US for 2 people. Book a car through KiwiTaxi here. Your driver will meet you at the airport with a nameplate. This company also offers guided tours in over 100 countries. They can even provide child seats or booster seats if you book these in advance.
Da Nang to Hoi An by Taxi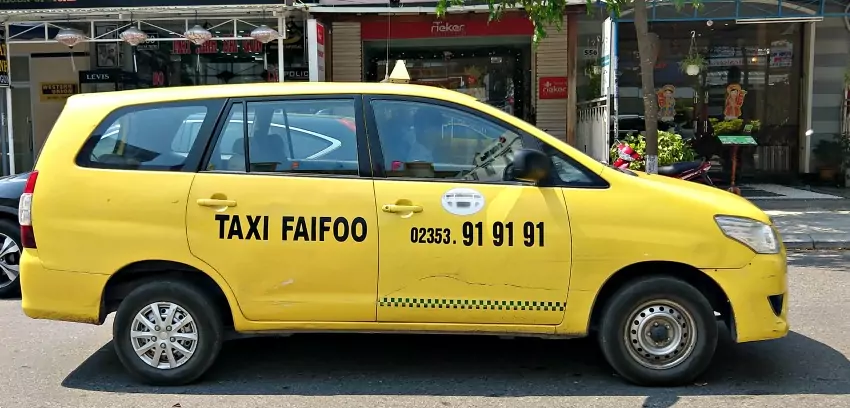 In most Asian destinations you'll find taxis easily. This is true in both Danang International Airport and Danang Railway Station.
All taxis are metered and you'll need to make sure that the drivers use their meters. Alternatively, order a taxi directly from 12GoAsia here. This guarantees you a set fare ride.
The current costs for transport from Da Nang to Hoi An are between 80,000VND ($3 US shared minivan from Viet Nam Travel Bus) and 380,000VND ($16 US taxi with April Adventure or OUROS travel)
The shuttle buses run between 6am (approx) and 9pm or 9.15pm, depending on which company you use. Taxis and private cars should operate at any time.
If a taxi driver refuses to use their meter just leave and get another taxi. I've not had a taxi refuse to use their meter in nearly 6 months, but it can happen, particularly on public holidays like Tet.
If you book your vehicle using the 12Go link above, you shouldn't have any difficulties with drivers or scams. Alternatively book a private or shared transfer on Viator (here) or GetYourGuide.
There are 3 main taxi companies in the region and prices are very similar as are their standards.
Mai Linh taxi company has green taxis and the drivers normally wear a white and green jacket.
Faifoo taxis are yellow with Faifoo written down the side of each vehicle.
VinaSun is another big company that operates across Danang and Hoi An and uses white cars with red and green arrows in a circle as their logo.
The price from Danang Airport is between 350,000 Dong- 450,000 Dong ($15-$20US) for a regular taxi from a taxi rank or flagged down on the street, depending on where your Hoi An hotel is located.
A taxi is a similar price from Danang Railway Station to Hoi An, although it will depend on the time of day and traffic as you'll need to drive through Danang first until you get to the coast road or inland highway.
The price for the shuttle (link at the top of the page), is pretty much the same and is easier to organise.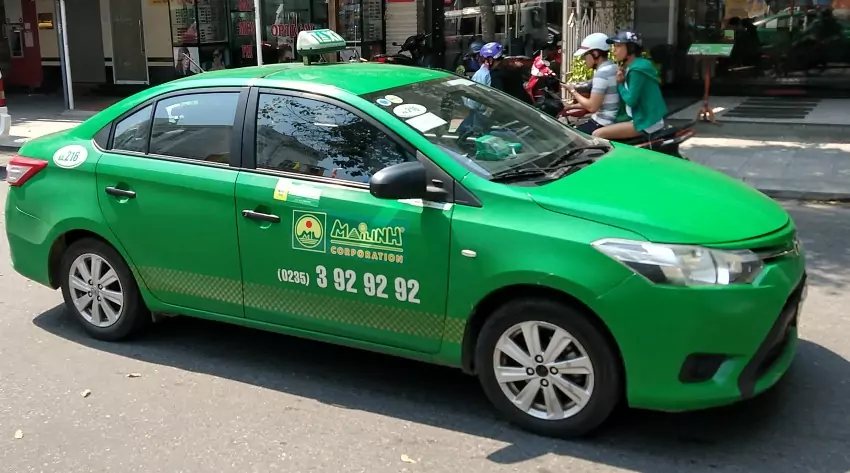 The benefit of taking a taxi is you can show up and jump in the first one and go. Especially if you're not sure of when you'll arrive and don't like making prearranged plans.
The downside is that it can be more expensive than organising a car before you arrive and you'll need local currency to pay for the journey.
Keep your wits about you especially if you have just arrived in the country. Taxis the world over have been known to drive the 'long' way to the destination so make sure they think you know exactly where you are and where your destination is.
A mobile phone with maps open on your lap is great for this.
Public Bus From Danang to Hoi An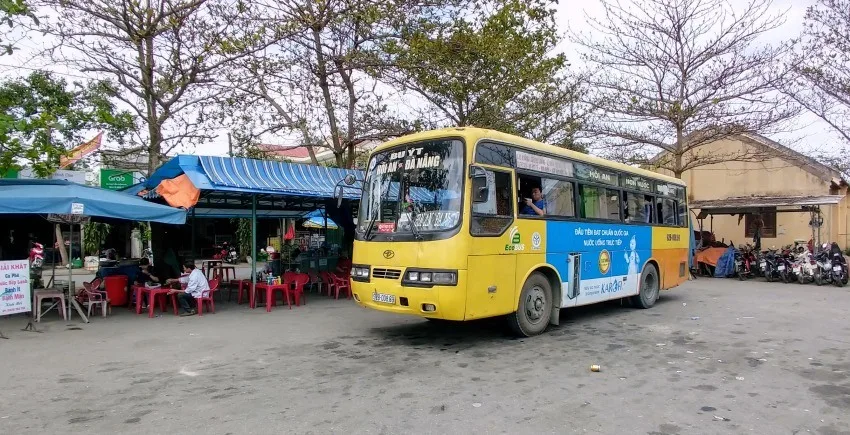 The pubic bus from Danang to Hoi An is route 1 and departs and arrives 1 block over from the railway station.
The buses are small and if you have a lot of luggage it could be problematic. With a small bag, it is OK
These buses run every 20 minutes from about 5.30am to 6pm (sunrise to sunset). You can buy bus tickets on the bus, these buses are rarely full.
You can also buy a ticket at the bus station while waiting for the next bus.
The bus takes the inland route between Da Nang and Hoi An, the DT607 highway. This road is in good condition generally, having been under repair recently.
On leaving the railway station in Danang city just walk straight out and along the road leading directly away from the station. At the first set of lights, there is a T junction. The bus runs along this first road.
The signs are written in Vietnamese but are easy enough to read and the number 1 is large and on the front of the bus.
The Hoi An yellow bus will drive through Danang city and then take the inland road to Hoi An Bus Station, Bến xe Hội An Nguyễn Tất Thành bus station.
Travel time is approximately 45 minutes to an hour depending on traffic and the cost is 30,000 Dong ($1.25US) per person. If your bag takes a seat up you'll be expected to pay for that seat as well.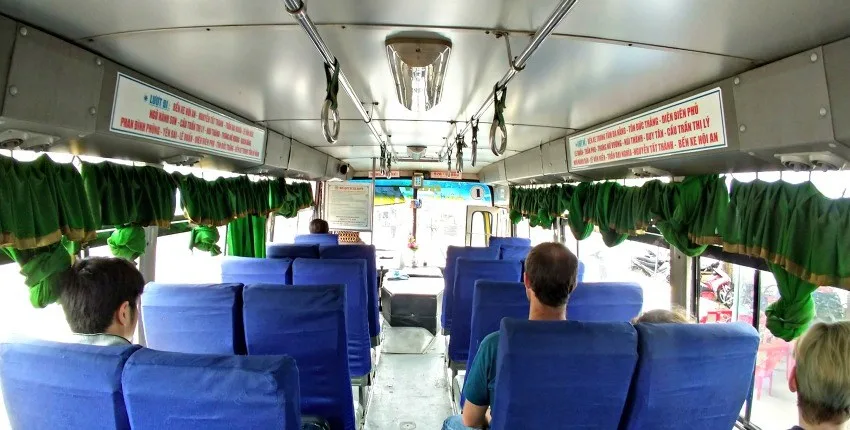 Hoi An Bus Station is located 2 km to the centre (north west) of the historic old town although there are plenty of taxis here to take you to a hotel or destination of your choice. It's certainly walkable.
From Danang International Airport there isn't a bus directly to Hoi An.
You could catch the bus that goes past the airport (it doesn't enter the airport complex) and change buses or walk approximately 1 km into town and pick up the bus from there.
Alternatively, you could catch a taxi to the bus stop. Unless you're really trying to save as much as possible I wouldn't catch a bus from the airport as the hassle isn't worth the saved money.
If there are 4 people the two buses or bus/taxi won't save you money at all.
Uber or Grab Cars from Da Nang to Hoi An
Uber and Grab are operational in both Danang and Hoi An. You should have no trouble finding either in both the airport and the railway station. Just make sure you have the Grab app loaded onto your phone in advance and get used to using the app.
It will need to have your credit card details loaded as Grab charges you directly from your phone booking, you do not need to pay your driver.
Tipping is not required for Grab drivers but they do like you to leave them a positive review through the app. You should be prompted to do this automatically.
You'll also need data if the airport WiFi at Da Nang isn't working. Alternatively buy a local SIM card.
Grab is the bigger company and slightly cheaper than Uber. Based in Singapore, it allows taxis to use Grab as well as the normal taxis service.
This means your Grab could be a normal taxi that is 'moonlighting' legally as a private service.
I've not had much luck using Grab and prefer Uber where I find the cars are of a higher standard. Uber has also started using motorbike pickups alongside its Uber X and Uber SUV for larger families or luggage.
The price is very dependent on the time of day and demand. This is how Uber and Grab operate across the globe and while I noticed that during New Year there was no price surge (Vietnamese don't celebrate NYE) during Tet it was either massively inflated or just unavailable.
As an example, the fares from Danang Airport to Hoi An at 1400 hours were 165,000 Dong ($7.50 US) for an Uber Bike and 350,000 Dong ($14 US) for an Uber X. The SUV was about $2 US more.
Motorbike or Scooter Taxis from Da Nang to Hoi An
Motorbike Grab is also available from Da Nang to Hoi An if you're alone, and this is significantly cheaper. I've seen numerous backpackers with bags on their back take a motorbike taxi service.
Grab should provide a helmet for the pillion passenger but be warned the quality of helmets in Vietnam isn't up to international standards.
Accidents on the road here are 3-4 times that of Europe, especially on two wheels.
I haven't used UberBike yet so I can't comment on their service but imagine that it is similar to Grab.
All bike riders need a helmet by law so I imagine they provide this like Grab.
Shuttle Transfers to Hoi An from Danang
Shuttle buses are perfect for larger groups who don't mind sharing. While not as frequent and not direct, the cost reflects this.
Shuttle buses will normally only stop a few times to pick up and drop off other passengers in Hoi An. Unfortunately with the increase in private hire companies this option is becoming less common as it is often cheaper to just book a whole minibus for your group.
To book shuttle buses and private buses click here. GetYourGuide and Viator have a good selection of shuttle and transfer options.
Hoi An Express, pictured below, is a good company to use and can even offer infant and child car seats on request.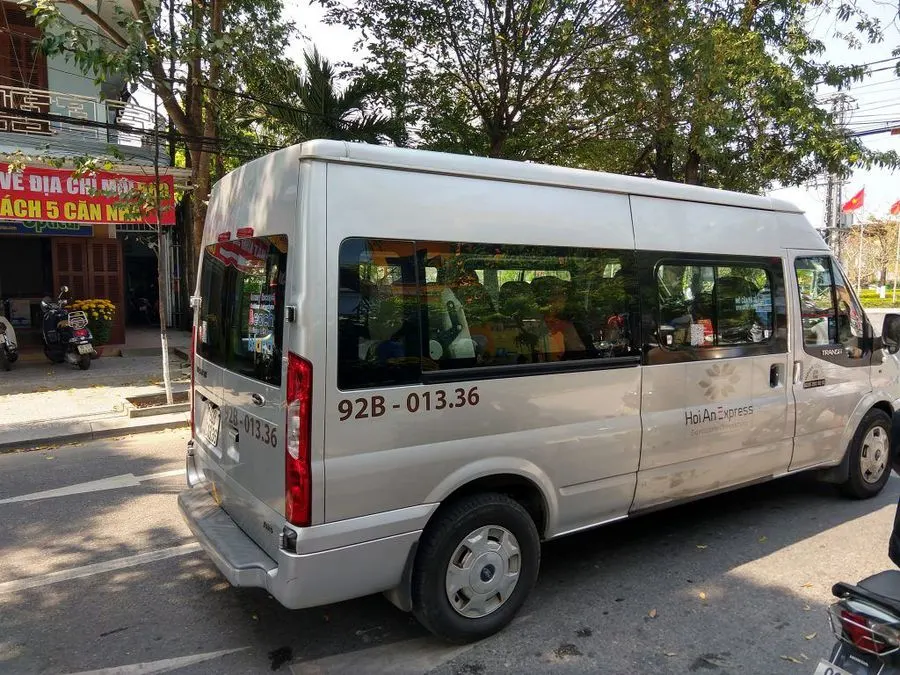 This option isn't readily available from Danang Railway Station at present and I doubt it will return anytime soon.
With so many options getting from Danang to Hoi An at multiple price points it really is as easy or hard as you make it. I've done all of the above during my 6 months in Hoi An, from both the airport and railway station and enjoyed them all. Take your pick and enjoy the ride.
If you're time short and want to fly from Ho Chi Minh city you can check out options here. It isn't as nice as the train but it is much quicker. Just note that you'll need to get from Danang International Airport down to Hoi An as there isn't an airport in Hoi An. See the above for your options.
I've written a post on how to avoid scams in Vietnam, transport across Vietnam and what is illegal in Vietnam. Read the post here to see this and other Vietnam travel tips.
If you'd like to hire a car during your stay, use this car rental comparison tool to find the best deal!

We also suggest you take a look at this company to get a quote for all kinds of the more tricky adventure or extended travel insurance.

Try Stayz / VRBO for an alternative way to find rentals on homes/apartments/condos in any country!