This post may contain affiliate links.
Is visiting Kuala Lumpur with kids a good idea? Yes it is! Kuala Lumpur Malaysia is a busy modern city bursting with things to do with kids of all ages. Choose between cultural experiences to educate and broaden young minds, attractions designed purely for child-friendly fun, nature and wildlife experiences, plus more. KL with kids really is a dream. Kuala Lumpur is easy to get around with kids, there are even free buses, and it's relatively safe and affordable for families. How will you keep your kids happy in KL while enjoying seeing KL yourself too? We have a few ideas to help you enjoy Kuala Lumpur with kids. This post is updated for 2023.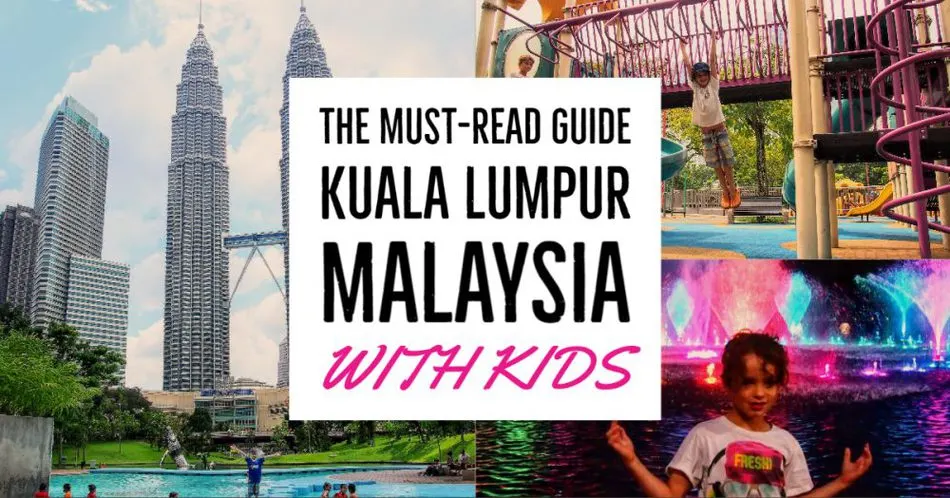 Locals in KL have told me theft is a problem, we haven't been robbed in KL (but we were in Penang), so maybe purchase an anti-theft bag with a slash-proof body and strap, hidden pockets, plus a strong hook to attach it to furniture while seated is a very good idea. This is our favourite anti-theft large messenger travel bag to keep your money safe on your vacation or extended travels in Malaysia. For a smaller purse, but safer, look at this one. To keep a small amount of cash in a very secret place, consider a travel safety money belt like this, or a neck wallet for cash in Kuala Lumpur. Be particularly vigilant in KL's crowded night markets, train stations, buses, and any busy areas. You will also need an adaptor for KL's sockets, which will mostly be Asian 2 prong, but you'll also see British 3 square pin. This one should be good for KL.
---
Kuala Lumpur With Kids, Guide
We'll start with the best hotels in Kuala Lumpur with kids, we have some good suggestions, both Luxury and budget for your KL stay with family. Then we'll move on to the best things to do in Kuala Lumpur for and with kids to help you plan your child-friendly itinerary or activities. Finally, we'll cover some of the practicalities, food, transport, getting around and safety. We hope our KL guide with kids is useful to you!
Best Hotels in Kuala Lumpur With Kids and For Families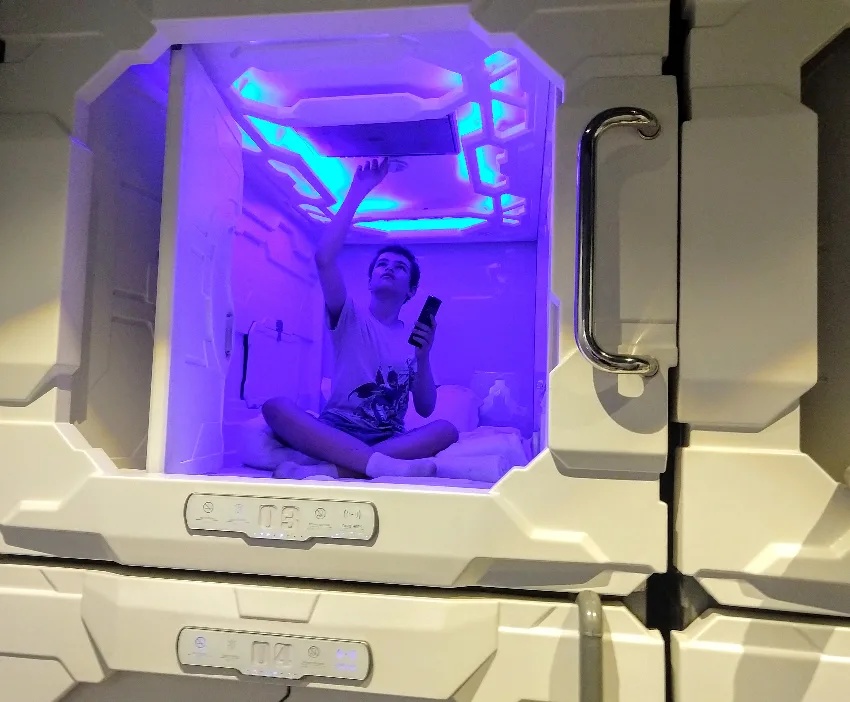 We've taken a look at some of the best luxury and budget accommodation for families with kids in Kuala Lumpur. Several of these we've tried ourselves and can recommend. If we've tried them and didn't like them, they don't make the list. We're often looking for family rooms here, with 3- 4 beds or more.
Hostels can work and some of our best stays in Kuala Lumpur with kids have been at fun hostels with family rooms. These hostel family rooms sometimes have private bathrooms and sometimes have communal facilities. Kuala Lumpur also has many, many apartments to rent that are perfect for families. Kitchens and washing machines go a long way with kids. We tend to go for hotels, guest houses, and hostels, usually with breakfast included and good free wifi.
Hostel With Family Room For Kids
A family favourite of ours, we often use Back Home Kuala Lumpur, (link goes to Agoda, they're not on Booking.com) this is a slightly more expensive, modern, luxury hostel with family rooms for 3 (no family rooms for 4 unfortunately) and private dorms for 4 or more. We can't say enough good things about Back Home, some of the staff here are good friends now.
Staying as a family of 4 with younger kids we took a 3 bed room (big double plus bunk above and an extra mattress). With teens and tweens we book 2 doubles and feel totally safe here. Their movie room, small immaculately clean kitchen and included breakfast is a God-send with kids. My boys love this place.
Right over the street from Back Home is the Thousand Miles hostel. (This one is only on Booking, not Agoda) It's a budget hostel with private rooms and young kids can stay free. (check terms). It also has a basic included breakfast but isn't as well-appointed as Back Home. If you're after budget stay, this one does the job. We enjoyed staying here. Both are a short walk from Masjid Jamek, Merdeka Square and China Town, both have easy access to the free GoKL buses and great Indian food on the next street.
Capsule Hotel in KL With Kids – Space Themed
This was really good fun and a treat for the kids. We were looking for something quirky and unique in our accommodation and we really couldn't have done better than the Space Hotel (pictured above).
I wouldn't want to stay in a capsule hotel for more than a night or two, but it was a fun experience. This capsule hotel or hostel is in the heart of Chinatown, which is a great area to stay. We took a 4 "pod" private family room.Take a look here. or here on Agoda.
Apartment Hotels and Mid-Range with Kids in KL
The following hotels and apartments in central Kuala Lumpur have family-friendly rooms or apartments:
Best Family-Friendly Luxury Hotels in KL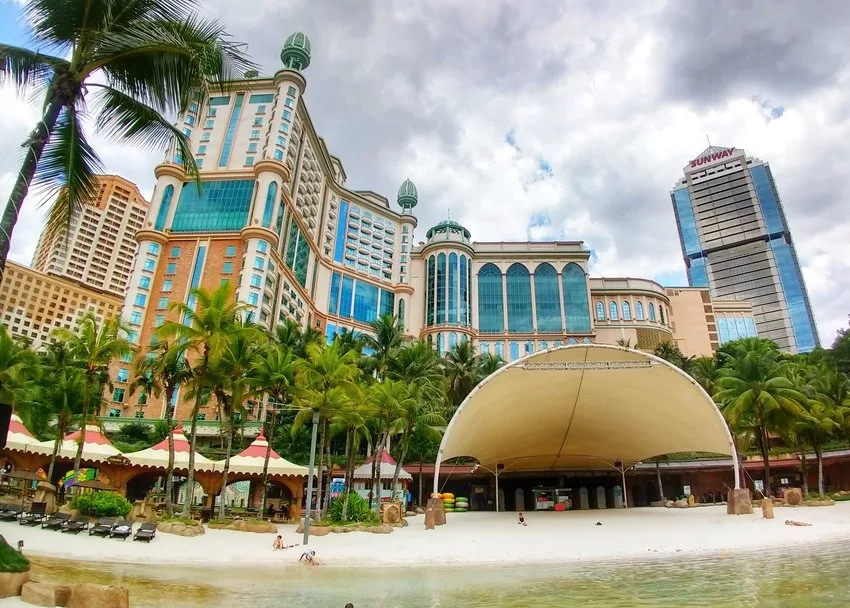 The best kid-friendly hotels in KL include, Sunway Resort Hotel and Spa ( Perfect for Sunway Lagoon), The Mandarin Oriental, Hilton Kuala Lumpur and Double Tree by Hilton Kuala Lumpur. Full reviews on these hotels coming soon!
If you don't want to stay at Sunway Lagoon (it's out of Central KL) you can book a discounted Sunway water park pass with transfer here.
Things To Do in Kuala Lumpur With Kids?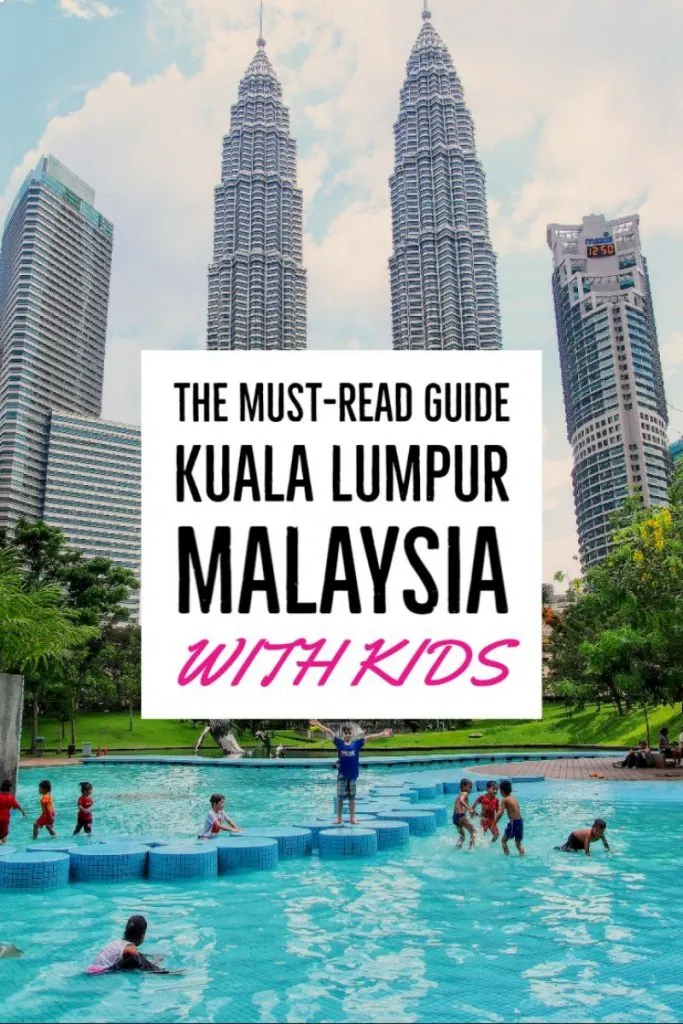 Take your pick. Here we cover sightseeing, cultural highlights, child-friendly attractions, eating, shopping, getting around, special events and festivals. There is a huge amount to see and do in Kuala Lumpur and we try to talk about how child-friendly each attraction is.
Please check and double-check all information for yourselves. We stay as current and up to date with on this blog as possible but opening times and admission prices, in particular, do change often.
Is Kuala Lumpur Child-Friendly?
Kuala Lumpur is one of the most child-friendly cities in Asia boasting an incredible variety of things to do and see that are suitable for kids of all ages, and their families. KL's air-conditioned, paved, walkways and pedestrianised areas are perfect for toddlers or strollers. It has huge variety in cultural and food experiences to broaden kids' minds, plus, it's cheap. That's important to most parents.
---
Best Things To Do in Kuala Lumpur With Kids – Shortlist
If you are working with limited time, say only a day or two, I'd try to fit the following into your child-pleasing itinerary for Malaysia. See our Malaysia with kids post for ideas for child-friendly travel in the whole country.
Combine Batu Caves with an elephant sanctuary visit here. Or book a cheaper half day tour to Batu Caves here, Batu Caves is outside KL and if you don't book a tour you can get there by train or bus. If you're not confident with public transport in KL, book the tour, avoid the hassle.
There are many one day and half day tours of KL that will show you all of KLs main attractions and should be fine with kids. Take a look at deals here.
These are the things to do in Kuala Lumpur that our family recommends most highly. We first visited KL with small kids, our last visit was with teens, there really is something for every family member in Kuala Lumpur.
The Playgrounds and Water Play Areas Near Petronas Towers (young kids). Add the aquarium nearby (reserve a skip-the-line ticket here) for a paid treat.
Kidzania, indoor fun for kids with lots of fun while learning at Curve Nx, Petaling Jaya, book here.
Petrosains Science Museum beneath the Petronas Towers. To save you time and money, you can book a tour which includes Petronas Towers, Petrosains and the Aquarium.
Batu Caves for monkeys, temples, and rainbow stairs, the steps are steep but most kids can manage. Use our link above to add an elephant sanctuary to this trip. Very happy kids!
Sunway Lagoon Water Park plus wildlife and thrills! Grab a skip-the-line admission with best price guarantee. or a discounted ticket with included transfer.
The Botanic Gardens are great, use the shuttle buses. There are deer and play areas but it can get very hot. The KL Bird and Butterfly Parks are nearby and you can book tickets and a combined tour here or book the Bird Park plus transfer here.
Chinatown for ancient Indian and Chinese Temples, markets, and street food.
With kids, book a transfer from the airport to your hotel, it makes life easier!
---
Transit Tours of KL With Kids
You can see a lot of Kuala Lumpur, with your family, if you're in transit at the airport and able to leave. Several transit tours exist and they will collect your family from the airport, show you the sights, and get you back again for your departure flight. Check these out here.
Kuala Lumpur Animals, Wildlife and Nature With Kids
There are a surprising number of animal and wildlife attractions in Kuala Lumpur City and the surrounding area which are great for kids. Don't forget the wild animals. You're likely to see plenty of wild monkeys, for instance, at Batu Caves and night walks (tours are available) can allow you to see snakes, insects and all kinds of small wildlife.
KLCC Aquarium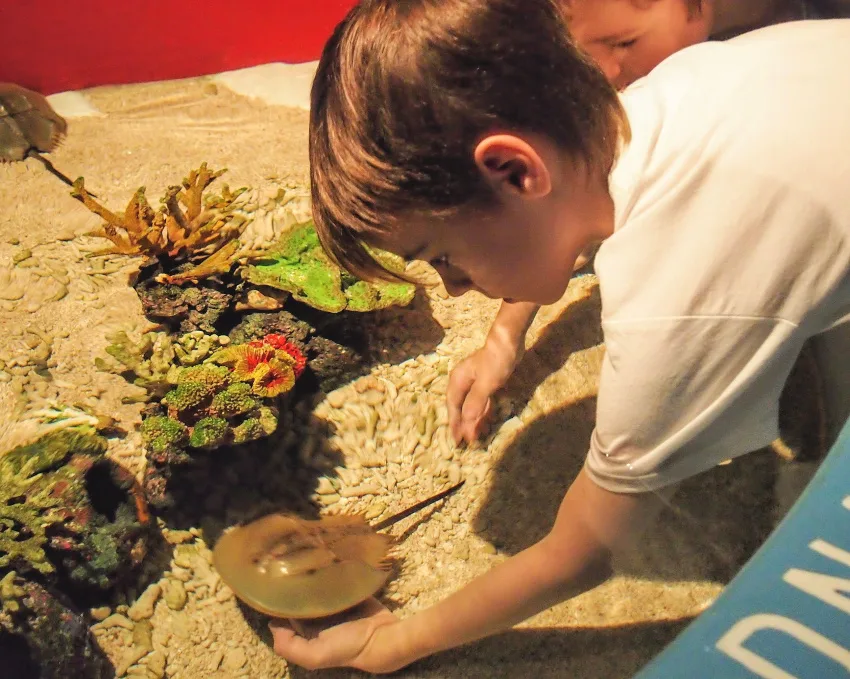 A state-of-the-art aquarium, in the heart of Kuala Lumpur, this place has plenty of interesting things for kids to see and do. You'll find it on the lower floor of the Kuala Lumpur Convention Centre right next to The Petronas Towers and very close to playgrounds and the water play area.
There are more than 5,000 freshwater and sea animals, and the center covers approximately 60,000 square feet. My kids loved this aquarium and they've been to some of the best in the world. My son ( in the photo above) loved the touch pools where he encountered horseshoe crabs and a small shark.
There's a special programme for kids aged 6-13 where they can sleep with the sharks. There are night activities, educational tours, a touch pool, feeding sessions, and lots more for the kids.
For older kids, 15 and above, there's diving with sharks (for qualified divers), or diving in an underwater cage if you don't hold a license.
You can order a discounted ticket for the KL aquarium here.
Opening hours – 10.00 am – 8.00 pm (last entry at 7.00 pm) Allow at least 2 hours, more would be better, to see everything. Admission is ( at the time of writing – please check) RM69 for adults and a little cheaper for kids aged 3-12 years old. Their website – https://aquariaklcc.com/
Farm in The City
Whose kids don't like petting and feeding animals? The Farm in the City is one of the top places to take kids for interaction with the exhibits. Here the kids can pet and feed rabbits and guinea pigs, as well as have their photos taken with them. There's a large aviary in which you can also feed and photograph the birds, as well as turtles, fish, peacocks, iguanas and much more.
There's also a 'Reptile Cavern' which is a cave-like enclosure which you can walk through. Here you can find the world's longest species of python, as well as other snakes and crocodiles.
Opening hours – from 9.30 am – 6.00 pm (check site for exact times and holidays) Closed every Tuesday. Admission is about RM58 for adults (12 and over) and RM48 for kids 11 and under – and kids under 90cm get free admission. Website: https://www.farminthecity.my/
Kuala Lumpur National Zoo and Aquarium
Kuala Lumpur National Zoo and Aquarium, also known as Zoo Negara Malaysia, is another place where the kids can get up close to some of the more cute and friendly animals. There's an exhibit called 'Children's World', where the kids can touch and feed animals such as rabbits, ducks, chickens, parrots and guinea pigs. There's also a miniature horse barn, a playground, and a mini cave where the kids can find artifacts like primate skulls and other animal body parts.
Opening hours – 9.00am – 5.00pm daily (check site for holiday times) Admission is about RM88 for adults and RM43 for children from 3 to 12 years old. https://www.zoonegaramalaysia.my/
Kuala Lumpur Bird Park
The Kuala Lumpur Bird Park is one of the largest free-flight, walk-in aviaries in the world. We've driven around it on the hop-on-hop-off shuttle buses that tour the area, and it really is huge.
However, the reviews we read weren't so good, so we gave it a miss. It's right next to the Botanic Gardens but there is quite a walk between the two entrances, take the shuttle.
Book a discounted bird and butterfly park day trip here. Alternatively, just book the bird park, with transfer, here.
Kuala Lumpur Butterfly Park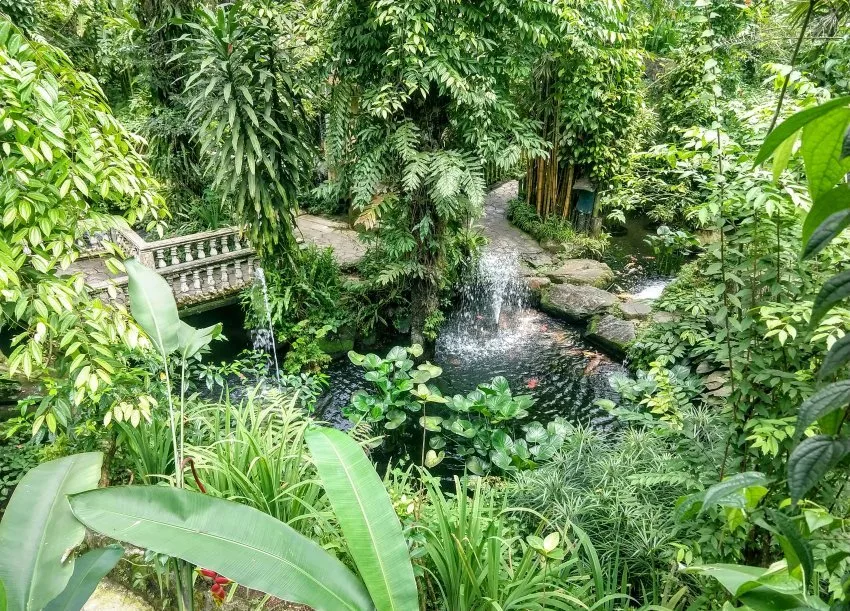 We visited the KL Butterfly Park in 2020. It's a bit run down but it's pretty good. My kids weren't overly inspired by the huge numbers of tropical butterflies and flowers but the collection of reptiles, bugs and amphibians was very interesting for them.
If you're going to the Butterfly and Bug Park on Penang, you can skip this one. This place was expensive at 25MYR each for us but is included on the combined bird and butterfly day trip, with discount, book that here.
KL Orchid and Hibiscus Garden
The KL Orchid Park is opposite the Bird Park, next to the Botanic Gardens. This one is free mid-week and I'm going tomorrow to bring you our review. On weekends there is an admission fee but it's very low.
Kuala Lumpur Botanical Gardens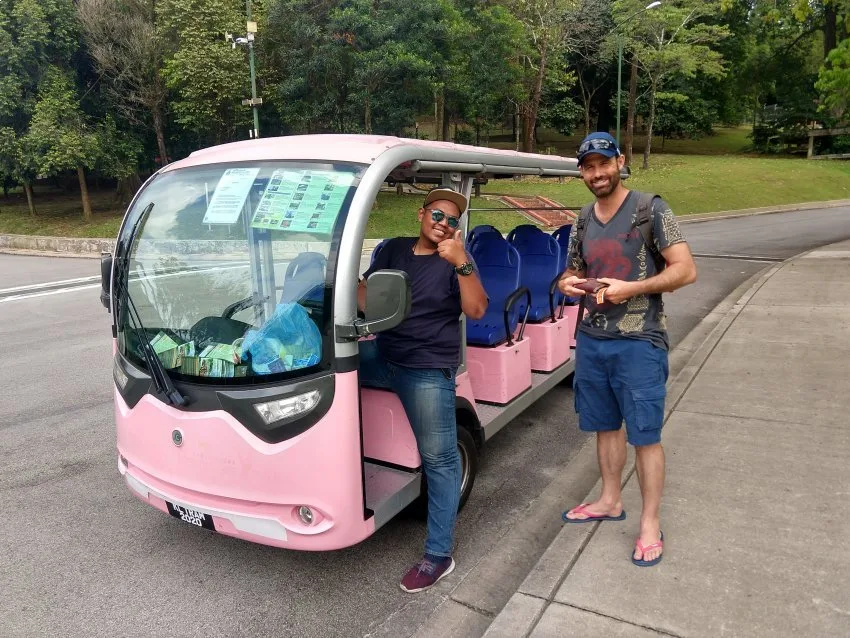 This huge botanical garden covers 91.6 hectares (227 acres) in the centre of Kuala Lumpur. It's quite flat with walking paths, benches, and trees for shade, so the kids shouldn't get too worn out exploring. You will find play areas and boating lakes, a cafe and plenty of interesting areas to explore.
There are some pretty special native and imported plants, along with a small deer park. We really enjoyed The Botanic Gardens, way more than expected. It's also a good place to run or exercise. We particularly enjoyed the small food garden, they were growing plants very similar to our tropical food garden back home.
The park is huge, so it's a good idea to pay a few ringit for the hop-on-hop-off shuttles that cover The Botanic Gardens and surrounding area. These shuttles can take you to the National Mosque of Malaysia (also known as Masjid Negara), the Islamic Arts Museum, the Kuala Lumpur Bird Park, and the National Planetarium (Planetarium Negara).
Opening hours – Daily 7.00am – 8.00pm http://www.klbotanicalgarden.gov.my/
Kidzania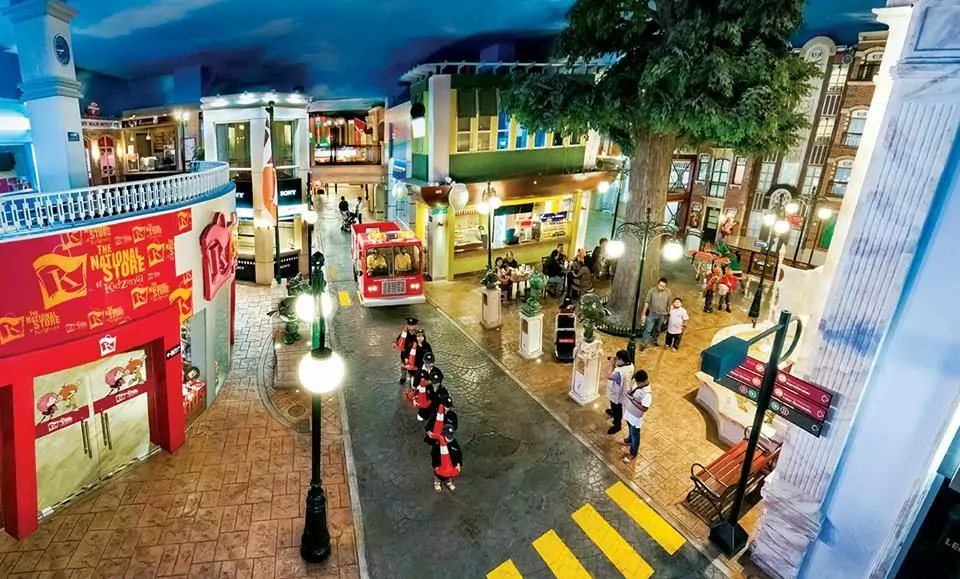 Kidzania has branches all over the world and is essentially a city for kids where they can adopt different professions and jobs and learn what 'real life' is like. They learn co-operation and teamwork, along with independence. They also use a Kidzania currency, kidZos, which they earn from working and use it to pay for goods and services.
My children haven't been but we've checked in with other families and they all give Kidzania glowing reviews.
Reserve your child's place at Kidzania here, with discount.
Check the website for opening hours and entrance fees. kidzania.com.my
KL's Forest Eco Park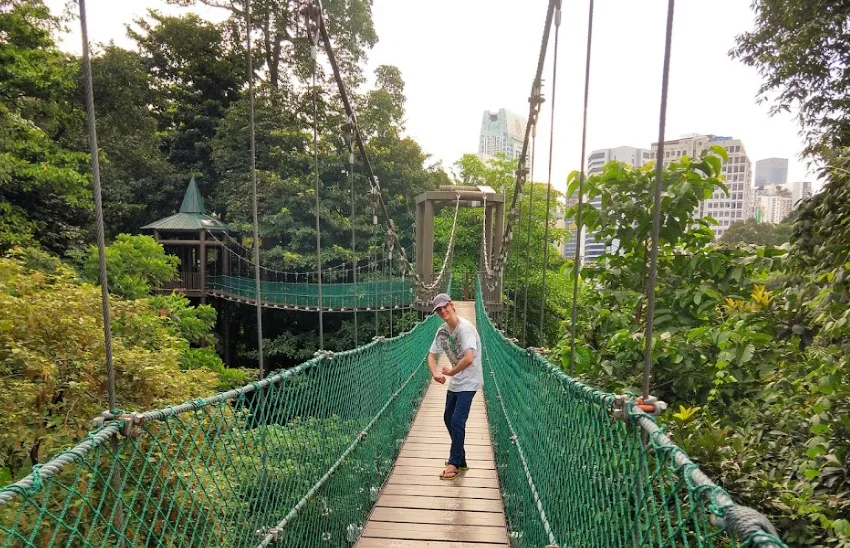 Kuala Lumpur's Forest Eco Park is situated in the Bukit Nanas Forest Reserve, about 3kms from the city centre. It is at the base of the KL tower, a landmark that you should be able to see for miles.
The highlight of the Forest Eco Park is probably the Canopy Walk. There's over 200 metres of canopy bridges that you can walk along above the forest. After the Canopy Walk there are plenty of hiking paths in the jungle where you can see many different varieties of plants and animals. There is a small museum at one of the park's exits and it's very good for kids (see the museums section).
Opening hours – Daily 8.00am – 6.00pm. Admission is free https://www.forestry.gov.my/index.php/en/wp-kuala-lumpur/taman-eko-rimba-kuala-lumpur
KL Museums With Kids
The best museum in KL for kids is, we think, the Petrosains Science Museum. However, the Islamic Museum is superb and Mum and Dad shouldn't miss it. It's not very toddler-friendly as they prefer sedate, silent visitors, but it's beautiful and highly recommended by us.
Petrosains Discovery Centre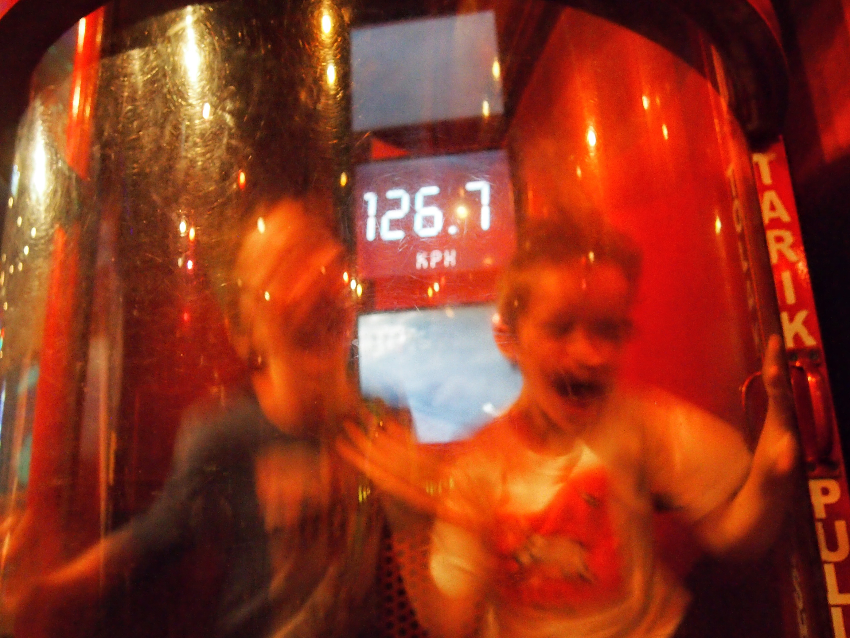 This is an amazing place for kids of all ages. STEM stands for Science, Technology, Engineering and Mathematics, and you and your kids can learn about all of these here with hands on exhibits and installations. Kids will discover space science, the history of the Earth, they will experience an oil platform built to scale complete with tools, and there's even a Formula 1 simulator.
There's a café and a gift shop for less thrilling activities. Petrosains is on the top floor of the KLCC shopping mall, right below The Petronas Towers.
Opening hours – Closed on Mondays. 9.30am – 5.30pm Tuesdays to Fridays and 9.30am – 6.30pm at weekends and public holidays. Allow plenty of time, this place is huge and we left without seeing a lot of it.
You can book a combined Petrosains, plus Petronas Towers, plus The Aquarium ticket to save you cash and give your kids the best, most educational experiences in KL!
Admission is about RM28 for adults, RM16.50 for children 3-12 years and free for kids 2 years and under. https://petrosains.com.my/
KL Islamic Arts Museum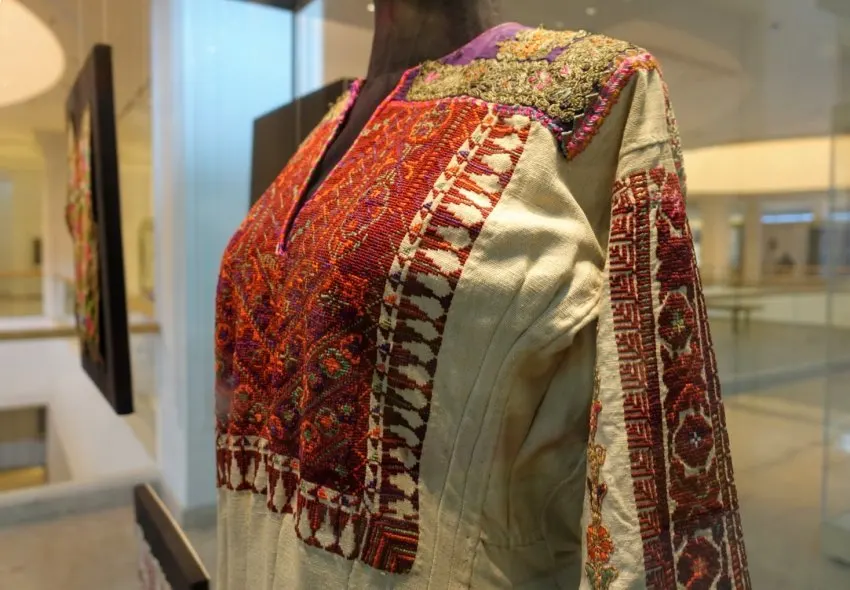 This is Southeast Asia's largest museum of Islamic Art and contains decorative Islamic arts from all around the world. We loved this museum, it's incredibly beautiful and interesting. It was like no museum we'd ever seen before. The turquoise domed building houses many artifacts from Islamic architecture, jewellery, textiles, metalwork, ceramics, and more.
The museum advertises a children's library where they hold storytelling sessions every Saturday. There are arts and craft lessons for the kids and a kids' guide book/treasure hunt game. We didn't experience or investigate any of these ourselves as we visited with older kids. Young children probably wouldn't get much out of this museum.
Opening hours – Daily 10.00 am – 6.00 pm. Admission was RM14 for adults, RM7 for students with ID ( my kids, as teens, paid the student rate, no ID needed), and free for kids 6 years and under. We thought the admission price was very reasonable. You can reach the museum by shuttle from the Botanic Gardens area, it is very close to the Central Mosque. iamm.org.my
Kuala Lumpur National Planetarium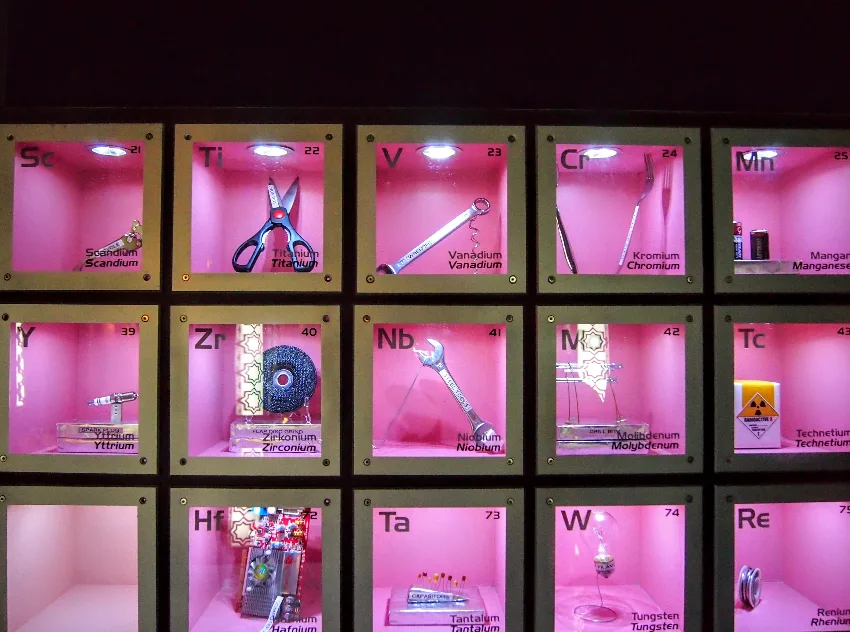 This one is fun for small kids and older kids. Here they can learn about the planets and the universe or just enjoy the fun, interactive exhibits.
The National Planetarium is located in the Kuala Lumpur Lake Gardens and sits on top of a small hill, looking like a blue-domed mosque. There are interactive exhibits with computers and hands-on experiments, a Space Theatre, and a Space Ball which spins you round in a human-sized gyroscopic device. My kids loved trying out the space toilet and shuttle capsule mock-up.
Opening hours – Closed Mondays. Tuesday to Sunday 9.00am – 4.30pm. The exhibition gallery is free, however there is an entrance fee for the Planetarium show and the Space Pod. https://www.planetariumnegara.gov.my/
Malaysia Tourism Centre
The Malaysia Tourism Centre (MaTiC), is home to not only tourist information and services, but also hosts events, exhibitions and cultural activities. It's located in a heritage building dating back to 1935. There's a souvenir shop, a restaurant, as well as a chocolate boutique. It's also a bus stop for the KL Hop-On Hop-Off Bus and Go-KL City Bus. There's a free cultural dance show daily (except Sundays) at 3.00pm in the mini-auditorium.
Opening hours – Monday to Sunday and some public holidays – 8.00 am – 6.00 pm. http://www.matic.gov.my/en/
The Museum at Forest Eco Park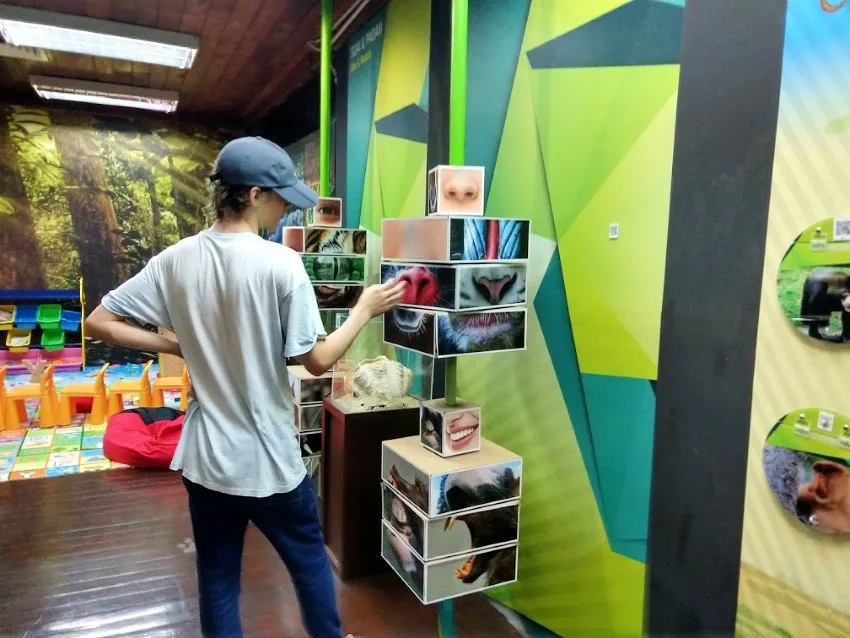 This is a great rainy-day attraction for younger kids. The Eco-park museum is located at the front gate entrance of the park. There are a lot of exhibits and information about the tropical rainforest and the resident species of animals. You can see my teen son checking out the hands-on features for much younger kids in the photo above.
There is also a dark room with luminous light which represents the ocean environment, it's visually very impressive. There's a photo gallery with plenty of information about the various plants which are found in the rainforest. This small hands-on play and learning centre in which children can learn about the tropical forest and animals is a great place for kids to explore. https://www.forestry.gov.my/index.php/en/wp-kuala-lumpur/taman-eko-rimba-kuala-lumpur
Kuala Lumpur With Kids, Cultural and Heritage Attractions
These, along with museums, are my favourite travel destinations with kids. We love that the kids can learn about histories and cultures first hand. The trick is, to make it fun for them. Treats and ice creams go a long way towards happy travels with kids. You certainly shouldn't miss Batu Caves. When visiting temples and mosques you'll usually find that kids are welcomed with open arms and there are loads of interesting things for them to look at.
Batu Caves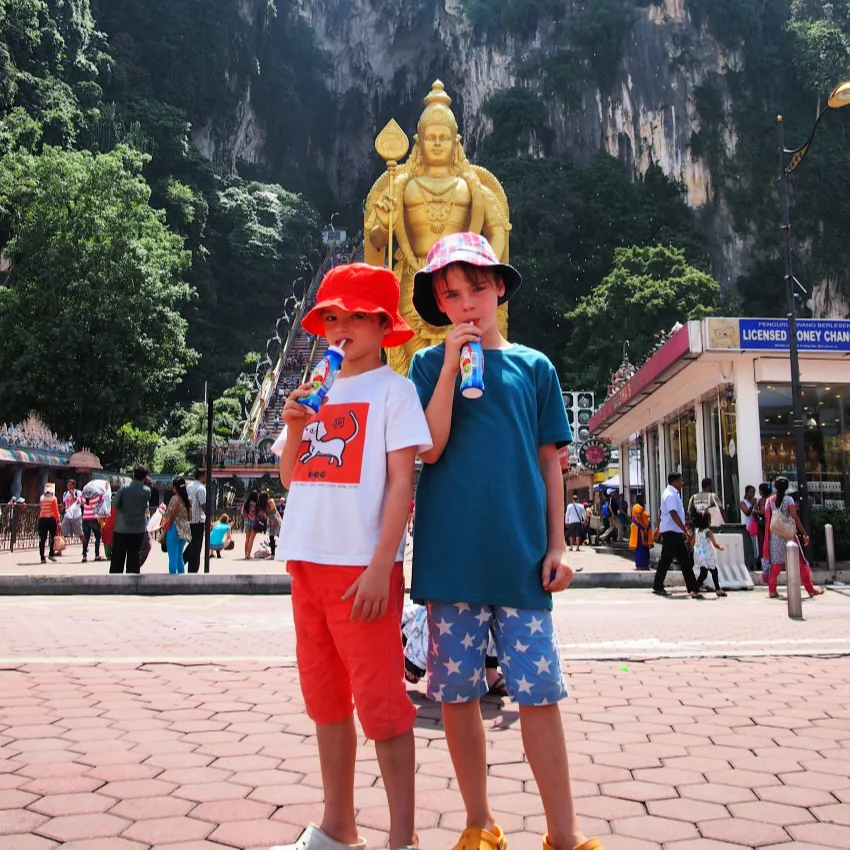 Batu Caves is a Hindu temple and shrine which attracts thousands of people, both worshippers and tourists. Temples and shrines are a feature of the 3 main caves. A huge golden statue of Hindu god Lord Murugan (until recently, I thought this was Shiva, Murugan is Shiva and Parvati's son, brother of Ganesh), stands at the base of the rainbow staircase.
Here you will begin a steep climb of more than 270 steps to the top where you'll get to see a magnificent view of the city skyline. There are usually monkeys swarming up and down the stairs, don't be tempted to feed them and don't carry anything they'd want to snatch from you.
At ground level you'll find a towering statue of Hanuman and various stalls and food outlets. There is another temple near the Hanuman statue. We've seen huge changes at Batu Caves over the last 8 years. If you haven't been in a while it's worth going back and the train now makes getting there fast and easy.
We've read that cave exploring and rock climbing are also possible here.
Batu Caves are the main focus of the annual Thaipusam festival. We were lucky enough to be there for this event recently and a full post is on its way. It's spectacular and yes, you coulkd take small children so long as crowds and some blood letting don't phase them. Find out how to get to Batu Caves here.
Opening hours – 6.00am – 9.00pm. https://www.malaysia.travel/en/nl/places/states-of-malaysia/selangor/batu-caves
Petronas Twin Towers and Nightly Fountain Show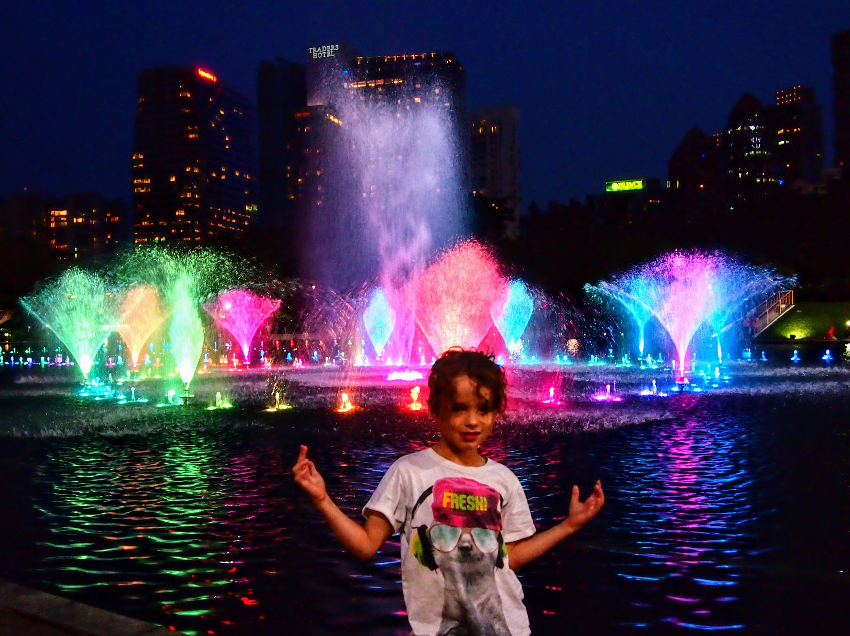 The Petronas Twin Towers are the world's tallest twin structures, at 451.9 meters, or 88 stories. The towers are mostly occupied by multi-national corporations, however there's a huge shopping mall, Suria KLCC below the towers, for tourists and locals alike. It has up-market glitzy shopping as well as a good health center (where we went for travel vaccinations) and a supermarket selling Marmite,
If you're not afraid of heights you can visit the towers, and even go as high at the 86th storey. The visit typically includes an interactive display of the towers along with crossing the sky bridge between the two. I would rather stay on the ground, thanks, a fear of heights and bridges plagues my travels.
Next to the towers is the park, where there is a nightly fountain show with lights and music. The water and lights are synchronised with the music for a ballet of sight and sound. There are 150 unique animations. While this fountain show isn't a patch on the dancing fountains of the Burj Khalifa in Dubai, it's pretty good.
Opening times – the Towers closed Mondays. Tuesday to Sunday 9.00 am – 9.00pm. closed 1.00pm – 2.30pm Fridays. The Light and Sound Water Fountain show times are 8.00 pm, 9.00 pm, 10.00 pm daily. The shopping mall follows regular shopping hours, which in KL, could mean a 10 am start. petronastwintowers.com.my
Best Mosque Visits in Kuala Lumpur With Kids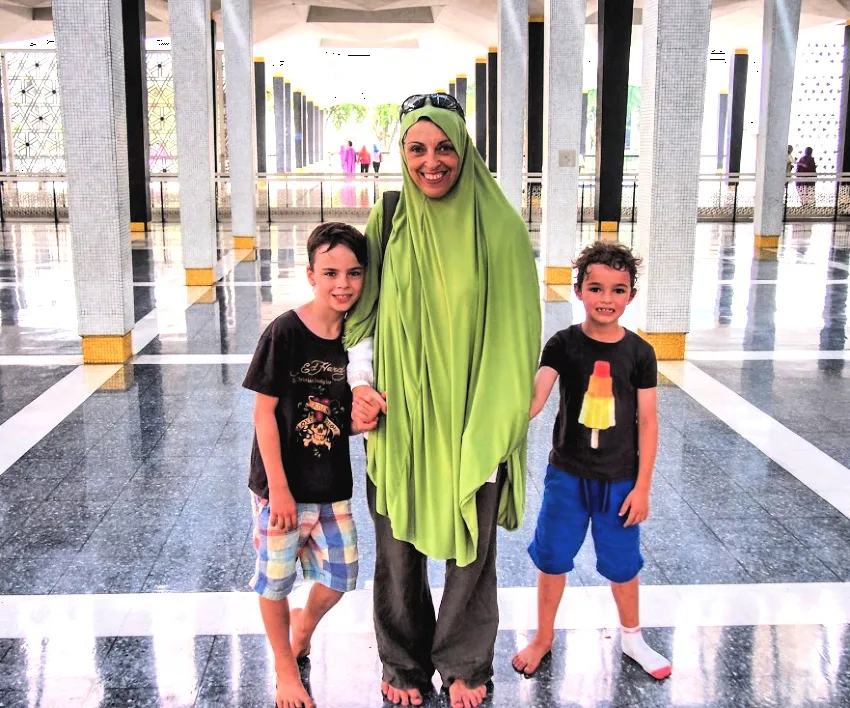 Taking your kids to visit a mosque in Kuala Lumpur isn't a difficult task. There are many mosques to visit and children and non-Muslim adults are usually welcome. Appropriate clothing ( We have been able to borrow respectful clothing on the door, as above) and not disturbing those who are worshipping are the only requirements.
Popular mosques to visit include the National Mosque of Malaysia, the Federal Territory Mosque Kuala Lumpur, the Blue Mosque Selangor, and Masjid Jamek. These visits are quick, allow 10 minutes or so, but well worth doing to show the kids the realities of the faith, typical mosque features and the beautiful interiors. Small kids can usually wear shorts, teens and adult men will need to borrow a sarong if not wearing long trousers.
Chinese Temples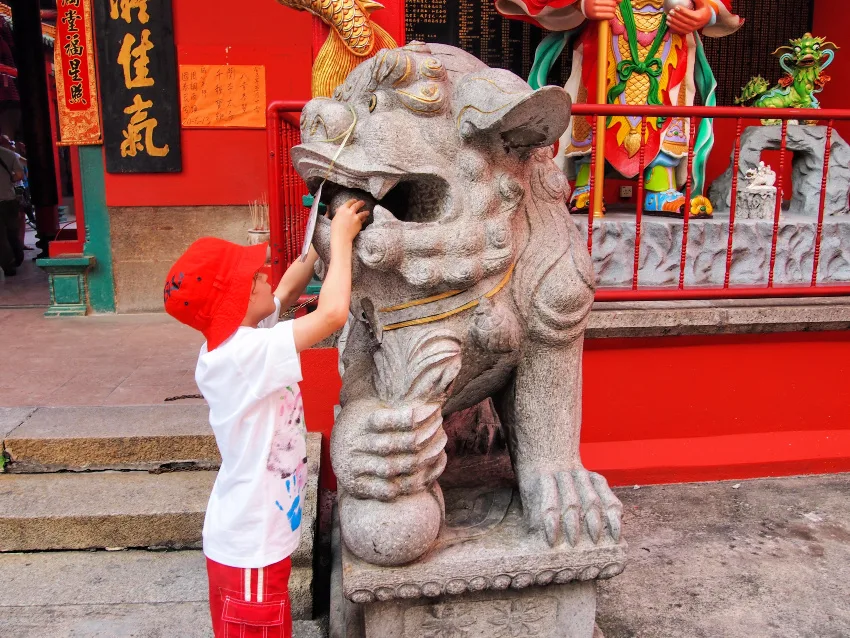 The most popular Chinese temples in Kuala Lumpur are in Chinatown but there are others you can reach by Grab car. They are dedicated to Buddhist and Taoist deities and are hundreds of years old with intricate architecture and hand-painted murals. Chinese New Year is an excellent time to visit the temples to experience the annual festivities. You are very likely to see lion dancers and drummers all over KL at New Year.
Some of the popular temples are Chan See Shu Yuen Temple, Guan Di ( Chinatown), Thean Hou Temple (Near Brickfields), and Sin Sze Si Ya Temple (Chinatown).
Hindu Temples in Kuala Lumpur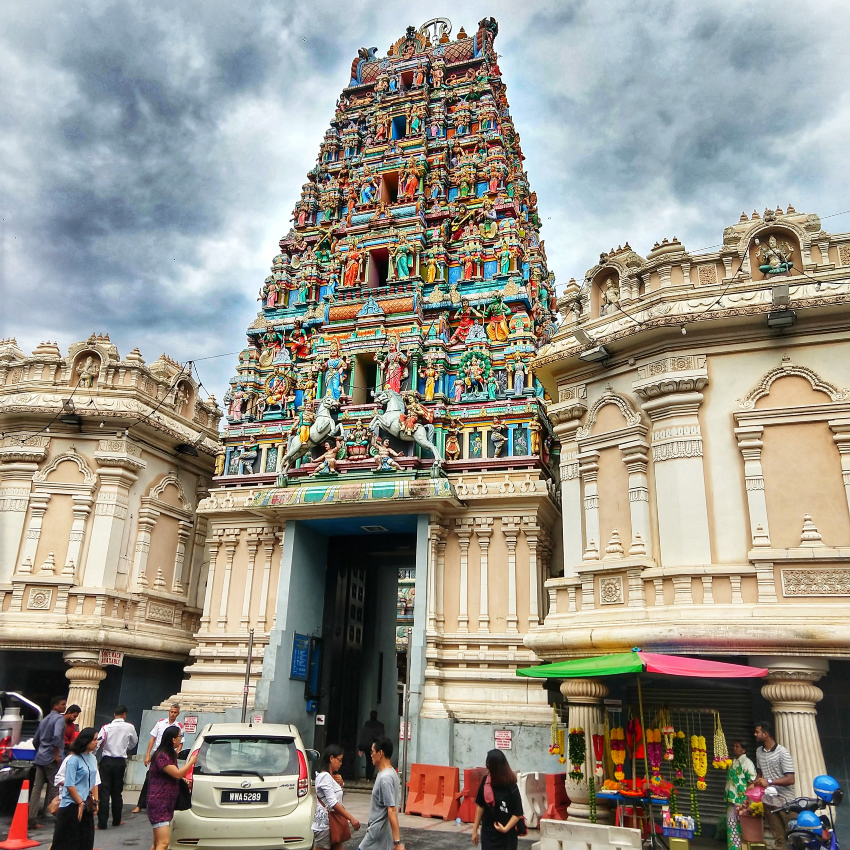 If you haven't been to India, nor to the Hindu temple in Silom, Bangkok, now is your chance to visit a working Hindu temple. One of the most popular Hindu temples in KL is, of course, the Batu Caves complex. This temple is dedicated to the South Indian Hindu God, Lord Murugan.
The Thaipusam festival sees the deity and his chariot ( along with thousands of pilgrims) travel from Kuala Lumpur's oldest Hindu temple Sri Mahamariamman in Chinatown to Batu Caves. Pilgrims walk barefoot through the night, a distance of around 11 Km.
The Central Market in Kuala Lumpur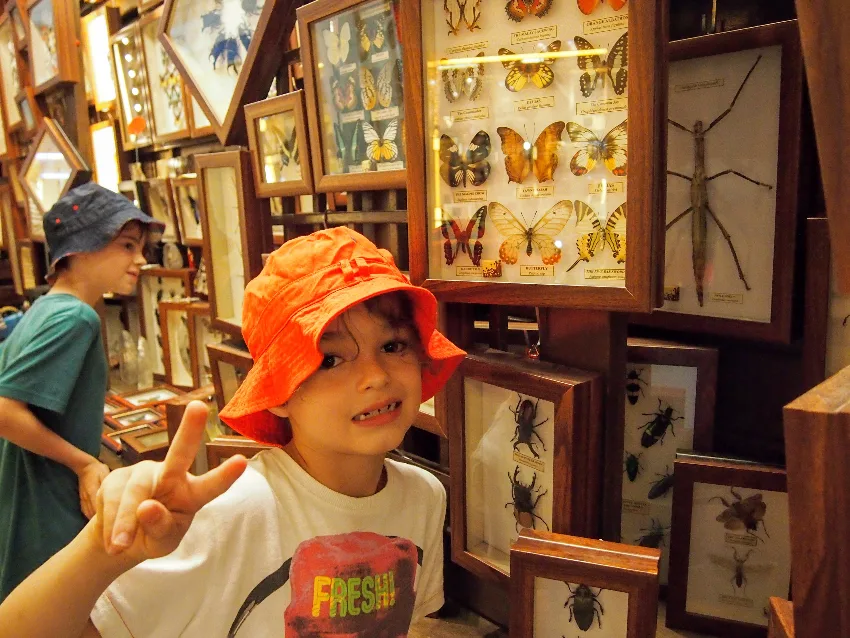 The Central Market in Kuala Lumpur dates back to 1928 and in it you'll find a range of handicrafts, boutique stalls, and souvenirs at reasonable prices.
There are restaurants and a food court on the second floor. Outside you'll find local artists, and if you're lucky there will be street performers singing and dancing for you.
If you fancy something different, try the fish spa, where the fish feast on the dead skin cells of your feet in a tub of water. There's also a DIY Batik Art Workshop which is held daily.
The Central Market is an easy walk from Petaling St. Or Masjid Jamek. The closest monorail station is Pasar Seni but Masjid Jamek station is very close. The terminal for the free GoKL buses is also almost next door.
Merdeka Square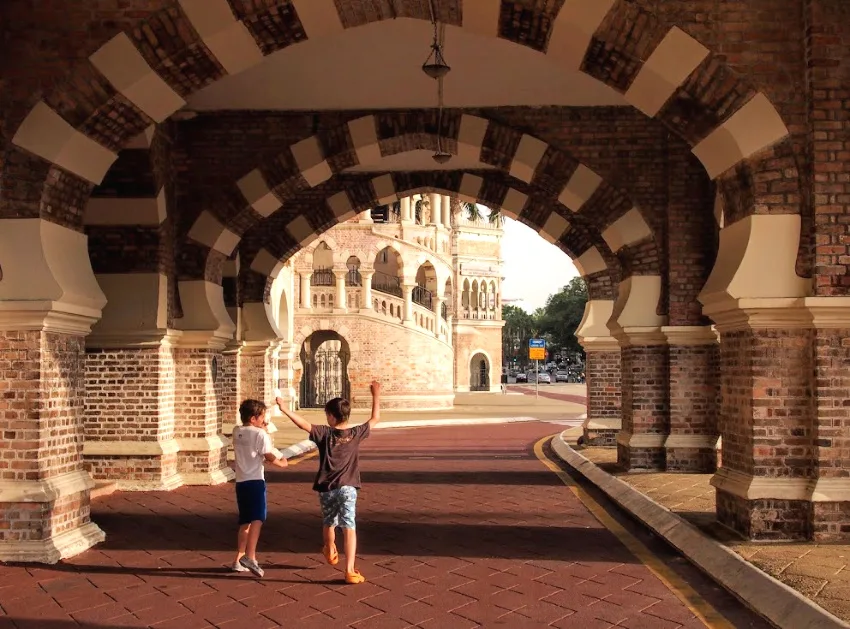 What looks like a typical English cricket pitch lies at the heart of Merdeka Square, a sedate area of heritage buildings adjacent to Masjid Jamek often called the Colonial District of KL.
To one side you will find the Sultan Abdul Samad Building former State Secretariat). The National Textiles Museum is next door. The Royal Selangor Club is on the opposite side of the cricket field and St. Mary's Church is to the north. At the head of the cricket pitch is the famously Instagram worthy red " I heart KL" feature.
The tallest flagpole in the world, at 95m is set in the middle of the immaculately tended lawns. The Malaysian flag flying proudly over this colonial centrepiece.
Masjid Jamek and The River of Life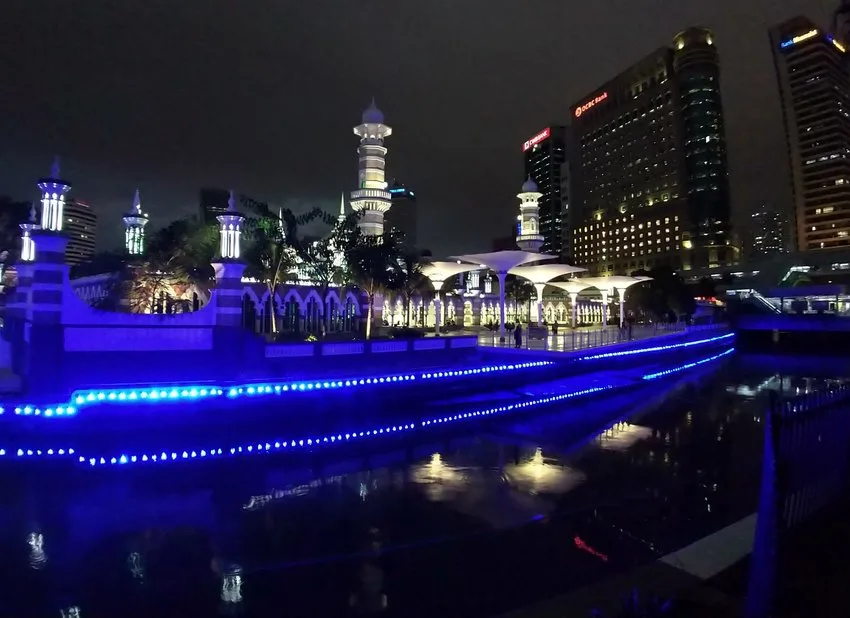 Masjid Jamek is one of KL's main mosques and the oldest. It is also a station on the city monorail system. The Mosque a short walk from Petaling St., The Central Market and Merdeka Square and is open to non-Muslim tourists at certain times. We were able to borrow red robes on the door.
The mosque is lit beautifully at night so if you're out for an early evening stroll with the kids it's worth a look. Two small rivers join just beneath the mosque and these waterways come to life in mist, music and light every 15 minutes. It's nice, but probably not worth going out of your way for. Do check times for yourself. We stayed at Avenue J Hotel and watched the River of Life from our window every night. It's a great idea to stay in this area and we have several more recommendations further down the page.
The British newspaper, The Independent, listed The River of Life as one of the worlds' best waterfront regeneration projects.
Play Areas and Fun Places in Kuala Lumpur With Kids
When you search " Kuala Lumpur With Kids" Maybe you're just looking for kid- friendly attractions in KL to keep your little ones happy. If so, this is the section you need. There are plenty of places purely aimed at kids of any age, from tiny tots to teens, we list those we know about below.
More are to come. In the next few days, we'll be adding trampoline centers, climbing walls, paintball, escape rooms and more. Every day something new opens for kids. There are plenty of indoor play opportunities in various places in KL with kids, find them below.
KLCC Water Play Area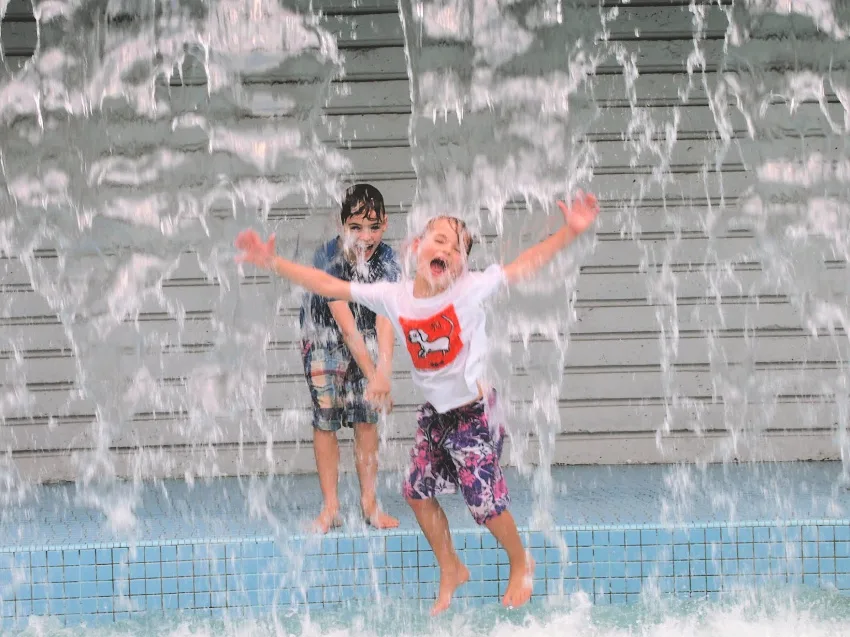 The KLCC Water Play Area is near the playground and there are waterfalls which flow into a shallow paddling pool. As you can see above, we found this area and were totally unprepared, swimwear is not required. Water Parks in Malaysia tend to have very strict dress requirements, this is not one of those.
Sunway Lagoon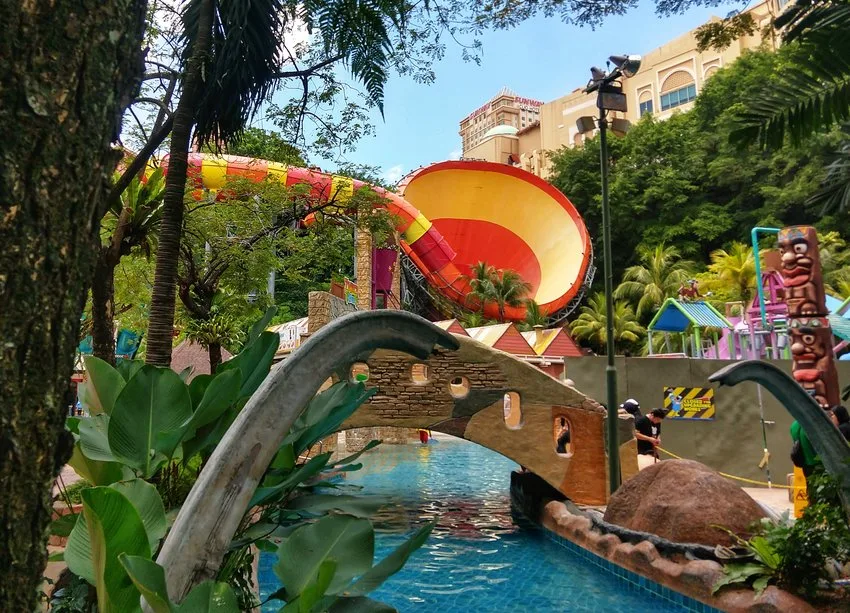 Sunway Lagoon Theme Park is located in Petaling Jaya about 15km southwest of Kuala Lumpur. It cost us 22 MYR from Chinatown to Sunway Lagoon in a Grab Car. The site also boasts a vast mall as well as Sunway's own resort hotels, making Sunway Lagoon a destination in itself.
The Lagoon park is very large, expect to spend a full day here if you'd like to see all of the attractions. The central feature is a huge wave pool and lake, which unfortunately was out of action for our visit. There is a good selection of water slides and one or two are thrilling enough for teens and adults, most are pretty family-friendly. Some of these were also closed when we visited. The pool is large enough to allow scuba diving trials and surf lessons and has a sandy beach area.
There are 5 main zones to explore – the water park, Scream Park, Amusement Park, Extreme Park and Wildlife Park. Each zone has its own theme and different attractions and rides. There's something for everyone here, as well as cafes ( we were impressed by the range of junk food and found American franchises for an indulgent lunch.
There are souvenir shops and places to buy swimwear or floaties as well as animals and live shows and character meet and greets. There are a couple of small rollercoasters and a pirate ship ride. The pirate ship travels through a full 360 degrees, yes, it goes upside-down.
Expected opening hours – Daily 10.00 am – 6.00 pm. This park, like most places in Malaysia, has a two-tiered admission price structure. It is expensive for westerners. Admission to all the zones and rides for western adults is about RM200, ( approximately $50 US), children 12 years and under RM170. Please double-check this, prices change. We also visited Sunway's Lost World of Tambun park in Ipoh and would recommend you do one or other, not both as the two parks are quite similar. The Kuala Lumpur Sunway Lagoon had more thrilling water slides for older kids and adults. It also had better food option.
Book Tickets for Sunway Lagoon, discounted and with transfer here.
Be sure to check dress restrictions when visiting any water park in Malaysia (or Asia). Some parks require lycra only ( ie., not western board shorts – we had this problem at Legoland Malaysia) but the Sunway parks seemed pretty relaxed in their dress codes and our boys were allowed to wear regular swimmers and rashies.
Indoor Rock Climbing and Parkour at Camp 5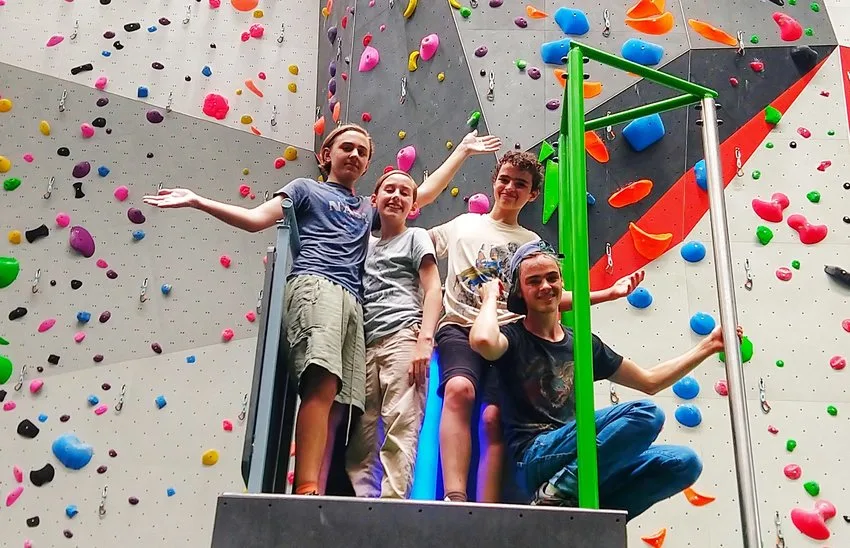 Camp 5 have a series of indoor climbing, bouldering, play and parkour facilities in and around Kuala Lumpur. We took a bunch of kids age 11 to 43 along to Camp 5 Jumpa at Sungei Wang Plaza, Bukit Bintang.
This is a convenient central location and perfect for kids from 5 and up through to experienced climbers.
The staff and facilities were faultless and we highly recommend this as an indoor activity for kids on hot or wet days. Check out the Camp 5 website for more information.
Skytrex Adventure
An environmentally friendly park with a river and picnic areas. It's a flying fox park, where you can fly, swing, glide and dangle on obstacles above the rainforest.
As well as flying around the place, you can learn about the rain forest and its eco-system and rain forest management and conservation.
There are weight and height restrictions so check their website. All bookings must be done online. https://www.skytrex-adventure.org/
Berjaya Times Square Indoor Roller Coaster & Theme Park
This is a huge indoor theme park in a mall. It has 2 sections – Galaxy Station for the older thrill seekers and Fantasy Garden for the younger kids.
In the Galaxy Station there are rides which spin you around, speed you around a merry-go-round faster than you've ever been, a climbing wall and bumper cars to name a few. The Fantasy Garden has interactive videos where the younger kids can make their own avatar, play with fantasy characters, ride a train through the theme park and fly through the air in a giant bumble bee.
There are also various virtual reality games and a function venue where performances and other events are staged. My kids enjoyed this one but next door we found indoor archery, which pleased them more.
Opening hours – Monday to Friday 12.00pm – 10.00pm, Weekends and public holidays 11.00am – 10.00pm. Admission for adults is about RM70, and for children 3 to 12 years RM65, free for kids under 3
ICity Theme Park
A fun theme park which features a 'SnoWalk' where you'll experience -8 degrees C, in which you'll see ice sculptures, an ice slide, and a snowfall area where you can make snowmen and have a snowball fight with friends. Also famous for its nightly LED light display, colourful Ferris wheel and funfair booths where you can play games to win a prize. And don't forget the water park and a wax museum.
Opening hours – Monday – Thursday 11:00am – 00:00am, Friday – Sunday 11:00am – 01:00am. https://www.i-city.my/themepark/
District 21 Kuala Lumpur
District 21 is another theme park located in a large shopping complex. It's suitable for all ages and is a variety of obstacle courses of different materials, as well as ropes, chains and metal beams and platforms.
There's a maze with steel tunnels, cages and puzzles, sometimes suspended as high as 10 metres from the ground. Kid-friendly rides include a merry-go-round, a small rope obstacle course and pedal go-karts.
Opening hours – Monday – Friday 12.00pm – 8.00pm, Saturday & Sunday 10.00am – 8.00pm
Admission is about RM64 on weekdays and RM80 on weekends – one price for all
KLCC Playground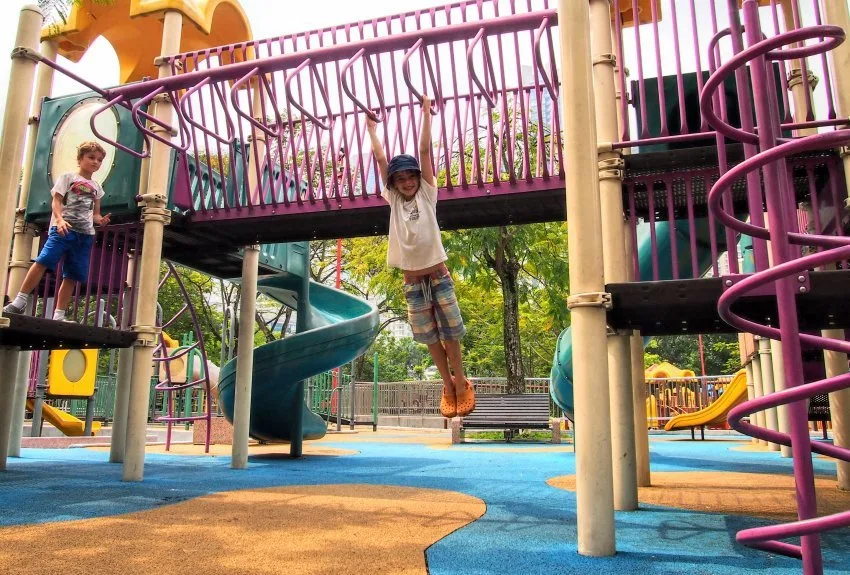 Right near the Petronas Twin Towers is the KLCC Park, in which you'll find a – acre children's playground.
It's a free park with several different play areas so there's a variety of things for kids to play with and climb on. It's one of the biggest playgrounds we've ever seen but is aimed at younger children, so it's a bit limited for older kids.
This playground is near the water play area and fountains.
Star Light Kids Indoor Play Gym
This is a space-themed indoor playground for kids. There are obstacle courses, air rifles, big blocks and more. You can also have yoga or dance classes on request. For small kids aged 2–4 years.
Update – It seems that this may have now closed, we're continuing to hunt for information for 2020.
Kuala Lumpur Foodie Experiences With Kids
In KL you can feast on just about any cuisine. If you love South Indian vegetarian food, Chinese, non-veg North Indian, pizza, Starbucks or Thai, you will find it in KL.
Malaysian food is hard to identify as everything here is a fusion of different cultures and cuisines, but we have taken Malaysian cookery classes in KL and in Malaysian Borneo. Because we are vegetarian and prefer vegan, we find it pretty hard to find food other than Indian in Malaysia.
Likewise, if you or your kids can't handle anything spicy, you could struggle. KL and Kuching Sarawak seem to have the best and most varied food scenes in Malaysia and we've found vegan restaurants in KL, Ipoh and Kuching. Kuching is another destination we love, take a look at the incredible things to do in Kuching here. It's a short, cheap flight from KL.
If you're looking for food tours and cooking classes in KL with kids, there are some links in the comments on this page, and below.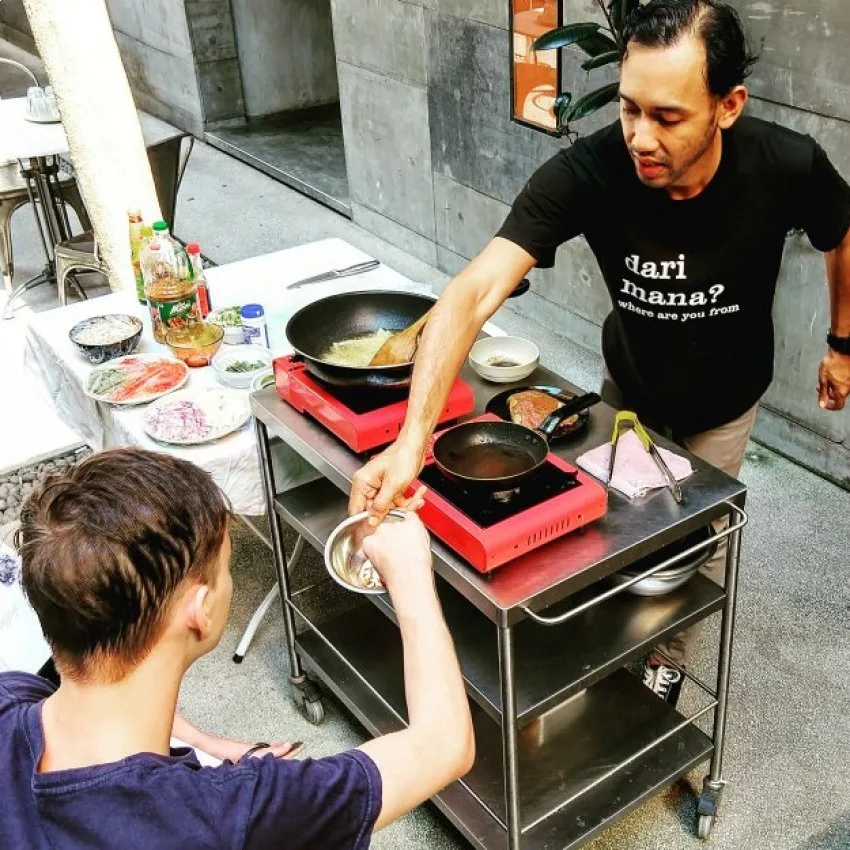 We've also found you a cooking class in Kuala Lumpur which allows kids and infants, with kids' pricing. This is what we love to see in terms of incusivity! Book it here, with a best price guarantee from our trusted supplier.
Little India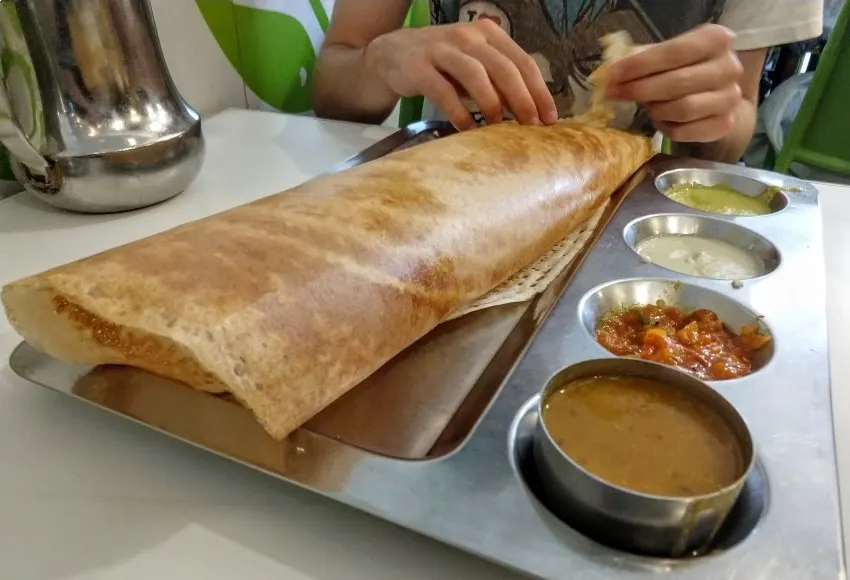 Kuala Lumpur's main "Little India" is the Brickfields area right outside KL Sentral station and mall. People come here for Indian food but it should be easy enough to find good, authentic Indian cuisine in your area of KL.
Yes, Indian food is spicy. Is it too spicy for your kids? I don't know. My kids are big fans.
The famous " banana leaf" meal is a selection of curries served on a banana leaf plate with rice. These combo meals are called thalis elsewhere.
Little India used to be a residential area but is now a wide street with shops and restaurants operated by the Indian community. There are shops selling spices, traditional Indian clothing and jewellery, food and a 3 story Indian Bazaar.
It's also a cultural location with temples, shrines, churches and mosques. There's plenty of traditional Indian food to try here, especially banana leaf lunches.
Night Markets / Food Courts
Kuala Lumpur street markets are a great way to experience the local food and diverse food traditions of Malaysia. Small sections of neighbourhoods are closed off to traffic and in its place you'll find stalls selling everything from clothes to household items to fresh produce. A great place to get to know traditional Malaysian food such as nasi lemak, deep fried bananas, rojak and satay.
Night markets to visit include Kampung Baru Night Market, the Taman Connaught Night Market, and the Estate Food Market.
Food courts or hawker centers are also a great place to experience traditional cuisine, and you can't visit KL without checking out Jalan Alor Night Food Court (which is open 24 hours).
Food Tours
It's possible to take a food tour in Kuala Lumpur, but for kids, some of them might be a bit long – up to 4 hours in some cases. This one takes kids. (do check, incase they change that, it will be in the terms on the page.)
There are street food tours, private home shopping/cooking tours, night market tours, and even an organic farm food tour.
Cooking Classes With Kids?
There are plenty of cooking classes specifically for kids to be found in and around Kuala Lumpur – some of them for kids even as young as 4 years old. A lot of them are just food play or fun. Some teach the kids how to make western dishes such as cakes, desserts, salads and even pizza, but as yet we've not seen one which teaches traditional Malaysian cuisine.
We've taken our kids to a lot of cooking classes around the world and they love them. They learn not only to cook but about ingredients, cultures, traditions and correct use of kitchen utensils and kitchen safety. Eating at the end of a class is always my kids' favourite part.
If you want the kids to learn traditional Malaysian cooking, they'll have to join the adults' cooking classes. We found one, which is a family-friendly cooking class which allows children from babies. book it here.
China Town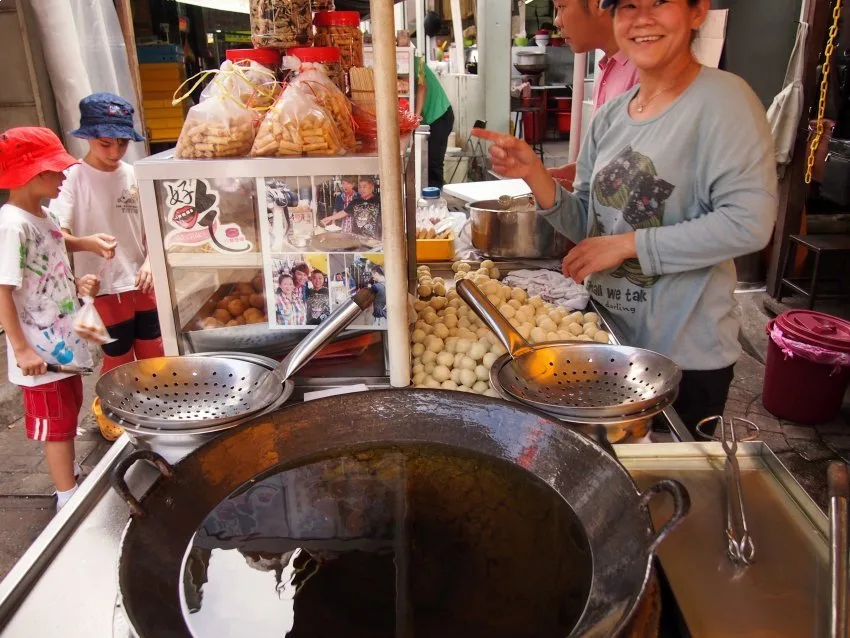 Don't expect Chinese food to be restricted to China Town and don't expect China Town to only serve Chinese food. You will find Chinese food all over Kuala Lumpur. There are plenty of places to eat in China Town. From fine dining at Café Café offering French and Italian cuisine, to abundant street food stalls. Expect fresh fruit, deep-fried snacks and drinks on the street. The kids will enjoy the open market on Petaling St, it's full of cheap toys.
Probably the best option for kids in China Town is the food court on the second floor of the Central Market. With around 15 different stalls there's a wide choice for all tastes, and it's cheap.
Nyonya Cuisine
Nyonya cuisine, also known as Peranakan cuisine, comes from the Peranakans. The Peranakans arrived and settled in Penang, Malacca, Singapore and Indonesia and were the descendants of early Chinese immigrants. Nyonya cuisine combines Malay/Indonesian and Chinese recipes and ingredients.
The Old China Café in Chinatown is one place to experience this aromatic cuisine, but there are plenty of other cafés which offer Nyonya cuisine.
Tea Tasting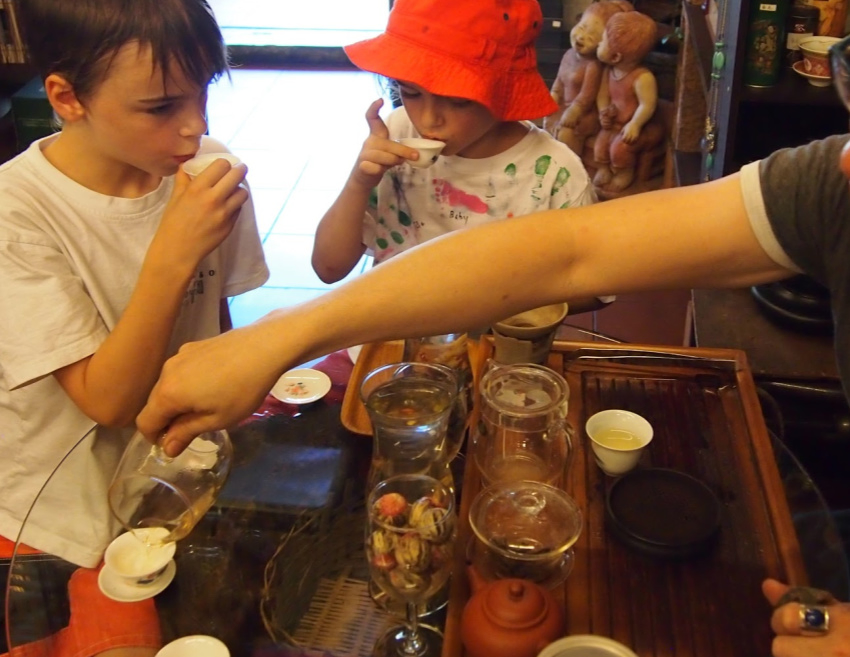 There are several places for tea tasting in Kuala Lumpur. There's Ricky Heng's Teahouse, and other possible options in the tea houses located in Chinatown. However, you can also try Japanese tea tasting at HOJO Tea which you'll find at The Gardens Mall. Costs up to RM20 per person depending on the tea you choose to taste. https://hojotea.com.my/
Malls and The Movies in Kuala Lumpur With Kids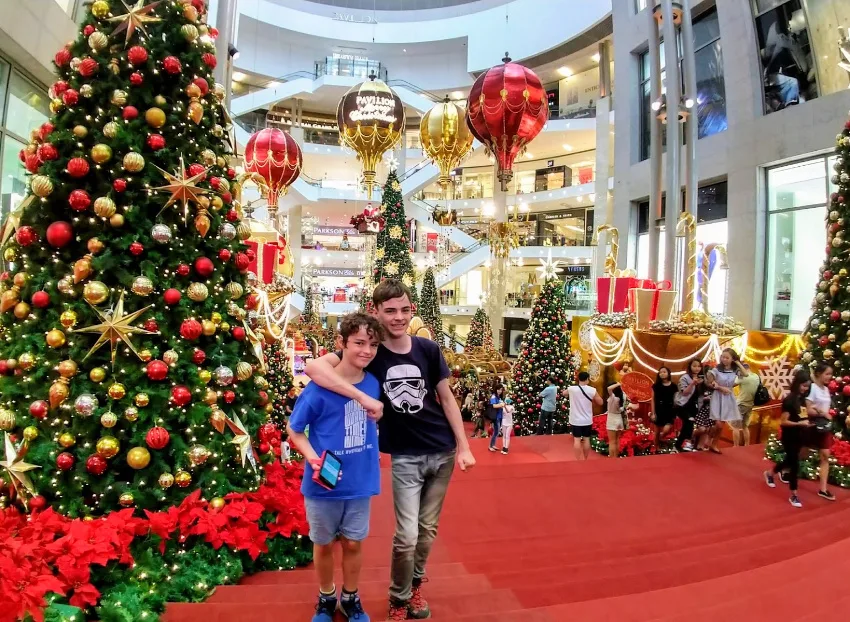 These days, with teens and tweens, the first thing we do in KL is to check out what's on at the movies. The movie theatres in Kuala Lumpur are some of the most high-tech and wonderful you'll see anywhere in the world and ticket prices are a fraction of elsewhere. If you have free time, catch up on your movie-watching in Kuala Lumpur, it's a great experience and most of the big malls have their own cinemas.
KL's malls also have their own wonders including indoor theme parks. Of course, there are shops. Here you'll find international chains such as Marks and Spencer, H&M, Zara and Top Shop along with all the branded stores you'd expect from a wealthy modern city.
Food courts and outlets are great places to grab lunch and you'll often find kid-friendly displays and exhibitions. Add to this air conditioning rain-protected walkways and you could do much worse than to spend a day exploring malls in Kuala Lumpur with kids.
Kuala Lumpur Tours to Book
Consider some of these tours in and around KL. If you're short of time or on a brief layover, tours can help you see more, fast. Also consider tours to other cities from Kuala Lumpur, you can take day trips to Ipoh, Malacca, or The Genting Highlands for instance. There are many great options for tours and activities in and near Kuala Lumpur on this page, our links take you to discounted providers with good international reputations.
Family Travel Tips For KL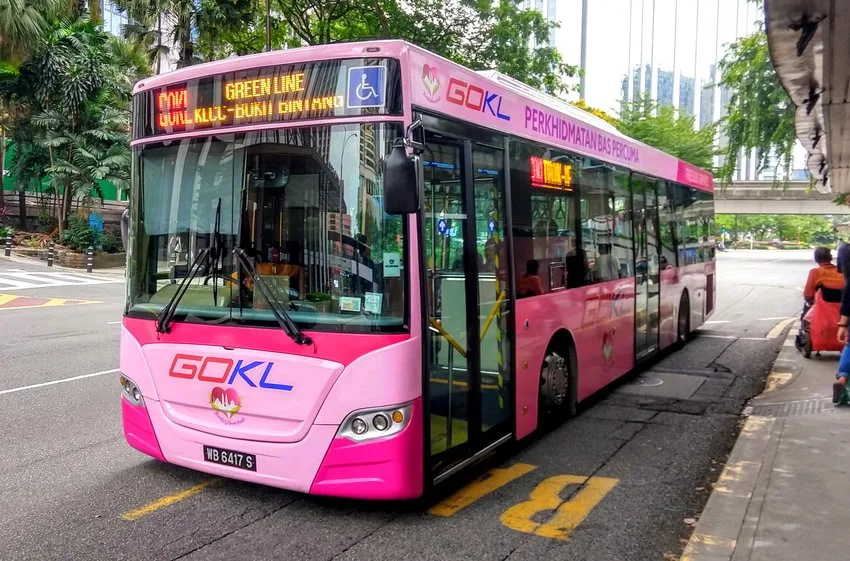 A few brief travel tips for enjoying Kuala Lumpur with kids.
KL can be incredibly hot and humid. Try to be outside early or late and build rest times in aircon into your day.
Always carry water. Good hotels will allow you to fill your water bottle with clean drinking water.
There can be mosquitoes but in our experience, not many. Be mindful of them.
Air pollution can be a problem in KL. If you have children with sensitivities be sure to check current air pollution levels.
Be very careful around roads, traffic is heavy and scooters often drive on the pavement to avoid queues.
Pavements can be broken, uneven and have dangerous holes, take care with young children and buggies.
There are no real dress restrictions in Kuala Lumpur other than for visiting places of worship, just be respectful.
Getting around much of KL is super easy with free buses, shuttles, the metro and Grab cars. But it can be busy and you may need to stand at peak times. Hand sanitiser is your best friend on crowded buses and trains. We last visited at the hight of the Coronavirus scare, be scrupulous about hygiene. We felt safe. We'll put together a separate post with tips for getting around Kuala Lumpur.
Shopping is great, the malls are glitzy and modern, so if you forget anything you should be able to buy it.
If you are vegetarian it can be a headache. "Vegetarian" food can often contains shrimp paste or anchovies, be super careful if you have allergies.
What We Didn't Like About Kuala Lumpur
I wrote a post, quite a few years ago now, about some of the negatives or hazards of visiting Kuala Lumpur. Discover the 4 things we didn't like about KL here.
---
* More Information on Kuala Lumpur and Malaysia
We have Kuala Lumpur in its own category on this site because we have so many posts about KL. We also have a category on Malaysia, if you're planning a tour of Southeast Asia, we have that for you too. Visit the links below to see everything we've got. Go to our KL index, or our Malaysia index.
Enjoying Kuala Lumpur With Kids
Kuala Lumpur was our first destination when we set off on our 8-year round the world travel adventure with young kids. They were just 6 and 8 years old back then. We've been back many times since and this city is honestly one of our favourites in the world. We were there in 2019 and we're back again in 2020 with tweens and teens. Each time we search for new things to see and do in Kuala Lumpur, as a family. This post represents 8 years of research in KL with kids of all ages.
This city is vast, diverse and buzzing with life. It's a major transport hub in Southeast Asia thanks to Air Asia and it's a city we've passed through time and time again. We always allow a few days here, even just as a stopover between flights as it offers us good shopping, an Indian food fix and friendly faces to re-visit. The Malaysian people have been wonderful to us, super friendly and helpful over the years and we've had our share of mishaps in Malaysia. We joke about our " Malaysia curse", what can go wrong for us, does go wrong for us here. We'll have to share our sorry list of travel mishaps some other time ( or look at our travel horror stories post). Enjoy KL, make time for KL, it's a great city and an easy, fun and mind-broadening destination with kids.
If you'd like to hire a car during your stay, use this car rental comparison tool to find the best deal!

We also suggest you take a look at this company to get a quote for all kinds of the more tricky adventure or extended travel insurance.

Try Stayz / VRBO for an alternative way to find rentals on homes/apartments/condos in any country!