This post may contain affiliate links.
We didn't plan it, we just happened to be in the right place at the right time. Thaipusam is a once-a-year Hindu religious festival in Kuala Lumpur, Malaysia. It is one of the most spectacular, unusual, and awe-inspiring religious festivals in the world.
A post about Thaipusam, with pictures and information on the Thaipusam celebrations in Kuala Lumpur city, and at Batu Caves. The festival happens over several days, you'll need to know the timetable.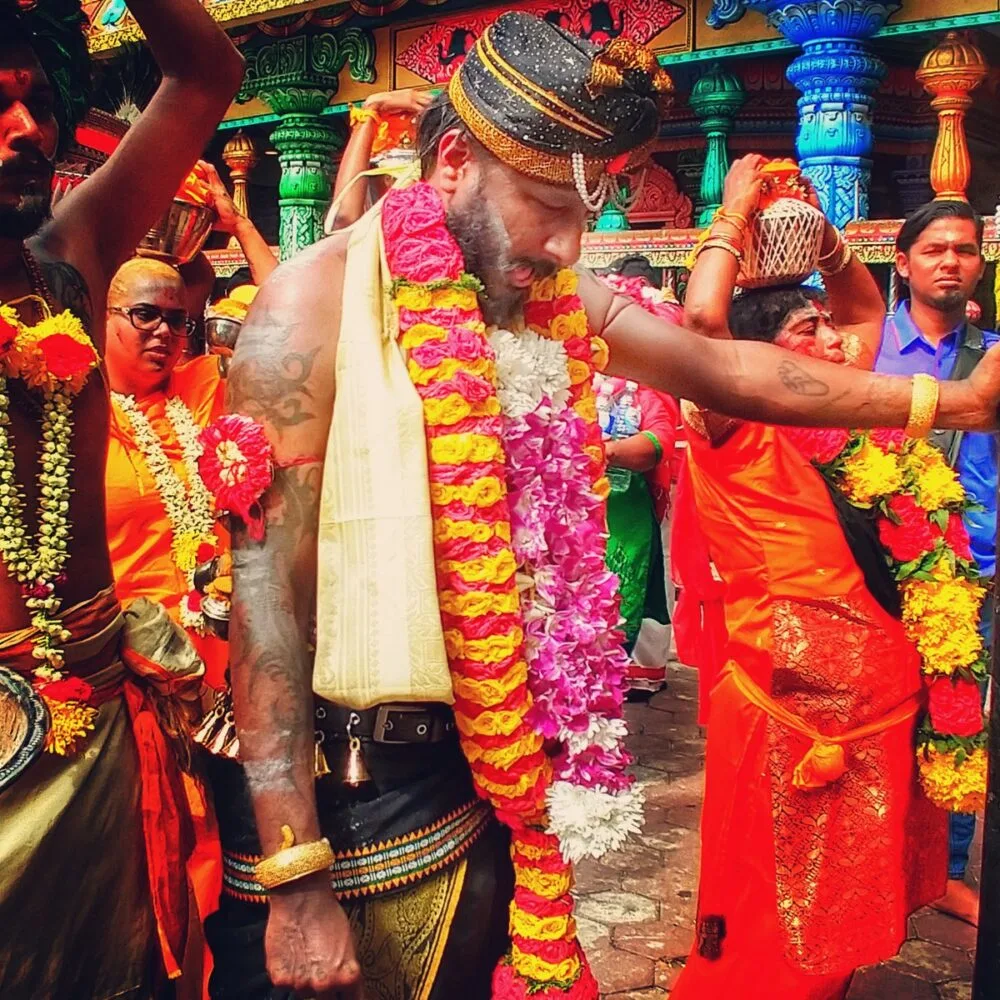 You may think of Malaysia as a Muslim country but in reality, it's incredibly diverse, pulling influences from all over the globe, including India and China.
Kuala Lumpur is one of the best places we've found outside India for amazing, authentic, southern Indian food, we go there for that.
But Thaipusam, well, Thaipusam is incredible and we were lucky to have an old friend at Back Home Kuala Lumpur to explain it to us.
She is a Hindu and made sure we were where we needed to be.
Without her, we wouldn't have seen nor understood anything at all.
Thaipusam Festival in Kuala Lumpur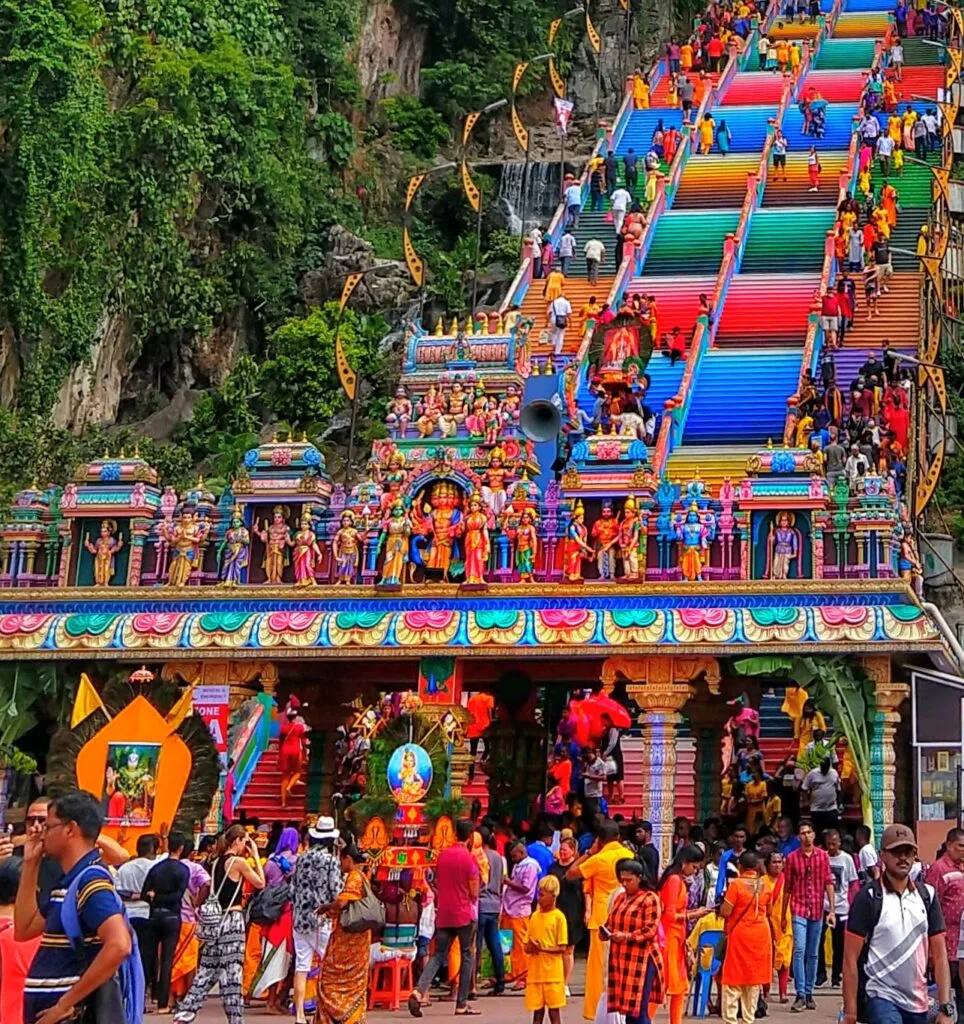 Thaipusam doesn't just happen in Kuala Lumpur, you'll find it in most big cities in Malaysia, anywhere there is a strong Hindu, particularly south Indian (Thamil), population.
We feel that KL has to be the best place to experience Thaipusam in Malaysia, because most of the action happens at Batu Caves.
These cave temples in themselves, are absolutely spectacular and fascinating. People visit from all over the world for the caves and temples inside, and outside.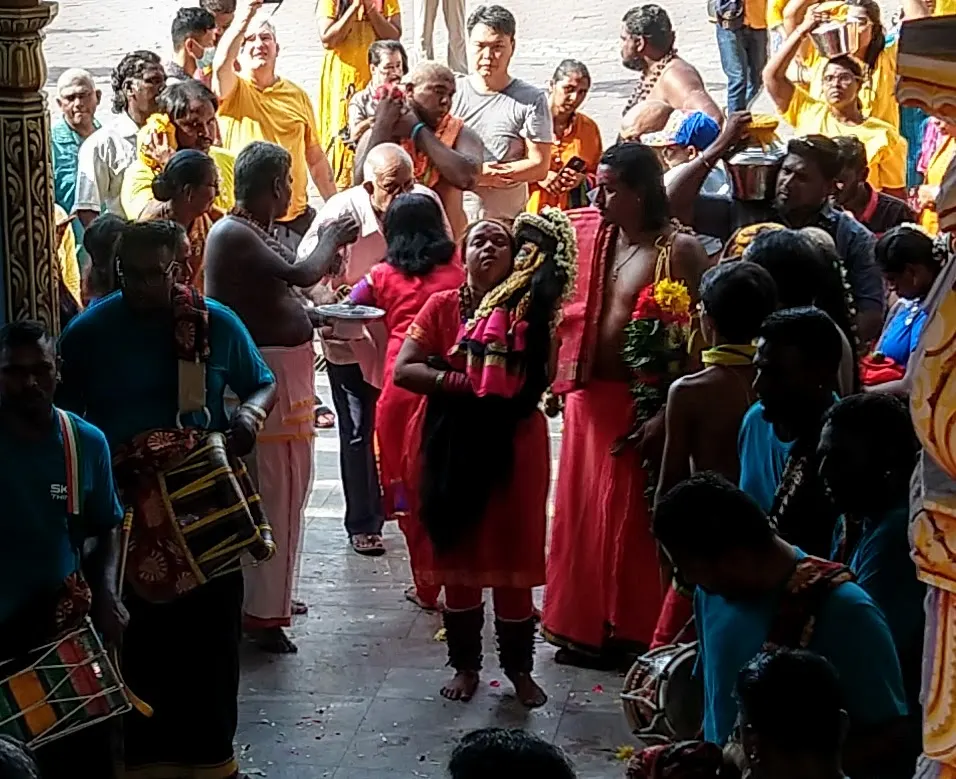 Thaipusam is on one day, but activities happen over several days.
For us, we were seeing festival events from Wednesday through to Sunday night, so allow plenty of time for this.
What is Thaipusam? In a nutshell, Lord Murugan, a Hindu deity and son of Shiva and Parvati, is brought out of his home Sri Mahamariamman temple in Chinatown, KL.
He boards his chariot and tours many important temples around the city visiting his family of gods.
At the moment he emerges, a pilgrimage starts. Hundreds of followers start the journey, most barefoot, from Chinatown to Batu Caves.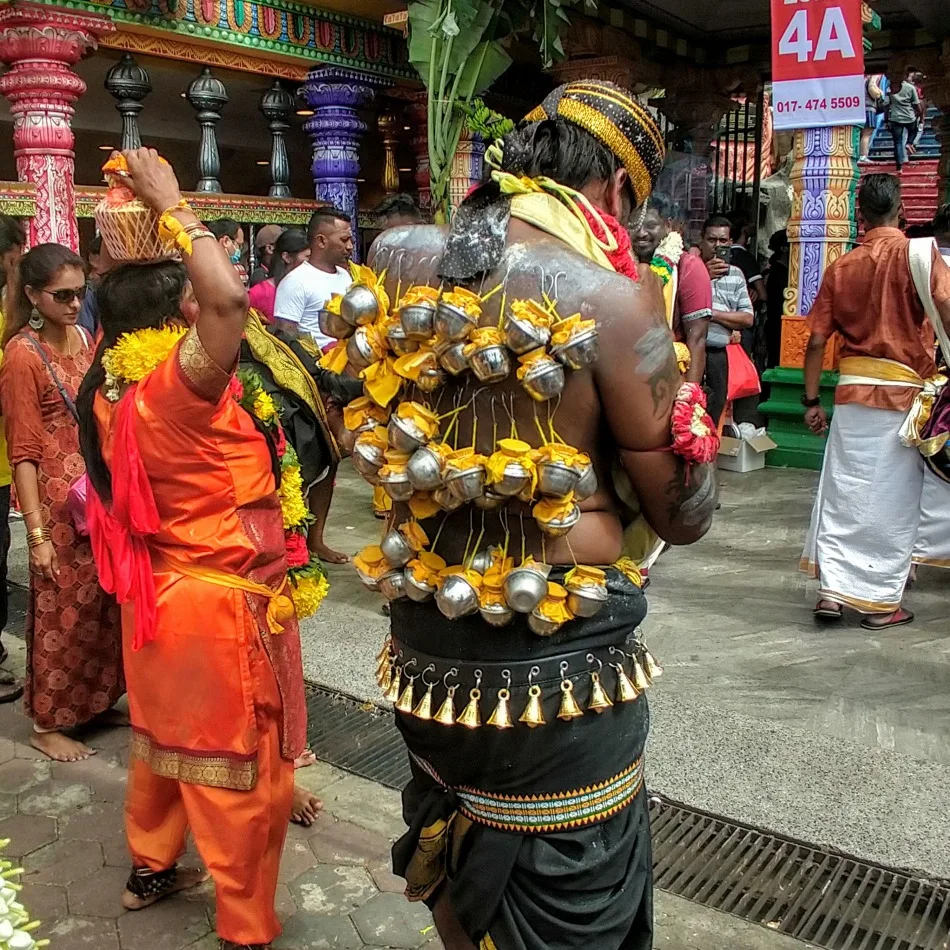 Many carry milk or statues of Lord Marugam. Some make the journey as hard as possible by doing it on their knees, carrying huge chariots, and piercing themselves with various spikes.
Our lady guide referred to this as "poking". She wasn't a huge fan of the poking, neither was my younger son in all honesty, but I love body piercing traditions.
I went under the bamboo tattoo spike in Thailand so for me, this was a fascinating thing to be there for. A dream come true experience, right up there with Bhutan, Tibet, and Everest Base Camp.
Sri Mahamariamman Temple at Thaipusam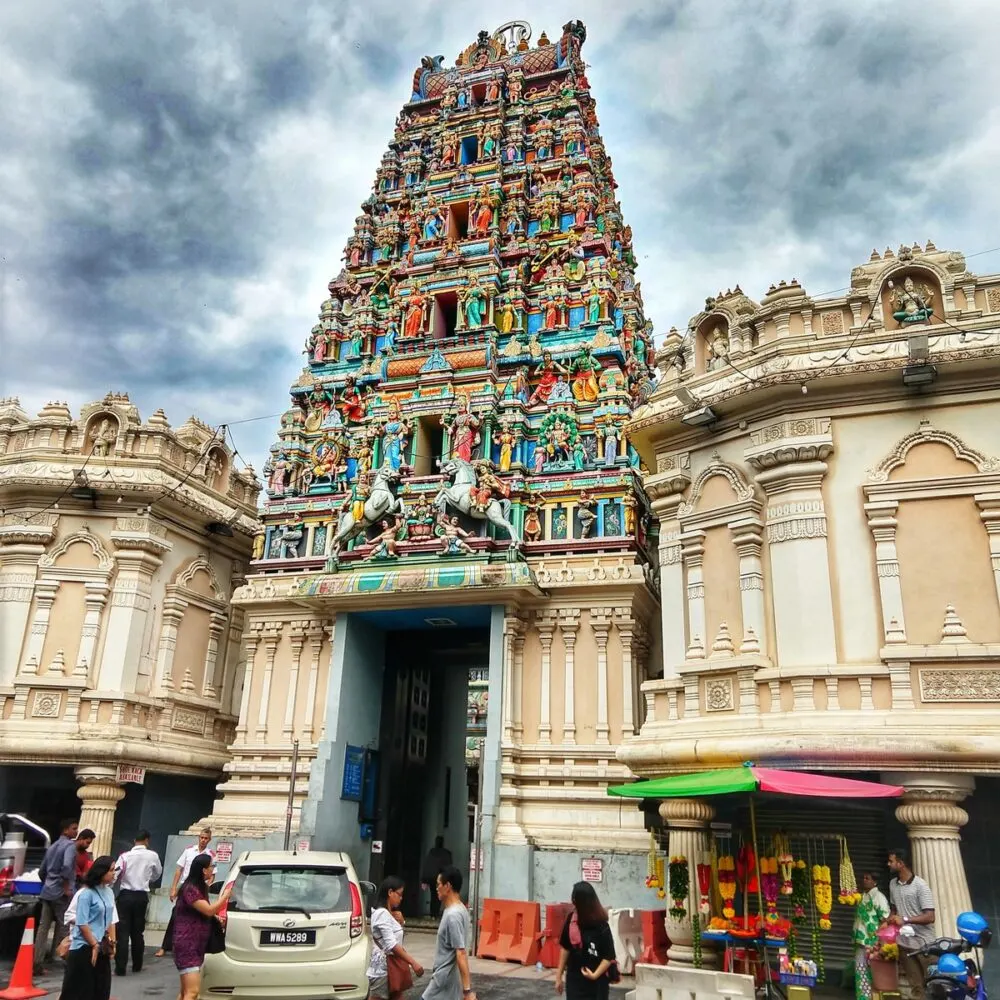 The beautiful South Indian Sri Mahamariamman Temple is one of the stars of Kuala Lumpur's Chinatown area.
It's a must-see, even if you can't be there for Thaipusam.
Visitors can enter freely so long as they are respectful and remove shoes and hats.
We've always been welcomed in temples, everywhere, particularly with the children. A few smiles go a long way.
We've visited many temples in the south of India, this one would be small (very small) compared to some there, but it has the most beautiful and well-kept gopura or gopuram, the huge ornately decorated tower above the entrance.
We've also seen gopuram worth your time in Saigon and Jaffna Sri Lanka. If you can't make it to India, do your best to see one elsewhere.
Lord Murugan's Chariot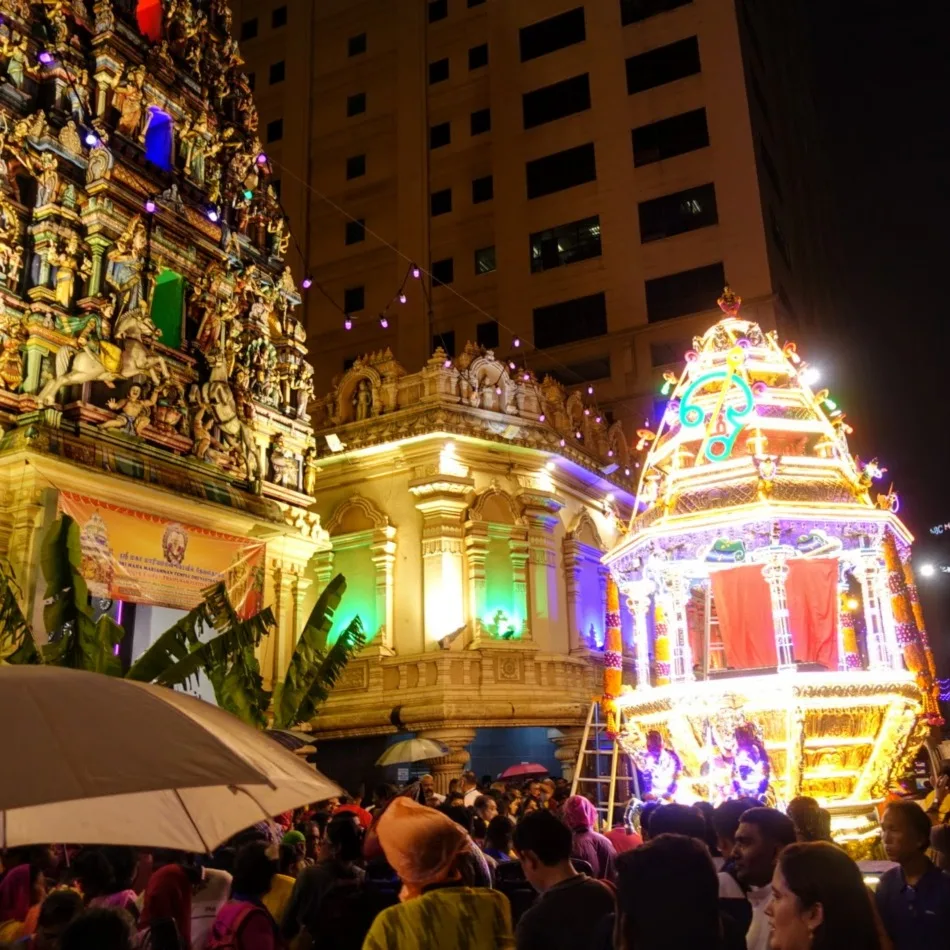 In days gone by, the chariot of a Hindu deity would have been wooden and pulled by cattle.
You'll still see that in some parts of the world today and we've seen these juggernauts in India, Nepal, and Malaysia.
In modern Kuala Lumpur, expect glitz.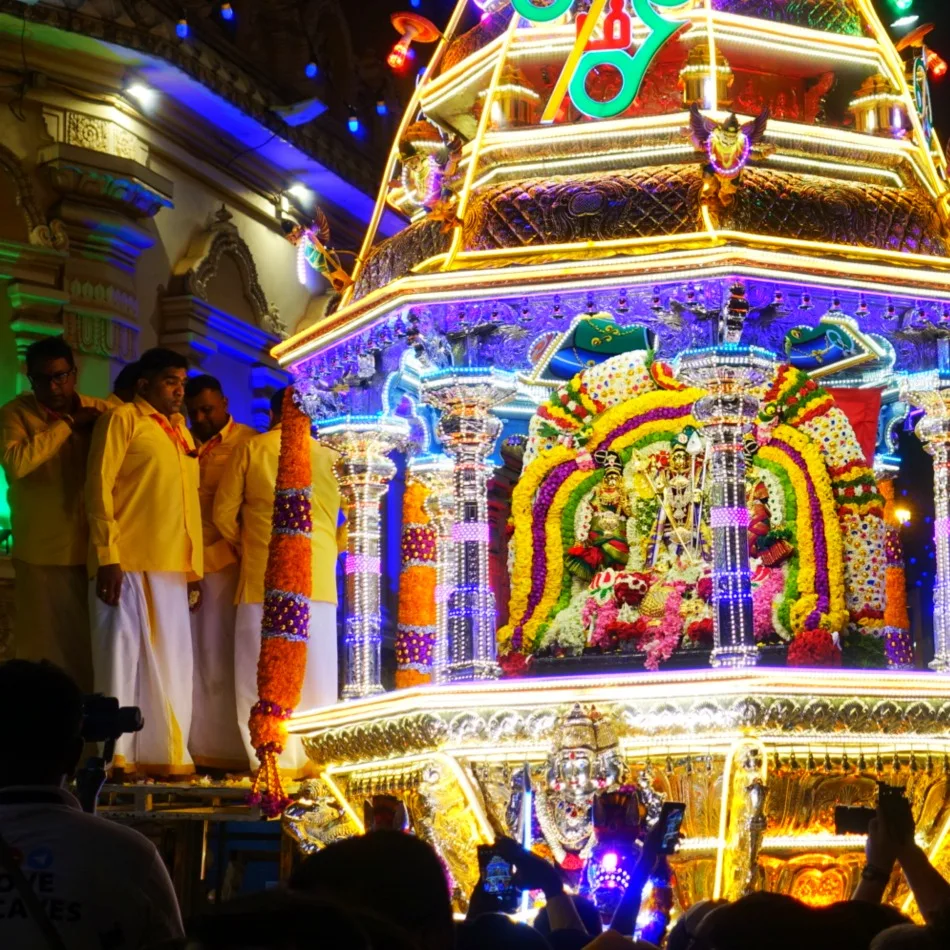 When we first arrived outside the temple, the neon chariot was empty (first photo), the god was still in his usual home, inside the temple being prepared and decorated with flowers.
We waited hours in the rain for Lord Murugan to emerge. Priests used a hydraulic platform to raise the figure and install him in his spot.
Once ready there was ecstatic drumming and various musical instruments sounded from the crowd as the procession began.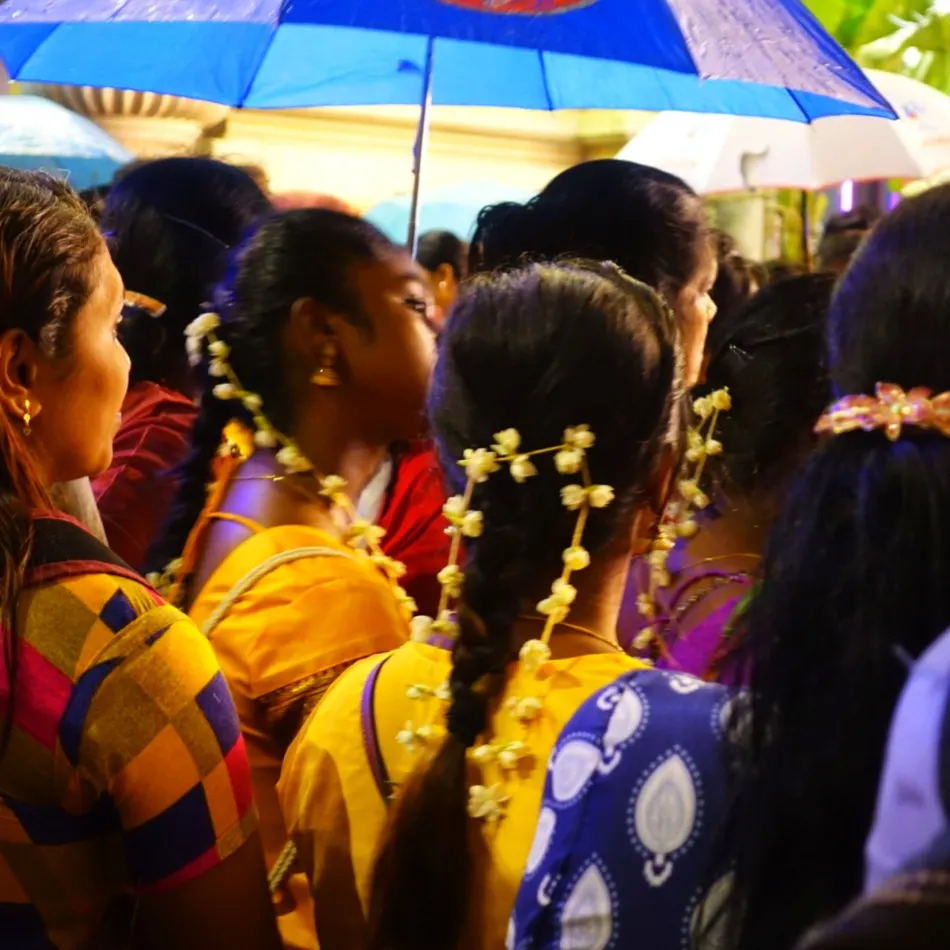 The children opted not to come with us for this part of the festival, and we're glad they didn't. It was a very long wait in a huge crowd and once the crowd started to process it was difficult to stay together.
They were safe and happy at the hostel and we told them all about it later.
Batu Caves at Thaipusam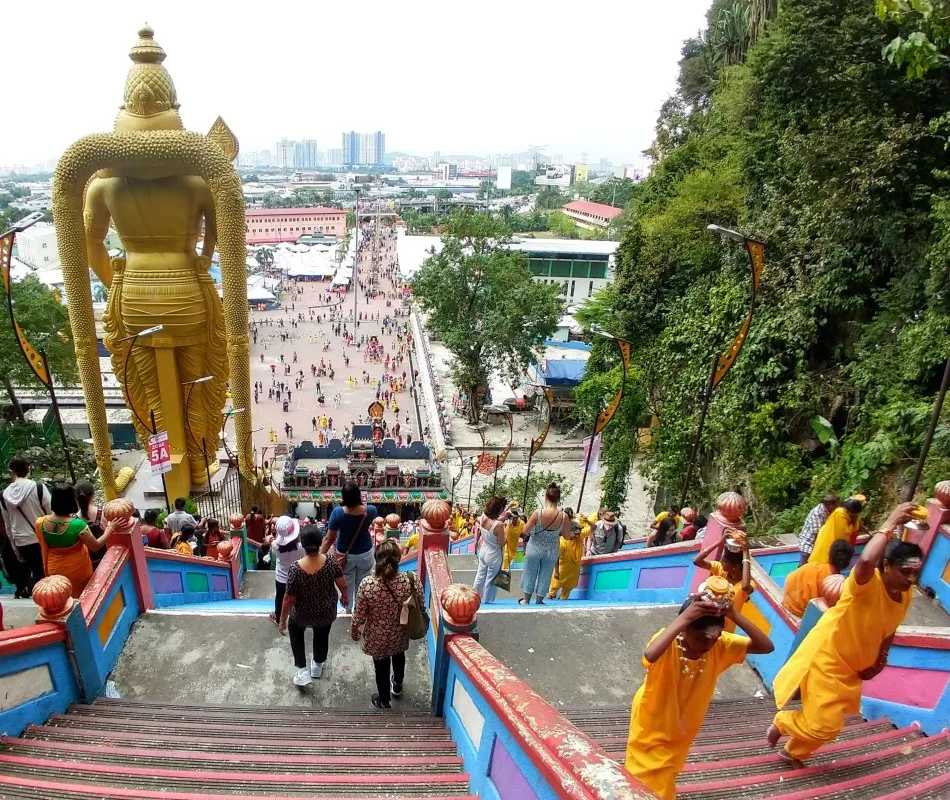 At the base of the Batu Caves steps, quite a complex has built up over the years.
The last time we visited, maybe 10 years ago, this whole area was a simple affair on the outskirts of KL bordering a huge freeway. Today it's much more developed.
Batu Caves has its own train stop, convenient to get there from central KL, or you can catch a bus normally. For Thaipusam the roads were closed to motor vehicles.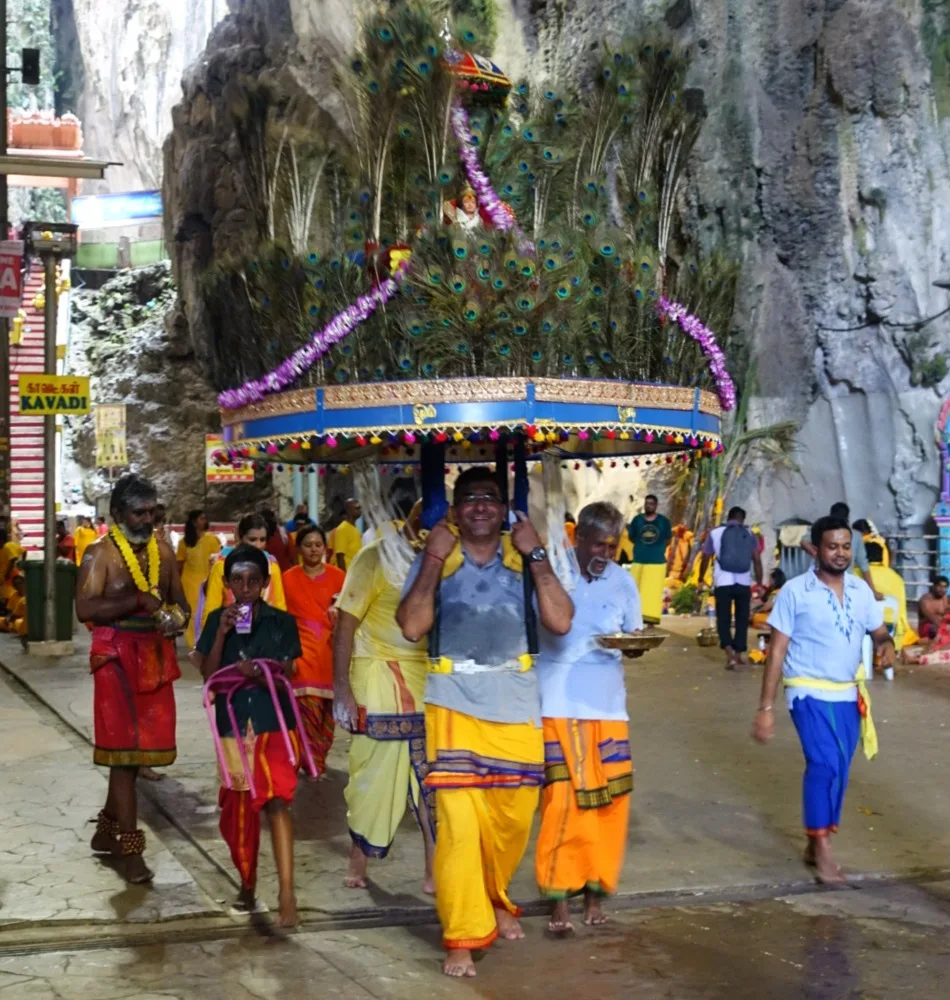 For the festival (and maybe always now, we don't know) there were carnival-style stalls of sweet treats, snacks, and trinkets along with blaring music and other small temples.
Batu Caves is free to enter and we climbed to stairs into the caves alongside the pilgrims. Watch out for the monkeys here, they're crooks.
Video of Thaipusam in KL?
I have a lot of video, all shot properly with my gimbal and microphone. It will take much editing. I'll let the email subscribers know when it's ready. It's days of work, but will be here eventually.
When is Thaipusam?
Thaipusam falls on the day of the first full moon during the Tamil month of Thai in late January or February.
Next year it seems to be January 21st, but please check for yourself. We were at the festival in the second week of February.
Thaipusam is a public holiday in some states of Peninsular Malaysia. If it falls on a Sunday the Monday after is a public holiday.
States listed are Johor, Kuala Lumpur, Negeri Sembilan, Penang, Perak, Putrajaya & Selangor. Please double-check these dates for yourself this is our source.
| | | |
| --- | --- | --- |
| Year | Date | Day |
| 2020 | 8th February | Saturday |
| 2021 | 28th January | Thursday |
| 2022 | 18th January | Tuesday |
| 2023 | 4th February | Saturday |
| 2024 | 25th January | Thursday |
Staying at Back Home Hostel KL for Thaipusam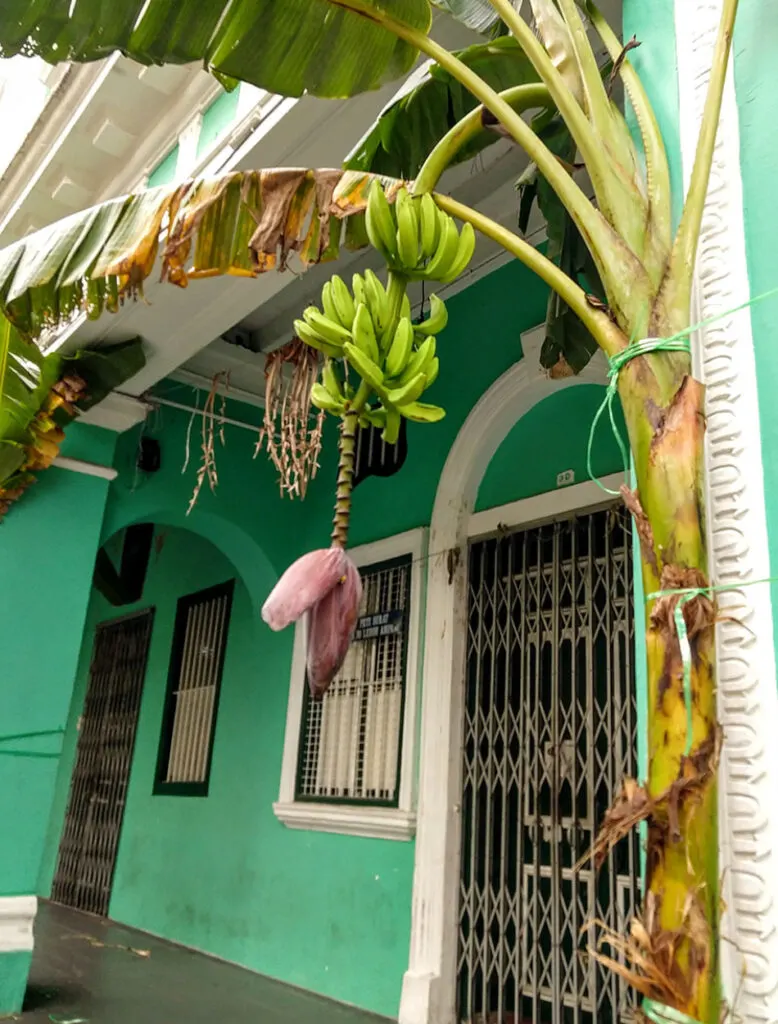 When we first set off on our many years of world travel, Back Home was our first stop. It was just me, mum, and two very small boys age just six and eight.
Our lovely friend at Back Home really looked after us, as she had our friends Gabi, Kobi, and kids of the then famous Nomadic Family blog the year before.
I had problem after problem in those first weeks. We landed in Malaysia into an environmental disaster, terrible pollution causing health-damaging smog as burning took place and swamped already-polluted KL.
I was stuck and this lady helped me. We've stayed at Back Home many times since, always catching up with her and another staff member, now an ultra-endurance athlete and food-tour guide, so Chef and he have a lot to talk about.
Back Home (click to view)is one of our top recommendations for staying in KL it's perfectly placed for Thaipusam.
We can also suggest this space-themed capsule hotel for a novelty stay with kids.
My boys adored it and it's just a few minutes walk away. Capsule hotels are only good for short stays in our experience.
So Back Home is where we stay and a strong recommendation from us. Our Hindu lady guided us to where we needed to be, and made sure we were safe in the huge crowds, at exactly the right time.
She took others from the hostel as a small group. We made the journey to Batu Caves alone, that part is easier to negotiate.
For you to save to Pinterest.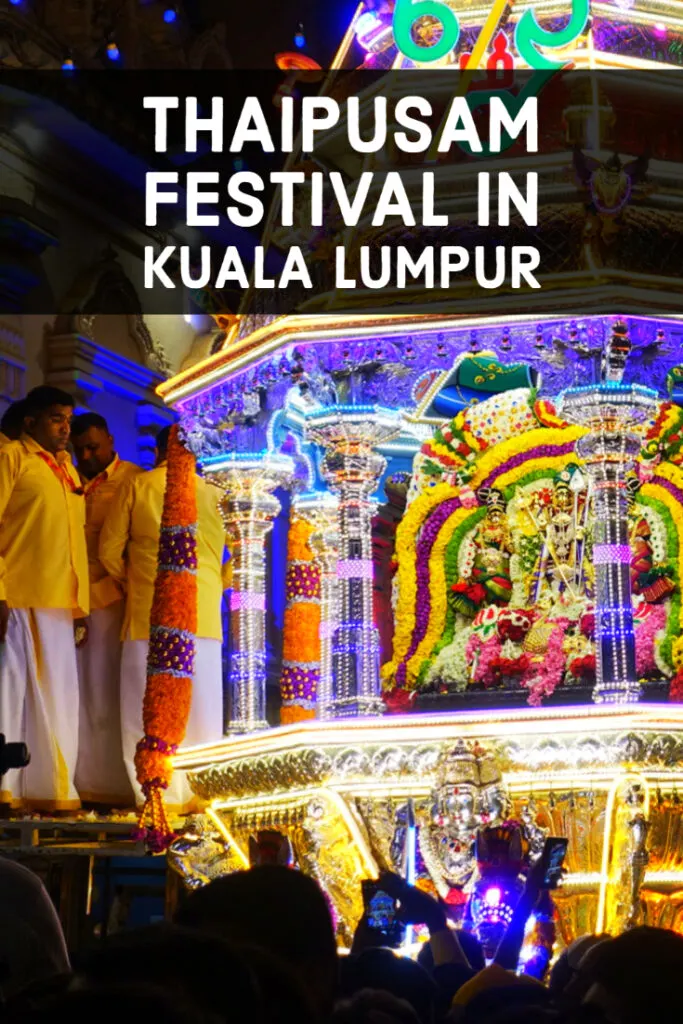 Thaipusam, Should You Visit?
Yes, absolutely be in Kuala Lumpur, or anywhere Thaipusam is celebrated for this ancient mystical event. Dedication like this is rare today and it's wonderful to see ancient faiths and traditions upheld.
Is Thaipusam suitable for children? It depends on the child.
My younger son really doesn't like things like this, but now he's old enough he can cope with it just fine. When he was younger we wouldn't have gone.
My older son, like me, is fascinated and would have been fine at any age. If you do plan to take kids keep a very tight hold on them in the early stages in Chinatown, the crowd is vast and it would be effortless to get lost. Chef and I became separated at one point, and we're grown-ups.
Where Should You Stay in Kuala Lumpur for Thaipusam?
We suggest staying in Kuala Lumpur, within walking distance of Chinatown, to be able to get the most out of seeing, or experiencing, this festival
Take a look at Back Home Kuala Lumpur for your stay, also check out the space-themed capsule hotel. (our links take you to a site offering a best price guarantee at the time of publishing) If you want more luxury during your stay in Kuala Lumpur there are numerous very special hotels in KL that offer more comfort. Looking for more information on things to do in Kuala Lumpur? We have a full guide along with a post on how to get to Batu Caves.
If you'd like to hire a car during your stay, use this car rental comparison tool to find the best deal!

We also suggest you take a look at this company to get a quote for all kinds of the more tricky adventure or extended travel insurance.

Try Stayz / VRBO for an alternative way to find rentals on homes/apartments/condos in any country!