This post may contain affiliate links.
There is an incredible selection of things to do in Penang with kids along with family-friendly resort hotels, good food, and reasonable transport options. Penang is a popular vacation or holiday destination for local and international family travel. This post is about places to visit in Penang with family or with kids, with ideas on Penang hotels for family, getting around Penang and where to eat.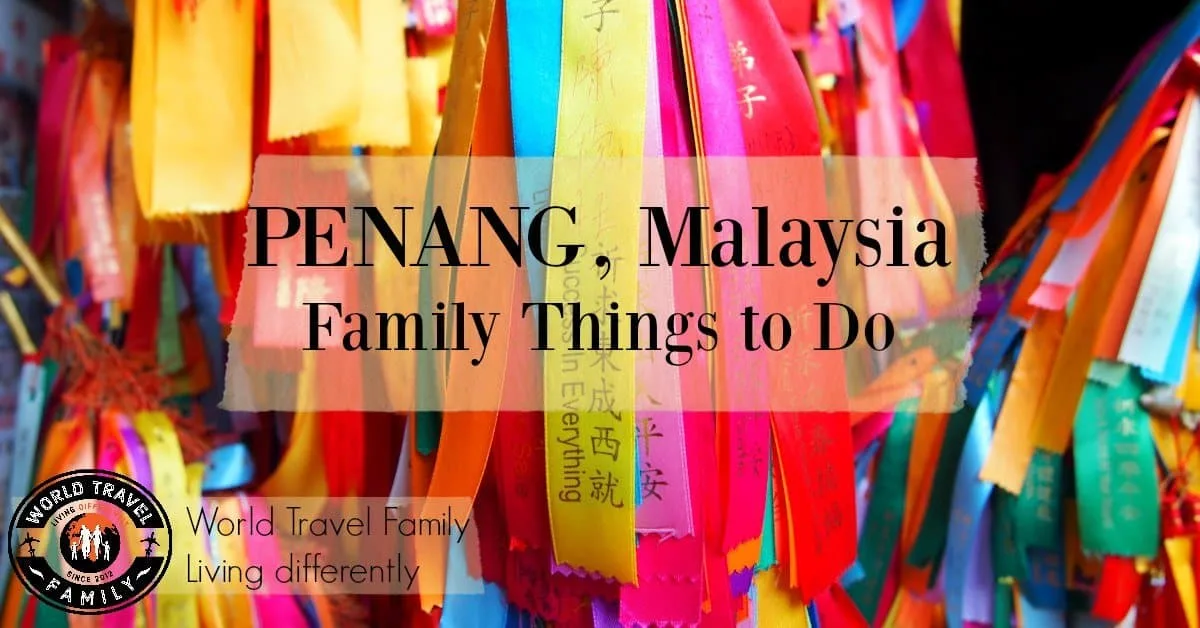 Penang With Kids and Family
We list many of Penang's child-friendly attractions below. We also give you some tips and ideas on visiting Penang a family, and getting around Penang. Penang is a popular vacation or holiday destination in Malaysia and so has plenty of fun things to do for tourists as well as historic attractions interesting for of any age, plus cultural attractions.
Penang is a tropical state of Malaysia comprising Penang Island and a neighbouring portion of the mainland. When tourists, travellers, or holidaymakers talk of visiting Penang, they're usually referring to Penang island, which is where you'll find a number of family-friendly tourist attractions and beach-side resort towns as well as the bustling and historic state capital, Georgetown.
Georgetown can also be seen written as George Town and was formerly known as Tanjong Penaga. It is not known if George Town was named after King George II or after one or both of the first British Residents to Penang, both named George. I have heard that George Town is actually the correct name for this city.
If you are travelling in Penang with kids and family, we recommend you consider using KiwiTaxi for your airport pick up, tours of Penang, or other local journeys. This company can provide you with experienced drivers and guides, and more importantly, child and infant car seats or boosters to keep your kids safe. Take a look at KiwiTaxi here. You must prebook car seats.
Security on Penang With Kids and For Families
We were robbed on Penang. A pickpocket removed cash from my bag on a bus in Georgetown, he was pretending to help me as a single mum travelling with small kids.
We strongly recommend you purchase an anti-theft bag with a slash-proof body and strap, hidden pockets, plus a strong hook to attach it to furniture while seated. This is our favourite anti-theft large messenger travel bag to keep your money safe on your vacation or extended travels in Penang and Malaysia. For a smaller purse, but safer, look at this one.
To keep a small amount of cash in a very secret place, consider a travel safety money belt like this, or a neck wallet for cash in Penang. Be particularly vigilant in Penangs crowded night markets, bus stations, buses, and any busy areas.
If you're nervous we also highly recomment travel security door wedges with alarms, buy one here. Doors aren't always very secure in some of the older buildings in Georgetown.
Things To Do in Penang with Kids and for Families
We've spent considerable time in Penang with our children and without, so let's look at things to do in Penang that are fun, interesting, enjoyable, or family-friendly.
Most of Penang's attractions are great for kids. They are fine for adults and couples too.
I wouldn't say Penang was our favourite place in Malaysia, we really like Kuching Sarawak, and Ipoh Malaysia, and of course, busy Kuala Lumpur. But Penang has charm and is a popular tourist destination.
Culture lovers will most likely base themselves in Georgetown, and beach lovers in Batu Ferringhi. Most recently we took the ferry to Penang from Langkawi, which was quite eventful, the ferry broke down halfway. We really enjoyed that stay right in the heart of the old city of Georgetown.
Best Family and Kid-Friendly Hotels in Penang
If you're looking for a family-friendly hotel in Penang for a special trip or vacation, I'd certainly look for a resort with a pool. You will most likely want to cool off in Penang. We have another post on where to stay in Penang with family, but we cover this briefly here too.
We highly recommend the Hard Rock Hotel at Batu Ferringhi, my boys loved the water play facilities there and the location is perfect for reaching many of Penang's attractions. The Hard Rock Penang is a bit of an icon, sitting right on Penang's best beach at Batu Ferringhi.
The kids' suites can be sensational, with mum and dad and the kids having private sleeping areas and a whole bunch of child-friendly special features. Your child may feel like a rock star!
The Bayview Beach Resort is our top pick for a family resort holiday in Penang. Unlike most other Penang hotels, this one has family rooms with a double bed plus two singles, this seems hard to find in Malaysia. They also have an indoor play area and a kids' pool. Kids' club and babysitting are available, right on the beach in Batu Feringgi. Check out the Bayview on Booking.com here, and on Agoda here. Prices are very reasonable for a family vacation beach resort hotel.
The Eastern and Oriental Hotel. George Town A glorious old white building and likely the most expensive hotel on our list of Penang hotels. It's right in UNESCO listed George Town. The rooms are stunning, very colonial, and the genteel pool faces the ocean. I'm staying here next time! This hotel offers suites which can accommodate families with extra beds, why not stay in style?
Shangri-La's Rasa Sayang Resort & Spa Batu Ferringhi A good beach-facing luxury resort hotel. More expensive than the Hard Rock and Parkroyal. Has beautiful pools and gardens but does not have family rooms although they do offer babysitting. You'd need to book 2 rooms for a family..
Golden Sands Resort by Shangri-La. Batu Ferringhi A cheaper resort hotel facing the ocean in Batu Ferringhi, has a nice mini-waterpark for kids but no family rooms, instead you can book adjoining rooms. There are kids play facilities.
Holiday Inn Resort Penang. Batu Ferringhi. Seems to be closed now, but Holiday Inn are usually a good choice and offer kids' clubs and family rooms.
Cheong Fatt Tze – The Blue Mansion Stunning old mansion building with fantastic George Town location, not massively expensive, but not "budget. This hotel offers a "two bedroom townhouse" that would suit a family group.
Museum Hotel, George Town (good value)
Hard Rock Hotel Penang. Batu Ferringhi. The Hard Rock Hotels are pretty good value and if I was heading to Batu Ferringhi on vacation, I'd stay here. We always enjoy these hotels and the water park and kids' play facilities were great for our children and young teens.
Parkroyal Penang Resort, Malaysia. Another Batu Ferringhi resort with a nice pool facing the beach. Same sort of prices as the Hard Rock Hotel. Again, no real family rooms, but children can be accommodated in doubles and twin rooms. Excellent kids' play facilities on-site.
Penang Backpackers and Budget Travellers With Kids
Batu Ferringhi is quite expensive, there really isn't a whole lot on offer at the backpacker end in this beach resort town. Take a look at The Summer House on Booking.com, (or on Agoda here) this can accommodate a large family at a reasonable price near the beach. Or a 2 bedroom condo can be very affordable for apartment living. Take a look here, a great option for longer-term travel.
George Town is more interesting and has more food options, and has some lovely places to stay, often in converted vintage shophouses.
If you've stayed in these old buildings before you'll know that the wooden floors and thin walls can make them noisy, but they have a lot of charm.
Places to Visit in Penang, List, Kids and Families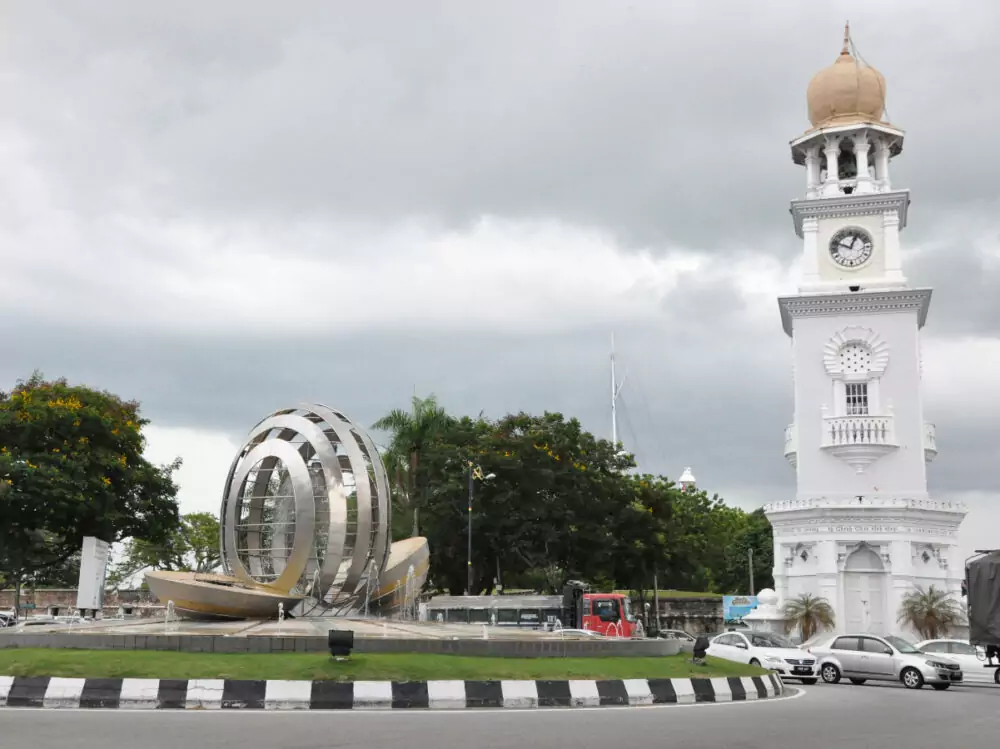 We go into more detail on these tourist destinations in Penang further down the post, but here's a list of the major things to do in Penang and places and attractions to see.
There are also several mosques on Penang that families might like to see or visit, including Masjid Negeri, the state mosque of Penang, Penang Floating Mosque, which seems to be built in the sea, Masjid Abdullah Fahim, Masjid Lebu Acheh- Acheen Street Mosque and Kapitan Keling Mosque. Many mosques allow tourists to visit outside prayer times (check waktu solat Penang for times) and will loan visitors respectful clothing.
Tour The Tropical Spice Garden
Explore Fort Cornwallis
Visit Kek Lok Si Temple
See the reptiles at The Snake Temple south of Georgetown.
Hire a Trishaw and Driver for a Tour
Enjoy Batu Ferringhi Beach
Eat and shop at Batu Ferringhi Night Market
Check out the street art in Georgetown
Take tea at Suffolk House
Enjoy Khoo Khongsi, a beautiful Chinese villa.
Penang Peranakan Museum
Taste teas at a tea shop
Enjoy Nasi Kandar
Eat Indian Food in Little India
Tanjung Bungah Floating Mosque
Visit Butterworth by ferry boat
Shop at one of Penang's huge malls
Take the Funicular Railway up Penang Hill
Penang 3D Trick Art Museum
Explore Penang National Park
Eat at Chulia Street Night Market
Parasailing, Jet Skiing, Parascending and more at Batu Ferringhi
Penang State Museum and Art Gallery
Visit the Butterfly Farm
Water Park at The Hard Rock Hotel Batu Ferringhi
Indoor Play and Slides at Batu Ferringhi
Things To Do in Penang, Family-Friendly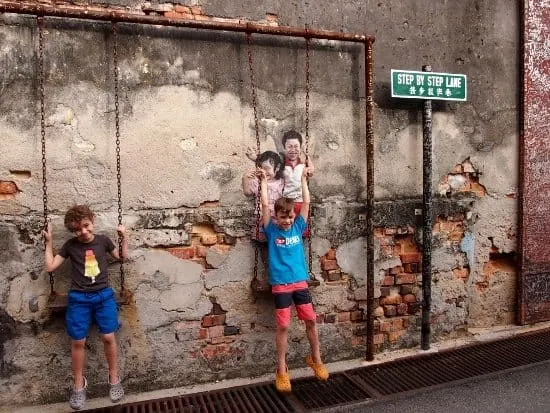 Book a Tour of Penang?
To see everything Penang has to offer quickly and easily, it's possible to book a tour. Tours on offer include full days, half days and short tours.
You can take a private tour, a food tour or be part of a group. You can check out and book any of the tours available on Penang here.
There is more than enough to keep you and your family busy on Penang for a couple of weeks, alternate historical or cultural sites with fun activities for the kids.
Don't forget to try the amazing food on offer too, from hawker stalls to upmarket restaurants.
Highlights of Penang for families include:
Kek Lok Si Temple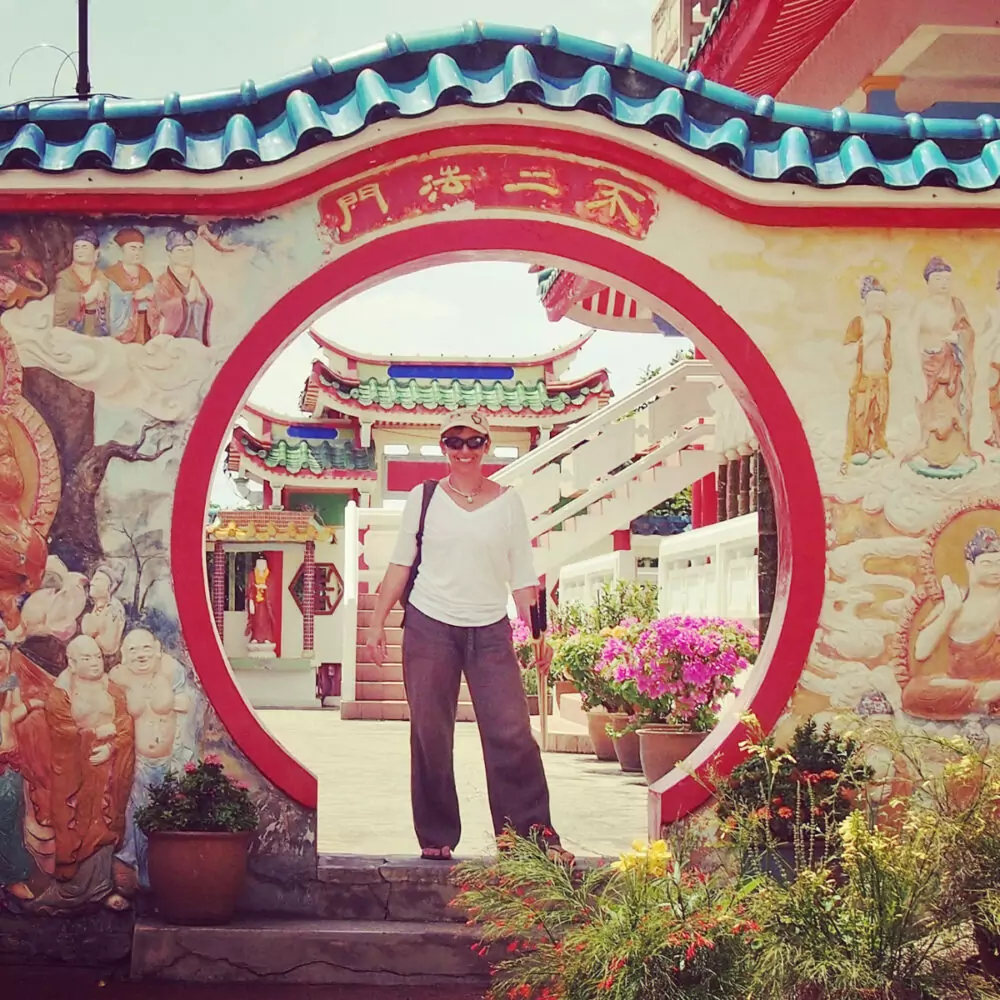 Climb to the top of the Kek Lok Si temple complex, on foot and by funicular railway. There are shops and a turtle pool on the way up to keep the children amused.
An extraordinarily pretty temple inside a large complex, there is plenty to explore.
This temple is also known as the Temple of Supreme Bliss and was founded back in 1890.
The complex contains many buildings, pagodas, prayer halls, and decorative bell towers and admission was free other than for the Sky Lift (funicular railway type device) and pagoda.
Allow up to a half-day for your visit. We have a full post on Kek Lok Si with children, here.
Penang Botanic Gardens
A green oasis on Penang of great historical interest and a good place for the kids to spot monkeys.
It's also a great place to get some exercise, head here for a hike or run, there are jogging trails and of course, toilets and
Here you can see splendid long-established tropical trees including rain trees, cannonball trees and ebony trees.
If you're not used to a tropical climate and the plants that thrive there, you should find this Penang attraction pretty interesting.
Penang Botanic Gardens are also known as the Waterfall Gardens because of a nearby waterfall. The gardens lie in a valley adjacent to Jalan Kebun Bunga and were founded by the British back in 1884.
There are 12 well-kept areas to the gardens
Cactus House
Fern House
Orchidarium
Horticulture Centre
Jungle Track
Lily Pond
Formal Garden
Perdana Plant House
Tropical Rainforest Jungle Track
Fern Rockery
Walkway Aroids
Nursery
Recreation Park
You can check the official Penang Botanic Gardens website for openings and special activities.
It states that the gardens are open from 5am to 8pm daily and that admission is free. There is a tram service, there is normally a charge to use this. The gardens state that they are wheelchair accessible.
The Botanic Gardens in Kuala Lumpur are also very good.
Food and Eating in Penang for Families and Kids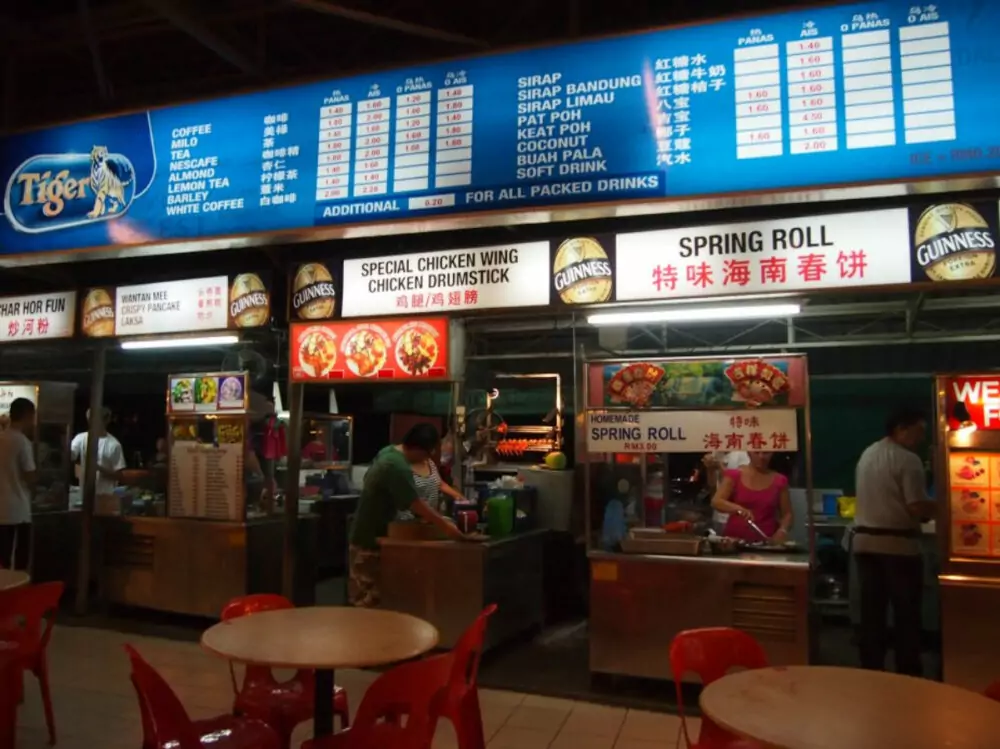 There is good Indian and Chinese food to be found in Penang, alongside western foods such as pizza and burgers.
The best Indian food we sampled in Penang was in Little India in Georgetown.
In Batu Ferringhi the Long Beach Food Court is a popular choice, we also found Middle Eastern food and seafood restaurants.
Penang is famous for teochul tendul, a bowl of shaved ice, syrup, coconut milk, beans and jelly noodles. You can find Penang Road Famous Teochul Tendul in Georgetown Penang. Penang curry is not from Penang, it's just named after the state, it's a popular Thai curry, but you should be able to find Thai restaurants in Penang. There is one in Butterworth and a few in Georgetown. You may even be able to find a Thai food stall at the Longbeach food court in Batu Ferringhi.
---
Water Park and Pools at Hard Rock Hotel
Batu Ferringhi's own mini water park makes a great place for the kids to swim and play, non residents can enter at a small fee and adults can enjoy lounging by the pool.
There are restaurants and fast food available at several outlets here and it backs right onto the beach at the main Batu Ferringhi promenade. For a great kid-friendly vacation in Penang, check out the Hard Rock Hotel, it has family rooms plus many kids' activities, it's right on the beach. This is our top pick as the best hotel for families and kids in Penang.
---
Penang's Snake Temple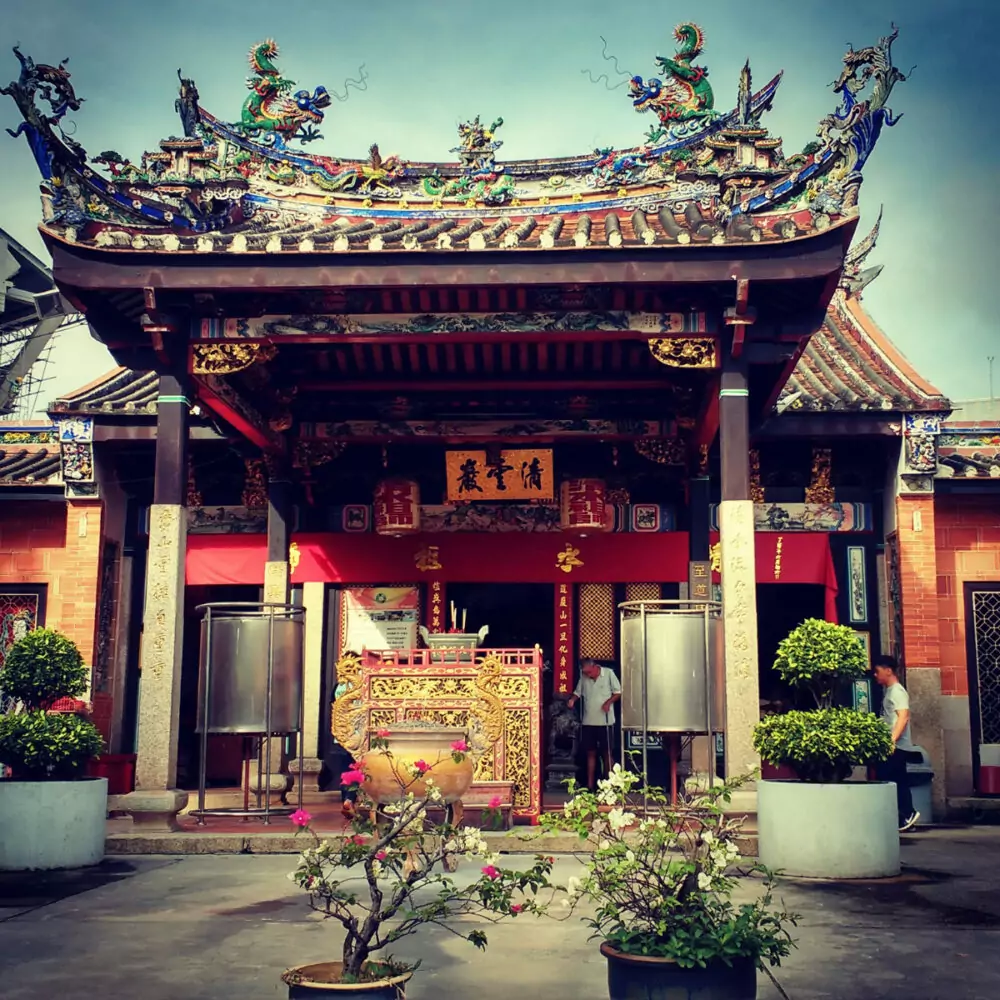 An ornately decorated temple in the south of the island, made atmospheric by incense and pit vipers.
Do not touch! We really enjoyed the Penang snake temple, taking an Uber there from Georgetown was easy and cheap.
The small reptile museum and zoo right next door (this had an entry fee) was a big winner with my family. They had the biggest python any of us had ever seen, and we live in the tropics.
The snake temple itself is pleasant, there were a few snakes around the alters and in a walled garden.
We didn't feel we were in any danger from the snakes but obviously, if you have any kind of snake phobia or fear, cross this off your list of things to do in Penang!
Pinang Peranakan Mansion.
Glimpse into the opulent past. A wealthy home from times gone by.
Georgetown Street Art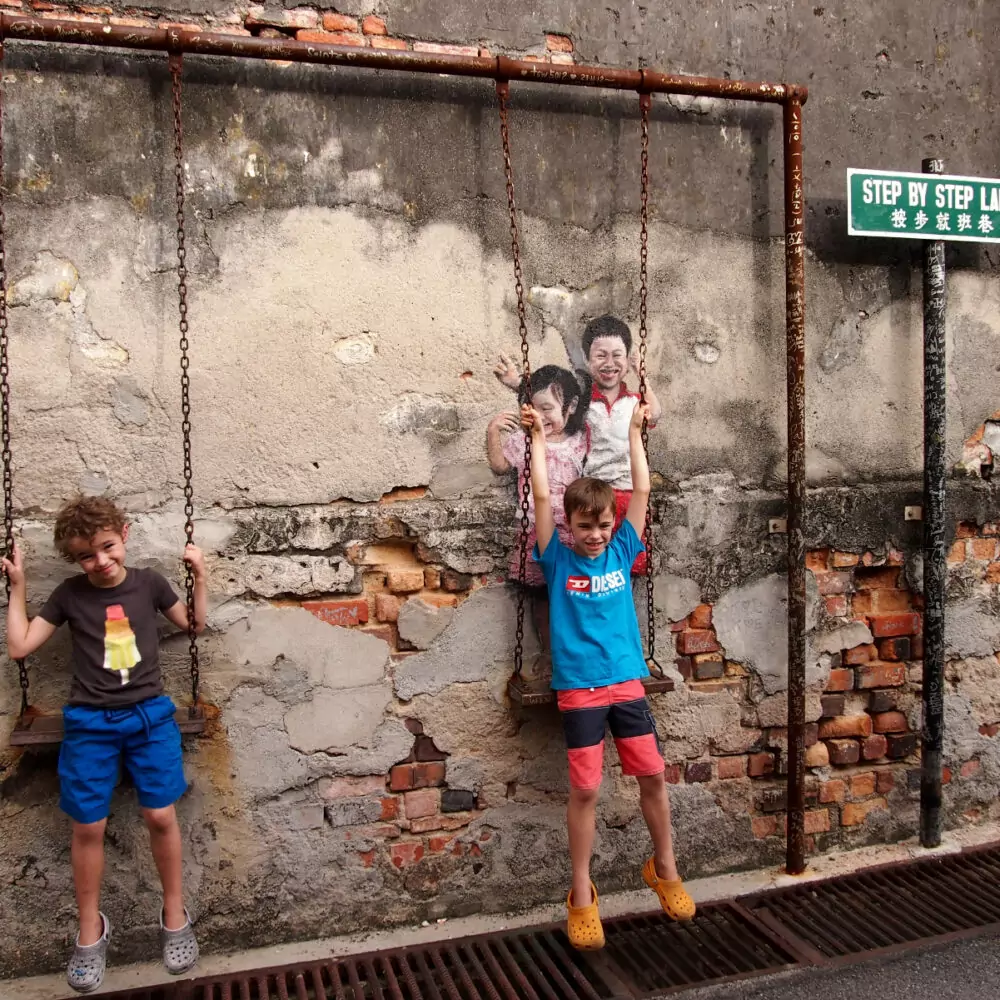 Beautiful images of children, often incorporating "real" objects, can be found throughout Penang. Read more about Georgetown's street art and the artist, here.
Escape Adventure Play
High ropes courses, zip lines and various other attractions for kids and adults. Visit Escape.
Entopia, the Butterfly and Bug Park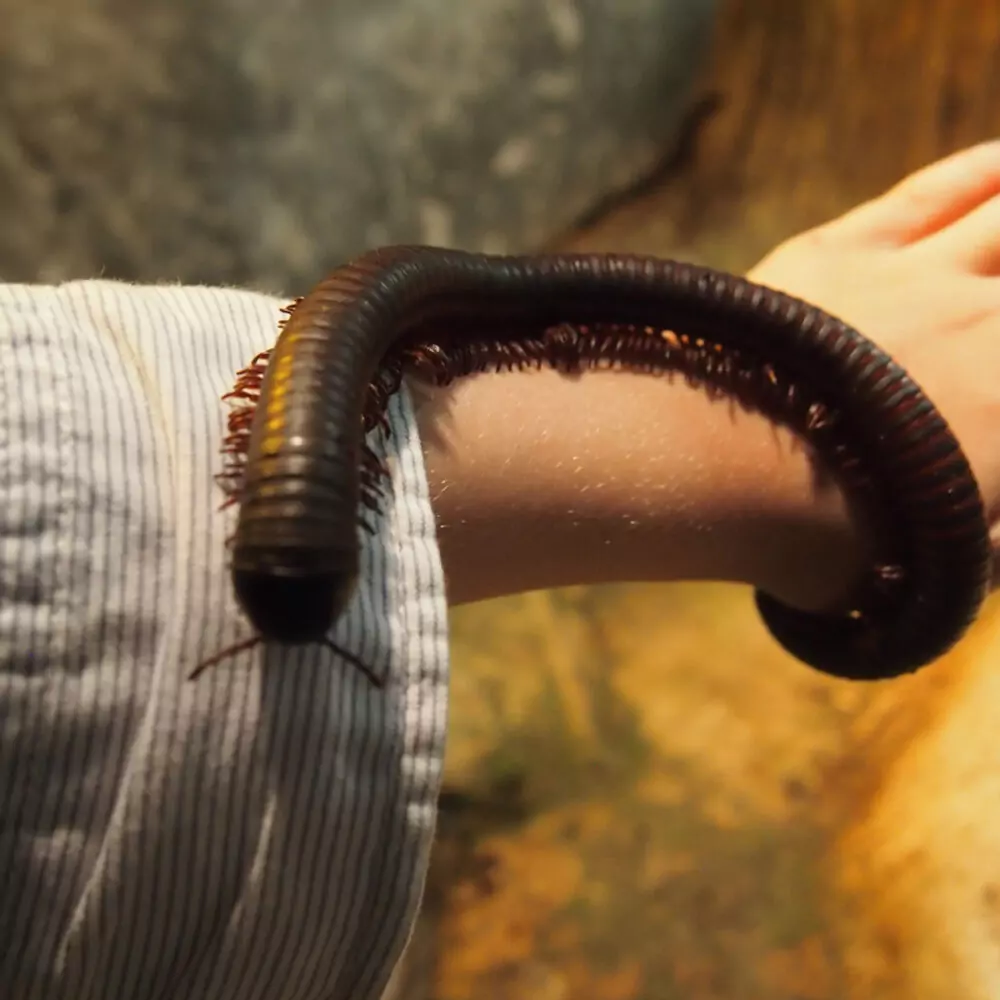 Bugs and butterflies are always a winner with the kids. Make sure they get a chance to hold the huge giant millipedes.
We got to Entopia by bus but it wasn't easy. I'd recommend taking an Uber instead.
Visit Entopia here. Allow about half a day for your visit and we thought this butterfly and bug collection was better than the one in KL.
Fort Cornwallis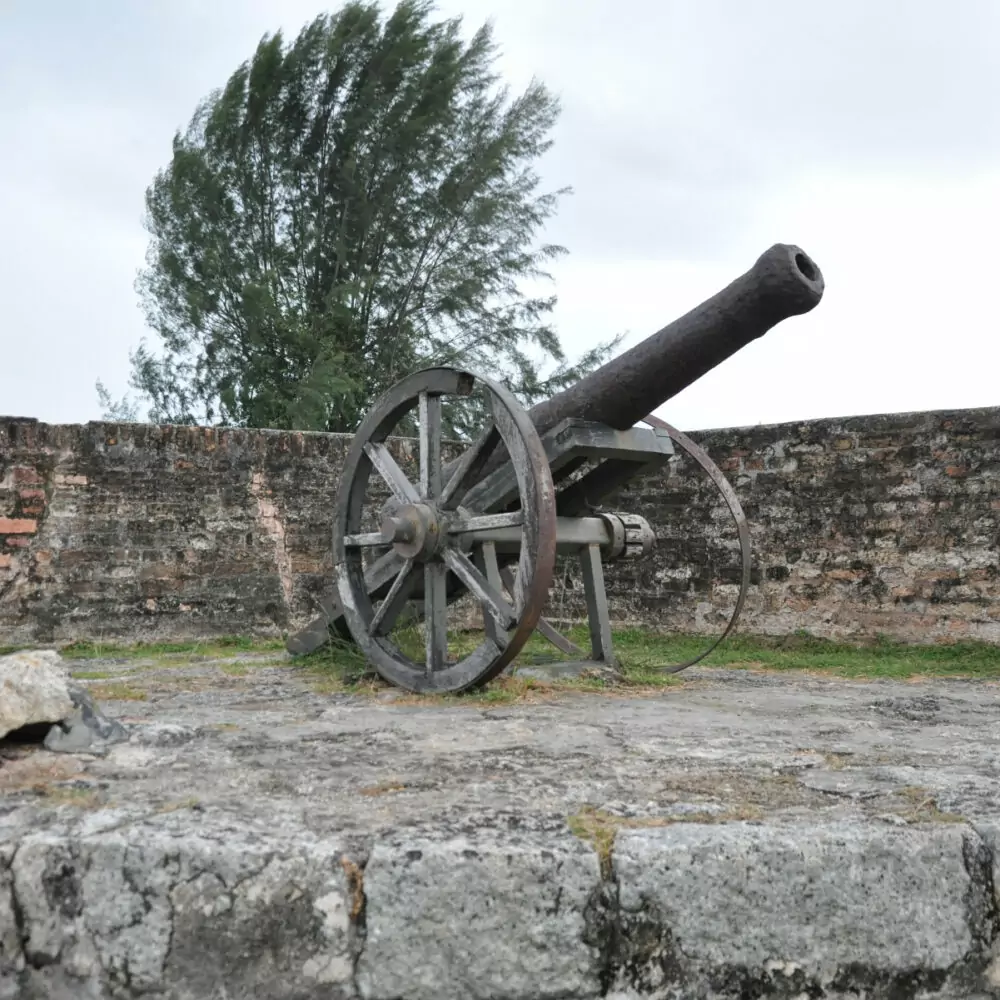 A star-shaped fort from the days of the British East India Company. A great place for kids to run around and explore.
We have a full post on Fort Cornwallis here. You can walk here from Georgetown if you don't mind a walk To learn the most about Penang's history and culture, book a "Seven Wonders of Penang" tour, to include Fort Cornwallis.
Gurney Paragon Mall and Gurney Plaza
Large shopping malls, maybe not as glitzy as Kuala Lumpur, but still fun to visit, with cool places to eat. Try the shaved ice desserts.
Penang 3D Trick Art Museum
3D murals and life-size figures put your family in the picture. Lots of fun and great photographs to treasure.
Adventure Zone
Batu Ferringhi's indoor play space has hours of fun and breathtakingly steep slides for your little ones.
Upside Down Museum
It's exactly what it says, a museum where all rooms are upside down. Great for photos, in Georgetown.
Penang With Kids – Guide Book
Don't forget your guide book, Lonely Planet Penang, Kuala Lumpur, and Melaka
Getting to Penang with Kids and Transport on the Island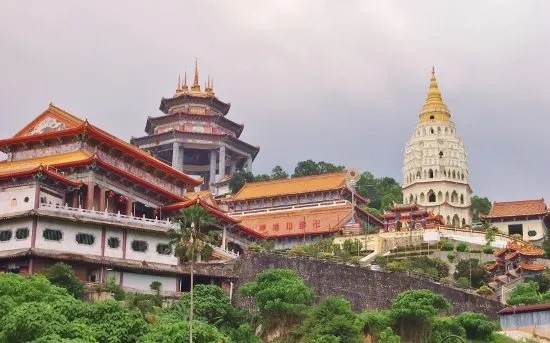 Penang is an easy bus ride from Kuala Lumpur. Buses in Malaysia are normally excellent, comfortable and cheap.
The bus takes you over the bridge, straight to the island where you can connect with local buses.
Penang also has its own island airport with direct and frequent links to most neighbouring countries, including Bangkok and Singapore.
Find information on Penang Airport at their website.
The train will take you to Butterworth, on the mainland portion of Penang state. Find information on train travel in this part of S.E. Asia here. Kuala Lumpur to Penang is a 6 hour ride.
On Penang Island itself, there is a good, modern bus service, although buses around Georgetown can be very busy and the roads winding. Bus journeys can be long.
There are plenty of taxis and Uber or Grab cars on the island and in Georgetown, don't miss the famous trishaws! You might also consider hiring a car if you really want to explore the island.
As we mentioned at the start of this post, KiwiTaxi is a safer option for getting around Penang with kids as they can offer booster seats and car seats for children and infants. Check them out here. They have vehicles for small or large families, including minibuses and offer airport pickups with board, aswell as other journeys.
Finding Family Rooms and Accommodation in Penang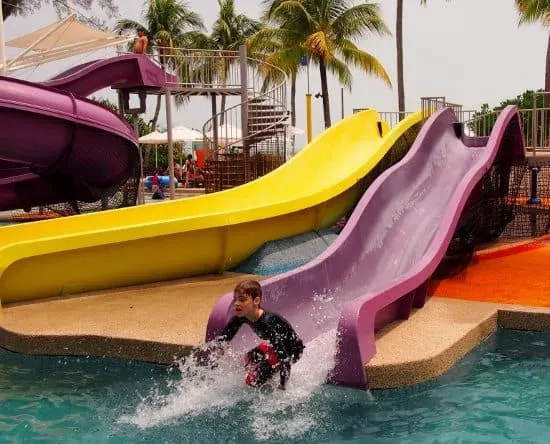 Travelling with children, we find it's often easier to book hotels in advance rather than travelling on-the fly. We would certainly recommend booking online for Penang as we didn't find it a very easy place to find accommodation on foot.
You will find all styles of accommodation, at all price points, from typical backpacker hostels to luxury 5-star hotels.
Most visitors to Penang either stay in Georgetown or in Batu Ferringhi.
There are so many things to do in Penang with kids and without, that I doubt you'll have time to do them all. New tourist attractions seem to open almost daily along with the many natural and cultural things to do. We'll keep you updated as we head into 2022 and yet another fantastic trip to Penang. If you're looking for more information on Malaysia with kids you could also check out our complete guide to Kuala Lumpur with kids. Our Index of all our Malaysia content is here. Enjoy your trip to Malaysia and be certain to investigate the Thaipusam festival.
Other places you should see in Malaysia with your kids and family include Kuala Lumpur, Ipoh, Malacca, and if you can, Kuching in Sarawak Borneo. These would be our favourite places in Malaysia to go on your family adventure travel bucketlist.
If you'd like to hire a car during your stay, use this car rental comparison tool to find the best deal!

We also suggest you take a look at this company to get a quote for all kinds of the more tricky adventure or extended travel insurance.

Try Stayz / VRBO for an alternative way to find rentals on homes/apartments/condos in any country!