This post may contain affiliate links.
There are many and varied places to eat out in Batu Ferringhi, from Mc Donalds to The Hard Rock Hotel and everything in between. You'll also find numerous region specific speciality restaurants including Thai and Lebanese. It's a lovely spot and well worth a stay. We spent 10 days in Batu Ferringhi on a fairly tight budget and what we really wanted was local style food, be that Malaysian, Indian or Chinese. We used the famous Long Beach food court regularly, but also found a few other smaller places to eat that offered great food. I have to say though, we struggled to find breakfast.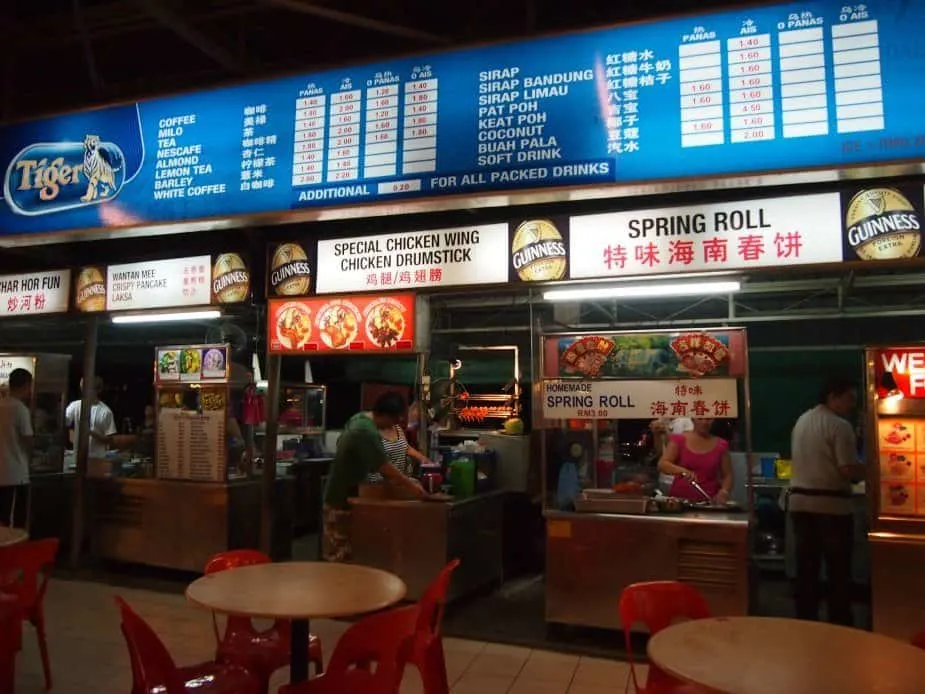 Batu Ferringhi is a tourist town, there are a lot of very big hotels and comfortably-off holiday makers and most of the restaurants and cafés cater for this market. Budget travellers and backpackers are thinner on the ground and our options are more limited. As this part of our travels was as backpackers, the dining options in this post reflect that style of travel and budget.
If you have a bigger travel budget or are on vacation, you could have a lot of dining fun here. Breakfast was particularly tricky for us, very few places were open by 8am, the street stalls gradually start to open as the day goes on. We struggled a little to find backpacker friendly restaurants, these are our budget dining recommendations.
Long Beach Food Court, Battu Ferringhi. Everybody's Favourite.
People sing the praises of the Long Beach food court for affordable food, we ate there most nights. It doesn't open 'till 6.30 pm which is late for us with kids. The food here is good but not fantastic. You can get anything you like there,including Indian, Malay, Western and Chinese.
We tried a lot of options from several food stalls, the only thing we'd really rave about were the vegetable pizzas, at 25 Ringgit ($8.50 AU) they cost more than we needed to be paying on our budget and was just big enough for Boo (6) and I to share but they were very good pizzas.
The pizza stall also serves excellent garlic bread, the sort of comfort food many Westerners crave on a long Asia trip. Long Beach also serves beer and cocktails, at OK prices, something we hadn't seen at all in Kuala Lumpur.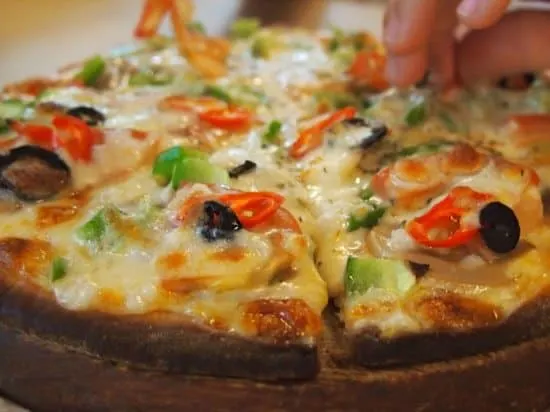 It's good every now and then to get a Western food fix but we travel to find out about the local food, so Long Beach was a bit of a fail for us, despite being a fun place to hang out in the evenings.
D enjoyed the chicken kebabs and salad and the satay sticks weren't bad, but not a patch on Thailand. I tried some Indian foods, all pretty average and more expensive than everywhere else we'd eaten in Malaysia.
There are plenty of more expensive restaurants up and down the beach road. We tried a good Lebanese restaurant but we found our own little gem on the hill, just past KFC.
Our Favourite Place to Eat Out in Batu Ferringhi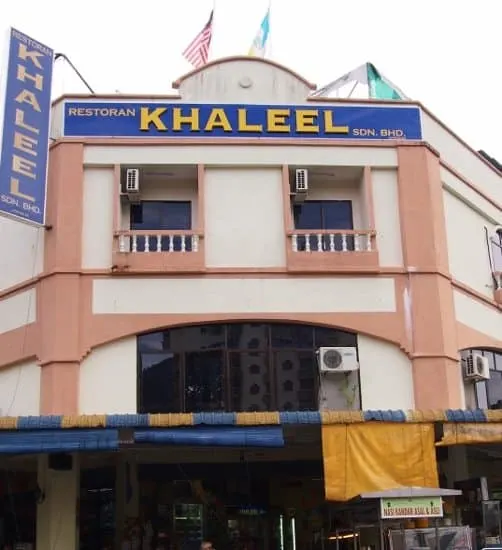 This place Khaleel Restoran, was the business for us. It seemed to be open all the time, it was certainly open when we went for breakfast. You have to be a fan of Indian food and know your dosa from your roti, but what we ate there was really good, not as good as the Indian food we had in Kuala Lumpur, but no complaints at all.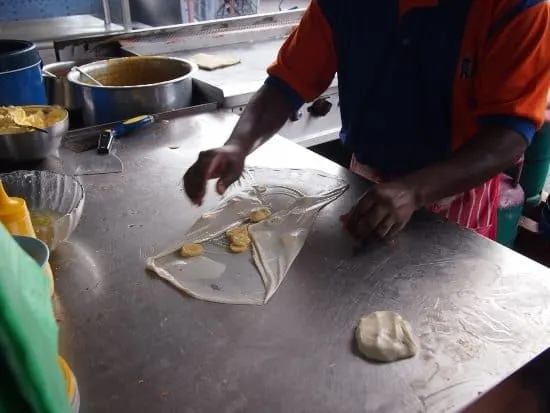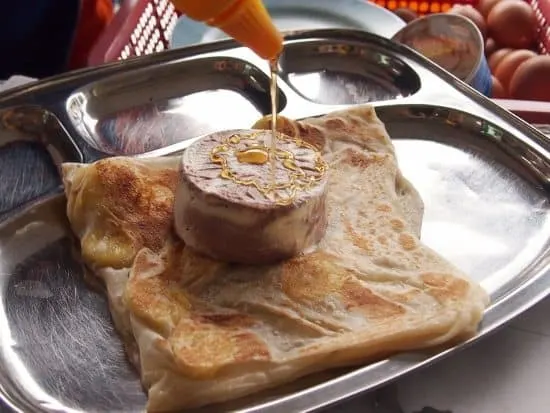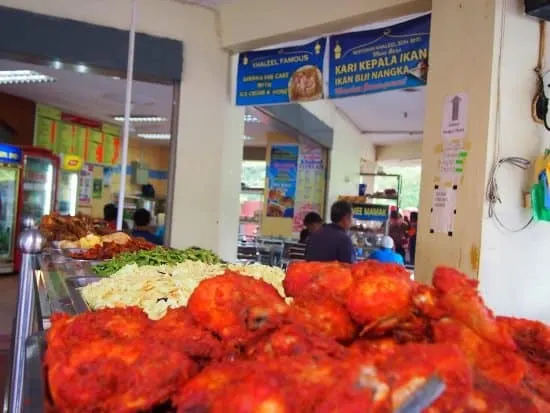 Malaysian Breakfast Foods in Batu Ferringhi, Penang
As I mentioned, finding somewhere other than Mac Donalds open at breakfast time was hard. We ate at a little street stall a couple of times, they opened up early and stayed open for a couple of hours, until they'd sold everything they'd made for the day.
They had the traditional Malaysian breakfast of nasi lemak wrapped in newspaper, plus curry puffs, doughnuts and some green things we couldn't name.
The guy said they had potato in them and they were Boo's favourite. If you know what it is please let us know! Everything cost next to nothing and was very popular with the locals.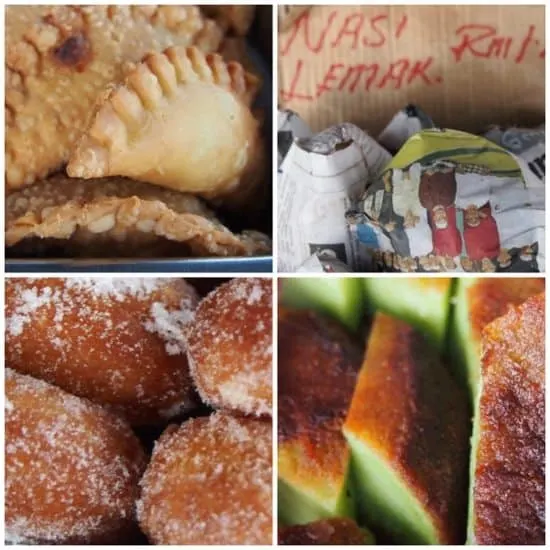 It's right next to the big petrol station, the one with the Mac Donalds, the guys that run it are really friendly and they make decent coffee, too.
So, if, like us, you are in Penang and wondering where to eat out in Batu Ferringhi on a backpacker budget, head for Khaleel, it's easier on the wallet than Long Beach Food Court for every-day food. Save the Long Beach pizzas for a special occasion.
Or better still, take that Penang Food Tour!
Back to our main Malaysia Travel Blog page for more on travelling, and eating, beyond Battu Ferringhi and Penang. We'll be back in 2017 to add more content to our Malaysia files, can't wait for a roti!
If you'd like to hire a car during your stay, use this car rental comparison tool to find the best deal!

We also suggest you take a look at this company to get a quote for all kinds of the more tricky adventure or extended travel insurance.

Try Stayz / VRBO for an alternative way to find rentals on homes/apartments/condos in any country!