This post may contain affiliate links.
Hoi An is a magical little town on the coast in central Vietnam and is a lovely destination with kids filled with interesting things to do for your children and for you as a family. We enjoyed 6 months in Hoi An with our kids and we return regularly. This post is about things to do in Hoi An with kids, dangers, practicalities of travel to Hoi An with kids, food, shopping, family accommodation, and more!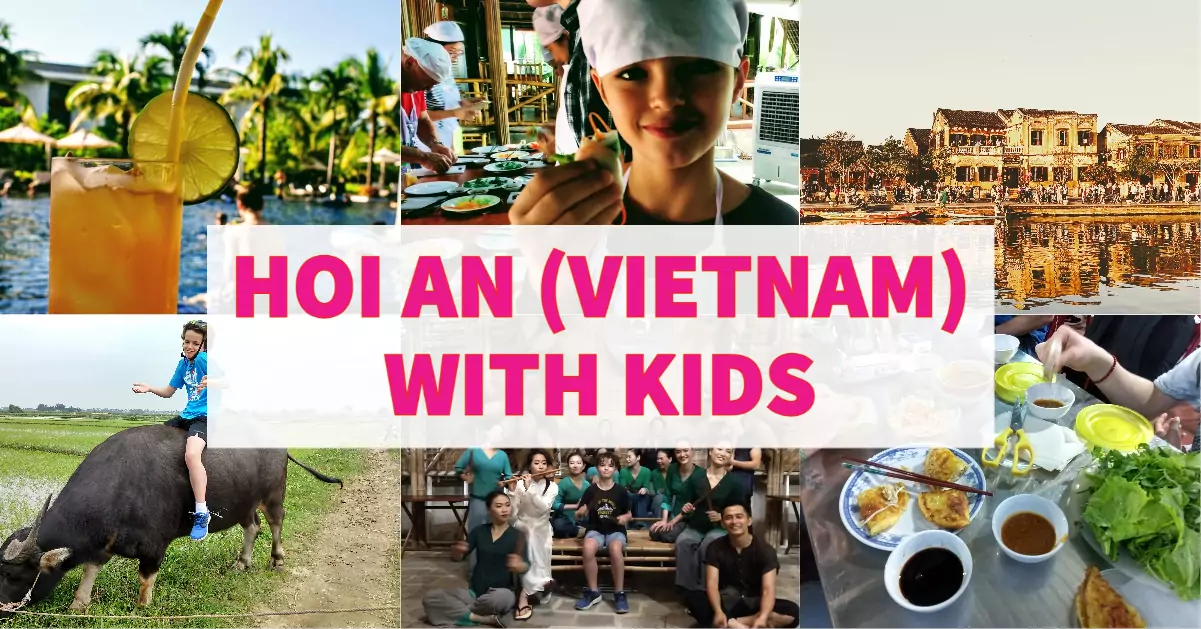 Famous for its UNESCO listed Old Town, tailors' shops and monthly full moon lantern festival, Hoi An also has long sandy beaches and 5 star resorts perfect for family vacations.
Hoi An attracts family holidaymakers in large numbers. They visibly outnumber backpackers these days, and a lot of families with kids, from babies to toddlers to tweens and teens, pass through Hoi An.
We were lucky enough to spend over 5 months in Hoi An with kids so can give up up-to-date, accurate information on the experience of visiting and staying there, we've seen many a full moon night and festivals including Tet along with seeing Hoi An submerged in November floods.
Hoi An With Kids
Visiting and living in Hoi An with kids was a wonderful experience for us and we want to share some tips and must-see and do activities for and with kids here. Our family fell in love with the town of Hoi An and with the Vietnamese people, on this, our second, visit to Hoi An.
Information on Hoi An for families and holidaying in Hoi An with kids, at the luxury, budget, and backpacker level – we happily do things all ways.
Things to Do in Hoi An with Kids
The Hoi An Old Town Ticket, Ancient Buildings, Temples and Museums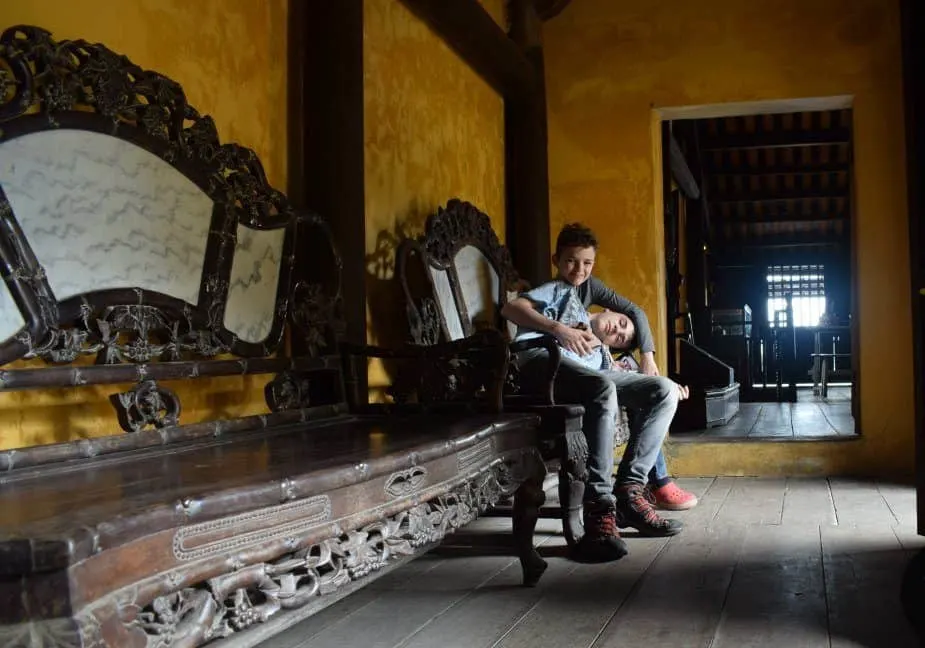 Hoi An has ticketed entry but we found you don't, normally, actually need to buy one. If you're just wandering the town, eating and browsing shops, nobody should ask for a ticket.
The tickets cover admission to a selection of historic sites, the Japanese covered bridge, is one of these. If you try to cross that bridge during the day you WILL need a ticket. You can buy these tickets at many booths and offices around town, they are about $8 and were free for kids.
We've just been in Hoi An again for a few weeks and likewise, we never bought a ticket.
I have absolutely no problem with this system, we all think it's great and cheap, we only bought a ticket once during our 6 months in Hoi An and visited the Old Town almost every day.
Once you have your ticket you can choose which of the old buildings and small museums to explore, with kids I'd certainly pick the one pictured above, the Cultural Museum.
The ancient houses all seem to be pretty much the same, so pick one and visit a couple of temples or family shrines too. Your ticket includes a map and a brief description of each place that you can enter.
Take a Hoi An Cyclo Tour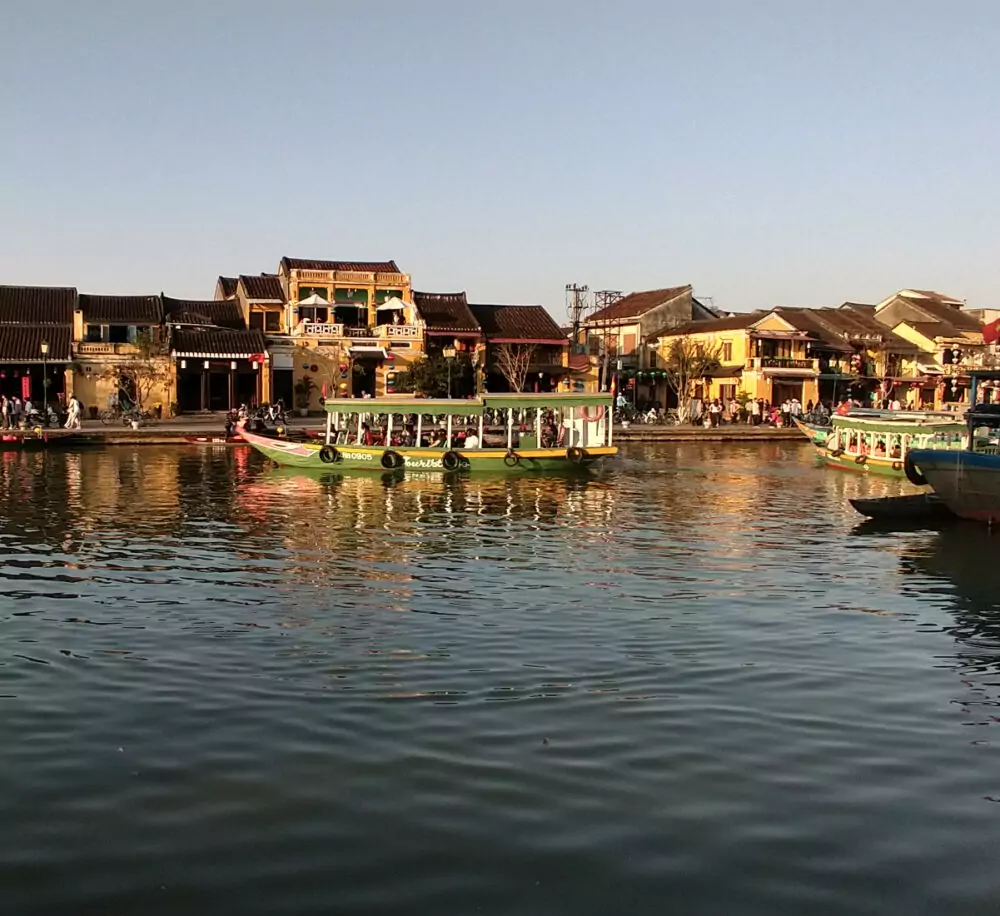 You'll see cyclo or bicycle rickshaws around Hoi An Old Town. Their drivers will be very keen to take you and your family for a spin around the picturesque streets and along the riverside.
The lack of traffic in the Old Town makes this a particularly good idea.
Take a Walking Tour of Hoi An Old Town
There are free walking tours available in Hoi An via Hoi An Mates. This non-profit organisation is run by local students in Hoi An and Danang. You can contact them via their Facebook Page.
Alternatively, you can book a private walking tour for your family here.
Tours by bicycle and motorbike or scooter are also popular, you can find those on this site too. If you plan to cycle in Hoi An with kids I'd recommend bringing a good helmet with you from home.
Food in Hoi An for Kids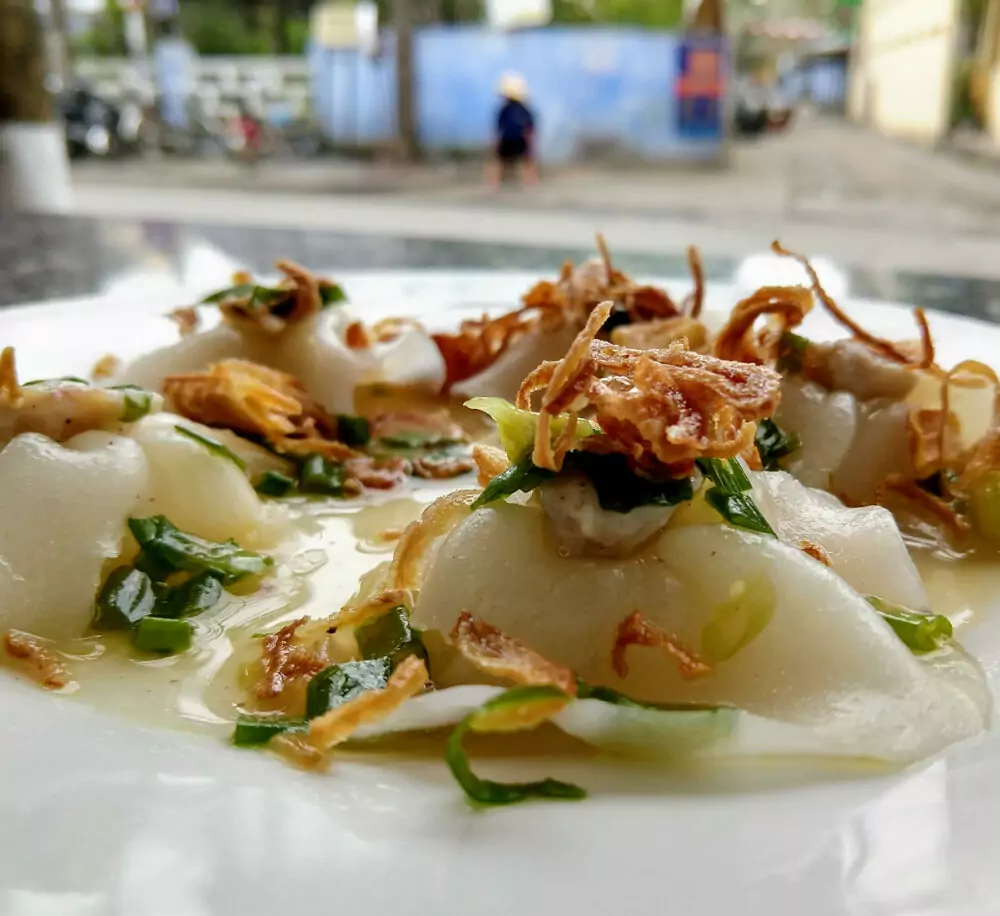 We have a full post on food in Hoi An here. You can get anything you want in Hoi An including western foods, vegan and vegetarian options. It's far easier to access things like cheese and dairy in Vietnam than in Thailand.
Vietnamese food isn't always spicy. For kids, look out for banh xeo (crispy Vietnamese pancakes), rice paper rolls, steamed or fried, cau lau noodles, and white rose dumplings. Several of these are local specialities and aren't spicy.
Banh Xeo is one of my son's most favourite foods in the world, find out how to eat it here.
Hoi An is full of little convenience stores selling drinks, baby supplies (nappies and milk formula) and snacks but there was no large supermarket. There is one in Da Nang.
Instead, use the local markets, we talk about your food shopping options and the several markets in Hoi An here.
As a word of warning, watch out for MSG in food, it's massively overused in Hoi An and for some people (my husband and I developed bad MSG reactions) causes pain and other strange symptoms. We list some places that don't use MSG in our post above.
After a chance conversation with a Vietnamese woman who also reacted badly to MSG, it seems it could be the type of MSG, not all MSG. Apparently, some cheap stuff from China causes her to react, the "real" MSG which her grandmother used, didn't. Obviously, they give cheap stuff to tourists in a lot of places.
So it's interesting, confusing, and we don't have it fully figured out yet, but we only eat in places that don't use MSG or at street food stalls and pho joints used by locals.
If you have food allergies or intolerances be sure to have a card printed out in Vietnamese, or use a translator app on your phone. Be really careful, there is a lot of seafood and fish sauce in the food in Hoi An.
Hoi An's Beaches for Kids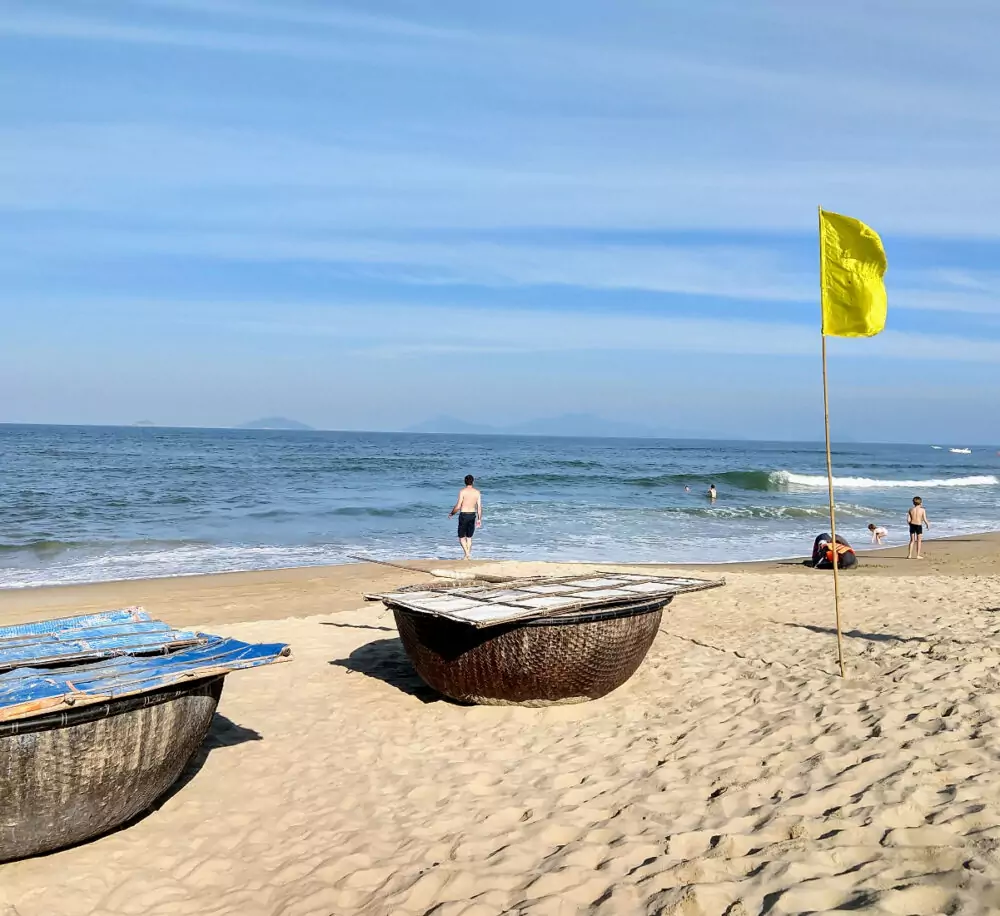 Cua Dai beach really didn't exist at the end of 2017 but in early 2018 the sand was back and it was a nice beach for kids, the sand slopes far more gently than at Ang Bang and there is less commercial development.
An Bang is the main beach focus. It's a nice beach but very developed. The back of the beach is lined with restaurants, most selling seafood. In our experience some of these restaurants are hugely overpriced and often not very good, you'll do better away from the beach. An Bang beach has sun loungers and umbrellas, lifeguards, coracle fishing boats, and parascending. It's busy and popular.
Ang Bang Beach is not within easy walking distance of Hoi An Old Town, it's roughly 5 km north, but you can go there by bicycle or take a taxi or Uber. Some hotels offer a shuttle service to An Bang beach. We feel it's better to stay near the Old Town than near An Bang beach Hoi An, because there is so much more to see and do in and around the Old Town. Beach lovers may prefer to be near the beach or to stay in one of the big beach resorts on this coast in Hoi An. Ang Bang beach is marked on the map here. (opens in new tab).
An Bang beach is by no means useable all year round. Between October and February, good beach days and water conditions were rare for us. On some days the beach was closed to swimmers.
If you're visiting Hoi An during summer (northern hemisphere) be sure to book a hotel with a pool, in winter you'll probably be too cold to want one.
Secret beach is small and less developed, it's more like the backpacker beaches I remember from 20 years ago. It's between Ang Bang and Cua Dai beach. You can access it from a steep path that turns off the main road.
Hoi An Night Market and Riverside Games
There are several markets in Hoi An and most tourists will visit the Central Market and Night Market. The Central Market is interesting for children to discover local fruit and veg, there are also many stalls selling live crabs, fish, meat and so on.
Depending on how squeamish your child is, take a look. The night market is on the far side of the river, we call it the party side. There are various amusements that kids will love and yummy things like ice cream and banana pancakes to enjoy.
The noisy music bars and clubs are in this area and they're pretty annoying, each competing to play their music loudest. Thankfully, this sort of development is confined to a small area.
In 2019 – 2020 the night market strayed onto the other side of the river. Expect tacky stalls selling plastic tat made in China from 5 pm onwards. This has really spoiled this side of the river, near the market, which used to be a nice area to enjoy the riverside at sunset.
Our kids used to ride their bikes up and down this pedestrianised stretch, safely. You couldn't do this now but kids might enjoy the shops and stalls.
The Old Town attracts huge crowds near the Japanese Bridge around sunset, try to stay further away for the sake of your sanity and to avoid losing kids in the crush.
There are pickpockets operating in this area of Hoi An, working the crowds. We've seen them in operation, but avoided being robbed ourselves. Keep your bag close to your body with an arm over it, and maybe purchase an anti-theft bag with a slash-proof body and strap, hidden pockets, plus a strong hook to attach it to furniture while seated at restaurants. This is probably the most dangerous time, as people will approach you while seated at scenic dining spots in the evenings.
This is our favourite anti-theft large messenger travel bag to keep your money safe during your time in Hoi An. For a smaller purse, but safer, look at this one. To keep a small amount of cash in a very secret place, consider a travel safety money belt like this, or a neck wallet for carrying cash in Hoi An. Be particularly vigilant in crowds.
You will also need an adaptor for Vietnamese electrical sockets, which will mostly be Asian 2 prong. This international power adaptor should be good for Hoi An.
Cooking and Banana Boat (Coracle) Rides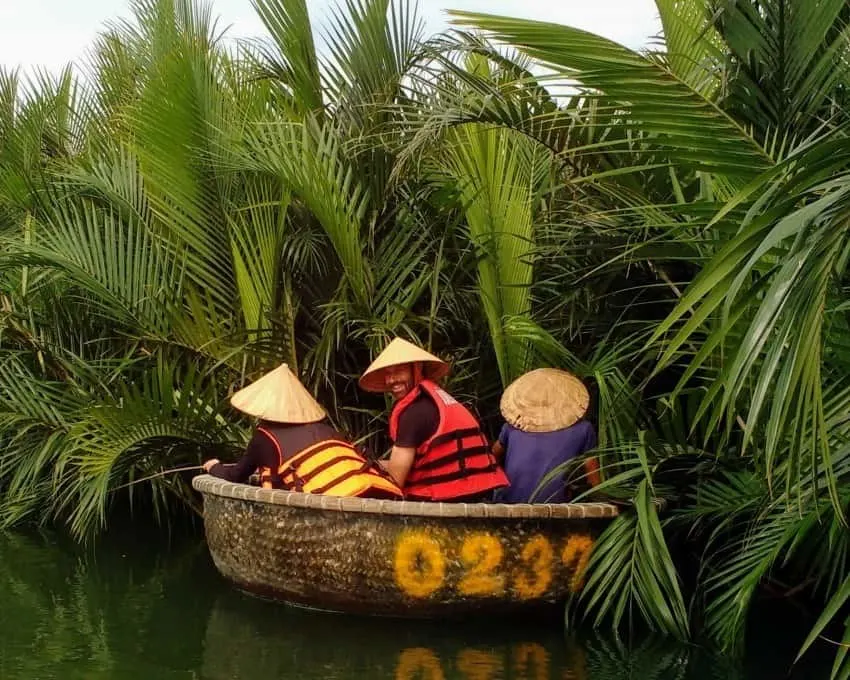 We found a cooking class that was great for kids, included coracle (banana boat) rides and a market tour. I can't over-stress how much my boys loved this tour, particularly as they spent an hour or so at the end catching crabs with some other kids after eating everything they'd cooked themselves ( full post on our cooking school here.)
We would strongly suggest booking your tours and activities in advance. Check out or book a similar tour here. You can take one of hundreds of cooking classes in Hoi An, but for kids, make sure it is hands-on, you can also arrange a coracle ride in the fishing village and take a paddle through the submerged coconut forest.
Be sure to haggle over price if you decide to book this in person, after arrival in Hoi An. T's often far less hassle to book tours and activities in Hoi An online, at a fixed price, use the company above.
Gardening, Rice Growing and Cooking in Hoi An
In the centre of Hoi An, sandwiched between the Old Town and Ang Bang, is a large expanse of beautifully ordered green. Other than the rice farmers you'll find vegetable and herb growers, flower growers and kumquat growers, each a master of their art.
Tra Que Gardens in Hoi An are great for kids, absolutely get the kids out here to see how food is produced in Hoi An using traditional methods. Getting to Tra Que Gardens by bike is best, foot and bike paths paths criss-cross the rice fields that will take you to the gardens. We've marked them on the map for you here.
Let them observe traditional agriculture, water buffalo, ducks and geese, but also, there are opportunities to take courses and classes out here, many involving cooking after tours of gardens and farms.
Incidentally, if your children want to have their photo taken sitting on a water buffalo, the tourist buffalo is usually on the left-hand side of the Ang Bang to Hoi An road. Give his owner a few thousand dong and you get a ride.
Making Rice Paper or Noodles
You can do this too in Hoi An, we made rice paper as part of our cooking class, from grinding the grains of rice to cooking the pancake-like sheets. More information on this to come.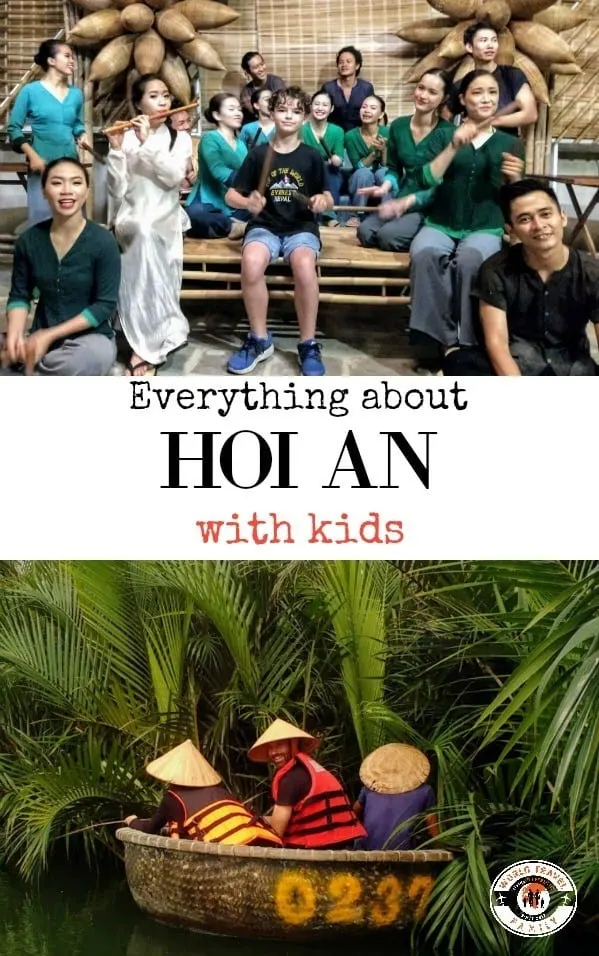 If you hover over the image above a red pin it button will appear, save to your Pinterest travel boards! Thanks
The Ship Builders' Island (Kim Bong Carpentry Village)
You can watch woodcarvers and shipbuilders at work on one of the islands. It's connected by bridges, so you can take your bike. There is some beautiful unspoiled countryside over here too.
Water Puppets in Hoi An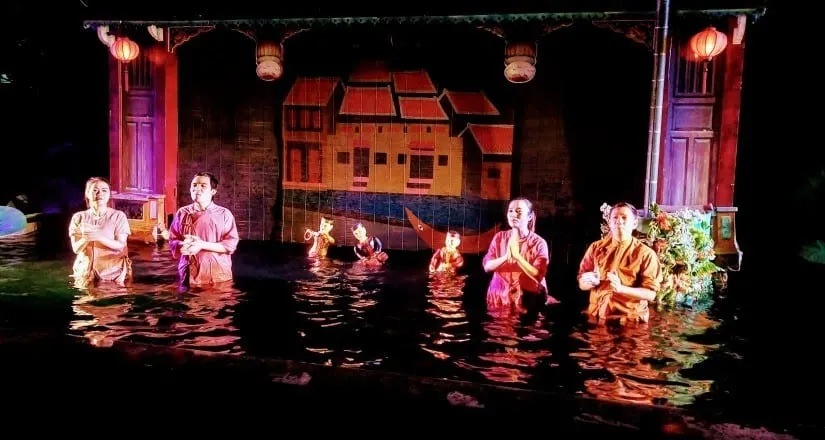 The water puppet show is something culturally unique to Vietnam and your kids should love it. The show is quite short, so no boredom issues even for toddlers and small children and it cost us just 40,000 Dong ($2) for kids, 80,000 Dong ($4) for adults.
The theatre is at the rear of the Old Town, just off the main road (Nguyen Tat Than, which become Ly Thurong Kiet after the traffic lights.). You can buy a ticket on the door. (The water puppet theatre is on the map here.)
The show is normally held on Friday and Saturday and some weekdays, but check locally, it's seasonal.
You will learn about Vietnamese culture and heritage and be delighted, surprised and charmed at the same time. The show usually starts at 6.30 pm, we got there at 6 pm and had front row seats.
It's a short walk from Jim's Snackbar if you'd like to grab a really good burger (they had vegan or vegetarian too!) after the show. The water puppet show is a great thing to do with kids in the evenings in Hoi An.
Hoi An Impression Theme Park and Memories Resort
The Impression Theme Park is a newer attraction in Hoi An and isn't a theme park featuring rides and rollercoasters as westerners would expect. It's geared towards culture, art, history, and heritage.
It features the Hoi Am Memories Resort and Spa which does have family rooms at a reasonable price for this level of hotel.
This is a little bit weird and hard to explain, it's best if you just take a look for yourself at the link above.
Lune Theatre Productions in Hoi An, for Kids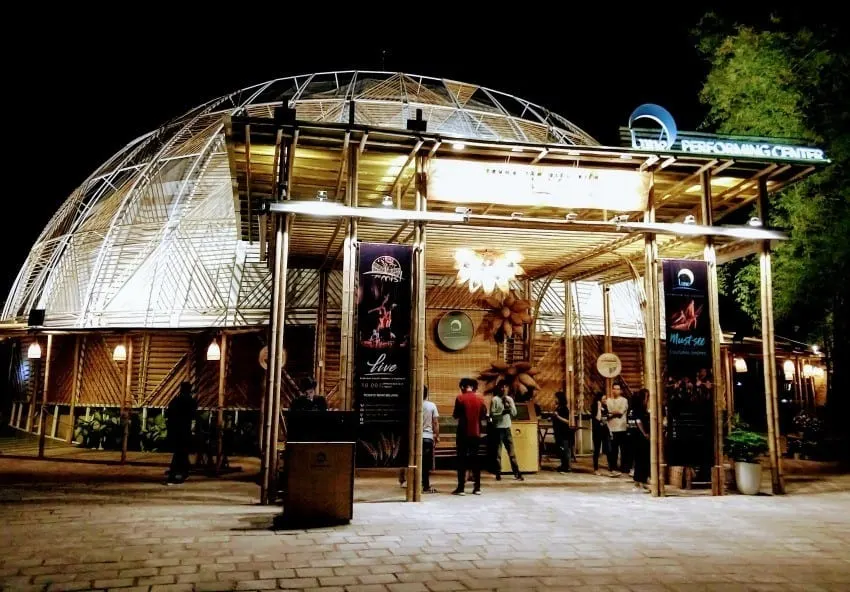 Have you wondered what the new dome-shaped building is in Hoi An? We did, so we Googled and discovered that it's a purpose-built theatre space for Lune productions.
Lune have 4 shows that they rotate around 3 theatres in Vietnam, Hoi An, Hanoi, and Ho Chi Minh. I took my tween (he was 11) along to Lune's production of "The Mist" in Hoi An. I found it mesmerising.
The show is stunningly beautiful and blends traditional music with many styles of dance (including some ballet). My son suffered a little from ants-in-his-pants but certainly enjoyed it.
I think whether or not your children will enjoy the Lune show in Hoi An will very much depend on their personalities and interests. If you have a little ballerina, certainly take him or her.
I love to get my kids involved in the arts and see it as part of their education, so for me, this was a must-do. Unfortunately, my teenager had a date that night and we just couldn't fit it into his schedule. I think he would have enjoyed it more. But I loved it, so go if you can.
Find more information on Lune performances here. Or pre-book your tickets from home before arrival here. There are three different Lune shows, which you see will depend on when you visit, they rotate around Vietnam.
Lantern Making Classes in Hoi An for Kids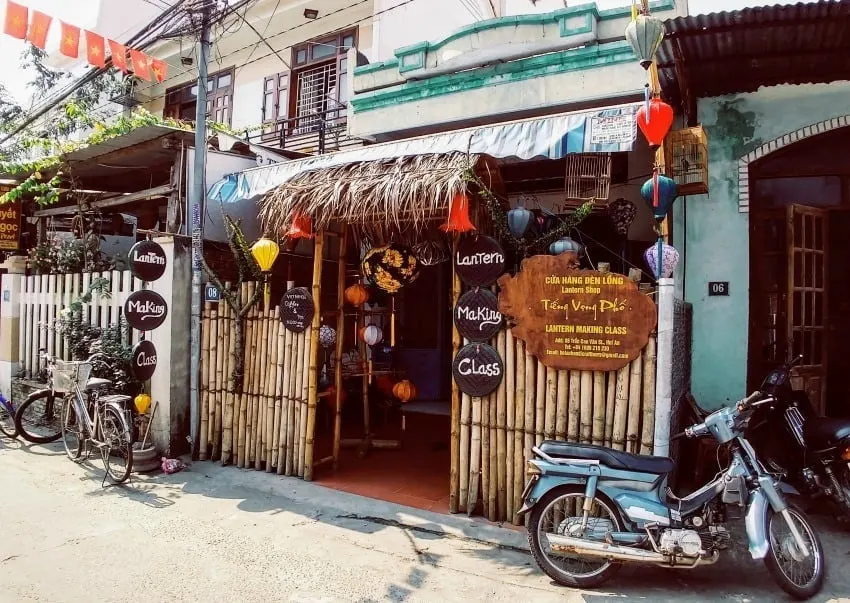 There are various lantern-making classes in Hoi An, they are probably too fiddly for younger kids and so far my teenager and tween have refused to join me in taking a class. I'm going to go by myself!
The one pictured above was on Tran Cao Ban, this little lane is a popular hang-out with us, it's to the rear of Hoi An Old Town, near the water puppet theatre, Jim's Snackbar and an excellent expat grocery store.
Our favourite mi quang lady is almost opposite the lantern maker's and there are several restaurants on this street (including vegetarian) that do not use MSG. The lantern making class here costs about $16 US each.
Vietnamese Painting in Hoi An
We tried a Vietnamese painting class in Hoi An with the kids, I enjoyed it, but it was too restrictive for my 11-year-old and the 13-year-old was on the fence about this one.
This was a rather expensive morning class and through Lifestart Foundation (below.) Contact them and book well in advance.
Vietnamese Language Classes for Kids in Hoi An
We took a free 1 hour Vietnamese class at Lifestart Foundation. We had to book well in advance, so if you're heading this way and want to learn the basics of Vietnamese, contact them here.
It was fun class to take, great for kids, and well worth doing. Vietnamese is a difficult language to learn because of the inflections, but it was a great thing for us to do as a family in Hoi An.
Climbing, Kayaking, SUP, Bike Tours and More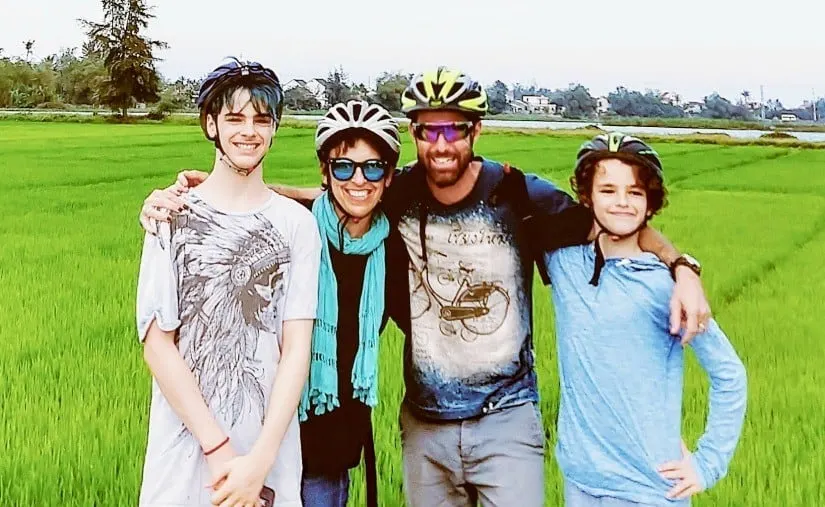 There are a heap of active tours and experiences to try in Hoi An if you have slightly older kids. We hired our own bikes in Hoi An for the whole 6 months they were there and every day we battled with our old Chinese clunkers. Getting on good mountain bikes (with helmets provided) for the Grasshopper Adventures tour above was heavenly!
We're a bike family, you may know my husband is a triathlete, we like our bikes. The tour above took us all over Hoi An, from the islands to Tra Que herb village, sampling just about every local dish I'd recommend you try, plus more.
I'll give this tour a full write up soon, but you can find this Grasshopper Adventures tour here. They have bike tours throughout Asia. My teen and tween were both really happy with this tour and Grasshopper provided a fantastic kid-sized mountain bike for my 11-year-old.
There are plenty more active tours to try in Hoi An and we hope to add more to this page soon. If you plan to hire bicycles in Hoi An we'd suggest taking your own helmets with you. Small kids normally ride on the back wheel on a padded seat, not in western-style bike seats. It can be dangerous.
Trips, Tours and Places of Interest Near Hoi An with Kids
There are a few places and attractions very near to Hoi An or within an hour or so, which make great day trips. When you've done everything in Hoi An with kids, consider booking a tour to some of these destinations.
Most of these day trips make great things to do with kids but be mindful of the heat, strong sun, and staying hydrated.
Hoi An's Pottery Village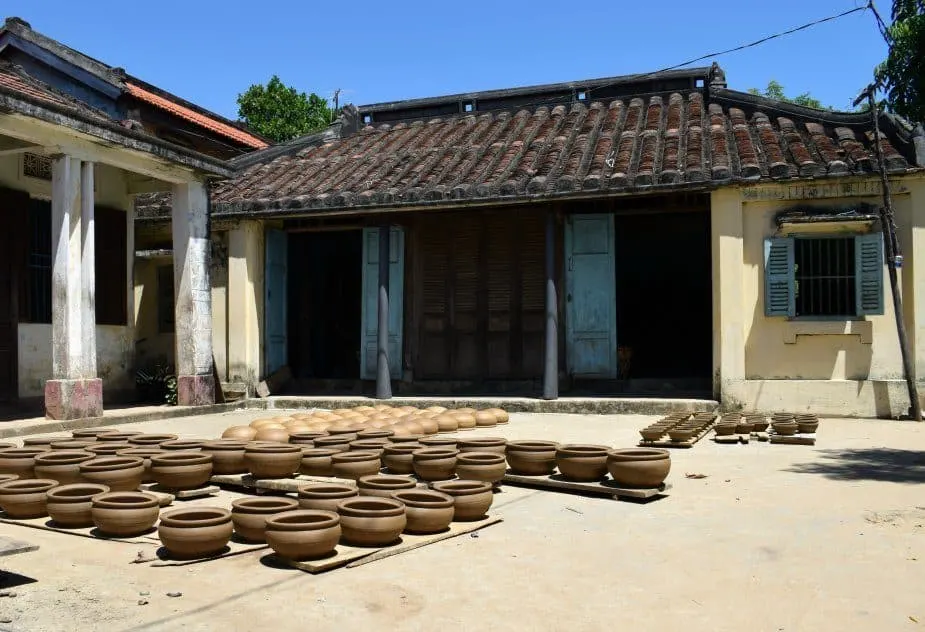 The Hoi An pottery village makes a fun thing to do for half a day in Hoi An for kids and families. My children loved the little pottery village and its museum.
The kids tried their hands at throwing pots and making ocarinas before cooling down with an ice cream at the rather fantastic pottery museum. We have more photos and a full post on Hoi An Pottery Village Here.
This, we thought, is a must-do in Hoi An with kids, particularly if your kids have never tried their hand at pottery. We rode to the pottery village on our bicycles, but you can also book a tour like this one that includes the pottery village at Thanh Ha. It was quite a long bike ride in the heat and if you're not used to cycling in this climate I wouldn't recommend it.
The Hoi An pottery village is on the map here. Thanh Ha ward of Quang Nam Province (The pottery village) in west of Hoi An Old Town, about 3 km (2 miles) along the Thu Bon river. It is Southwest of An Bang beach by about 7km (4.5 miles).
Marble Mountain From Hoi An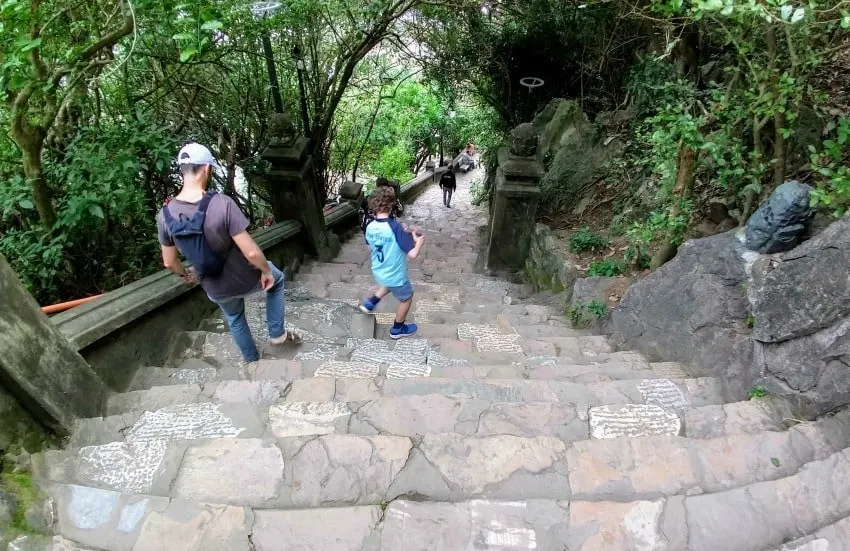 Marble Mountain is nearer to Danang than Hoi An and is absolutely spectacular. The main cavern and its Buddha images will take your breath away. It's fine to take kids, there is a lift up the mountain.
There is an optional cave climb that is slippery and somewhat dangerous, wear good shoes (I wore flip flops, not good!) and keep a close eye on small kids.
My boys thought scrambling up through the caves was great fun, this is also a great place to play Pokemon Go. A full post on Marble Mountain is coming soon.
Marble Mountain (or The Marble Mountains) is 18.4 Km from Hoi An by road. A taxi should get you there in about 25 minutes and it makes a great half day trip from Hoi An. The Marble Mountains are on the map here.
My Son with Kids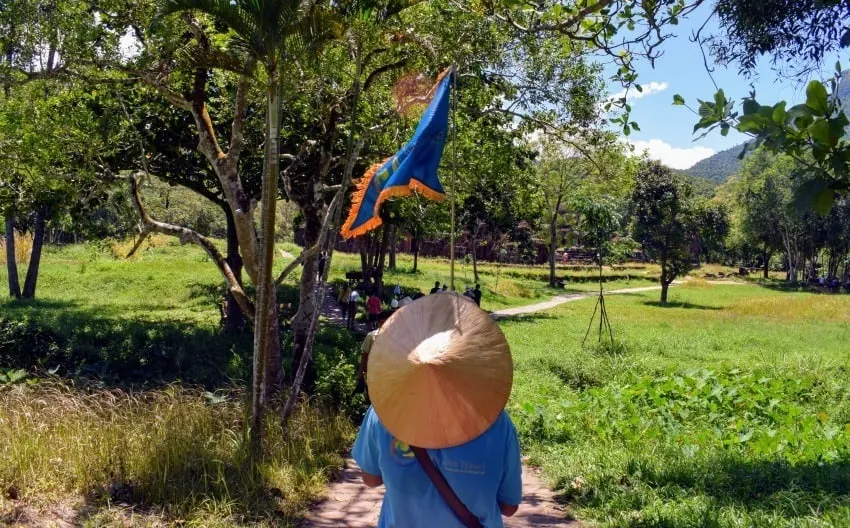 My Son Sanctuary (it's UNESCO listed) is incredibly ancient and beautiful with Cham ruins older than Angkor Wat.
My Son is a sprawling site and to get the most out of it you should most certainly take a guide. It was insanely hot when we visited and the kids were moderately interested in what our guide had to say.
There is an early morning tour (book here) which may be cooler. Take a look at that link, but also check out the other tour options to see what suits your family best. This is the company we always use when booking tours like this, we find them to be cheap, easy, and reliable.
They found the bomb craters at the site far more interesting than the ruins themselves, but I think they learned something from what our guide had to say. Both bomb craters and Cham ruins are history.
A full post on My Son is coming soon. We took a tour, arriving in My Son by bus, returning to Hoi An by river. It's a nice way to spend half a day and for me, My Son was unmissable.
My Son Sanctuary is about 40 Km from Hoi An, west along the river and a little south. A minibus or taxi journey should take just over an hour. My Son is on the map here.
Ba Na Hills
Ba Na Hills sits about 55 Km NW of Hoi An, it is the old French hill station and now boasts 3 cable cars, one of them has the highest vertical climb of any cable car in the world. It's a man-made tourist attraction and popular with the local and the Asian market.
This is where you will now find the giant hands of the golden bridge, much Instagrammed of late. There is a world-class golf course and it is accessed via its own 3 lane highway from Danang. I haven't been, my husband has. His verdict….skip this one.
We were moderately interested in seeing the giant hands on our recent visit but when we learned we had to take the cable cars to get up there we decided again, it wasn't for us.
Danang
Danang or Da Nang has China Beach, a pleasant strip of sand at the mouth of the river made famous by American GIs during the war. There is huge commercial development between Danang and Hoi An, with massive resort hotels.
For us, the main attraction in Danang is Dragon Bridge, this fancy modern bridge actually breathes fire every Saturday and Sunday night a 9pm. (Check times, it could change). There was a funfair, plentiful seafood restaurants and a nice river or beach-front promenade in Da Nang.
Danang is very much the "big city" to Hoi An's sleepy vibe and this is where you'll need to come for Hoi An's nearest airport and train station. You'll also find a shopping mall, cinema (with some movies in English), the usual fast food outlets, and even an ice rink in Da Nang.
Where to Stay in Hoi An With Kids and for Families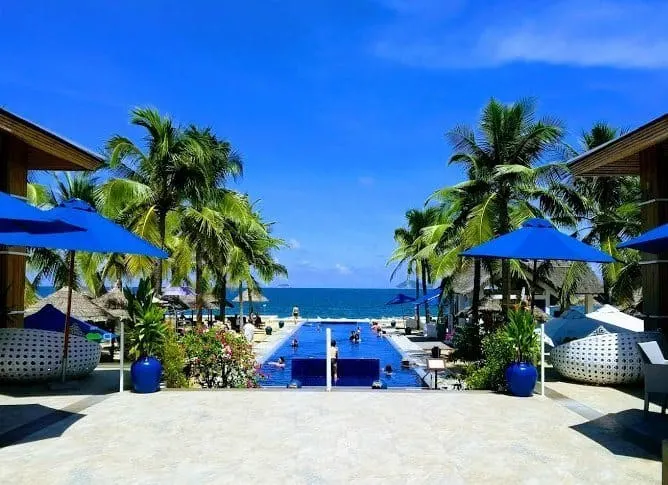 There are plenty of accommodation options in Hoi An suitable for families, from hostels to homestays, hotels and resorts. There is nothing really within the Old Town as it's heritage-listed, so you can choose beach, countryside or residential areas. There are some beautiful places with rice padi views, but these could be too cut off for you. Many big hotels have free shuttles to beaches or the Old Town.
A homestay in Hoi An can be anything from exactly that, a room in a home, to a boutique hotel, hostel or quite luxury small hotel.
Resort hotels with kids' clubs are very popular with families and there are a few waterside resorts along the beaches. The photo above of the Sunrise Resort is a lovely property with a kids' club, however, they don't seem to be taking bookings right now. Family rooms are quite hard to find in Hoi An, kids stay free in existing beds is much more common. The Laluna Hotel Riverside Resort and Spa has interconnecting family rooms where kids get their own beds and is in a great location. Check out The Laluna Here.
The La Siesta Hoi An in a 5 star with family rooms and adequate beds for a family, this one has a really nice pool that I'm sure your kids will enjoy, again, the location is good for accessing The Old Town. Take a look here.
The G Boutique Resort has private suites with multiple beds to accommodate a larger family or extended family in private bedrooms, it's also surprisingly affordable, as most hotels in Hoi An are. Take a look here.
Also check out the Hoi An Memories Resort and theme park, which does have family rooms.
Riding Motorbikes and Bicycles with Kids in Hoi An
A smart parent brings their own crash helmets from home, that goes for scooters, mopeds and bicycles. You can buy helmets here but a fake helmet offers little protection, you'll have to hunt hard for a real one (go to Danang). Small children generally sit on the back of adults' bicycles in Hoi An, bikes have little padded seats on the rear. Whole families can be seen riding one scooter.
At first, the traffic in Hoi An may look terrifying and chaotic, but it actually isn't. Forget your western road rules and flow with the traffic the Vietnamese way and it's OK. It's a real joy to go pedalling through the padi fields, market gardens and islands, it's the best way to see Hoi An. Bicycle hire comes in at around a dollar a day, scooter rental around $5. Some hotels, hostels and guest houses will loan you a bike for free.
Ways of Getting Around Hoi An and Surrounding Areas
There are green metered taxis everywhere and we've never had a problem with them, they use their meters. There are also local buses if you need to go to Da Nang. Our preferred method of getting around Hoi An has become Uber since the wet season came in and I became more nervous on the roads after my bike accident. Trips around town will cost you a dollar or so and we like the security of Uber. All routes are trackable so hopefully there is no room for rip-offs. Motorbike taxis are also common but with a family they're rarely practical. Most of the places around Hoi An can be reached using organised tours with guides, or under your own steam.
For you, for Pinterest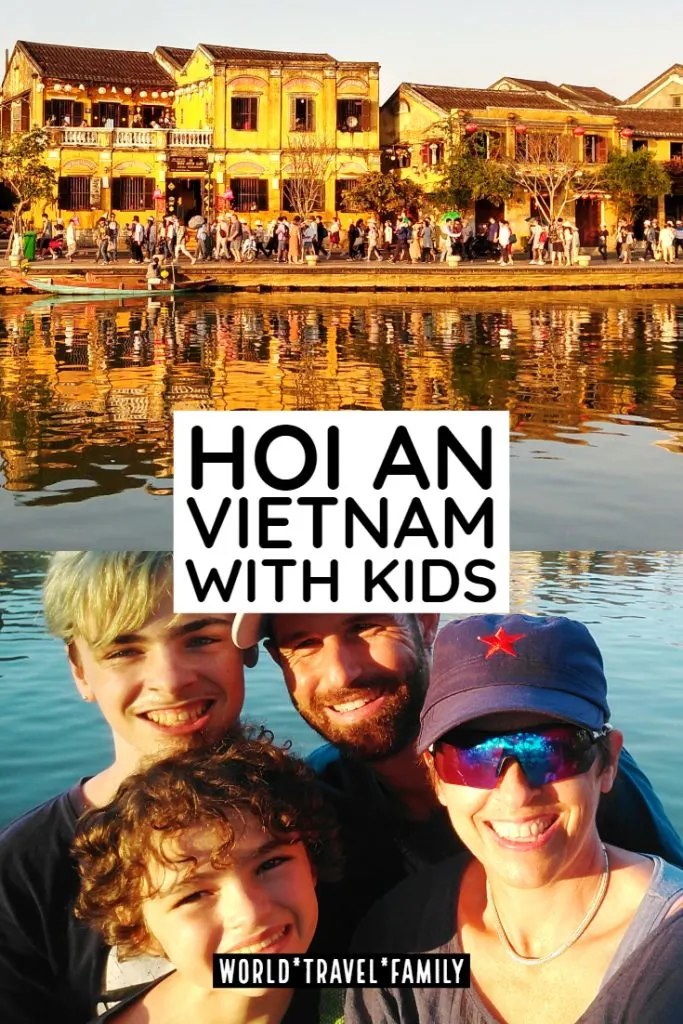 More of Vietnam with Kids
You"ll find all the important information on travelling, touring or backpacking Vietnam with kids on our Vietnam travel blog page, the page you are on now purely deals with Hoi An, experiences, reviews, guides, things to do and tips. All reviews are our genuine personal opinion only. Please double check facts and figures for yourself as things do change.
Thanks for reading our Hoi An with kids blog and guide, we've loved our Vietnam trip and our time in Hoi An, to be honest, it was a relief, we first visited in 2001 and feared change. Things are far more modern here, yes, but the charm remains despite huge tourist numbers. Just walk a little further and Hoi An is still there. We wanted to make this the most complete guide to Hoi An with Kids on the internet and we return regularly to Hoi An to update and improve, new attractions open all the time. I hope we gave you all the information you need to plan your trip or holiday in Hoi An.
If you'd like to hire a car during your stay, use this car rental comparison tool to find the best deal!

We also suggest you take a look at this company to get a quote for all kinds of the more tricky adventure or extended travel insurance.

Try Stayz / VRBO for an alternative way to find rentals on homes/apartments/condos in any country!