This post may contain affiliate links.
Vietnam is one of our favourite countries, packed with history, stunning landscapes, cultural highlights, and amazing food. It's one of the most exciting destinations in South East Asia. We visited back in 1999 for the first time ever and we go back regularly to create this Vietnam Travel Blog section for you. We've had the luxury of time and long visas to really get to know Vietnam. Our aim is to help you plan your trip to Vietnam using this travel guide.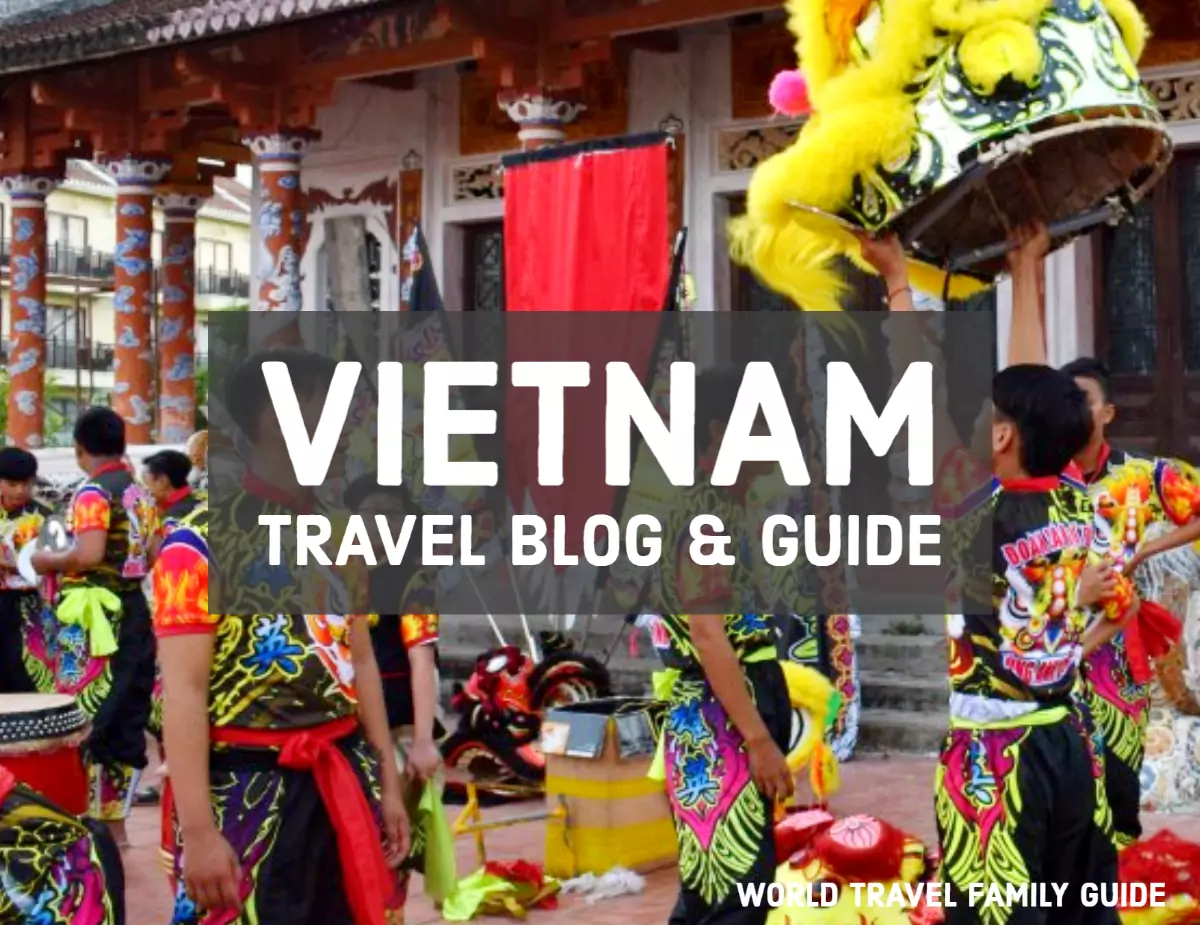 In this travel blog about Vietnam we'll look at places to go in Vietnam, itinerary ideas, where to stay and how to travel in Vietnam.
Links here will take you to more detailed posts.
We hope you find our Vietnam tips and guides useful in planning your travel, vacation, or holiday in Vietnam. This guide is suitable for first-timers in Vietnam or return visitors looking for different parts of the country to explore.
Vietnam Travel Blog
Let's start with the one most important point I want to make about travel in Vietnam. The first point below.
We've had nothing but wonderful experiences with the people of Vietnam and other travel bloggers saying nasty things about the Vietnamese upsets us.
Yes, if this is your first time in Asia, you could find the way things are just different or challenging.
In all our years in Vietnam, we've met some of the nicest people out there.
Vietnam Travel Blog – Things To Know About Vietnam
Have You Heard Vietnam is Difficult or the Vietnamese Unpleasant?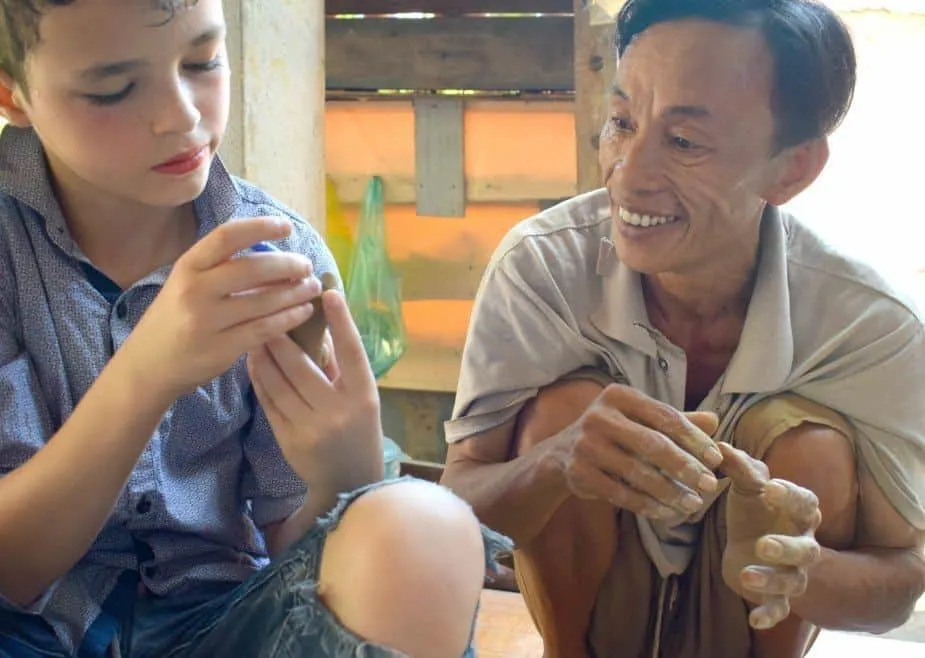 The Vietnamese can be some of the nicest, friendliest, kindest, and happiest people you could meet.
They're charming without being pushy, helpful, lovers of children, and just genuinely nice.
Of course, there are some bad apples and most of the bad stories involve taxi driver scams, but in all our time in Vietnam, we've seen only good.
You need some travel smarts as you do in any country where haggling over prices is just the normal way to do things. Smile, try to use some Vietnamese, and don't be obnoxious.
The Vietnamese are good people. See what happened when I fell off my bike while we were living in Hoi An if you need further proof.
This is one thing that I really want to stress on this Vietnam Travel Blog, we really like the Vietnamese people we've met.
Vietnam – Video
A Short Vietnam video giving you a taste of what Vietnam is like.
Traffic and Roads in Vietnam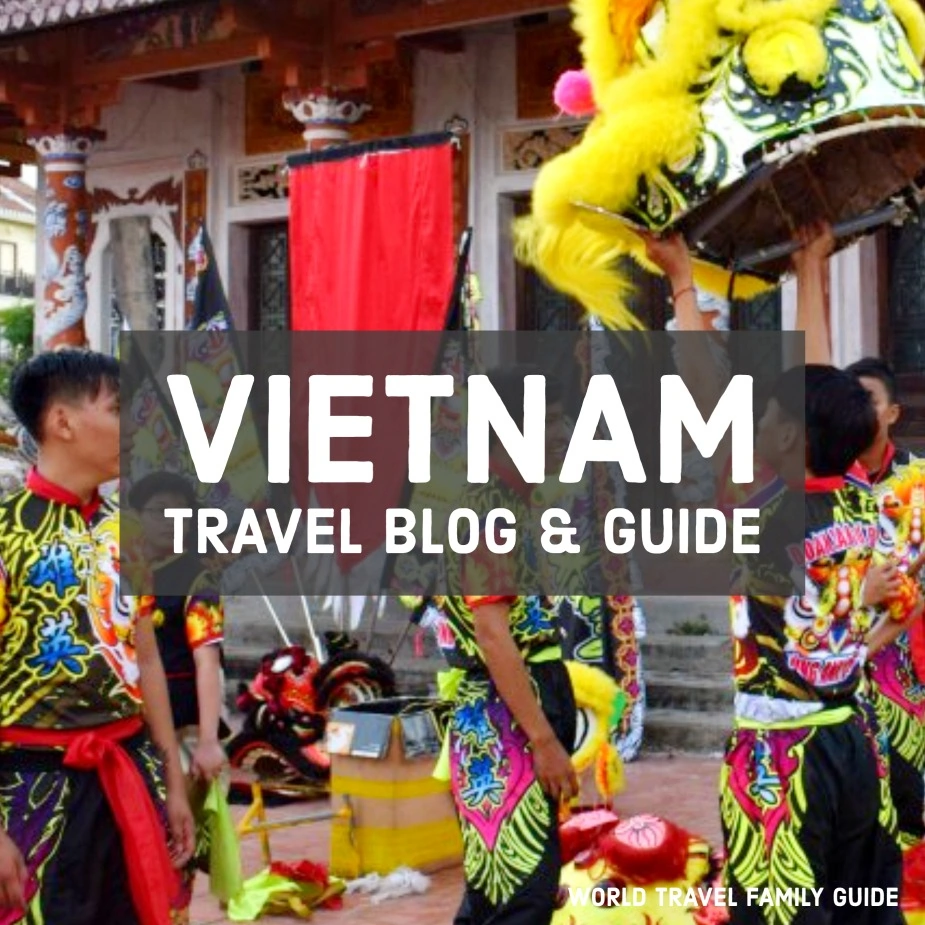 Because speed limits are low and roads are largely populated by push bikes and scooters, we feel safer on the roads in Vietnam than we have done so far in any Asian country.
Cities are busy but we cycled with our kids every day in Hoi An.
Crossing the road is an adventure. Nobody is going to stop, you just get used to picking your time and weaving between moving vehicles.
Just yesterday I watched two little girls on their way to school.
At 5 years old they know how it's done and their parents trust they'll be safe solo.
Just watch out for taxis and buses, they can be unpredictable.
Nobody on a bike has a death wish, they're all trying to get home to their families safely. But sadly road death rates are high in Vietnam.
Use common sense and don't hire scooters unless you have a suitable international motorbike license and adequate travel insurance.
Vietnam Travel Blog – Highlights of Vietnam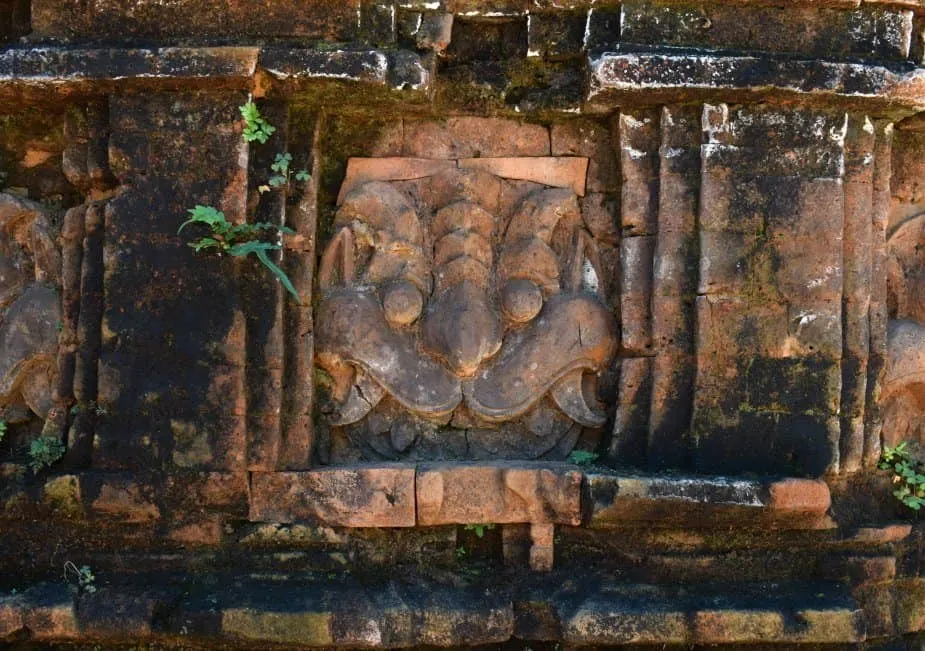 Vietnam has at least 8 UNESCO-listed sites. These include Ha Long Bay, Hue's historic sites, the old town of Hoi An, and the Champa complex at My Son Sanctuary (above).
This country also has beaches, islands and resort hotels.
Vietnam has mountains, padi fields and waterways, bustling cities and the sleepiest traditional villages.
Some highlights of Vietnam, below. We're always adding more!
Vietnam Travel Blog – Destinations
There are a million places to visit in Vietnam and I can't possibly put them all on this page. Let's just start here with a few popular destinations.
For more detail, you'll have to find the dedicated post on this site.
Just follow the links or use the search box at the top of our sidebar.
A new addition and one that we highly recommend is Phong Nha National Park and caves in Central Vietnam.
You'll find the biggest caves in the world in Vietnam at Phong Nha.
Saigon (Ho Chi Minh)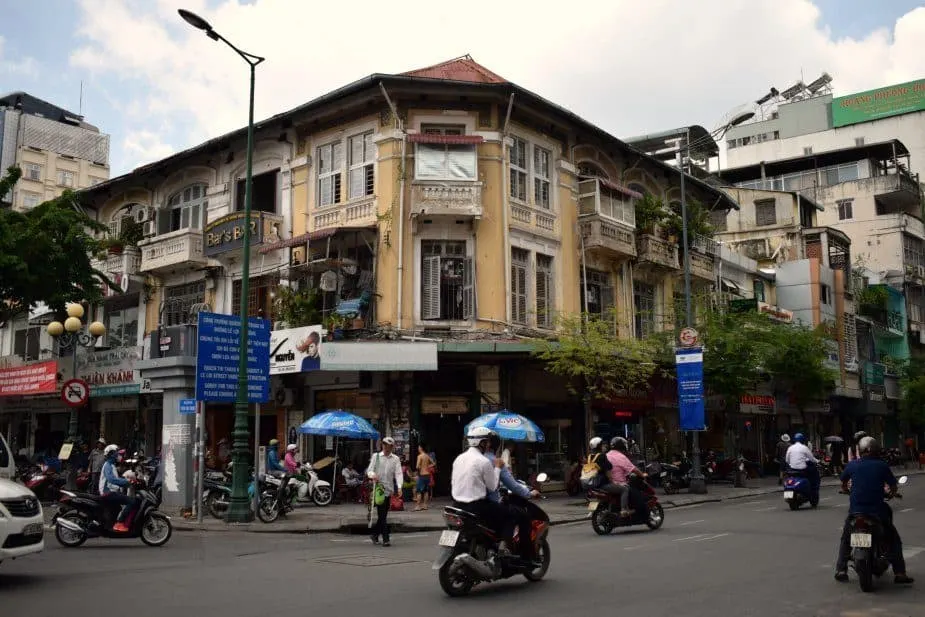 Saigon refers to the inner city area of Ho Chi Minh City. Renamed after the war in honor of the North Vietnamese leader.
The area that most people end up staying in is District 1. Here you will find backpacker accommodation and agencies selling tours and transportation to just about anywhere in Vietnam.
One of the best tours from Saigon would be to the Chu Chi tunnels which are located about 50 km west of the city.
This tour can include a Cau Dai temple visit, this religion is unique to Vietnam and was founded in 1912.
Alternatively combine your visit to the tunnels with a Mekong Delta tour, again, direct from HCM. Our links take you to a tour booking platform we trust and use ourselves.
The biggest drawcards in Saigon itself, are the War Remnants Museum and the Old Palace build by the South Vietnamese rulers.
The Old Palace hasn't been used since tanks drove through its gates in 1975 to officially end the war.
Saigon also boasts French Period architecture, abundant great food, and fascinating markets.
Food tours through the backstreets by scooter are very popular, your driver and guide will know exactly where to find the best Vietnamese street food.
To book your Cu Chi Tunnels tour in advance (recommended), check this half-day tunnels tour .
To Book Cu Chi, with the additional Cau Dai Temple Tour, look at this double tour of both attractions.
Hoi An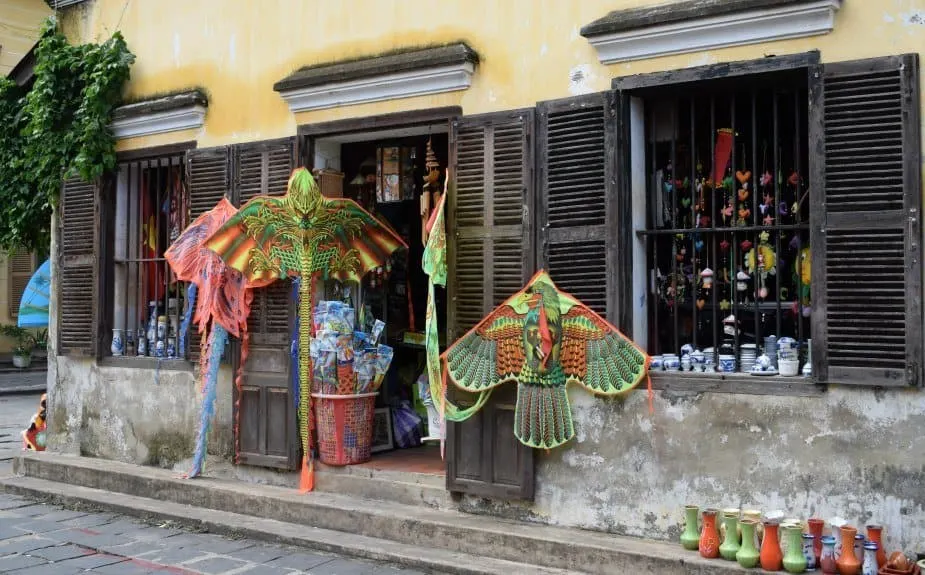 We lived in Hoi An for a few months and we loved our time there.
During our time living in Vietnam we were lucky enough to experience Tet, lunar new year, in Vietnam.
It's a beautiful time of year to be in Vietnam, but does bring closures.
In Hoi An this is marked by kumquat trees, a kumquat festival, and seas of flowers.
There are lanterns released nightly in Hoi An, but the bigger lantern festivals bring less restrained attractions.
It really is nice to be there when the locals are making their offerrings.
This incredibly picturesque riverside city is something of a tourist hot-spot these days. It combines the charms of the Old Town, with its ancient buildings, tailor's shops, and Hoi An central market, with nearby rice paddies and beaches.
Hoi An food is world-famous and central Vietnam is a big producer of quality seafood.
Dining in Hoi An is diverse and delicious, expect traditional local foods alongside western restaurants and top-class hotels.
Around town, there are various places of interest to keep you busy, throw a pot at the pottery village, take a free Vietnamese lesson or one of the many local eco tours.
My Son Sanctuary, Danang, and Marble Mountain are a short day trip from Hoi An and Hue is accessible by tour, bus or train.
The nearest large city, Danang, is about 45 minutes away from Hoi An by road.
Da Nang is another beach-side tourist draw, popular with family holiday-makers visiting Hoi An with Kids. Danang has its own airport and the nearest train station to Hoi An.
The best trip to take from lovely Hoi An is always a cooking class with coracle (basket boat) ride Take a look at these fantastic experiences here.
Hoi An is renowned throughout Vietnam and the world for its cuisine.
Hanoi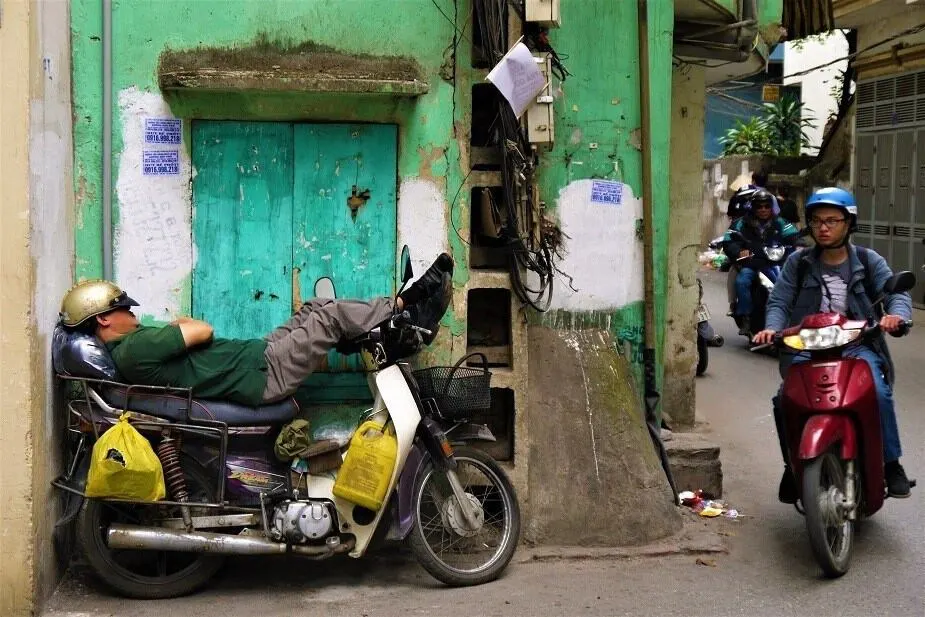 " You haven't experienced Vietnam until you've visited its noisy, vibrant capital city, Hanoi. Navigate the traffic-choked streets of the Old Quarter to discover crumbling colonial buildings, street vendors and traditional tubular shops.
Hanoi is filled with historic buildings but don't miss the ornate Temple of Literature, St Joseph's Cathedral and the UNESCO listed Imperial Citadel of Thang Long.
Learn about the country's revolutionary leader at the Ho Chi Minh mausoleum and palace complex. Next, take a stroll around Hoan Kiem Lake where locals come to exercise and relax.
No trip to Hanoi would be complete without sampling its famous food delights. Dishes such as a Banh Mi sandwich or the city's signature dish, Bun Cha. Stop in at Café Giang for a Ca Phe Trung (egg coffee), they've been serving this traditional brew for over 70 years.
Don't miss the traditional Vietnamese water puppet show in Hanoi, it's like nothing you'll see in any other country. Get discounted skip-the-line tickets here.
Ha Long Bay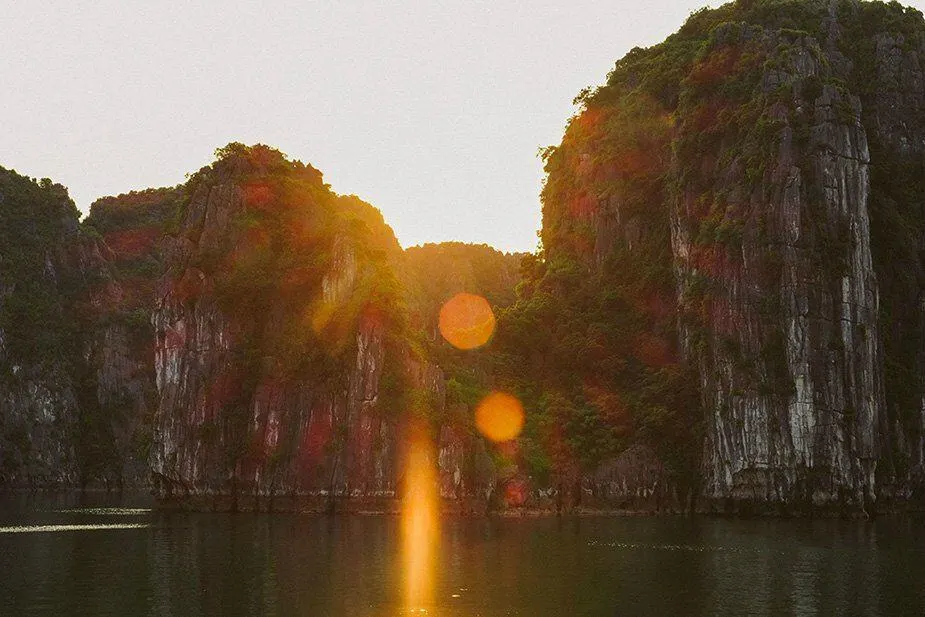 "If you are looking for a magical location in Vietnam, then you cannot go past Ha Long Bay in the north of the country.
With emerald-green waters, limestone islands and mystical caves, all while touring on Junk Boats, Ha Long Bay draws travellers to her every day. It is certainly one of our favourites in South East Asia.
From day tours through to tours that keep you entertained for 2 days 3 nights, we highly recommend the latter.
Sleeping on a Junk Boat, while doing day visits to floating villages, taking rowing tours, and getting to jump off the boat into the cool refreshing water, is so relaxing and fun. A cruise like this gives you a great insight into local living while seeing nature's beauty up close.
No matter what your budget, we highly recommend you choose your junk boat tour wisely. Spend a few extra dollars to get a better experience and higher quality boat.
We have done three tours since 2008 and loved Signature Cruises. You can read all about our recent trip to Halong Bay right here. "
If you're looking for a quieter alternative to Ha Long Bay, try Lan Ha Bay. Like its bigger neighbour, Lan Ha Bay is a popular multi-day cruise destination. Check it out here.
Sapa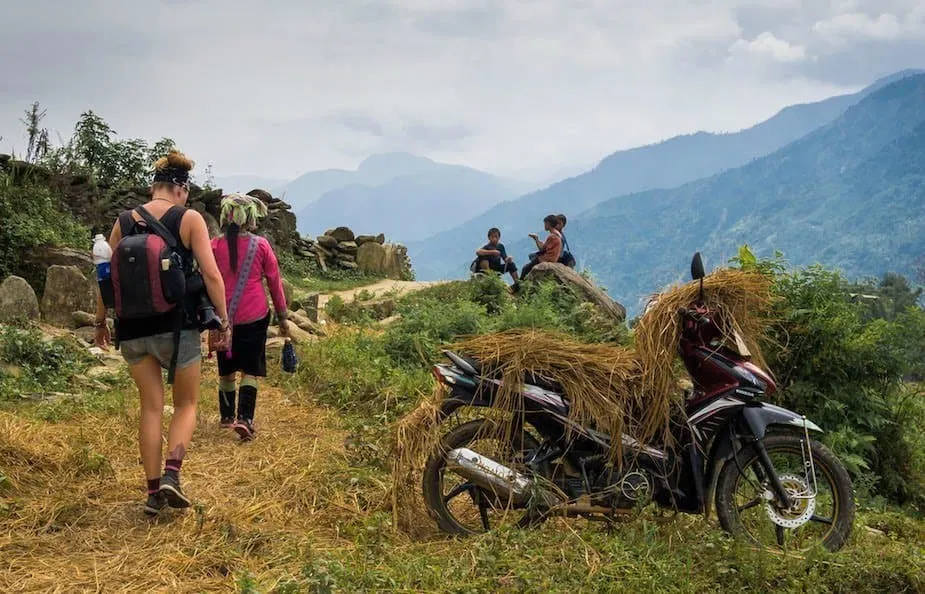 "Home to Vietnam's highest peak (Fan Si Pan, which soars 3143m above sea level) Sapa is a must-see destination for nature lovers.
The people of Sapa started welcoming tourists as far back as the early 1900s. French colonists used it to escape the searing heat of Vietnam's lowlands. During the 1940s, Vietnamese independence fighters drove the French from the region and it wasn't until a few decades ago that tourists started to return to Sapa.
Within easy reach of Hanoi, by overnight bus or train, Sapa is now one of Vietnam's most popular tourist destinations.
In Sapa, the magnificent purple mountains sink away into deep valleys, where terraced rice paddies feed the imagination — and the local population.
Many ethnic minorities, including the H'Mong, the Dao and the Dai, make their homes in hidden villages among these hills. Be mindful of travelling ethically in Vietnam and in this delicate region.
For tourists, the big draw is the chance to trek along Sapa's stunning valleys and mountains. It makes an excellent antidote to the hectic pace of life in Hanoi and is a great place to escape the heat.
Taking a multi-day trek between village homestays gives you the chance to immerse yourself in a slower pace of life. Stretch your legs on the mountain tracks, and indulge in shots of the locally-made rice wine. It burns as it goes down but is said to loosen your muscles after a long day of walking!"
If you want to trek and enjoy the outdoors in Vietnam, Ha Giang is a good alternative, again, a multi-day trip available from Hanoi. See your options here.
Hue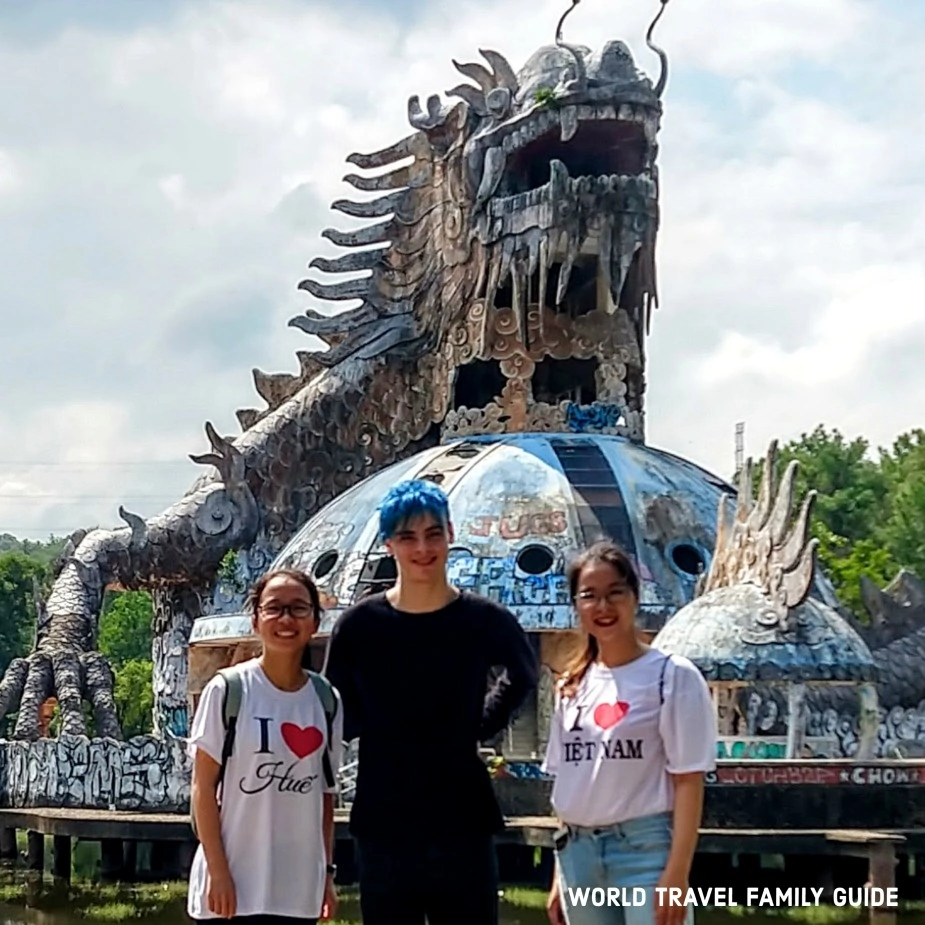 We loved Hue. I think what made Hue such a stand-out destination for us was the tour we took and the people we met. A special tour, with local female students, gave us a chance to really get under the skin of Hue. We learned so much more than most tourists.
The company we used was a chance find, a young Vietnamese woman started a company to empower Vietnamese girls. She wanted to help them improve what she called their "soft" skills.
The two students who took us around Hue showed us sites we would never have dreamed of visiting. One was studying English, one Medicine.
If you get the chance, we highly recommend these tours, and once borders open we'll be back for more. This is a similar Hue motorbike tour and seems to be the same company (by the T-shirts and use of motorbikes.) I can't find the exact tour we took, but this part was identical and wonderful.
This was a mum and son trip, the whole family couldn't go. At that point, my elder son was a young teen and loved the things we saw and did in Central Vietnam.
In Hue be sure to try local specialities of salt coffee and Bun Bo Hue.
Tours in Vietnam
How do you want to visit Vietnam? There are heaps of options.
Luxury Tours or Packages
We review hotels for one of Australia's luxury travel package companies. They get incredible prices on some of the best luxury hotels around the world. We have the job of testing these hotels for them, it's a tough job. If you're interested visit the Luxury Escapes website.
Small Group Tours of Vietnam
All of the big adventure travel companies offer small group tours of Vietnam. We're big fans of Explore Worldwide, GAdventures, and Grasshopper Adventures. My husband and I met on one of these small group tours, decades ago. If you use the links above, you can look at the Vietnam tours on offer. Most offer cycling tours, this is a very popular way to see Vietnam.
Tours and Transportation Within Vietnam. Booking Trains, Buses and Planes
Every town visited by tourists and backpackers has plenty of small travel agents' shops selling tours and onward transportation. Everything is very easy to arrange on the ground but you'll need time and your best haggling skills.
To book train or bus tickets online ( or even flights)in advance, you can use 12GoAsia. This site has been around a long time and has been popular for Thailand for a very long time. Visit 12GoAsia here.
If you're short of time or need to book a tour in advance for a particular day, we recommend booking online. Read our Get Your Guide tours review here.
Classes and Courses to Take in Vietnam
Cooking classes, pottery classes, Vietnamese lessons, yoga, painting and more.
Theatre, Dance & Music from Lune at 3 Locations in Vietnam and Traditional Vietnamese Water Puppets.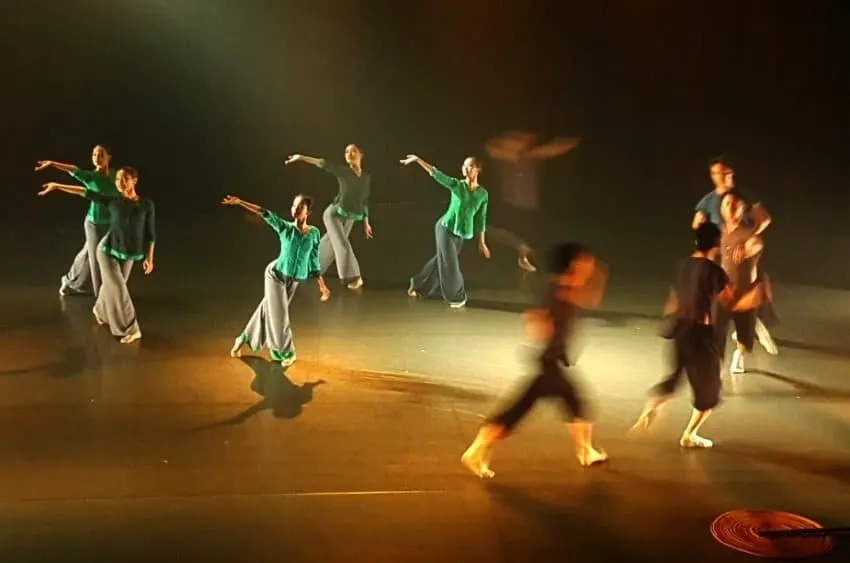 Something I have to add, because we saw a show in Hoi An and thought it was wonderful, are the Lune Theatre productions. You can catch these in Saigon, Hanoi and now, new for 2018, in a purpose-built performance space in Hoi An.
These shows are magical and beautiful, featuring traditional music and instruments, dance, drama and more. The show we saw in Hoi An, "The Mist" beautifully illustrates the life of rice farmers in the Mekong Delta. If you get a chance, go.
You can book Lune tickets in advance for the Saigon/Ho Chi Minh Opera House show here. These shows do sell out so reserve your place.
Find out more on Lune's own website.. There are 4 different shows that rotate through Lune's current 3 theatres in Vietnam.
I'll also mention Vietnamese water puppet shows. We've seen shows in Hanoi and Hoi An, great for kids and a lot of fun. These short performances are traditional and well worth seeing. Buy tickets to Hanoi's water puppet show (discounted and skip-the-line).
Vietnam Travel Blog – Visas
2 Week, E-Visa, 3 Month, Multiple Entry and More
Please double check all information in this section for 2021 and onward. There were no Vietnam tourist visas available last time we checked. They are due to return soon, we hope.
Vietnam isn't as easy as other countries in South East Asia when it comes to visas. It's also one of the more expensive countries to enter. You can't just turn up at the borders empty-handed and expect a visa on arrival unless you're on a two-week holiday.
Vietnam requires a little forward planning for long-term travellers. Please read the information below and do your own research for your country. We're as current as we can be, but for Vietnam the regulations seem to change by the hour.
You'll find a search box below ( an affiliate) for what we think is a trustworthy visa company.
Visitors to Vietnam can visit a Vietnamese embassy to buy their Visa. Or arrange an e-visa approval online which they must then produce on arrival.
We were going to visit the Vietnamese embassy in London when we discovered that using a visa agency was actually cheaper and potentially easier. The embassy in London would charge $100 US for each 3 month visa. That was significantly more expensive than using the agency.
We took the agency route (letter of pre-approval) for our 3 month Vietnam visa and had no problems whatsoever on arrival in Vietnam as UK passport holders.
The agencies don't actually issue the visas but give you an authorization letter from the Vietnamese immigration department. This allows you to receive a visa on arrival.
Airlines are strict and usually won't let you on the plane without either a full visa or authorization letter, ours was checked at Heathrow.
You pay a small fee to the agency to get the letter emailed to you. The agency will apply for multiple travellers so when you get your letter don't be surprised that it contains other people's details such as name, date of birth and passport number.
You can ask for a private letter with just your details for approximately $10 US more per person.
The costs are normally between $20 and $25 US for the authorization letter. You then need to pay the stamping fee on arrival in Vietnam where the actual visa is stuck into your passport.
This ranges from $20 for a single month to about $25 for a three-month single entry visa. The multiple entry visas attract a higher stamping fee approximately $50 US. All the stamping fees need to be paid in cash in US $.
The authorization letter only works if you are flying into an international airport. It will not work at land crossings. For that you'll need to have a visa in your passport from an embassy or you will only be entitled to the free 15 day visa on arrival ( certain counties only)
We've consulted with the visa company below ( Sherpa, they are based in Canada) and they had the following to say:
We have uncovered a number of recent disclaimers/warnings from various Vietnamese Embassies about travellers getting a Letter for Visa On Arrival.
In short, the VoA route isn't recommended by the embassies themselves. With a variety of third-party sites mimicking the official embassies. We recognize that this visa is usually the cheapest option, and widely used to this day, but we've decided that we are not going to offer Visa on Arrival as an option to travellers through Sherpa.
We will certainly do the eVisa, and we will also process the Loose Leaf Visa, which we are able to do for Canadians and Americans who need more than the eVisa. Overall, we will provide information to travellers in the widget, and we hope that this is helpful. "
Americans' visa regulations for Vietnam are different again. Visa requirement change constantly, please double-check information with Sherpa or another reputable visa company.
Vietnam Travel and Food Blog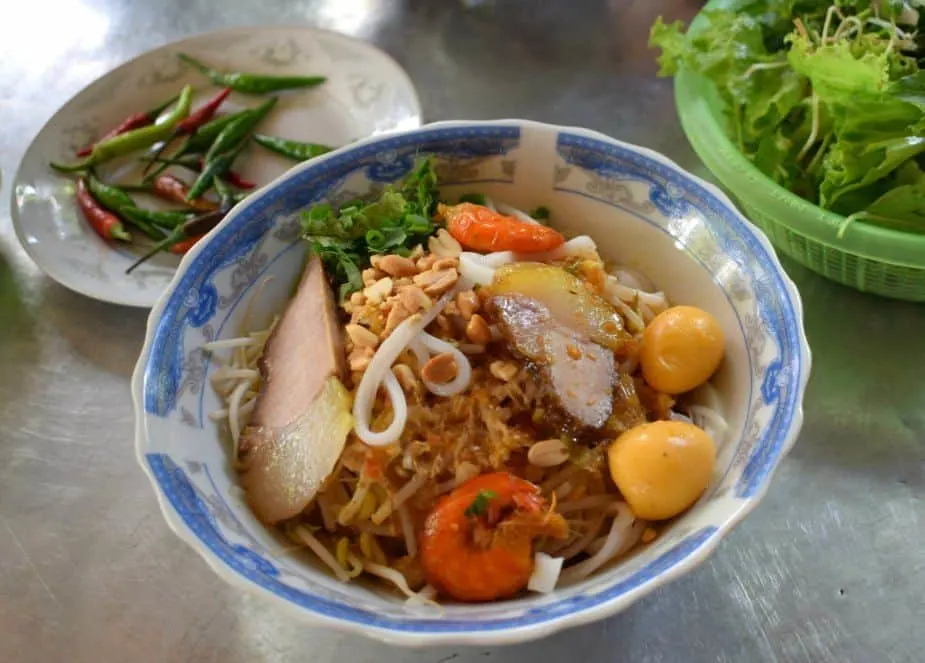 You haven't been to Vietnam until you've eaten a bowl of pho or mi quang perched on a tiny plastic stool at the roadside.
The best food in Vietnam comes from street stalls. It's what the locals eat and will cost you about a dollar a bowl. Don't expect a menu, these stalls specialise in one perfectly executed dish only, be that mi quang, banh xeo or bun bo Hue.
Vietnamese food isn't challenging to western palates, it's light and fresh with few spices. If you like your food hot you'll find fresh and dried chilies on the table to add to taste.
You'll also find restaurants catering to tourists at every price point. None of us has had any tummy trouble at all in Vietnam and there are plenty of dishes to please children. Fresh, steamed and fried spring rolls are a favourite with my kids.
You'll find incredible fresh seafood in Central Vietnam with prawns costing little. Vegetarians, even vegans, are pretty well catered for in Vietnam too.
Vaccinations for Travel in Vietnam and Health Considerations
Of the 50+ countries we've been to I'm happy to say that Vietnam is in the group that gave us zero ilnesses or tummy trouble.
None of us have had any traveller's diarrhoea or sickness in over 6 months in Vietnam. We've eaten everything, at every street food stall and had no trouble at all.
We're hugely impressed with how clean things are here compared to some other parts of the world. There are few flies, and few mosquitos, there are plenty of rats.
If you get sick in Vietnam it's usually easy to pop along to a pharmacy, there's one on almost every street and the pharmacists are very helpful and seem to know their stuff.
We've had to buy treatment for ringworm (picked up by one of the kids in London), mouth ulcers, and dressings for bike-related scrapes, it's been no trouble at all.
I would suggest carrying a basic first aid kit with you including:
a small bottle of iodine
plasters and dressings
paracetamol for kids and adults.
You can read more about our usual travel first aid kit here. The antibiotic powder Pises powder a US doctor put me onto this stuff, buy here) that I always pick up in Thailand was super useful for my cut, infected foot.
We did not take any malaria prophylaxis for Vietnam (20 years ago we had to, these days it's rare to need it anywhere). This is the malaria map for Vietnam, most of Vietnam is low to no risk.
Find suggested vaccinations for Vietnam here.
Vietnam Travel Blog – Hotels
As travel bloggers in Vietnam, we don't just stay in hotels. We also stay in hostels, guest houses, apartments, resorts and homestays. All are good options in Vietnam.
The first time we visited Vietnam it was very much a backpacker destination, these days there are plenty of up-market hotels and resorts on offer too and the tourists are flooding to Vietnam.
People like us, the digital nomads and long term travellers are also here and there are amazing bargains to be had in long-term, quality accommodation.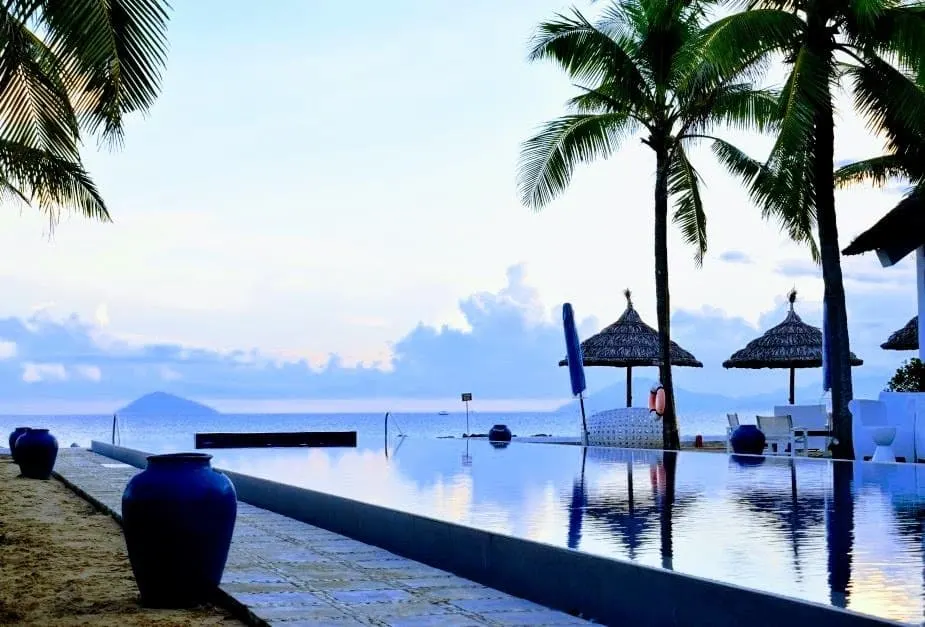 Finding the Best Prices and Deals on Hotels and Resorts in Vietnam
We highly recommend checking online booking sites if you're serious about finding the best price for your stay, some booking engine compares multiple online booking engines to find you the best deal available.
We like to use Agoda for Asia as they are the experts for the region and often have a bigger selection, particularly try them for smaller hotels and budget accommodation.
If you're the sort to book a long time in advance, maybe reserving multiple hotels on a fully refundable basis, Booking.com is your friend.
If you're interested in The Sunrise Resort, pictured above, check here for prices and further information. This is one of the luxury hotels we've tested on behalf of Luxury Escapes, an Australian company specialising in incredibly good offers on top-end hotel packages.
Their special offer prices are way below what we paid for these hotels and the quality was superb.
Hostels in Vietnam,
You will find a big selection of hostels, some have private family rooms, on all of the above websites.
Long-Term Stays, Houses and Apartments in Vietnam
We've booked hotels in Hoi An and Hue through Airbnb and the usual booking sites, both were good, small boutique style hotels or homestays.
A homestay in Vietnam can be a hotel, hostel, or actual homestay in Vietnam. We prefer not to use Airbnb usually because of the cleaning charges and time-wasting of having to be approved.
To find our beautiful house for 2 months in Hoi An we used a local expats Facebook group. We booked a cheap hotel for arrival and within half a day of posting in the expat group we'd found the perfect house for us. We rented from a lovely local family, at a great price.
Your Pinterest Image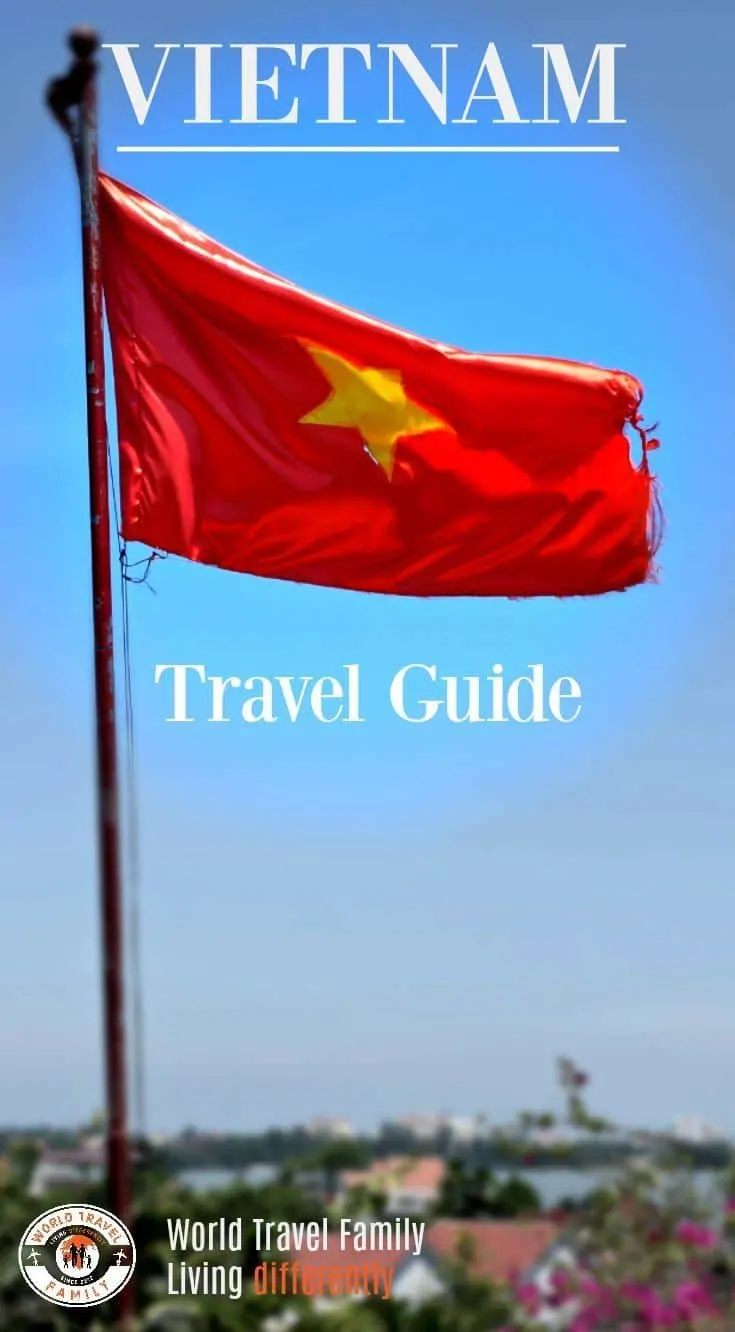 Vietnam Videos
If you're looking for more Vietnam information you can head to our Vietnam category page. Alternatively, take a look at our Vietnam videos.
The one from the Hoi An floods and Cu Chi tunnels should interest you.
Vietnam Travel Blog with Kids
Is a blog about travelling Vietnam with kids really any different to an adult Vietnam travel blog? Not really. We've travelled Vietnam as young backpackers before we were married, and later, with our kids. We stayed in similar places, ate the same food, saw the same sights in Vietnam. Having kids with you makes travel in Vietnam more expensive, and often more fun!
I often wonder why people write posts "this place with kids." It's expected of us family travel bloggers, I guess.
Most places are pretty much the same with kids or without and you'll find yourself staying in the same places and taking the same trips.
Kids really aren't a problem when you travel but we parents do worry about sickness, road safety, and so on.
So Vietnam with kids, what can I say? There are loads of interesting things for kids to do. Things like the pottery classes above, the Cu Chi tunnels tour, or coconut boat rides, and crab catching.
There is much to learn about culture and history and Vietnamese food is generally lacking in spice or chilli. You can also get just about any western food here, far more easily than in Thailand.
Nobody in my family has had any sort of tummy trouble or diarrhoea in Vietnam. However, if you're not used to tropical bugs you may want to read our post on how to avoid mosquitoes.
There are plenty of accommodation options at all price points and likewise plenty of transportation options. There are beaches if that is your want.
We think it's as easy to take your kids to Vietnam as to any other country. Be mindful of the weather and if you plan to use bikes bring your own helmets. The roads can be dangerous.
I think I've seen more tourists with kids, babies and toddlers in Hoi An than in any other Asian destination. It's a massively popular family holiday hot spot particularly for Australians. For that reason maybe avoid school holidays.
We have a full post on things to do in and around Hoi An for families, here, with more with-kids posts planned.
Vietnam Travel Blog – Conclusion
Thanks for using our website, we make it to be useful to you, so if there's any information you need, ask in the comments and we can add it to this Vietnam Travel Blog page. We're still in Vietnam, we're living in Hoi An for a while, so we can get you the on-the-ground information.
If you'd like to hire a car during your stay, use this car rental comparison tool to find the best deal!

We also suggest you take a look at this company to get a quote for all kinds of the more tricky adventure or extended travel insurance.

Try Stayz / VRBO for an alternative way to find rentals on homes/apartments/condos in any country!