This post may contain affiliate links.
Vietnam is a popular destination, and can be a great place to travel with kids, for family holidays or vacations, gap year family travel, and the long-term travel crowd, but is Vietnam family-friendly? What is there to do in Vietnam with kids and where should you go? Maybe you'd like to book a vacation and need to find your perfect hotel for a kid-friendly holiday? Also what are the realities and practicalities of travel in, and to, Vietnam with kids? This Vietnam family travel blog will give you the information you need.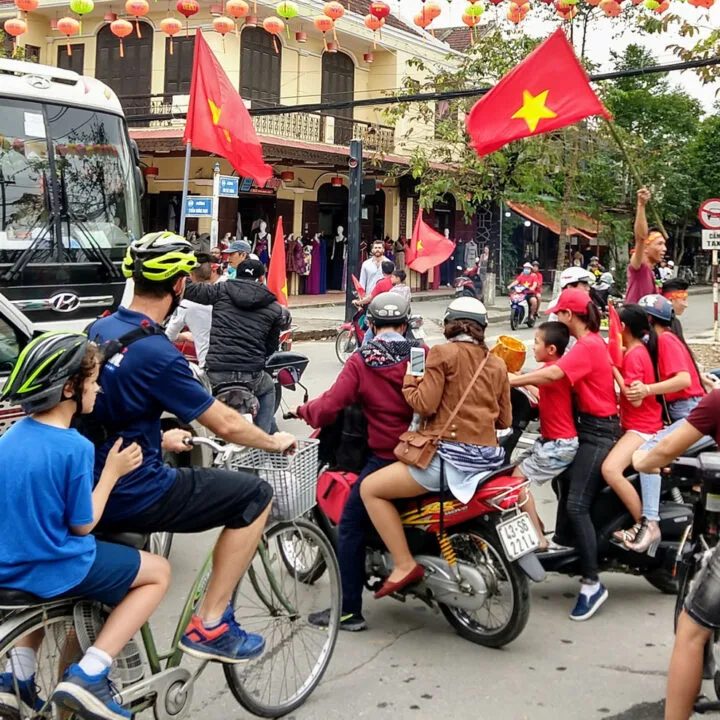 To help you navigate this post you'll find a table of contents below as well as links within the text that will take you to the sections you need, or to other posts with more detail.
We've spent months living in Vietnam and visiting as tourists, there is a lot of information to cover!
Book the No.1 tour in Vietnam here – Cu Chi Tunnels, your kids should love this!
Vietnam With Kids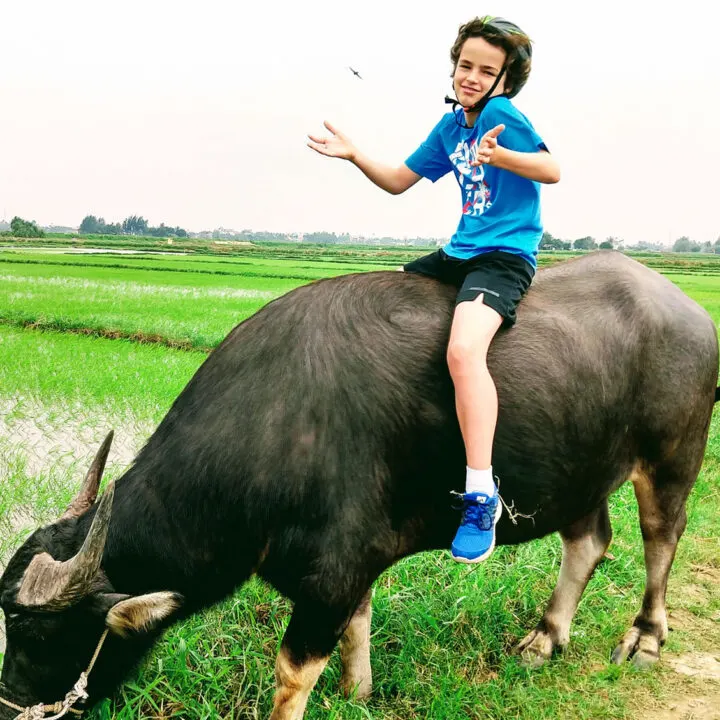 Vietnam has a huge amount of variety in terms of landscape. Yes, you can book a beach holiday in a beautiful resort hotel complete with kids club and enjoy sun and sand for a week or two.
One of the advantages of doing this in Vietnam is obviously the cost, Vietnam can be extremely affordable.
On top of that you'll also get the chance to enjoy one of the best cuisines in the world, with child-friendly dishes, along with discovering a fascinating culture and rich history.
Longer-term travellers will usually travel north to south or south to north. Sometimes arriving by air, sometimes crossing by land from Thailand, Cambodia, Laos, and China. All ways are possible and we've done most of them. The long-term family travellers will normally linger a while in a coastal destination such as Hoi An, Danang, or Phu Quoc.
You can find mountainous terrain and remote villages, historic sites and adventure activities. There is much to learn and enjoy in Vietnam.
Is Vietnam Suitable For Families?
Vietnam is a very popular travel or vacation destination, popular with families with kids of all ages. Yes, Vietnam is very suitable for families with great food, good accommodation and loads of things to see and do.
There is nothing in Vietnam to make it unsuitable for families that we have discovered, although some children could find the displays in some of the war museums frightening or unsettling. Only visit these with older kids.
We've found Vietnam to be safe and a great destination for families. Some parents may worry about road safety in Vietnam, possibly, or about health concerns. Nobody in my family has been sick in Vietnam.
Vietnam With Kids Tips
Here are some travel tips for booking your holiday in Vietnam with kids.
Look closely at the weather and time of year before booking. Because Vietnam is long and thin there are large climate variations and parts of Vietnam are subject to tremendous rain and seasonal flooding. We were there once for the Hoi An floods, but other parts of Vietnam also flood. Do your research well.
We've found street food in Vietnam to be very safe to eat, we've also been able to access clean drinking water easily, but do be vigilant. Of course, peel fruit if you can't wash it and don't let children drink directly from cans or bottles without a very good clean. Kids and new travellers will be more likely to get traveller's tummy than seasoned travellers. The newer you are to travel in Asia, the more careful you should be.
Vietnam is easy to get around. We use a combination of trains, public buses (including the rather special semi-sleeper buses), taxis, Uber, Grab, bicycles and scooters. We also book tours and explore on foot. Local taxi drivers often object strongly to Uber and Grab and some taxi drivers won't use their meters. Know the hazards to look out for in getting around Vietnam,
If you plan to put your children on the back of motor scooters or bicycles, take your own helmets from home if possible. Genuine helmets with good safety ratings are hard to source in Vietnam. We've had to buy one there, it was quite a mission. That said, you will see many kids without helmets.
There's no particular dress-code or need to cover up in Vietnam. The locals will mostly be in western jeans and tops. Expect most to be fully covered against the sun, including gloves, masks, and wide hats. Do take something respectable to wear if you're visiting places of worship.
Rubber flip flops or whatever your kids walk well in, is best for footwear. I'd always choose rubber or a man-mad fabric over leather because shoes are very likely to get wet. Hoi An in central Vietnam is famous for tailors and shoe-makers. If you need new shoes or clothes, this is a good place to shop.
Vietnamese food doesn't use as much chili as neighbouring Thailand and it's light and fresh. The heat is often in a dipping sauce or accompaniment. My kids love Vietnamese food, it's their favourite cuisine in the world, but maybe stick to well-cooked dishes at first to avoid tummy trouble. Food is very cheap if you eat in the right places, possibly the cheapest in Southeast Asia, that's good news for parents of hungry kids.
Because of the French influence in Vietnam, you will find bread and dairy products far more commonly than in other parts of Southeast Asia. This can be very useful with picky-eaters.
It will probably be most convenient to grab Vietnamese currency and a SIM card at the airport on arrival. SIM cards are usually valid for up to 30 days. Remember that you will almost invariably need US dollars to pay for your visa on arrival. Your kids will need their own visas and passport.
Vietnam is mostly hot and tropical in the south but in the north temperatures can get quite low. This is one country where you may want to pack for hot, cool, and wet.
Family and Kid-Friendly Vietnam Tours and Holidays
Various group tour holiday companies will take you and your kids to Vietnam for a family-friendly adventure holiday.
Small group adventure holidays are a great way to see as much as possible in a short time, with zero fuss, effort and time-wasted in organising transport, accommodation, and meals.
I've taken tours like this several times, once with my teen, they suit a need sometimes. I met my husband on a small group adventure tour, many years ago.
Companies to check out are in our chart below, along with links to the family tours of Vietnam on their websites. In the current world climate, having a local guide at hand would certainly put my mind at rest.
Companies to take a look at include Explore! Worldwide, GAdventures, and Grasshopper Adventures. Our website mostly deals with independent travel and destination guides, but never rule out a group tour, they can be great.
Vietnam With Kids -Things To Do
Obviously, the things to do in Vietnam will vary depend on which parts of Vietnam you choose to visit. Below are some ideas, a video, and a table, of the best family things to do in Vietnam.
Lantern Making and More in Hoi An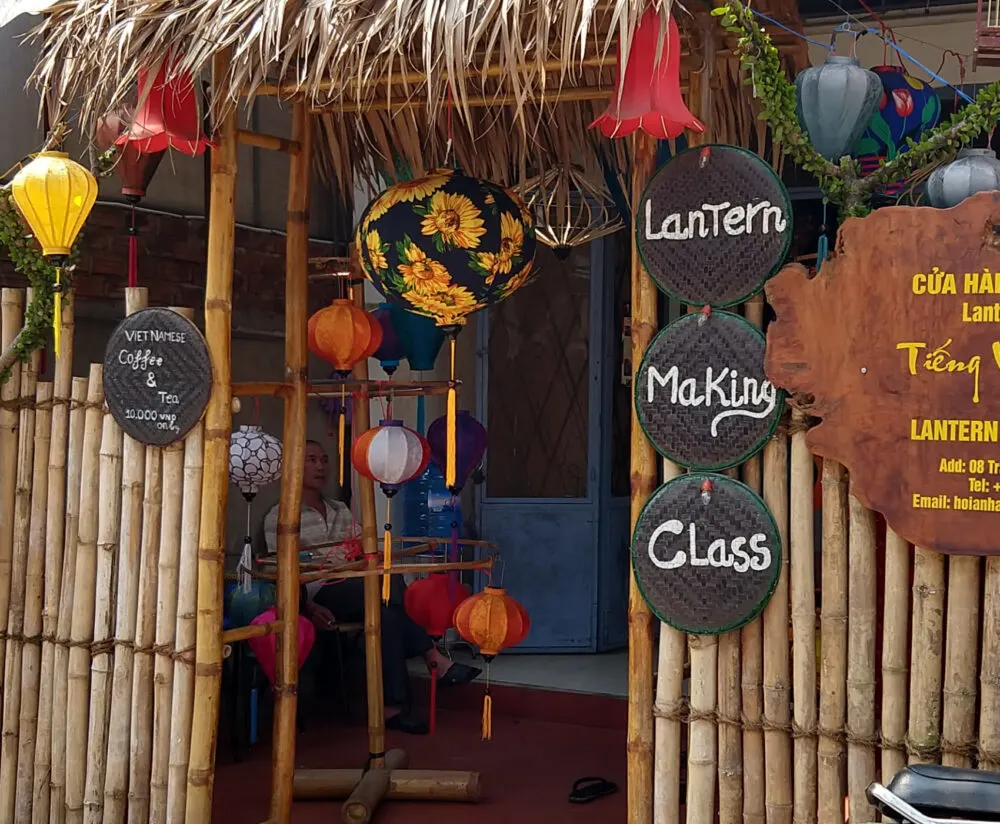 Hoi An is the UNESCO-listed ancient city in Central Vietnam famous for lanterns. The full moon festivals bring mass lantern releases and offerrings to the ancestors but the reality is, you will see lanterns released every night.
We lived in Hoi An for six months, so this region is very dear to our hearts.
Among the activities that are great for kids in Hoi An, there is lantern making, Vietnamese painting, pottery, mask painting, cooking, gardening, and more.
You can take a banana boat (coracle) ride, sit on a water buffalo or go kayaking and mountain bikings. If you're looking for activities, Hoi An has plenty for kids.
However, most big tourist hubs will have similar activities. Look into what's available, your family's interests, and needs carefully before picking your holiday location in Vietnan.
Hoi An has easy access to Danang, beaches, Ba Na Hills, the Mi Cham ruins, Cham island for snorkeling, and Marble Mountain. You can arrive in Hoi An by semi-sleeper bus, or arrive by train or air in Danang, it's not far away.
All of the above methods of transport should be fine with most kids.
The semi-sleepers will require them to sit still in individual seats, I'm not sure they'd be too easy with young children or toddlers.
Hoi An, along with Phu Quoc, are hugely popular with families.
Trekking in Sapa with Kids
Sapa is in Northern Vietnam, most travellers come here from Hanoi. I haven't been to Sapa in a very long time and I haven't taken my children, but back then, I know it would have been a great destination for them.
If you have kids who will enjoy countryside, walks, and villages, Sapa could be for you. We loved Sapa but I've been put off returning by talk of large scale development there in recent years. We'll be back to check it out just as soon as travel returns.
Sapa is also the place in northern Vietnam for seeing hill tribes and their villages.
Cat Ba Island and Halong Bay with Kids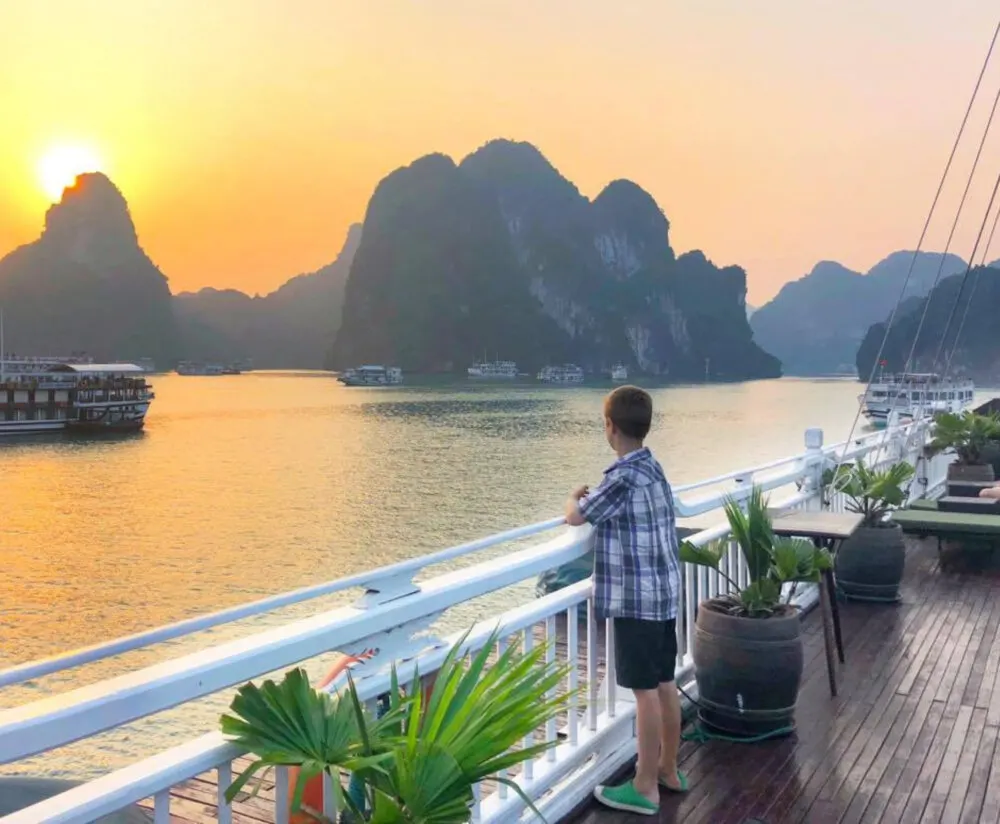 A Halong Bay cruise is another classic activity on most travellers' bucket lists. I've done it, but not recently.
I talked to my friend Lyndsay, also a professional travel writer with kids. She provided us with the photo above of her son on a fairly luxurious Halong Bay cruise.
These cruises come in many price points. Our cruise and stay on Cat Ba island were certainly budget! Lydsay's report on her Halong Bay Cruise and short tour itinerary for Vietnam.
You might well ask why we haven't been back to the far north of Vietnam in the past few years. We're spent months and months further south because we prefer central and southern Vietnam. It's that simple.
We did enjoy Hanoi, although many don't, and we did enjoy both Sapa and Halong Bay. Of the three, Hanoi was our favourite and Halong Bay our least favourite, although we will be back soon to see what's changed.
Water Puppets in Vietnam – Great With Kids!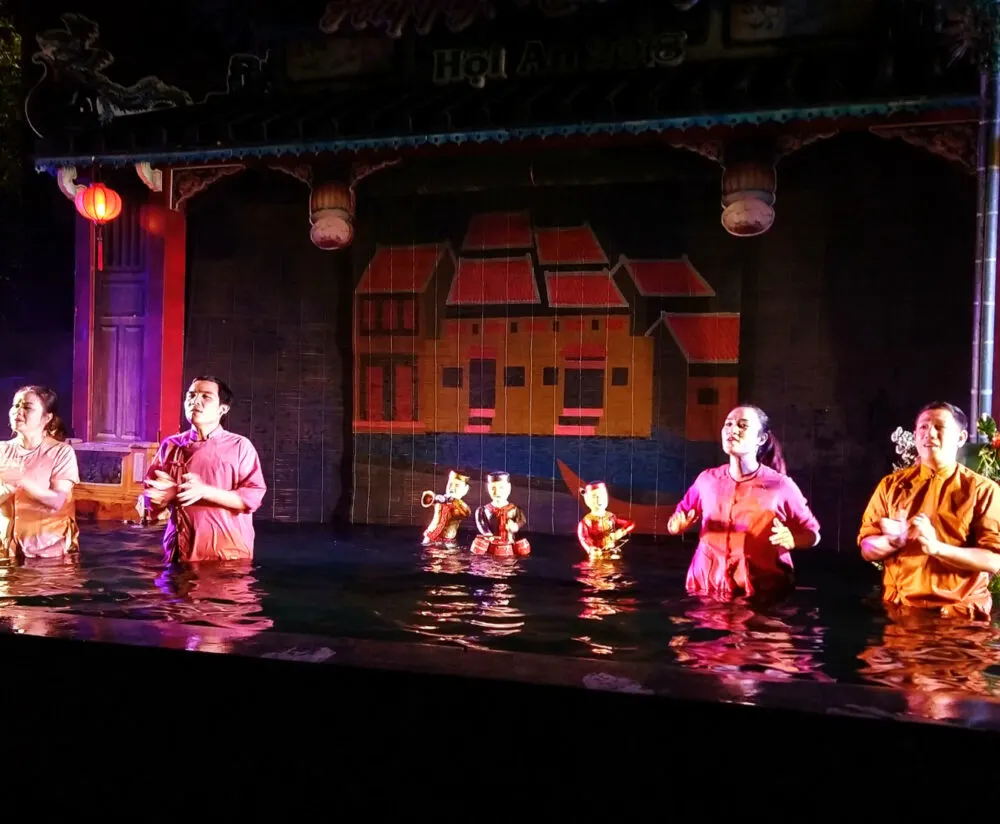 If you possibly can, take yourselves, and your kids, to see a traditional Vietnamese water puppet show.
The whole family will love this, I hope.
At first you are more than likely to wonder how what you see before you is happening, but you should have worked it out by the end.
Enjoy the music, spectacle, fireworks, and a unique slice of culture.
Take a Vietnamese Cooking Class with Kids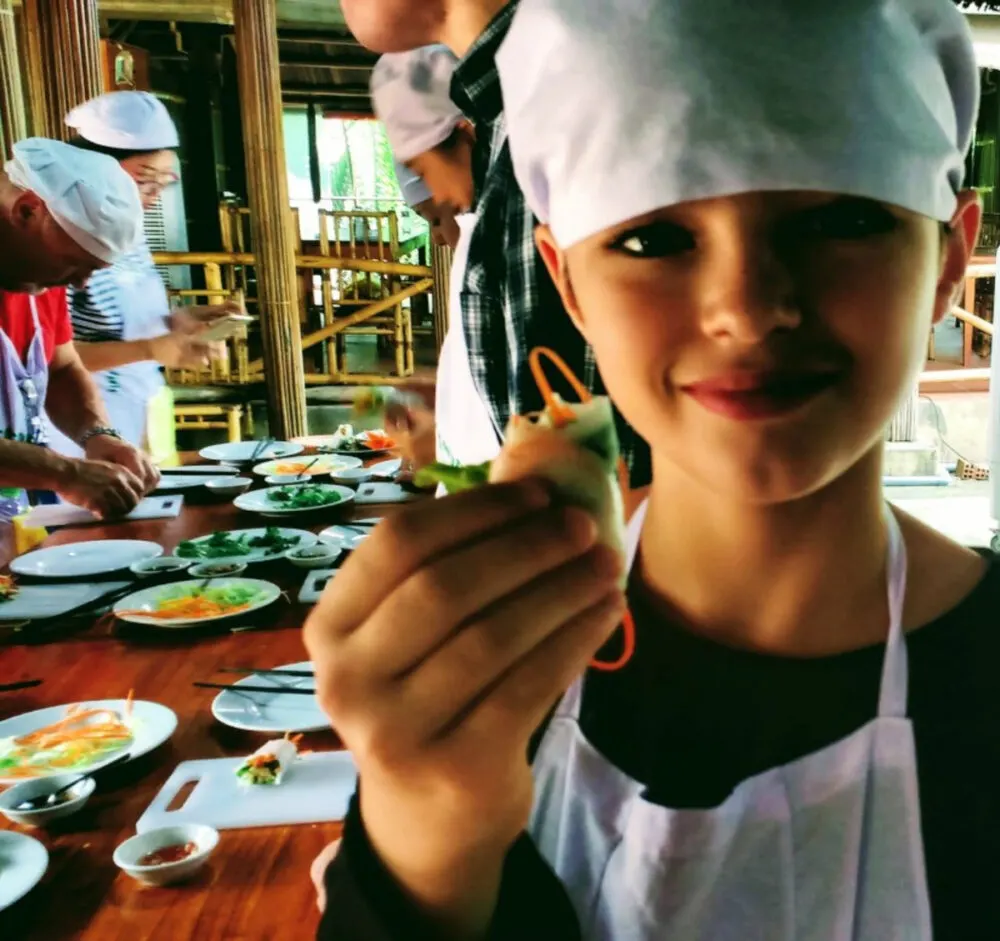 Yes, kids can take cooking classes alongside adults and yes, kids can and do enjoy them.
Vietnamese food is immensely child-friendly, it's my kids' favourite cuisine, and in every country we visit, they ask for cooking classes.
My kids love to eat. A lot of eating happens at cooking classes. They'll also have the satisfaction of having prepared their own meals.
Some cooking classes won't allow kids, always check. Many involve market visits. If you eat meat, expect some fairly gruesome market scenes.
One of my kids can't handle Asian meat markets at all. We usually take vegetarian tours. But as my husband is a carnivore and executive Chef, we do take a lot of very varied cooking classes.
We think Vietnam is probably the best country for cooking classes, along with Thailand. Hoi An is particularly famous for this. See our tours section for further details.
Hue with Kids, The Perfume River, Citadels, and Tombs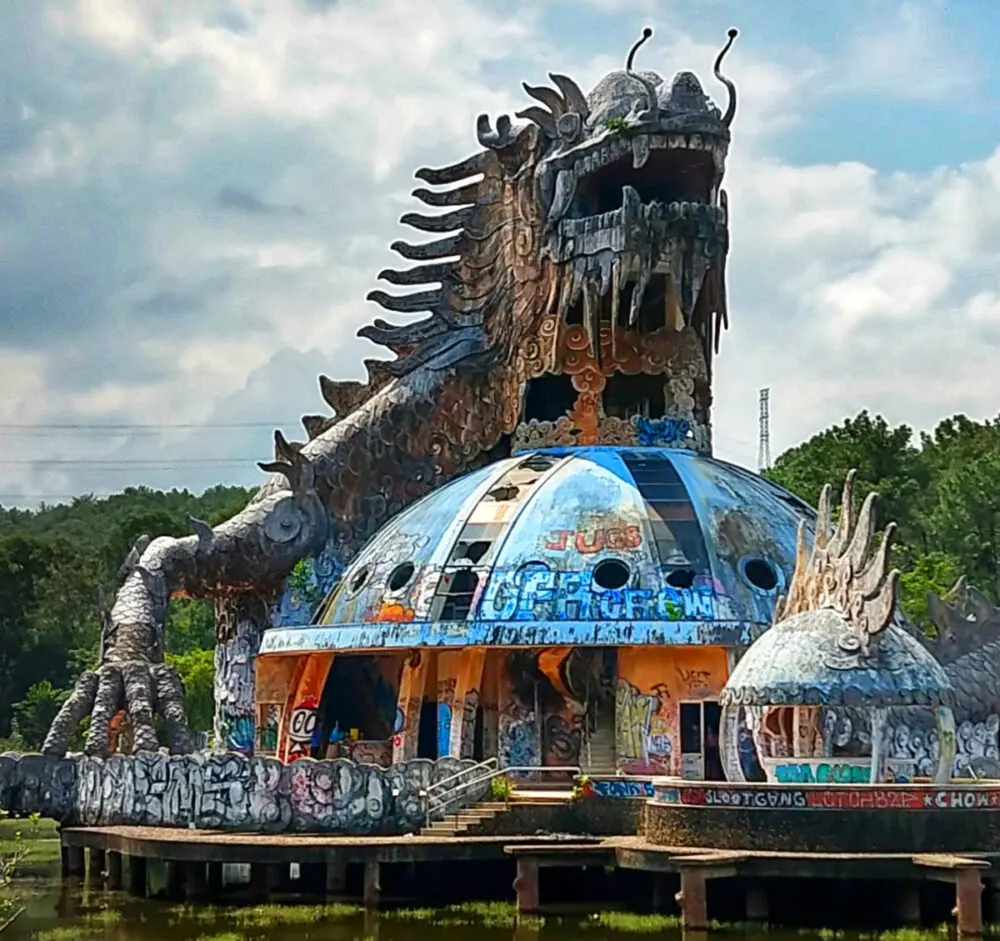 We really enjoyed Hue last year, spending several days in the city and visiting the DMZ and Khe San as a day trip from here.
We also took a huge tour of the city and surrounding area with two female language students. This spectacular dragon, in the photo above, was on that tour.
Hue is famous for its royal cuisine. While in Hue be sure to try bun bo Hue, Hue's take on noodle soup, and consider a cruise on the Perfume River.
There is much to see and to learn in Hue, the ancient capital of Vietnam. If you only have a day or two you probably don't have time to explore independently.
You should most certainly book a tour, there's a lot to see and it's spread over a large area.
Ba Na Hills for Kids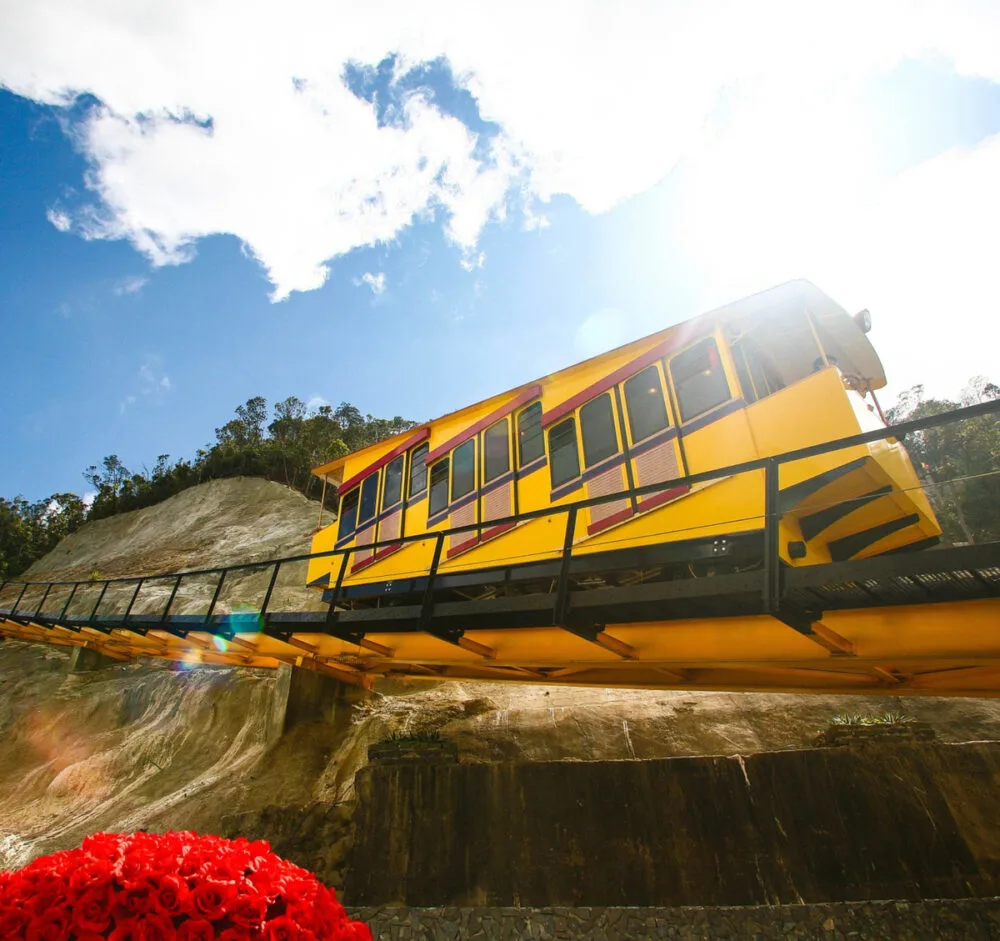 We haven't been to Ba Na Hills, but we've been up the hill to take a look. We decided it wasn't for us.
However, since they built the giant golden hands Instagrammers have been going crazy about this place, close to Danang and Hoi An.
It's a purpose-built for Instagram amusement, mostly popular with Chinese tourists.
Here you will find thrill rides, indoor amusements, a recreation of a European town with gardens and a giant Buddha. Maybe we'll go next time. I'm scared of heights, which is the real reason I didn't want to take the cable car, which, at the time we visited, was required to get there.
Vietnam With Kids – Beaches and Resorts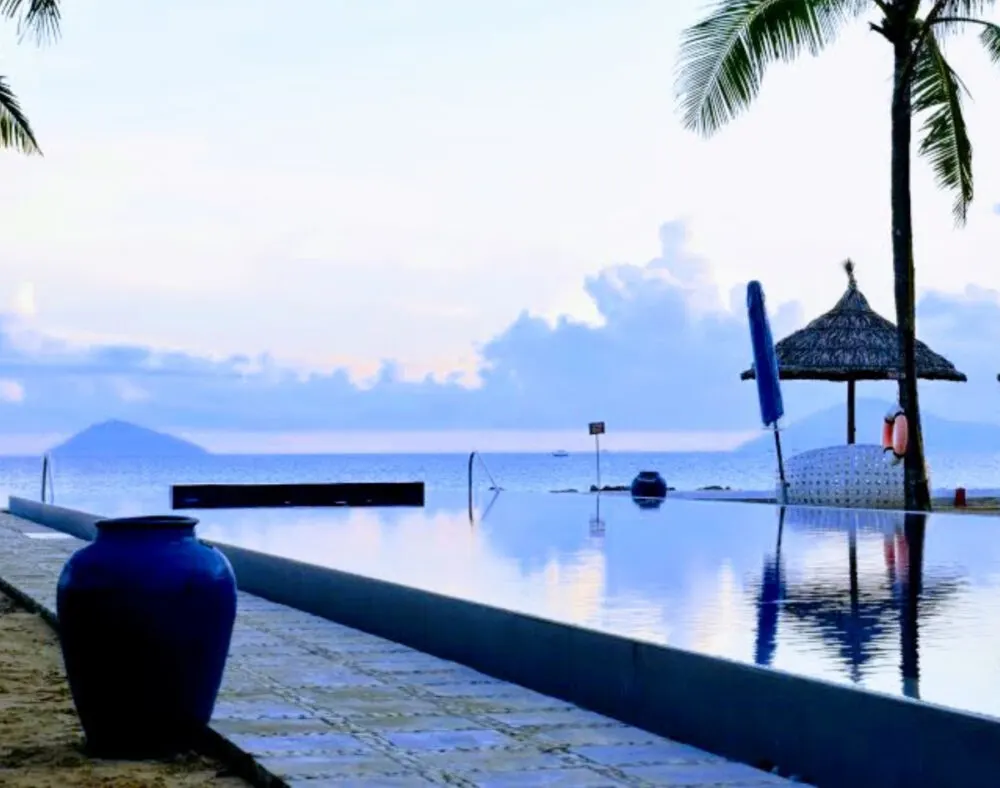 The best beach holiday or shorter stay destinations in Vietnam are usually listed as the following. In recent years Phu Quoc has become the place to go for beach-loving family travellers.
If you'd like to know how to get to Phu Quoc, we have that information here. Further down the page we give you links to recommended hotels suitable for families with kids. This link takes you to that paragraph.
Phu Quoc island in the Gulf of Thailand off the Cambodian coast.
Quy Nhon in Central Vietnam
Nha Trang in south central Vietnam.
Doc Let, about an hour from Nha Trang.
Hoi An. Hoi An offers rural perfection, the UNESCO listed Old Town, plus beaches, and even snorkelling off Cham Island (Bai Chong Beach)
Danang has the 1 Km long Thanh Bin Beach. The famous China Beach, My Khe, is here too. These two epic beaches form two sides of a sea-facing triangle with Danang city in the centre. Hoi An is easy to reach from Danang.
Cat Ba Island can be reached as part of your Halong Bay Cruise in the Hanoi are, North Vietnam.
The Con Dau archipelago of 16 islands in the south. These beaches are famous for fringing coral reefs.
Ho Coc Beach, near Saigon.
Mui Ne, again, near Saigon.
Ly Son Island Central Vietnam.
Cu Chi Tunnels with Kids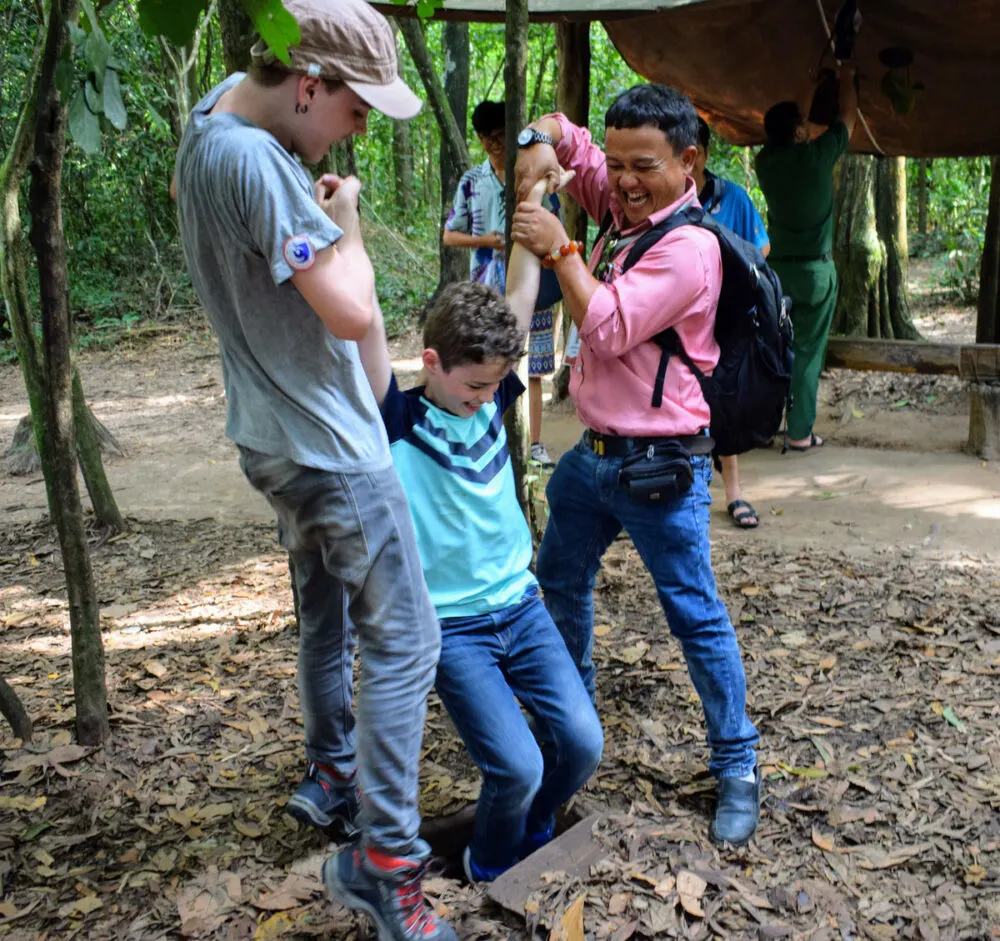 The world-famous Cu Chi tunnels are an easy day trip from Saigon and they're well worth slotting into your holiday itinerary. My kids were thrilled by the tunnels, as you can probably see above. On the day that we visited with the kids the shooting range was closed. In previous years we've been able to shoot some serious weaponry at targets here. Other than the obvious thrills, this is one of the most history-drenched and educational tours you can take in Vietnam. However, if you're visiting Central Vietnam rather than the south, check out a DMZ tour. There are more tunnels and history to explore along the 17th parallel.
The DMZ and Khe Sanh. Central Vietnam with Kids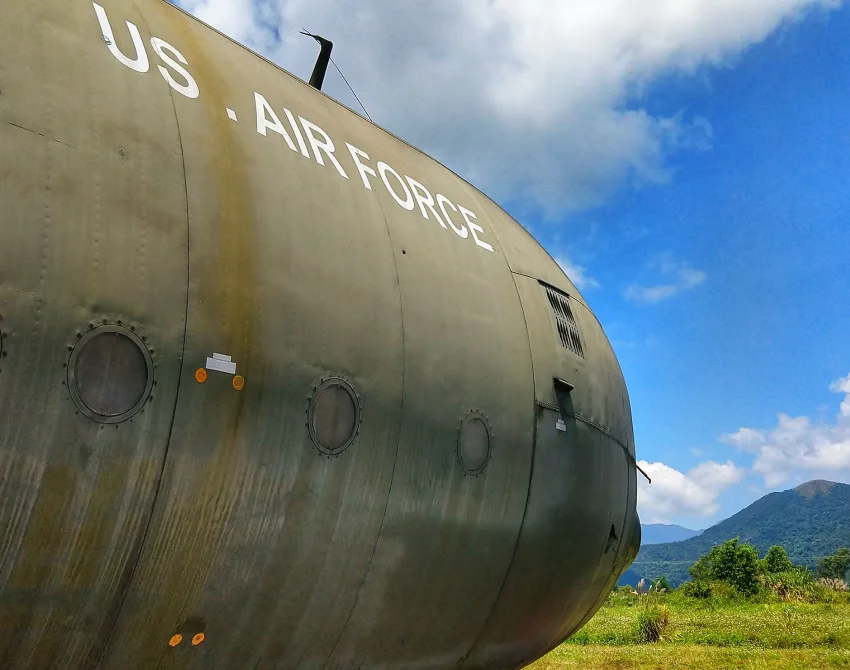 My teen son loved this tour, he was studying the Indochina wars for iGCSE history and this, along with the war memorials around Ho Chi Minh, is where to really learn.
Khe Sanh, which every Australian will have heard of because of the Australian anthem of the same name created by Jimmy Barnes, is usually on this tour.
You will also get to explore the DMZ, the border between north and south Vietnam. You'll be crossing the Ho Chi Minh trail and get a look at The Rock Pile.
There are also tunnels here and the tour, with museum, is impressive. Do check what your tour includes, because they vary. This is highly recommended by us, but there is a fair amount of mini-bus time and small kids would probably struggle.
We took this tour from Hue in the morning and were back at our hotel for dinner.
Saigon with Kids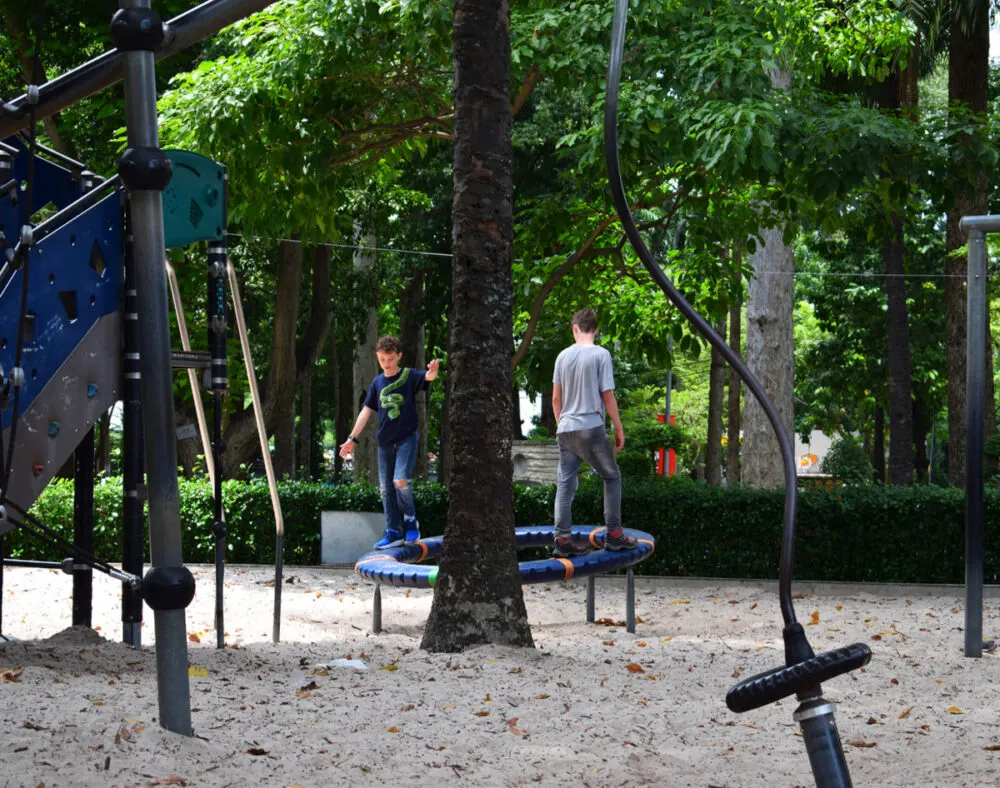 Saigon is a busy, bustling city but don't let that put you off, there are many rewards to spending a few days here.
Not only does Saigon have the only large kids' playground we've ever found in Vietnam (above), it allows you access to some of Vietnam's must-see places.
Ho Chi Minh City is the wider area, Saigon and HCMC coexist.
Cu Chi Tunnels, and a large Cao Dai Temple are nearby. In Saigon itself there are walking streets, markets and temples to explore.
If you arrive by air into Saigon, you can board a sleeper train here to head north, or diverge south to the Mekong Delta. We have a post on Saigon with Kids.
The Mekong Delta with Kids
The Mekong Delta is growing in popularity as a family destination. Here you can explore waterways, villages, floating markets, often by boat. Expect lush tropical vegetation and rural life.
Dragon Bridge and Da Nang with Kids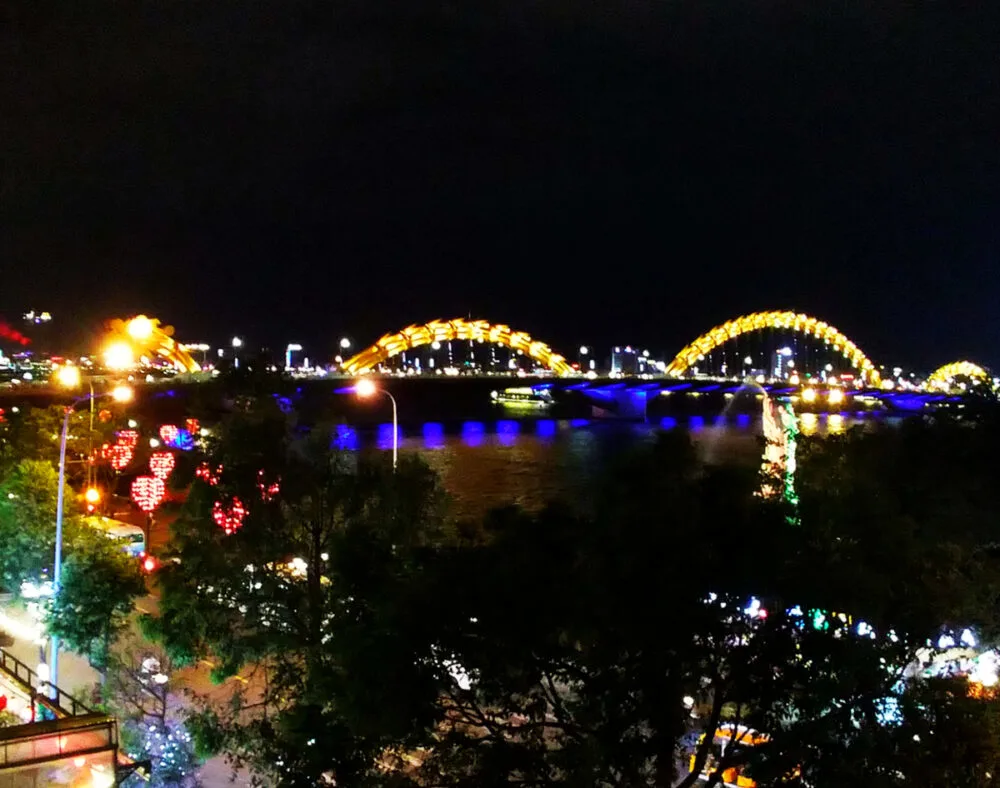 You'll see Dragon Bridge in Da Nang do its thing in our video. This is an almost guaranteed kid-pleaser and unlike anything, we've seen, anywhere in the world.
Danang has beautiful beaches and is an easy drive from Hoi An, so if you're staying in or around these two hugely popular destinations, make time to see Dragon Bridge breathe fire.
Da Nang also has not one, but two long sandy beaches to explore, one being the famous China Beach. If you're heading to Hoi An by rail or air you'll have to make your way there from Da Nang, it's under an hour by road.
Information on getting to Hoi An from Danang is here. In Danang you'll also find small, but modern shopping malls boasting movie theatres with movies in English and even an ice rink.
These are great retreats for families escaping the heat. We've watched many a movie in Danang.
From Danang you can easily visit Marble Mountain, Ba Na Hills, or any of the attractions we mention in our Hoi An with Kids post.
See The Biggest Caves in The World at Phong Nha with Kids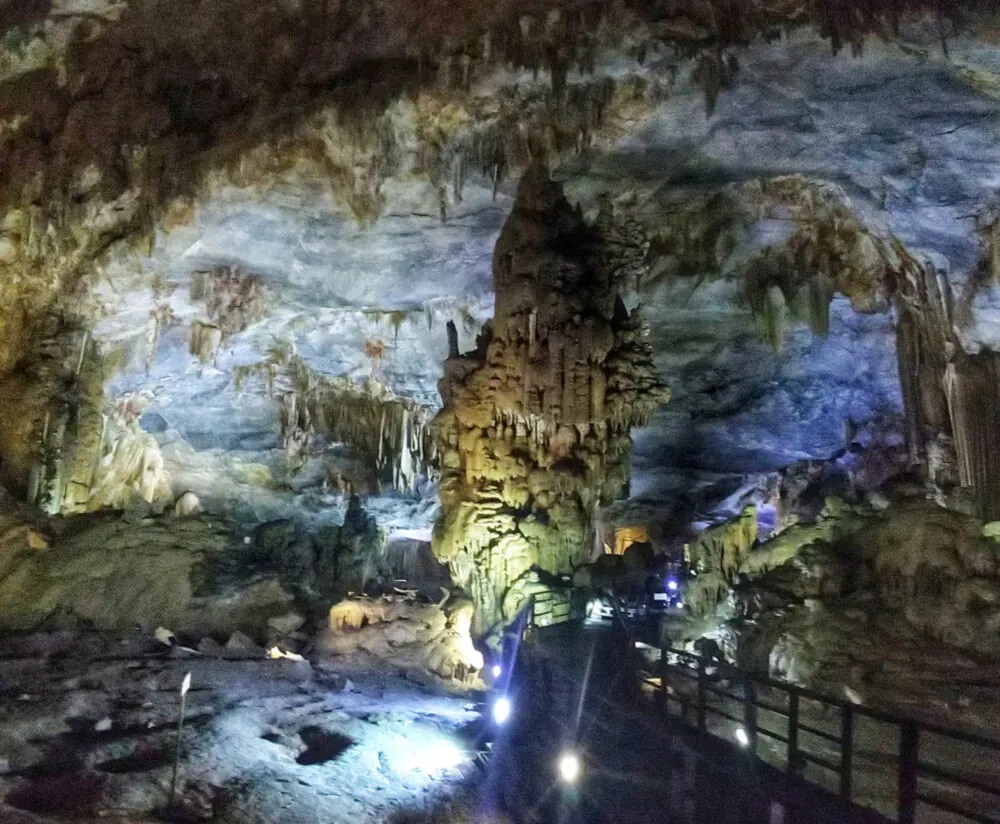 Not many people make it out to Phong Nha National Park and the incredible cave systems beneath the limestone mountains there. Phong Nha itself is a beautiful spot, fairly unspoiled by tourism. The biggest cave in the world, Son Doong is here, but it's unlikely you'll be able to see it.
Instead, visit one of a handful of somewhat smaller caves with infrastructure to make visiting easy. I took my son to Paradise Cave, pictured above. There is a lot of walking and steps, so this could be challenging with smaller children or toddlers. Other caves nearby offer zip lines and boating.
We got to Phong Nha by minibus taxi from Hue in Central Vietnam. You can book tours to these caves, I'll mention them in the tours section.
Historic Sites in Vietnam for Kids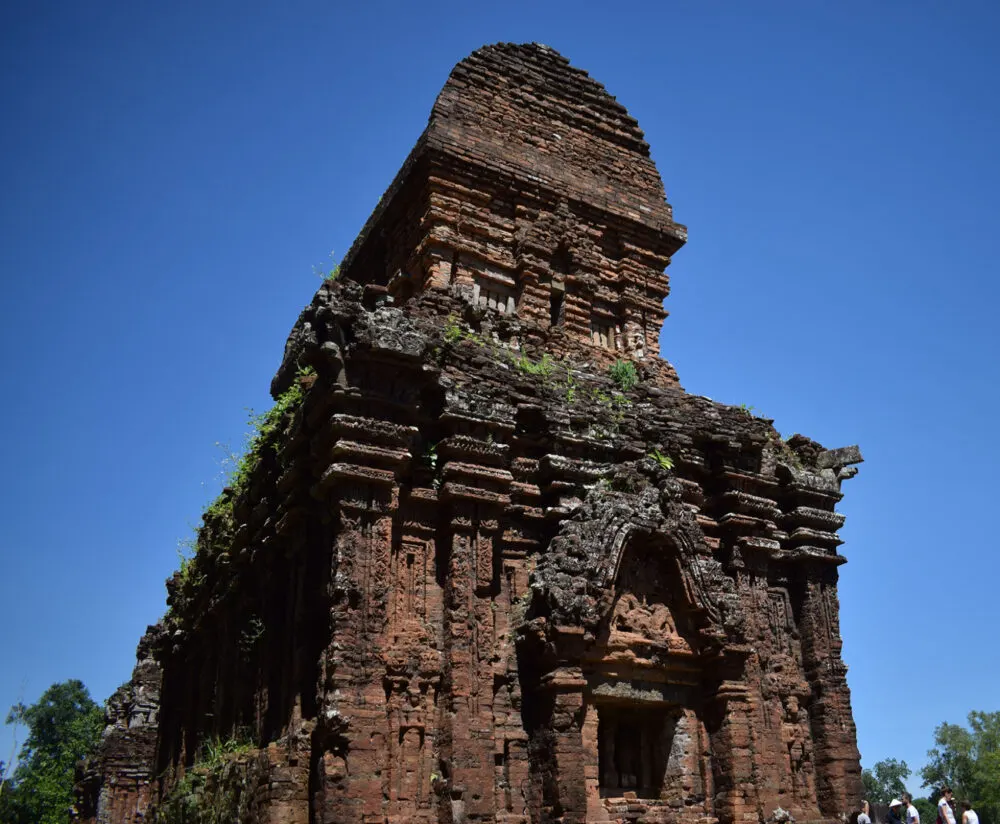 For those of you worldschooling history in Vietnam, your kids have much to learn here. Combining ancient and modern history, don't miss the sites related to the Indochina wars, French occupation, Ho Chi Minh himself in Hanoi, Cu Chi Tunnels, Vinh Moc tunnels, the Ho Chi Minh Trail, The DMZ and Khe Sanh, and the War Museums.
Some of these experiences will be too harrowing for sensitive or young kids, but there's nothing here (we think) as upsetting as Cambodia. For ancient sites don't miss My Son, for Cham history. You can find more about this in our Hoi An with kids post.
Of course, other than history, be sure to find out about Vietnamese culture, cuisine, agriculture, geography, peoples and religions. We "worldschooled" our kids for most of their childhoods, from 6 to 15 years old. Educational travel is one of our passions.
Music and Dance in Vietnam with Kids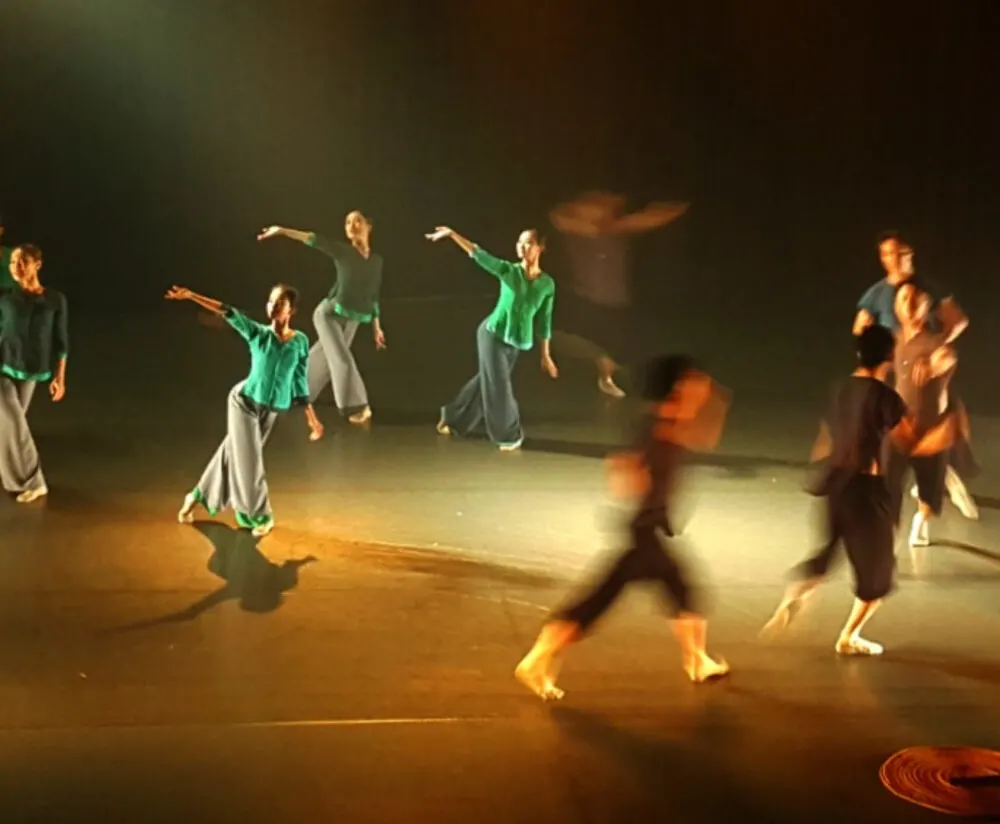 If your child is interested in music and dance you may be lucky enough to catch a Lune performance. These can normally be found in Saigon, Hanoi, and Hoi An. Visually spectacular, a mesmerising blend of traditional and modern, featuring acromatics, music, and dance. We really enjoyed the Lune show that I tool my younger child (a tween) to. Kids with ants-in-their-pants might not be so keen.
Vietnam Vacation With Kids – Planning
What steps should you take in planning a Vietnam family vacation or tour of Vietnam with kids? First, check which parts of Vietnam are open and consider which parts of Vietnam you'd like to enjoy. Discover how much time you can spend in Vietnam. Will you have time to travel the full length of Vietnam, from south to north or north to south? If so you'll probably need at least a 1-month visa.
If you'd simply like a 2-week relaxation break, you should be OK with a visa on arrival. To see a lot in a short time, consider a Vietnam family tour, these can really take the stress out of travel.
Use the information on this page and read our Vietnam travel guide to determine where you'd like to go.
Next book your flights, use Skyscanner to determine your best dates and routes for travel. Look at the weather conditions in the part of Vietnam you'd like to visit on your proposed dates. Next look into booking visas and accommodation. You should take out family travel insurance and make sure all vaccination and health requirements are met.
Booking your accommodation in Vietnam should be easy, use Agoda or Booking dot com. We provide links in the next chapter for booking activities and short tours, even transfers, within Vietnam. 12Go Asia is a good site for booking transport by bus or train within Vietnam.
Pack your travel essentials and off you go!
Tours and Activities To Book In Vietnam, Kid-Friendly.
Our chart contains links that will take you to pages showing the huge variety of tours and activities available in and near these places inVietnam. They serve as a great way to plan your itinerary, and, of course, you can book these tours if you choose to. We've taken these tours with our kids many times and like this company a lot. Not every tour will allow kids, but most tours will be fine in Vietnam with kids.
Vietnam With Kids, Best Family-Friendly Resort Hotels
We give you some family and child-friendly resorts, hostels and other accommodation types in Vietnam below. A "homestay" in Vietnam can be a room in a family home or a boutique hotel.
Vietnam with Kids – Food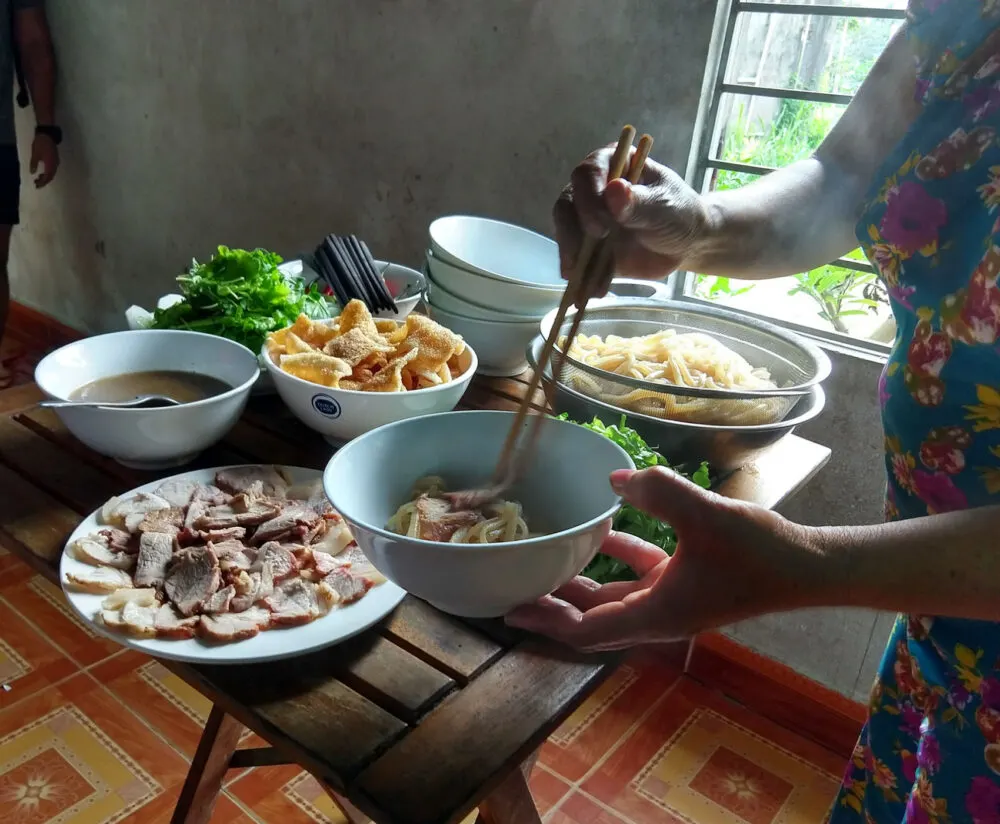 Vietnamese food is some of the best in the world and if you find the right places, it can be incredibly cheap and authentic. We regularly dined for $1 per plate for delicious street food such as mi quang, pho, bun bo Hue, and cau lau. This kind of streetfood involves sitting on a tiny plastic stool at a table. This isn't so much grab-and-go food.
My kids favourite dishes, that they'd like to recommend to your family, are banh xeo (pancakes), cau lau, mi quang, and, of course, pho. We have been able to find vegetarian and vegan Vietnamese dishes very easily.
If your kids aren't keen on Vietnamese food you'll find burger chains, western coffee shops, bakeries, pizzas, and most stand-by child pleasers fairly easily. Outside large towns you may find Greek or Mexican speciality restaurants, fried fish and French fries, and, of course, there are banh mi, baguettes, filled. Watch out for surprise fillings in these for kids.
We haven't, as yet, created a complete guide to eating in Vietnam, but we have food, restaurant, and markets in Hoi An, absolutely covered for you.
There are regional food variations as you travel from north to south, so if you're travelling the length of the country expect to see changes, mostly related to climate and history.
Consider taking a food tour, these are often great fun with older kids, tweens, and teens. See the tours section of this page.
Other Places and Things to See or Do in Vietnam With Kids
Obviously, we can't fit everything and everywhere in Vietnam into one post on Vietnam with kids, but we've done our best. If you'd like to ask about anywhere else, go ahead and ask in the comments, or check out our related posts. What you need may be there. We love Vietnam and we've spent months and months touring the country, trying to see everything we can. There are more places to do, more places to see, but most of the travellers' favourites are in this post.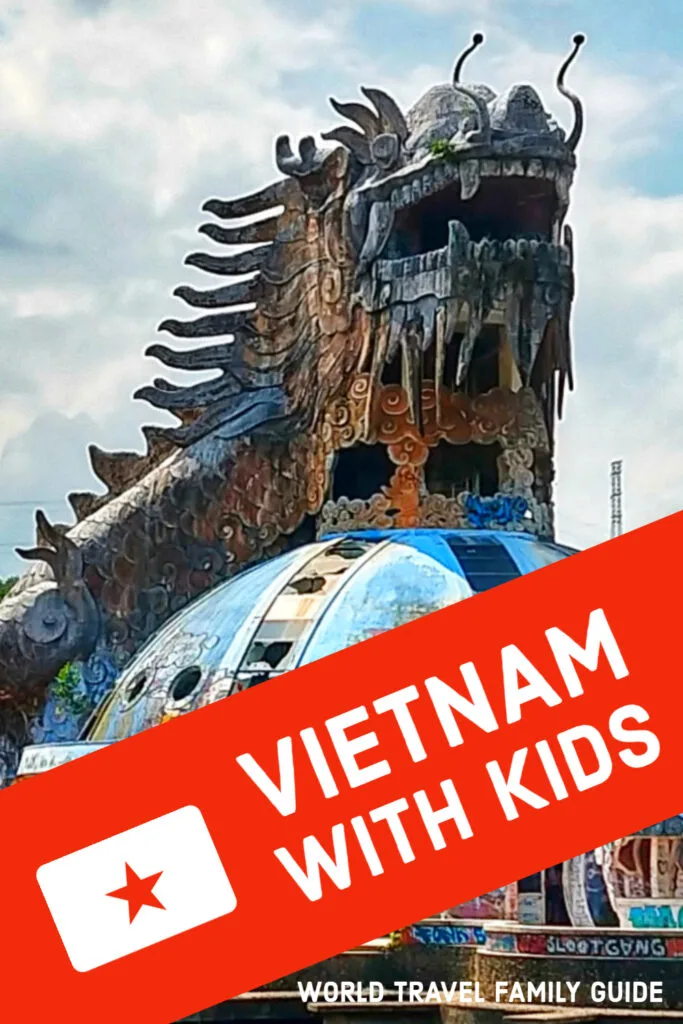 ---
More Vietnam information for families on our site.
---
Vietnam with Kids – Conclusion
Vietnam is great for a short two-week vacation or for a longer visit. Most people include Vietnam in their gap year plans, be they families, couplejis, or singles. That's how we first saw Vietnam, over twenty years ago, and we've been going back ever since. We go back to Vietnam to shop, to get haircuts, to eat, and to find new things. It's honestly a great destination and we've always felt very safe there. We did have one card skimming event. It happened in a five-star hotel, so keep a close eye on your cards. Be safe, enjoy Vietnam, show your kids something different. Don't forget to save to Pinterest!
If you'd like to hire a car during your stay, use this car rental comparison tool to find the best deal!

We also suggest you take a look at this company to get a quote for all kinds of the more tricky adventure or extended travel insurance.

Try Stayz / VRBO for an alternative way to find rentals on homes/apartments/condos in any country!