This post may contain affiliate links.
This post is about Vietnam travel tips for both the seasoned traveler, first-timers or 2-week holiday-makers. Vietnam is a very popular travel destination in Southeast Asia, for tourists, travellers and holiday makers. Whether you'll be travelling the full length of Vietnam, or spending 2 weeks on a beach, read our Vietnam travel tips and know about a few scams to avoid in Vietnam.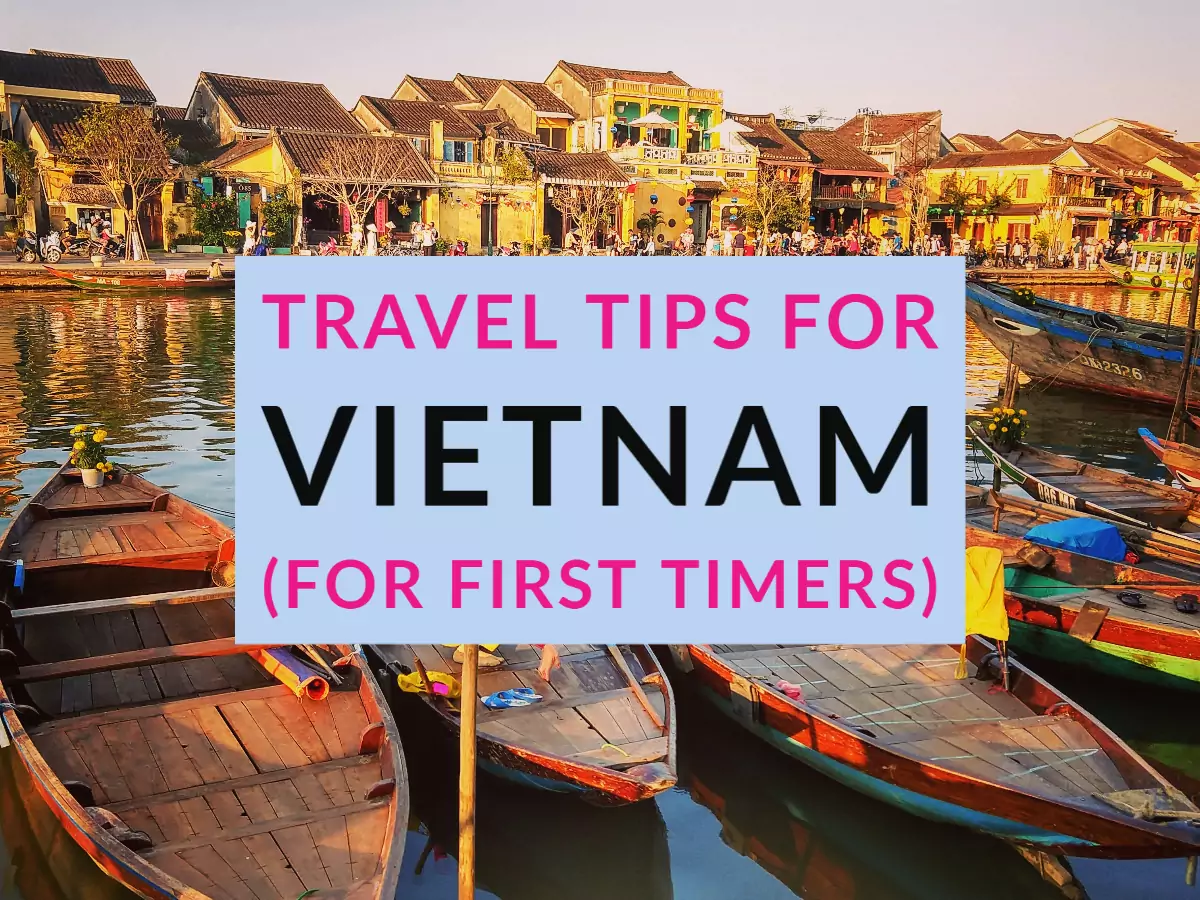 Like any travel destination, you should do your research before you arrive in Vietnam. This allows you to get the best experiences and avoid the pitfalls of a new and unfamiliar destination.
Reading these essential Vietnam travel tips before you go will help you make the most of your time in Vietnam, regardless of the length of your stay.
Visas for Vietnam can be tricky. This site will handle your visa application for you.
Vietnam Travel Tips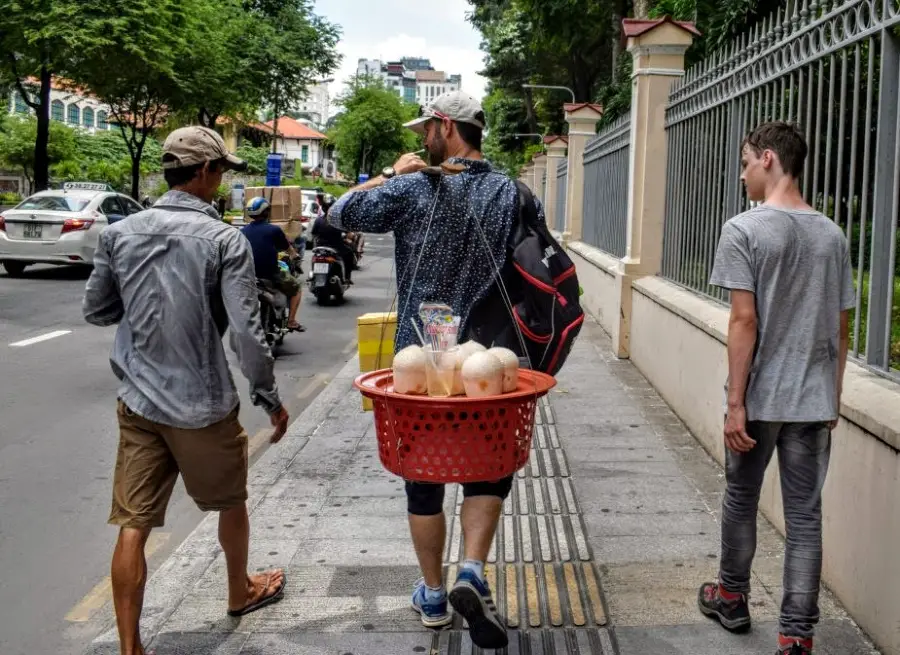 Scams to Avoid in Vietnam
As with any country, there are scams to be mindful of in Vietnam. Being new to the country you're probably at the most risk, but that said, I don't think there are any more scams in Vietnam than anywhere else.
Taxi scams are commonplace across Asia and unfortunately, Vietnam also suffers its fair share of problems.
The most obvious Vietnamese taxi scam is going the long way to your destination. Especially to and from airports late at night or early in the morning after long haul flights.
A great tip is to have an offline map (if you don't have a local sim) opened on your lap with the start and finish points. Normally this is enough to stop any 'sightseeing' drives.
Photos on that buffalo or with that basket of fruit on a bamboo pole are commonplace and mostly harmless.
Just realise they won't be free and either you'll need to buy some fruit or pay some money to get down off the buffalo.
Failure to do that will cause a scene which will draw a lot of unwanted attention towards you and few bystanders will be on your side.
With that in mind make sure you're clear about what you want and how much you're willing to pay. I find the best way with the fruit sellers is to buy the fruit first and then photo second.
That way everyone is happy and there are no surprises.
Money switching is something to watch out for across various industries although taxis and street vendors will be the most likely place this can happen.
The biggest one is swapping a 50000 dong note for a 20000 as they are both blue. Of course, if you question this they may put up a loud and aggressive argument.
It is best to have either the right money or small denominations.
Travel companies are another one to watch for. There are some great companies in Vietnam who do a brilliant job. What happens is unscrupulous people latch onto their success by starting companies with similar-sounding or similarly spelled names and then proceed to offer the earth and deliver nothing but dirt.
Open-ended bus tickets can be another problem. Less of a scam and more of an annoyance.
You pay top dollar in either Ho Chi Minh or Hanoi for north-south or vice versa ticket that allow stops at popular tourist areas.
Simply book again at that place for the next bus coming through. What can happen as the further away you get from your departure the worse the state of the buses becomes.
You'll have the ticket honoured and a bus will be there but gone will be the VIP bus and suddenly you find yourself on an old slow bus. Clearly you're not going to head back 1700 km to complain.
The best bet is to ask fellow travellers that have just been on the journey to recommend a company.
Must-See Things in Vietnam
Vietnam has so many things to see you'll find a month will be the minimum time needed to even scratch the surface. 2 or 3 weeks trips are great but you'll have to either travel fast or miss out on a few destinations.
My top tips for places to see isn't an exhaustive list but a list of things I've loved seeing on my many trips to Vietnam. Vietnam also has a big mix of nature, urban and man-made attractions worth seeing so there is plenty for everyone.
Ho Chi Minh City (formally known as Saigon), A busy vibrant city in Southern Vietnam. Most people will either enter or exit Vietnam here. Museum on the 'American' war is one of the big drawcards. Not suitable for young children.
Khao Dai Temple and Chu Chi Tunnels, Located about 2 hours drive west of Ho Chi Minh city. Here you have both the tunnels that the Vietcong used to harass and attack the US soldiers and the beautiful and intriguing Khao Dai temple which has to be seen to be believed.
Phu Quoc Island, an island paradise located off the southern tip of Vietnam. Less than an hour's flight time from Ho Chi Minh or a solid 6 hour bus ride and 90 minute ferry ride. Direct flights are also possible from Bangkok and Cambodia.
Hoi An and Danang. UNESCO listed Hoi An is a beautiful town located on the Thu Bon river. Filled with lots of old Chinese shop houses it is almost the same as it was 100 years ago, give or take the tourists. This is my favourite part of Vietnam. Danang is a modern city located about 25km north. It is in Danang you'll find the international airport and railway station. My Son is also a short day trip away from here. Famous for its Champa ruins. Book a tour here.
Dalat, Located in the hills of Vietnam. It was colonised by the French to escape the heat and at 1500 m above sea level and built on the shores of a lake you can see why. If you like nature this is a great place to spend a few days.
Hue, the old capital of Vietnam. This was the seat of the Nguyen Dynasty and the seat of government from 1802 to 1945. You can still see the citadel and other historical buildings such as the imperial palace.
Phong Nha-Ke Bang National Park, contains one of the world's largest caves and is a stunningly beautiful, unspoiled area. Only recently discovered, the size of these caves defy belief.
Sapa is a hillside retreat that has grown in popularity in the last few decades. A great opportunity to explore the northern areas of Vietnam and see the hill tribes of this region.
Hanoi, The capital of modern Vietnam. It is here you'll see the embalmed body of Ho Chi Minh himself.
Ha Long Bay, A beautiful bay located on the coast from Hanoi. Massive limestone islands rise up from the floor of the bay creating a magnificent landscape.
Vietnam Travel Tips: Transport And Getting Around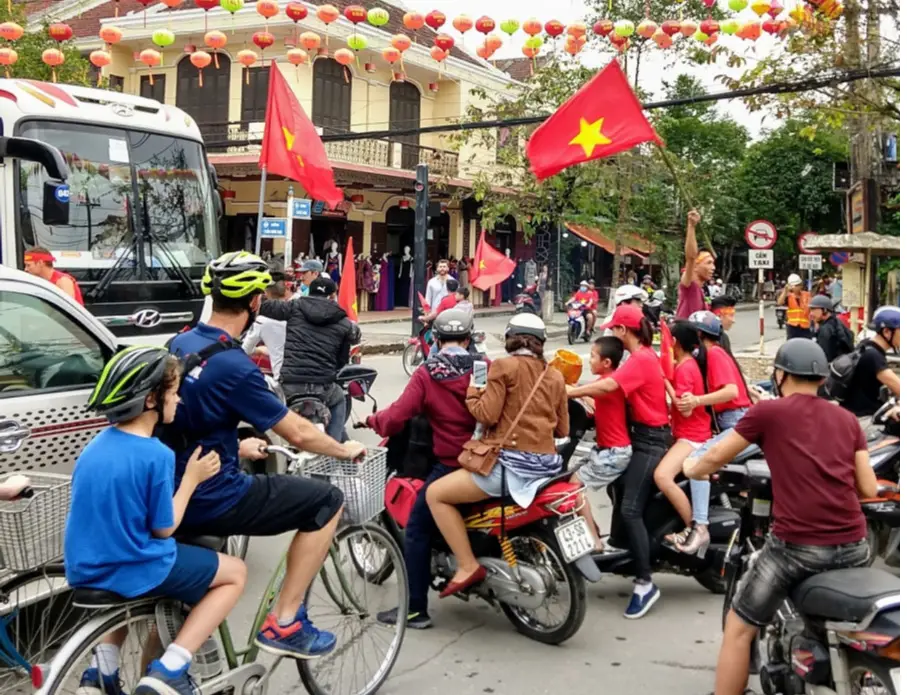 Vietnam is a long narrow country that extends along the coast from top to bottom. Most travellers will arrive in the north and travel south or arrive in the south and travel north.
You have three main options when travelling in Vietnam. Train, road or flying. Each has there pros and cons and I'll briefly touch on that below.
I'll just tell you up-front here, if you're thinking of hiring a bicycle in Vietnam, bring your own helmet from home. I'm a triathlete and finding a genuine, safe, cycle helmet in Vietnam was hard. If you're visiting Vietnam with kids, most certainly do this and don't take risks with kids and scooters. However dangerous, the roads aren't quite as dangerous as they look and driving is very respectful of cyclists. I felt safer here on my road bike than in Australia.
Often you'll use a mix of the above and if you go off the coast to Ha Long Bay in the north or Phu Quoc Island in the south you may end up using ferries. Read about getting to Phu Quoc and special visa arrangements for this beautiful island here.
Vietnamese Train Travel
Vietnam's train system isn't as cheap as in other SE Asian countries but it is a brilliant way of covering longer distances. Some of the views, especially just north of Danang are some of the best anywhere you'll find as rail tracks wind along unspoiled beaches and through rice fields and villages.
Train services cover from Ho Chi Minh in the south all the way to Hanoi in the north with a further two lines heading to China. One via Sapa and one via the more direct route at Dong Dang.
Train categories range from seated to a sleeper for longer journies. There are also special, more luxurious trains that cover certain sections such as Hanoi to Sapa.
You can book train tickets online and pay securely before departure. Simply print out your e-ticket and board the train as normal.
It is 1726 km between Ho Chi Minh and Hanoi and the train journey will take between 33-36 hours. A sleeper berth in a 4 seat compartment will cost approximately $90 US one way per person. There are 4 trains a day but book early as they fill up quickly especially during holiday periods like Tet. Read about our train journey from Ho Chi Minh to Danang here.
Vietnamese Road Travel
For short journies going by road is essential. South of Ho Chi Minh there isn't a railway and the distances don't warrant flying.
Buses are frequent and cheap as is hiring a personal driver and car which is commonplace when exploring areas of Vietnam.
Vietnam Bus Travel
Sleeper buses ( semi-sleeper or semi-recliner) are big in Vietnam and you'll find them anywhere from North to South. You might struggle if you're over six foot and chunky but anyone under that should find them pretty comfortable. Just note that they don't have a lot of room for bags. Shoes are generally not allowed on-board.
While your backpack or suitcase would go underneath the bus, if you have a largish day pack you may struggle on the narrow seats.
An open bus ticket, which allows you to get on and off at certain destinations and then rejoin at a later date can cost from $50 US. Be careful with these tickets though as they have been known to drop the standard of the bus the further you travel from your departure point. Ask around and speak to other travellers if possible before booking.
Private Hire Vehicles and Driver
Hiring a personal driver and car is another option for short to medium distance travel and if there are 3 or 4 of you they can work out to be an affordable alternative. Most hotels will be able to arrange this sort of travel and benefits include being able to stop when you want to and leaving directly from your hotel at a time to suit you.
Make sure you specify what is and isn't included and if stops are possible etc. It's essential everyone knows what is expected before you start driving. Most Vietnamese have a great level of English but things can get lost in translation.
Air Travel in Vietnam
Vietnam has a well serviced and connected domestic and international air service that caters to both low-cost and full-service carriers. Vietjet is Vietnam's premier lowcost airline and boasts a 7-star safety rating which is the highest there is.
Vietnam Airlines is the national full-service carrier and offers a range of flights internationally and domestically. Air Asia and Jetstar are two other low-cost airlines that offers flights. Look here to see what flights are available for your travels.
Places to Stay in Vietnam
Vietnam has accommodation to suit all budgets and needs. A quick look across any of the booking engines will show everything from homestays to hostels and 5-star full-service resorts. The bigger the destination the bigger the range of accommodation. In both Ho Chi Minh and Hanoi you'll have all the big name hotels plus a swath of smaller places.
One thing to note is often a small boutique hotel will be advertised as a homestay which might put a lot of people off. A homestay can be a hostel, guest house or hotel. It may even be a genuine homestay.
Check out the property properly and you'll more often than not find out it is a well-serviced boutique hotel comparable to any others across the world. This is my pick on the type of hotel to stay in. Rarely would we use anything other than this type.
Accommodation prices are very competitive in Vietnam and if you're outside the peak seasons you can get a really great deal in luxury properties for a fraction of the cost you'd pay elsewhere in Asia.
Great homestays can start from as little as $12 US per room per night and even include breakfast. During the high season, some of the big beach resorts can charge upwards of $200 US per night though, so it pays to shop around.
Vietnamese Visa Tips
The easiest visa for Vietnam is the 15-day exemption stamp but that isn't available to that many countries, unfortunately. If you're staying long or can't get the exemption, either a 1-month or 3-month visa with either single or multi-entry is your next option.
You can now get a 30-day E-visa online which is (at time of writing) only $25 and avoids the need to use a third-party or to line up and sort out a visa on arrival. This is still at the trial stage so it may not work for your country.
I've written a detailed post on Vietnamese visas here which has much more information.
Best Food to Try in Vietnam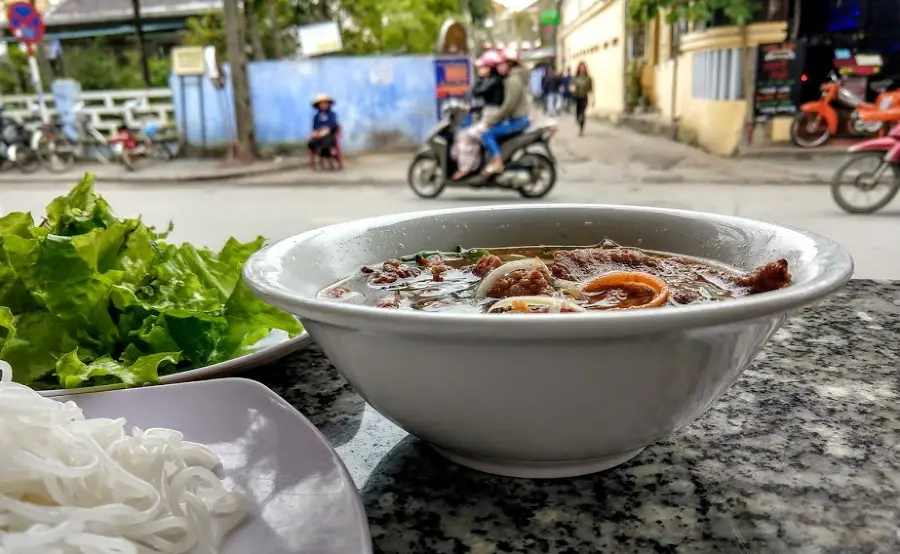 Vietnamese food is well known the world over. The most famous of the Vietnamese dishes must be Pho Bo, which translates roughly as beef noodle soup. There are a few varieties such as Pho Ga which is with chicken and Pho Ca which is with fish.
The north is where Pho originated, coming from French soups and stews given Vietnamese flair. Pho Ha Noi is the original and one that you'll normally only find in North Vietnam.
Other notable dishes to try in Vietnam are Cau Lau, Mi Quang, Banh Xeo, Bun Bo Hue and Banh Mi, the street corner favourite found throughout Vietnam. Banh Mi is basically a filled small baguette, another French hangover.
Food can be very specific to regions of Vietnam and you won't find the same food across the whole country. You'll also find as you travel north or south that the same dish will be tweaked and changed for the area's produce. More herbs and fresh vegetables in southern Vietnam for instance.
Vietnam Travel Tips for Finding Great Food
A great Vietnam travel tip for getting the nicest food is to simply eat local. Nothing fancy. Look where the locals go.
Often floors around street food stalls and simple restaurants will be strewn with discarded items, this is a sign of a good place to eat. Don't let it put you off. Our local Pho restaurant was absolutely packed with locals and the floor was a mess by the end of service. Their Pho was one of the best we'd eaten in Vietnam and in 6 months eating there not one of us ever got sick.
Another tip is to sample the local specialty foods as you pass through Vietnam. Those Vietnamese dishes that are unique to an area will be the best dishes you could find. Hoi An is, in my opinion, the center of Vietnamese food (and also geographically) and has an abundance of dishes that are unique to Quang Nam province and the town itself. It also produces the main Vietnamese staples incredibly well.
In small restaurants and at street food stalls always ask the price first. It's perfectly possible to eat an amazing meal for under $1 in Vietnam. But a fool and his money are soon parted and if the vendor doesn't like you the price goes up. Be nice and check the price first. I have to say that certain nationalities do better than others in getting the best prices in Vietnam. It was something our Vietnamese friends were very open about. Don't expect fixed prices.
I've written a separate post on Vietnamese food.
What is Illegal in Vietnam
All the usual things are illegal in Vietnam. Drugs and their distribution, underage drinking, gambling, pornography, prostitution and more are not worth getting involved with. Be careful to respect the country and its symbols and always follow the rules. If it says no photography, don't try your luck.
There are more and more Casinos opening in Vietnam (in huge numbers around Danang) so foreigners can presumably get away with gambling where the Vietnamese can't.
If you have potentially illegal things on your mind, check. Check properly. You don't want to get locked up. We had the police knocking on our door checking visas more than once. We produced the right papers and they were full of smiles and welcomes.
Also think long and hard about bringing your drone into Vietnam.
A few friends of ours had their drones removed from them in Danang. This was possibly linked to the APEC summit nearby. Check for current updates on drone laws in Vietnam on forums such as this one.
What to Wear in Vietnam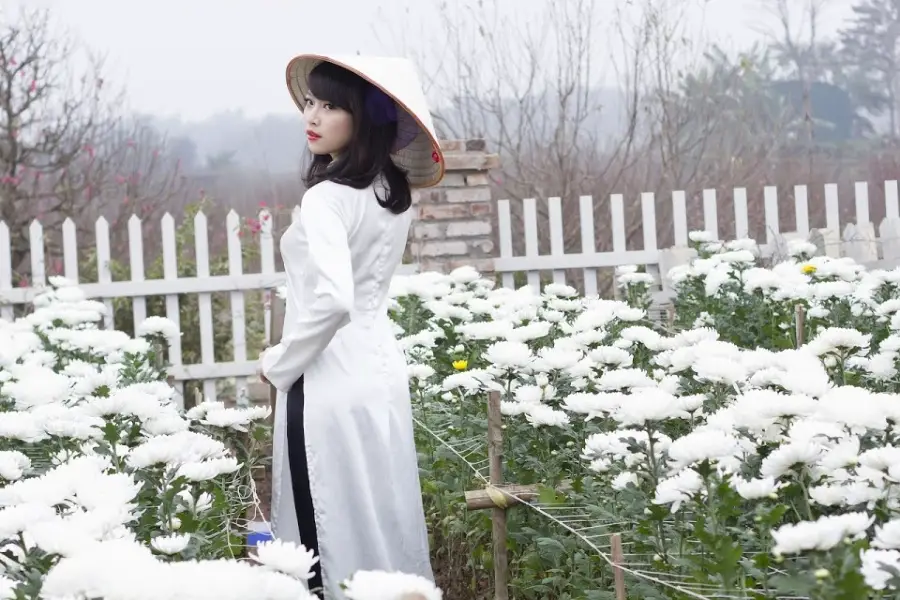 You won't raise many eyebrows in normal western clothing in Vietnam. Locals seem to live in skinny jeans and western T-shirts and tops. Seeing women in the traditional Ao Dai is much rarer now than it was when we first visited 20 years ago.
Recently we chatted to Vietnamese students in Hue. They had worn ao dais as uniform in school and were very relieved that they could now wear whatever they chose.
Ao dais are beautiful but hot and tight-fitting.
For visiting temples, shrines, holy places, tombs and anywhere requiring respect you should dress modestly. Cover arms, legs and any immodest parts, also remove your hat.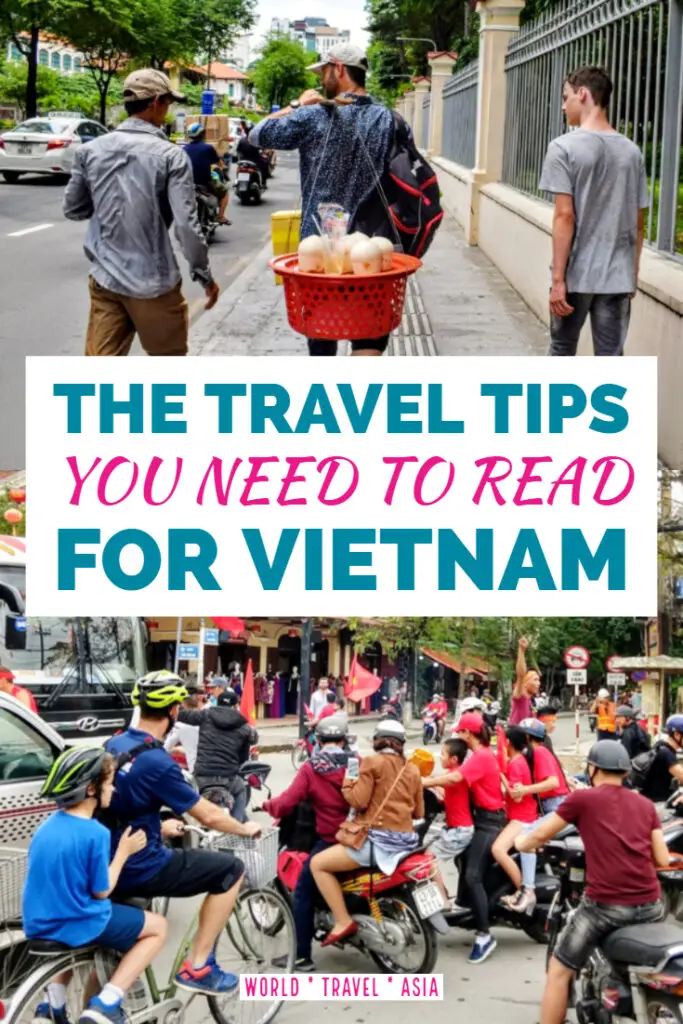 I hope you find my Vietnam travel tips useful. Vietnam is quite possibly my favourite country and Vietnamese food is certainly in my top two cuisines. Is it better than Thai? Maybe. We love Vietnam, we've lived there and we go back often. Enjoy your time in Vietnam.
If you'd like to hire a car during your stay, use this car rental comparison tool to find the best deal!

We also suggest you take a look at this company to get a quote for all kinds of the more tricky adventure or extended travel insurance.

Try Stayz / VRBO for an alternative way to find rentals on homes/apartments/condos in any country!