This post may contain affiliate links.
Our big, number 1 thing to do in Saigon Vietnam is the Cu Chi Tunnels tour and Cao Dai temple visit as a 1 day tour from Ho Chi Minh City. This post covers the best way to get to the Cu Chi tunnels, take a tour of the tunnels, and visit a Cao Dai Temple on the way. This is a full-day tour but half-day tours, visiting just the Cu Chi Tunnels also exist from Saigon. The best way to book these tours, we think, is to use the buttons below which will take you to the booking site of the company we used. The rest of our post is about this day trip from Saigon, and what it's like to visit the Cu Chi Tunnels, with photos and video.
Book a full-day private tour to Cu Chi here.
Book a half day Cu Chi Tour here.
The group tour is obviously the cheapest way to do it. It's also possible to combine Cu Chi with a Mekong Delta tour from Ho Ch Minh, for that option, you need this link.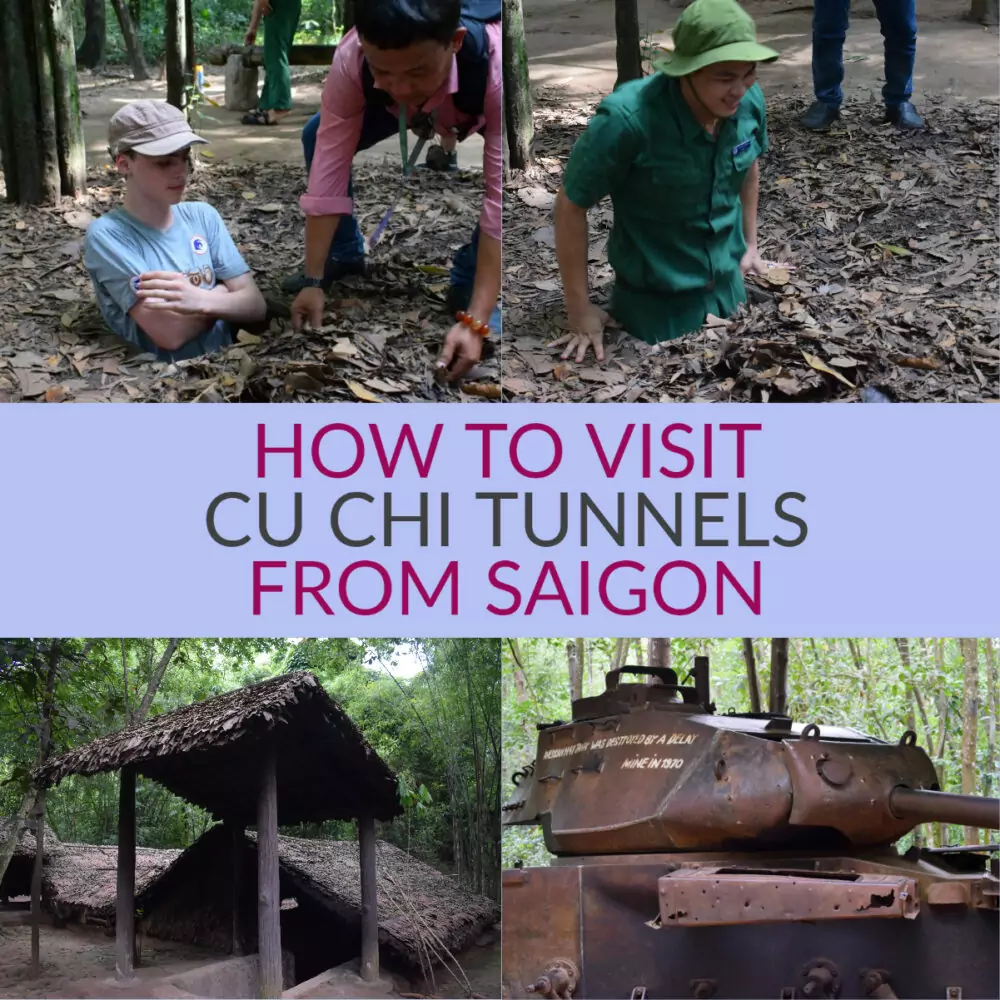 We took this tour as young backpackers many years ago, it was so good we did it again with the kids. It was a stand-out day from our first RTW and we knew the kids would get a lot from it. I wasn't going to let them fire an AK47 at the Cu Chi shooting range as I did back then, but still, I knew this tour would be fantastic for kids, they'd have fun and learn a lot.
So here's our review of our Cu Chi Tunnels Tour plus Cao Dai Temple, we decided to book this tour through Get Your Guide, for simplicity and reliability. You can read why we choose to use Get Your Guide often, here.
If you want more information on travel in Vietnam, our full Vietnam travel blog and guide is now ready for you.
Video of Our Day at Cu Chi Tunnels and Cao Dai Temple Tour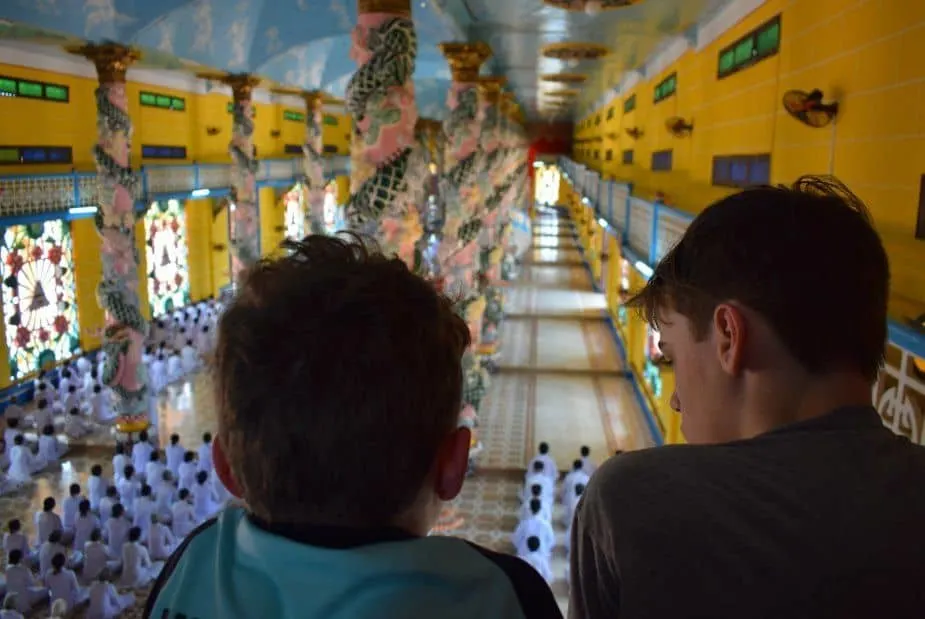 Visitors can choose to visit these two attractions singly, shorter tours are available. Cu Chi Tunnels is easy to visit as a half day tour but the Cao Dai Temple really has to be visited for the noon ceremony. It's a fair way and we did spend quite some time on the mini bus. There was air-con and there was free wi-fi along with commentary and great information from our tour guide.
We chose to book through Get Your Guide for no hassle, everything included, a guaranteed date and their best price guarantee. These tours can also be arranged through any local travel agent, be sure to shop around and bargain over price and what's included.
Cu Chi Tunnels Tour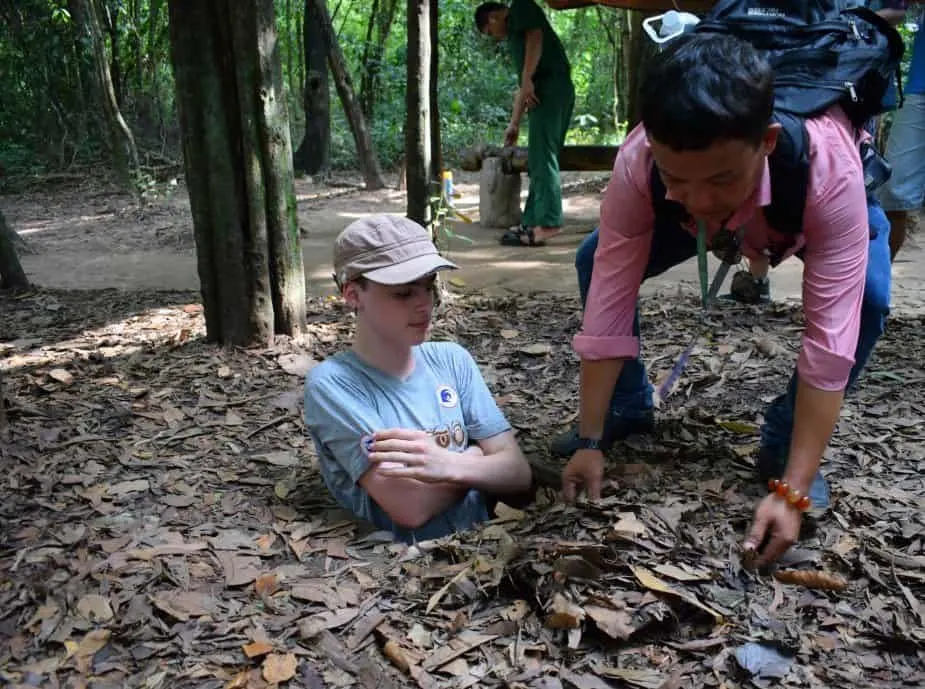 The Cu Chi tunnels are part of an immense network of underground tunnels, hiding places, supply routes, living quarters and more to be found in Vietnam. Cu Chi District is part of Ho Chi Minh City.
You will learn how the tunnels were constructed, how they were used and what life was like for the Vietnamese during the war. The first time we visited, back in 1999, there were two actual tunnel sections open to tourists. One was an enlarged "Western-sized" tunnel, the second was an actual Vietnamese-sized tunnel.
On our visit in 2017 we were only invited to enter one tunnel segment, some enlarged, some fairly tight. You will also see a selection of weapons and traps and discover how the Vietnamese fighters cooked without detection, made their famous sandals, what they ate and what they wore.
The Cu Chi Tunnels Shooting Range
During our tour in 1999 we paid $1 per bullet to fire an AK47 at targets. It was live ammunition, stored in a battered old desk drawer and it was a lot of dangerous fun. For the record, I almost broke my jaw with the recoil but still loved the experience. During our 2017 tour this shooting range was shut. There was no mention of the shooting range in our Get Your Guide itinerary, but others on our bus had booked thinking they'd get the chance to fire guns. I was glad it was shut, telling small boys they can't fire AK47 s wasn't something I was looking forward to. The shooting range is still there and I saw signs advertising paintball so maybe it's been re-purposed.
Cao Dai Temple

The Cao Dai religion ( Caodaism ) is unique to southern Vietnam and was established in 1926, this temple was built by the French around that time. It's something completely different and rather mysterious. The Cao Dai pantheon of Holy people or saints and sages includes: Buddha, Jesus, Joan of Arc, Muhammad, Julius Caesar and Victor Hugo.
The women chanting in the video above are actually reciting the Bible but it's almost impossible to decipher with their accents. Cao Dai blends Buddhism, Christianity, Taoism, Confucianism and Islam and the holy books of the faith have to be kept in the US because of government mistrust. It is the 3rd largest religion in Vietnam and the temple you will visit is absolutely stunning.
Additional Visit, Craft Facility for the Disabled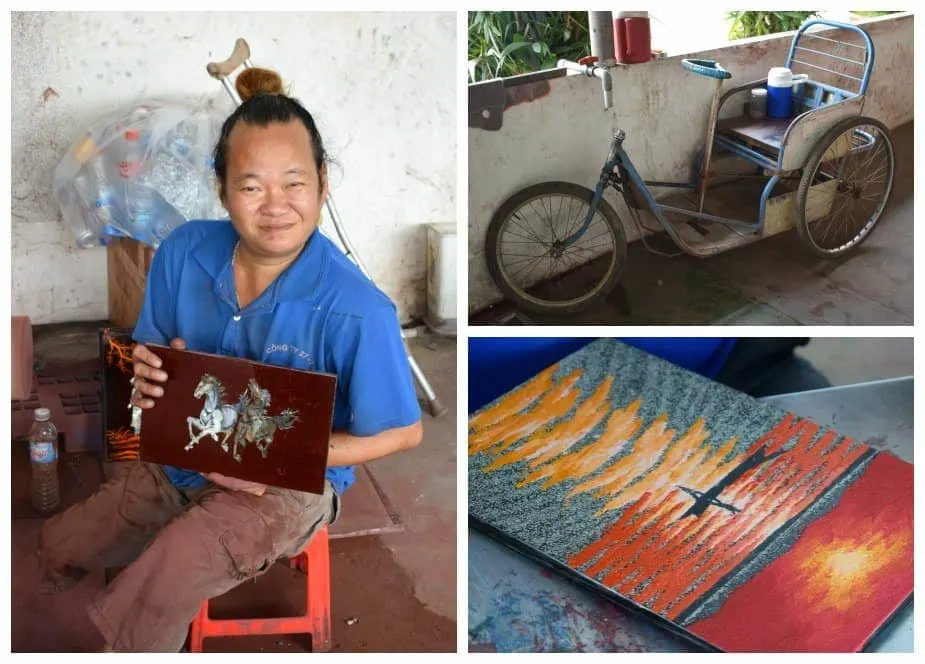 This stop wasn't included in our stated itinerary and was a ploy to get us to buy, but we enjoyed it. The techniques the artists and craftspeople used to turn crushed duck eggs and sea shells into lacquered art works were interesting to watch and it was another reminder of the raised incidence of disability in Vietnam, still, after Agent Orange. We saw the tour as an added bonus and there was no hard sell.
Cu Chi Tunnels, An Educational Tour for Kids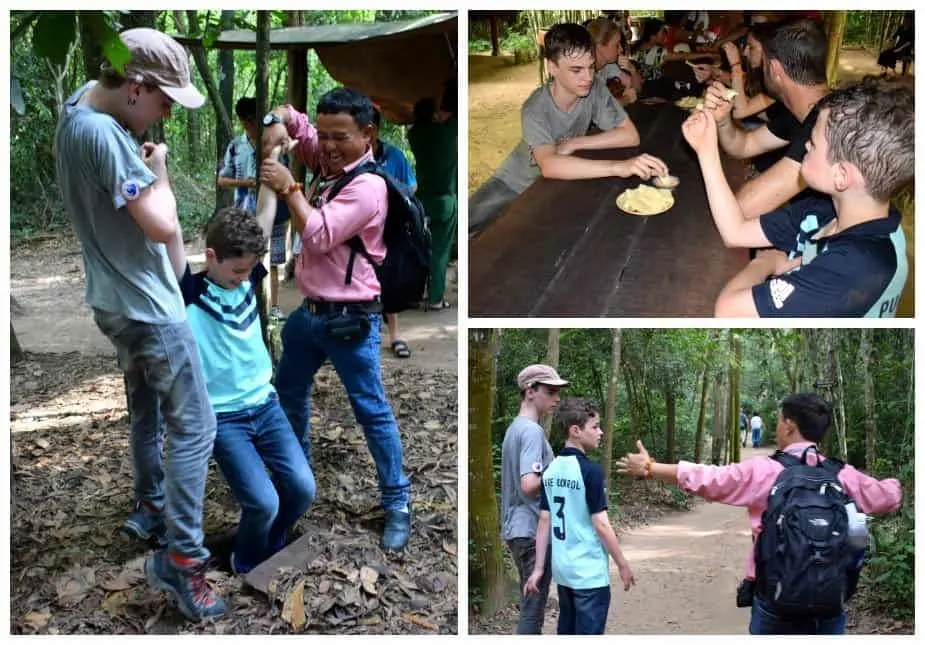 We're in Vietnam to learn about Vietnam and the Vietnam or American War is a big part of that. We started by watching a few movies and finding content n YouTube. The book below is one for parents to read, I read it years ago.
On this tour, you will pass near Kim Phuc's ( the girl in the picture) village and the exact spot where this iconic war photo was taken. It's good to be able to tell the kids this story.
Her family were Cao Dai followers, they were leaving their temple when a napalm raid descended onto innocent civilians, many of them children. The photo is also featured prominently in the War Remnants Museum in Saigon.
Kim Phuc is still alive and tours the world giving inspirational talks, interestingly, Chef has met her, she stayed in his hotel and as we'd read the books and knew who she was he got to say hi. We have more war-related tours of Vietnam lined up towards the DMZ.
Of course, they've already experienced the extent of the bombing in Laos as part of America's campaign against the Vietnamese supply routes, the kids' knowledge about this tragic period of history deepens every day.
Cu Chi Tunnels Tour and Cao Dai Temple Visit Review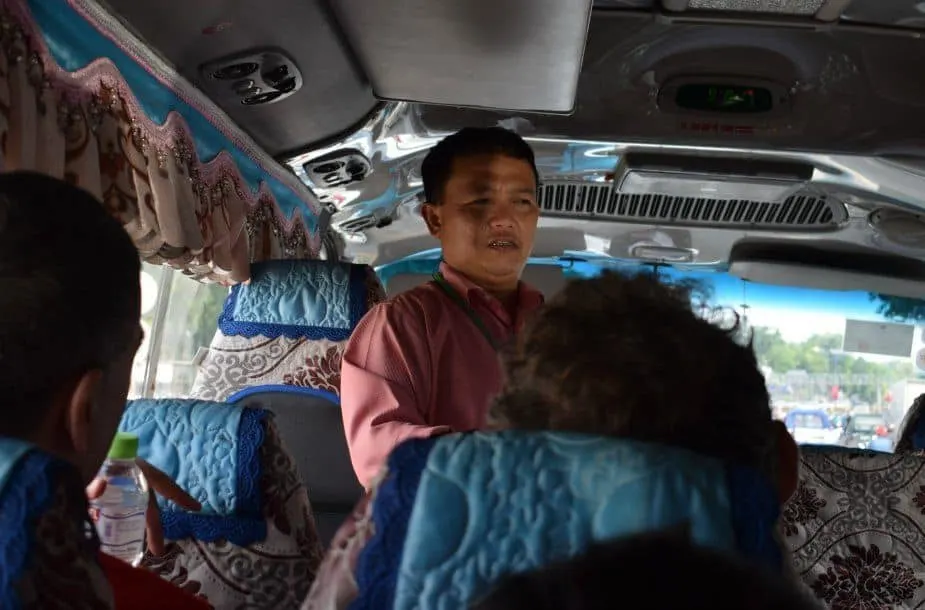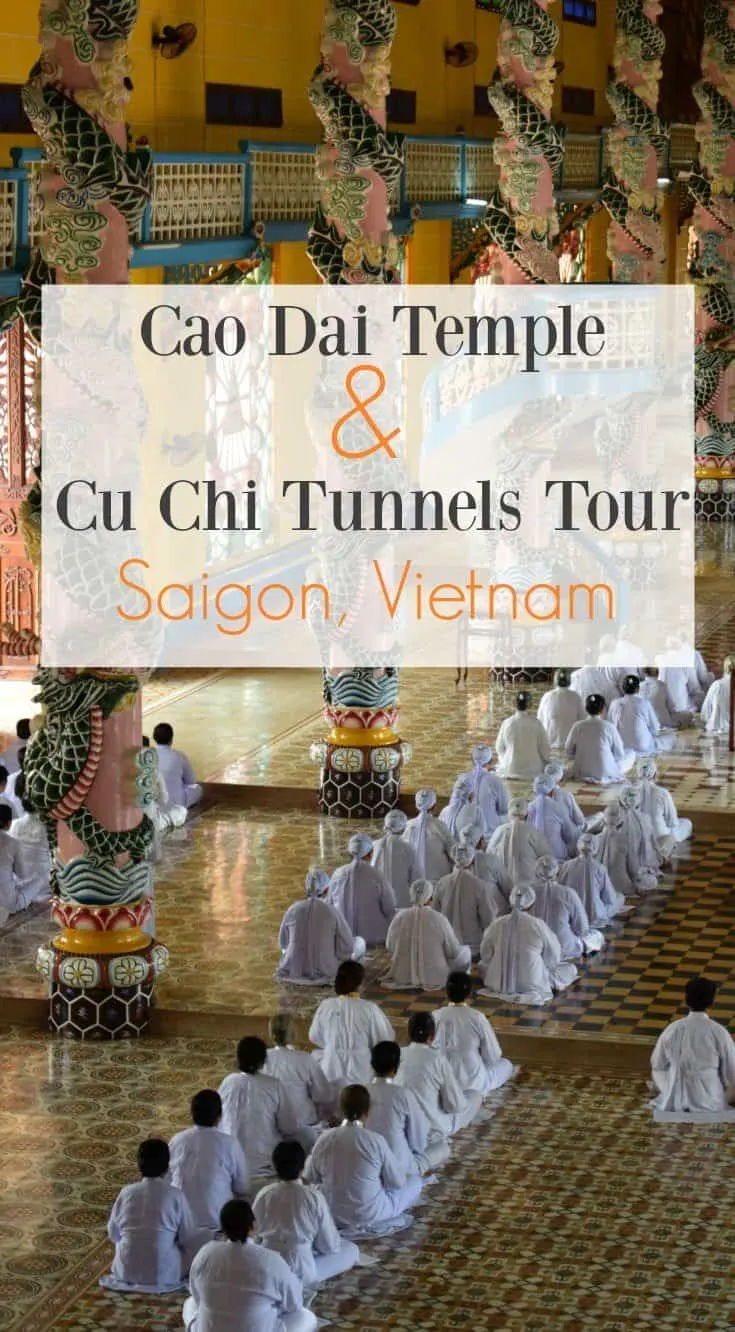 The tour and our day were a huge success, the boys loved the tunnels and forgave us for the rather long drive time. We were picked up by our guide around 8 am allowing us time for breakfast at our hotel. He gave us priceless insights into Vietnamese culture and traditions during our bus journey and was knowledgeable and helpful at every step.
Our lunch was included, along with a drink and we enjoyed a selection of dishes rather than having to choose one item from the menu ( and paying for it) as the others on our bus had to do. We did not have to pay our admission fees at the tunnels, everyone else did.
More Vietnam content from us, for you,
So a big thumbs up, a fun, easy, educational day, no stress, no worries, no extra cash. We had plenty of time at the Cao Dai temple and the visit was timed perfectly for the non-ceremony. The bus was comfortable enough but the air-con struggled a bit. On this tour we were their guests, we use Get Your Guide and we're always happy to recommend them, we are never required to give good reviews, all opinions are our own, as always.
Our driver was great and I didn't fear for our lives even once, that's always a bonus! We enjoyed the additional stop at the craft facility for the disabled, others on the bus complained about it ( the same ones that complained about the shooting range being shut). There was absolutely no hard sell and it was an interesting thing to see. Need more Vietnam travel? Head to our full Vietnam travel blog and guide.
If you'd like to hire a car during your stay, use this car rental comparison tool to find the best deal!

We also suggest you take a look at this company to get a quote for all kinds of the more tricky adventure or extended travel insurance.

Try Stayz / VRBO for an alternative way to find rentals on homes/apartments/condos in any country!