This post may contain affiliate links.
Visiting Singapore at Christmas, what is there to see and do in Singapore at Christmas and where should you stay? We share experiences and reviews of spending Christmas in Singapore, plus tips on what activities to book in advance.
Nobody will ever tell you Singapore is cheap. Singapore is expensive, that's a fact. This trip cost us a lot of money, possibly our most expensive country ever, but it should be a trip of a lifetime and at Christmas, try to see and do everything and experience Singapore in every possible way.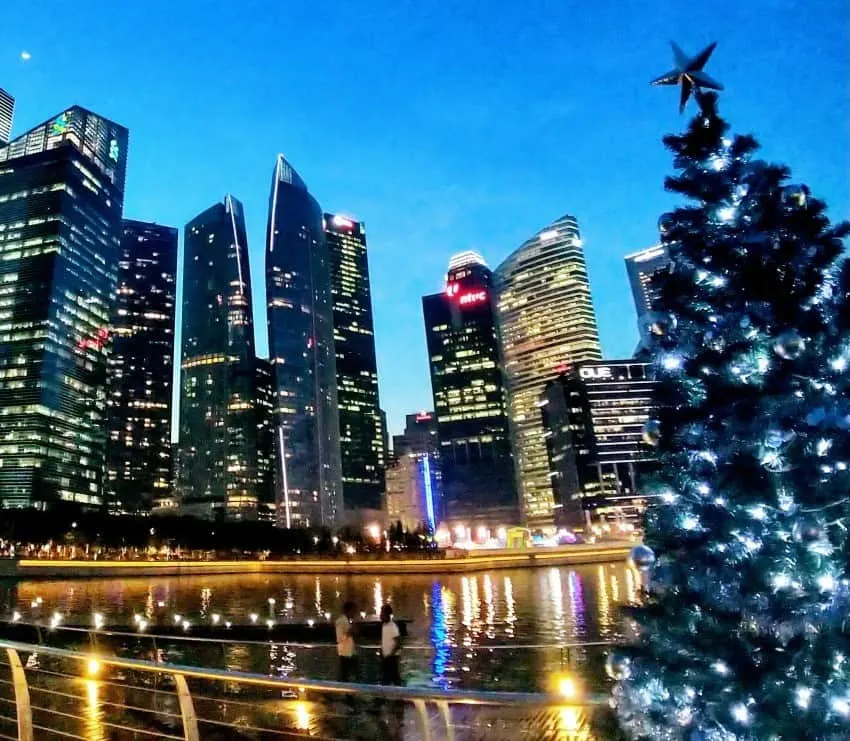 This trip also gave us the opportunity to take a 3-day break to a private island resort just a ferry ride from Singapore with over-water bungalows and great activities. This is a link to that very special excursion from Singapore, perfect for a Christmas break.
If you'd like to book an amazing family photo shoot in Singapore to remember your special Christmas, you can! You can choose one of Singapore's glittering landmarks as your backdrop. Your family will treasure those photos forever, book that here.
Leave us a comment. We love to talk to our readers and find out, from you, how we can best help you. We read and respond to every one.
Our Singapore guide, blog, and tips are below.
You can use the table of contents to jump to the Singapore content you need. All information represents our personal opinion, we are not paid to promote attractions or hotels.
Please check and double-check all information for yourself, things change constantly.
Singapore at Christmas
Yes, they certainly do celebrate Christmas in Singapore. The malls were glittering in December with Christmas decorations, there were Christmas-themed events, light shows and fayres.
We even saw Santa at Gardens on the Bay.
We thought Singapore was a good place to visit at Christmas and we were able to visit Universal Studios Singapore on Christmas Day. In other countries theme parks may be shut on December 25th.
It is most certainly hot in Singapore at Christmas and through December but Singapore is pretty much on the equator, it's always hot. Christmas is a good time to visit Singapore.
We had some tropical rain but nothing that spoiled our Christmas vacation.
---
Singapore Christmas Activities and Hotels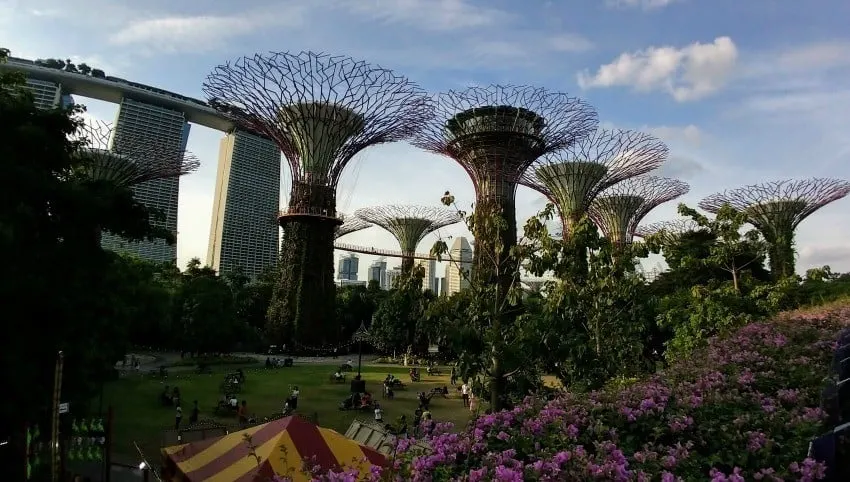 Because Christmas is a busy time in Singapore and hotels and attractions do become fully booked, here's a useful shortlist of things to do or hotels to stay in to make your booking process easier. We tried to book the Hard Rock Hotel Singapore for Christmas in September and it was fully booked already, so you must book your Singapore Christmas vacation early.
Activities to Book
Hotels to Book
---
The Basic Layout of Singapore and Areas of Interest
The Singapore River snakes through the Singapore CBD and is flanked by many of the city's areas of interest.
Starting at Clarke Quay it's possible to walk through Boat Quay, to Marina Bay and through the Marina Bay Sands Hotel and shopping mall to Gardens By the Bay.
The river opens into the sea immediately to the north of the twin Garden Domes.
Sentosa is a small island off Singapore housing Universal Studios, the SEA Aquarium and other major attractions.
The Sentosa World Resorts World Hotels centre around Universal and a large shopping, dining and entertainment centre.
Sentosa has man-made beaches on its seaward side. Sentosa Island can be reached by road, cable car or monorail.
Singapore Zoo and Night Safari are further inland, to the north of downtown Singapore.
The tip of Sentosa Island is considered by some to be the most southerly point in mainland Asia.
Staying in a "Budget" Hostel Near the Singapore River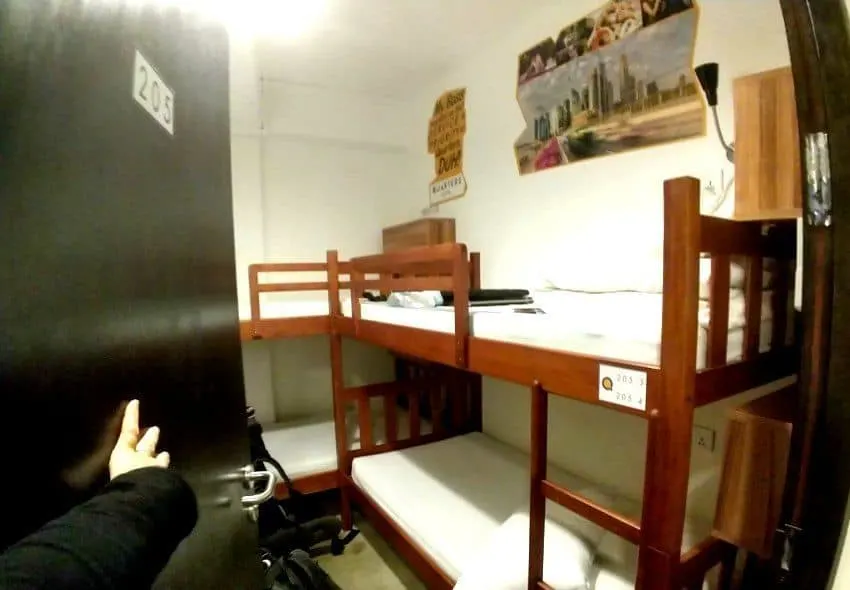 In Asia we usually book accommodation through Agoda, as this company are Singapore based, they should have the best deals and widest coverage, budget and luxury, try AGODA here.
We booked our accommodation in Singapore well in advance and found this necessary (particularly as it was Christmas time) as availability was very limited.
We searched for a decent-looking, well-located place to stay for 4 people within walking distance of the river and Singapore's major attractions.
We knew food in Singapore would be expensive so we opted for a place with breakfast included. What we got for our $85 (US) per night was the broom cupboard above.
It was OK, the location was good and the room was clean. We were only here for a night before moving to our private island and to our 5 star resort on Sentosa Island, so we dealt with it.
There was a decent-sized room downstairs where we could spread out our computers, eat and drink and the Wi-fi was good.
Singapore is expensive, you won't get much more at this price point, particularly not at Christmas time. We stayed at Quarters Hostels, check prices here on Agoda. They also have shared dorms at a lower price point. We prefer Agoda for booking hotels in Asia and collect their credits.
China Town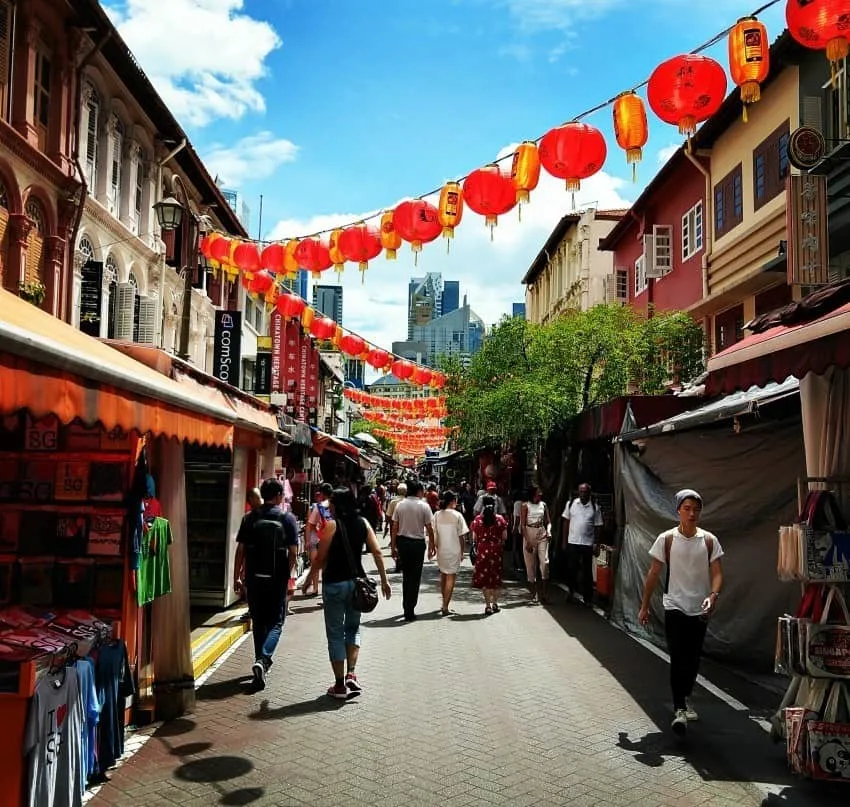 Singapore's China Town is much the same as every other China Town we've visited in that it is basically a market. The Chinese shop houses are lovely and everything is clean, bright and pleasant.
We came to find food but the 4 dishes we ordered on Food Street (an outdoor, covered, collection of market stalls and restaurants) weren't good and were badly over-priced. We can't judge based on 1 meal obviously, but if we came again we'd go looking for food in Little India instead, but still, we went, we saw, we can say we've been.
Where to stay in Chinatown?
For low prices and good guest reviews try Beds and Dreams Inn Chinatown ( click here for prices and details). Breakfast is available and the hotel/ hostel enjoys a good central location.
For a more luxurious central Chinatown stay, take a look at Wangz Hotel here. Again it has excellent customer reviews and parking and breakfast are available.
Little India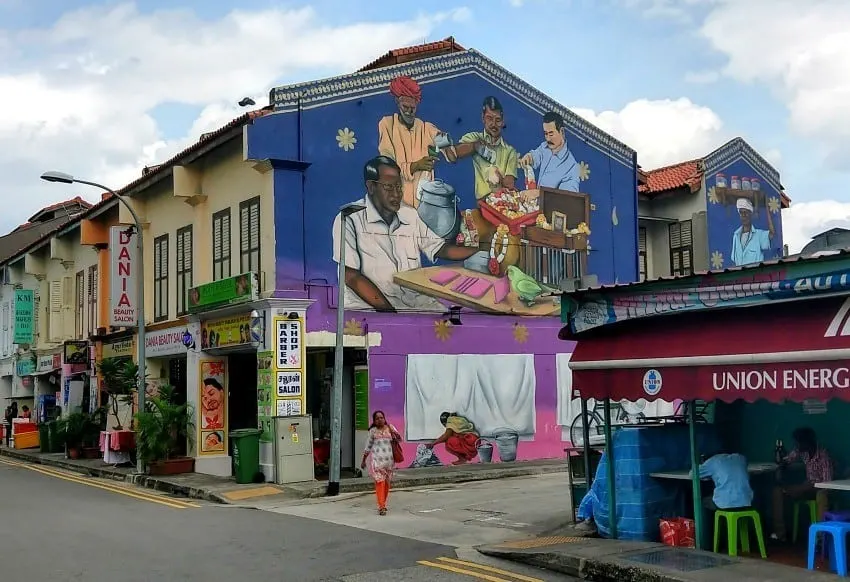 Singapore's Little India again has its own Metro station and is easy to reach. Multiple streets of colourful Chinese shop houses sell jewellery, fabrics, trinkets and of course delicious Indian food. There are a couple of temples, museums, historic buildings and some stunning street art. We came for the food and found good south Indian dosa, idly and so on at OK prices. It's more expensive than Indian food in Malaysia, but it won't break the bank.
I'll need to write a full post on this part of Singapore and places to visit there. I think if we came again I'd choose to stay in this area for the easier access to good food. Historic districts like these help tell the story of Singapore's origins so we learned a little more here about Singapore's rise to what it is today.
Where to Stay in Little India?
The following 3 hostels all have good reviews, lower prices and a central location in Little India
Luxury and Mid Range in Little India
Singapore Zoo and Night Zoo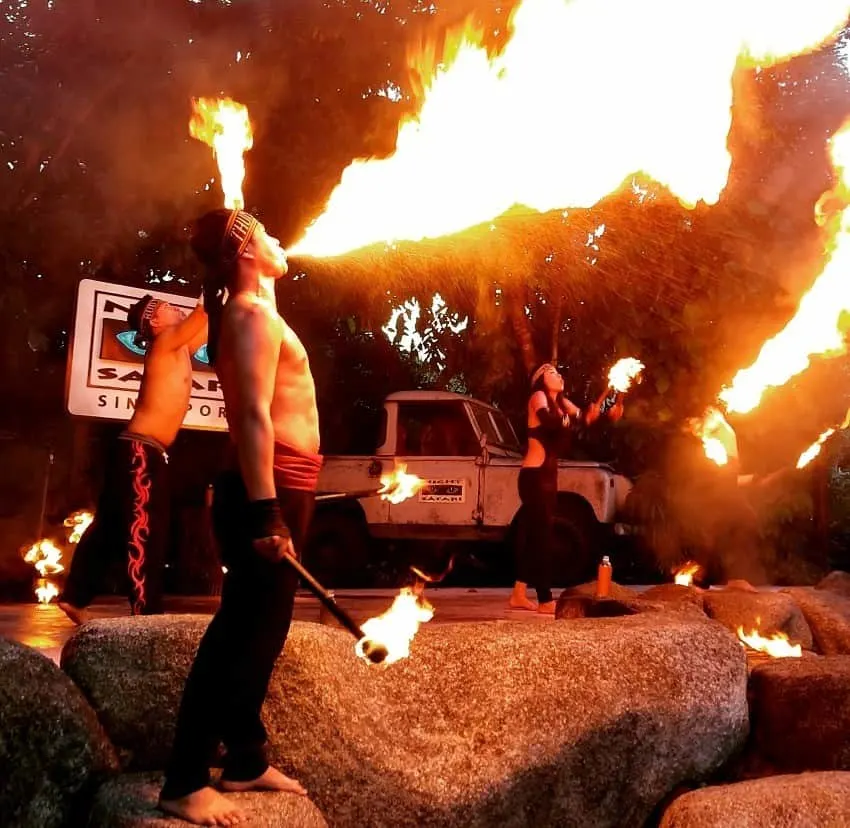 We puzzled for days over whether to visit one of Singapore's animal attractions or not, and if we did, which to choose? The Singapore Night Safari and Singapore Zoo are not the same thing and the Singapore River Safari is something else again, but they are all basically zoos.
Ticketing options include multiple park passes but none of us felt we could spend a full day at the zoo in the fierce Singapore heat and then enjoy the night safari the same evening.
Eventually we picked the Night Safari because it was something different. They say it's unique, I don't know if it is, Chiang Mai also has a night safari. We'd visited Chiang Mai Zoo a few weeks before, but not their night safari, so we thought it was worth checking out Singapore.
We were very glad we chose this option and the Night Safari is a big, fun, late, exhausting, family night out and prices, as always in Singapore, are sky-high.
It's tricky to get to the zoo or Night Safari, they are out of town. We chose to take a taxi but there are buses or shuttles too.
Ticketing and queuing are troublesome, we waited almost 2 hours to get in, but still, the Singapore Night Safari is worth doing and is child-friendly, so long as your kids have patience and stamina. I'll write a full post on it soon, it's complicated and I think you need to know what to expect.
If you're trying to choose which to visit we recommend the Night Safari but can't comment on the other parks. We thought the animals were well housed in huge enclosures, some free-ranging and many in family groups, it's a good zoo and we were fine with visiting for ethical reasons as well as it being a really enjoyable and educational destination.
Clarke Quay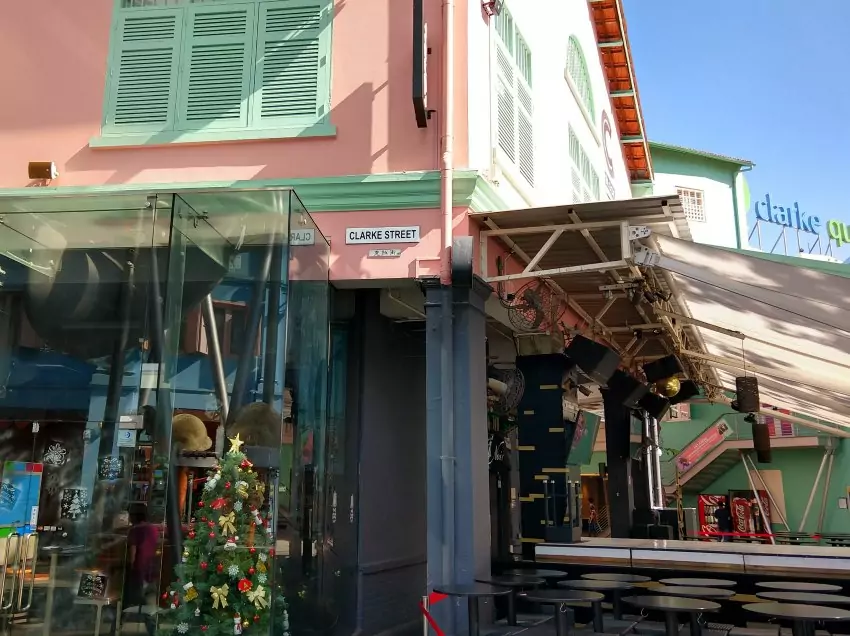 Clarke Quay was just a short stroll from our budget Singapore hostel and is a pleasant collection of pastel coloured waterside shop houses, bars and restaurants. This historic area is just upstream from Boat Quay and many sight seeing river cruises and water taxis depart from here. The Clarke Quay MRT ( Metro Station) is nearby and here you are on the edge of the Singapore CBD.
Where to Stay on Clarke Quay?
Swissotel Merchant Court Hotel A luxurious, well-located hotel with pool and rooms under $200.
Quarters Hostel . This is the hostel we used, it has family rooms for 4 as well as dorms and is a short walk from Clarke Quay or Boat Quay
Boat Quay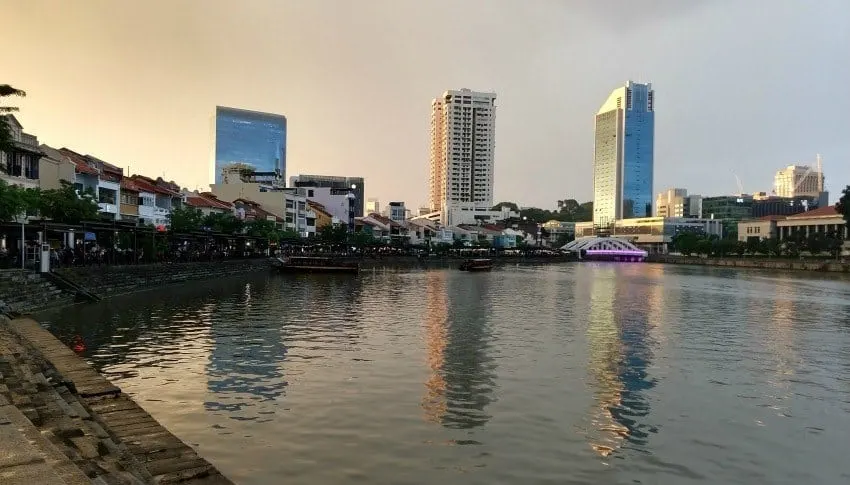 In the 1860s Boat Quay was the heart of Singapore's shipping industry, today its well preserved row of shophouses cater to tourists, diners and drinkers. These historic quays are islands of history against the backdrop of Singapore's ultra modern CBD.
Where to Stay on Boat Quay?
Quarters Hostel . The Singapore budget hostel we used, private family rooms for 4 as well as dorms and is a short walk from Clarke Quay or Boat Quay
The Fullerton Hotel This historic hotel stands on the quayside between Boat Quay and Marina Bay. It's a beautiful building, a perfect location and one of Singapore's top 5 star luxury hotels. Double rooms from around $500 per night.
Haw Par Villa FREE!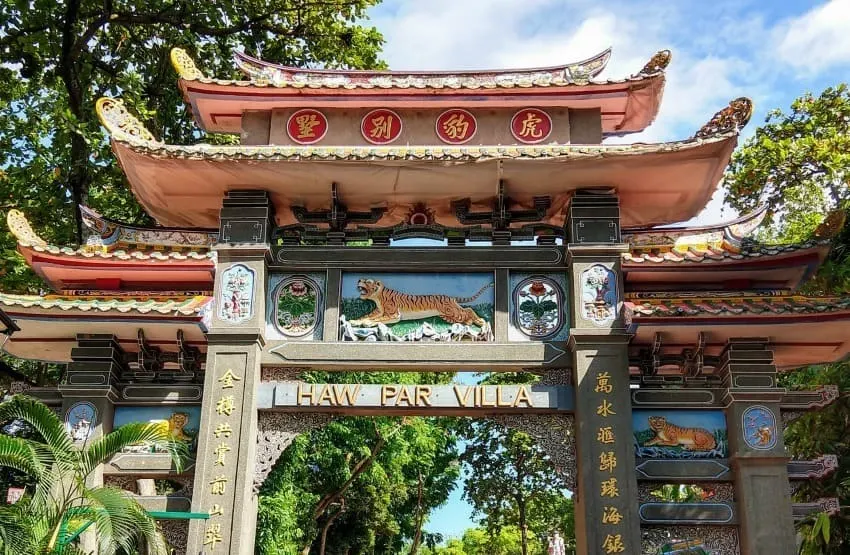 We loved this place! Does the tiger above the gate give you a clue? This huge park was built by the brothers responsible for Tiger Balm. This park features cautionary tales from religion and folk law and is a really fun, scary, funny, interesting half-day out. It needs its own blog post, it has its own Metro station. Just go, you won't regret it, particularly if, like us, you're big fans of Monkey, Sandy, Pigsy and Tripitaka.
Marina Bay Sands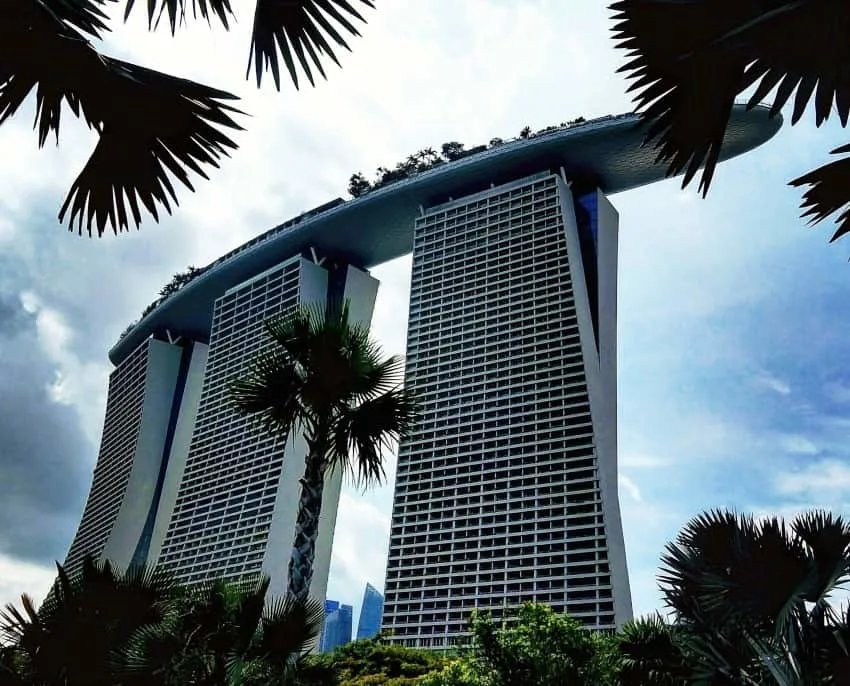 Marina Bay Sands isn't just one of the most visually impressive hotels in the world, it's also a huge luxury shopping mall. To the mall's north side it opens onto the river, to the south its doors face the iconic hotel and the Gardens by the Bay area. The view from the pool and bars at the top of the Marina Bay Sands must be quite something. There is a viewing platform open to non residents, for a fee, alternatively, you can head up to the bar for a drink to look down on the supertrees below.
Staying at the Marina Bay Sands Hotel?
This hotel, other than Raffles which was closed for refurbishing when we visited, has to be the place to stay in Singapore and a great location for your Christmas vacation. Read more on the Marina Bay Sands Hotel here on Agoda. Alternatively, do a full price comparison search for Marina Bay Sands here on Booking.com. Double rooms start at around $500 per night.
Christmas Light Show at Marina Bay
One of the reasons we picked Singapore for a Christmas vacation was the abundance of Christmas-themed displays, activities and decorations.
The light show on Marina Bay was free and fairly spectacular.
Around the bay and along the river there were various fairground rides, market stalls and Christmas trees and the whole area had a festive feel. You can watch the light show from the steps to the rear of the Marina Bay Shoppes (Luxury Mall).
Gardens by the Bay and the Flower and Cloud Forest Domes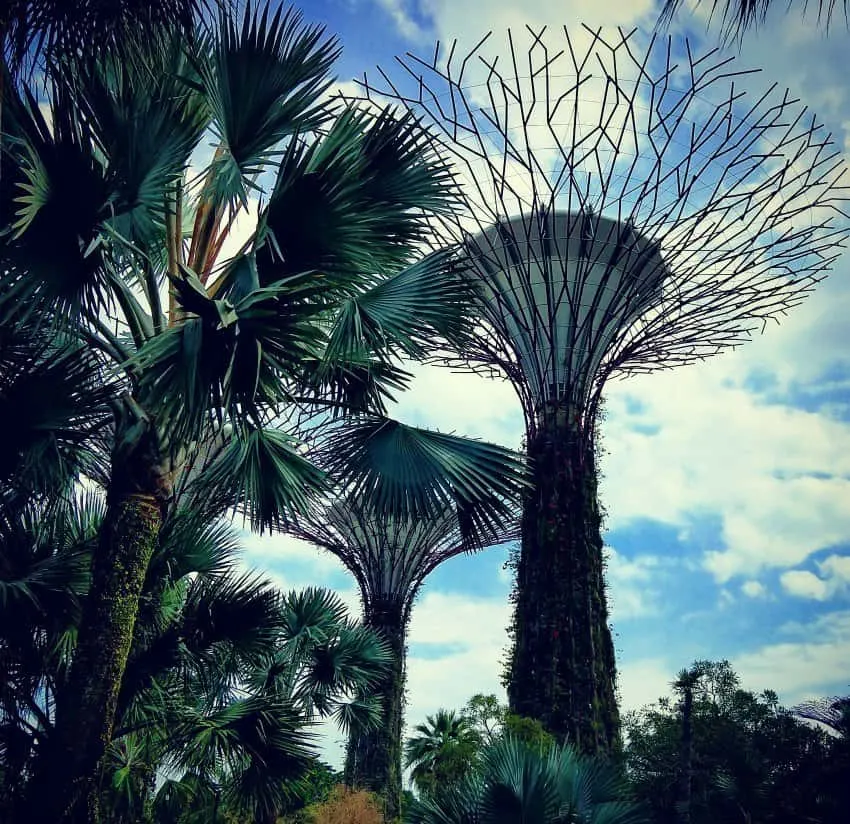 Most of Gardens by the Bay is free but there are steep admission fees for certain parts. The gardens are basically a large park dominated by the spectacular super trees. To ascend to the super trees' canopy walkway there is an admission fee. The two giant domes, the Flower Dome and Cloud Forest Dome are worth a look if you have cash to spare. We visited the Flower Dome because it housed the Christmas displays but generally people say the Cloud Forest is the better one to visit.
Christmas at Gardens by the Bay and the Domes
Because of Christmas we were disappointed to find that most of Gardens by the Bay was closed to visitors. The central Super Tree Grove and Meadow was home to a Christmas Market that carried a $10 per person admission fee.
We checked it out, we were able to walk around the perimeter, and it really didn't look worth paying for so we skipped it. There were very few food and drink stalls and sideshows, nothing to really tempt us. The bigger rides and fairground attractions were distributed up and down the Singapore River at various sites but as we were due to visit Universal Studios we didn't think they'd be worth our while either.
Sentosa Island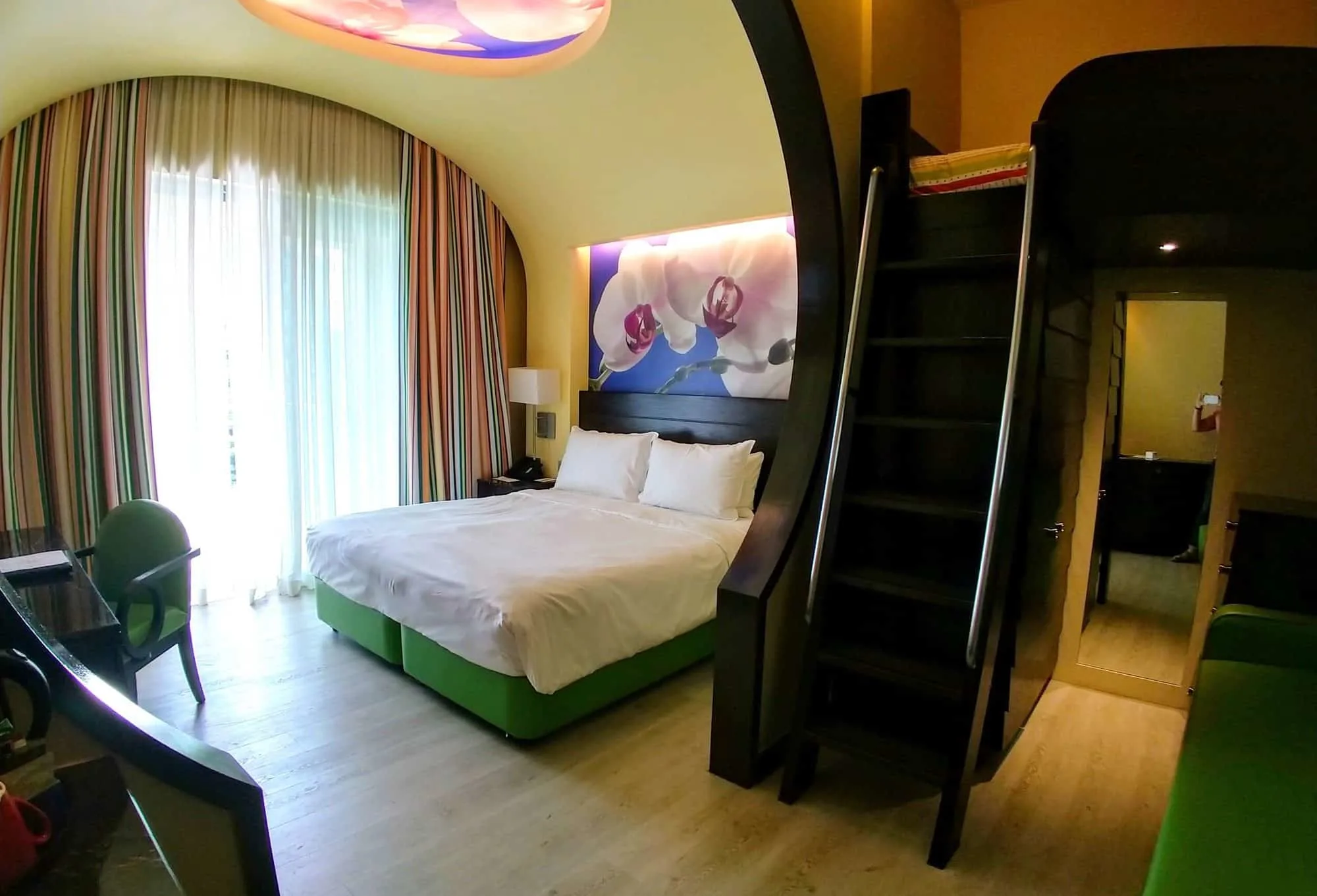 The family room at the Festive Hotel pictured above cost us approximately $500 US per night over the Christmas period. For this, we got a comfortable room with a large double bed, high bunk and sofa bed. We enjoyed a good bath and shower room and had a private balcony with pool view.
Our buffet breakfast was served in the Hard Rock Hotel right next door, it was OK, but certainly not what you'd expect at that price point. But hey, this is Singapore at Christmas time and everything is expensive. We had fun, the hotel was fine and Universal Studios was right on our doorstep.
Probably we would have preferred to book the Hard Rock Hotel but even in September it was fully booked for Christmas. We did enjoy a good meal and a couple of $16 drinks in their restaurant and as Resorts World guests we were free to use the Hard Rock Hotel's pool. This pool is much better for younger children with better play facilities.
Chef took advantage of his free Casino chip and walked away $50 better off. There is a huge casino as part of the Resorts World complex along with luxury shops, fine dining, and plenty of junk food. It's a cool place to stay and we're very glad we took it for a test drive. Just take plenty of cash.
Staying on Sentosa Island and Resorts World Hotels
Resorts World Sentosa is a huge complex centering around Universal Studios, the Casino, Aquarium and multiple food and retail outlets. It's a hugely convenient place to stay if you are visiting Universal Singapore and is wonderful for children.
You have no need of a car or taxi over here, everything is accessible on foot. We chose a family room at the Festive Hotel, but there are 6 unique hotels making up Resorts World, the Festive Hotel, Hard Rock Hotel, Hotel Michael, Beach Villas and Equarius.
There are other hotels on Sentosa Island most of them expensive.
Visiting Universal Studios Singapore – On Christmas Day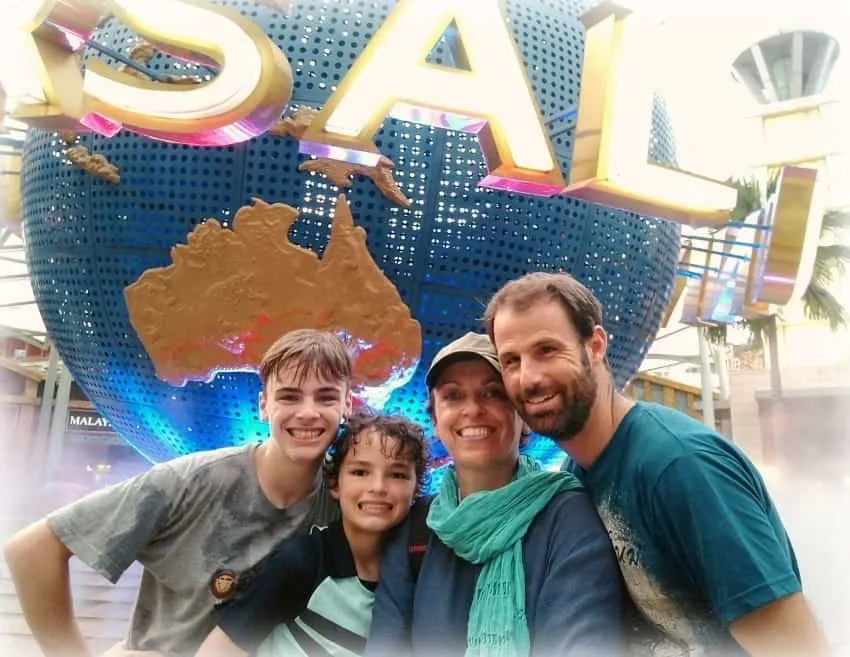 This was why we chose Singapore for Christmas, we wanted to do something different that would be fun for us all and get us away from seasonal traditions. Our choice lived up to expectations.
Although we were somewhat let down by the hotel's food standards and low value for money, Universal was a blast.
The boys rode the big roller coasters time after time, the theming was superb and the movies really came to life as we entered a world of Transformers, Mummies, and Jurassic Park. Even the Water World stunt show was extremely well done and took us by surprise.
Staying in a hotel adjacent to the park was the perfect choice and we highly recommend that you do the same. By early evening we were exhausted and we took the boys back to the hotel.
Chef and I had an ultra-expensive pint of beer and got our second breath, we headed back to the park and rode multiple rides without having to wait in line for even 1 minute. A great day, lots of fun and happy memories.
SEA Aquarium Singapore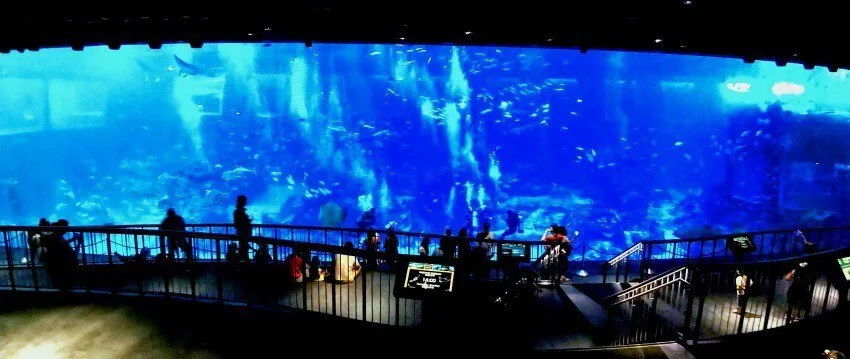 It's a good aquarium and was the biggest in the world between 3013 and 2014. We've been to a lot of Aquariums including Sydney, Perth, Dubai Mall, London and Kuala Lumpur, Singapore SEA Aquarium is the most impressive yet.
The 2 big draws here, the 2 marine creatures we'd never seen before even in over 100 dives and the world's leading aquariums, were hammerhead sharks and manta rays. It's well worth going.
There is a hotel connected to the aquarium, Ocean Suites, guests enjoy underwater views into the tanks as well as a private butler, outdoor private balconies and jacuzzis. It's a luxury stay, check out Ocean Suites here.
A Short Break From Singapore on a Private Island in Indonesia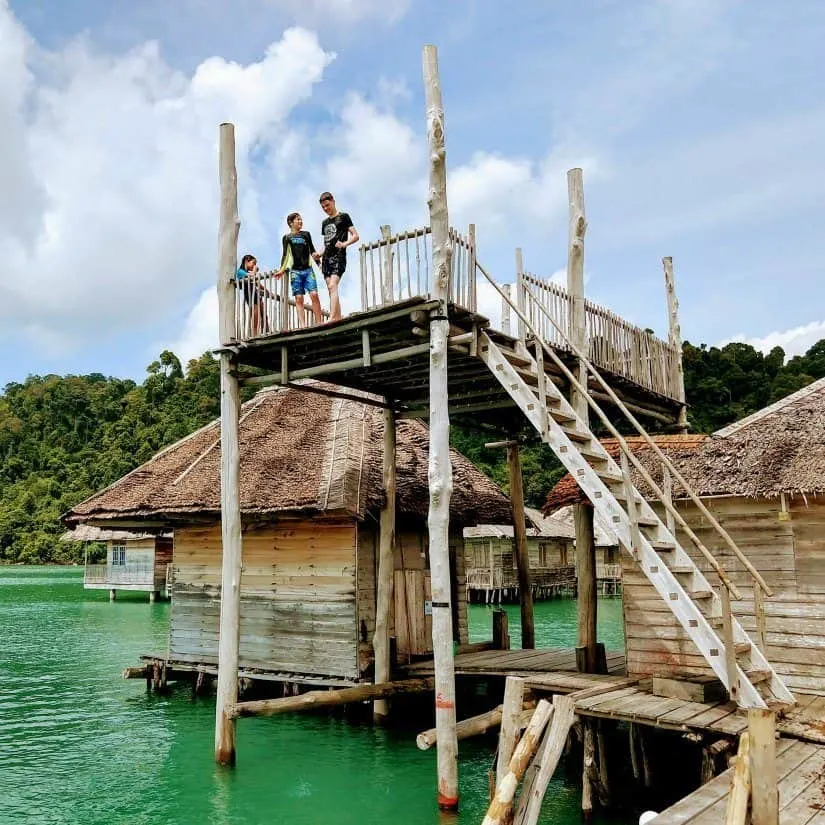 I'd really encourage you to check this out, we found this 2 night, 3 day luxury and adventure break well worth doing and seeing the unspoiled islands just off Singapore's coast was fascinating. See our full post on visiting the 2 Telunas Resorts here.
Learning about Singapore Today and Singaporean History
We're all about the education so how and what did we learn in and about Singapore? Well surprisingly we learnt a lot, I mean a huge amount, by taking taxis.
It seemed that every taxi driver was well educated, affluent, and wanted to talk about Singapore then and now. These guys had so much interesting information to share on topics we couldn't even imagine, so here's a tip, take taxis and chat to your driver.
Eating in Singapore on a Budget
We eat out almost every day of our lives and have done for getting on for 5 years now, we found it hard to find good food at a budget to low price point in Singapore.
We don't want to pay a fortune for breakfast, lunch and dinner we just want something good, local, nutritious, and well priced. Everyone will tell you to use the hawker centers, they are very similar to those in Malaysia, a small collection of street food stalls gathered under 1 roof, we did, but everything we ordered was bad.
We loved the food we found in Little India, we like Indian food, we don't like Malaysian style Chinese very much (although we had great food in China), so if you like that sort of thing you may be fine.
On 2 occasions we resorted to a sliced loaf and a can of tuna from the 7-11 and that's something we never do. On Sentosa Island, we knew we'd have no chance of finding decent authentic food so we enjoyed the burgers, pizzas, and nachos and sucked up the high-cost junk.
There is plenty of fine dining on the island but we really didn't want or need to go there. My husband's work was restaurants, we want real local food. As dedicated food lovers and food explorers, it was a bit disappointing.
We probably would have done better if we'd put more research into where to eat and been prepared to get on the Metro to find it. One of our usual ploys is to ask hostel staff where to eat nearby that's good, for the first time ever our receptionist told us nowhere and to go to Chinatown or Little India instead. They were a Metro ride away and we were staying almost on Clarke Quay.
If you want a drink with your dinner the hawker centres will oblige, but we had to pay $18 for 3 Tigers. Alternatively they were $6.50 each.
The Indian Muslim dishes we bought were cheap enough at around $2.50 each for roti and so on, but my boys will put away 3 each. The veg and meat dishes my husband bought were really, really bad and around $5.
I'm sure better must exist in Singapore, it's a famous foodie destination, but we didn't find it and for the first time ever we came away from a country without ant real feel for its cuisine.
Getting to Singapore from Kuala Lumpur or Malaysia Generally
You can fly in, certainly, but we chose to take the bus from Kuala Lumpur. The bus ride is only around 6-7 hours including the border crossing formalities and buses are good.
We had to get off the bus twice, once without our main luggage, once with. Passport control and customs entering Singapore were some of the slowest we've ever experienced.
Blog
We chose to be in Singapore at Christmas, that didn't mean settling back and enjoying the festive season in our usual way. We wanted to see everything Singapore has to offer including special Christmas-themed events and activities in Singapore.
This post is on places to visit in Singapore and how many we got to see in a Christmas break, it's also about special Christmas events in Singapore, dining, festivities, and experiences.
We wanted to do something different, something special, we chose Singapore for a family trip over the holiday period. How did that work out, and what did we find to see and do in Singapore at Christmas time?
We give you the low down on our Christmas vacation in Singapore here, on our travel blog.
We spent almost 2 weeks in Singapore at Christmas, experiencing both budget and luxury travel. Our trip was split between a budget hostel near the Singapore River just a short walk from the marina, quays, and Marina Bay Sands, and a more luxury, Resorts World Hotel on Sentosa Island.
We really got the best of everything Singapore has to offer and found plenty to share on our travel blog.
A recap of how we spent our time in Singapore and a guide and ideas on places to visit in Singapore along with costs of visiting or staying there for a short vacation or weekend.
There are a few affiliate links in this post for hotels and tours, if you choose to use them we may make a small commission at no extra cost to you.
Do we Recommend Singapore at Christmas?
20 years ago we were planning our first RTW. Back then we used those old-fashioned things, travel agents.
We got lucky in that our travel agent had been around the world himself. When we suggested adding Singapore to that trip, he told us not to.
His exact words were "It's a country of many cultures and no culture." Those words stuck with me and now, having been, I understand what he meant.
For many years, we didn't even try to visit, we had no interest, but we're at a stage now where we've been everywhere we want to go so we're trying the places we've never fancied much. Our gut feeling has so far always proved right. We had fun, we've been to Singapore, it was a good experience but I'm not going to tell everyone to put it high on their list.
Singapore is nice, very nice, but rather sterile. But that said, we only had 2 weeks and that's never long enough to really get to know a place.
So that's our wrap-up on Christmas in Singapore and places to visit in Singapore at Christmas. We had fun and Singapore is certainly worth exploring but overall it doesn't offer much for your tourist dollar and we'd generally prefer to spend our time elsewhere in Asia. Universal and the other child-friendly attractions mentioned above were our main focus here and we loved them, we have good memories of a Christmas well spent.
If you'd like to hire a car during your stay, use this car rental comparison tool to find the best deal!

We also suggest you take a look at this company to get a quote for all kinds of the more tricky adventure or extended travel insurance.

Try Stayz / VRBO for an alternative way to find rentals on homes/apartments/condos in any country!