This post may contain affiliate links.
We spent Christmas in Singapore. Of those 2 weeks the highlight was our 3 days staying at Telunas Resort on their private island site. Along with the Private Island's luxurious over-water villas, we also had the chance to experience the fantastic family-friendly facilities on the neighbouring Telunas Beach Resort site, for a slightly different slice of island life. This post is an honest review of the Telunas island resorts.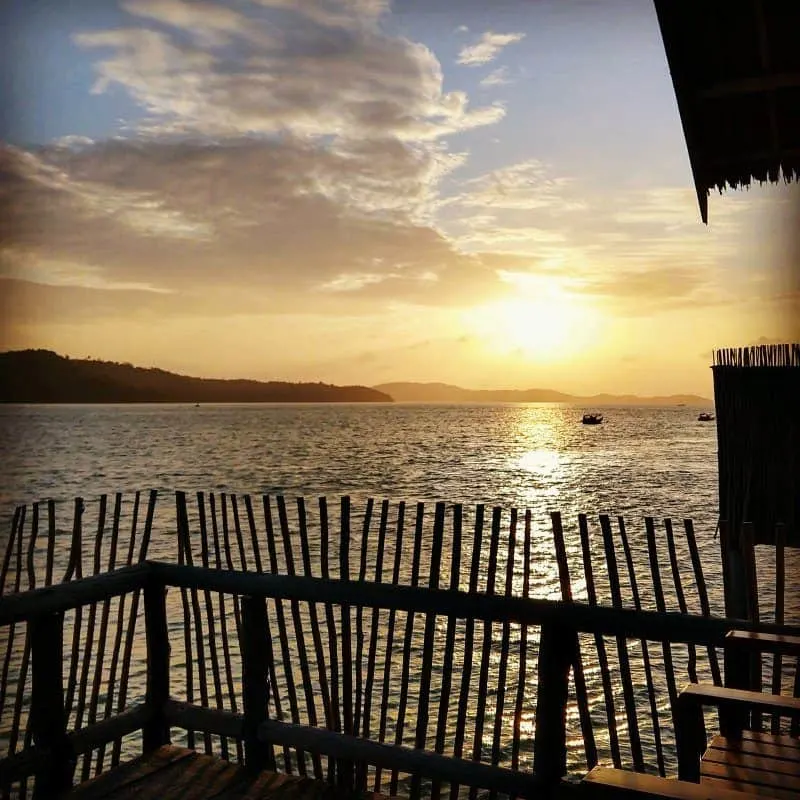 The 2 Telunas resorts are separated by 1.3 Km of water, a short boat ride or, for my husband, a good swim, between the two.
We didn't know what to expect but what we found on these twin resorts was paradise.
This was by far the best hotel experience we've ever had, and we've had a few.
When I heard that there was no wi-fi or phone coverage on the island, alarm bells rang, I hate to be bored, as do the kids, but Telunas kept us all busy for our entire stay and I didn't even need to bring a book.
That was a big surprise. Simplicity, luxury, beauty, nature, good food and adventure rolled into an amazing package by Telunas Resorts.
Find our review, thoughts and experiences here on our travel blog. We were guests of Telunas Resort, all thoughts are our own and we are never obliged to write positive reviews.
The islands housing the Telunas Private Island and Telunas Beach Resorts are in Indonesia, but these hotels are easily accessed from Singapore by ferry and then by private boat.
This is going to be a huge post because there is just so much to talk about.
Staying at Telunas Resorts, Our Video, Our Family Experience
Over Water Villas or Bungalows at Telunas Private Island Resort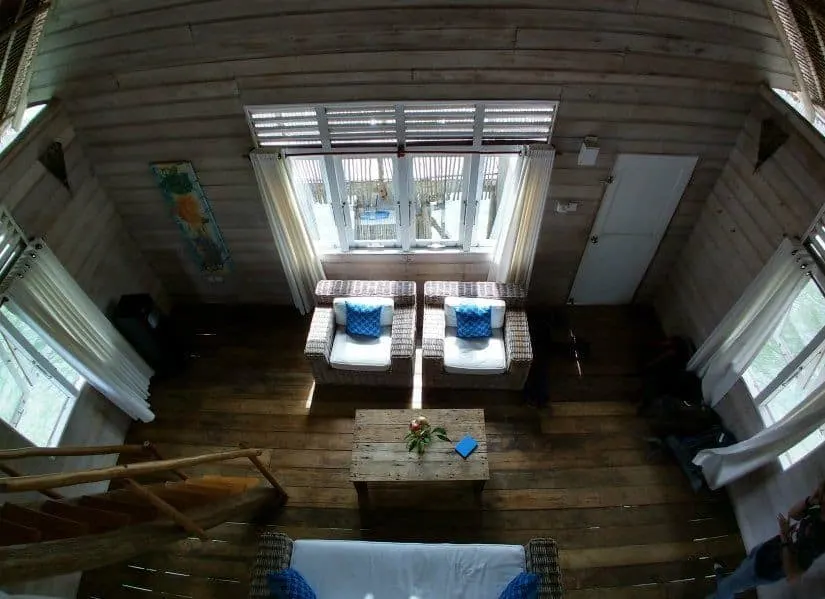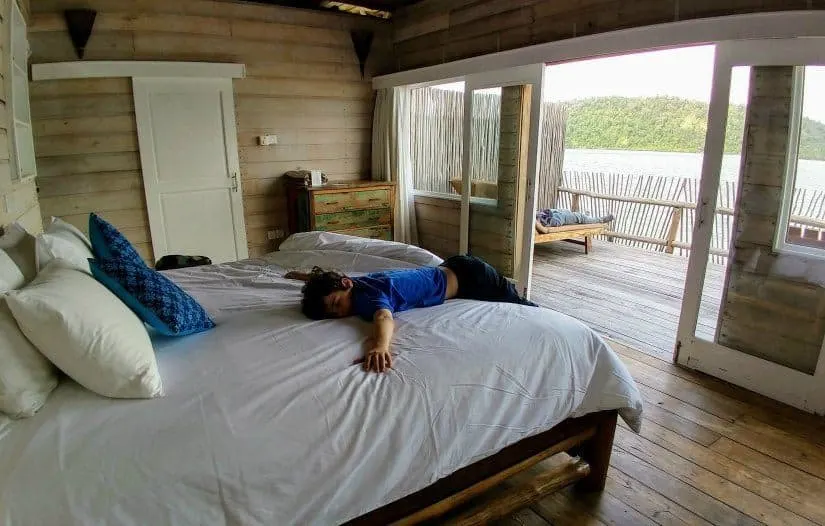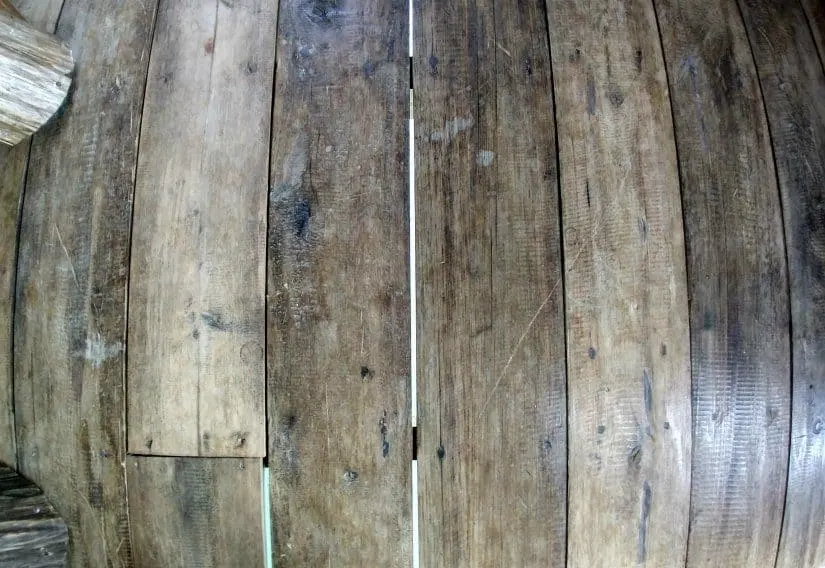 Our over-water villa was equipped with good quality toiletries, citronella mosquito repellent and heavenly massage oil.
Little touches like these lift the whole experience to a new level and were sorely missed when we checked into our next hotel on Sentosa Island.
As mentioned we had good coffee, tea and Milo plus a dispenser for both boiling and chilled drinking water.
Telunas even supply umbrellas in case it rained or to keep the hot sun off.
The villa was very open to the sea breezes and we found it cool and comfortable. We safely left doors and windows open at night and never saw a mosquito in the house.
In the forest of the island's interior there were a few but none in the resort area. The natural air circulation made air conditioning redundant and there was plenty of hot water for showers.
Food, Dining, Coffee and Drinking (Our Favourite Things!)
In all honesty , Indonesia doesn't have such a great reputation as a foodie destination.
We've been to Bali previously and I think I enjoy Indonesian food more than most.
I prefer to avoid meat where I can so dishes like Indonesian gado gado ( vegetables with a peanut sauce) are a favourite of mine.
My husband is an executive chef, so he has a keen interest in food and a critical eye, he wasn't expecting wonders, but the food we enjoyed in the Telunas restaurant was extremely good.
It was varied, high quality and prepared with love.
The restaurant on the Private Island provides 3 good meals every day. Guests can enjoy a small buffet at each sitting along with plated main courses.
A lunch and dinner menu with 3-4 dishes allowed guests to pick a dish in advance. There were good choices and I think the staff went out of their way to find me vegetarian options.
My husband was most impressed by his steak dish at dinner, he said it was the best steak he'd had since leaving London, good quality meat, cooked well.
I have far too many food and menu pictures to share from Telunas resort, so, in time, I'll put more in a separate post.
If you have younger children there is an extensive kids' menu featuring chicken and chips, meatballs, pizza and so on.
All of the dishes on this menu are good quality, not frozen reheated junk. My tween used this menu once or twice, my young teen was more than happy with the adult menu.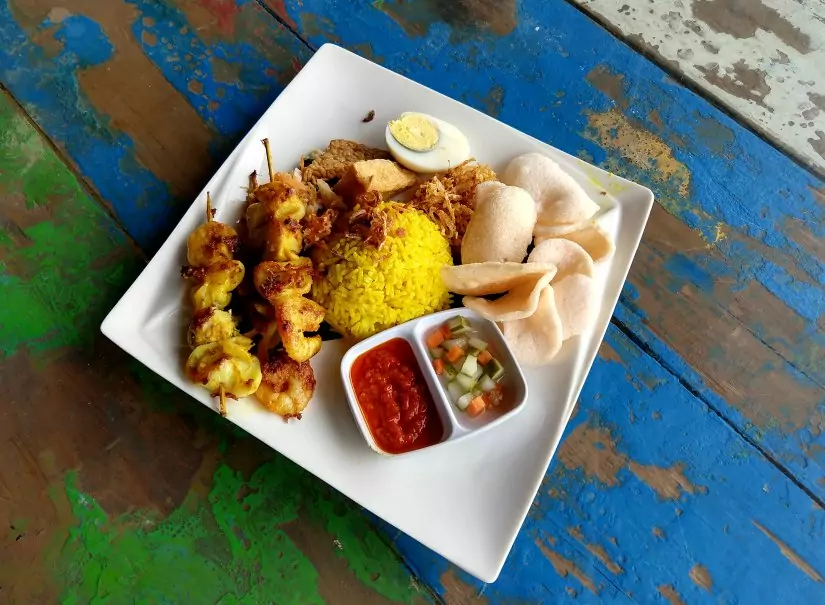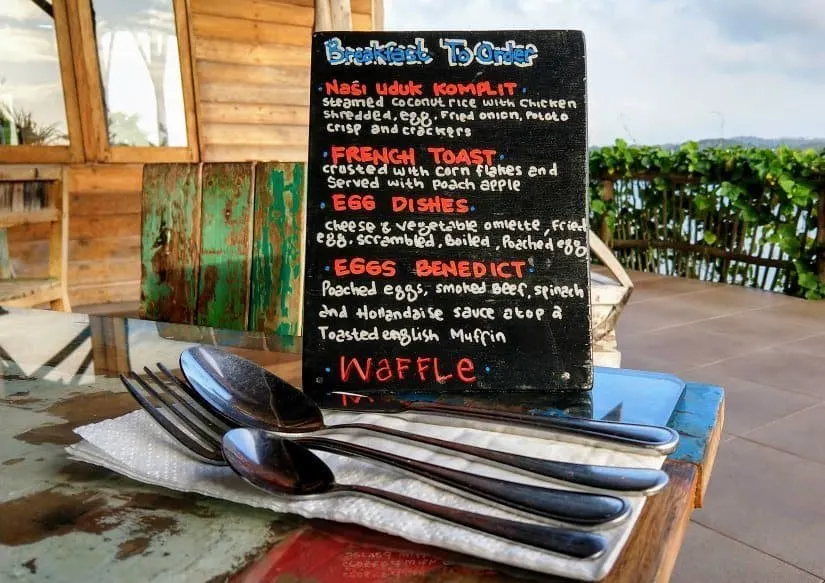 For the first time ever, we encountered a choice of coffees at breakfast, this was such a lovely touch and we tried the 3 beans on offer.
As mentioned, good coffee was also provided in the over-water villas.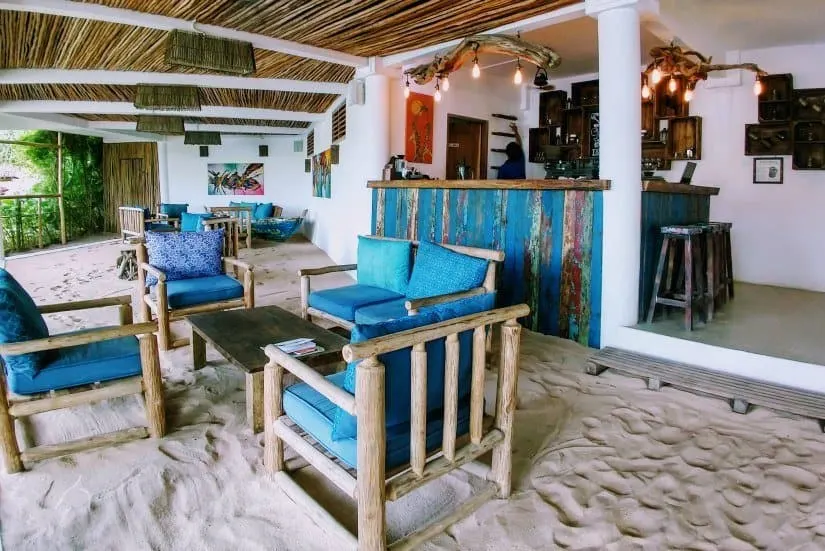 The resort has a beautiful bar near the pool and guests can also order alcoholic drinks and wine to be served in the restaurant with dinner.
Some guests had brought their own alcoholic beverages from the duty-free shops at the ferry port, the resort had no problem with this and each person's stash was neatly labelled and stored in the "honesty fridge".
This honesty fridge had a selection of soft drinks and beers that guests could help themselves to and pay for on departure. Just another feature that added to the relaxed island vibe.
Things to Do on Telunas Private Island
This isn't just a beach resort. There is a beach, a pool and a spa but guests can also use all manner of sporting equipment including kayaks and stand up paddleboards.
Fishing from the jetties is popular and staff can provide you with hand lines and bait.
There are plenty of toys, games and books for children and a kids club offers activities and crafts.
This island is its own nature reserve and conservation zone, take a stroll around the woodland footpaths, you'll certainly see the resident monitor lizards, birds and butterflies, if you're very lucky you may sight the sea otters and tiny mouse deer.
A good walk or run around this island is an absolute pleasure. The far side of the island conceals a deserted secret beach and the island's mangrove and turtle conservation projects.
After dinner you can enjoy a beach bonfire and toast marshmallows and spot the thousands of hermit crabs (they say there are horse shoe crabs too) that scuttle up the beach at night.
For even more fun you need to take the daily shuttles to the Telunas Beach Resort and the activities this island offers. All of this equipment is available for free, there are no hidden extra costs.
Things to do at Telunas Beach Resort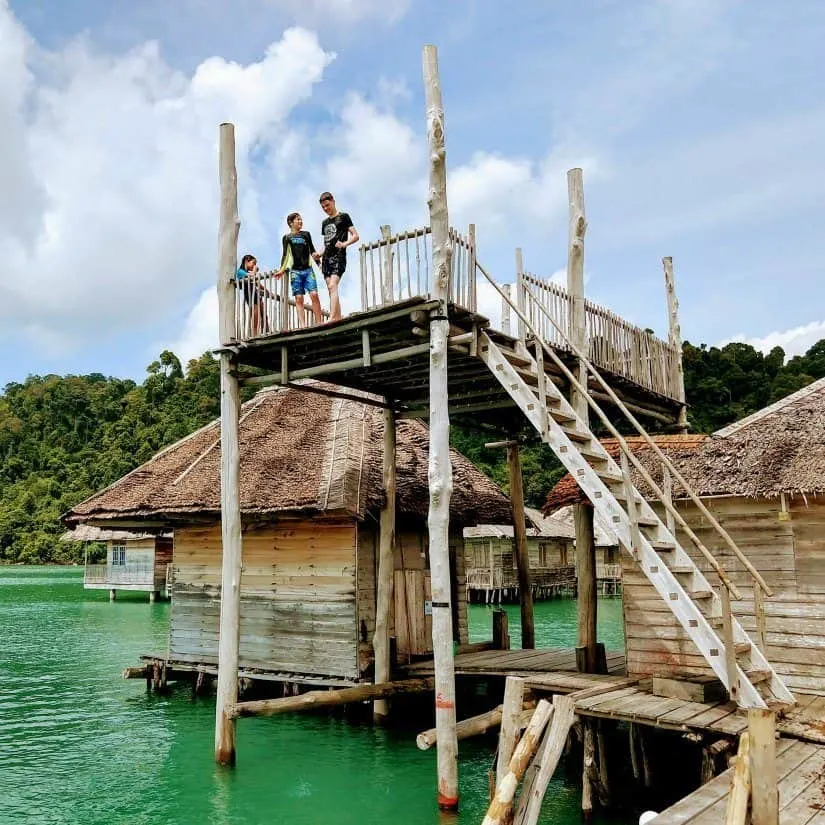 The Telunas Beach Resort is the more rustic, less luxurious destination or the two Telunas islands.
The bay here is long , shallow and safe making it better for kayaking, swimming and paddle boarding than the private island site.
This island also has a fantastic high jumping platform and jungle ropes course.
Guests at the private island can take the private launch over to this sister resort and use the facilities or enjoy the beach at any time.
The trip between the two islands although only 1.3 Km is a challenging swim due to strong currents, my husband (an excellent open water swimmer) completed it in just over an hour, staff kept a watchful eye on him as they will for any guests who wants to take on the swim.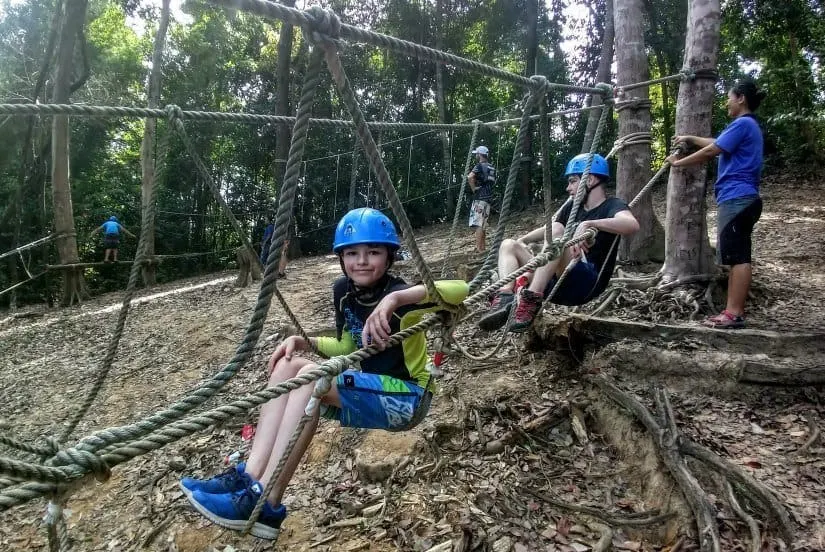 We have a little video featuring the Telunas ropes course and high diving above..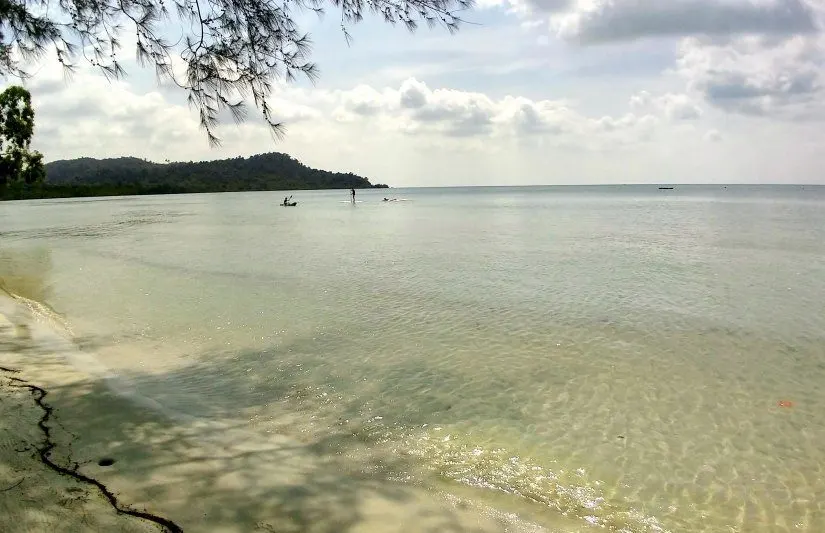 Getting to Telunas Private Island or Telunas Beach Resort from Singapore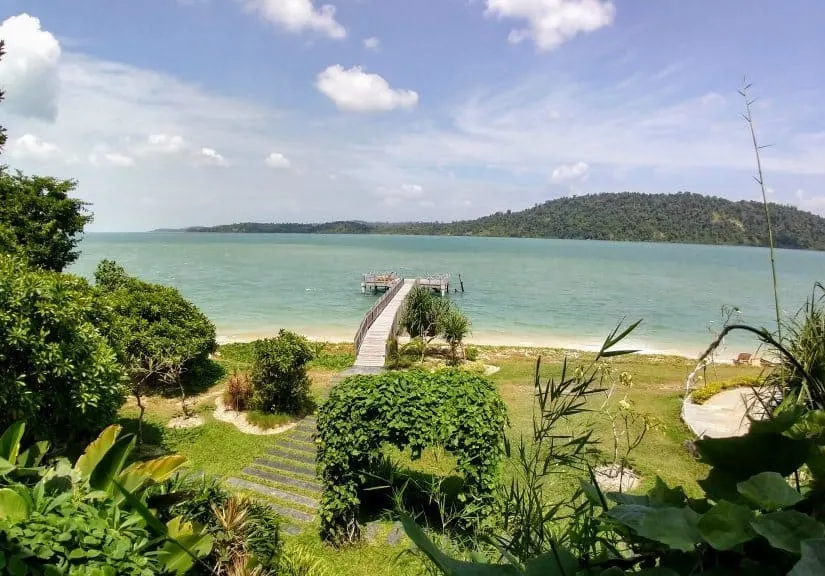 It's really not far!
First we took the public ferry from Singapore to Sekupang Port on Batam, it was a good, modern high-speed ferry and seemed way healthier than the ferry we took from Langkawi to Penang the week before (which broke down) .
Batam island is in Indonesia so this is where visitors deal with customs and immigration. This part of the journey takes under an hour.
Telunas representatives meet guests at the ferry port and transfer people and bags to their private launch. It's a fast trip in a high power small boat and the surroundings are absolutely stunning.
Unspoiled islands, traditional stilt fishing villages and abundant fish traps gave me a feeling of real travel, I'm a traveller first rather than a holidaymaker and I loved getting a glimpse of this part of the world.
The resorts' private jetty is pictured above, the launch features in the video.
Contact Telunas Private Island or Telunas Beach Resort
You can find the website here for Telunas Private Island.
The website for Telunas Beach Resort is here.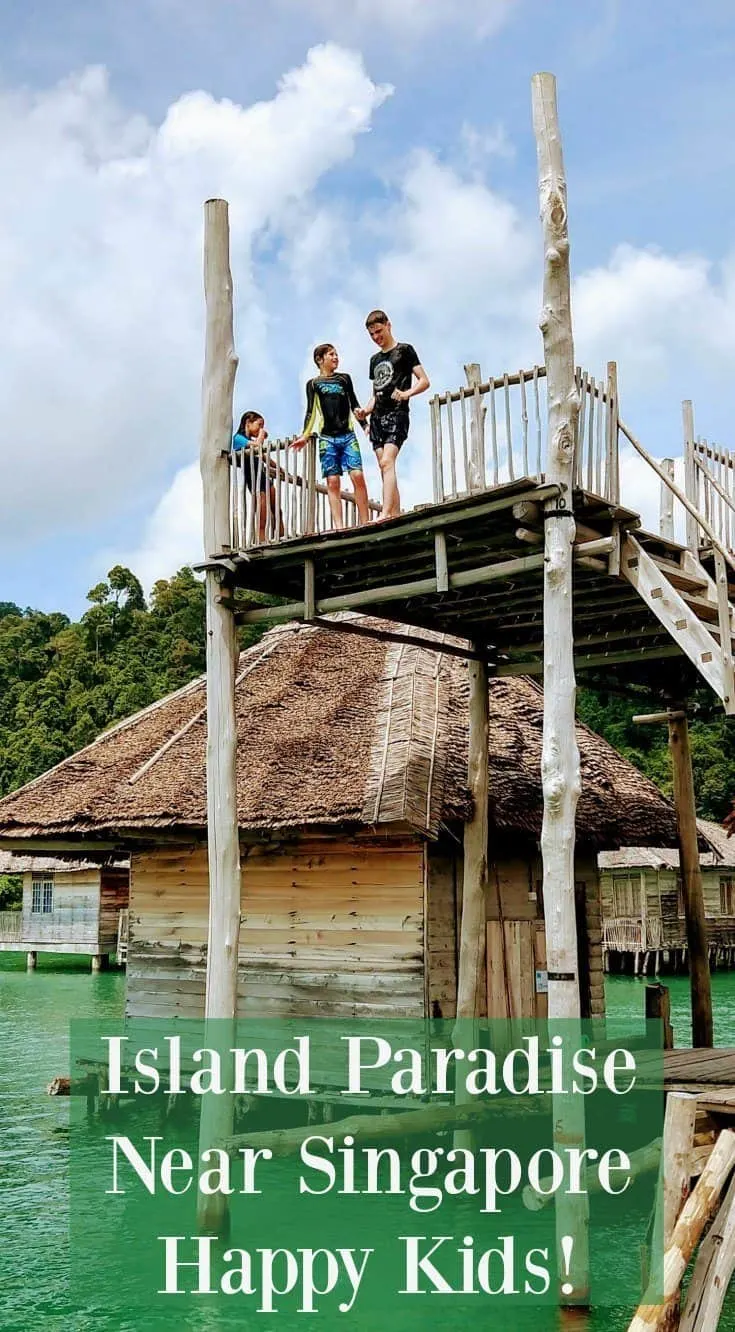 Address: Ruko Imperium Superblock Block B No. 35&36
Jalan Sudirman, Taman Baloi, Batam Center, Batam 29432. Indonesia
Instagram: @telunas_resorts
Facebook: @TelunasResorts
Email: stay@telunasresorts.com
Phone: +62 811 7710951
Finding the Best Deals and Booking Telunas Resorts
Try the Telunas websites ( above) for latest offers. Alternatively check Hotels Combined ( here). This site compares multiple online booking engines at once to find you the best available price. Agoda ( here) is our usual booking engine particularly for Asia, but we've been unable to find Telunas Resorts on this site so far.
Save Telunas on Pinterest!
What can I say? We loved this place. It's rare that you find somewhere that gets everything right for your family but for us it was perfect. This blend of nature, the great outdoors, good food and exciting physical activities were perfect for me, my ultra-athlete husband and my teen and tween children. We highly recommend Telunas Private Island and the superb fun of Telunas Beach.
If you'd like to hire a car during your stay, use this car rental comparison tool to find the best deal!

We also suggest you take a look at this company to get a quote for all kinds of the more tricky adventure or extended travel insurance.

Try Stayz / VRBO for an alternative way to find rentals on homes/apartments/condos in any country!