This post may contain affiliate links.
The day we went swimming with manta rays off Bali Indonesia, was one of my favourite days of our six years of full-time travel. The famous Manta Bay is actually off Nusa Penida and we were staying in Ubud Bali. Were we even close enough to take this epic snorkelling trip? We were, and in this post we'll tell you how you can swim with manta rays from anywhere in Bali, and what the experience was like.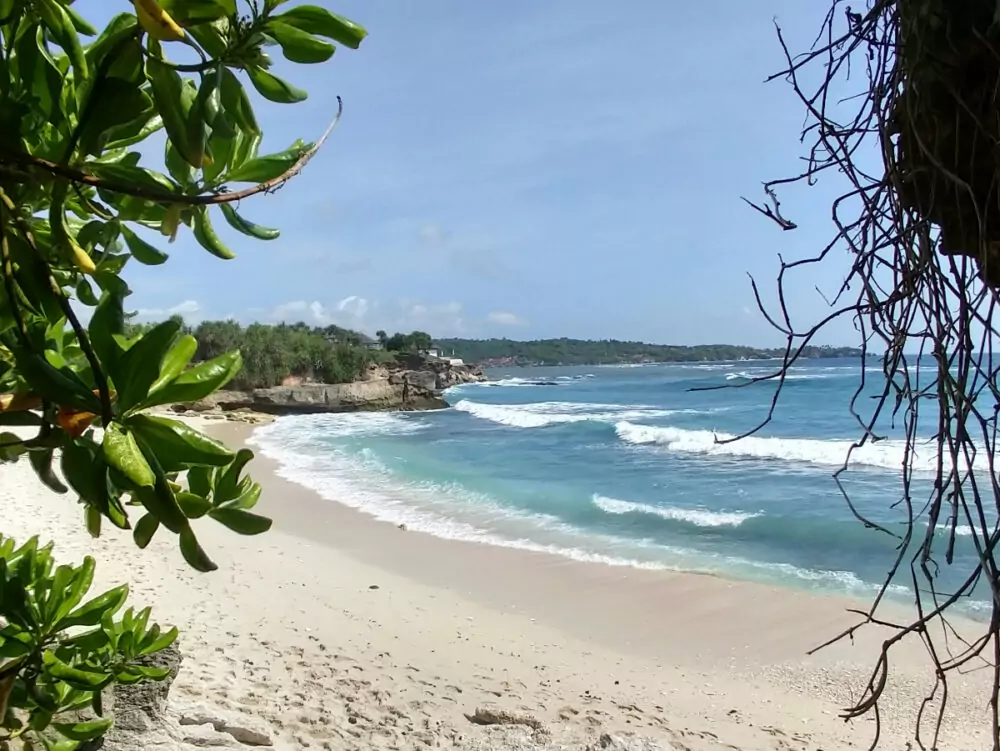 It turned out that we were. We booked a tour from Bali to Nusa Penida and Nusa Lembongan in one day.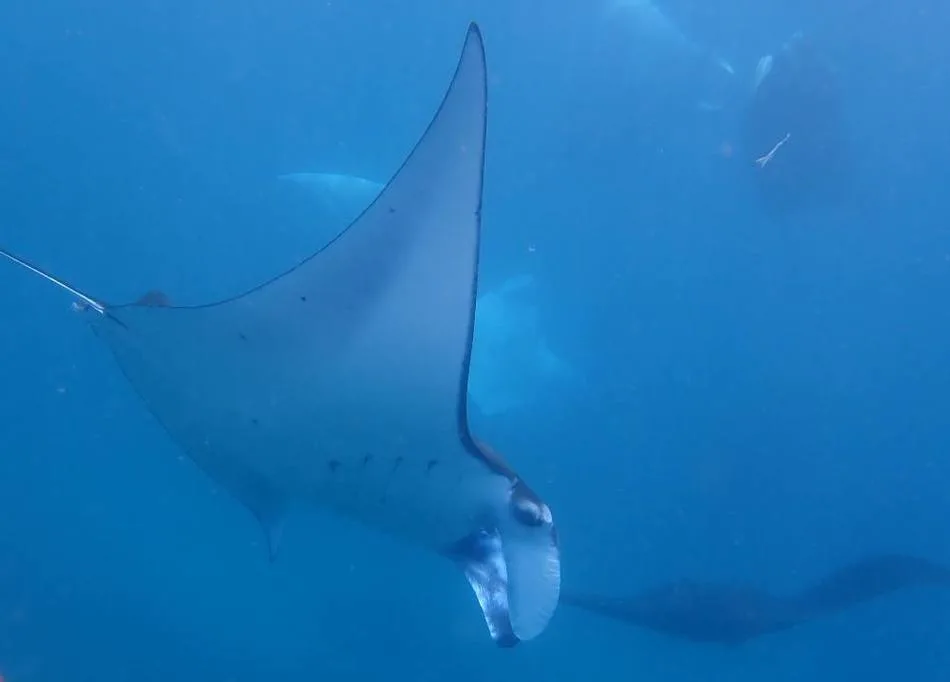 How to Swim With Manta Rays in Bali
You can book a tour that will pick you up from your hotel in Bali (even from Ubud), take you to the ferry for Nusa Lembongan, and transport you to the snorkelling/swimming/scuba diving centre for your manta ray swim.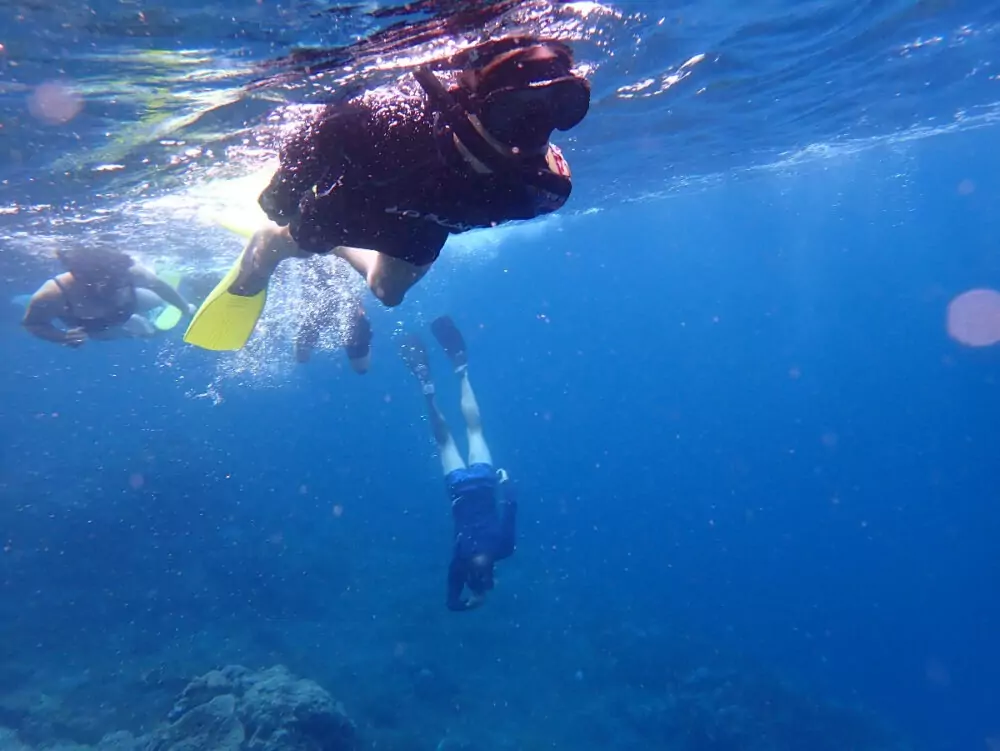 You should also get a tour of Nusa Lembongan, before returning to your hotel in the evening.
It is a fantastic day out, probably our #1 thing to do in Bali, you can book it here.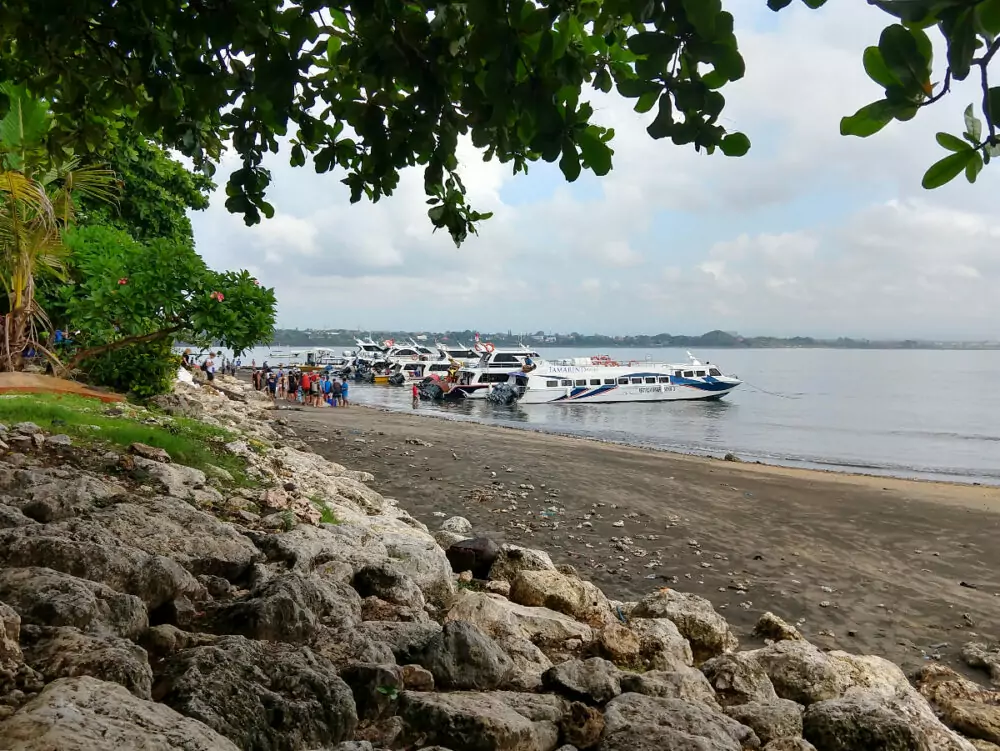 Our tour included a private car pickup from our hotel in Ubud, a return ferry from Sanur to Nusa Penida, an island tour and a full day of snorkelling off Nusa Lembongan.
The included lunch was delicious and the price was very affordable. Take a look at our pictures, read our review, but to make your life easier, book this trip using the button below.
Read about our day snorkeling with the manta rays in Indonesia below, or get a price on a similar tour that will take you swimming with manta rays from Bali here.
This post was written by my son.
Swimming With Manta Rays off Bali
Is it safe to swim with manta rays from Bali?
Manta rays are fairly safe to swim with as they lack the stingers found in their cousins, the stingrays.
They are filter feeders so cannot really bite you either.
However, they are huge creatures and could potentially harm you, particularly if they are jumping out of the water.
We felt very safe swimming and snorkelling with mantas, even with children.
However, the water was very deep and deep water and strong currents plus wave action can cause harm to weak swimmers.
You could never say with 100% certainty that it is safe to swim with the manta rays at Manta Bay, from Bali.
---
Manta Bay Snorkel Video
I made this video it shows some of our day swimming with the mantas, give it a look.
---
What are Manta Rays?
The word manta comes from the Spanish word for mantle.
There are 2 types of manta ray, the giant manta ray and the reef manta ray. They are known as mobulid rays along with the devil ray.
It is thought that there is another type of manta called the Atlantic manta ray but that may just be another name for the giant manta. The giant manta ray is the larger of the two.
These big fish can have a wingspan of about 22 feet and the largest ones can weigh 3000 pounds or 1360 Kilograms and eats people – I mean plankton. They have a skeleton made of cartilage, as all sharks and rays do, and they give birth to live young.
Do Manta Rays Sting?
No, unlike their close relatives, stingrays, who sadly saw off Steve Irwin not far from where we live in Port Douglas Australia, manta rays do not sting, nor do they have a stinger of any sort.
They are harmless gentle giants and swimming with them is considered pretty safe.
Are Manta Rays Endangered?
Manta rays are vulnerable and their population is decreasing due to a multitude of reasons including the fact they reproduce infrequently (every 2 to 5 years)
Other reasons include over-fishing for, unbelievably, Chinese medicine.
The manta rays are being fished because of the trade in gill plates (opens in new tab-warning graphic content) which are used in soup.
Ironically, consumption of manta ray gill plates has risen due in part to a decrease in the availability of shark fins.
The mantas can also be caught as bycatch and ghost fishing (when old lines and nets get them caught).
Poorly managed manta ray tourism can also be detrimental to the manta populations.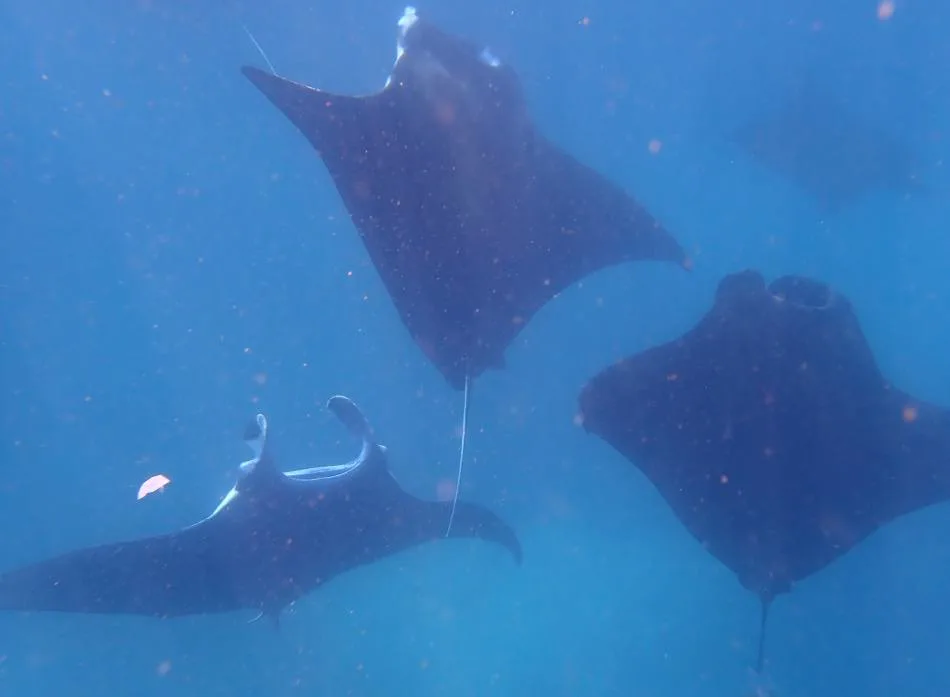 Micro-plastics are incredibly small pieces of plastic that are the result of plastic break-down in our oceans. These are causing harm to manta populations as well as contributing to the toxicity of the gill plates when ingested by Chinese people.
Where in the World Can You Swim with Manta Rays?
My mum and dad have scuba dived all over the world and have never seen manta rays before now.
Manta rays can be found all over the world but they prefer temperate waters. you can find manta rays to dive and snorkel with in places such as Australia where they can be found around Lady Elliot Island and around the Great Barrier Reef. You can also get them on the western coast and down in NSW around Coffs Harbour.
Manta rays can be found all through Indonesia including Komodo island and Nusa Penida, where we went, which is not far from the coast of Bali.
You can have manta ray encounters in Mexico, Hawaii, even Thailand, there are plenty of places for swimming with manta rays.
Where in the World Can You Find Manta Rays in Captivity?
Manta rays in captivity can be found in places such as S.E.A Aquarium in Singapore, Georgia Aquarium in Atlanta (this aquarium was also the first place outside Asia to keep whale sharks), Okinawa Churaumi Aquarium, Japan (home of the first manta born in captivity which unfortunately died five days later after the father chased her into walls and a whale shark) and Ushaka Sea World in Durban,South Africa.
This ray was rescued from a shark net and kept in the aquarium for a year before being moved to the Georgia Aquarium, Atlanta.
We have only seen a manta ray in an aquarium once in Singapore. Seeing them in the wild was a much better experience.
Manta Bay and Manta Point Nusa Penida
Manta bay is on Penida island, a small island off the coast of Bali. Manta Point is further round the coast. Weather conditions on the day will determine where your dive crew take you to see the mantas.
My Experience Swimming With the Mantas in Bali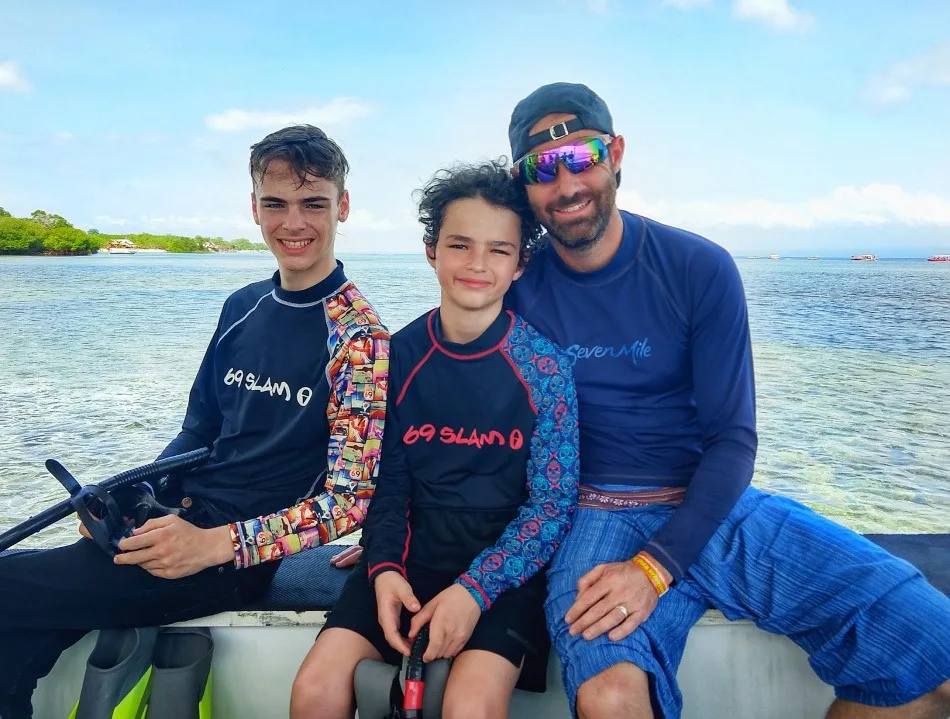 We started the day in Ubud, where a private car came to pick us up at the hotel, not too early, around 8am. Our driver took us down to Sanur where we got in a boat and started off towards Lembongan PNPM public ferry harbor.
When we landed on Nusa Lembongan our whole group got into 2 over-grown tuk tuks and started off towards the dive center. Once we'd had had some snacks and refreshments (look at me all fancy worded) we got our flippers and masks and headed onto the boats (which were parked on the mangrove forest out the back of the building) .
We headed off towards the first snorkeling site of the trip.
After a while of sitting in the boat we arrived at Manta Point, the water was very choppy and as expected there were a lot of other boats and divers/snorkelers.
Spotters on the boats tried to visually locate the mantas in very deep water without great visibility. When they found them we all had to jump in.
It was on our second jump in that we saw them (they had already gone the first time we took the plunge) our guide called us all over to where he was in the water and then we saw them, great birds of the murky depths.
The second time I got in I had a panic attack, the water was very deep and not calm, but the moment I saw them I immediately calmed down. They were so big and peaceful, they were like great fishy Hagrids of the sea.
This is nothing like snorkelling on The Great Barrier Reef. I've done that a lot, this was a lot more terrifying.
But alas all good things must come to an end. We spent a good amount of time in the water with them but eventually they swam away.
Please share my pin to Pinterest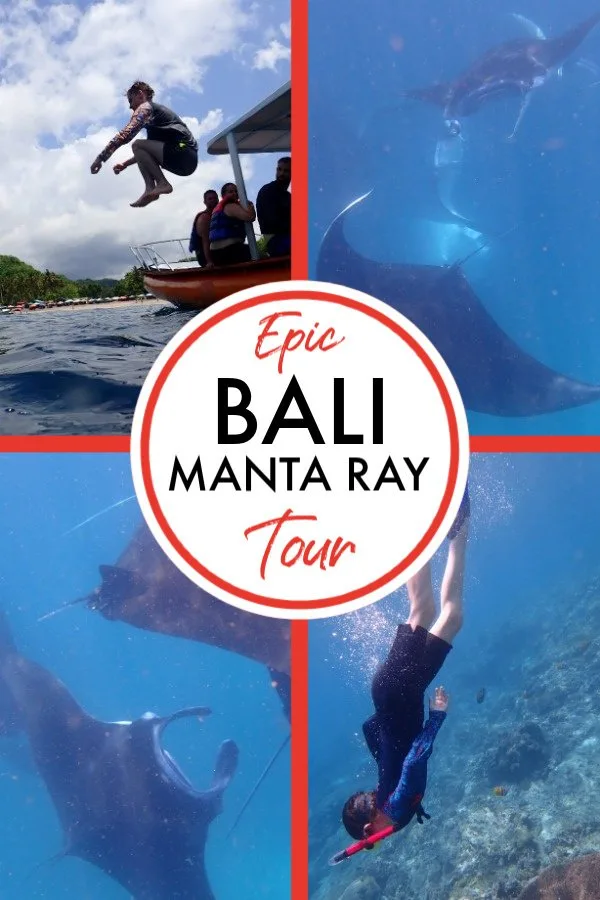 Can You Swim With Manta Rays in Bali?
Yes, you can swim with manta rays from Bali. Tours are available from all over Bali to take you to swim, snorkel, or scuba dive at Manta Point, off neighbouring Nusa Penida island.
We were able to see and swim with dozens of mantas and arranged transport to Nusa Penida, from our hotel in Ubud Bali.
Transfers are also available from Kuta, Legian, and most holiday spots in Bali.
When we got back into our boat we drove around to another 2 good snorkelling spots and had some fun there.
Sadly we didn't see any more mantas but we did see some other cool fish and some cowrie shells the size of my fist.
After all the swimming was done we headed back for a great lunch that included vegetarian options for mum.
She loves tempeh and tofu satay. I had chicken and fish because I am a barbarian.
Once we were all full, the guides took us sightseeing and we saw some cool places on the Nusa Lembongan Island, including the Devils Tear and then finally they took us back to the harbour and we were sent back to Bali where our driver picked us up and drove us home.
Seeing More of Nusa Lembongan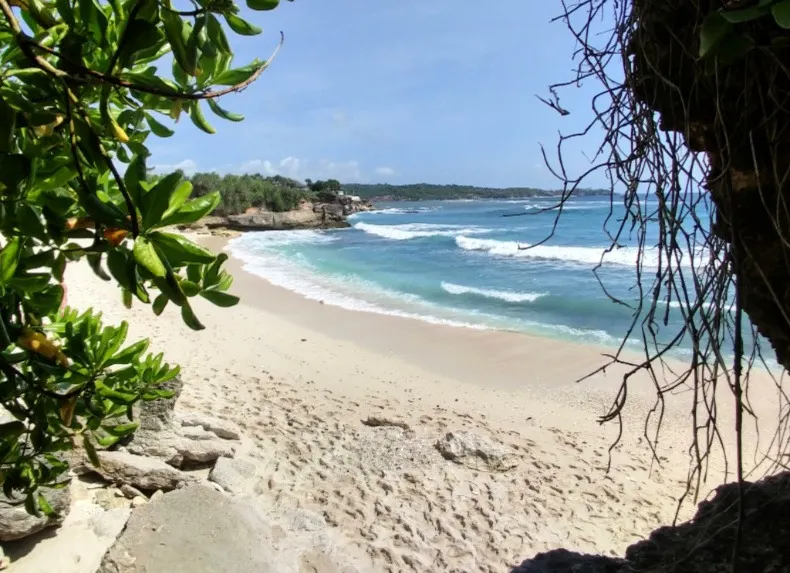 Is This Tour Suitable For Kids and Teens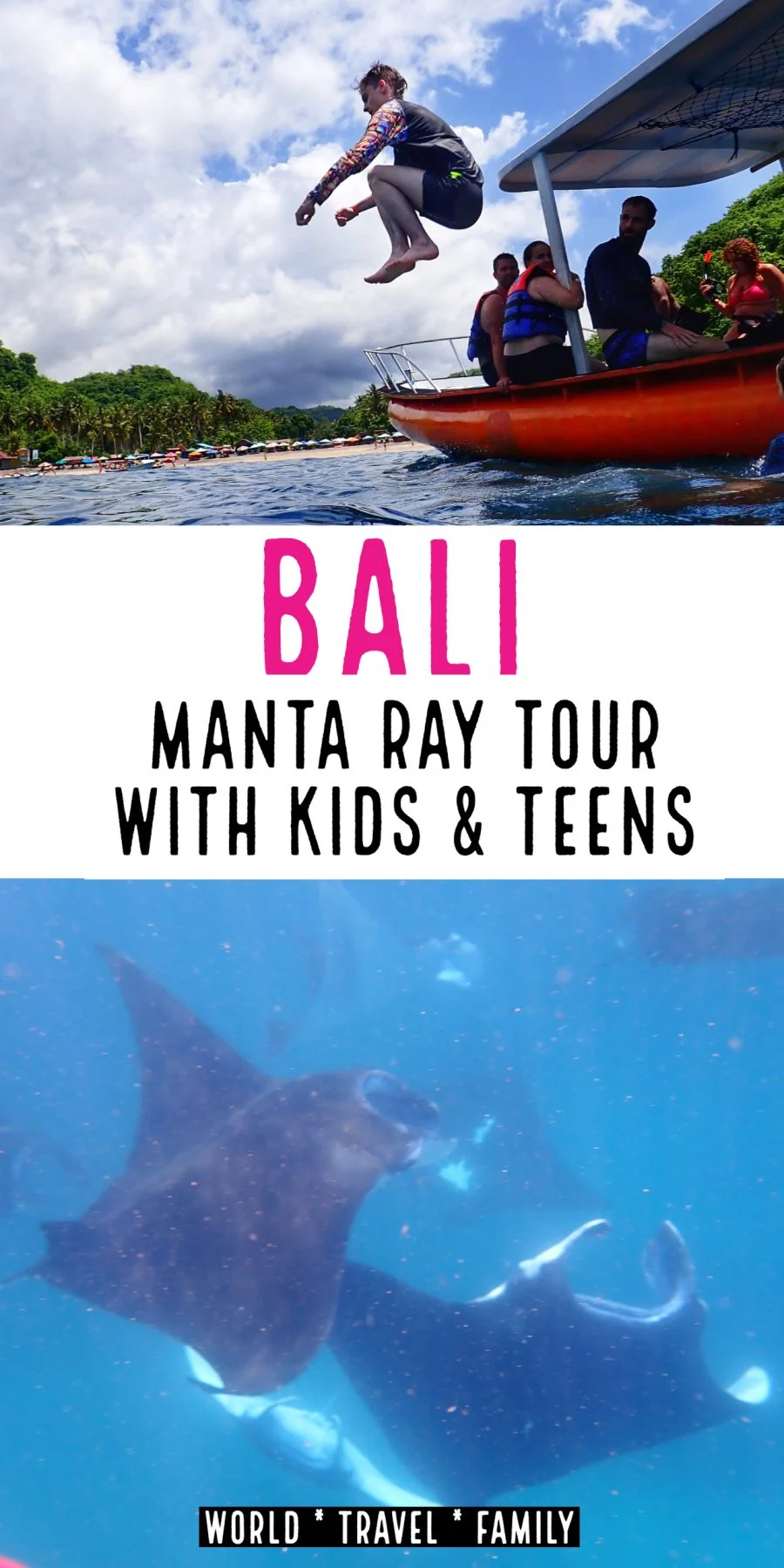 Yes, it is. So long as your child has no fear of deep water and is a decent swimmer, he or she can do this. You'll have to keep a close eye on them though.
I loved that day when we went snorkeling with the mantas. I was awestruck by the grace and elegance that they emitted and I will always cherish the memory of swimming with them. I loved everything about that day. The guides were lovely, the water was clear and gorgeous and I only had one panic attack (not kidding, it was very deep)
If you'd like to book a trip similar to ours from Bali in Lembongan or Penida, you could try this link.
It deeply saddens me to learn that these beautiful creatures are being hunted just like the sharks, all for some hocus pocus remedy that is literally poisonous to eat. When will people wake up? But at least the plastic pollution wasn't nearly as bad as we'd feared.
Check out our post on the best family hotels and resorts in Bali!
---
About the Author D for World Travel Family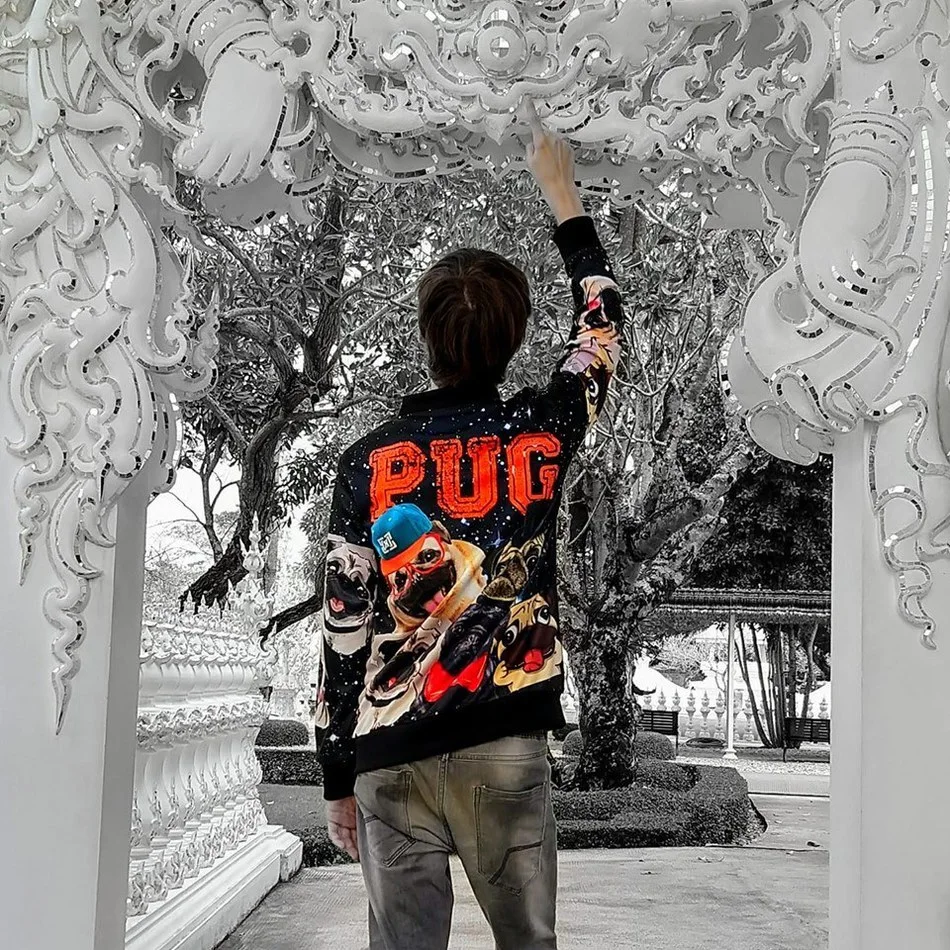 D, is a very young writer and content creator just starting out for the World Travel Family website. He is a blogger, video editor, graphic designer, and aspiring social media and YouTube ninja. He is and was home educated, and is currently sitting his A levels in History and Biology. He is a snake wrangler, a future crocodile hunter, and has been to over 50 countries during over 6 years of full-time travel. Like most teenagers, he loves gaming which made him an instantly awesome drone pilot, and is largely responsible for his huge and imaginative vocabulary. You can find other posts by D here. Most videos on this site are his work.
---
If you'd like to hire a car during your stay, use this car rental comparison tool to find the best deal!

We also suggest you take a look at this company to get a quote for all kinds of the more tricky adventure or extended travel insurance.

Try Stayz / VRBO for an alternative way to find rentals on homes/apartments/condos in any country!