I get a lot of emails from people asking me for ideas on things to do in Port Douglas and trips to take from there. I know the area well, we lived there, and I own a large global travel blog. It's what travel bloggers do, help people with travel plans. So, here are a few ideas on things to do in and around Port Douglas plus some real-life experiences of living in a tropical paradise.
It is very much worth visiting Port Douglas, this little town is a gateway to the reef and rainforest and has a relaxed tropical, yet upmarket, vibe you won't find anywhere else in Queensland. You will need to stay at least two nights, three days, if you plan to visit the reef and have a trip booked in advance, longer if you want to explore more of this part of Queensland and plan to find a reef boat on-arrival.
Most things to do in Port Douglas were closed during lockdown. What's open in Port Douglas now in September 2020? Due to the current global crisis, Port Douglas is still not quite its usual self. Businesses are re-opening but the situation here is still liable to change. Plenty of restaurants are open with social distancing measures. You'll most likely need to book a table. Some tours are running again. The supermarkets are open, there is live music, and there are food delivery options. Some trips to The Great Barrier Reef are open but in a reduced capacity and frequency. We know Wavelength and Calypso were running this week. Port Douglas Markets resumed, in a new format. Mossman Gorge closed but we believe it's currently open. We'll do our best to let you know the situation here. The Daintree River ferry was open in early June, and free to use, we have been able to visit The Daintree Rainforest. The beach is open and Port Douglas is as beautiful as ever. Local tourists are starting to return. Yes, we think it's worth visiting Port Douglas right now.
This post began years ago and we've tracked changes in Port Douglas over the years. Some places and attractions have closed, some have opened. You can see what has changed in Port. We are travel bloggers in Port Douglas right now, we're monitoring changes closely.
Best Things To Do In Port Douglas
There are many things to do in Port Douglas. We've done them and recommend and review below. Stories and real-life experiences of Port Douglas attractions and experiences. We try to keep this post up to date but please double-check all details for yourself.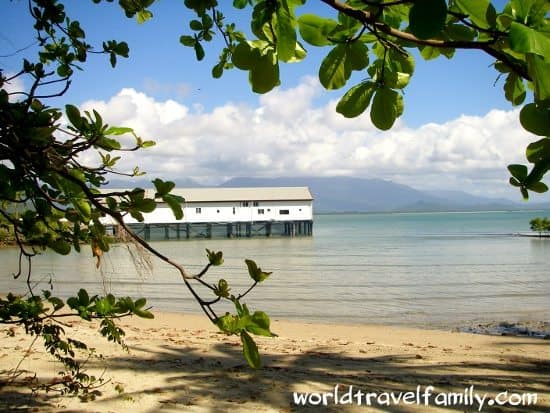 Four Mile Beach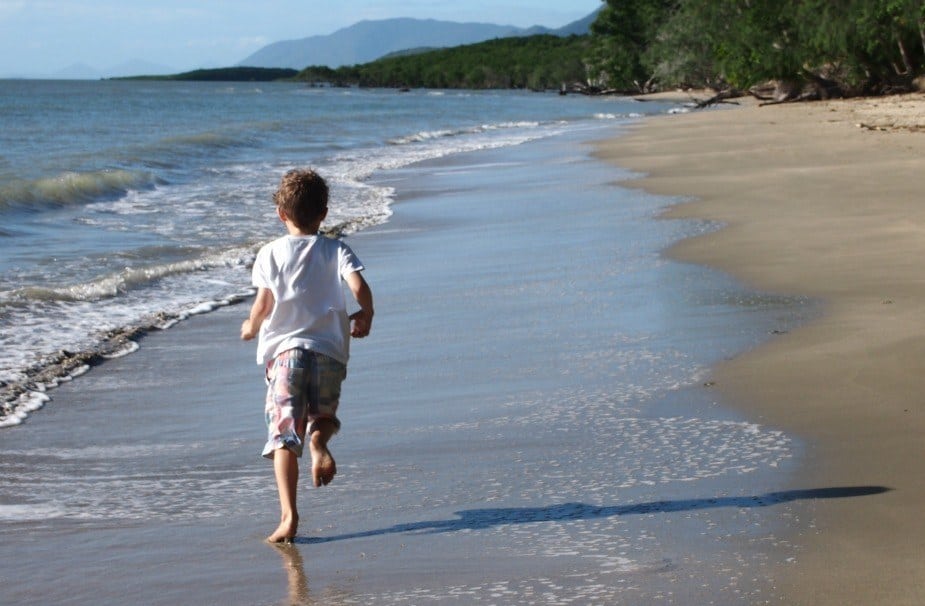 You can enjoy beautiful Four Mile Beach in many ways. I would run or walk at dawn. At low tide the beach is firm and smooth for running, even cycling, but if the tide is high and the creeks full with wet season rain, you may struggle.
You'll find yoga classes there, fitness classes, kayak hire, SUP, kite surfing and more.
At very low tides the water drops so far you can see the coral. Fishing is pretty good here too.
We would take kayaks out to sea on calm days when the water is clear and occasionally spot turtles.
More people use the town end of the beach, near the lifeguard station and stinger net, the southern end (above) near Sea Temple, is usually pretty deserted. Can you swim in Port Douglas? Yes, you can, just pay attention to the lifeguards and any warning signs.
Port Douglas Markets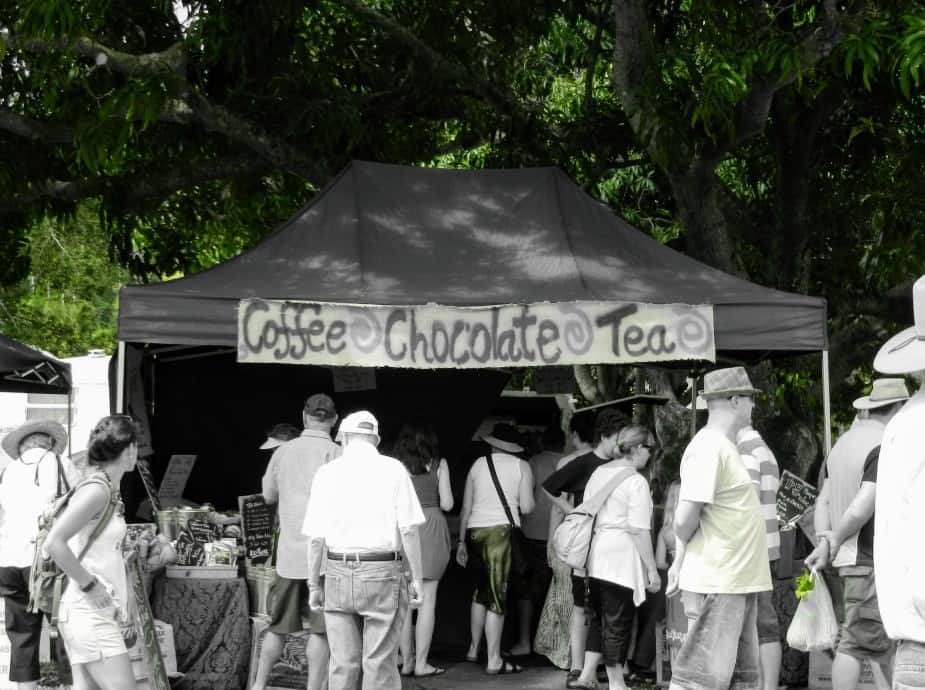 On Sunday get yourselves along to Port Douglas Market, browse, shop and enjoy our beautiful tropical environment.
The market starts early, I used to set up my stall before dawn and spend my Sundays face painting. You can buy jewellery, produce, local crafts and more. This is a good place to grab a bite to eat and a coffee too, there are a few food stalls.
In the summer it can be ultra hot, so visit early. There is some shade and a beautiful weeping fig tree for the kids to climb. There are a couple of small playgrounds down here too.
Enjoy Fantastic Food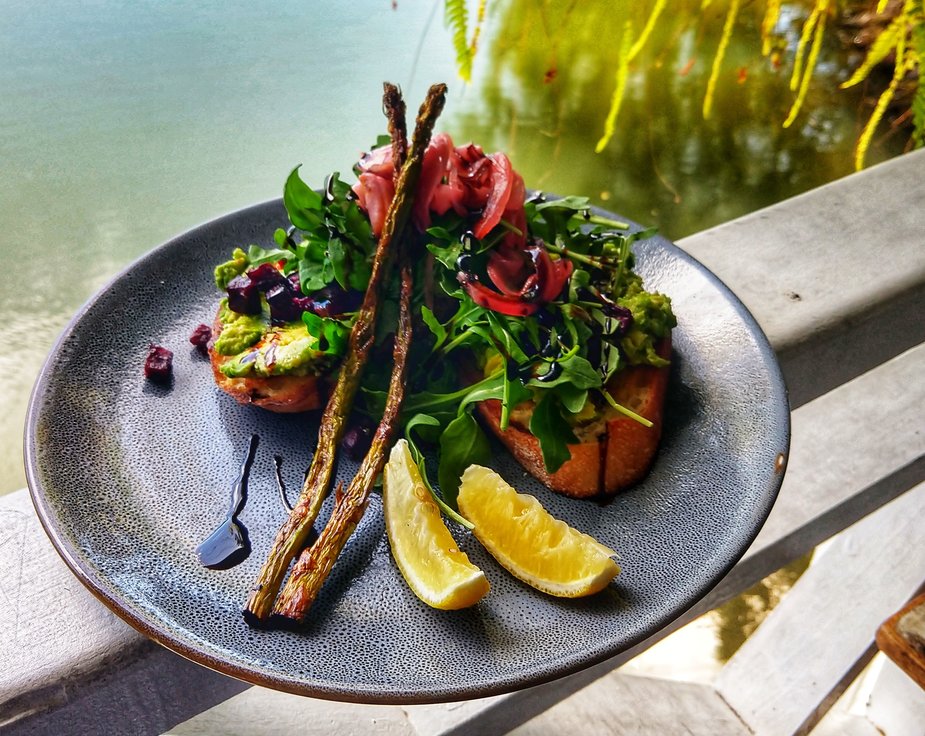 Port Douglas dining is pretty good! For formal dining we recommend Sassi, Salsa, and Zinc. Casual meals with a great view overlooking The Inlet try The Combined Club, also known as The Tin Shed.
If you're looking for casual family meals with a playground on hand, try The Surf Club. Fish and chips is available at Dave's on Macrossan Street and for pizza, bar snacks, or tapas try The Beach Shack.
Our new favourite for breakfast is St Crispin's Cafe. It's at the turn-around station of the Bally Hooley steam train and has a waterside setting with golf course and mountain views. It's featured in the photo above.
Most restaurants have outdoor seating and social distancing measures are in place. This means you may need to book a table and some restaurants are not open every day.
The Great Barrier Reef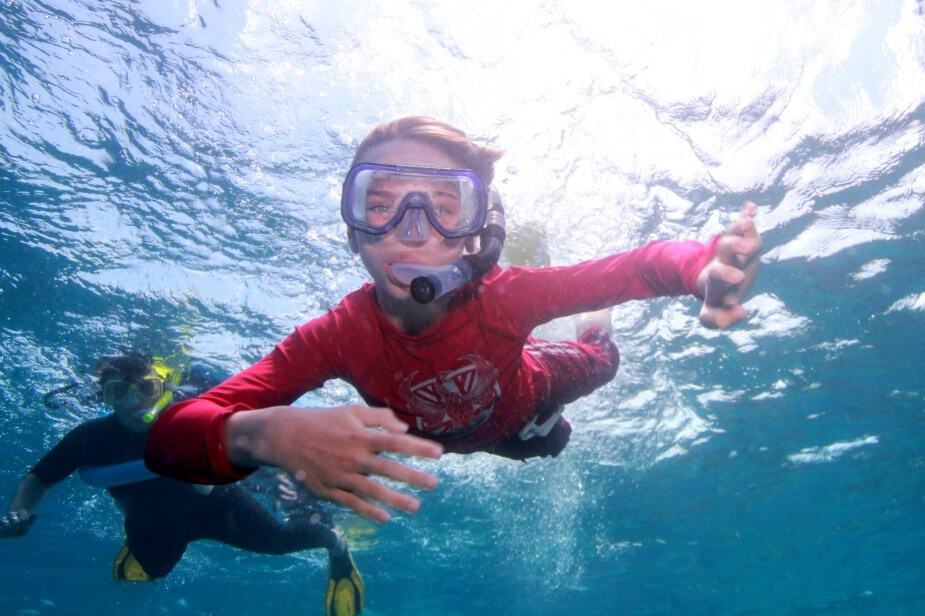 Put at least one day aside to take a magical trip out to the Great Barrier Reef, it's an experience you'll never forget and suitable for most ages. If you'd like to know more about booking your reef trip, you need this post on reef tours from Port Douglas.
We went fairly often. The kids would snorkel from the age of about 4 and once they were in the water and could see the fish any fear of deep water evaporated. My kids joined us scuba diving around their 14th birthdays.
Lunch is usually delicious on the reef boats and you're quite likely to see whales at the right time of year, along with turtles and sharks.
Visit Low Isles
If you don't want to head to the reef the Low Isles are a shorter trip. You can enjoy the beach as well as snorkelling by taking a trip out on Wavedancer or Reef Sprinter.
St Mary's By The Sea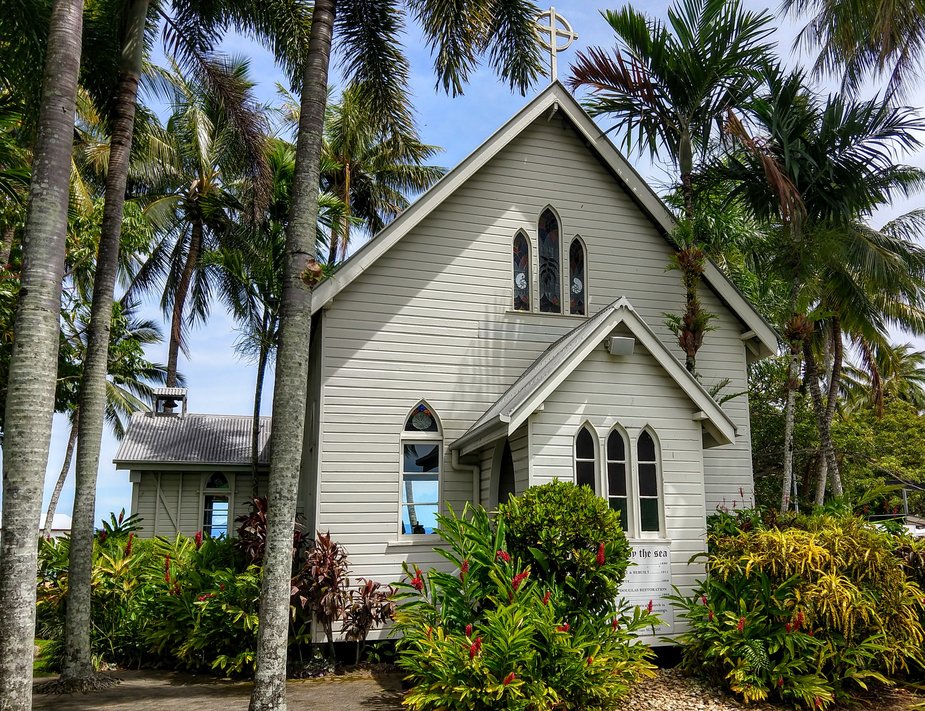 This popular wedding venue is an absolute picture. A non-denominational church or chapel, St Mary's has an interesting history. It originally stood elsewhere but after near-destruction in a cyclone it was moved to its current almost waterside position. It's at the southern end of the market ground, near the sugar wharf.
If you go inside, check out the stunning reef-themed stained glass windows
Port Douglas Wildlife and The Wildlife Habitat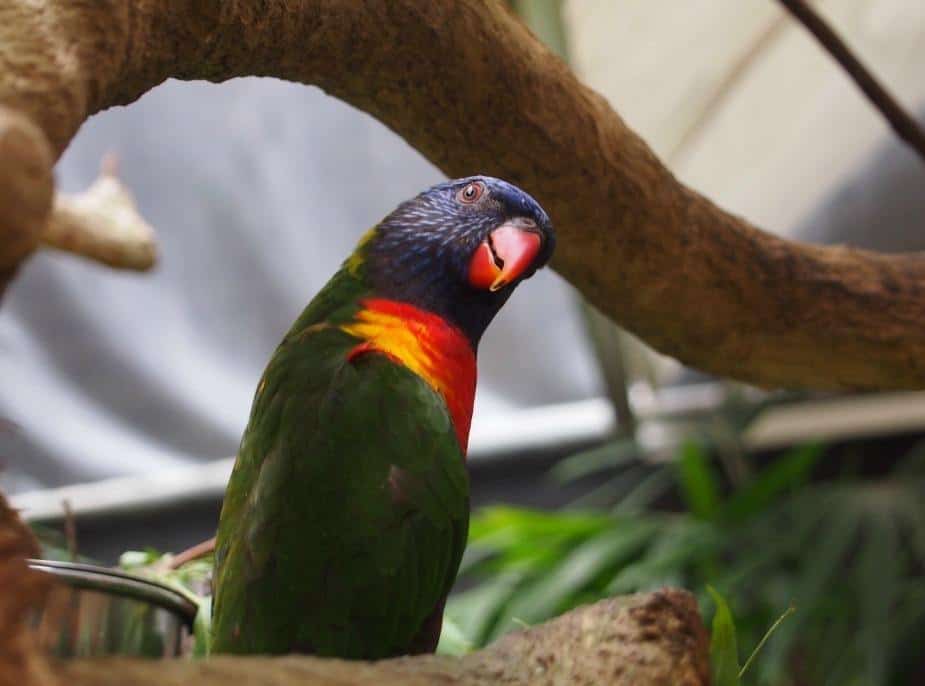 Wildlife you will see around Port Douglas includes giant green tree frogs, rainbow lorikeets, fruitbats (spectacled flying fox), snakes, sulfur-crested cockatoos, spiders, and crocodiles. I've had white and black cockatoos in my garden, a spoonbill, and a white-bellied sea eagle ate my guinea pig.
You're unlikely to see wild kangaroos or wallabies around Port Douglas but I've seen them near Mossman and just outside Cairns.
Cassowaries are nearby, as are tree kangaroos. We recently saw a cassowary while walking to Hartley's Creek Falls.
Look out for giant green tree frogs at night, they often climb up our windows.
We did once have a python get into the door frame of our patio doors. In winter you may see them on the roads at night, roads stay warm after sunset. We've never seen a venomous snake in Port Douglas, only pythons and tree snakes.
There are tarantulas. Several species. But I only ever saw 2. You've very likely to see golden orb spiders where there are plenty of trees.
In the sea, we have turtles, whales, dolphins, dugongs and well, everything except great white sharks (hopefully!).
You will also find ants, mosquitoes and cockroaches. Green ants are pretty interesting but they pack a mean little punch.
Tiny sugar ants invade our home in huge convoys daily. No amount of chemical sprays has ever kept them out.
Cockroaches live in the soil and come indoors from time to time. They're all just a part of life. There are termites too, I hate termites they wreck my garden. So don't assume any hotel or dwelling has low standards if you see these creatures, they're simply a fact of tropical life.
If you want to feed the 'roos and get up close and personal with most of our Australian and local species, head to the Wildlife Habitat. It's on the main road into Port Douglas near the IGA and has seen a lot of improvements and new features lately.
Daintree Rainforest and Cape Tribulation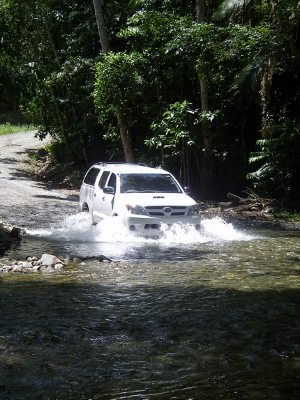 Just up the road we have Daintree Rainforest and beautiful Cape Tribulation. You need to take a drive up there, in your own vehicle or with a tour, maybe you'll spot one of our famous wild cassowaries. If you'd like to keep driving, you could head all the way up to historic Cooktown.
We've driven from Port Douglas, up the Cape to Cooktown and back in a day. It's possible, but it's a long day.
The coast road through the Daintree Rainforest is beautiful, but you'll need a 4 wheel drive for dirt tracks and creek crossings. The inland road is more passable, but not very interesting.
Stay at a Paradise Hotel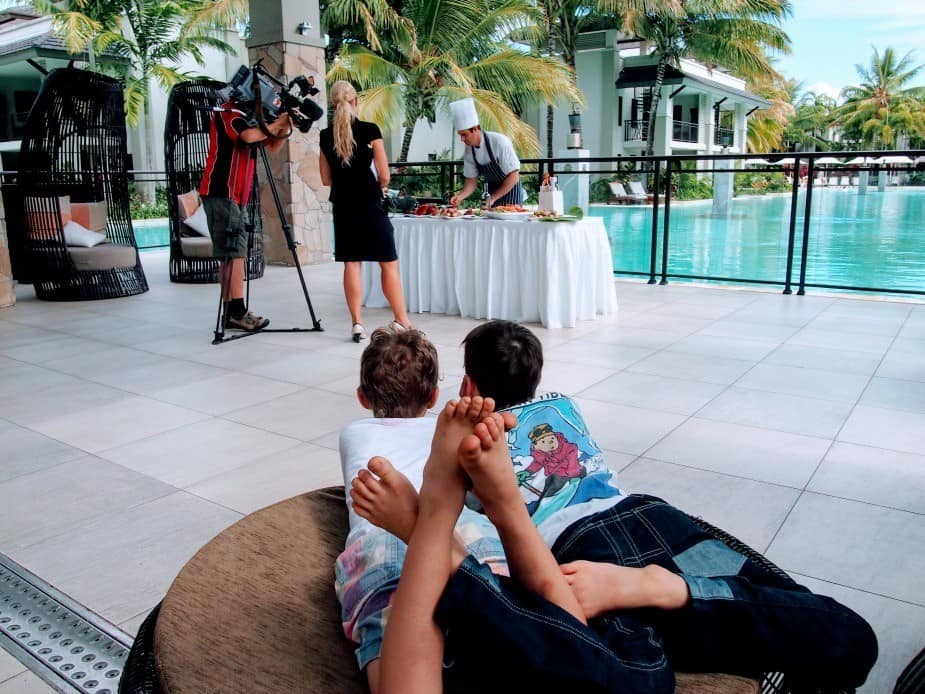 We have incredible hotels in Port. The one above is Sea Temple ( Now Pullman Sea Temple Port Douglas). We spent every Christmas here when we lived in Port. Why? My husband, Chef, was executive chef here.
This is part of the reason we left to travel the world for 5+ years. Having to work every Christmas ( with small kids) is no fun. Even with perks like this.
It's an incredible hotel, you'll enjoy your own private villa, pay the extra for a swim-out to one of the biggest pools in the southern hemisphere and if you're heading to Port Douglas take a look at it here.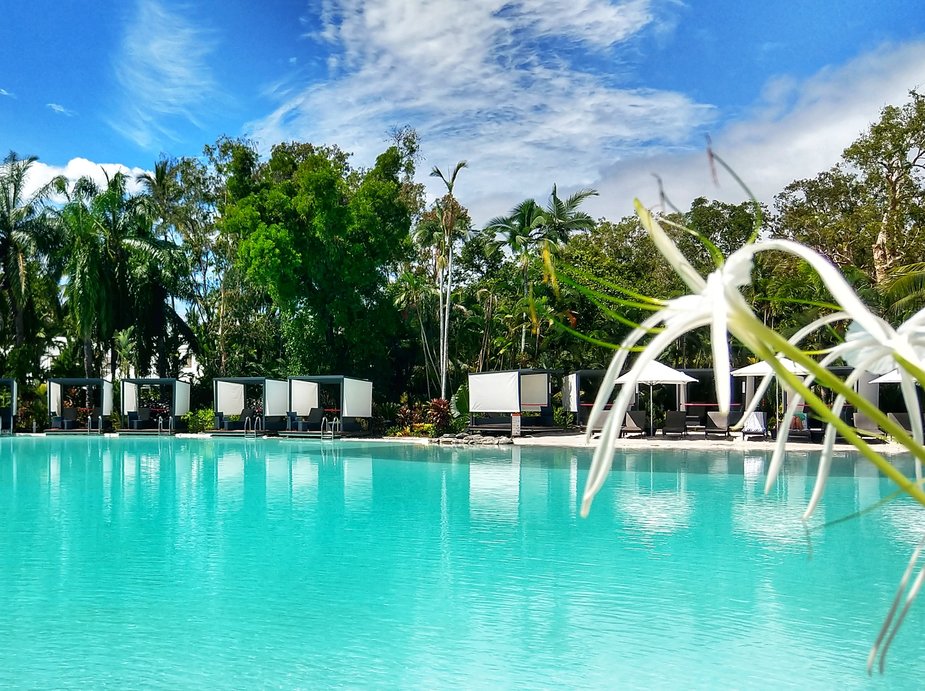 Our other 2 favourite hotels in Port are The Sheraton Grand and QT- Now renamed Oaks Resort If you're on a budget try Airbnb ( sign up here to get our special credit), we have a room we can rent out. Or there's Dougies backpackers resort, that was the first place we stayed when we first came to Port as young backpackers over 20 years ago. It's still good, if not better. Just click on the links above to take a look.
Port Douglas Tours to Book Online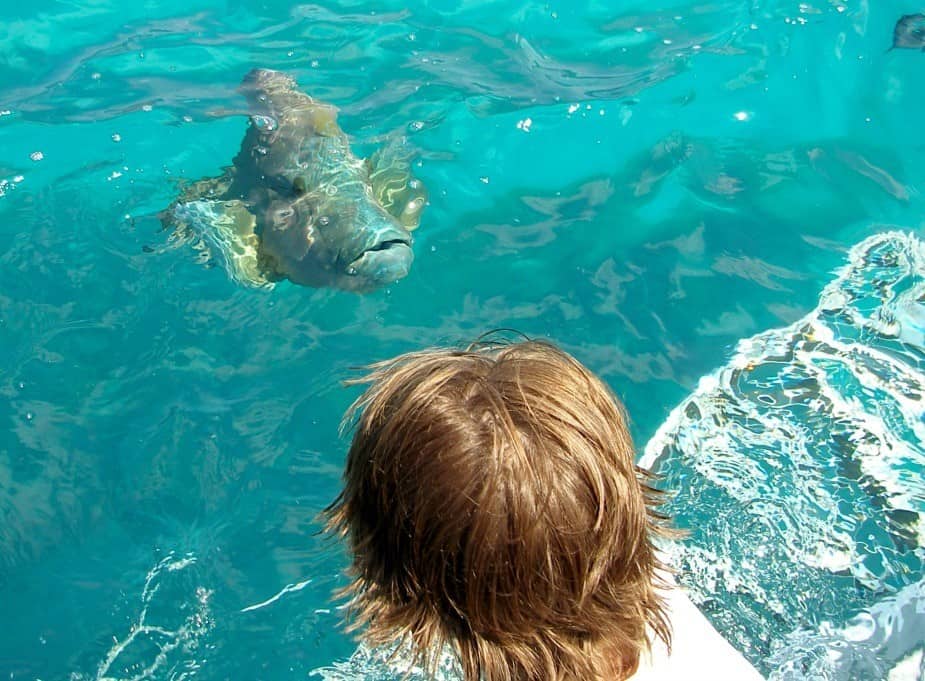 Below is a selection of tours and experiences that you can book for Port Douglas and surrounding areas before you even arrive. If time is short, or you don't have your own car, these will be the best way for you to fully experience Far North Queensland. Other tours exist ( see here) these are just a few popular favourites.
We use the company below when booking tours anywhere in the world, they have a lowest price or money-back guarantee and the reassurance of a big company supporting your booking. If your tour is available to book on this site, presumably they're running. The last time we drove past, July 2020, the Skyrail Cable Car was closed. We're checking and updating constantly, things change fast.
30 Minute Scenic Helicopter Flight from Port Douglas See it here.
Daintree Wilderness and Cape Tribulation Full Day Tour (Pick up from Cairns) See it here.
An 8-hour tour with 4 hours in the water, lunch included.here.
Kuranda Scenic Railway, Kuranda Visit, and Palm Cove, from Port Douglas. A full day out and loads of fun, here.
Tjapukai Aboriginal Culture and Heritage by Day with Transfers (Great for Kids!) here.
Take a Trip to Cairns & Scenic Drive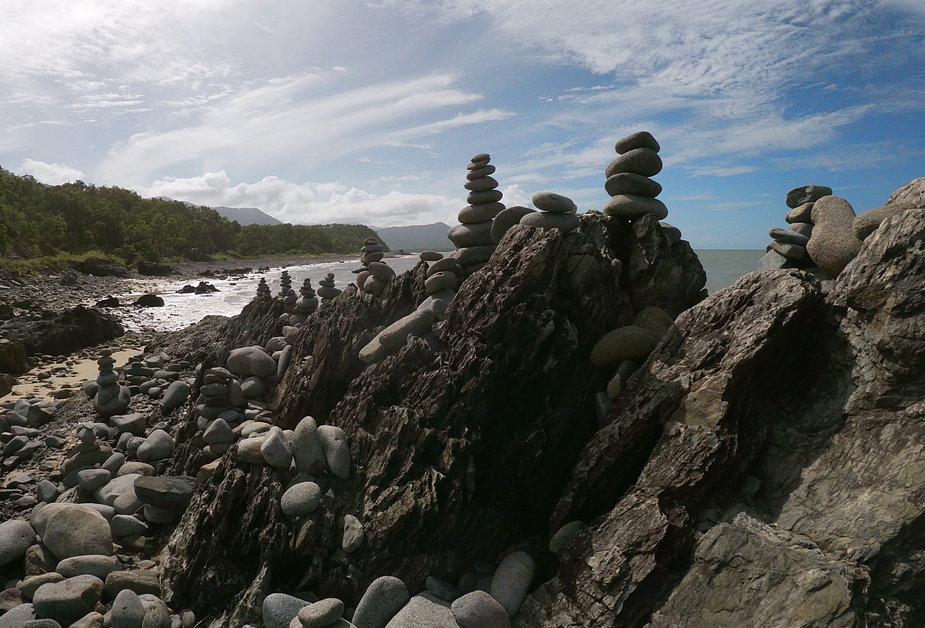 The drive between Port Doyuglas and Cairns is stunningly picturesque but of course, Cairns, being a huge tourist hub, has plenty to do. We now have a full post on things to do in Cairns. Including the famous Cairns Lagoon, Aquarium, Cairns Skyrail Rainforest Cableway, and other tourist attractions.
Take a Hike Up The Bump Track & Other Walks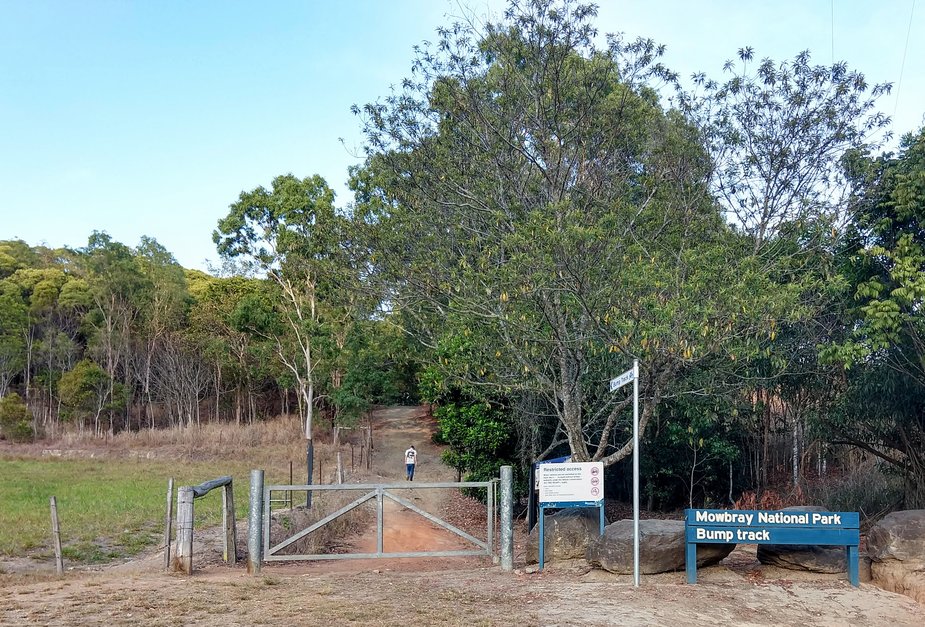 The Bump Track is a bit of a locals' secret. It's a historic track up the mountain at the back of the Mowbray Valley. It's great exercise and the view from the top on a clear day is spectacular.
Real enthusiasts run or cycle up and down it or you can let a horse take the strain. I used to piggyback the kids up here when they were too small to walk and too small to stay home alone.
You can take a mountain bike tour up here, which you can book locally.
If you're looking for an easier walk in Port Douglas, take the walking track around Flagstaff Hill. It's newly repaired and has some great lookouts.
See Cane Toad Racing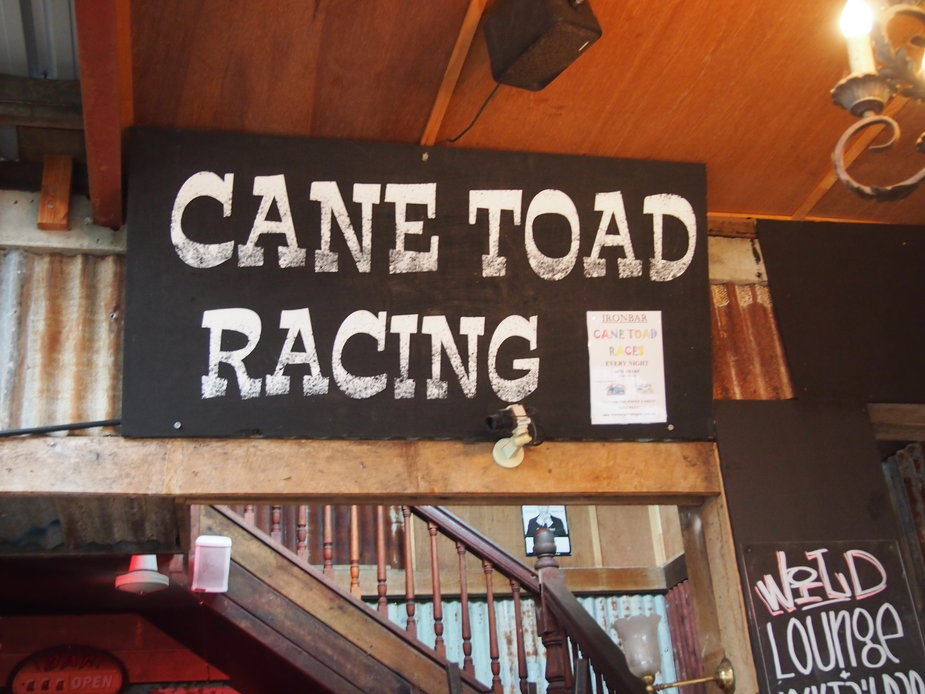 The Iron Bar in Port Douglas hosts regular Cane Toad Races. Can you come to the Far North without seeing this local tradition?
Admission was $5Au last time we visited and kids of all ages were welcome. It starts around 8pm.
Watch George The Groper Being Fed- No Longer Happens Sadly
This is ( was) my favourite thing to do in Port Douglas, I loved George, I love the venue and I love the food and wine. Don't miss this one.
UPDATE: Sadly this part of Port Douglas has been semi demolished to make way for a new marina development and I guess George and his mates are now starving.

Catch an Aussie Style Cattle Muster or Rodeo – Closed
Update – The Australian Muster Experience has shut.
Just outside town, past Mareeba, Daintree Station and The Australian Muster Experience will give you a slice of country Australiana.
They have regular bull riding events as well as zorbing. The bull riding can get bloody and ambulance crews are always on standby.
Take a Walking Tour of Port
Walking tours of Port Douglas with K Star tours have become popular, give it a go.
Kevin "KStar" should be able to answer all of your questions about our area and share some valuable local knowledge.
Explore Dickinson Inlet by Self-Drive Boat and Check Out our Crocodiles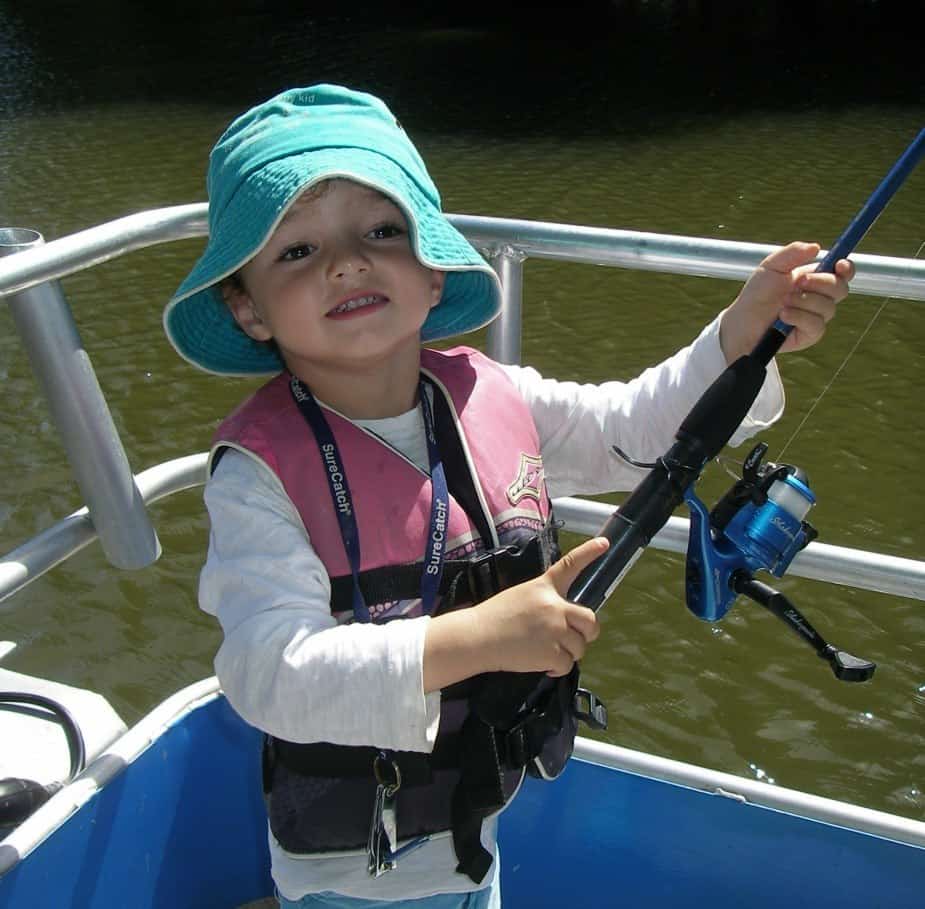 We love cruising up The Inlet. You can hire your own little boat from the marina or take a tour on the Lady Douglas, the view and the wildlife are spectacular. You can hire fishing gear too, just don't lean too far over the edge or the crocodiles might get you. We survived, many times.
We're currently checking the status of boat and fishing hire or rental in Port Douglas, we'll beback to you soon.
Take A Cruise on The Lady Douglas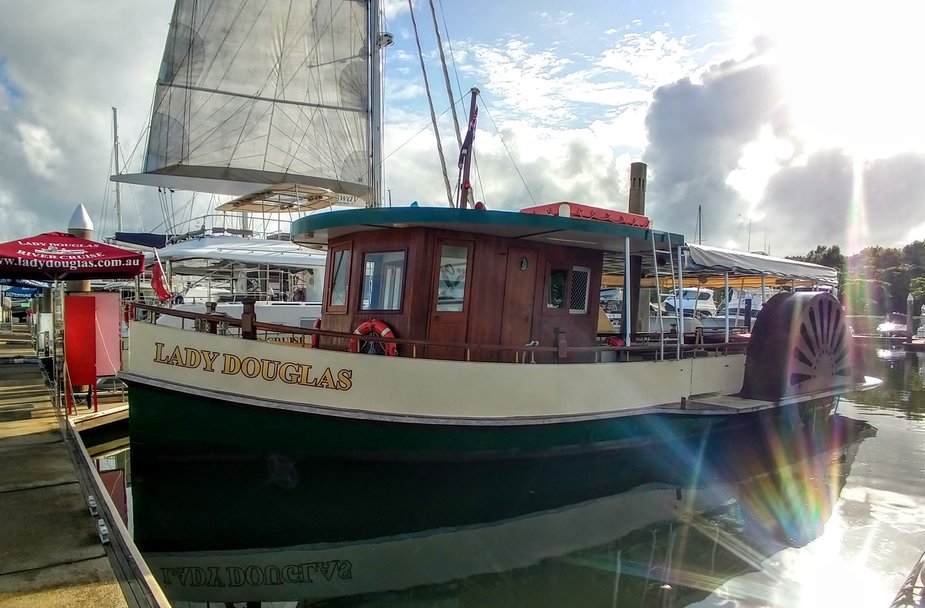 The Lady Douglas is a Port Douglas institution. An evening cruise on The Inlet is a wonderful opportunity to see salt water crocidiles along with various birds, including white breasted sea easgles.
I used to take my kids, often, they would always get a chance to steer the boat on the way back. Our good friends, John and Jenny, don't own this business any more, they now run Wavelength Reef Cruises, but I hear good things about the new owners.
The Lady Douglas crocodile spotting and cruise departs from the Crystalbrook Superyacht Marina, normally daily, we're checking the current situation for you.
Sports and Ourdoor Activities, SUP, Kite Surfing, Segway Tours, River Snorkelling, and Wind Surfing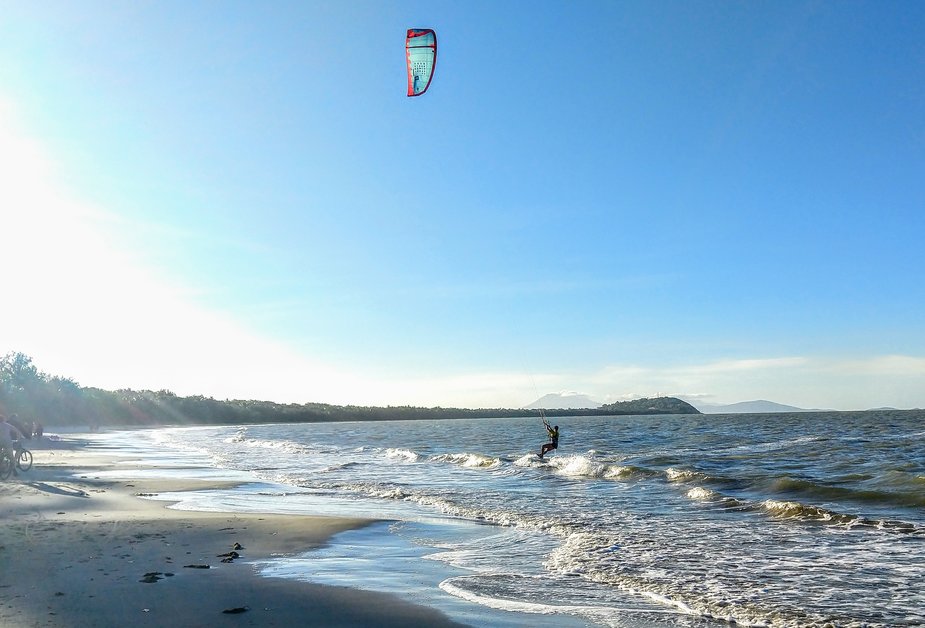 Stand Up Paddle Boarding, Kite Surfing and Wind Surfing are big news on Four Mile Beach. There are plenty of locals around happy to get you started in their sports. For something more gentle, yoga on the beach is a lovely way to start the day.
You can book various outdoor activities online and in advance to guarantee availability, for instance how do you fancy rainforest river drift snorkelling?
Atherton Tablelands From Port Douglas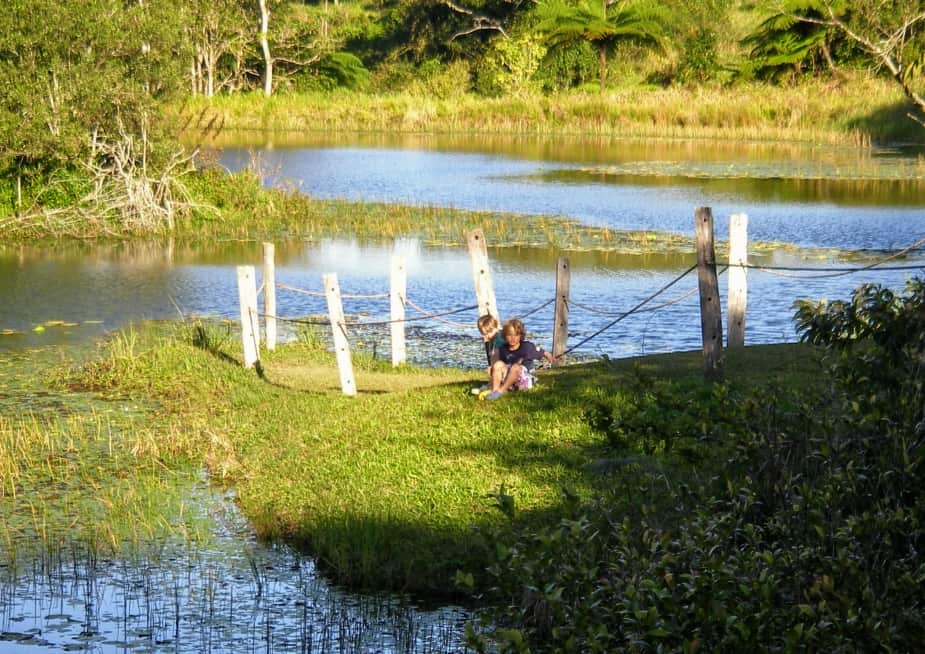 In the relative cool of the Atherton Tablelands you'll find man-made and natural tourist attractions and things to do. Wineries, coffee and chocolate attractions, dairies, and of course, Lake Tinaroo are just the tip of the iceberg.
The picture above is from a camping trip to spot wild platypus, pretty incredible!
Full post on Atherton Tablelands, Herberton Historic Village and more, coming soon!
Take a Lesson in Aboriginal Heritage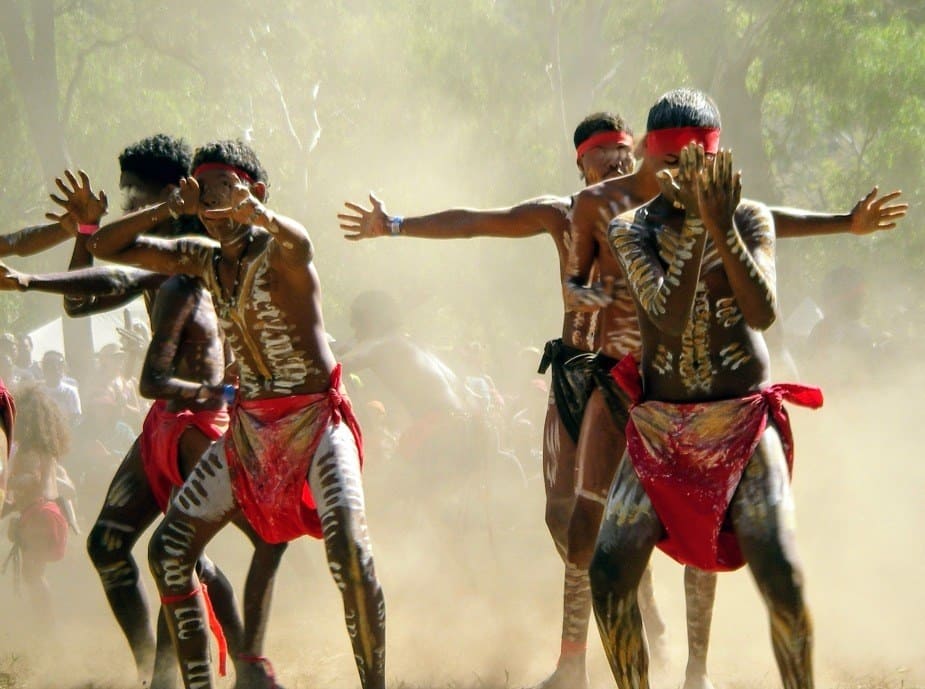 Mossman Gorge has recently been handed back to its Aboriginal owners. Dreamtime tours, guided by our local Aboriginal tribe are, I feel, very helpful in understanding Australia's history.
In the orange box above you'll also see trips to Tjapuki and Aboriginal guided experiences just north of Port Douglas. This photo was taken elsewhere., I use this one because faces are covered, it's important.
The Scenic Drive To Kuranda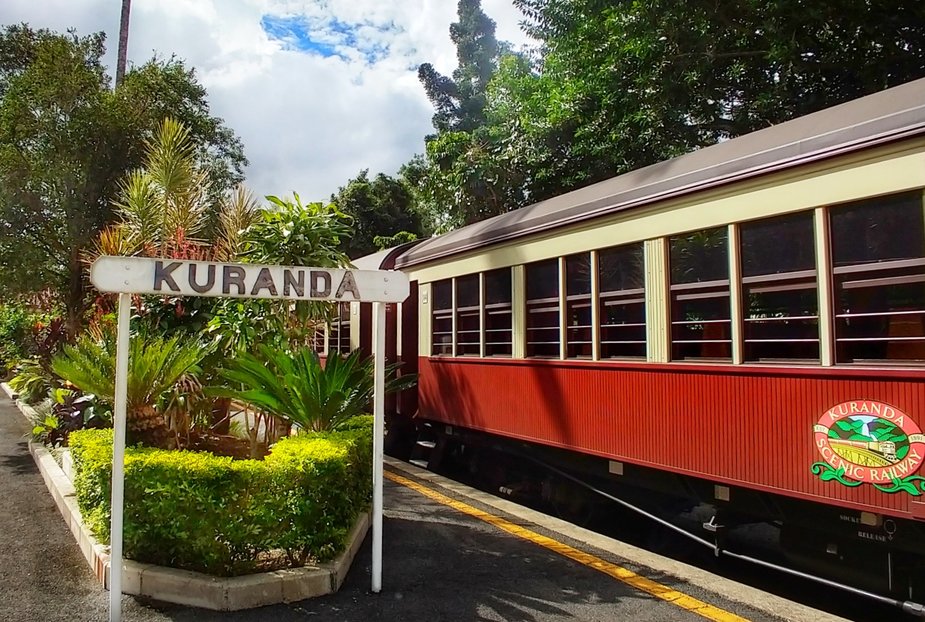 The drive up to Kuranda is spectacular, whether you choose the range road near Mossman or the Smithfield option. Kuranda is a pretty, sleepy rain-forest town full of markets, galleries, shops, and cafes.
If you'd rather not drive, you can book a tour or head up there on the Cairns Skyrail Cablecar or Kuranda Scenic Railway. They depart near Cairns, but tours are available from Port Douglas.
There is The Venom Museum, Butterfly Sanctuary, Birdworld, and Koala Gardens to keep the children happy in Kuranda. You could also take the cable car/train combo up to Kuranda and back. See the tours above for these options.
Swimming at Mossman Gorge in an Icy Rainforest Stream (Maybe)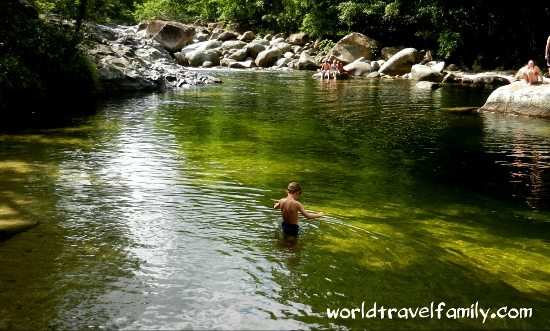 There are a few options for safe, crocodile free, stinger free swimming in the hot season. For tourists, Mossman Gorge was probably the best bet and certainly the most beautiful site. Park at the visitor's centre and take the shuttle bus up to the rainforest boardwalk. Last time we went there were new signs up saying no swimming.
Port Douglas Carnivale
Port Douglas has its own annual Carnivale in May each year. It was cancelled during lockdown. We host various dining events and round off the festivities with a good old-fashioned street parade.
The kids will love it, my favourite part was the Seafood Festival usually held on the Marina. Food, music, drinks, and fun in an amazing open-air setting.
May is possibly one of the best times to visit Port Douglas, things should be cooling down nicely, Stinger Season will be in its final throws and the big crowds are yet to arrive.
Try the Open-Air Cinema-Has Now Left Port
Port Douglas had its own open-air cinema during the dry season. You could catch a movie under the stars. Unfortunately, this is not currently happening. I'll let you know if Moonlight Cinema returns.
Take a Helicopter Ride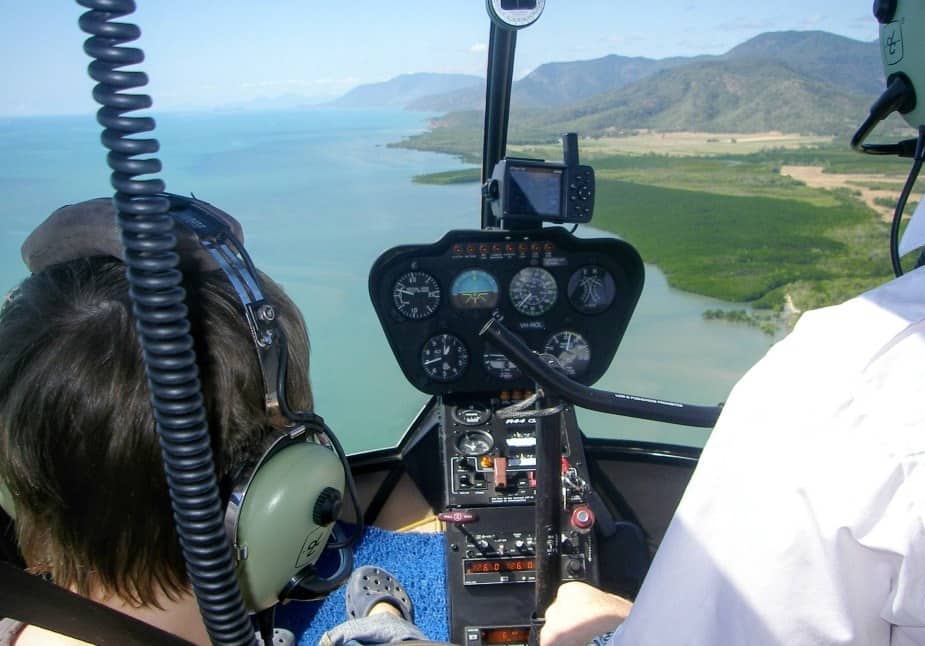 I'll give you a hint. The annual father's day picnic was for us the cheapest time to take a brief, but spectacular, helicopter ride over Port.
All year round, helicopters are available for rides over the reef and Coral Sea islands, the views are to die for. There are a couple of options in the tours section above, prices start around $300 US but can vary. This is a once in a lifetime thing to do and it's well worth it.. If you have the cash, just do it! Book here.
Help Our Environment with a Beach Clean Up
We always enjoyed volunteering with Tangaroa Blue beach clean ups. It's a fun family day or half day, you'll meet some interesting local people and discover beaches, or even islands, off the normal tourist track while doing your bit to help our marine environment.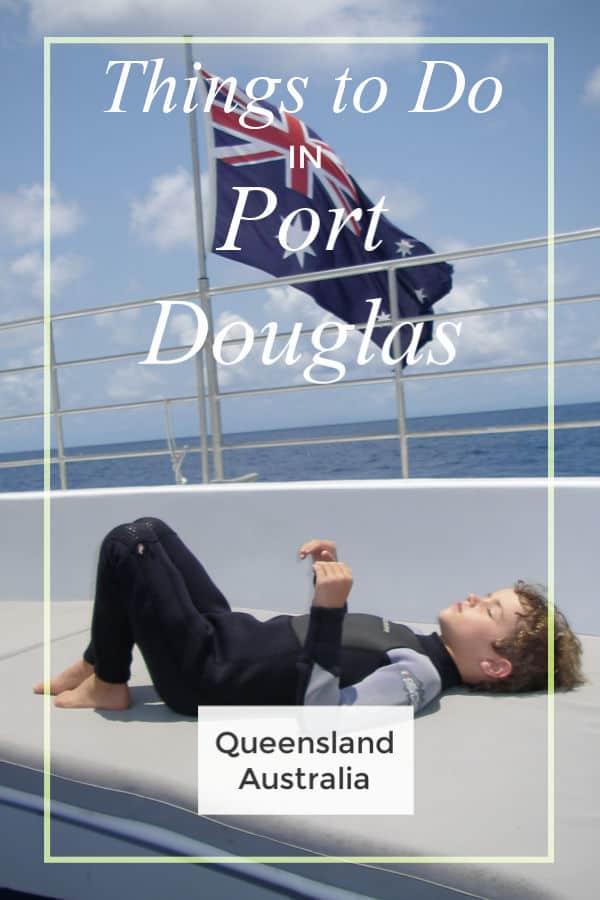 So there's plenty to keep you busy in and around Port Douglas, for singles, couples, kids, families, there's plenty for everyone. How long are you staying in our old home town? What are you most looking forward to doing? Tell us in the comments below. Want more destinations and tips in and around Australia? You need our Australia Travel Blog.