This post may contain affiliate links.
If you're visiting the Cairns and Port Douglas region in summer, you absolutely must check out some of our freshwater swimming spots as well as the iconic Great Barrier Reef. These are where the locals go to cool off and some, like Mossman Gorge, receive large numbers of tourists too. Families visit these jungle swimming holes because they are widely considered safe, there are no crocodiles or marine stingers here, (we hope!) and because they are stunningly beautiful.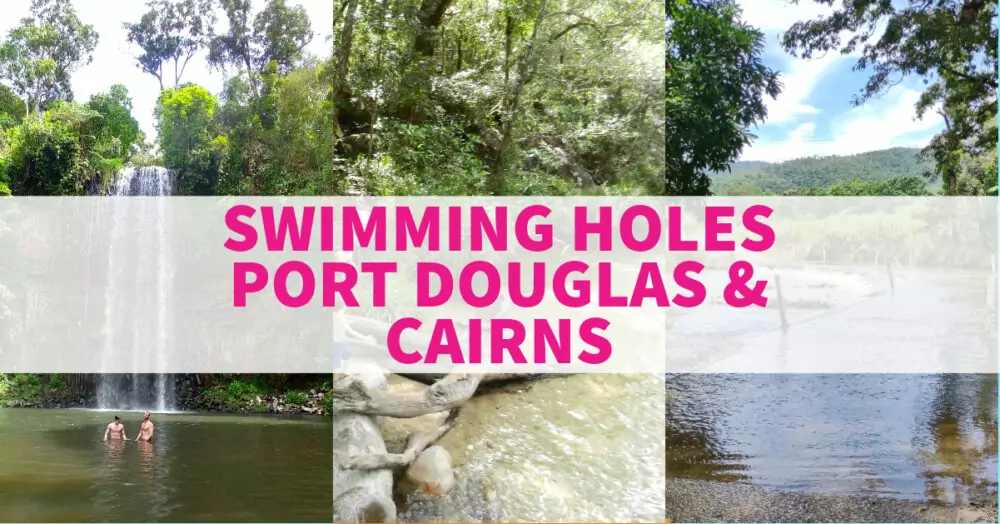 Swimming in crystal clear, fresh water, deep in the jungle rainforest, surrounded by fish, is a bucket list experience.
A series of photos and brief words about some of the swimming holes, waterfalls and swimming lakes near Port Douglas and Cairns, the Daintree National Park and Tablelands, in Far North Queensland Australia.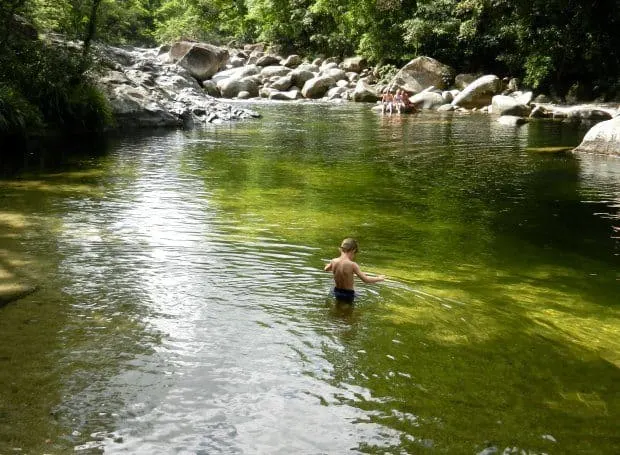 We can't completely vouch for the safety of any of these swimming holes, rivers, creeks, and lakes. We once swam in a place we thought was safe, only to hear that a 3m croc was found there days later.
Swim at your own risk!
Mossman Gorge
Mossman Gorge is slightly north of Port Douglas and a big regional tourist draw. There is now a visitor centre, a shuttle bus and various marked walkways and short hikes through this Aboriginal-owned land.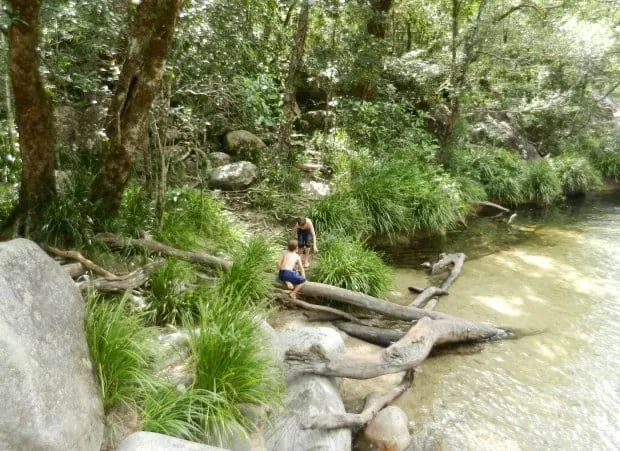 Why are there no saltwater crocodiles up here? The water that comes straight down from the mountain is too cold for them to survive. That's what we've been told!
I'd never guarantee that there aren't crocodiles, anywhere. But incidents are rare.
We've found it pretty safe to swim unless there has been recent heavy rain. Flash floods happen occasionally and a few swimmers have been washed away.
Our kids swam here often under close supervision from their lifesaver dad.
The currents are always fairly strong between some of the boulders. Keep a close eye on your kids and weak swimmers.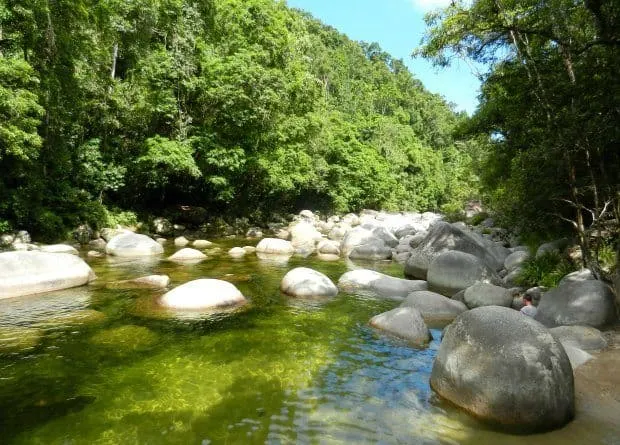 "Danger. No swimming" signs have recently appeared at the visitor centre. This is possibly because of incidents involving tourists when the water is flowing strongly. There have been lives lost in the wet season.
Slippery rocks can also be hazardous here.
The last time we visited (2023) people were swimming despite the warning signs.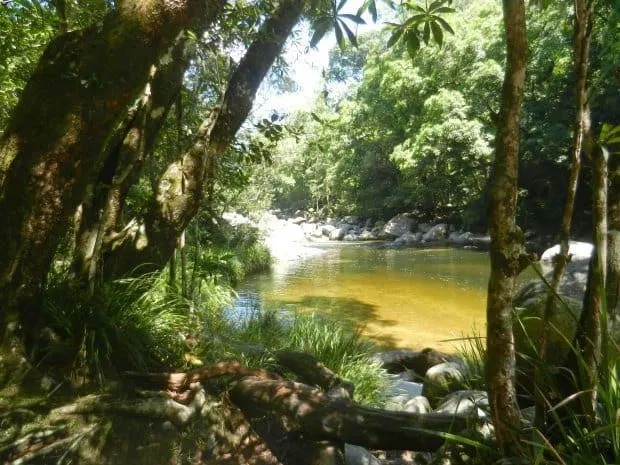 Mossman Gorge is part of the Daintree National Park, there are also a few creeks and swimming holes north of the river in the Daintree Rainforest.
You most certainly can not swim in the Daintree River nor on the beaches north of Port Douglas and into Cape Tribulation.
The Hippy Hole
This one is famous with locals and it's on the way up to the main Mossman Gorge swimming beach.
Yes, there's a beach, you'll find a variable amount of river sand on the river bank. The Hippy Hole is something of a locals' only secret, so I'm not going to tell you where it is, sorry!
Just know that it's there and somebody might tell you if you talk nicely to them.
These days visitors have to take a shuttle bus up to the main Mossman Gorge car park from the Visitors Centre where tourists have to pay a small fee. The bus bypasses the Hippy Hole.
Spring Creek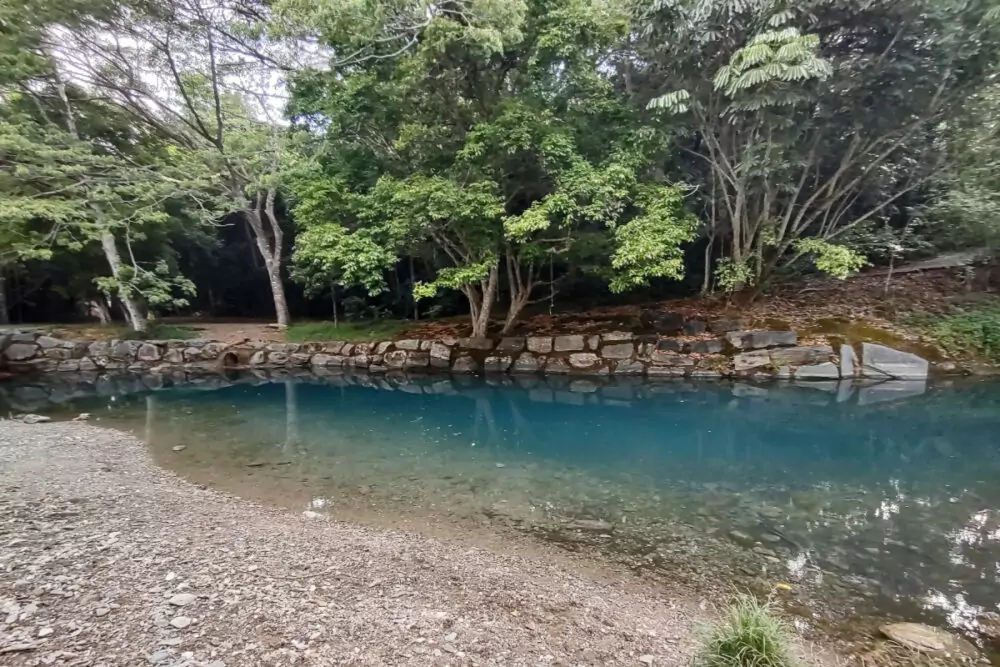 Spring Creek is a popular swimming hole for Port Douglas and Mowbray residents. It's also fairly near Mossman.
South of Port Douglas, heading south, turn left onto Tresize Road. You then need to take a right onto Spring Creek Road. The road crosses Spring Creek at the swimming hole.
This part of the Mowbray River valley does sometimes flood in the wet season and Spring Creek Rd may be inaccessible.
There is a shady place to park right on the river bank and there is usually a rope swing set up on the far side.
This swimming hole is fairly deep and the water isn't as sparkling as elsewhere. The blue colour in our picture is pretty typical. Look out for turtles!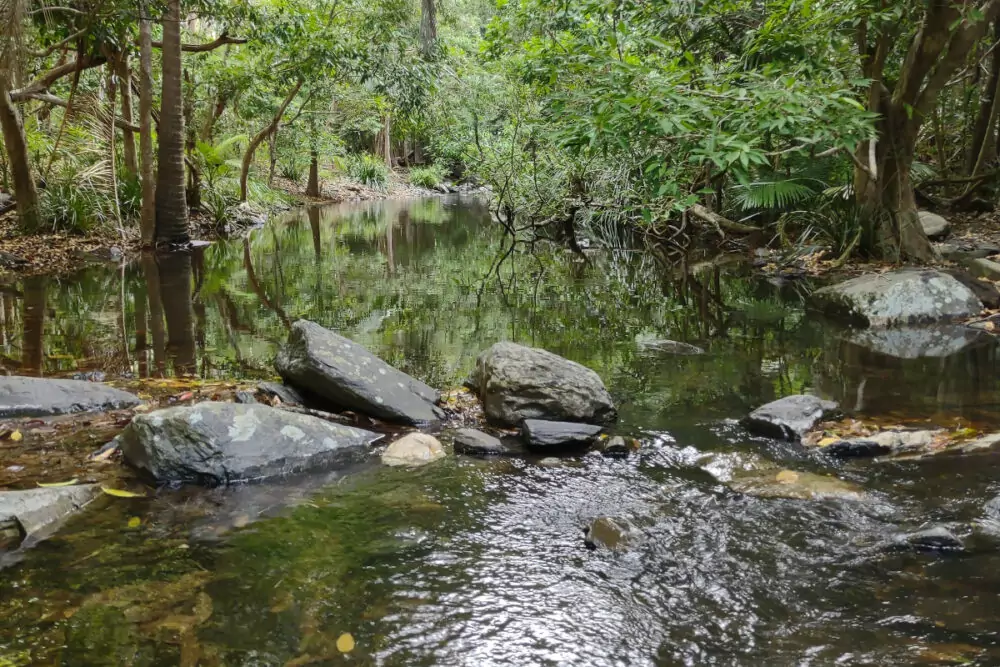 You can walk along the path of Spring Creek if you drive a little further and take the dirt track to the left. You'll likely need your four-wheel drive.
Syndicate Road Swimming Hole
North of Mossman, take a turn onto Syndicate Rd and keep going until you see the swimming hole.
Finlayvale Road Swimming Hole
If you're on Syndicate Rd., north of Mossman, you may like to continue to Finlayvale Road.
This road leads to Silky Oaks Lodge, which has its own private swim hole.
Before you arrive at the hotel there is another freshwater swimming spot.
Crystal Cascades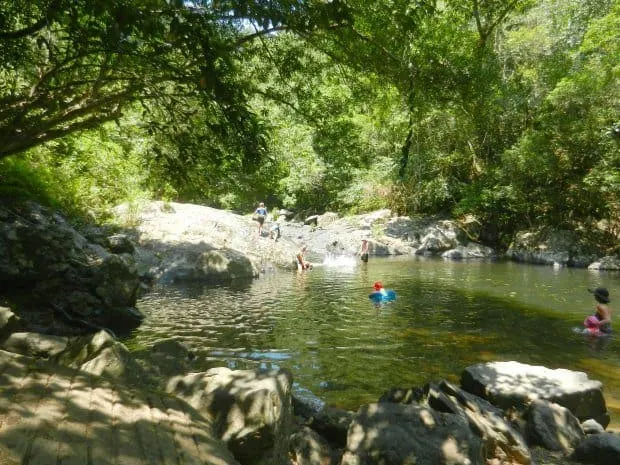 This popular swimming spot is closer to Cairns and is similar to Mossman Gorge. My kids swam here often when they were small. It's a great spot to cool off.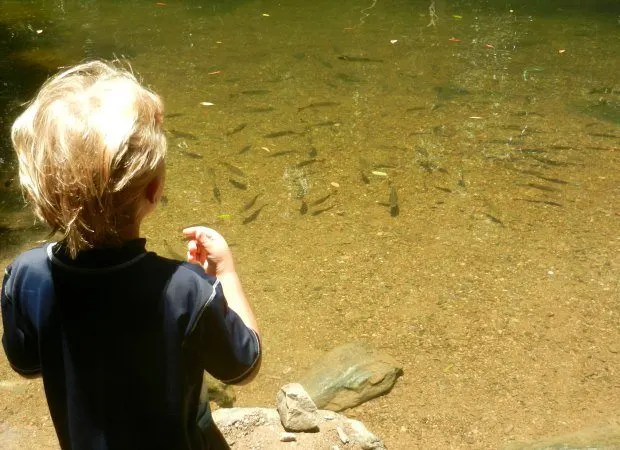 Clear water and abundant fish make this creek a beautiful spot for a picnic. There is a car park nearby.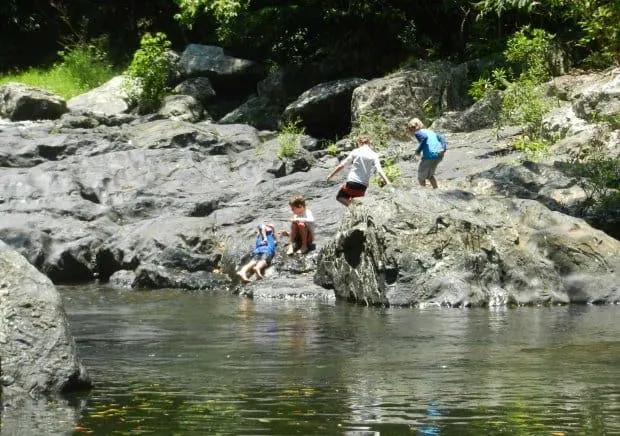 Millaa Millaa Falls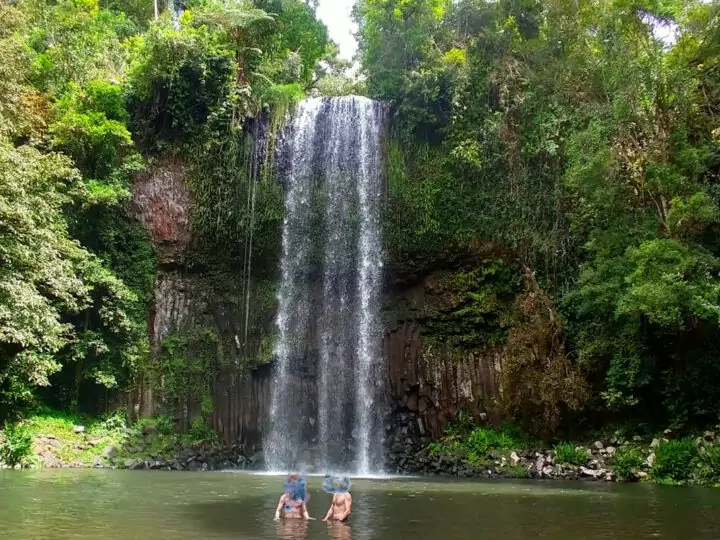 Milla Milla is up in the Tablelands region. The falls are 18.3 m high and at the base there is a pool that's popular for swimming. You can drive to Millaa Milla from Cairns in 1-2 hours, which by Australian standards, is just up the road.
There is a car park very near the falls although the steps and approach to the swimming hole may be slippery if you have mobility issues.
There are changing rooms here, but we've usually found them to be closed.
This is a place to live your tropical rainforest dream of swimming beneath a jungle waterfall.
Millaa Milla falls are part of the "The Waterfall Circuit" on the Atherton Tablelands. Other falls on the circuit include Zillie Falls and Ellinjaa Falls.
Other stops on this road trip circuit are Lake Barrine and quaint Yungaburra. Yungaburra is another place near Cairns, famous for its Saturday markets, where you can spot wild platypus. If you're lucky!
Lake Tinaroo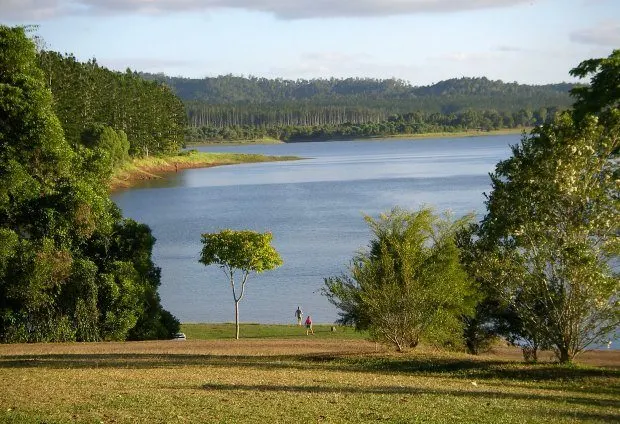 Lake Tinaroo is a man-made lake or reservoir (they sometimes call them dams in Queensland) high on the Tablelands behind Cairns and it's vast. You'll find multiple places to swim, camp, kayak or enjoy other outdoor recreations around the lake.
There is a rumour that somebody released a saltwater crocodile up here and that it's still alive, but we can find no evidence to support that. Our neighbours swim here regularly. The water would probably be too cold for a salty to survive, I hope.
Lake Tinaroo is also a great place to catch yabbies.
Mount Hypipamee and Dinner Falls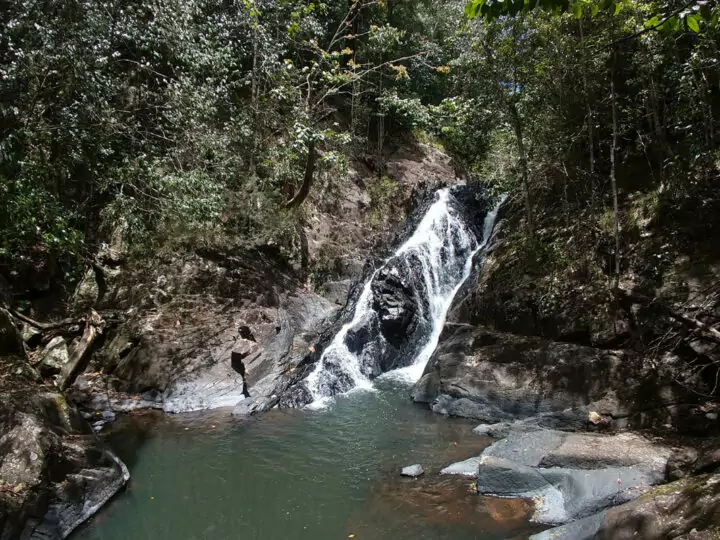 You will not want to swim in the Mount Hypipamee Crater itself, that would likely be suicide. However, the short walking track here follows a creek and lies alongside Dinner Falls.
We hear that people do indeed swim here.
It's only a short walk from the car park to the crater itself, and it's well worth a look if your are taking a road trip in the Cairns region.
Mount Hypipamee National Park is approximately 1.5 hours by car from Cairns and 20 minutes from Atherton. We have never seen anyone swimming here.
Shannonvale Swimming Hole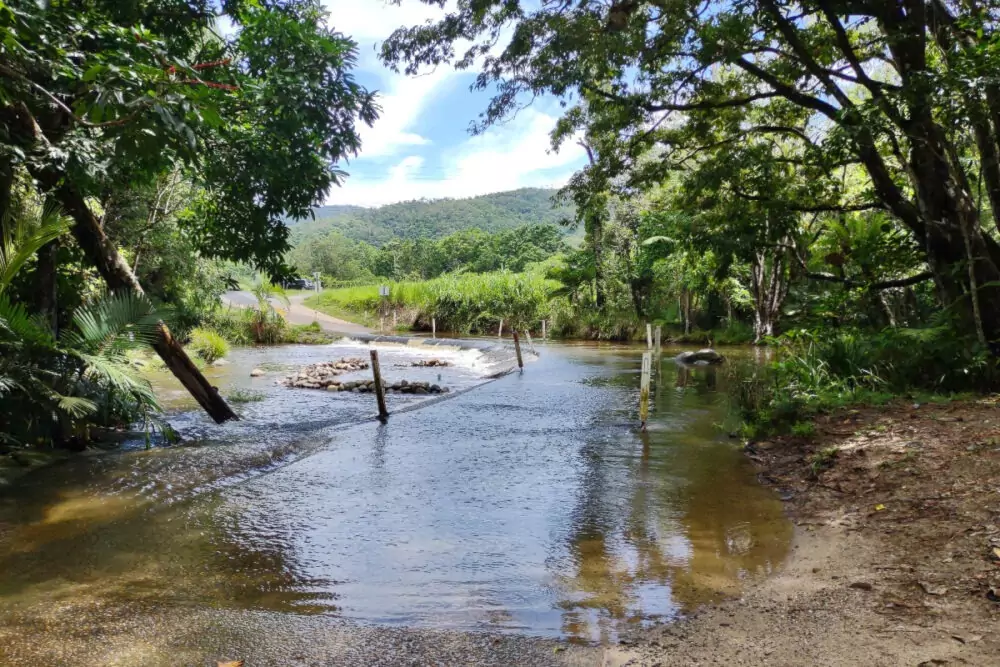 The Shannonvale area is close to both Port Douglas and Mossman and hides, not only the Shannonvale Winery but a really nice swimming hole.
The Shannonvale water hole is shallow and mostly sandy and the Shannonvale road causeway crosses the creek here, forming a nice pool.
In the wet season, this part of the road is very likely to be underwater, as it is in our photo. The flooding can get much worse than this.
There is a small off-road parking area adjacent to the swimming hole and this one can get very busy. This is a popular spot with local families and kids.
Are there crocodiles at the Shannonvale swimming hole? There are unlikely to be crocodiles here, but you can never be 100% sure. People swim here and I've never heard of a crocodile related incident.
The Blue Hole
The Blue Hole is hidden away in the Daintree Rainforest, north of the little ferry over the Daintree River.
There are rumours of crocodiles here and at one point it was closed to men as it is a traditional Aboriginal women's place. I don't know what the current situation is there.
This is one to stay away from.
UPDATE: I've had two nasty comments attacking me for even mentioning the Blue Hole Daintree. I've now deleted them as I'm not here to argue. It's a sad fact that despite covering over 50 countries on this site, all the abusive comments come from this region. The place we call home. I think the Aboriginal heritage in this part of the world is incredible, amazing, and interesting, and that many people will want to know about it. There is no reason to go there, to look or to swim (crocodiles). There's nothing to see there. But I like the fact that a sacred women's place exists up here so it stays on the site. Overseas visitors will often have no concept of ideas like this and will find it interesting. I'm here to tell them of its sacred importance, if they hear from some random backpacker, they may not know. You won't find directions from me, and yes I've been to see the Blue Hole, before any of us knew of its sacred status. That was publicised maybe a year after I went. I don't know if it is still closed to men, open to women, and so on. I suspect indigenous women reading this may want to visit, I don't know if that's how it works. They could find out locally if they ask around. I'm here to provide information for everyone.
Lake Eacham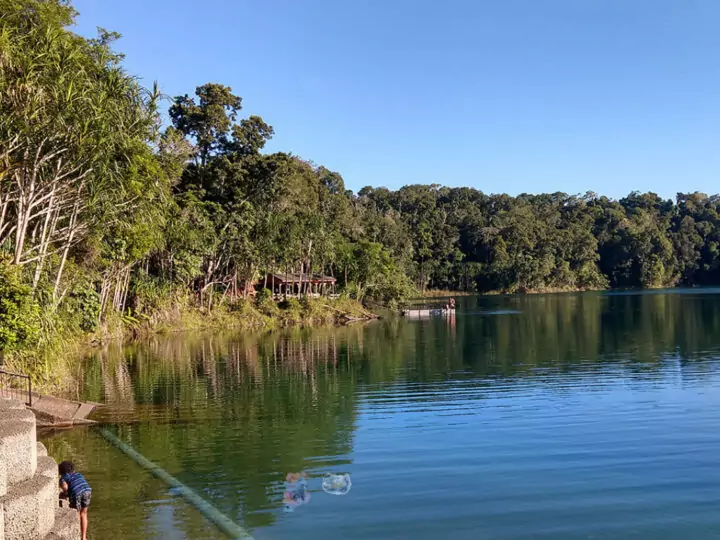 Lake Eacham is another of the volcanic crater lakes that make up the Crater Lakes National Park of Far North Queensland.
This one is also on the Tablelands, near Lake Tinaroo and fairly close to Cairns, Port Douglas, Mossman, Palm Cove, Mareeba, and Tully.
There's a nice circular walking track around this secluded crater and last time we visited a lot of people were swimming in the clear waters. Again, this swimming hole was full of fish.
Hartley's Creek Falls
Hartley's Creek Falls is off the coastal road between Cairns and Port Douglas. It's nearer Port Douglas than Cairns. You need to park and take quite a hike to get to the falls and swimming holes here, but it's a very pleasant bushwalk.
You'll find this one between Hartley's Crocodile Adventures and Wangetti Beach. You'll need to park just off the road before Wangetti. You'll likely see other vehicles parked up here.
Julatten Swimming Holes
There are several freshwater swimming spots up the mountain, directly above Mossman and Port Douglas.
The drive up the range from either Port Douglas or Mossman should take you about 45 mins.
One notable swimming spot up here (which is where we now live!) is Sweetwater Lodge, with its own swimming hole.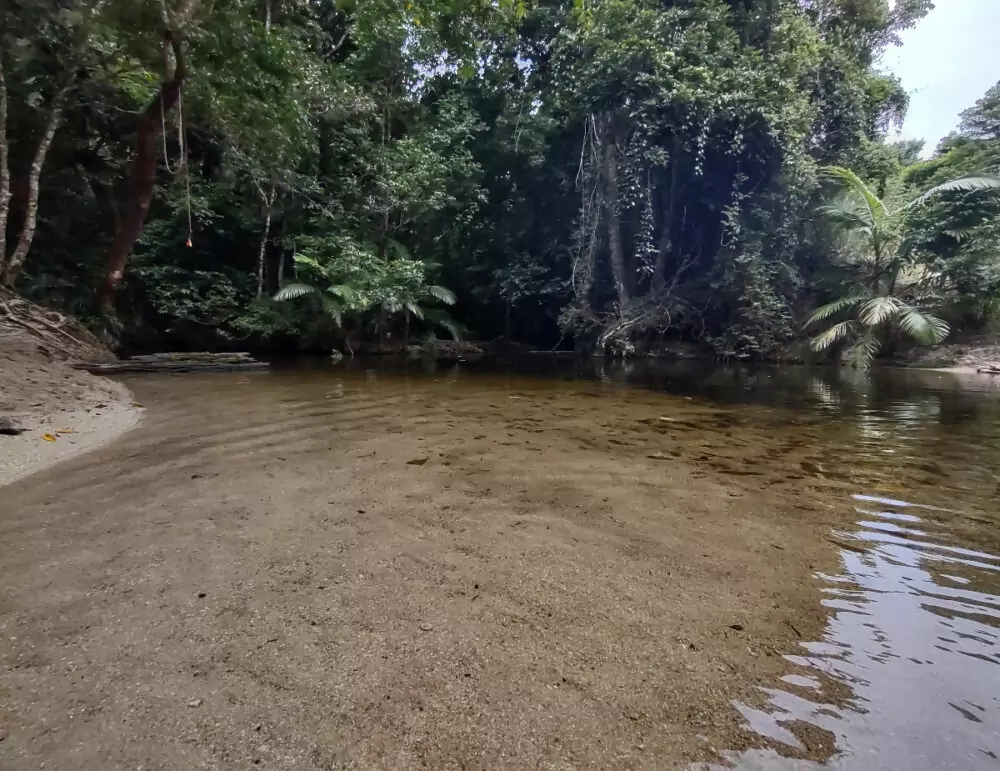 Churchill Creek is another popular creek for swimming just before Julatten. To get here take a right turn at the Julatten Hotel (pub) and drive to the end of the road, taking a right where the road forks along Churchill Creek Rd.
The creek will be right in front of you. There's usually a rope swing here too.
Other Notable Places To Swim in The Area
If you're heading north towards Cooktown, the Lion's Den Hotel has a beautiful-looking swimming hole. This one is a popular overnight stop for those heading to "The Tip."
Almost in Port Douglas and close to Mossman you have Spring Creek at Mowbray, and a swimming spot at Shannonvale.
Further along from the main Spring Creek swimming hole, you can follow the river bed on foot to Spring Creek Falls. It's quite a hike.
Beware of flooding at Spring Creek. The wet season quite often sees this road and bridge underwater.
At the top of "The Bump Track" a popular Port Douglas hike, you have Mowbray Falls. Also close to Julatten and Mount Molloy there are a whole bunch of secret swimming holes.
Heading further north again Fruitbat Falls is about an 800 km journey. It's a wonderful spot for the adventurous.
There are many places to swim near and in the Port Douglas and Cairns area, once you've swum from the beaches, safely inside the nets in stinger season, enjoyed the fabulous Cairns lagoon and our local water park, maybe enjoyed your own hotel pool and taken a trip to the reef, either snorkelling or scuba diving, start finding the places the locals go. The rule up here is always, ask a local. Need our post on things to do in Cairns? We have you covered.
If you'd like to hire a car during your stay, use this car rental comparison tool to find the best deal!

We also suggest you take a look at this company to get a quote for all kinds of the more tricky adventure or extended travel insurance.

Try Stayz / VRBO for an alternative way to find rentals on homes/apartments/condos in any country!