Last Updated 01/09/2021
If you're visiting the Cairns and Port Douglas region is summer, you absolutely must check out some of our fresh water swimming spots as well as the iconic Great Barrier Reef. These are where the locals go to cool off and some, like Mossman Gorge, receive large numbers of tourists too. Families visit these jungle swimming holes because they are safe, there are no crocodiles or marine stingers here, and because they are stunningly beautiful. Swimming in crystal clear, fresh water, deep in the jungle surrounded by fish, is a bucket list experience. A series of photos and brief words about some of the swimming holes of Far North Queensland.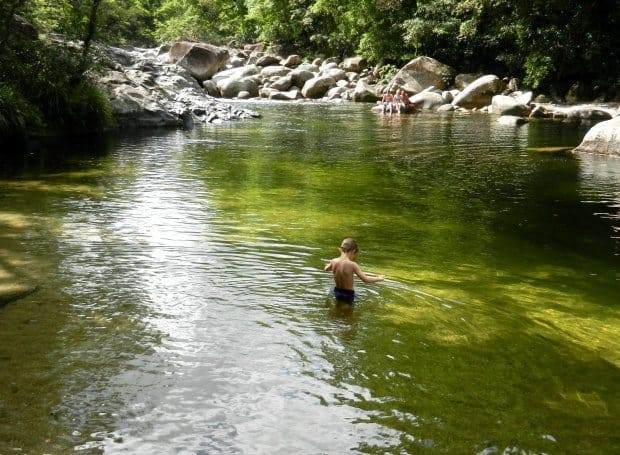 Mossman Gorge
Mossman Gorge is slightly north of Port Douglas and a big regional tourist draw. There is now a visitor centre, a shuttle bus and various marked walkways and short hikes through this Aboriginal-owned land.
Why are there no salt water crocodiles up here? The water that comes straight down from the mountain is too cold for them to survive. It's safe to swim unless there has been recent heavy rain, flash floods happen occasionally and a few swimmers have been washed away. Unfortunately " no swimming" signs have recently appeared. because of incidents involving tourists.
Please check and double-check all the information we give you locally as times, places, dates, and services do, as we found, change often. Restrictions and closures may apply.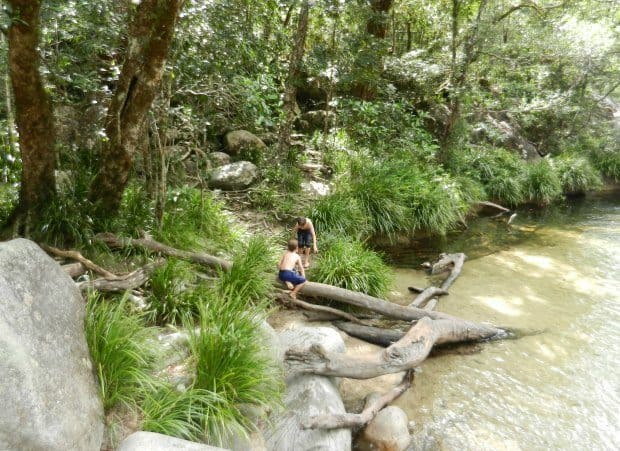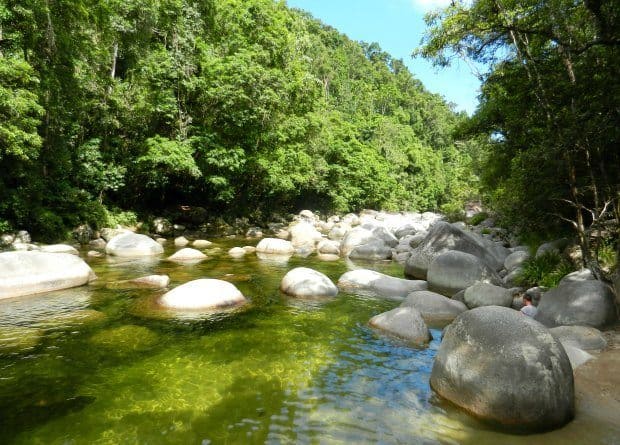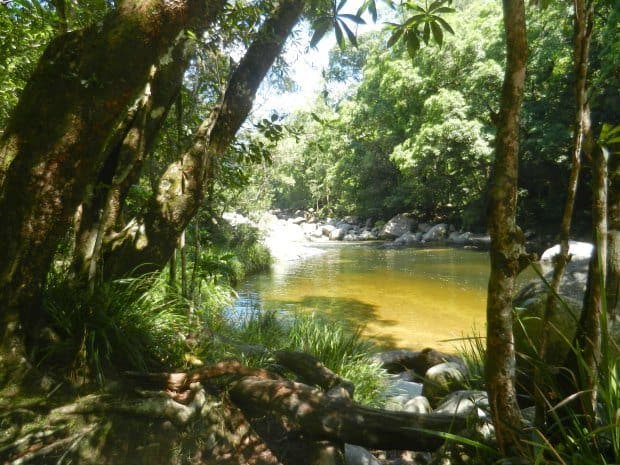 The Hippy Hole
This one is famous with locals and it's on the way up to the main Mossman Gorge swimming beach.
Yes, there's a beach, you'll find a variable amount of river sand on the river bank. The Hippy Hole is something of a locals' only secret, so I'm not going to tell you where it is, sorry!
Just know that it's there and somebody might tell you if you talk nicely to them.
Crystal Cascades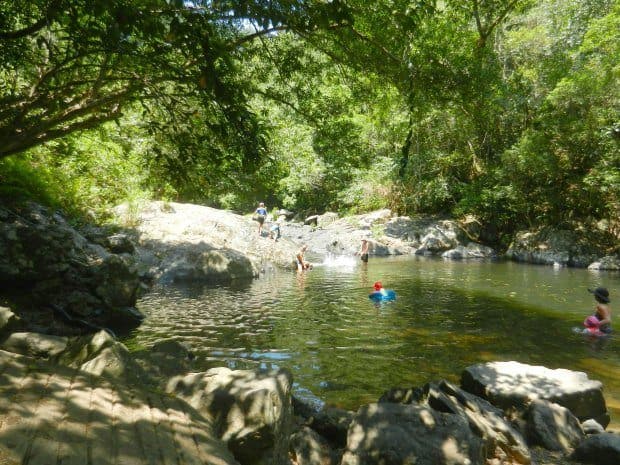 This popular swimming spot is closer to Cairns and is similar to Mossman Gorge.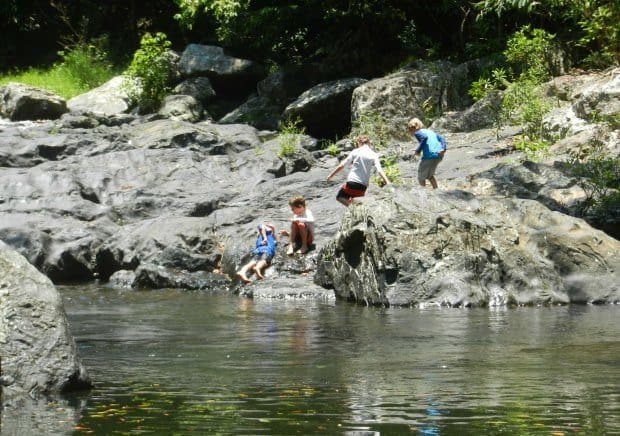 Millaa Millaa Falls
Milla Milla is up in the Tablelands region. The falls are 18.3 m high and at the base there is a pool that's good for swimming. You can drive to Millaa Milla from Cairns in 1-2 hours, which by Australian standards, is just up the road.
Lake Tinaroo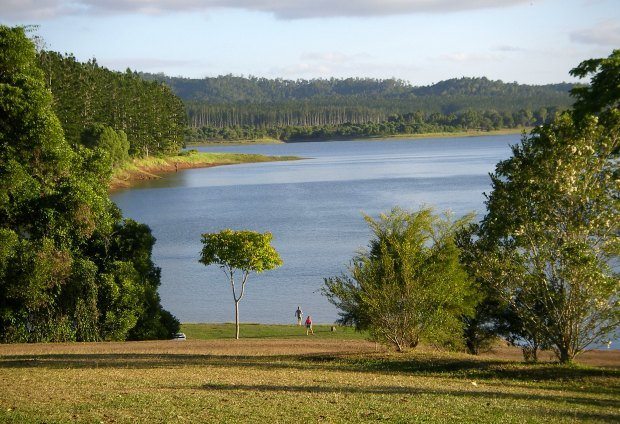 Lake Tinaroo is a man-made lake or reservoir ( they call them dams in Queensland) high on the Tablelands behind Cairns and it's vast. You'll find multiple places to swim, camp, kayak or enjoy other outdoor recreations around the lake.
There is a rumour that somebody released a salt water crocodile up here and that it's still alive, but there's no evidence to support that. The water would probably be too cold for a salty to survive, I hope.
The Blue Hole
The Blue Hole is hidden away in the Daintree Rainforest, north of the little ferry over the Daintree River. There are rumours of crocodiles here and at one point it was closed to men as it is a traditional Aboriginal women's place. I don't know what the current situation is there. This is one to stay away from.
UPDATE: I've had two nasty comments attacking me for even mentioning the Blue Hole. I've now deleted them as I'm not here to argue. It's a sad fact that despite covering over 50 countries on this site, all the abusive comments come from this region. I think the Aboriginal heritage in this part of the world is an incredible, amazing, and interesting and that many people will want to know about it. There is no reason to go there, to look nor to swim (crocodiles). There's nothing to see there. But I like the fact that a sacred women's place exists up here so it stays on the site. Overseas visitors will often have no concept of ideas like this and will find it interesting. I'm here to tell them of its sacred importance, if they hear from some random backpacker, they may not know. You won't find directions from me, and yes I've been to see, before any of us knew of its sacred status. That was publicised maybe a year after I went. I don't know if it is still closed to men, open to women, and so on. I suspect indigenous women reading this may want to visit, I don't know if that's how it works. They could find out locally if they ask around. I'm here to provide information for everyone.
There are many places to swim in the Port Douglas and Cairns area, once you've swum from the beaches, safely inside the nets in stinger season, enjoyed the fabulous Cairns lagoon and our local water park, maybe enjoyed your own hotel pool and taken a trip to the reef, either snorkelling or scuba diving, start finding the places the locals go. The rule up here is always, ask a local.