This post may contain affiliate links.
Cairns has numerous great attractions within easy reach of the city and CBD but there are also loads of things to do in the surrounding area. We're local travel bloggers, we live just outside Cairns when we're not travelling the world, so we really enjoyed putting this Cairns travel blog section together for you. In this post we'll cover things to do in Cairns first, then add nearby day trips from Cairns.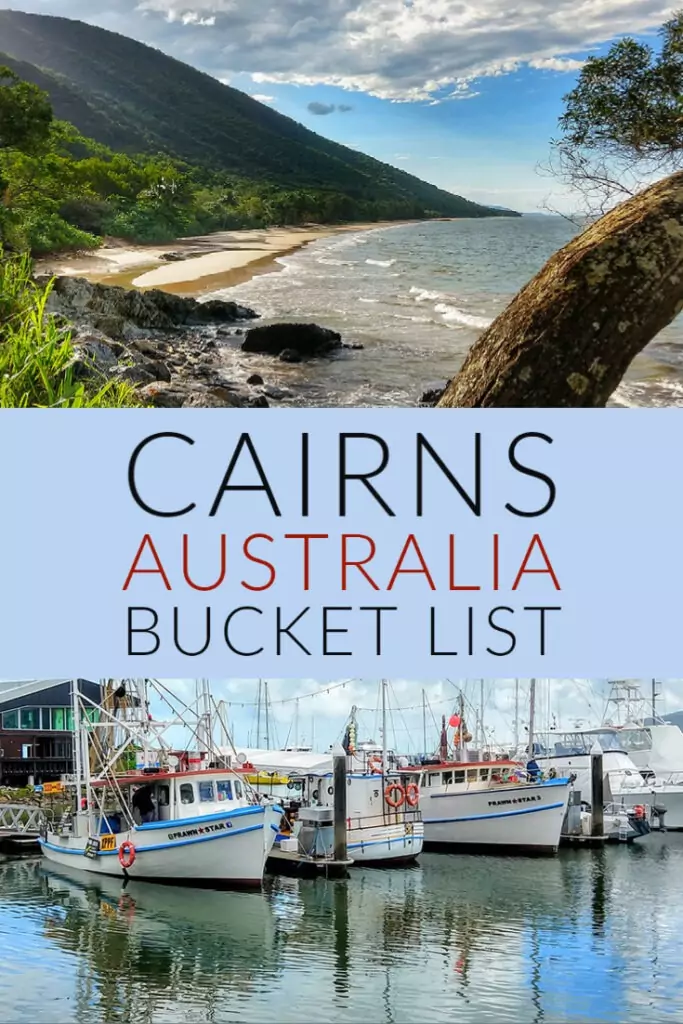 We include reef trips, visiting the town of Kuranda from Cairns, Northern Beaches, The Tablelands and things to do and see right up to Port Douglas and Daintree. So if you're in Cairns for your vacation, Queensland staycation, or holiday and looking for local activities and attractions to enjoy, we've got all the information you need on the blog.
If you are a Cairns attraction and would like to be added to this list just get in touch. We also have a post covering destinations throughout Queensland. See Places to Visit in Queensland here.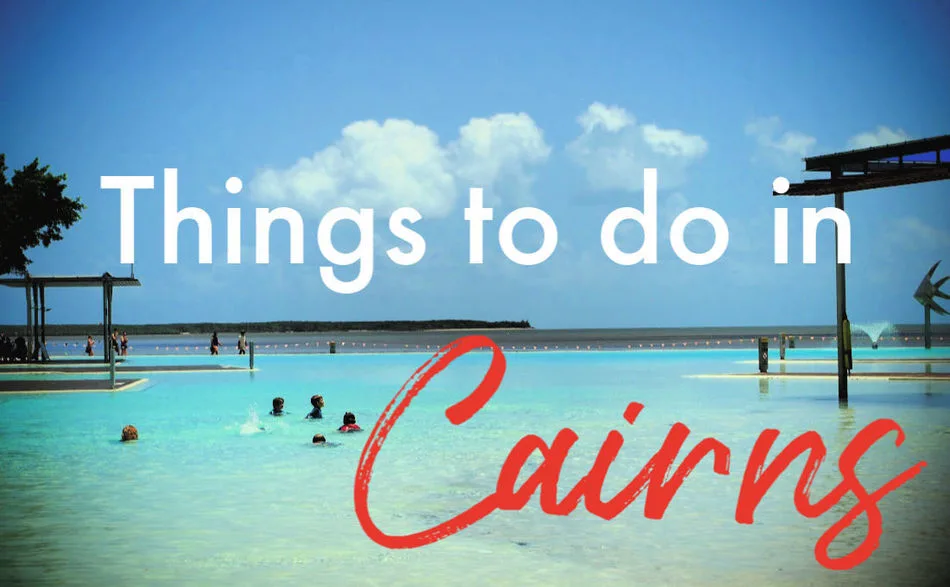 Best Things To Do In Cairns
So let's get into the list!
There are so many things to do in Cairns, it's a real tourist hub, we're aiming to get as many as we possibly can on this page, from the perspective of tourists and locals, for we have been both.
What's our favourite thing to do up here? It has to be the reef, for diving or snorkelling, but there are loads of other things to keep you busy during your vacation.
Cairns Aquarium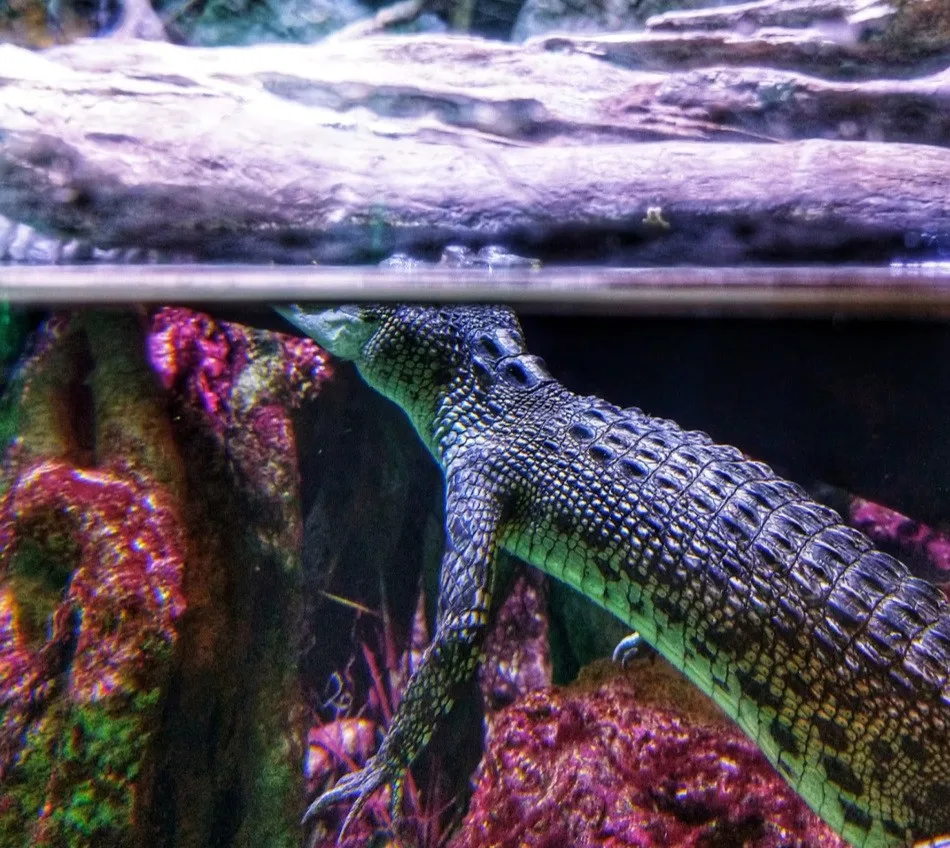 A recent addition to the tourist scene in Cairns, the aquarium is dedicated to animals and marine life of our home, Far North Queensland's Wet Tropics.
Housing 15,000+ animals you can get up close and personal with a vast variety of marine and wet tropic inhabitants. From junior salt water crocodiles to incredible starfish, rainforest bugs, tree frogs, sharks that can walk on land and freshwater moray eels. I didn't even know fresh water moray eels were a thing and I'm a zoologist by training!
We took our kids along, a teen and a tween, they both gave the Cairns Aquarium a big thumbs up and as well as being fun, they learned so much! We're passionate about conservation and protection, this visit certainly enforced that sentiment. ( If you'd like to see a post my son wrote recently on manta rays, it's here. )
The attraction aims to trace the water cycle in our area, visitors explore streams and rivers, creatures of the shallow and deeper water, before arriving at our fabulous reef. We loved visiting. It's not a huge aquarium but everything is done well and the obvious care and enthusiasm of the staff at the interactive touch pool was great to see.
The Aquarium is broken up in to the following zones, river systems, creeks and streams, waterways and billabongs, tropical rainforest, forest floor, life in the mangroves, Great Barrier Reef, dangers of the sea, the Coral Sea and ribbon reefs.
Open all year round 365 days a year, 9am to 5.00pm. Last entry 4pm ( current 2019). Cairns Aquarium is located a short walk from the Esplanade and within easy reach of all the main accommodation options in Cairns. Allow maybe half a day for your visit to fully absorb and enjoy it.
Tjapukai Aboriginal Cultural Park-Closed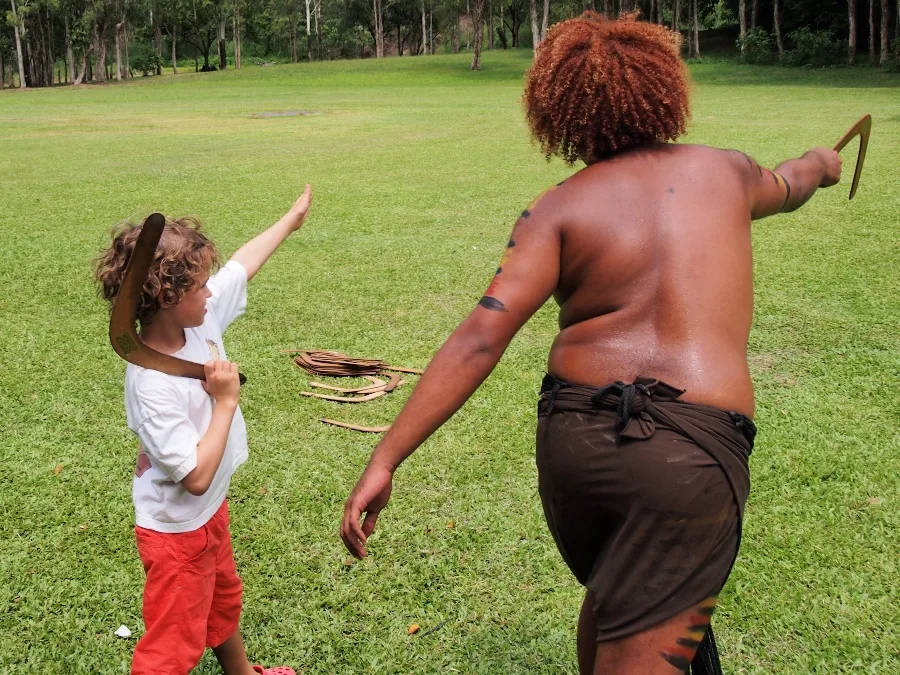 An interactive cultural experience that focuses on Australia's original inhabitants. A civilisation dating back over 60,000 years.
Tjapukai has everything from traditional face painting and boomerang making to exhibits of spear throwing, hunting, medicines, dance and weapons demonstrations.
Spread over 7 separate arenas, each shows you a part of Aboriginal history and culture. Tjapukai is run by two local Aboriginal communities, the Djabugay and Yirrgandyji communities. The local Aboriginals also own the land that Tjapukai sits on.
Spread out over a large area just north of Cairns airport you could easily spend over half a day here seeing all the attractions. There is an on-site restaurant that serves a buffet lunch or quick snacks and food if you prefer.
Tjapukai also has a night program where they focus on face painting and traditional aboriginal dance. The night show includes dinner buffet and welcome drink.
Cairns Esplanade and Lagoon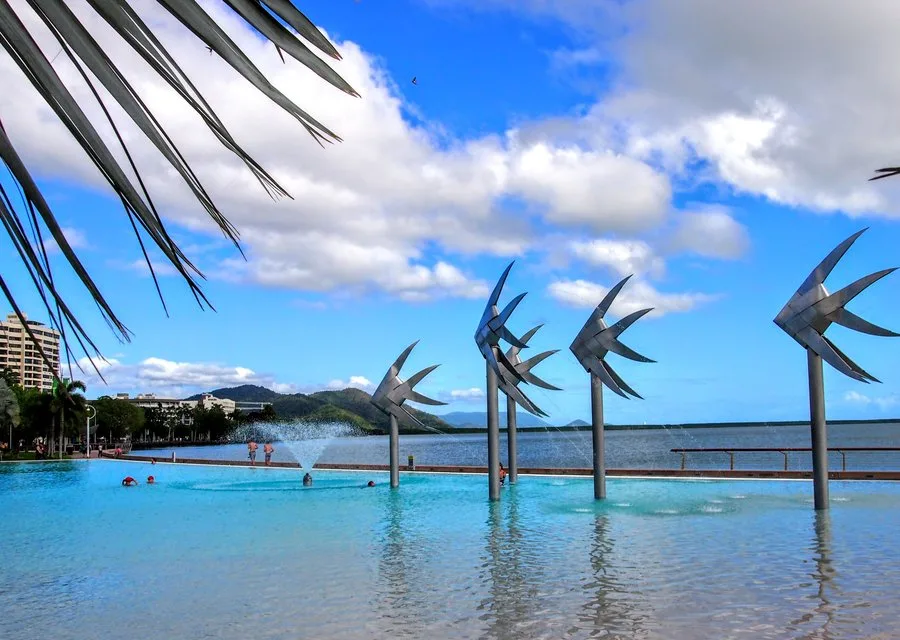 Cairns Esplanade is located on Cairns waterfront and its crown jewel is the massive lagoon with man made sand beaches that overlooking Trinity Inlet.
It is a 4800 m² salt-water pool that uses a high-tech filtration system to take and use water from Trinity Inlet.
Cairns lagoon has wheel-chair access, lockers and changing rooms. It is free to use and is open all year besides scheduled maintenance which normally falls on a Wednesday morning. There are cafés and shops both along side the lagoon and also on the street directly opposite. Double check opening times here.
Muddy's Playground and Other Playgrounds
Further along The Esplanade is Muddy's playground which is perfect for young kids and families. It is both a wet and dry playground so bring your swimmers for the fountains and paddling areas.
You'll find more playgrounds further along the Cairns foreshore and most beaches north of Cairns have them.
There is a café and toilets on site. Wheelchair access is provided to the park and there is a lot of high-quality play equipment for kids from babies to tweens. We're working on a dedicated Things to do in Cairns with kids post.
Other Places to Swim Near Cairn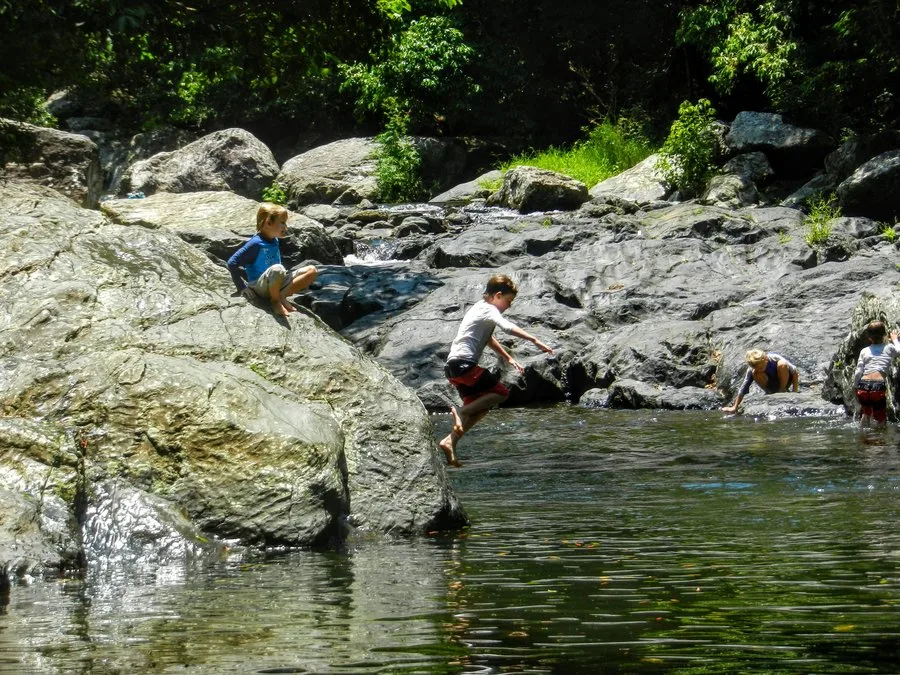 If you want to swim, you do have several options other than Cairns Beach and Estuary (don't swim in either, we have crocs !)
Obviously the Cairns Lagoon, mentioned above is a focal point of Cairns but a little further north you can swim from the beaches. In Stinger Season there are nets at many of the Northern Beaches and at beautiful Port Douglas.
Inland there are fresh-water swimming holes and waterfalls without crocodiles. We also have a small water park. We have a full post of swimming spots near Cairns here. including Crystal Cascades, Mossman Gorge, and Millaa Millaa Falls on the Tablelands. Do as the locals do and find a safe swimming hole to cool off.
Cairns Botanic Gardens
The Botanic Gardens are a nice spot for a cup of tea or to learn about our local plant life. The Botanic Gardens encorporate an extensive boardwalk area showcasing various plant habitats. It's just outside Cairns, you'd need a vehicle. A nice day, or hour or two out and of all the things to do in Cairns, possibly the most leisurely.
Cairns Zoom and Wildlife Dome
Cairns Zoom and Wildlife Dome is a zoo with a difference. They have 3 zip lines through the attraction that will take you over the exhibits housing the animals.
Animals include mammals, nocturnal mammals, reptiles, amphibians and a small bird aviary. Not a large zoo but enough to keep young kids and tourists entertained for a morning or afternoon. Perfect if you're not familiar with the wildlife up in the wet tropics.
Goliath is the resident 'salty' up on the top floor of the casino, where the dome is located. It is Goliath's enclosure that you'll be able to zip line across if you dare.
With the addition of the Zip line, Power Jump and Commando climb this has made the dome more interactive than most zoos. Of course, if you don't want to tackle the adventure part you can just visit and see wildlife from the comfort of the walkways.
Staff give wildlife demonstrations where you can see our adorable local sugar gliders, among other typical Australian creatures.
Cairns Zoom and WildLife Dome is open all year round except for Christmas day. Located in the centre of Cairns city it is an easy walk from Cairns Esplanade and the pier.
Other wildlife attractions nearby include the Wildlife Habitat in Port Douglas and Daintree Wild Zoo at Wonga Beach. The Cairns Zoo and Safari Park ( famous for lions) have long since closed down.
Rusty's Market
Rusty's is a Cairns institution and well worth a look. Shop for tropical fruit, vegetables and trinkets or indulge in some "street food" mostly Asian influenced.
Rusty's Market is open Friday to Sunday afternoon and is to the rear of Gilligan's Backpackers.
Adventure Tours/Attractions in Cairns
If sight-seeing and slow-paced activities aren't your thing then Cairns has some great attractions for you. Located towards the north these adventure attractions make a change from the reef and rainforest that Cairns is famous for.
Cairns Wake Boarding Park
Far North Queensland's only cable water ski park is located just north of Cairns next to Tjapukai at the bottom of the Kuranda range.
Suitable for anyone 10 years and over it caters for beginners right through to pros. All equipment is provided on site and instruction is given before you start.
Kids classes are run during QLD school holidays if you want to further your skills. The sessions last for 1 hour although you can buy multiple sessions if you require.
There is also an aqua park attached to Cairns Wake Park which you can combine into one ticket or do separately. The minimum age is 6 and life jackets are compulsory and provided for everyone. During school terms the aqua park is only open on weekends. Sessions run for 50 minutes and you're advised to get there 15 minutes before so you're ready to go when the timer starts.
A J Hackett Bungy Jumping
This is Australia's only Bungy Tower & Giant Minjin Jungle Swing. Located in the rainforest 20 minutes north of Cairns next to JCU it is within easy reach of the city via taxi, public buses or hire car.
If you thought there was only one type of jump you'd be wrong. A J Hackett has a 16 jump menu to choose from in case a normal bungy wasn't enough. The height of the platform is 50 metres (164 feet). Just be warned there is 196 stairs to climb to the top before you get to jump. You can also ride a BMX off the roof as part of the bungy experience here. You need to be 18 years old to bungy jump or 10 with parent or guardian permission and they have to be present at the jump.
A J Hackett also has a multi person swing that takes you across the jungle. Reaching speeds of 120 km p/h you descend from 45 m to 1 m in 3.5 seconds.
Giant Minjin Jungle Swing doesn't have the same restrictions as bungy jumping and as you can go as either a 1,2 or 3 it is suitable for groups or kids with their parents.
You can combine A J Hackett with other tours such as reef tours or aquarium tours. This is a great way to save time and money.
Blazing Saddles
Blazing saddles is located in Yorkey's Knob, short drive north of the CBD you'll find this ATV and horse riding attraction located on a working cane sugar farm.
Split into two separate ventures, you have either horse riding or ATV (quad biking) riding. No previous experience is necessary and all training is done on site. Horse riding and ATV are separate so if your party wanted to do both at the same time, they can. You can also get a combined tour to do both ATV and horse riding.
ATV has a minimum age of 12 and two sizes of Honda bikes to choose from. You'll be trained and assessed to see if you can safely handle the course on the bigger bikes. If not you can grab a smaller one.
The course has a few hills and water crossings but is fully supervised by professional guides for the entire time. Tours start at 90 minutes and you can pay extra and go for longer if you wish.
Horse riding has a minimum age of 4 and training is given before you start. Tracks used cover rainforest and cane fields and everything in-between. Tours last 90 minutes just like the ATV with start and finish times the same.
Visit The Great Barrier Reef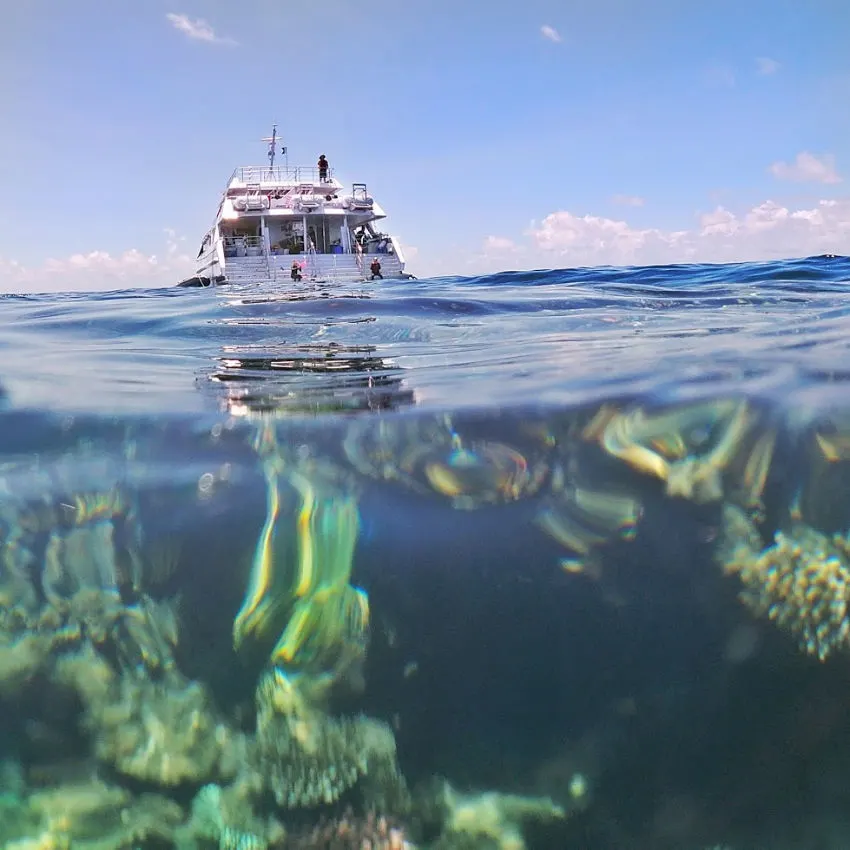 Catch a boat out to the outer reef and enjoy a day of snorkeling and or diving. Boats leave from Cairns Reef Fleet Terminal which is located to the south of The Esplanade past the lagoon. The Great Barrier Reef is one of Cairns biggest draw cards and a trip isn't complete until you've headed out to see the beautiful marine life and experienced the reef first hand.
Trips normally take 1.5 – 2 hours each way and can go via Green Island. You can combine tours to both Green Island and the outer reef if you have the time. This type of tour leaves earlier giving you approximately 2 hours on Green Island first. A direct reef tour will leave between 8:30 and 10:30 am. Boats arrive back into Cairns Fleet Terminal at approximately 5:30 pm.
Trips to the reef will give you 3 hours to snorkel, dive or both. A buffet lunch is served on board with morning and afternoon tea also served on departure and return.
All snorkel gear is provided as well as stinger suits during stinger season. These are compulsory and double as sun protection. Prescription mask may be available on request. Please enquire when you book your tour.
Learn to Scuba Dive
Cairns is a great place to get dive certified! We just did it with my elder son and you can read all about his experiences learning to scuba dive in Cairns with Divers Den by clicking through.
Take a Liveaboard Dive Trip
Liveaboards are the ultimate reef experience. Obviously they are geared towards scuba divers but some will also take snorkellers, even families and babies. We recently completed a 4 day, 3 night liveaboard on the Great Barrier Reef through Divers Den on their vessel, Ocean Quest. I'm in the middle of writing it up. For now you can check out the post above on learning to scuba dive for more information.
Skyrail Rainforest Cableway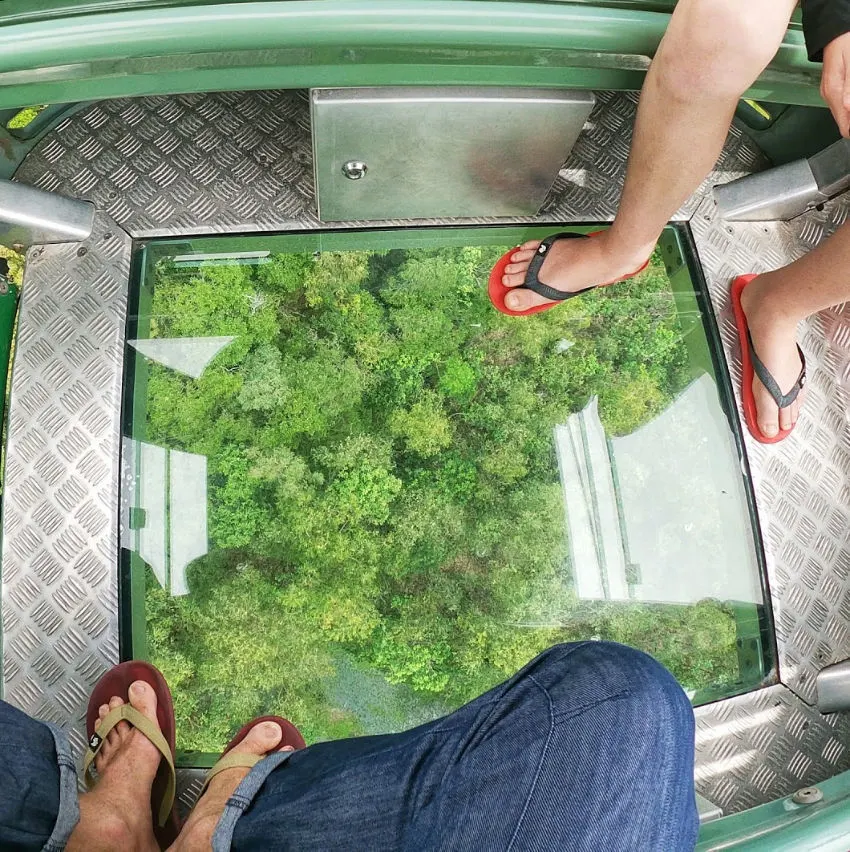 Kuranda is located 25 km from Cairns at the top of the mountain overlooking the northern beaches. You could drive up but the nicer way is to catch the Skyrail cable car which skirts above the rainforest and stops in two places en-route to Kuranda to allow you to see nature up-close.
The first stop is in the rainforest where rangers will take you on guided walks along a board walk to show you the flora and fauna.
Barron falls is the second stop which, if it is wet season or not long after, is a magnificent water fall. Towards the end of the dry season the falls can dry up somewhat. The final destination is Kuranda, the sleepy little tourist town atop the mountain.
You can either catch the Skyrail down, drive down yourself or catch the Kuranda Scenic Railway. Doing the journey in reverse is also possible and you can finish the day or morning by catching Skyrail down to Cairns. You can purchase tickets that include all these options and there are even different gondolas that you can choose depending on how affraid of heights you are. Glass bottomed gondola anyone?
Kuranda Scenic Railway
Kuranda railway was originally laid back in 1887 as the tin miners faced famine and hunger due to a particurly wet wet season which made the road from Port Douglas to Herberton and beyond impassable. It was completed in 1890 and was an engineering feat even to this day.
The hardest and steepest part up and across the Barron gorge was all done by hand. It would transform both Cairns (which boomed) and Port Douglas (that became a sleepy backwater once more).
Now it just takes passengers to Kuranda from Cairns Central stopping centre or Freshwater station. It is a beautiful way of getting up to Kuranda and can be combined with the Skyrail.
Rainforestation Nature Park
Rainforestation Nature Park is spread out over a large area up in the rainforests of Kuranda. Only a short 45 minute drive from Cairns, it's here that you can maybe see the elusive cassowary amongst a host of other local animals.
Wallabies and kangaroos roam freely around the park and enclosures house crocodiles, wombats, turtles, monitor lizards, koalas and Jack the Ripper, a 5 m saltie weighting in at 650 kg.
Retired army duck transport vehicles are on site and you can take a ride around the park spotting the wildlife. They go from land to lake and back to land again. Drivers will point out all the tropical fruits in the orchard which you'll drive through.
There is also an Aboriginal experience run by the local indigenous Pamagirri guides. With a duration of an hour the tour includes a traditional dance and walk explaining their culture.
A restaurant on site will keep you refreshed throughout the day. You'll need to spend at least a morning or afternoon here and could combine it with visiting Kuranda and Barron Falls nearby.
Fitzroy Island
Fitzroy Island is located south-east of Cairns and has one resort that you can stay on. It also offers day trips to explore the island leaving from Cairns Marlin wharf 3 times daily. A short 45 minute boat rides will have you on the island.
On the island you can spend the day snorkeling or take a ride on their glass-bottom boat. For the more adventurous you can opt to do some scuba diving while there and for nature lovers there is a turtle rehabilitation centre.
If you have the time and want to stay on the island the resort has accommodation ranging from 4 bedroom penthouse resort rooms right down to beach cabins and bungalows. All have access to the restaurant and resort facilities on the island. You can even camp overnight at the council campground run by Fitzroy Island resort.
Green Island
Green Island is a 6000 year old coral cay located due east of Cairns. 45 minutes by boat will have you pulling up to its jetty. Green Island is the only island on the reef that also includes a rainforest which covers most of its 12 hectares. Yet the name isn't because of the vegetation. The island was named by Captain Cook on his 1770 voyage after his ship's astronomer, Mr Charles Green.
Green Island has been at the forefront of tourism for many years. It had the first glass bottom boat in 1937 and an underwater observatory in 1954. Nowadays you can do a reef walks using underwater helmets. A novel way to see the reef without all the hassle of becoming a diver.
You can also snorkel or dive on the island but if you don't feel like getting wet you can take the glass bottom boat tour.
There is a self guided eco walk on board-walks through the middle of the island that allow you to see some of 120 species of plant life that call Green Island home.
The reef starts off very shallow and gets deeper the further out you go. This is perfect if you're not a strong swimmer or don't like deep water. If you do then you may be interested in the Green Island swim that happens every year. Part of the Cairns adventure festival it is taking place in June 2019 and you can pick either a 1.5 km swim or a 3 km swim.
If one day isn't enough you can stay on the island at the resort. The transport is the same and spaces are limited. But once the last ferry leaves, the island takes on an almost deserted feel after the hectic pace of the day. Don't miss the fish feeding at 5 pm or the complimentary glass of bubbles afterwards.
Visit Palm Cove and the Northern Beaches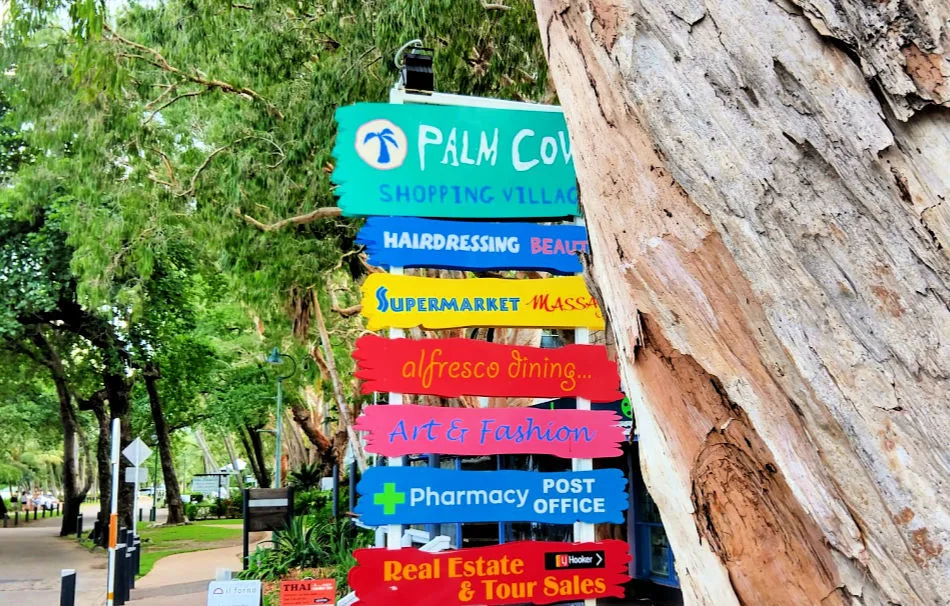 Between Cairns and Port Douglas you'll find a string of small beaches normally referred to as The Norther Beaches.
The Northern Beaches include Holloways Beach, Ellis Beach, Yorkey's Knob, Trinity Beach, Kewarra Beach and Palm Cove. Once you hit The Douglas Shire you're not really on the Northern Beaches any more but the beaches continue up to Port Douglas with Pebbly Beach, Wangetti and Oak Beach
Hartley's Crocodile Adventures is between Cairns and Port Douglas and Mossman Gorge is just beyond Port.
Palm Cove is a lovely sea-side spot famous for these stunning maleleuca trees, it's probably the biggest tourist draw of the Northern Beaches and cruise ships stop here.
Good food, coffee, a nice beach and jetty. The other northern beaches are also easily accessible from Cairns by road. There is a cycle path to Palm Cove from Cairns itself.
Visit Port Douglas from Cairns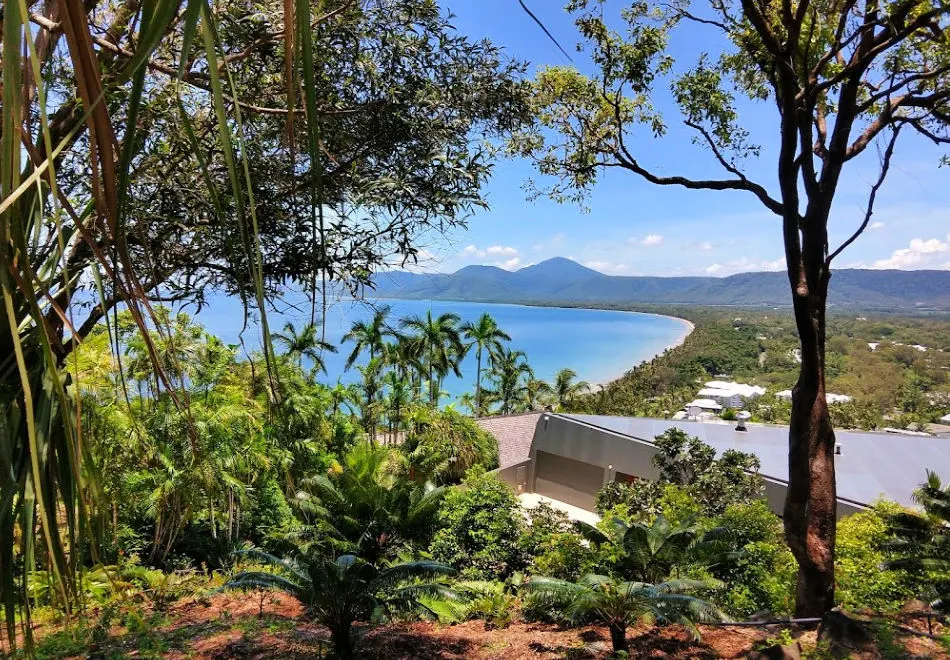 We have a full post on things to do in Port Douglas here, along with a guide on how to get from Cairns to Port Douglas. The markets, marina, cane toad racing, iconic pubs, 4 Mile Beach and more make Port Douglas a vacation favourite.
More up-market than Cairns, this is where celebrities vacation.
If you're staying in Cairns and just want to visit for the day, consider going up on a Sunday for the Sunday Market, one of many cool free things to do in Port Douglas. You could also take a crocodile spotting trip from Port Douglas Marina on the Lady Douglas
Visit Daintree and Cape Tribulation from Cairns
Crocodile spotting trips also depart Daintree Village and from a few places in Daintree rainforest and Cape Tribulation.
There are beautiful beaches to look at up there along with rainforest board walks and a few tourist attractions. Our full post on Daintree and Cape Tribulation is here.
If you want to go crazy you can even drive all the way to Cooktown and back in a day.
Visit the Atherton Tablelands
The Tablelands, above Cairns, can be quite a few degrees cooler than the coastal strip and offer many natural and man-made attractions. You could visit CoffeeWorks and sample local chocolate and coffees, stop by one of several distilleries and wineries, knock yourself out on dairy and chocolate at Gallo Dairies or visit beautiful Lake Tinaroo for some peaceful camping.
Platypus spotting is a possibility up here and if you have plenty of time try Herberton HistoricVillage, Millaa Millaa falls and Yungaburra Markets. The Tablelands could be a 2 week vacation in themselves, but you can certainly take a look if your holiday is based in Cairns.
So that's it for now. Possibly the longest post of the 800+ on our blog, and it's still growing. We didn't even get started on dining and food options. We have everything from seafood to paleo and gluten-free to vegan in Cairns. There are just too many things to do in Cairns. Living in the tropics is our normal, but if you're new to tropical north Queensland, prepare for a treat. If your attraction should be included on this list, get in touch. Want to head back to our main Australia travel page?
If you'd like to hire a car during your stay, use this car rental comparison tool to find the best deal!

We also suggest you take a look at this company to get a quote for all kinds of the more tricky adventure or extended travel insurance.

Try Stayz / VRBO for an alternative way to find rentals on homes/apartments/condos in any country!