This post may contain affiliate links.
Queensland in a vast state in the northeast of Australia. The best places to visit in Queensland are the beaches, rainforest, The Great Barrier Reef, many islands and historic towns, along with vibrant modern cities and some of Australia's best tourist attractions. Queensland has mile after mile of beaches, surf, perfect island destinations, coral reefs, heritage rainforests, wildlife and a diverse array of lesser-known attractions.
On top of all this, Queensland has beautiful weather in Australia's winter.
We give you our Queensland Australia bucket list, stuffed full of places to visit in Queensland. These towns and destinations are perfect for your Australia staycation, international vacation, or road trip.
How many of these Queensland attractions have you visited?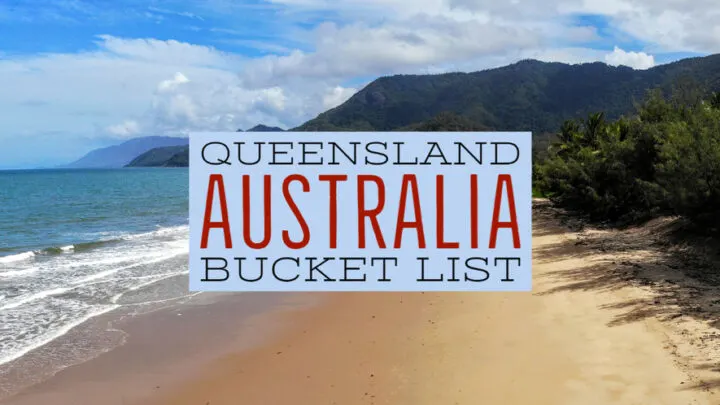 Far North Queensland is our home turf, but this post contains Queensland holiday itinerary suggestions from The Gold Coast, Sunshine Coast, Brisbane, the Hinterland, the Tablelands and more. We cover almost all of Australia on our website and content grows daily. Check out our Australia Travel Blog for more.
Our list runs roughly from south to north and to the tip of Australia. If you cross into Queensland from New South Wales you will immediately be on The Gold Coast.
How long will it take you to drive all the way to the tip of Cape York? About a week, it's 2,780 Km, 32 hours of non-stop driving absolute minimum. You don't need to go that fast.
Places to Visit in Queensland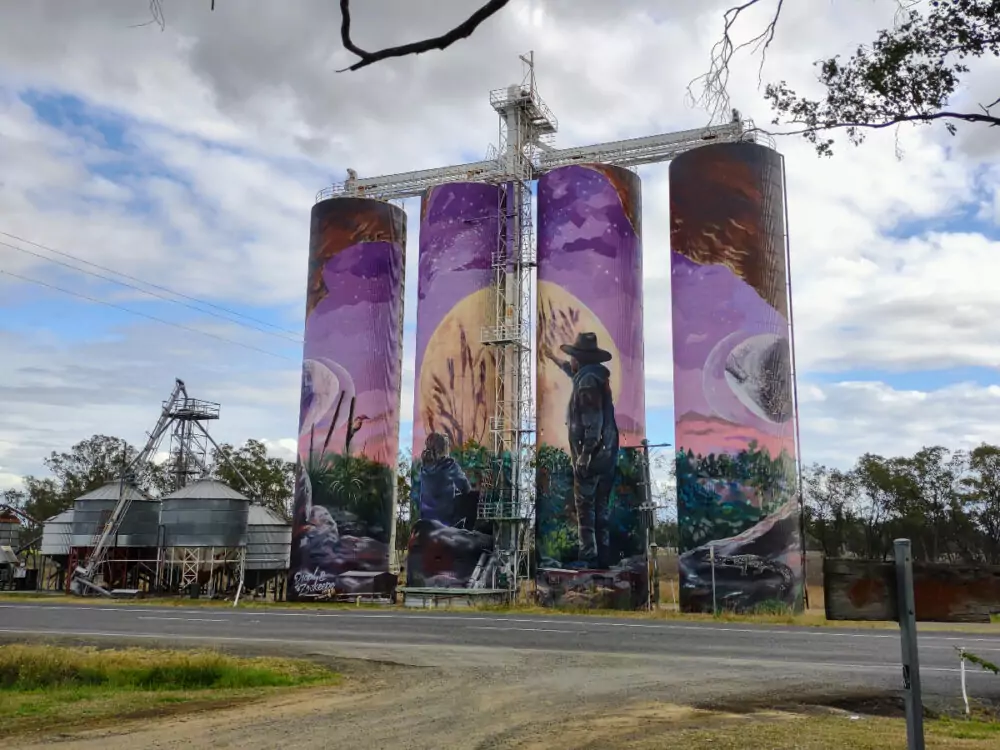 Working from south to north, from the New South Wales border to the very far tip of Queensland, here are some of the best places to go and places not to miss. They are roughly in order for a road trip from south to north along the coast following the A1, The Bruce Highway.
We also mention a few places that are inland, particularly the Atherton Tablelands. Our photo above is taken at Three Moon Silos, of the magnificent painted silos there. Travelling inland in Queensland brings a different set of rewards. This route, the A3 or Burnette Highway, is an easier road to drive with less truck traffic, we think. The silos are inland, near Hervey Bay and Agnes Water, north of Brisbane.
We give you more information on how best to visit Queensland, when to visit, and we provide a map, further down the page.
Best Way To See These Places in Queensland?
Undoubtedly, the best way to see all or some of these places in Queensland is to drive. Hiring or Renting a car gives you freedom, and as public transport isn't the best in Queensland, it's almost essential.
Use Discover Cars (click through) to find yourself the best deal on car hire in Queensland. They can sort out your insurance too, excess on car hire in Australia is steep and the chance of accidents (kangaroos!) is fairly high so don't scrimp there. Pick a comfortable, larger vehicle, ideally with 4 wheel drive.
You could also hire a camper van or caravan of some sort. Camping in Australia is hugely popular and there are good camp sites plus some free camping, again, use Discover Cars, above.
If you're on a tight budget there are long distance buses and trains, we've done it this way ourselves using student discount cards, but there are a lot of very long, overnight journeys and it's far from ideal.
If you choose to base yourself in one city, say Cairns (that would be our pick if you didn't want to hire a car) tours are available with transportation from your hotel, we'll link to those in this post too.
What's The Best Time To Visit Queensland?
Northern hemisphere summer, Australian winter, is the best time to visit most of Queensland, particularly the tropical north. Summer is too hot and wet for most visitors, although it is possible to visit the Great Barrier Reef year-round.
In Queensland we have "stinger season" when dangerous jellyfish are in our coastal waters, people do still swim and snorkel in stinger season, but you'll need a stinger suit. We recommend a long sleeve rash guard or sun shirt at any and every time of year, buy one here for men, here for women.
The long school holidays are over Christmas in Australia, so outside of the short winter school break, things won't be too crowded, although winter is the most popular time to visit north and far north Queensland.
Parts of the far north can only be visited in winter because flooding closes some roads.
Burleigh Heads
Located between Coolangatta to the south and the Gold Coast to the north, Burleigh Heads is a small section of coast that sits at the mouth of Talbudgera creek.
Perfect for families with sheltered beaches and bays located around the headlands. For the more adventurous you'll find some good surf further north along the beach.
Try standup paddleboarding along Talbudgera creek or taking a dip at Echo beach. On Sundays check out the village markets which sell local arts and crafts just back from the beach. Take in the food and drink scene with numerous restaurants and cafes on and around the beaches and bays.
The Gold Coast
The Gold Coast is now Queensland's second-largest city and Australia's largest noncapital city. It spreads out from the NSW/QLD border to within 60 km of Brisbane, Queensland's capital.
Made up of different areas housing theme parks, surf beaches, nightlife, movie making, and even rainforest hinterland there is something for everyone in and on The Gold Coast..
Dreamworld, Wet and Wild and Movie World are located on the Gold Coast and easily accessible from either Gold Coast Airport or Brisbane city.
A lot of the area is set on waterways with Sanctuary Cove being one of the nicest places to stay. With easy access to all of the attractions including numerous golf courses, this is a perfect holiday destination.
If surfing is what you're after then surfers paradise is a perfect stretch of sand south of the Spit where waves crash onto the beach 12 months of the year. Most of the tourist places are located along main beach and from here you can walk to nearly all the attractions. Most accommodation is in highrise apartments behind the beach.
Is Surfer's Paradise worth visiting? As an Aussie icon, yes, for sure, it's a fun-in-the-sun highrise beach destination.
If tourist attractions become too much you can take a trip up to the hinterlands. At 500 metres above sea level, you'll find a much cooler climate. Mount Tamborine is a beautiful spot for a day trip. Be sure to do the Tamborine skywalk.
Currumbin Wildlife Sanctuary
Specialising in local wildlife you can see most of Australia's local wildlife at Currumbin sanctuary. Everything from koalas, dingoes, echidna, crocodiles to cassowaries.
There is also a hospital here that treats injured and sick animals that are brought into the sanctuary from outside the park.
For kids under 12 there is a small water park and for everyone, there are numerous options for dining. You'll spend the best part of a day here as the site is quite large.
Springbrook National Park
This large national park is located to the west of the Gold Coast and is split up into 4 sections. Combined the park is large at 6,558ha. The four areas are Springbrook section, Natural Bridge section, Mount Cougal section and Numinbah section.
There is only camping in one area, the settlement area in the Springbrook section. You'll need a permit before camping. Surrounding the national park there are numerous guesthouses and camping opportunities.
The main activity is walking and walks in distance from 300 m to 54 km if you're really feeling energetic. The 54km trail finishes at the campground. Wheelchair access is possible but limited to Canyon lookout.
Brisbane City (& South Bank)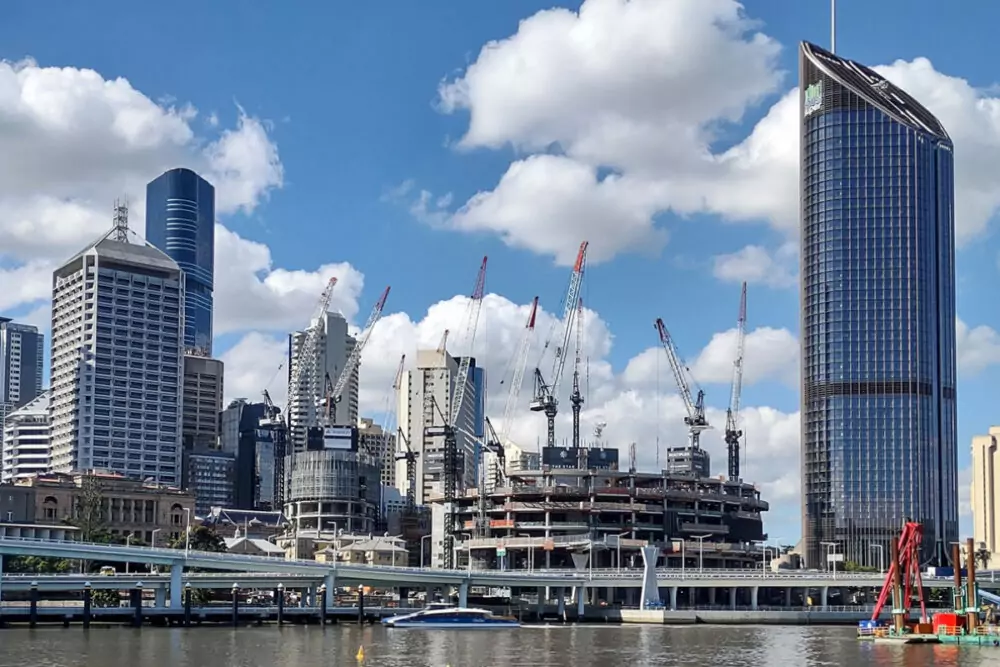 We recently took a short break to Brisbane and we can honestly say we loved it. This city is massively under-rated in our estimation and is our top pick for a few days away in Queensland.
With Brisbane having its own airport and great transport connections, this couldn't be easier. Read more on our Brisbane travel blog page.
The entertainment and tourist centre of Brisbane, South Bank, is where you'll find Brisbane's tourist newest district. Covering 17 hectares on the south side of the Brisbane river it includes man-made beaches and pools to great cafes and restaurants and open parklands for picnics.
With numerous playgrounds for all ages including an aqua park for younger kids, you can spend hours here. Two pools including one with its own man-made beach can be found on Brisbane's south bank.
Restaurants and cafes are numerous along the entire stretch of the south bank. With everything from bars and pop-ups to fine dining, you'll find something to cater to everyone's tastes.
South bank is linked with the botanical gardens via a bike and pedestrian bridge which leads onto more cycleways across the river. You can even hire bikes or scooters if you haven't brought your own.
Brisbane's Islands
Now we get to some of the best Australian islands. North Stradbroke Island, Peel Island and Moreton Island are all accessible off Brisbane. South Stradbroke and Bribie island are both a little way south and north respectively but very easily reached as well.
There are numerous departure points in Brisbane depending on whether you take you car or go as a foot passenger and to which island. Morton Island has the easiest links as it is directly east of Brisbane river.
For Morton Island you can catch a passenger ferry from Holt Street wharf or the car ferry from the Port of Brisbane. It's recommended that you only take your 4wd if you're experienced. There are no roads on Morton Island. Tangalooma is the resort on Mortan Island and you can organise tours and transport from here.
North Stradbroke Island has ferry departure points a little over 30 minutes from Brisbane CBD at Toondah Harbour, Cleveland. Unlike Morton Island, the three townships on North Stradbroke are connected with sealed roads. As such taking your car across is both straight forward and recommended if you want.
If you want to drive on the beaches you'll need a permit which is available from straddie camping. There are restrictions on where and when you can drive as well. 75 minutes either side of high tide is forbidden which is both for the protection of the environment and peoples cars.
Bribie Island is the easiest to get to as you don't need to take a ferry. There is a bridge connecting it to the mainland. You'll need to head north to Caboolture and then head to the coast. The southwestern part of Bribie Island is where everyone lives with the northern 60% being a national park.
South Stradbroke is a smaller island and there aren't vehicle ferries that run there. You'll need to go to Hope Harbour to catch a ferry. Or if you're on North Stradbroke you can catch a ferry from the southern end across. If you have your own boat then it is ideal for visiting on your own. It isn't far off the coast and waters are calm more often than not.
Glass House Mountains
Located approximately 70 km north of Brisbane in the Sunshine Coast Hinterland. This national park is dominated by the large peaks that are actually intrusive plugs formed from volcanic activity many thousands of years before.
There is no camping within the Glass House Mt national park so day trips are your only option here. Day use areas are scattered across the park and some are suitable for wheelchair users.
The main activity here is walking and hiking. There are at least 7 trails to choose from and they vary in difficulty and length. There are also separate trails for horseriding, mountain biking and trail running. This is a great idea to avoid accidents with pedestrians and faster moving bikes and people. Please note at the time of publishing it was forbidden to ride your mountain bike on the walking trails.
Australia Zoo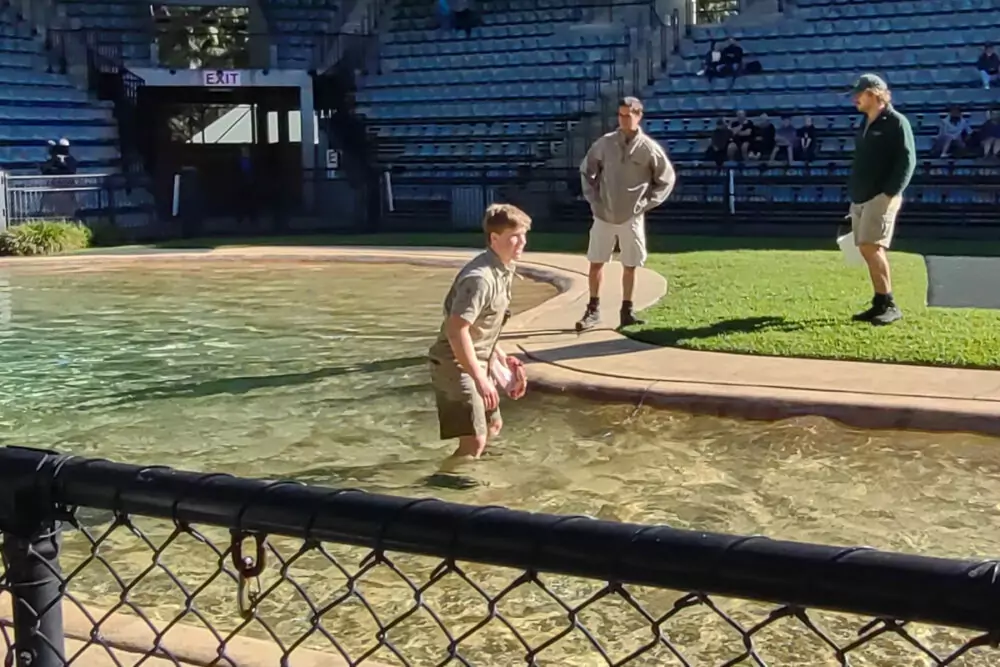 One of Australia's most famous attractions thanks to Steve Irwin and his larger than life personality. Australia Zoo has still thrived after his untimely death and today is as big as ever.
We visited again in 2021. It was open, but quiet and we were thrilled to see young Robert Irwin presenting the crocodile show.
Located just north of Glass House Mountains National Park and south of the Sunshine Coast, it is easily accessible via well-connected motorways. If you don't have your own car there are courtesy bus pickups from Beerwah Train Station or coaches from Brisbane and Noosa.
We took the courtesy bus from the train station and the connection was flawless.
The majority of animals are native to Australia with saltwater crocodiles being the main attraction. You'll also find cassowary birds and dingos.
Australia Zoo has numerous non-indigenous animals including Sumatran elephants (currently not on display), well housed, tigers, red panda, white rhino, binturong, meerkats and giraffes, to name a few.
There is also an animal hospital on-site and you can for an extra cost become a zookeeper for the day. I'd recommend spending the whole day here. It covers a large area and can be a big day, especially with younger children.
Our family really enjoyed this Queensland destination, it was well worth visiting. The food isn't great and it's expensive. If you can, bring a picnic.
The Sunshine Coast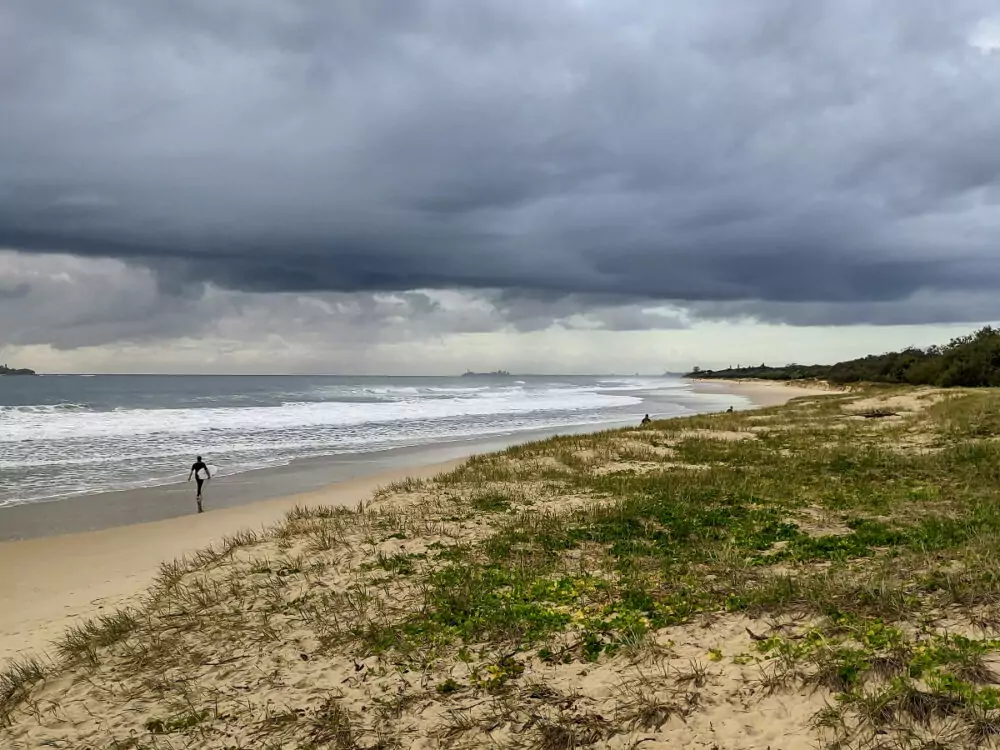 One of Queensland's best-loved holiday destinations, the Sunshine Coast stretches from Coulandra, 100km north of Brisbane all the way up to the Great Sandy National Park north of Noosa. With beautiful beaches, rivers, lakes, national parks and hinterlands this is all about the outdoors.
Noosa is a food lover paradise with numerous food options from beachfront cafes to fine dining and a thriving nightlife scene. With accommodation to suit any budget and lifestyle, many people spend their holidays here.
Maroochydore is located in the middle of the Sunshine Coast on the Maroochy River. It is here that the Sunshine Coast airport is located although few flights use this airport. Maroochydore isn't as touristy as Noosa and other parts of the Sunshine coast but is still worth a visit.
Great Sandy National Park
Noosa is a great base to explore the Great Sandy National Park but equally, you can camp and explore the area with a 4wd. You'll need permits for both camping and certain tracks but the wildlife and scenery you'll see will be amazing. The coloured sands are something you'll not see in many places.
Fraser Island
Known as the largest sand island in the world Fraser Island is located 40 minutes off the coast of Queensland's Hervey Bay, 360 km north of Brisbane. We have a post on getting to Fraser Island.
The scale of Fraser Island is shown on the East coast where over 75 miles of the beach becomes the national highway and light aircraft landing strip.
You'll need a 4wd to explore Fraser and the experience to go with the vehicle. More than one person has lost their car on the beach when the tide turns.
If you don't have a 4×4 of your own then you can organise tours or hire a car from the mainland. Tours run from day tours right through to multi-day camping tours across the whole island.
Vehicle barges and ferries run from River Head, Hervey Bay directly across to Fraser Island. 5 services a day to Kingfisher resort or twice daily to Wangoolba river takes about 50 to 40 minutes respectively.
There are five resorts and numerous camping options across the whole island. Just remember to avoid high tide by 2 hours either side. If beaches aren't your thing don't worry as there are more things to do on Fraser Island including 3 types of lakes and numerous rivers. It is also home to the largest collection of dingoes, Australia's wild dog.
Hervey Bay
Known as the jumping on and off location for Fraser Island, Hervey Bay has charms of its own.
It is here you'll find some of the best whale watching on the east coast of Australia. As humpback whales migrate north they can often be seen off Hervey Bay.
It is a pleasant place to spend a few days either side of tours to Fraser or whale watching tours during the middle of the year. If you're feeling adventurous you could try skydiving at Hervey.
Bundaberg
Bundaberg is famous for its distillery where Bundaberg Rum is made from Queensland sugar cane. But The Bundy isn't the only reason for stopping here.
If you have an interest in aviation history you'll find this is the birthplace of Bert Hinkler. The first person to fly solo from England to Australia and across the Southern Atlantic ocean.
The two big drawcards are the distillery and museum for Bundaberg Rum which is open normally 10-4 pm daily but double check times before going.
Bert Hinkler's house is actually from Southhampton in the UK. It was moved here back in 1983 and assembled in the botanical gardens in Bundaberg, his town of birth.
If those two aren't for you there is a turtle conservation program here that might interest young and old alike. Its ranger-led conservation is the only one of its kind in Australia.
1770
Rumoured to be the only town in the world with a number for a name it wasn't always called 1770. In fact, it was called Round Hill up until the 200th anniversary of Captain James Cook's landing in Australia.
This was his first landing in QLD and second in Australia. Coming ashore with Joeseph Banks they found freshwater and birds aplenty they could eat.
Now along with neighbouring town Agnes Waters this sleepy village is surrounded on 3 sides by the Coral Sea and retains much of its charm from years gone by.
You can access Lady Musgrave Island and Lady Elliott Island via boat from here. Both islands are small and only camping is permitted on Lady Musgrave whereas Lady Elliott has a small eco motel well worth a visit.
Gladstone, Rockhampton and Mackay
These towns are more used in getting on and off boats for islands and the southern parts of the Great Barrier Reef off the coast.
Gladstone harbour itself is a big industrial coal moving port and is the 4th largest in the world for coal export. As such this harbour isn't like those up or down the coast.
You can actually bypass Gladstone now along the highway and I'd recommend that unless you have an interest in big coal export terminals.
Great Keppel Island is one of Australia's most well-known islands and you can catch boats to here from Yeppoon which is a short drive north of Gladstone and on the coast from Rockhampton.
Rockhampton is on the national highway and is inland from the coast about 40 km from Yeppoon. With numerous cattle stations in the surrounding area it's understandable that Rockhampton is known for beef production. 6 statues of separate breeds of bull (you'll see them on the highway) are a testament to that.
There are a few things to do in Rockie, as the locals call it. You have the old heritage village which depicts life over a century from 1850 to 1950. The botanical gardens and free zoo are also a hit with families both local and visiting.
For indigenous culture, there is the Dreamtime Cultural Centre which depicts Aboriginal and Torres Strait Islander traditional life. There are also replica sandstone caves on display.
Airlie Beach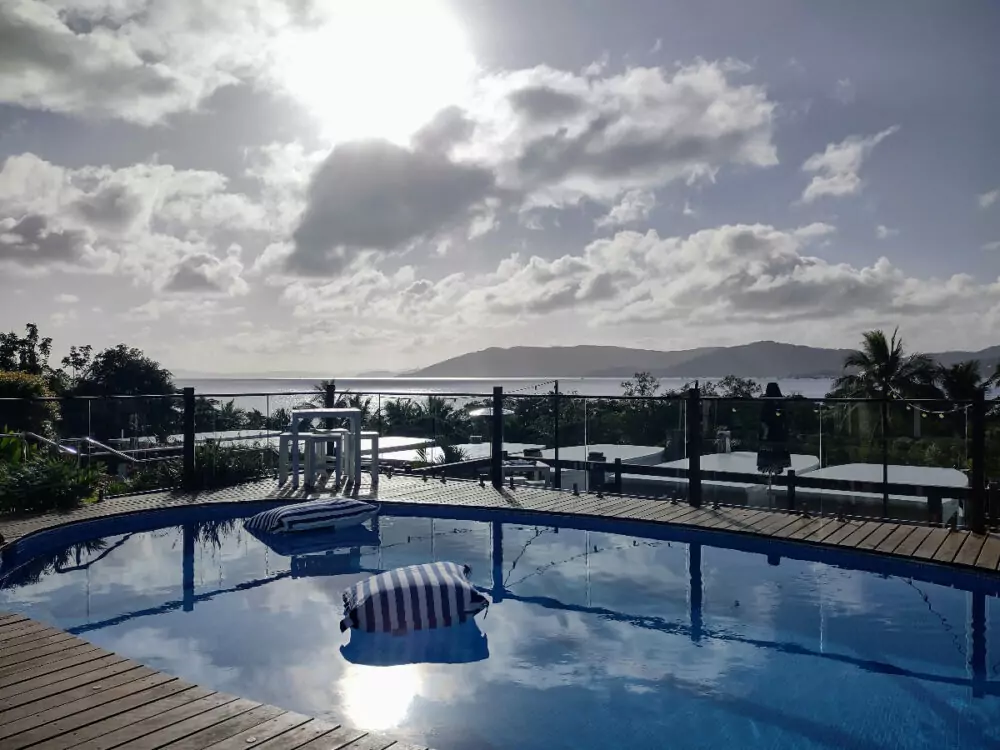 Known as the gateway to the Whitsundays, a group of islands of the coast of Airlie, you'll find a surprisingly large amount of things to do without leaving the harbour.
Whitsunday airport services the region with direct flights from Brisbane with 3 airlines. There are connections from all major Australian cities daily via Brisbane. The airport is located between Airlie Beach and Shute Harbour within easy reach of all attractions.
Airlie Beach Lagoon is a large manmade pool that sits on the foreshore of Airlie Bay. A focal point for both locals and tourists the large area has free entry and is the perfect spot to relax and swim.
There is a large amount of accommodation options in Airlie with all price ranges covered. While not required you could easily spend a few days here before transferring across to the Whitsunday Islands.
There is a great food scene here with everything from fine dining to free BBQs at the lagoon. Pubs and bars scattered around the region with some having some great views out over the ocean. Try Shute Harbour for a different view of Airlie and what it has to offer.
Many tours start and end in Airlie, including rainforest tours, island and sailing tours and even whale watching tours during the migration season.
Where to stay in Airlie? The last time we visited we stayed at this quirky and unusual hotel, Freedom Shores, each room is shaped like a boat. The gardens are lovely and it's walking distance to a beach with a really good pub restaurant. The palm trees on this beach here are from the filming of Pirates of the Carribbean, in Queensland, of course.
The Whitsundays
The Whitsundays covers an area of 228 km² and consists of 74 islands that are mostly uninhabited. Hamilton Island is the largest of the inhabited islands and even boasts an airport. Whitsunday Island is much bigger but is mainly a national park.
There are two main ways to see the area. The first is to head to one of the island resorts and base yourself there. The second and widely popular is to hire a boat, go on a boat tour or use your own boat to explore the numerous islands.
Fishing, snorkelling and diving are some of the top attractions along this stretch of coast. Just remember if you've been fishing and throwing back bait and fish carcasses don't then jump into the water afterwards. This irresponsible behaviour has been the cause of a few shark attacks of late and can easily be avoided by moving mooring before swimming.
If you have some spare cash one of the best ways to see the whole area is from above. Both helicopter and seaplane tours operate out of Airlie Beach and Hamilton Island. This gives a birds-eye view you'd otherwise not see from sea level.
Bowen
Located at the northern end of the Whitsundays, Bowen isn't nearly as famous as Airlie beach for tourists but that doesn't mean you need to skip it.
One of Australia's most popular types of mango is named after Bowen. Here you will find one of Australia's famous " Big Things", The Big Mango.
Ayr
Located between the beautiful Whitsundays and Townsville to the north there isn't much in Ayr as a tourist destination. If you were short on time this would definitely be one to skip and pass right through.
If you like wreck diving then this is one of the places (Townsville is the other) to go out and dive the SS Yongala which is one of the worlds premier wreck dives. Not a dive for the novice or faint-hearted it is an amazingly deep colourful dive located in a shipping channel in the middle of the ocean.
Driving over the Burdekin bridge which spans the Burdekin river you'll find it longer than the Sydney harbour bridge. Besides the length what makes this bridge unique is that the foundations aren't set into stone but the sandy riverbed. Sunk to a depth of 30+ metres and filled with concrete this bridge is actually very impressive from an engineering point of view. Before the bridge was built this area was always cut off in the wet season with people stuck on either side until waters subsided.
Townsville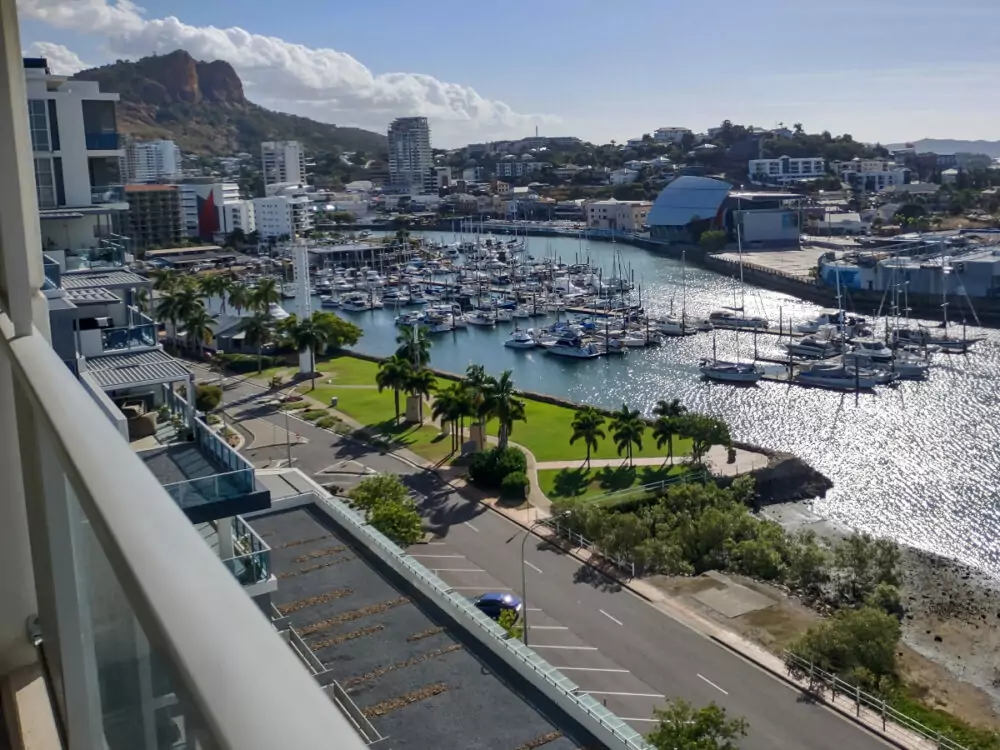 Townsville, named after Robert Towns, is the capital of North Queensland and houses numerous government offices and departments including defense and scientific departments. The international airport was the first regional airport to be granted international status way back in 1980 although it was a major base of operations in WW2.
Unfortunately in the last 15 years, Townsville has lost a lot of its international connections and most fly in and out of Brisbane or The Gold Coast now.
Townsville Strand is where most attractions can be found. The water park, kids parks and swimming lagoon are all based here. With views out across the bay to Magnetic Island, it is a lovely spot to spend an afternoon or evening.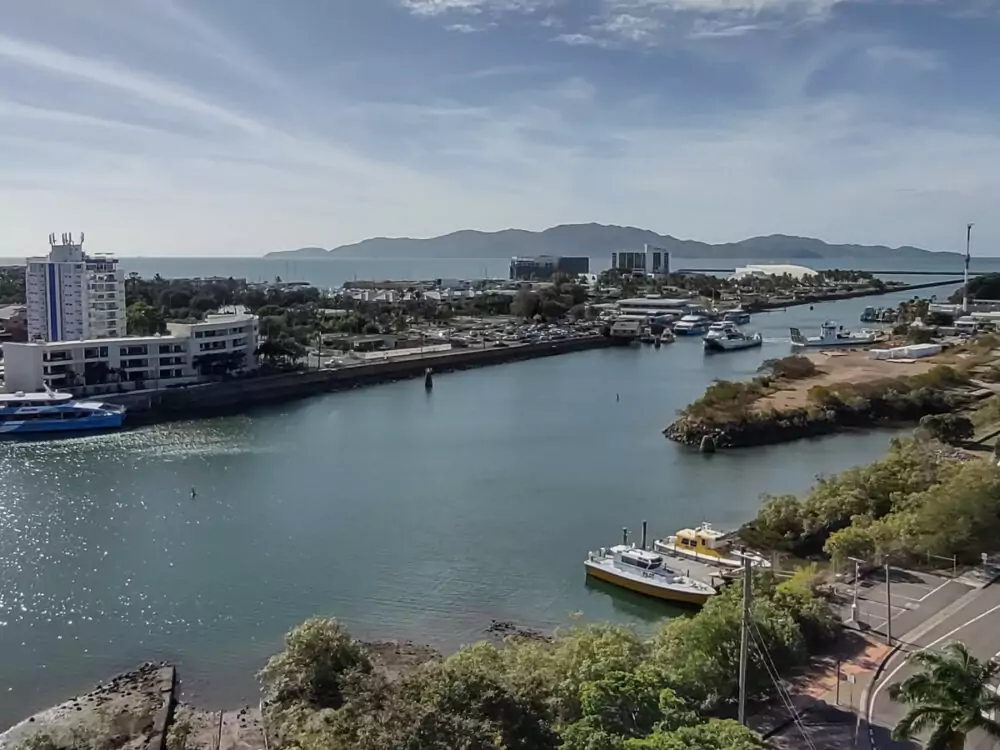 Nearby you have ReefHQ which is a world-class tropical aquarium that houses the worlds largest living coral reef exhibition. With other marine life also on display, this is definitely worth a visit.
Castle Hill towers over Townsville and is the perfect place to get an aerial view of the whole city right out across to Magnetic Island. You can either walk or drive up to the top of the hill.
If you like rugby league then you may just catch a game up here in Townsville's new stadium. Queensland Country Bank Stadium was opened in 2020 and can seat 25000 people. Within easy walking distance of Townsville CBD getting there is easy.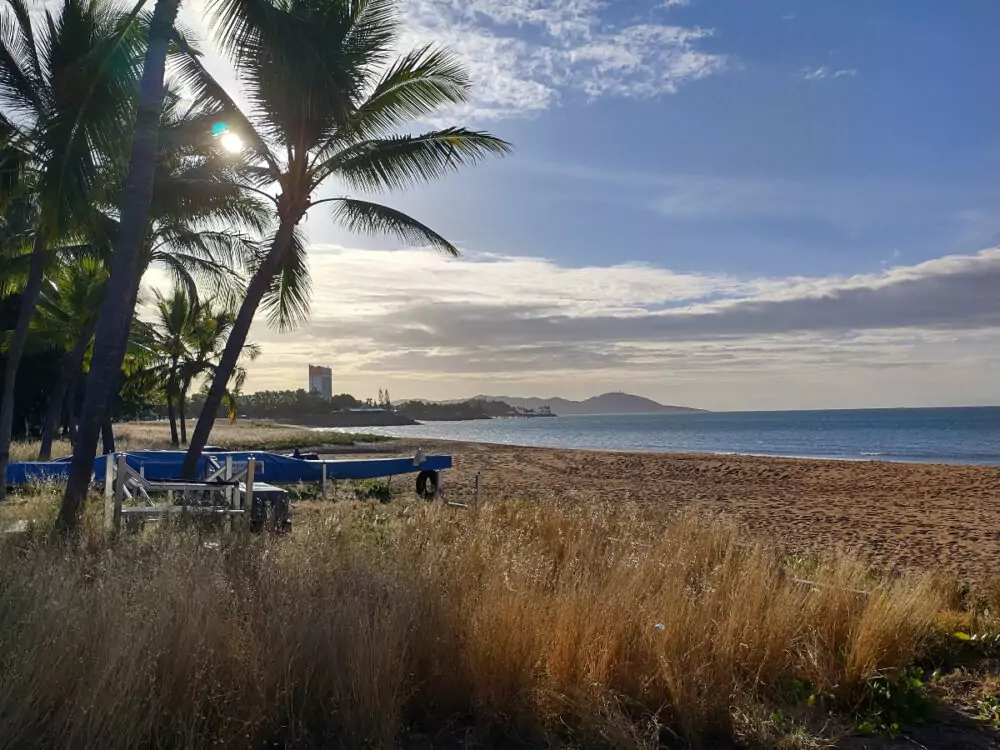 If diving is your thing then there are plenty of companies that will operate trips out to the SS Yongala which is one of the world's best wreck dives. Not for the novice diver as it is in deep blue water in the middle of a shipping channel. It's a spectacular dive, we've done it, and you can read about my accident scuba diving on the Yongalla here.
Once you head north of Townsville there aren't so many good hotels until you hit Cairns and Port Douglas, there are plenty of motels and camp sites, of course. We can give you a great hotel recommendation for Townsville, try this Oaks property, the views (above) are spectacular and the rooms even have a kichenette and washing machine. There is parking and it's within walking distance of the marina, The Strand, and city dining.
Magnetic Island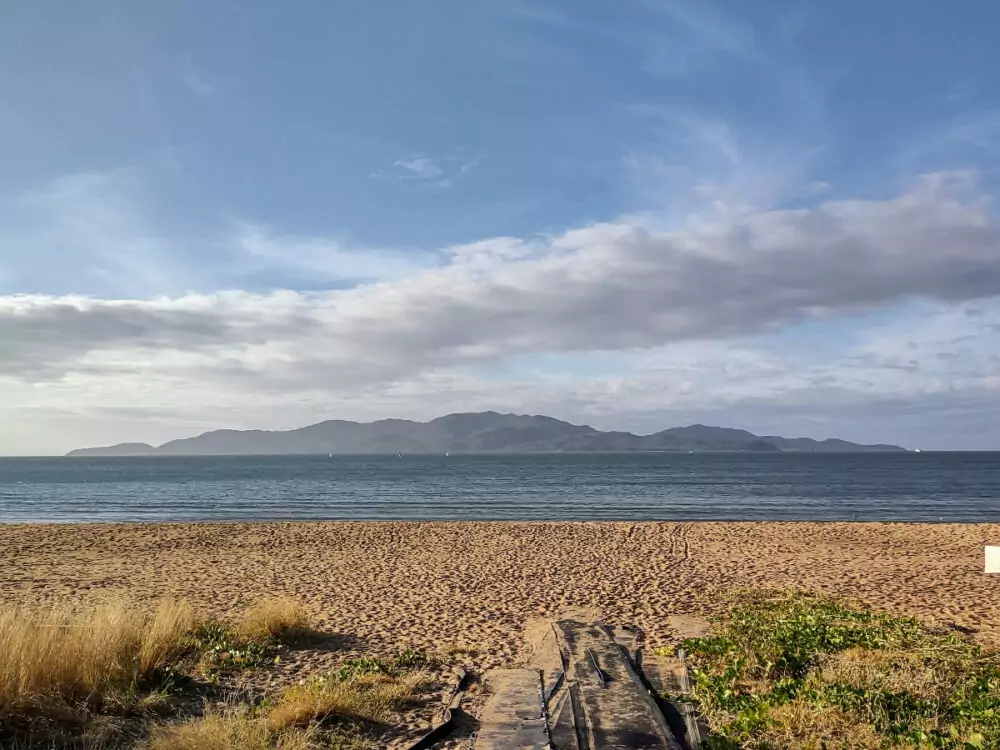 Located 8 kilometres off the coast of Townsville getting to Maggie, as the locals call her, is quick and straight forward. You can see the ferries and the location of the ferry port in our photos of Townsville, above.
In reality, Magnetic Island has become another suburb of Townsville with over 2000 people permanently living there. Both car and passenger ferries leave from the river ferry port and timetables are regular throughout the day. First ferries leave Townsville as early as 5:20 am and just after 6 am from Maggie. There is no late-night services though so don't miss the last ferry in either direction.
Most of the middle of the island is a national park and rises to nearly 500 metres in the centre. Around the outside, you have lots of little bays that offer beaches and sheltered swimming. Some of the most popular would be Picnic Bay, Horseshoe Bay, Nelly Bay and Arcadia.
There is plenty to keep you occupied here for a few days just exploring the areas but if you want more then you could learn to dive on the island and if already experienced could add a trip out to the SS Yongala from Maggie.
Magnetic Island is a great place to learn to scuba dive because you can dive off the beach rather than having to take long boat trips to the outer reef, making it less costly.
Ingham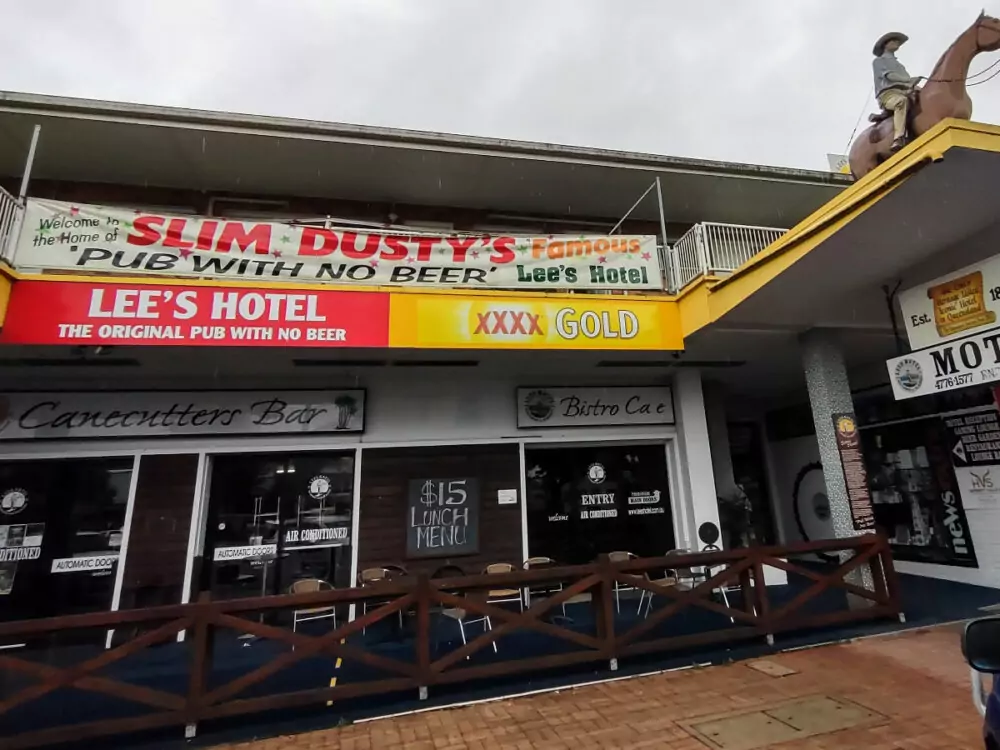 The highway (the A1, the Bruce Highway) passes through Ingham just south of Lucinda. Ingham isn't on the coast but is famously home to "The Pub With No Beer" of the Slim Dusty song. Lee's hotel is on the main street, to your left if you're entering Ingham from the south.
Where to stay in Ingham? Ingham isn't really a tourist destination, but there are a few places to stay. The Tropix Motel and restaurant gets the best reviews normally.
Lucinda
The main claim to fame in Lucinda is the extremely long wharf here. Not just large but the largest in the southern hemisphere at 5.76 km long. Supported by over 600 concrete posts it is a sight to behold.
Sugar cane is the reason for the wharf and by taking it so far out into the deep water the largest of the tankers can be loaded here before heading directly to North America and Asia. It takes sugar cane 22 minutes to get from shore to ship along the wharf.
Next to the wharf is a public wharf that people use for fishing with apparently a good supply of Spanish Mackeral being caught here.
Hinchinbrook Island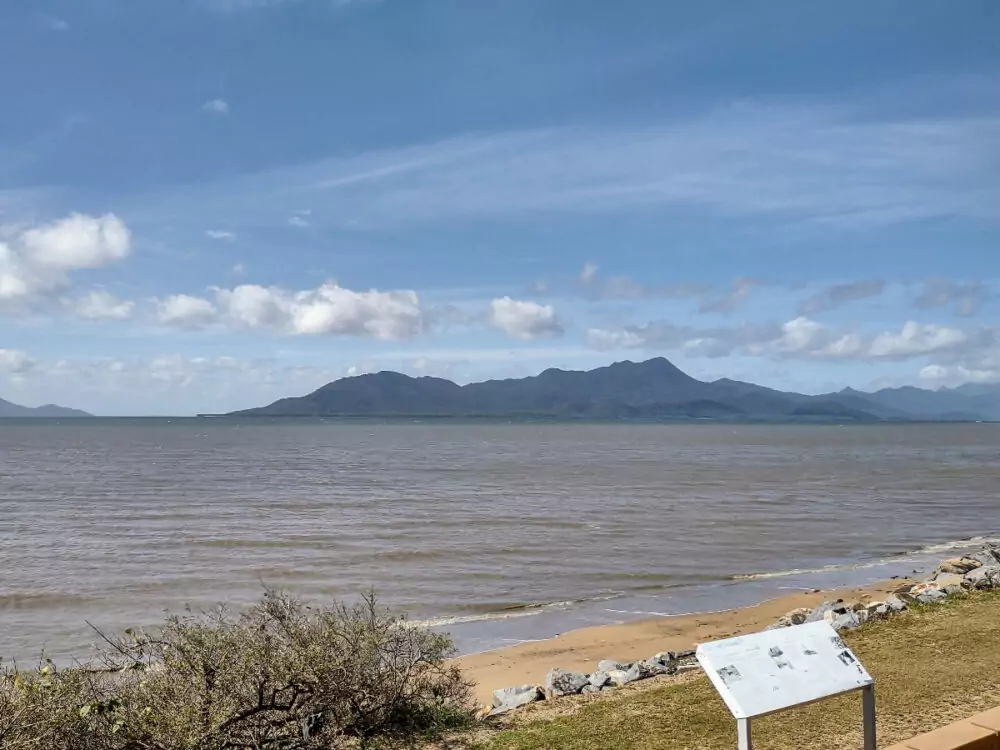 All of Hinchinbrook Island is a protected national park and there are no roads on the island at all. Access is by boat from Cardwell or Lucinda by private boat or charter to either the north or south points of the island.
The island is important for both Aboriginal culture and native wildlife such as turtles and dugongs which both inhabit the areas around Hinchinbrook.
Camping is permitted but requires a prebought permit. Parts of the island are restricted with no access. There are numerous hikes on the island that range from small walks right up to the 4 day Thorsborne trail.
There are picnic facilities and toilets on the island at various points but no drinking water. You'll need to bring all your drinking water with you regardless of the length of time you'll be there. The island is also in the middle of croc country so be aware that saltwater crocodiles can be anywhere. Exercise caution when swimming anywhere on the island.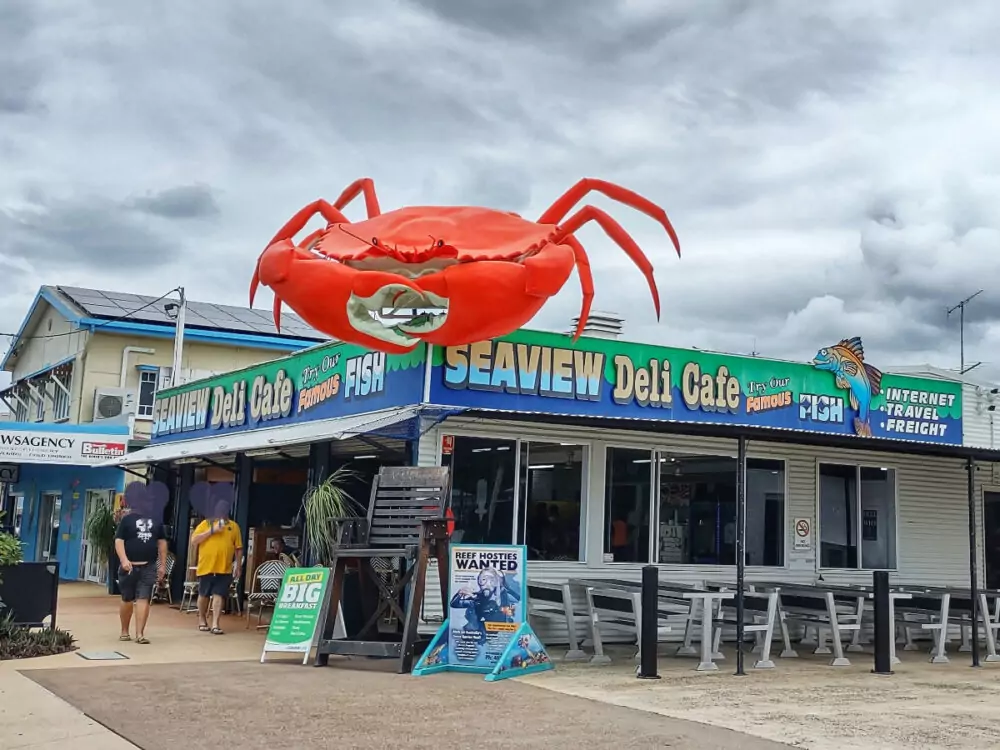 Cardwell is a good place to stop and take a break as its one of very few places along the highway where the road is right next to the beach. The "Big Crab" is here and they do some tasty aussie-style junk food. You also get views of Hinchinbrooke Island along the esplanade at Cardwell.
A lot of long distance buses stop here for a rest stop, so it can get pretty busy. This was how we first saw Cardwell over 20 years ago, we were young backpackers on that bus and stopped here for a burger with "the lot." If you don't know what that is you need our post on Australian food!
If you'd like to break your journey near here, take a look at the Hinchinbrooke Vista Hotel, we almost booked this one ourselves on our last Queensland road trip, it looks nice and gets great reviews.
Mission Beach and Tully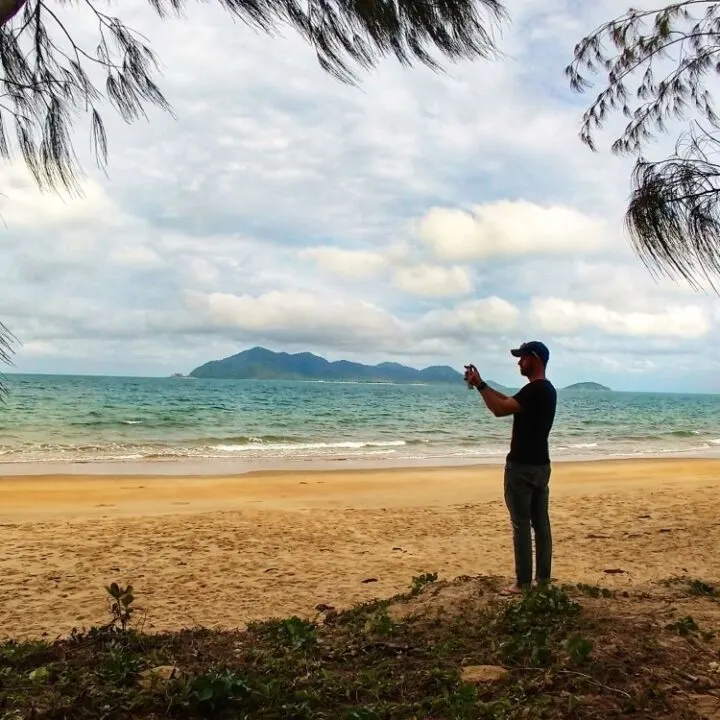 Mission Beach is, as the name suggests, on the coast while Tully the big sugar cane town is inland on the highway. It is a 22 km diversion to go off the Bruce Hwy and via Mission Beach.
If you drive slowly you may just see some of the wild cassowaries which call this area home. In fact, the local council area is called the Cassowary Coast.
Tully has the distinction of being the wettest place in Australia with over 4000mm of rain per year. In 1950 over 7900 mm fell making it the wettest populated area in Australia as well.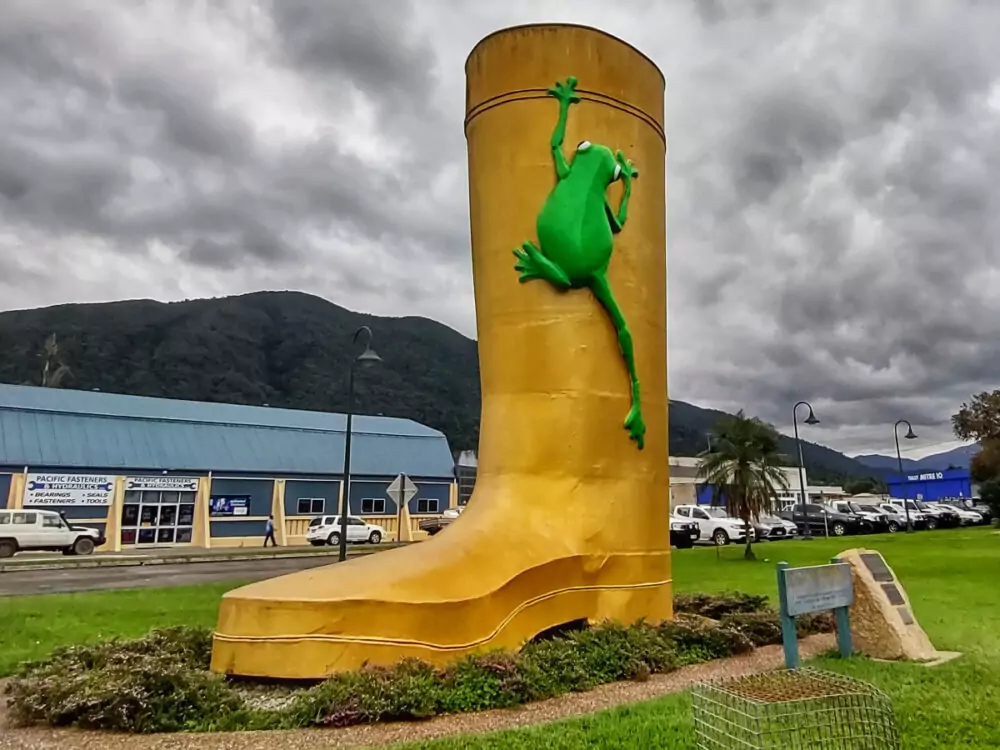 The Sugar mill dominates the entrance to Tully but opposite on the side of the road is the giant gumboot. Officially called the Golden Gumboot it stands at 7.9 metres tall which are based on the largest rainfall the area had in one year. You can climb in and to the top.
Mission Beach refers to the whole area and is made up of all the villages along this coast. A popular holiday destination, especially with people from Cairns as it isn't far to drive. There is accommodation ranging from caravan parks to hotels located across the various beaches.
Dunk Island is located off the coast about 4 km from South Mission beach but was hit by both cyclone Larry and Yasi which destroyed the resort. It recently sold for $32 million but there is no word on when they plan to renovate and reopen.
Paronella Park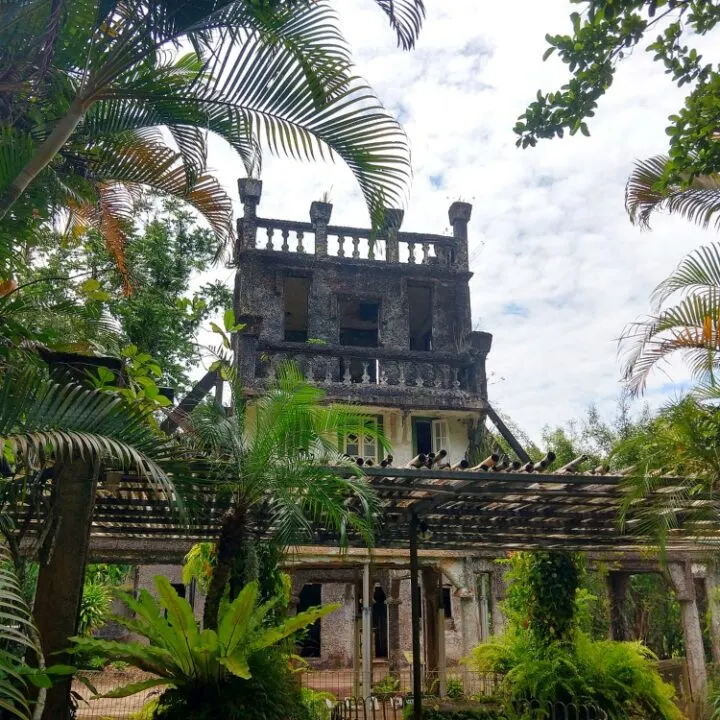 Paronella Park was bought and started by Jose Paronella from Catalonia, Spain. He first bought the land back in 1913 for £120. Paronella built the castle and grounds with the intention of showing it off to the public as a pleasure park. After much hard work, this happened in 1935 when movies were played every Saturday in the ballroom. It remained in the family right up to 1977 although Jose died in 1948.
Paronella was the first place in FNQ to have a hydroelectric power system which was commissioned in 1933. There were multiple setbacks from floods to cyclones and everything in between. Unfortunately, all things that FNQ deals with almost on a daily basis.
Today the park is still open to the public and has been with the same owners since 1993. It is definitely worth a visit if you have time. The grounds remained unchanged in most ways since it was completed.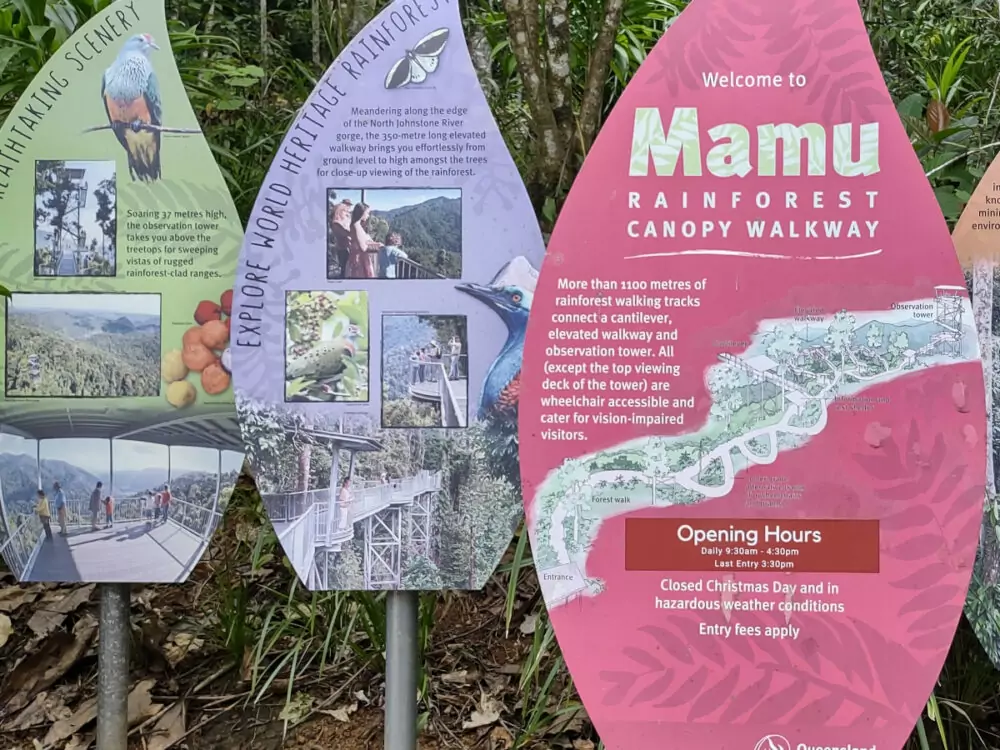 Near Paronella Park you'll find the MoMo rainforest walkway. This is a great place to stop and stretch your legs and experience the rainforest canopy. There is an admission charge unfortunately. If you miss this chance to experience a rainforest, there are also walkways and observation towers in the Daintree Rainforest, north of Cairns and Port Douglas.
Ravenshoe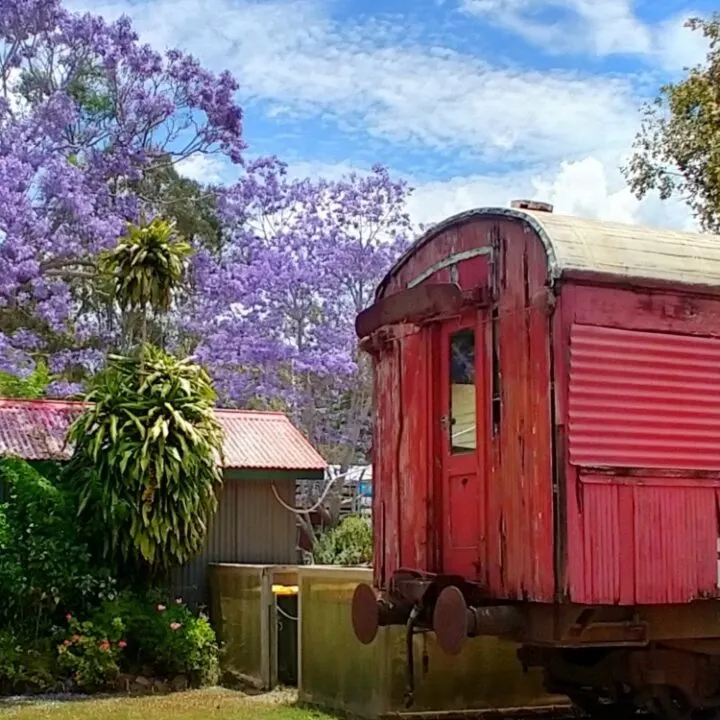 If you can time your visit to Ravenshoe for when the jacarandas are flowering, do so. As you can see, we did, and they were beautiful. Ravenshoe is just a small town, but it has the highest pub in Queensland and an old steam railway, with station.
Ravenshoe is worth a look and a good place to break your journey. It's in the Misty Mountains and it's a nice area to drive through. Ravenshoe is pronounced Raven's Hoe not Raven shoe.
Cairns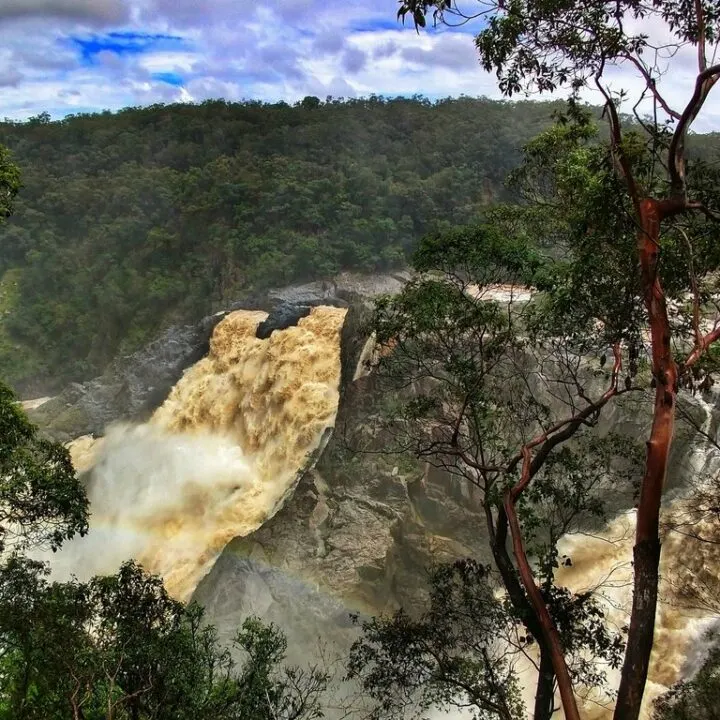 There are loads of things to do in Cairns and our post (the link you just passed) breaks them all down for you. New ones come, old ones go out of business, but that list is as up to date as we can make it.
Cairns is a massive holiday hub and tourist draw offering visitors The Great Barrier Reef, beaches, Islands, rainforests, man-made tourist attractions and the popular destinations of the Cairns hinterlands.
Kuranda (we list Kuranda separately, below) is a short scenic train ride, drive or cable-car journey from Cairns. Our photo is of the magnificent Barron River Falls in full flood. Maybe a lesser-known Cairns attraction, but a stunning one, I hope you'll agree.
Cairns has endless accommodation and dining choices from luxury resorts to some mega backpacker hostels. You really can find it all in Cairns.
Kuranda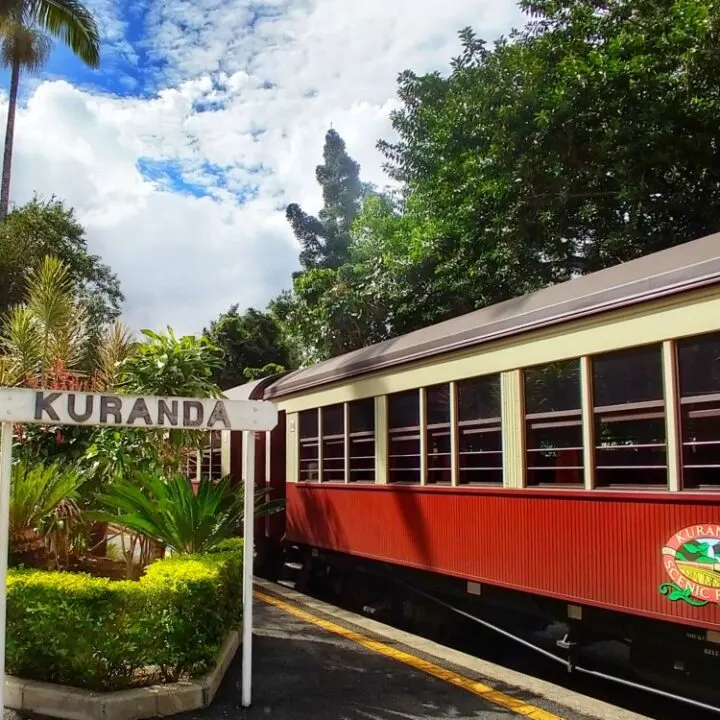 Kuranda is located just above Cairns on the edge of the Atherton Tablelands. There are a few local residents although the majority of the people you'll see are here during the day for the tourist markets and restaurants.
There are 3 main ways to get here from Cairns. The first is the train which runs twice a day in each direction. Both services in the morning head from Cairns to Kuranda and the two-afternoon services return to Cairns. The other straight-forward way is to drive up to Kuranda via the Kuranda range at Smithfield in northern Cairns.
Possibly the best way is to catch the Skyrail up or down from Smithfield and then catch the train in the opposite direction. You can take Skyrail up and back and it does stop in the rainforest which allows you to get out and explore the region and get a great view of Barron Falls. Skyrail runs continuously all day from early morning to late afternoon.
To book your Cairns rainforest Skyrail trip, you need to go here. (opens in new tab)
Tourist markets dominate Kuranda and the remaining places tend to be restaurants or cafes. There is a lot of local aboriginal arts and crafts for sale and is one of the best places to buy these items. Well worth a visit and you can even grab an ice-cold beer at the local old school pub overlooking the train station while waiting for your train in the afternoon.
Mareeba
Located directly inland from Cairns you can get to Mareeba by road via Kuranda. The journey takes approximately 1 hour and is 60 km by via Smithfield and Kuranda range.
Mareeba was first settled by settlers looking to explore and harness inland Australia. It was a stopping off point for the wheelbarrow way, which was a road all the way to Chilligoe.If you choose to travel on to Chillagoe for the caves, know that the road is unsealed.
Miners used to load up their wheelbarrow with their belongings and head west looking for work.
Some of the highlights of Mareeba are the numerous coffee plantations and adjacent shops. Coffeeworks even has a small musuem with the history of coffee throughout the world. There is also a distillery just south that has won numerous awards for its gins and rums. With bonus peacocks and alpaccas, Mount Uncle distillery it is well worth a visit, but designate a driver first.
Granite Gorge is a great place to visit and camp for the weekend. It can become very crowded in the peak seasons. If you're lucky and in Mareeba for July, you can check out the Mareeba rodeo that is held every year.
There is also a wheelbarrow race that takes place annually. Recreating the original miner's route to Chilligoe.
Mareeba markets are held on the 2nd and 5th Saturday of the month and give international visitors a taste of country Australia.
Atherton Tablelands
Located just south of Mareeba this part of Queensland could be called the bread basket of Cairns and surrounding areas.
Volcanic soil with plenty of great weather, it is here that a lot of the produce in thte area is grown. From beef right down to lettuce it can be found here. But that is only a small part of Atherton.
The Tablelands has lots to offer and it is diverse in what it offers from adventure, to cultur,e to food and drink. These are just some of the things you could see and do from The Tablelands. Some of them you could do as a day trip from Cairns but staying up here would give you more time.
There are also some phenomenal oportunities to see wildlife on the Tablelands, you may see tree kangaroos at Malanda, Cassawarries at Kuranda, platypus are common and the bird life is unbeatable.
Kangaroos can be a problem on the roads up here, we've hit 2 kangaroos in the last 12 months and it's not a pleasant experience, so do be careful. You're also likely to see pythons on the road in the warmer months.
If you plan to base yourselves on The Atherton Tablelands, we know a very good place near Lake Eacham where you'll get the chance to see our super cute sugar gliders by night. Check out Chambers Rainforest Lodge here, opens in new tab.
Tolga
Undara Caves
Milaa Milaa Falls
Mount Hypipamee Crater Lake
Lake Tinaroo
Wineries, chocolate, wine, and coffee
Herberton Historic Village
Herberton Mining Museum
Tarzali Lakes, where if you're lucky you'll a platypus or two.
Yungaburra Markets
The Afghan memorial at Yungaburra
Mt Molloy
Mt Molloy is a tiny town between Mareeba and Mossman, close to Julatten. There are some nice old buildings here and a maze. If you'd like to stop and stretch your legs, take a walk accross the playing fields to the labyrith. The Mount Molloy pub serves good food and The Mexican has some of the biggest burgers I've ever seen. We live just 10 minutes from My Molloy now, so maybe we'll see you there.
The Great Barrier Reef
The Great Barrier Reef stretches from Bundaberg in the Southern QLD all the way up to the tip of Cape York. 2300 km long and with 2900 individual reefs and 800 islands it is the largest living coral system in the world.
Most people access the GBR, as it is also known from far north Queensland. Cairns and Port Douglas being the most well-known and accessible areas. It helps that it is extremely close to shore here with a high concentration of good reefs. Snorkelling on the Great Barrier Reef is a once-in-a-lifetime occasion for many and it's well worth the high price tag. My husband is lucky enough to work out there several days a week. He always comes back with tales of exciting new wildlife they're spotted.
Live aboard trips also leave from Cairns and head north. Some of the reef north up towards Lizard Island is spectacular and very isolated and pristine. Back towards Cairns and Port Douglas you can catch helicopters out to the reef and quite a few have pontoons that they pull up to.
Port Douglas
A lovely seaside village made famous after Christoper Skase built the Sheraton Mirage back in the 1980s. Since then it has grown significantly and become a world-class tourist destination.
We recommend you stay at the Sheraton if you can, the pool is incredible and this hotel fronts out onto Four Mile Beach, not many hotels in Port Douglas are close to the beach because of local building regulations. Check out The Sheraton here. (opens in a new tab). For those on a tighter budget try The Lazy Lizard, it takes away prizes for best hotel and is very popular.
With a huge palmed-fringed sandy beach it is the perfect place for a relaxing or active holiday. Even the drive from Cairns to Port Douglas is breathtaking. Hartley's Crocodile Adventures is between Cairns and Port Douglas on the coastal highway and is worth a visit, their Breakfast With The Koalas (book here) is a good way to start your day at the park and gets you in early, before th crowds arrive.
Restaurants and cafes line the main street in Port Douglas, Macrossan Street. This and side streets coming off it offer accommodation suited for every level. From backpacker hostels and campsites to 5 star luxury resorts, you'll find all kinds of accommodation in Port Douglas.
What are the best things to do in Port Douglas? From Port, you can explore Mossman Gorge, the Daintree River and rainforest, and of course the reef. Further afield you can access the tablelands on day trips and even get as far as Cooktown if you don't mind a long day in the car. In Port Douglas itself, don't miss the Wildlife Habitat, with a new crocodile attraction that has recently opened. You can now swim with the crosa in Port Douglas.
There's also the Lady Douglas crocodile-spotting tour, and various sailing trips to stunning coral cays. You can even take a helicopter flight over the reef. It's stunning. Did I mention that we lived in Port Douglas? We did, for 15 years or so. Port Douglas is a justifiably popular holiday destination in Queensland.
Check out our post on trips to The Great Barrier Reef, for snorkelling or scuba diving, from Port Douglas Queensland
Daintree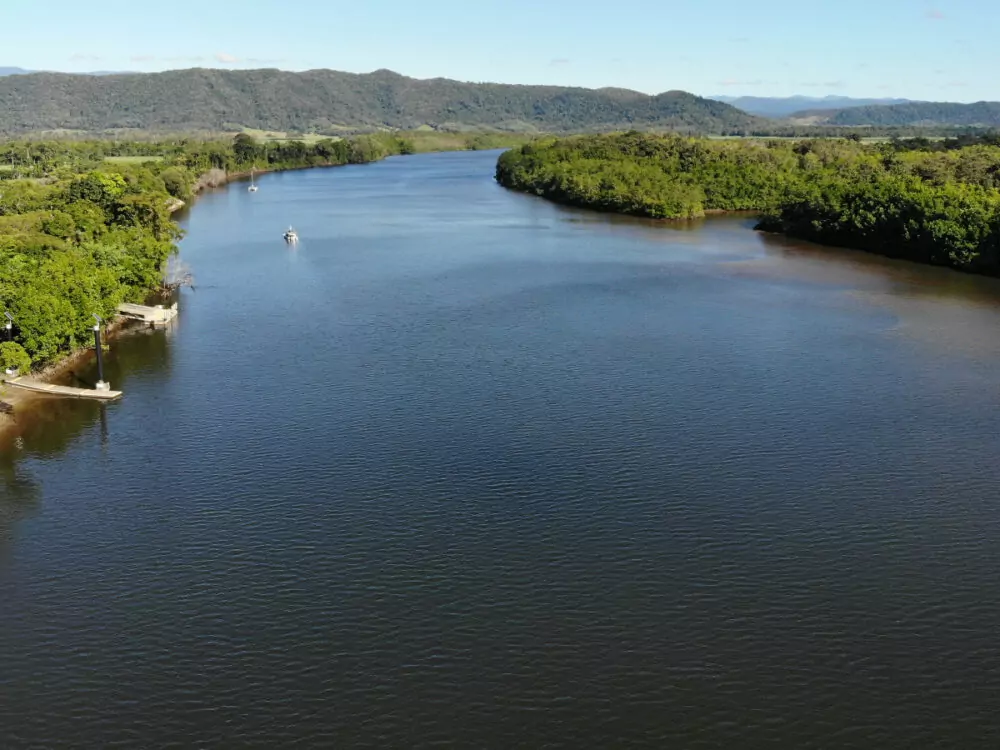 Daintree village is a small village located on the southern side of the Daintree River. It houses a few shops and restaurant and crocodile viewing tours leave from here. If you have time it is worth popping in and having a look. It is also home to an Australian "big thing". It has the "big barra."
Just south of the village there is a turn to the right which will take you to the ferry that takes cars and buses across the Daintree River into the Daintree Rainforest which is more what people mean when they talk about the Daintree.
It is approximately 38 km on narrow winding roads to get to Emmagen Creek which is where you'll need a 4wd to continue. Along the way you'll pass through rainforest and beaches and even tea plantations. Give yourself a good day up here to explore the area.
If you want you can even stay in The Daintree. There are camping options, backpacker hostels, and boutique hotels all offering great experiences. If you get time, try and climb Thorton Peak located behind Thornton beach. We have a full post on visiting The Daintree Rainforest here.
The Lion's Den Hotel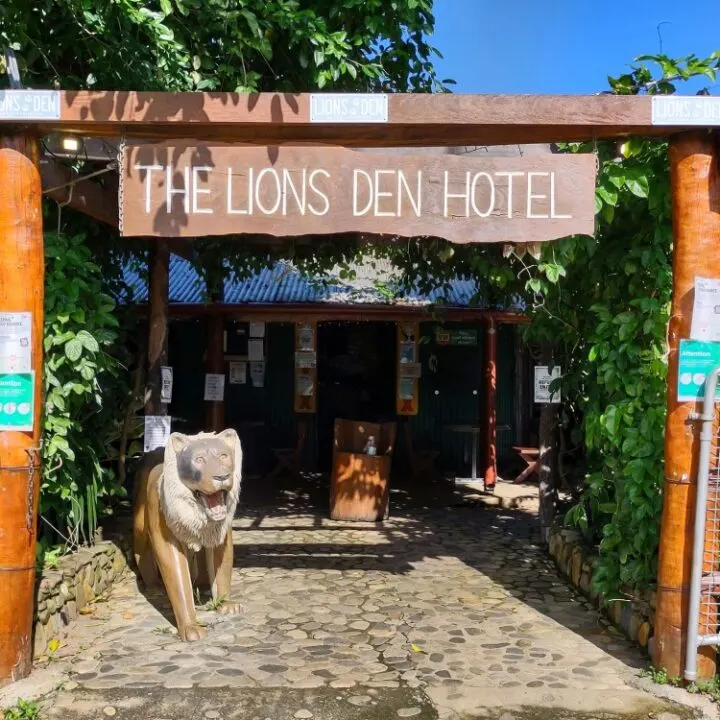 You'll find this icon of FNQ (Far North Queensland) on your journey north, just before Cooktown. It's a popular stopping point for food, to camp or to take a dip in their swimming hole.
We can personally recommend their pizzas. They even have a small museum on-site full of historic items and natural wonders.
Cooktown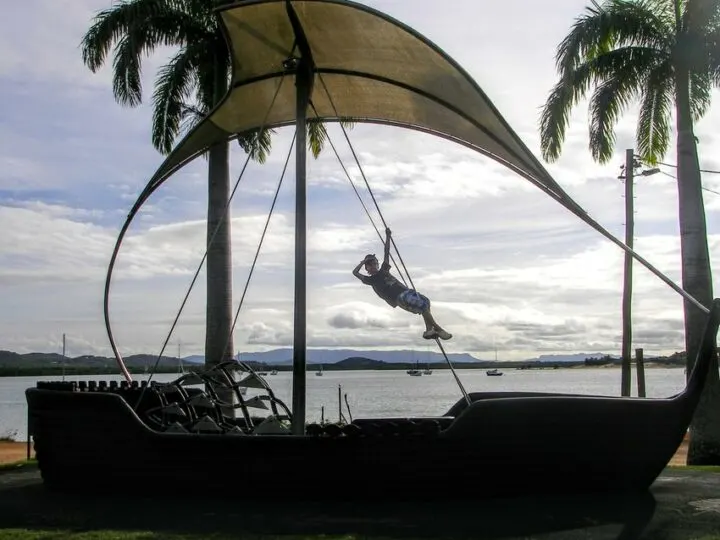 As the name suggests this town held an important part in captain Cook's voyage along the northern Australia coast. It was here that having run aground on the reef, he had to pull in and repair his ship, the Endeavour.
Endeavour River was named by Cook after his ship but the town was just called Cook's Town.
It would be 50 years after Cook landed that Europeans came back. And not until over 100 years later when the Palmer River gold rush started that it became Cooktown in 1874. Along with Maytown it became a thriving town with a huge port where trade and people came and went from around the world.
Laura
Located on the only road that heads north to Cape York Laura has seen aboriginal people living here for over 50000 years. Laura holds the world's largest collection of prehistoric rock art in the world. Some of which you can still see today as it is open to the public.
There is a sealed road from Cairns and Cooktown to Laura although north of Laura the road becomes a mix of sealed and dirt. It is from Laura that you can head east to Lakefield National Park.
There is Quinkan Rock Art and Aborignial musuem here which is well worth a visit. The Laura festival is also held here every two years and includes all the aboriginal tribes from across the Cape and further south.
Lakefield National Park
Lakefield is the second largest National park in QLD and covers 537,000 ha. Access is either from the northern or southern end and there is just one dirt road that runs through the park. During the wet season it is closed as the road becomes impassable.
With over 100 permanent watering holes through out the park it is perfect for both fishing and bird watching. Just remember crocodiles could be anywhere as during the floods of the wet season they move around and can become trapped well inland from the coast.
Giant termite mounds called Cathedral Mounds litter the landscape with smaller magnetic mounds scattered among or near them. As the name suggests the magnetic hills point north/south with their thin edge allowing the mound to regulate its temperature all day long.
There are two campsites with toilets and showers in the park and numerous bush camps where you'll need to be self sufficient. During holidays and peak season the park gets very busy so book early. Camp permits are compulsory before you stay and telephone coverage is patchy at best and non existent for many carriers including optus.
Cape York – The Tip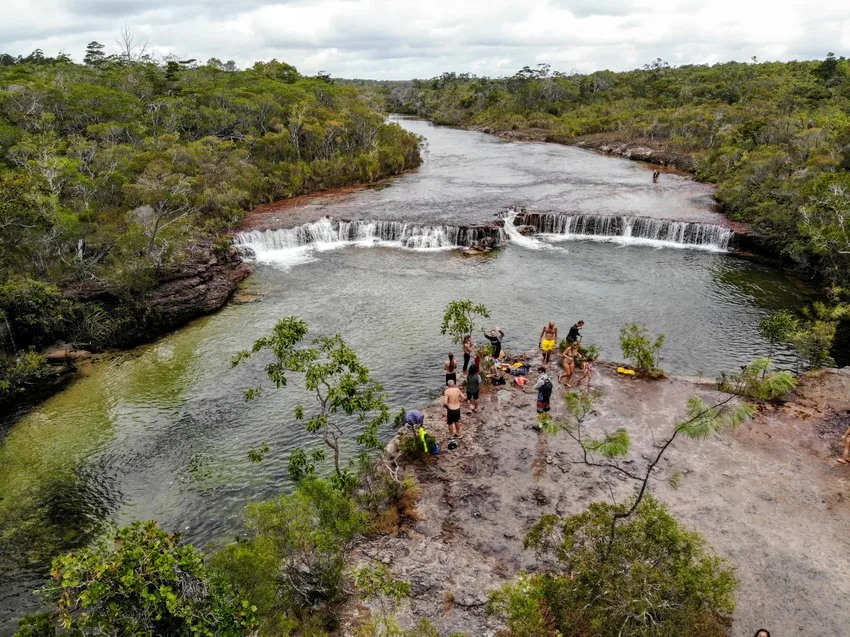 The furthest northernmost park of Australia's mainland is the tip of Cape York. Located just north of Bamaga it is over 1000 km from Cairns on both sealed and unsealed roads that vary in degrees of roadworthy state. The ruts and corrugations could shake a car to pieces at times.
You'll have to walk the last part to the tip of Cape York which is under a km from the car park. There is a lot to see and do on the drive up to the tip including Fruitbat Falls and the Jardine River crossing.
Phone coverage is spotty to non-existent and there are large patches of empty road and bush. Be prepared and always keep your car fully fueled and with enough water for all occupants.
Driving on the dusty roads can be challenging and sharing the road with roadtrains even more so. Be careful.
There are a few towns to stay in as you head north and plenty of campsites along the way. Depending on whether you do the old telegraph track or pennisular development road will set how long it takes to get to the tip. Most people will spend a week at least heading north but it can be done from Cairns in two days if you want some long days in the car.
Heading home people tend to go faster and take less time. There are also more accidents because of this.
Mt Isa
A mining town in the remote inland area Queensland, Mount Isa only came into existence due to the large mining deposits found here. The Isa is one of the most productive single mines in the world today.
As you can imagine, the biggest thing to see in Isa is the mine and related musuem. But if you fancy a walk or drive up then you can get a view across the whole area from Telstra Hill.
Mount Isa is just under 700 km east of Tennant Creek in the Northern Territory and there is just one road. With few options along the road, make sure you're self-sufficient with fuel and water before starting out.
From Tennant Creek you can either head north to Darwin or south to Adelaide via Alice Springs.
Heading east from Mt Isa you can catch a train over 1000 km to Townsville twice a week or drive along the single road. Again there isn't much along the road so be fuel and water self-sufficient.
Queensland Bucket List – Staycation Tips
As luck would have it, we already have a full post stuffed with tips on how to not break the bank while holidaying in Queensland. Yes, this part of the world may be expensive, but you probably just saved yourselves a lot of money by not hopping on a flight to Bali. Maybe your dollar can stretch to a few treats.
Find The Best Tips On How To Save Money On Your Queensland Holiday Here. Likewise, you can read some General Staycation Tips here.
Activities For Your Queensland Bucket List
Queensland is a huge state and filled with adventure and adrenaline activities. All of the activities listed below are available in Queensland, so if you're done with places to visit in Queensland you can try some adrenaline adventures instead. Where appropriate, we've added links for further information.
Whale Watching
White Water Rafting
Hot Air Ballooning
Snorkelling on The Great Barrier Reef
Sail the Whitsundays
4 Wheel Driving on Fraser Island
4 Wheel Drive to "The Tip"
Scuba Diving Reefs and Wrecks
Sand Dune Surfing
Kite Surfing
Wind Surfing
Quad Bikes
Horse Riding
Paragliding
Segway Tours
Helicopter Tours
Jet Ski
Zip Lining
Wakeboarding & Water Skiing
Mountain Biking
SUP Paddle Boarding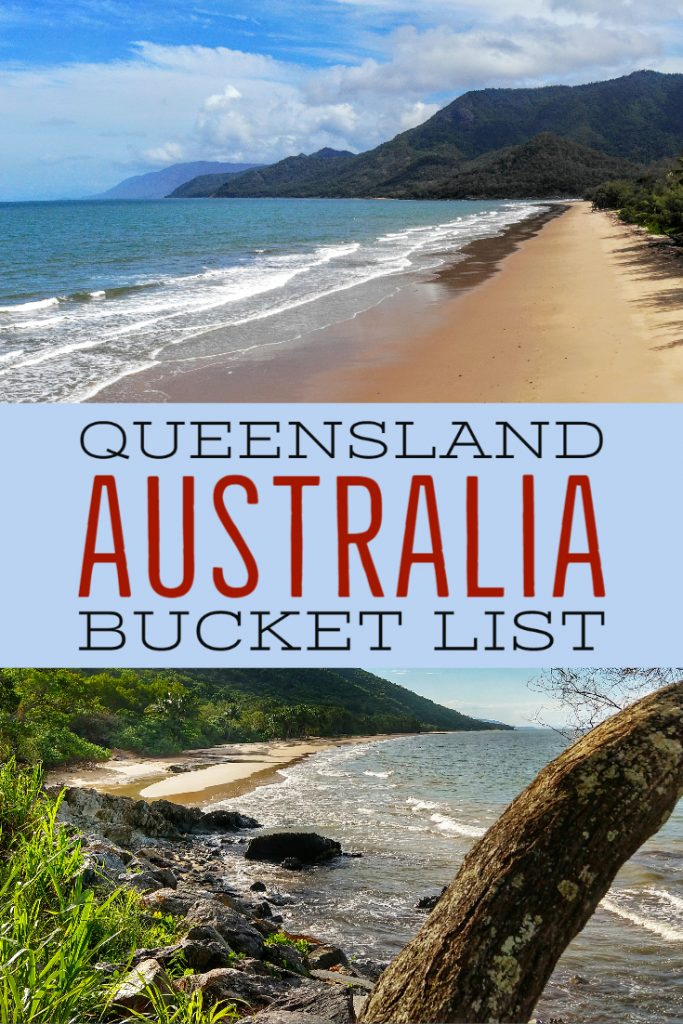 Queensland Destinations
We hope you found this Queensland bucket list of amazing, fun, cool, and interesting places to visit in Queensland Australia useful. Enjoy your Aussie staycation, weekend break, road trip, or holiday. If you know of any other awesome places that should be on our list, pop them in the comments and we'll do our very best to visit, check them out and get them on our Queensland travel blog. We're on a mission to see all of these places again before lockdown ends.
If you'd like to hire a car during your stay, use this car rental comparison tool to find the best deal!

We also suggest you take a look at this company to get a quote for all kinds of the more tricky adventure or extended travel insurance.

Try Stayz / VRBO for an alternative way to find rentals on homes/apartments/condos in any country!