This post may contain affiliate links.
The Northern Territory is Australia's spiritual heart. From the green lush spectacle that is the wet Kakadu wilderness right through the red centre of the country and the enduring Uluru, the Northern Territory covers many types of magnificent landscapes. The pulse of Australian Indigenous culture is palpable in the Northern Territory. You can find the best examples of aboriginal cave art here and learn so much about Australia's intriguing original inhabitants at cultural centres across the state. There are epic wildlife viewing opportunities, picture-perfect desert vistas and even a cosmopolitan city. So what are the must-see Northern Territory destinations and most beautiful and interesting places to visit in the state? Let's take a look at tourist attractions in the NT.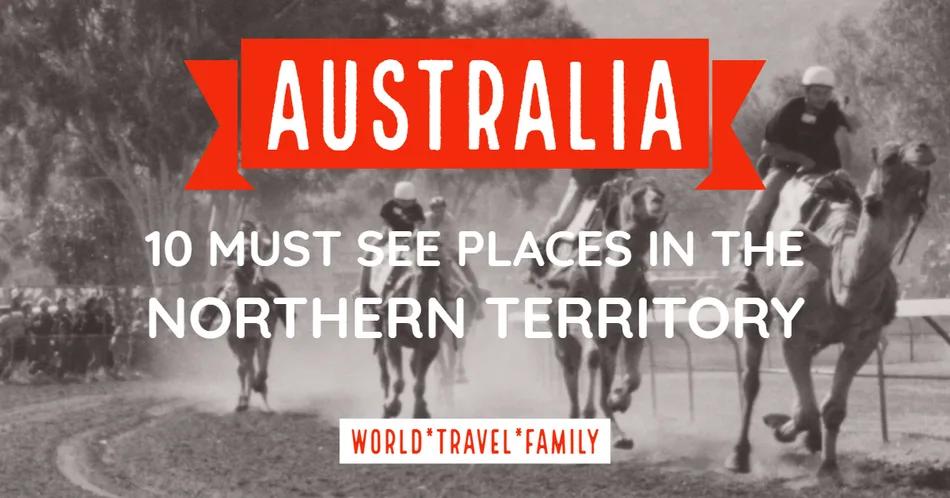 We do our best to keep all information current but please check and double check all information for yourself, things change!
We use affiliate links on this page, they never cost you anything extra and we're not paid to include them, if you use them we make a small commission.
Northern Territory Destinations
We're going for the big 10 Northern Territory destinations first, of course, there are more and they'll appear on our travel blog soon, but here are our top 10 – actually, 11, you get a bonus place, to get you started with planning your trip to the NT.
If you're looking for more info, head back to our main Australia travel blog and guide.
We visited the north and south of the NT, by air and by road to find all the best NT experiences to share with you.
Our top destinations in the Northern Territory of Australia are these:
Darwin
Kakadu National Park
Litchfield National Park
Katherine Gorge
Mataranka
Daly Waters Pub
Alice Springs
West MacDonnell Ranges
King's Canyon
Uluru and Kata Tjuta
Pine Creek
Darwin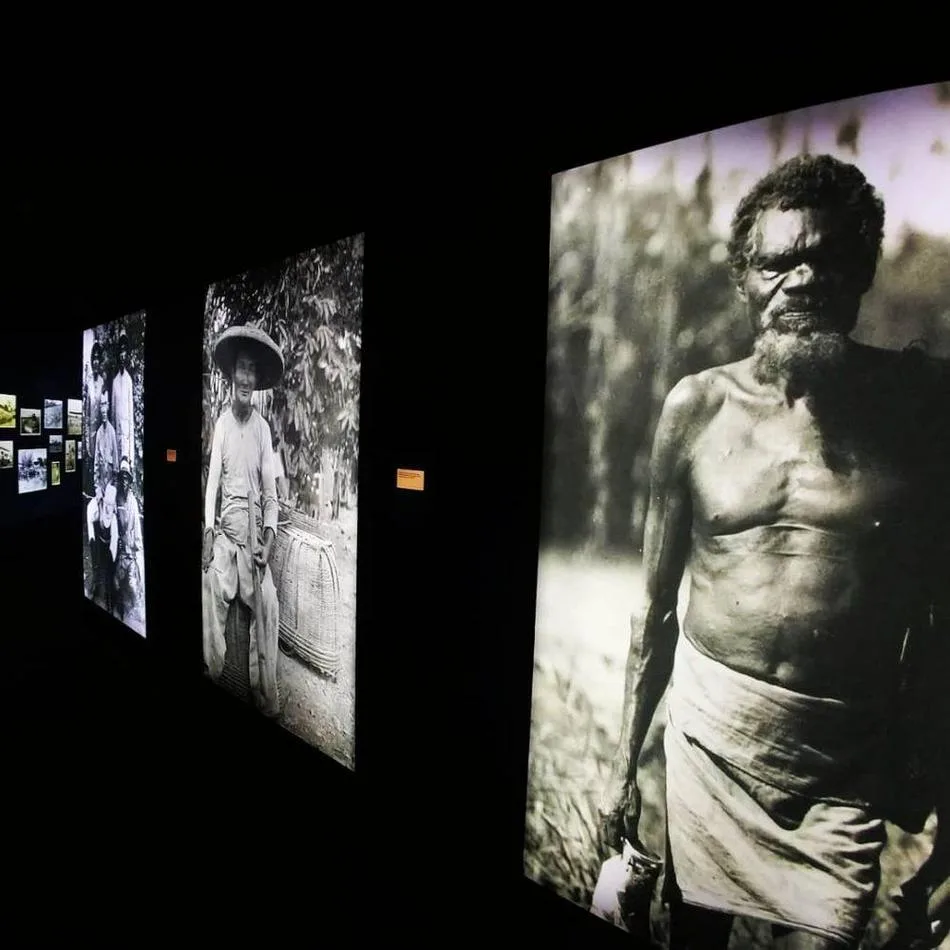 Darwin is the capital of the Northern Territory and is a very tropical city.
There are not many places in the world where you can do a cage dive with saltwater crocodiles, and Darwin is one of the best.
We didn't get in the water with the crocs but visitors can watch others take the plunge.
Enjoy sunset markets at Mindil Beach with a slight Southeast Asian influence.
Check out the defence force museums and learn about Darwin's role in protecting Australia in WWII.
Have a ride in the wave pool in the city centre or visit one of the best free water parks in Australia at Leanyer.
Additionally, it is possible to use Darwin as a base for visiting some of the country's best National Parks at Litchfield and Kakadu.
Or hire a car and get out there and explore on the road.
You can easily drive to and from one of the top end's famous jumping crocodile boat tours from Darwin. We did.
Be sure to book and have a departure time to aim for.
If you're heading out to see the Jumping Crocs, take a photo opp in Humpty Doo for yet another of Australia's " big " things, the boxing croc, and stop off at Fogg Dam on the way. It's a really pretty spot.
Visiting Darwin in the cooler months between June and September is wholly recommended. In contrast, during the summer months, the temperatures soar in this tropical climate. This is also when the wet season kicks in.
How to Get to Darwin
Darwin has an international airport with direct flights from Singapore, East Timor, and Bali ( please double-check, routes change).
If you're already in Australia you can fly to Darwin from just about any internal airport.
In the current tourism climate, you can often find great flight deals on Jet Star.
Flying will most likely be cheaper than bus or rail.
You could drive, but Darwin is a long way from just about anywhere. Darwin is roughly 1,400 Km by road from Alice Springs, 2,800 Km by road from Cairns, and 253 Km from Kakadu National Park.
Head over to Skyscanner (if you haven't used this awesome tool before, we have money-saving tips on how to use Skyscanner) and start researching your best routes and dates.
Avoid Australian school holidays and try to go when it's cooler.
Where to Stay in Darwin
Australia has expensive accommodation and Darwin is no exception.
You could start your search for a place to stay on Airbnb but we didn't have much luck.
. Hostel dorm prices start around $20 in Darwin, a basic room for two $55 +.
You'll see a good selection of hostels, hotels and appartments on Booking dot com.
We used two hotels in Darwin recently, H on Mitchell and Frontier Hotel. Both were OK, the latter was cheaper and the rooms more spacious while the former had basic cooking facilities in-room.
If you're looking for a luxury resort hotel in Darwin, try the Darwin Hilton, but this style of hotel isn't common here, you'll see more luxury apartments, try Darwin Waterfront Luxury Suites.
Kakadu National Park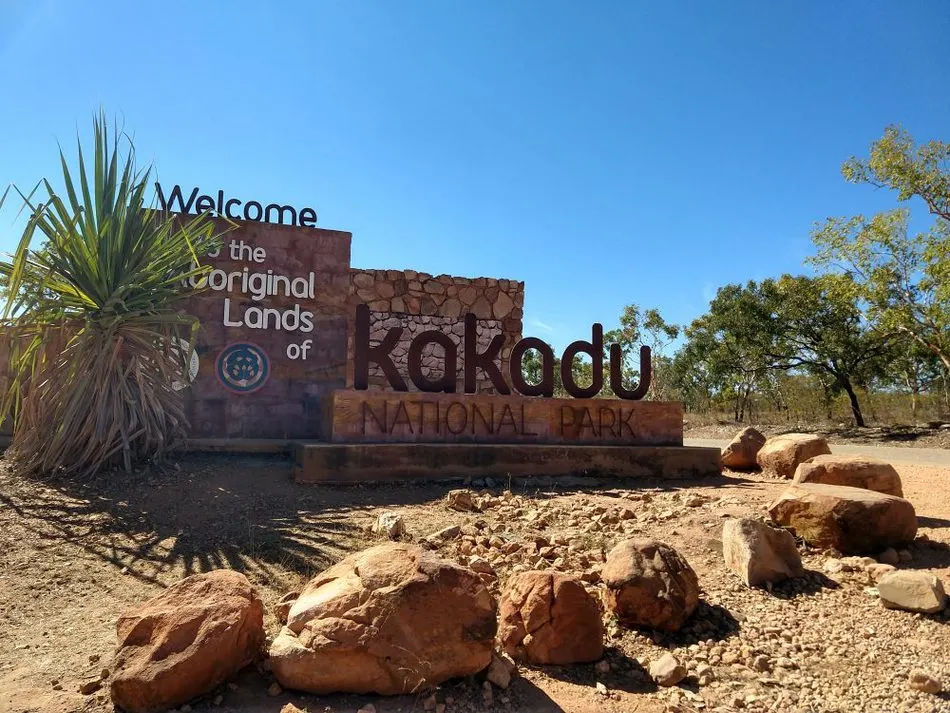 Driving from Darwin you will find Kakadu National Park to the south. It is Australia's largest park covering over 20,000 square kilometres of protected wilderness and is one of the key tourist attractions in Australia, not just the NT.
In Kakadu, you can get up close and personal with some well-known creatures made famous by the movie Crocodile Dundee.
Huge saltwater crocs live in waterholes and rivers all over the Northern Territory. Their concentration is even higher in Kakadu.
We lived in Queensland for many years and are well used to saltwater crocodiles. We were astonished by how much bigger the population is in the Northern Territory.
Water buffalo are still seen hiding amongst the wetlands, unfortunately we didn't find any.
The bird life here is astonishing as it is home to over 280 species of birds. That is over a third of all Australia's birds! The birdwatching and wildlife viewing in Kakadu are second to none if you are in the right places at the right time.
Take a sunset cruise through the stunning scenery of the Yellow Water Wetlands. Visit cultural centres in Jabiru with aboriginal art galleries.
The extensive rock art at Ubirr and Nourlangie are the best examples in the country with some well-preserved pieces estimated at 20,000 years old.
These places are of enormous international, cultural and historical significance.
There are interesting bushwalks for all levels, tranquil campgrounds and picturesque waterholes. You can also find 5-star hotels in Kakadu.
Jabiru is the main administrative centre. It is home to a few hotels, the Bowali Visitor Centre, and a small supermarket.
Be sure to check out the awesome thundering waterfalls at Jim Jim and Twin Falls, and the beautiful natural infinity pool at Gunlom.
Many areas of the park are accessible by 4WD only. You will need to either hire one from Darwin for a self-drive holiday of The Northern Territory, join a tour or BYO.
National Park Pass
You, in theory, need a Parks Pass to visit Kakadu. These are available online here: at Kakadu Park Passesor at other centres around the state including the Bowali Visitor Centre in Jabiru.
I was told that in practice you're unlikely to need one and that if you encountered a ranger he would simply ask you to get one when you reached Jabiru.
Kakadu National Park is open all year round. Although, some parts may be closed due to wet season flooding that occurs mostly between November to February.
We visited in winter, July. It's still hot and the sun is intense.
Litchfield National Park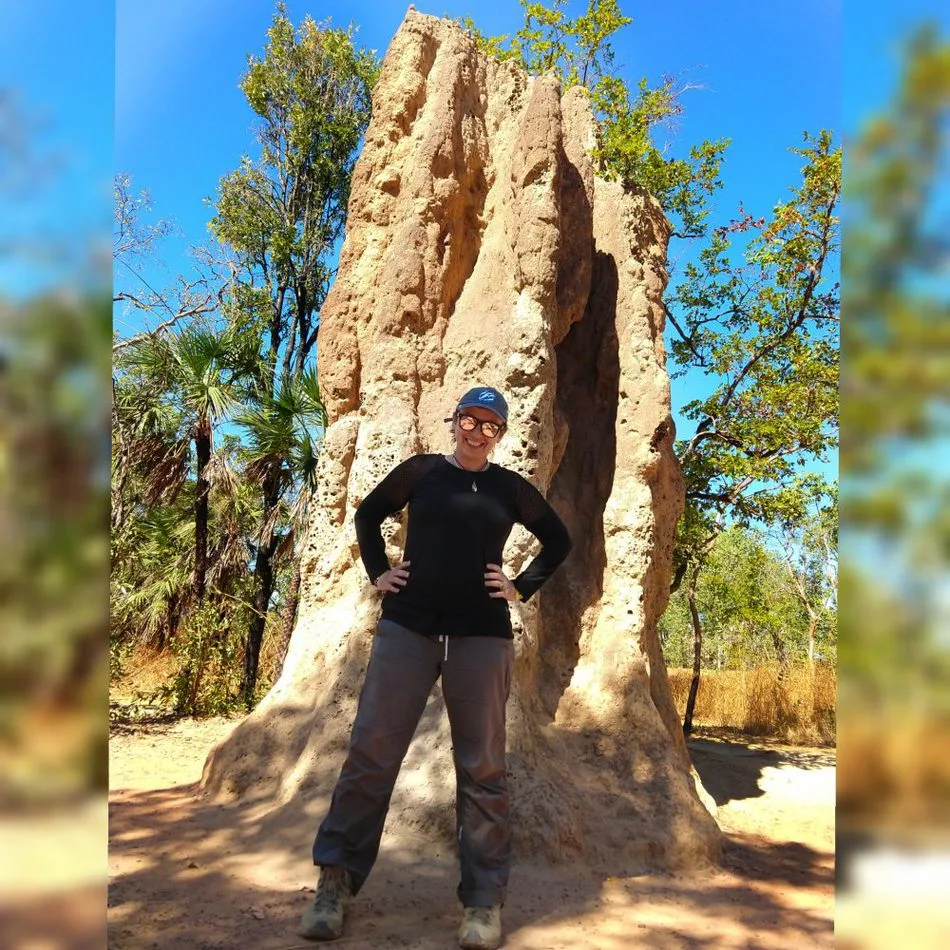 Litchfield is only 100 km south of Darwin. You can easily book a Litchfield National Park tour from Darwin, our featured tour includes a jumping crocodiles boat cruise.
This makes it perfect for a day trip from the city. You can also camp here, in low-key National Park campsites with limited facilities.
The big attractions at Litchfield are the beautiful waterholes for swimming and powerful waterfalls.
Visiting just after the wet season will ensure plenty of water. The cool pools fill up on the weekends and school holidays with locals visiting from Darwin and the streams of campers and caravanners.
Expect crowds and difficult parking in high season.
There are bush walks for the more adventurous including the wild 39 km Tabletop Track. This walk will reward you with secret waterfalls and breathtaking views along the way.
Don't miss the magnificent Florence Falls and Wangi Falls. Visit Buley Rockhole with its relaxing shaded tiers of crystal clear water.
Check out the huge 2-metre tall magnetic and cathedral termite mounds here too.
A pleasant 4WD trip to the peculiar sandstone formations of the "Lost City" is definitely recommended. Litchfield can be enjoyed in a day or is well explored over a 3-day stay.
There is no entry fee to visit, but it does cost to camp. Camping fees are payable on site. Litchfield is open year-round.
Katherine Gorge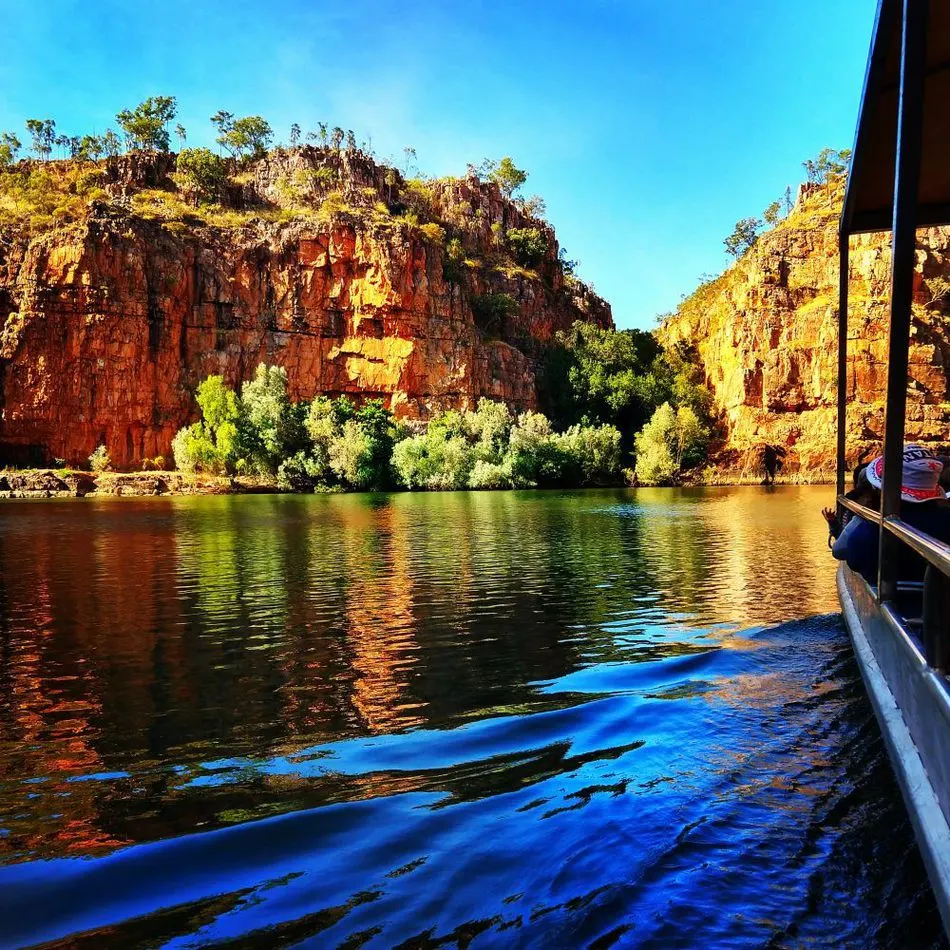 The dramatic Katherine Gorge formed millions of years ago. The Katherine River carved its way through the sandstone cliffs to create this grand spectacle.
This place is one of the must-see destinations in the Northern Territory.
The towering cliffs are best explored via a 2 or 4-hour boat cruise along the river. The cruises, in theory, operate year-round.
The red sandstone gorge is over 70 metres deep in places. The river winds its way over 12 km, through 13 spectacular gorges. Swimming is possible in some gorges and you're likely to see fresh water crocodiles.
Saltwater crocs shouldn't be here, but, they have been here.
The peak season for the Katherine Gorge is between May to September. You can also find kayaking trips, scenic flights and bushwalking.
Katherine Gorge is inside Nitmiluk National Park. The closest town of Katherine is located 317 km south of Darwin. Katherine itself isn't really worth stopping at as far as we could see.
Mataranka
Mataranka is famous for the beautifully scenic sandy-bottomed thermal springs. Float gently on the current around the natural circuit shaded by pandanus palms. This is one of the nicest spots in the NT.
Mataranka is best accessible on a self-drive holiday of the Northern Territory. There is camping available at nearby Mataranka township.
Daly Waters Pub
Daly Waters Pub is an iconic pub located in Northern Territory. Camping is available on site.
It is a classic corrugated iron clad Aussie pub.
The walls are adorned with fascinating memorabilia from nearly 100 years worth of customers. The Daly Waters Pub is a great spot for refreshments.
It is open every day of the year from 7 am until late, and there is live entertainment nightly. This exceptional pub is 600 km south of Darwin on Highway 1 so you will need your own car to reach it.
Alice Springs
Alice Springs is in the geographical centre of Australia. Although it isn't much of a destination in itself, it is an important town as the launching point to Australia's most well-known landmarks in the Red Centre.
We were lucky enough to be there on the right day for the Alice Springs Camel Cup.
Get your timing right and this is quite the thing to see! It's usually in July.
West MacDonnell Ranges
Heading west of Alice Springs you find the spectacular West MacDonnell Ranges stretching 161 km into the sunset.
This is a must-see destination on a self-drive tour of NT. Don't miss Simpsons Gap, Standley Chasm and the permanent waterholes at Ellery Creek Big Hole, and Ormiston Gorge. You will find basic camping along the route with minimal facilities.
King's Canyon
The ever-popular King's Canyon has a caravan park near its entrance. Bookings are essential and the busy period out here is between May to September. The nighttime temperatures can get down as low as 0 degrees in the winter, so come prepared, especially if you are camping.
Doing the challenging 6 km rim walk around the top of the canyon is a must-see attraction in NT. The views from up here are awe-inspiring, especially if you can make the sunrise. For the less adventurous, you can venture deep into King's Canyon at ground level and also be dazzled by the beautiful canyon walls from below.
Uluru – Kata Tjuta National Park
This is one you must have heard of. Uluru and Kata Tjuta together form the living cultural heart of Australia's Red Centre. If you can only see one of the Northern Territory destinations, make it this one!
Uluru
Uluru is a massive sandstone monolith around 450 km from Alice Springs. The National Park also includes Kata Tjuta. Formerly called The Olgas, it consists of 36 remarkable red rock domes close to Uluru.
Uluru is only 863 metres tall but the sheer majesty of this monolith will leave you feeling completely in awe. However, as of 2019, tourists are no longer permitted to climb the rock. You can still enjoy many opportunities to get close to Uluru though. There is a 10 km walking track around the entire base of Uluru. This path can also be enjoyed by bike.
Uluru is famous for its sunrises and sunsets. There are multiple viewing platforms around the park which allows for perfect tourist photos of the hues transforming into that unique burnt orange. This is a must-visit for Instagram lovers!
Kata Tjuta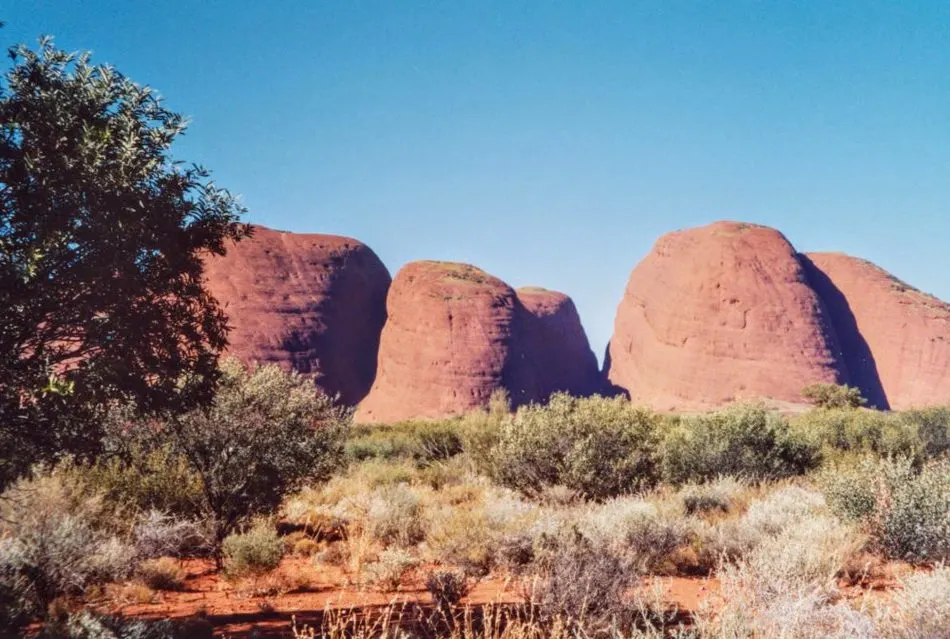 You can see Kata Tjuta up close on the Valley of the Winds walk. Or check out its full expanse from a distance via a helicopter tour. Similar to Uluru, watching the striking domes glow in the sunset is a memorable way to end your day.
Visit the Cultural Centre at the base of the rock. This provides an exciting opportunity to learn more about the fascinating Indigenous history in Central Australia. Within the Cultural Centre, you will find the superb Walkatjara Art Centre.
Where to Stay
Stay at nearby Yalara township. Accommodation options range from camping to 5-star luxury at Ayers Rock Resort. Exploring the area for a few days is a great way to immerse yourself in Australia's very soul.
Uluru – Kata Tjuta National Park is open all year and a 3-day pass costs $25AUD per adult. Kids under 16 years are free.
Jetstar and Virgin offer direct flights into Ayers Rock Airport or it is a 4.5-hour drive from Alice Springs.
Pine Creek – A Bonus Northern Territory Destination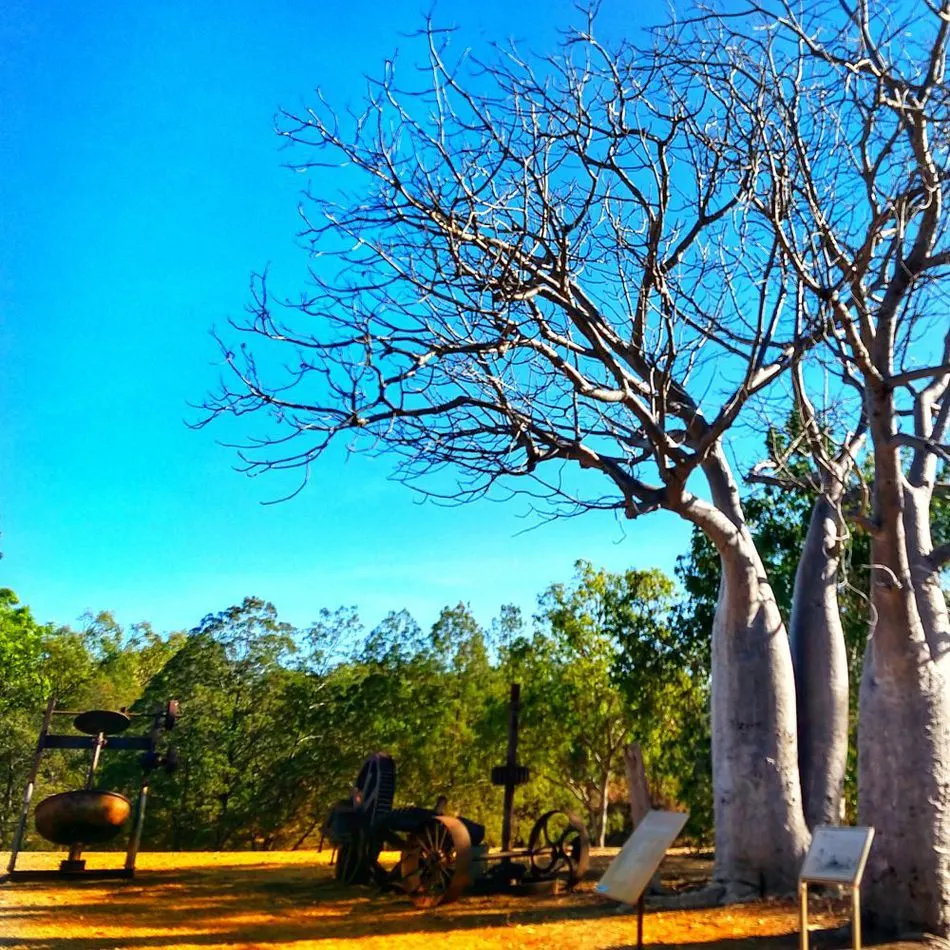 We just got back from the NT and our favourite Northern Territory destination was actually the little town of Pine Creek. It had a lovely country vibe, interesting history, a few things to see and some stunning bird life.
If you're heading to the NT, Pine Creek is only 50 minutes or so from Katherine so you could, as we did, drive to Katherine for your Katherine Gorge boat trip from Pine Creek. Likewise, you can drive into Kakadu, Darwin, or Litchfield from here.
We stayed and the Katherine Railway Resort, which was a great spot with family and double cabins. Right next door you'll find the Lazy Lizard with good pizzas, a well stocked bar and friendly service. I'll publish a full post on Pine Creek soon, we really liked it. We booked through Airbnb (see our link above for your credit)
Booking Tours in the Northern Territory – Don't Be Us!
We found it incredibly hard to get information, to book and organise tours and trips in Darwin, Kakadu, Katherine, everywhere we went in the NT. We added a lot of stress and drive time by not booking in advance. This is the company we almost always use to book tours and I would highly recommend you lock in some of your excursions, particularly the jumping croc cruises, Darwin Hop on Hop Off Bus, the Darwin War History Tours, and any and all boat tours. We really regretted not doing this and not putting enough planning into the trip, in advance, as was needed. It's not easy to do when you're spending so many hours per day on the road.
Northern Territory Destinations Wrap-Up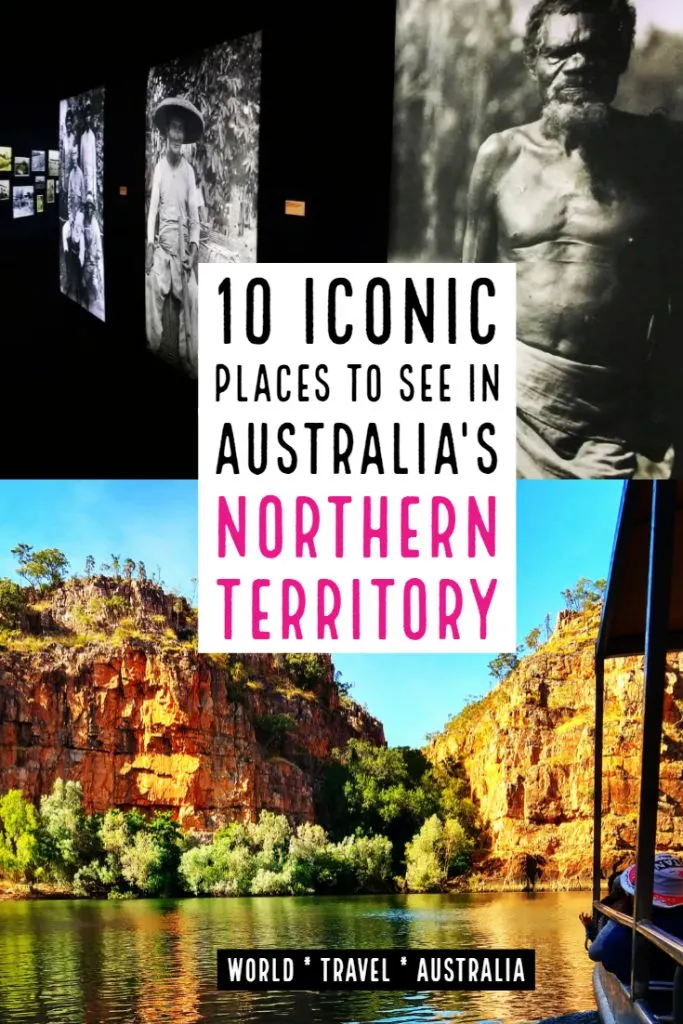 This post is just a round-up, we'll add more detailed posts soon. The Northern Territory offers so many must-see destinations. The spectacular natural beauty of The Territory's National Parks, the richness of the culture and history and the wealth of wildlife viewing continues to amaze and delight visitors. Don't underestimate its size. In 1 week out of Darwin visiting Kakadu, Litchfield and Katherine, we drove almost 2,000 Km. Also, don't underestimate the cost. You'll find nothing cheap out here and the boat trips added up fast. It's indisputably beautiful, but you'll put in a lot of road hours. Have you been yet?
If you'd like to hire a car during your stay, use this car rental comparison tool to find the best deal!

We also suggest you take a look at this company to get a quote for all kinds of the more tricky adventure or extended travel insurance.

Try Stayz / VRBO for an alternative way to find rentals on homes/apartments/condos in any country!