This post may contain affiliate links.
Perth is a city on Australia's West Coast. It's the capital of Western Australia and stands on the Swan Coastal Plain, the junction of the Swan River and the Indian Ocean. It's pretty isolated over there but if you get the chance to visit, it's a beautiful destination.
"This World is Beautiful!"
That's a quote I'll never forget from my elder son, D, age 3, when he saw the ocean off Perth for the first time.
We'd just emerged from Whalers Tunnel onto Bathers Beach and the intense blue of the Indian Ocean was there in front of us. That was his first Australian beach experience.
We enjoyed Perth. We were on our way from South Africa to our new home in Port Douglas and couldn't resist the draw of a stop-over and a chance to see somewhere new. A stop over normally doesn't cost you any extra, so if you've got the time to break up your journey, it's worth checking with your airline.
Here are our highlights and a few suggestions for things to see and do in Perth, Western Australia.
What To Do in Perth, Australia
1. Hillary's Boat Harbour
Hillary's Boat Harbour is a bustling waterside leisure area with all kinds of attractions and dining facilities. We liked it best for just walking, playing in the sand and on the wonderful play equipment right by the sea.
2. Fremantle, All of It!
We rented a small apartment in Fremantle. It's a lovely port area on the Swan river, full of 19th century buildings, cool cafes and interesting markets.
3. Markets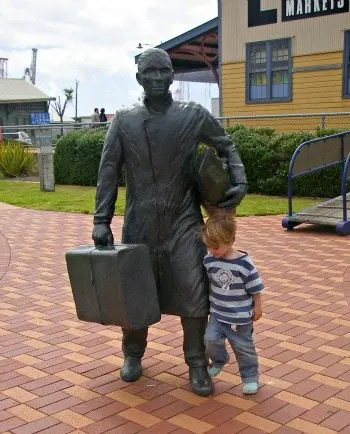 Perth has more markets than you could even imagine. We enjoyed E Shed market (above) on Victoria Quay, Freemantle Harbour.
This was one with the cool statues just outside. It represents Perth's immigrant community, a man arriving on a new continent with little more than a small suitcase. Perth has some incredible public art, you'll find examples all over the city.
4. Dining
I had the best fish and chips of my life in Perth, sitting in an outdoor cafe, looking at the Indian Ocean and being bombarded by seagulls. I wish I could tell you where exactly, but I don't know, sorry!
We grabbed some really delicious and interesting food in Fremantle markets and in the little cafes there. For grown up dining you could try the award winning restaurants at Crown Perth. We need baby sitters next time!
5. Whale Watching
September to November offers great whale watching opportunities from Perth during the Indian Ocean whale migration season.
6. Rottnest Island
Rottnest Island is a nature reserve 18 KM off the coast, near Fremantle. It is currently devoted to recreational use. The island has cycling tracks that connect to beaches and historical buildings and is of great spiritual significance to Aboriginal communities, their name for it is Wadjemup.
7. Perth Aquarium AQWA.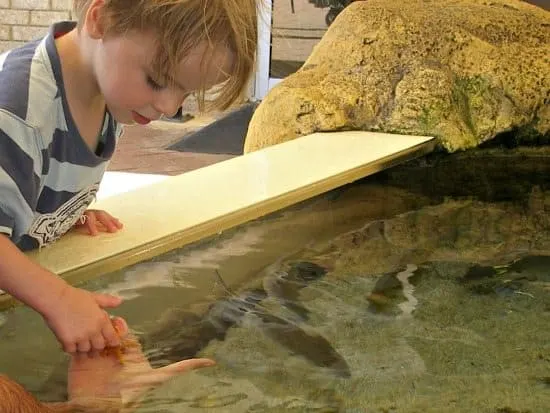 AQWA, is a world class aquarium and the kids and I love our marine wildlife.
AQWA showcases Australia's west coast marine environment, from the cold southern ocean to the tropical coral reefs. It's on Hillary's Boat Harbour, so it makes a great day out combined with the other attractions there. If you're feeling particularly brave you can dive with the sharks. My boys adored the ocean touch pools.
8. The New Water Park
Erin of Travel With Bender has just checked out the new water park at The Maze in Perth. It's on our to do list for our next Australian West Coast visit, and there will be one. The New Outback Splash water park is going to be big enough to rival the Australian Gold Coast's water attractions.
If you need more information on travel in Australia head to our Australia Travel Blog page. We have lived in Australia for over 7 years and have a huge volume of content on Australia and travel in Australia, always growing.
If you'd like to hire a car during your stay, use this car rental comparison tool to find the best deal!

We also suggest you take a look at this company to get a quote for all kinds of the more tricky adventure or extended travel insurance.

Try Stayz / VRBO for an alternative way to find rentals on homes/apartments/condos in any country!