This post may contain affiliate links.
We think road tripping is an excellent way to see the real Australia. The iconic train journeys are great, the buses will get you there and flying is quick but nothing beats touring the magnificent scenery of the Great Southern Land in your own vehicle. So are you planning a family road trip in Australia? Let's talk.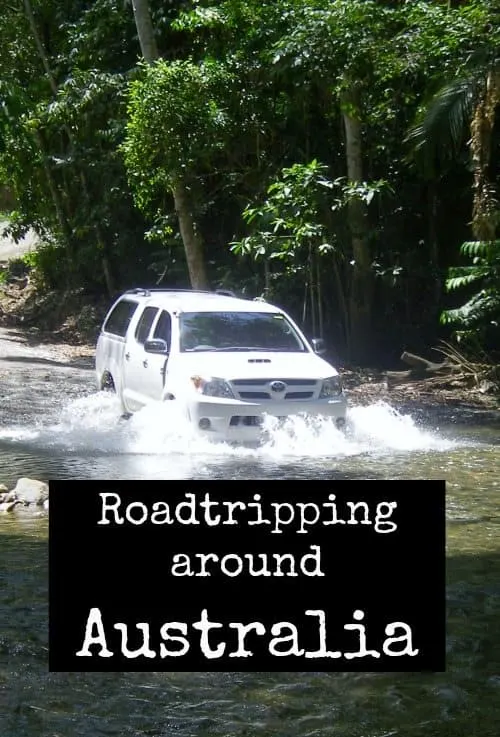 That's us in the Toyota Hilux above, heading up to Cooktown on the 4 wheel drive track from Cairns and Port Douglas. She was a great family road trip vehicle and we loved her.
Family Road Trip Australia
Advantages of a Road Trip in Australia
Freedom is number 1. You can stop any time to check out the things that catch your attention, be it a pristine beach glimpsed through the trees of Cape Tribulation or a real Aussie roadhouse in the Outback. You can sleep when you like, eat when you like, stop when you like. If you're travelling with a family, this sort of freedom is pure gold.
It's cheaper than flying. We've done this so many times, driven because the cost of air tickets for a family rapidly becomes unaffordable.
You see the real Australia. Stop in the places most tourists never see. Australia is vast and visitors really only scratch the surface. With your own vehicle you see so much more.
Pick your own times and pace. Driving at dawn and sunset can be magical experiences in the bush or on the coast. You get to see what the late risers in their hotels rarely see. Just watch out for kangaroos.
You will see plenty of wildlife. I've seen cassowaries, dingos, echidnas, wombats, endless kangaroos, snakes, goanas and crocodiles while touring by car. Sometimes you can stop to take a closer look, sometimes it's best to move on quickly.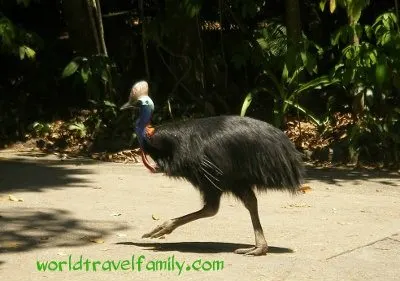 Your Vehicle
Aussies love their big 4 wheel drives, for some parts of the country they're essential, but mostly they're not.
If you stick to the highways and sealed roads you'll be fine in a regular car or camper van. But if you're not a resident and don't happen to own a vehicle in Australia, what to do?
Hire or Rent One. You can find most of the big name car hire companies in Australia, along with specialist companies renting out camper vans and mobile homes. These are extremely popular and come in a variety of sizes and price points to suit families or young backpackers.
To start finding the best deals and options enter your dates into our comparison tool below.
Buy One Buying a second-hand car or camper van on arrival and selling it on before you leave is a great choice, plenty of people do this, so selling your vehicle on again isn't too hard and the adventure may end up costing you very little.
You can try checking hostel notice boards, used car dealerships, newspaper classifieds or big Australia- based sales sites like Gumtree which will give you a huge selection.
Make sure the car you buy comes with a certificate of roadworthiness, you will need this to register it in your name. You will also need to obtain one before you sell the vehicle on.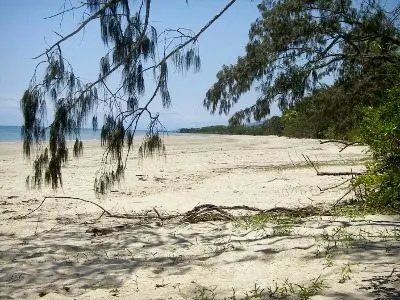 Safety and What to Take With You
Because Australia is so enormous there may be times when you're a long way from civilisation, or even other vehicles. Accidents and breakdowns do happen so be prepared.
Always carry a phone for emergency contact and a map for when phone coverage runs out.
I would consider buying a solar-powered phone charger and certainly have a car charger.
Tell somebody where you're going and when to expect a call to say you've arrived.
Have plenty of water and some emergency rations in your vehicle.
Carry a basic first aid kit and know what to do with it. You're highly unlikely to be bitten by a snake, but in the bush I always carry an elastic bandage for just such an emergency.
A spare tyre and a basic tool kit are also important.
The serious 4 wheel drivers have a piece of kit for every eventuality, from a saw for fallen trees to winches and snap straps to rescue bogged vehicles, if that's the way you're going, the list of gear becomes endless.
The good news is, these guys are usually extremely helpful and will stop if they see someone in trouble, they may be able to get you out of a sticky situation.
Watch the conditions. Some roads become impassable in the wet season, roads will have warning signs but try to pick the safest times of year for travelling and keep up to date on bush fires.
You can read more on Australia roadtrip safely and basic driving regulations here.
Where to Go?
That's entirely up to you and the possibilities are endless.
There are a few classic road trips in Australia, The Great Ocean Road from Melbourne to Adelaide is possibly the most famous but really, you can go anywhere, it'll be good! Drive the Pacific Coast Touring Route from Sydney to Brisbane ( in our plans for 2015) or the wilderness and amazing coastal scenery of the Circle Tasmania Route.
My personal favourite is the drive from Cairns up to Port Douglas ( our home) and on to Cape Tribulation and Cooktown. You'll need a 4 wheel drive to complete that one, but the hard top will take you deep into the coastal rainforest before you have to turn around.
If you'd like any tips or ideas on keeping children happy on long roadtrips there are a few posts in our USA section, that's another fabulous place to explore by car. Do you have any favourite hidden places in Australia that we should all put on our roadtrips? Let us know in the comments. Want more tips and guides on travel to and around Australia? You need our Australia Travel Blog page.
If you'd like to hire a car during your stay, use this car rental comparison tool to find the best deal!

We also suggest you take a look at this company to get a quote for all kinds of the more tricky adventure or extended travel insurance.

Try Stayz / VRBO for an alternative way to find rentals on homes/apartments/condos in any country!