This post may contain affiliate links.
We just had a couple of days camping in Cooktown. It's about 3 hours north of Port Douglas in Far North Queensland, Australia. That's along the beautiful coast road, only suitable for four-wheel drives for most of the way. There is a sealed road further inland, but it takes slightly longer and, arguably, isn't nearly as much fun. We have done the Port Douglas to Cooktown drive as a day trip but it's a lot of off-roading for one day, we prefer to drive up and camp for a few days before heading back. There are some great campsites in Cooktown, along with small hotels to enjoy during your stay in this historic and fascinating town.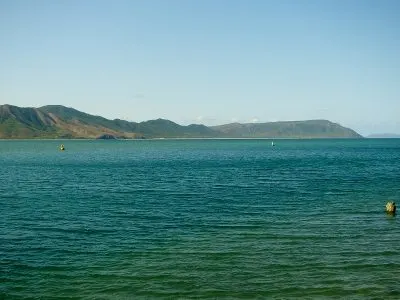 Cooktown Camping by Four Wheel Drive.
For the children, 3 hours on a bumpy track in a four-wheel drive laden with camping accessories is a bit much to ask, so we tend to stop and have picnics and explore along the way, there's no rush, we can take all day over it if we want and that's all part of the fun.
The first obstacle, just north of Port Douglas and Daintree Village, is the Daintree River, there is a little ferry there (around $20 return), have a look for the resident crocodiles. Once you are over the river you're in the Daintree Rainforest, the hardtop continues for a while before disappearing into rocks and dirt at the first creek crossing, Emagen Creek.
If you don't want to self-drive, 4 wheel drive tours, operating out of Port Douglas will take you up this way.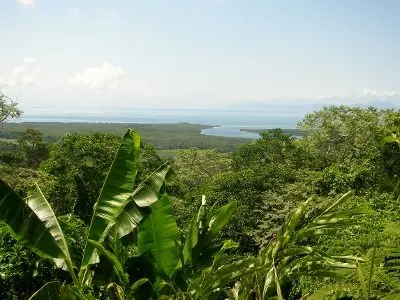 Driving Through Cape Tribulation
Once you are over the river you find yourself transported back in time to the days of the dinosaurs, the Daintree Rainforest is spectacular, full of giant tree ferns, cycads, fan palms and gingers. The road follows the coast and you glimpse incredible deserted beaches through the trees.
If you're lucky you may see a living dinosaur, a cassowary, on the road. These incredible flightless birds are rare and endangered but we see them up here surprisingly often. They are one of Australia's deadly animals, known to disembowel a man with one kick.
There are a few tourist attractions, amongst them a tropical fruit farm that makes fantastic ice-cream, this time we were treated to wattle seed, jack fruit, passion fruit, and raspberry flavors. If you've never seen jackfruit, sapote and mangosteen, growing, now is your chance.
There is a tea plantation along the road and a small bug museum plus, of course, loads of opportunities to stop and walk in the rainforest, on boardwalks through the mangrove swamps or on the beaches. Mosquito repellent is strongly advised.
Don't forget your Queensland Lonely Planet
Once the hardtop runs out you find yourself on dirt tracks, crossing streams, driving along dry river beds, ploughing through banks of red dust and generally getting shaken about.
Watch out for the weather. This road can be impassable after heavy rain.
The driver thinks this is all great fun and starts talking about diff lockers, whatever they are. If you're lucky you get "yeehaa"s from the back seat, not "are we there yet?"s.
This stretch of coast is known as Cape Tribulation. It is sold to the tourists as
Where the reef meets the rainforest.
And it's absolutely true.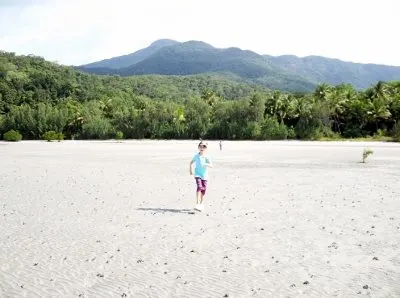 It was named by the then Lieutenant James Cook in 1770. It was where all their troubles with hitting reefs began, hence the name. Cook was obviously having a bad day as he named the nearby mountain Mount Sorrow.
From there he carried on north to Cooktown and stopped for a while in the mouth of the Endeavour river while he fixed his boat.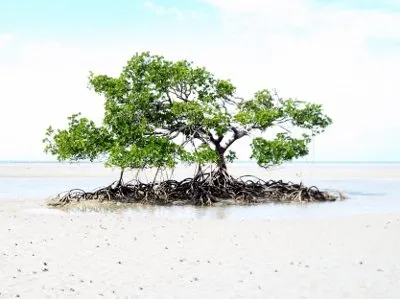 Homeschool Fieldtrips and Educational Travel
A normal family would call a few days away just that, or maybe a mini-break or a little holiday, we homeschool, so we call it a field trip. A trip up to Cooktown is a fantastic field trip, what a history lesson!
I get to talk about rainforests and plant evolution, conservation, the weather, the water cycle, and Aboriginal culture. The boys, being naturally curious little creatures, will ask questions, not always about what I had in mind, but whatever, it's all learning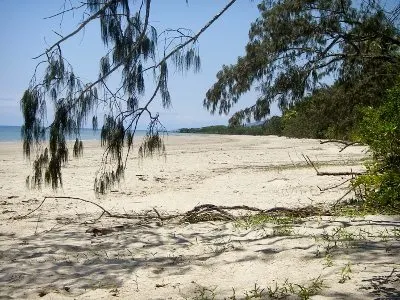 Camping in Cooktown
I'm sure all my friends back in Britain are wondering how we can sleep in a tent in Australia when the place is crawling with funnel webs and redbacks, with taipans lurking behind every tree just waiting to strike. That's if the pythons don't get us first.
I can honestly say I've never seen either of the above arachnids and have only ever seen one snake while we've been camping around Australia, a harmless one.
What we have seen are huge green tree frogs, semi-tame possums, fearless little marsupial mice and plenty of kangaroos. The bird life is spectacular, sitting outside your tent watching the rainbow lorikeets in the gum trees while a flock of black cockatoos passes overhead is pretty special.
At sunset you may catch the fruit bats leaving their daytime roosts to go feed in the forests. It's like bat confetti.
Camping is hugely popular in Australia, there are enormous superstores dedicated to camping equipment and people take it very seriously indeed. You will never be far from a campsite, free or privately owned.
I wouldn't recommend trying to camp in the wet season in this part of the world, unless you have some sort of fan or aircon system rigged up, it's unbearably hot at night and you may well get washed out ( we've tried it in February, it was unbearable in a campervan or motor home!)
Cooktown Camping Spots
Options for camping in Cooktown include:
Cooktown Caravan Park
There are a few options for camping in Cooktown, we have used the Cooktown Caravan Park 3 times, it's the first park on your right as you drive into Cooktown at around 1Km outside town. It's billed as being sand fly free and is good value for money. There is a communal camp fire area, individual camp fires are not allowed.
Free Camping Cooktown
For free camping near Cooktown check local camping forums.
Other Camping and Caravan Sites Near Cooktown
Check Find a Camp for latest Cooktown camping information.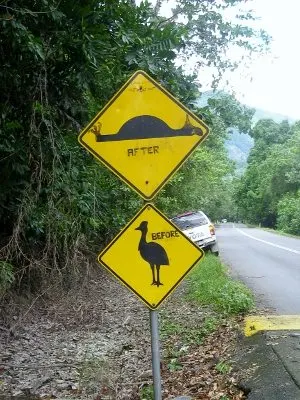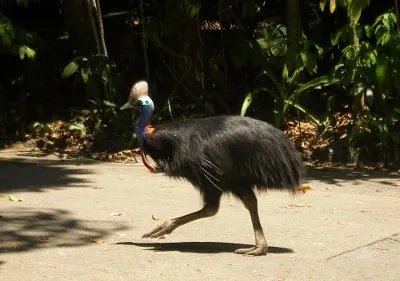 Things To Do In Cooktown
Cooktown itself is a small town on the bank of the Endeavor River, it's not much of a tourist destination, but it has an incredible history as one of Captain Cook's landing spots. Here he fixed his damaged boat and first interacted with indigenous people, seeing his first kangaroo.
Then there is the jaw-dropping scenery and an amazing sense of remoteness and disconnection from the rest of the world. I saw a Tshirt in a gift shop there
Cooktown, the biggest unfenced asylum in the world.
It's certainly a very different sort of place to live.
The fishing in Cooktown looks incredible, we saw a grouper as big as a bus swimming around under the jetty in the clear waters of the river. A little Aboriginal girl warned us not to fall in or "the grouper will open his big mouth and swallow you up". I'd be more worried about the crocodiles.
Crocodile spotting tours and fishing charters are available from the Cooktown jetty.
There is a lovely playground, a few shops and cafes, a Botanical Garden and The Captain Cook Museum.
The beach is lovely and unspoiled, but you do, seriously, have to be aware of crocodiles. I wouldn't be swimming or going too close to any water's edge up here. One of our most recent crocodile fatalities was up on the Endeavor River, a gentleman who probably ventured into the water to check his crab pots.
The Cooktown Festival is a bit of a must-see around these parts. The local re-enactment society gets together to perform the events of Cook's first landing and his encounters with the local Aboriginal tribe. It's well worth the trip.
Not far away is Laura, home of the Laura Aboriginal Dance Festival. There are some fantastic ancient Aboriginal rock paintings in the area, tours can be arranged from Cooktown.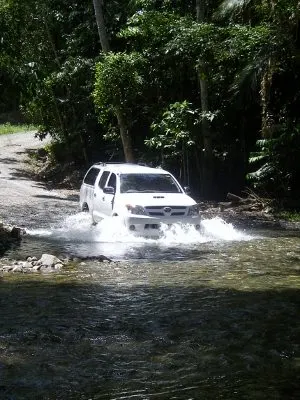 So we went, we saw, we camped and we came back again, feeling like we'd had a little break, reconnected as a family, had an adventure and packed a bit more learning into those two small heads without them even realizing.
Is there anybody out there reading this that has ever been camping in Cooktown? We like it a lot, this was our 4th visit, I'm sure we'll be back again , partly for Cooktown itself, partly for the incredible scenery of the Port Douglas to Cooktown four wheel drive road. It's pretty special!
If you'd like to hire a car during your stay, use this car rental comparison tool to find the best deal!

We also suggest you take a look at this company to get a quote for all kinds of the more tricky adventure or extended travel insurance.

Try Stayz / VRBO for an alternative way to find rentals on homes/apartments/condos in any country!