Last Updated 04/01/2022.
The only way to get from Cairns to Port Douglas is by road (unless you want to take a helicopter or charter a boat) and it's officially one of the most beautiful drives in the world. The Captain Cook Highway between Cairns and Port Douglas hugs the coast offering stunning views of the Coral Sea. Along the way, there are beaches and tourist attractions that you may like to explore. They are in our post. Our post first deals with how to get from Cairns to Port Douglas and places to stop or visit, viewpoints along the way, and more.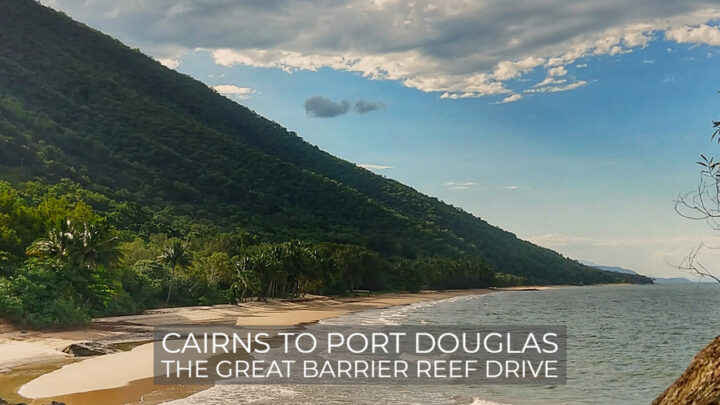 Travellers staying in Port Douglas, the picture-perfect town, will arrive into Cairns by air, road, or rail before making their way 65 km north along the Captain Cook Highway.
Port Douglas 2021 Update. We are in Port Douglas right now so we're able to tell you that things are opening. Most restaurants are open with limited numbers and hours. You'll probably need to book. Some boats are running to the reef and Port Douglas Markets opened with bigger spacings between stalls. The beach is open, of course, and stinger season arrived at the end of October 2021. The stinger net is in the water at time of writing. The beach can be closed to swimmers sometimes in bad weather or jellyfish or crocodile emergencies. Car hire is expensive and several car hire companies closed, likewise several shops. Hotels are getting back to normal. Please double-check everything for yourselves, this post was written pre-lockdowns.
The Captain Cook Highway is a single-lane winding road with two overtaking lanes between Palm Cove and Port Douglas. Drivers should take care, especially in the wet season when it can be quite dangerous.
Port Douglas has neither a railway station nor an airport but don't worry, it isn't far and below I'll cover the quickest, cheapest, most luxurious, budget and comfortable ways to get between Cairns and Port Douglas.
You may have seen a train line and stations marked on some maps, these relate to cane trains and the Ballyhooley steam train. St Crispin's Station is a very nice cafe today and our little steam train is now part of a restaurant on the marina.
Cairns to Port Douglas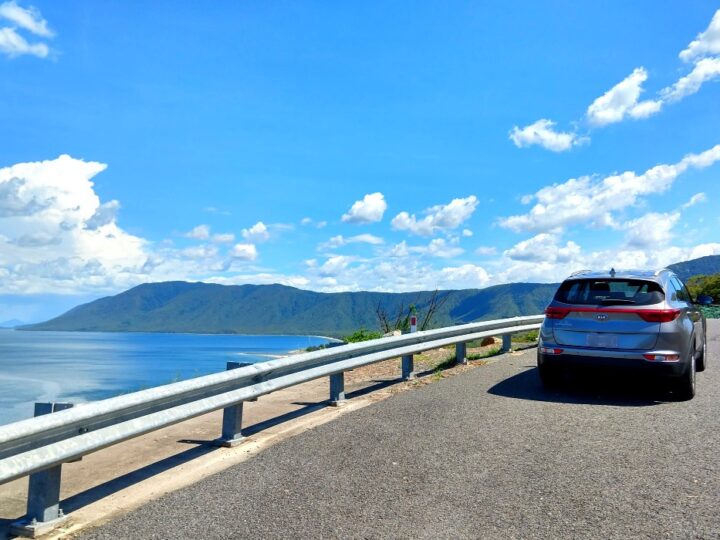 Cairns To Port Douglas Map
View Larger Map
Private Transfer to Port Douglas from Cairns
There are numerous private transfer companies that run services between both Cairns and Cairns airport to Port Douglas. Prices vary and you can expect to pay maybe $150 for a transfer per vehicle or $60 per person.
This will be more if you want a luxury car or limousine, which isn't uncommon for Port Douglas visitors.
Private transfers need to be pre-arranged and your driver will meet you at the airport terminals or in Cairns city.
SR Transport and Coaches offer private transfers from Cairns and Cairns Airport to Port Douglas.
Oasis also offer private transfers from Cairns to Port Douglas and the Northern Beaches including Palm Cove.
Port Douglas Private Transfers, as their name suggests, is another company that will offer transfers from Cairns and Cairns Airport to Port Douglas.
If you'd like to book a transfer online, try this link. This company will also take you from Cairns to Port Douglas and back again, after time to take a look at Port. You can check out the prices and schedules here.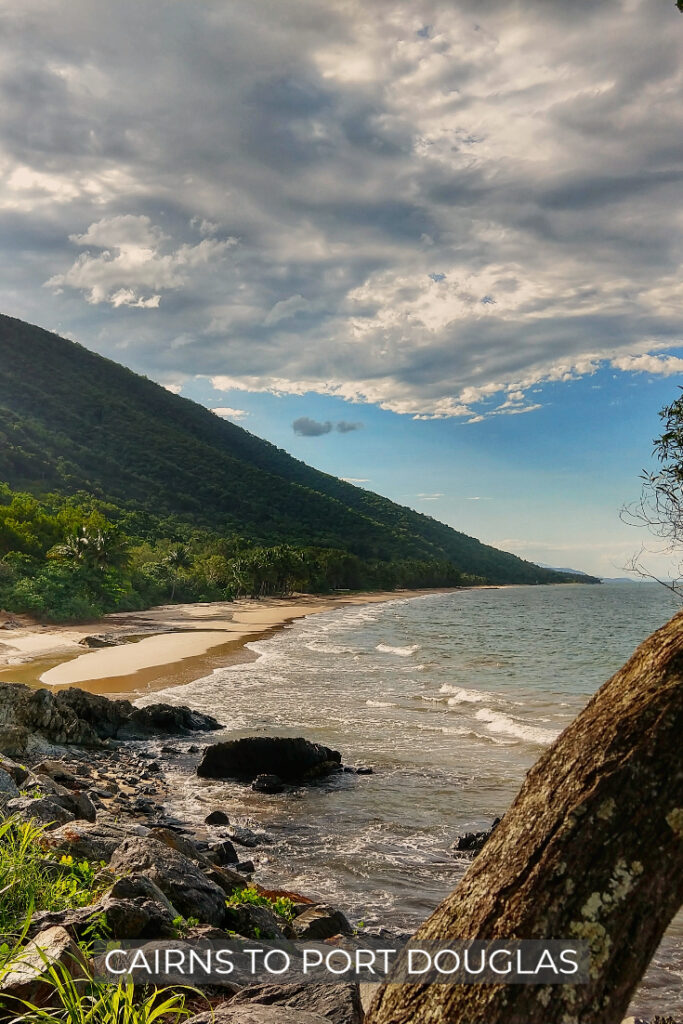 Public Taxis
The most expensive way to get between Cairns and Port Douglas, flagging down a taxi, isn't one I'd recommend.
For the cost and comfort, you're much better off with a private pre-arranged transfer.
The plus side is that you can flag down a taxi or walk out of the airport and be on your way instantly. If you don't know what time you land or need to leave then this is a good option.
Expect to pay upwards of $200 with airport taxis having a premium added to the basic fare.
Public Bus
Unfortunately, the public buses from Cairns only run as far North as Palm Cove which isn't particularly helpful in getting to Port Douglas.
They do cover all of Cairns Metropolitan areas from Palm Cove to Gordon Vale but that's all they do.
Shuttle Bus
A shuttle bus is one of the best ways of getting to Port Douglas if there are three people or less in your party. The shuttle buses are the cheapest way of getting from Cairns to Port Douglas and there is a frequent service.
Children are normally free up to 3 and then child rate to 12 years but check as each operator can be slightly different.
Several companies run shuttle services with some having a fixed timetable, others offer services on request.
SR Transport and Coaches offers mini bus transport between Cairns Airport and Port Douglas. This is on request and is best booked at least a day ahead of your travel.
BTS Port Douglas buses offers a set service between anywhere in Cairns and Port Douglas. BTS also services Hartley's Creek Crocodile farm and runs tours to the Daintree Rainforest. With a set schedule this is probably the easiest bus to catch if you're not sure exactly when you'll be travelling. During busy holiday periods the popular times such as early morning and afternoon will fill up fast.
Uber in Cairns or Port Douglas
Uber still isn't very big in either Cairns or Port Douglas compared to other places. While you can probably get an Uber in either, catching one between the two won't be an easy feat especially if you're just arrived at the airport and expect a quick transfer.
The cost is significantly less than a taxi if you can arrange one. Expect to pay between $130-$160 depending on the time and day of the week.
From Port Douglas on to Mossman Gorge
Most visitors to this region, either staying in Cairns or Port Douglas, will visit Mossman Gorge.
Again, transport options are limited. If you don't have your own vehicle it's probably best to book a tour which will pick you up from your hotel.
Read up on Mossman and Mossman Gorge here.
Car Hire
Car hire or rental offices closed during the lockdown, mostly, and not all have re-opened at time of writing. We use Budget in Port Douglas most often and in September they were still closed. You'll need to check the situation with car hire very carefully as we ease back to normal.
There is a branch of Europcar at Cairns Airport in the terminal building. Check their options here. There is a Sixt Car Hire office just outside the airport too, with shuttle bus for customers.
Alternatively try a car hire comparison site like Holiday Autos .
If you don't want to hire a car straight off the plane or from Cairns don't worry as Port Douglas has 5 different car hire companies at last count, both international and local companies, that can assist if you need a car later on. We have a full post on car hire in Port Douglas here. ( As mentioned above, some have closed)
Formerly, Thrifty, Avis, Budget , Paradise Wheels Car Rentals, Port Douglas Car Hire and Comet Car Hire were all located in central Port Douglas within easy walk of the main hotel and accommodation areas.
A lot of these service cruise ship arrivals.
Some of the further out hotels may require a pick-up and drop off service.
Prices vary depending on the hire company and also the time of year. Low season February will see prices plummet while in July you'll need to book ahead to reserve a car as there is limited stock and cars can sell out quickly.
Shop around to get the best deal and, as always, read the fine print in regards to insurance. Australia has some of the highest excess levels in the world with some companies charging up to $5000
Hotels and Hostels in Port Douglas with Airport or City Transfer Services
Check with your Port Douglas Hotel to see if they offer airport or Cairns pick up. Port Douglas's favourite backpackers' hostel and camp site, Dougies ( book here) usually has a pick up service from Cairns, 3 days a week, Monday, Wednesday and Saturday mornings.
But you do need to book and have a reservation at Dougie's. They say they can pick up anywhere in Cairns including the huge central Cairns hostels, Gilligan's , Central YHA and Mad Monkey.
What's To See Between Cairns and Port Douglas?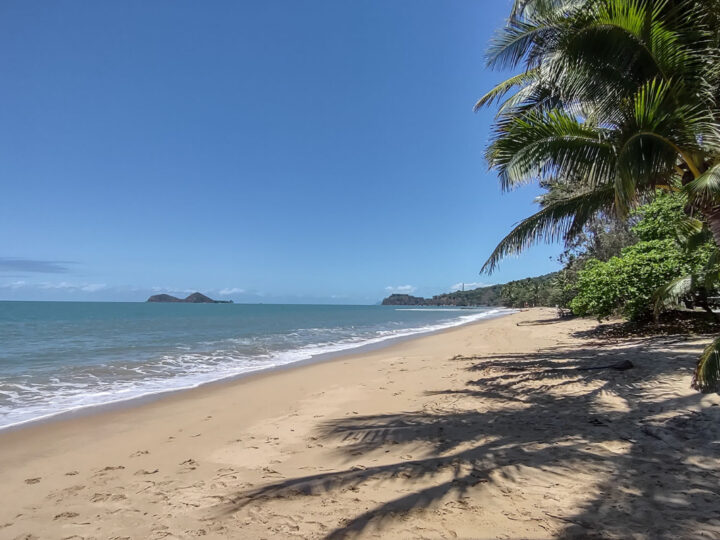 This is a beautiful drive, but the road is winding, can be car sickness-inducing, and is potentially dangerous. Don't let those stunning views distract you too much.
Heading north of Cairns you'll pass through The Northern Beaches before hitting The Douglas Shire. There are places to stop, campsites, and tourist attractions along the way.
We'll give you a simple list below of things to see or places to stop between Cairns and Port Douglas
Yorkey's Knob
Trinity Beach
Smithfield (Major shops here between Cairns and Port Douglas, fast food, cinema, etc.)
Skyrail Rainforest Cableway
Tjapukai (closed down last we heard)
Clifton Beach
Palm Cove
Ellis Beach
Hartley's Crocodile Adventures
Hartley's Creek Falls (this is a hike from the road)
Wangetti Beach
Oak Beach
Pebbly Beach
The Rex Lookout
Cairns Zoo is now closed, it was on this road.
Cairns
Cairns To Port Douglas Distance
The distance between Cairns and Port Douglas is 58 Km as the crow flies and just under 67 Km by road. The drive should take you roughly an hour but there are roads under repair and delays on this road currently.
Is There a Train From Cairns To Port Douglas?
No, there is no train line between Cairns and Port Douglas. Cairns has a train station, Port Douglas does not. Port Douglas has disused steam trains and disused train stations formerly used for sugar cane and passengers. There is no railway line between Cairns and Port Douglas
How else can we help with your trip to Port Douglas? For things to do in Port Douglas you need this post. Likewise, things to do in Cairns. Both cover surrounding areas and northern beaches too. For where to stay in Port Douglas, try here. Alternatively, our Australia Travel Blog page gives you an overview of travel in and around Australia, covering many destinations and how to get to them.