This post may contain affiliate links.
If you're looking for Great Barrier Reef Tours from Port Douglas, congratulations, you picked a great place from which to explore the reef. Port Douglas Australia is a stunning holiday town in Far North Queensland, home to beautiful 4 Mile Beach, close to Mossman Gorge and the Daintree Rainforest as well as the cooler Atherton Tablelands, but the Great Barrier Reef is a huge draw for tourists and most will be visiting the reef during their time in Port. Check out your options for seeing the reef, and learn more about the experience, in our post.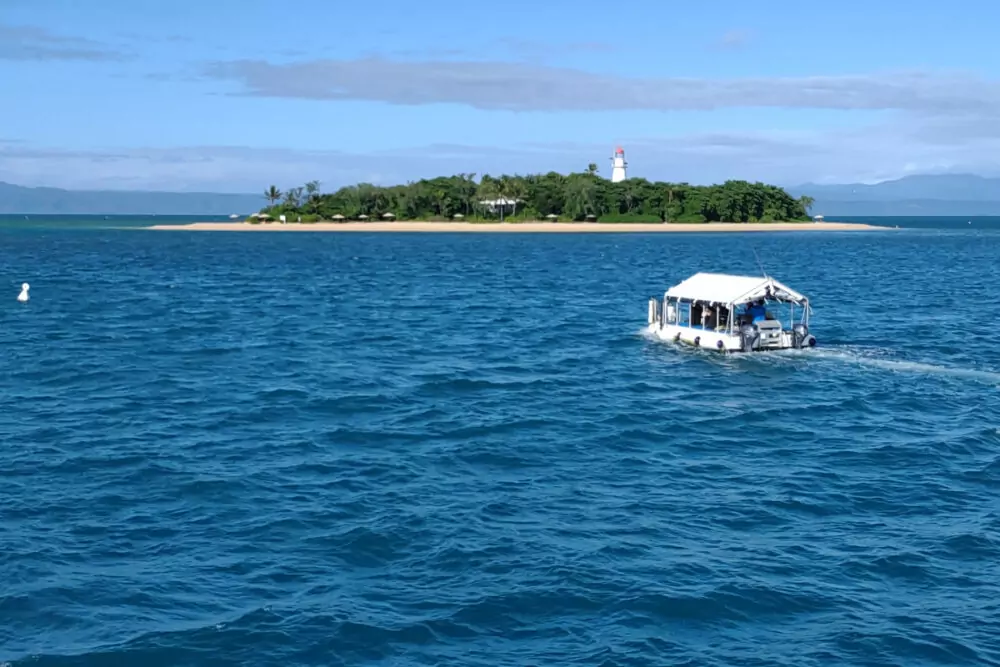 If your time is very short, there are a few half-day trips to Low Isles, but most visits to the GBR Marine Park from Port are full-day tours. We cover your options in this post.
Low Isles is a great experience, so is the outer reef, if you possibly can, do both, as you'll see a different type of reef. Low Isles is particularly good for turtle spotting.
We live in Port Douglas, my husband works on the Port Douglas reef fleet out of the Crystalbrook Superyacht Marina, we visit the reef as professionals, scuba divers, snorkellers, and parents, often. Trying all the cruise options (with kids and without), allows us to tell you what it's like, first hand, what to expect, what to pack, and a little about the experience of visiting the Great Barrier Reef from Port Douglas.
There are plenty of choices in tours, boats, and pontoons as well as various ways to see the reef. There are even dry ways!
You can snorkel, scuba dive, or see the GBR from a glass-bottomed boat or semi-submersible, along with a few more unusual options.
The boats are running since the pandemic but with reduced frequency and capacity. It's a very good time to see a less crowded reef, but do book your place, they sell out fast.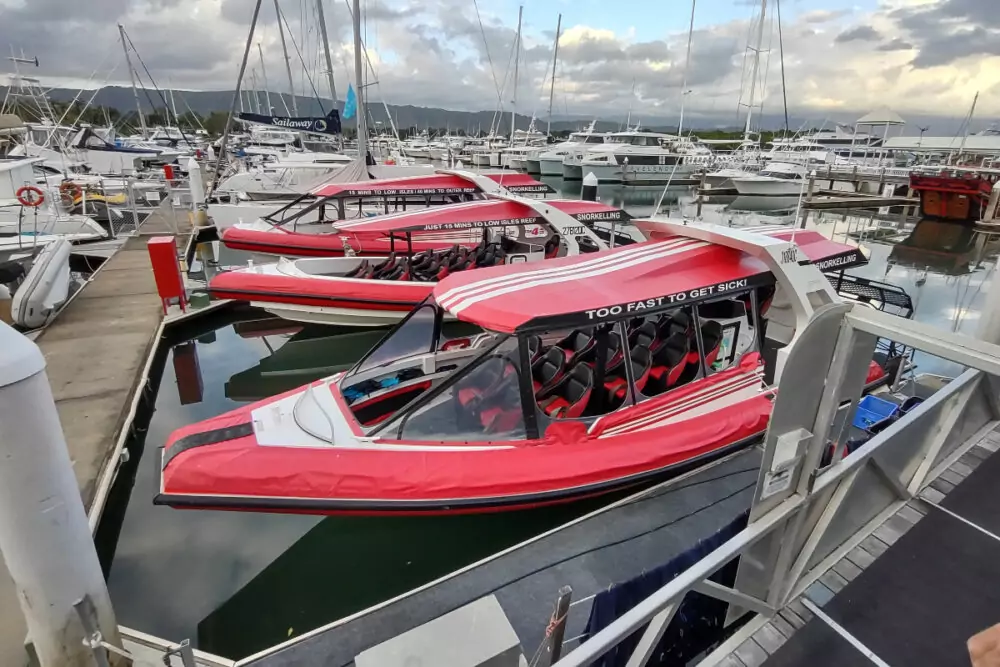 Let's take a look at the Great Barrier Reef tours and cruises from Port Douglas.
We do our best to tell you about our personal experiences visiting the reef here, information was correct at the time of our visit, but just please double-check what each boat currently includes and doesn't, which reefs they visit, gear provided, and so on because things change and companies change hands pretty fast. Even the weather and tides can change itineraries slightly.
I should mention that we were often guests on these boats, either because we know the owners or have been invited by their marketing teams, or through working for a living. All opinions are genuine and our own. We have never been paid to review favourably.
Most Port Douglas residents get free reef trips from time to time, depending on who they know and what their involvement is with tourism. Round here they're known as famils, familiarity trips.
Great Barrier Reef Tours Port Douglas, Choices and Options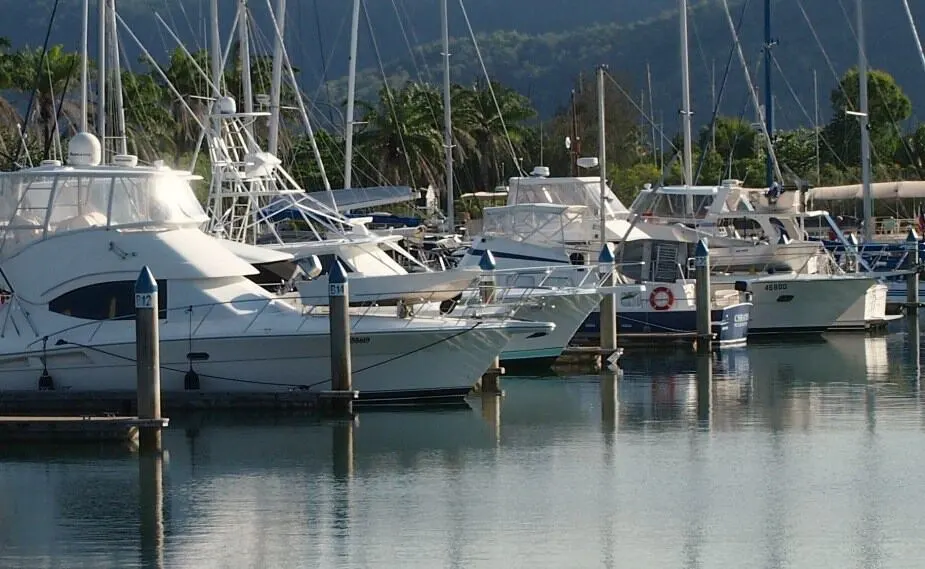 The following Great Barrier Reef tours are available from this page, others may exist. Full details of your day on the reef and the options the various tours offer guests should be available from the booking websites or direct from the companies.
Click through from the links here to find out more and book, alternatively, read more further down the page.
Quicksilver. Agincourt Reef Pontoon, features semi-submersible and dry underwater viewing area.The best option for non swimmers and the less mobile. Full day.
Calypso Low Isles Snorkel Tour. Half Day.Glass Bottom Boat and Snorkelling from the beach are possible here.
Luxury Catamaran Outer Reef Cruise. Full day, outer reef trip by luxury catamaran, eco-certified, stopping at pristine Undine Cay. Glass bottom boat available
Luxury Catamaran Low Isles Cruise. full-day luxury catamaran, snorkelling, beaches, explore the island just 15km from Port Douglas and glass-bottom boat.
Luxury Catamaran Low Isles, half day. A similar trip, adults only, with snorkelling, a shorter timescale, drinks, canapes and sunset views!
Silversonic Agincourt Reef 3 Locations, Minke Whale License
Deep Sea Divers Den. Outer Reef Cruise, 2 Locations. Not available since Covid
Wavelength Reef Cruises, snorkel only.
Half-Day Low Isles Tour, Morning or Afternoon, just half an hour by boat. Glass bottom boat available.
Reef Sprinter Shorter trips to Low Isles by speed boat. Does not normally include the island/beach access.
Much has changed in Port Douglas since lockdown 2020 and quite a few options that we used to be able to share on this page have gone. As we enter 2022, let's hope everything gets back to normal!
Video – What's it Like Out on the Reef?
We take a little look at snorkelling, scuba diving and liveaboard reef trips to the Great Barrier Reef in our video on our liveaboards page. Check out the sharks in the dark experience.
Booking Your Great Barrier Reef Tour From Port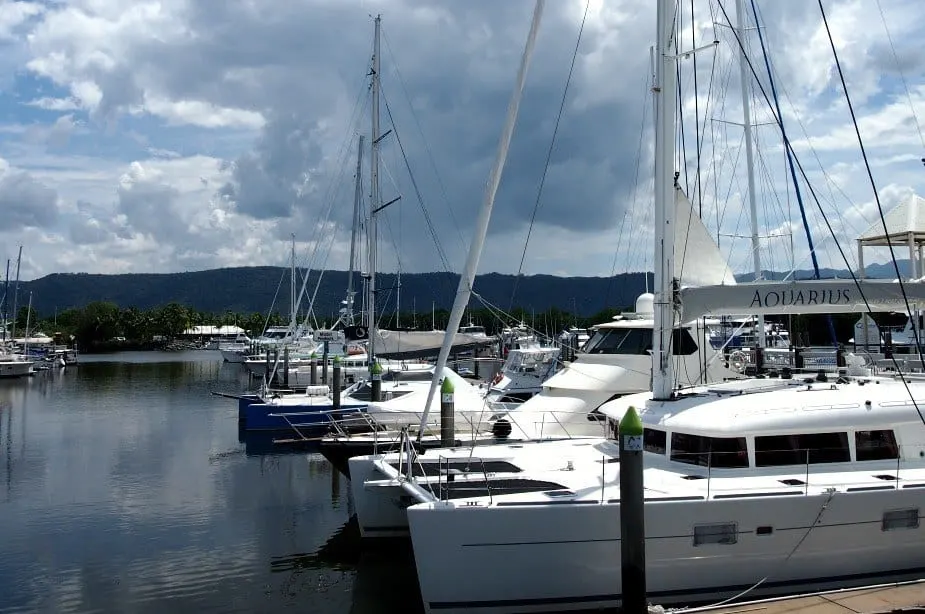 If you're short of time and if it's at all possible, book your Great Barrier Reef Tour from Port Douglas in advance.
Obviously, each ship can only hold a finite number of visitors and in high season they do fill up.
You can use our links below to find out more and to book through a company we use and trust. This company also had a best price or money-back guarantee, last time we checked, if you'd like to take a look at that on their site.
Be sure to check weather forecasts before you book. The boats run all year, but high winds and storms sometimes make visiting impossible.
You can, of course, also book locally in any of the shops operated by the reef boat companies, there are many in Port Douglas, on Macrossan St and in the marina.
Tour Groups and high season (School holidays in December and winter) may limit availability.
Will You See Whales or Dolphins on Your Trip to the Reef from Port Douglas?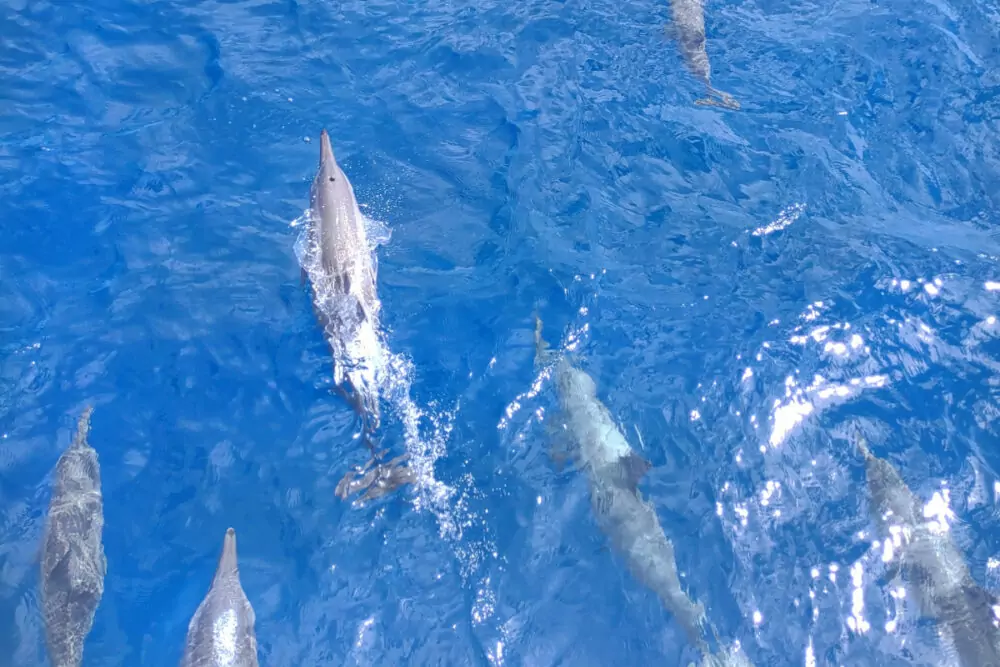 Yes, it's quite likely and possible, to spot whales from Port Douglas if you are travelling at the right time of year. While there are no dedicated whale watching trips, visitors do sometimes see whales and dolphins.
Dwarf Minke whale season is approximately July to September.
Humpback whale season is roughly the same period.
It's also possible to see dolphins and false orcas if you're very lucky.
Whale sharks have been spotted on the reef but it's incredibly rare.
Smaller boats are better able to stop to give you a better look.
Swimming or snorkelling with whales is generally illegal, but Silversonic has a license for Minke whale encounters as do Divers Den (Divers Den stopped operating out of Port Douglas because of Covid and low tourist numbers).
To swim with the minkies you'll need to book a multi-day minke whale tour. My husband has taken one and it was amazing. It's not cheap.
What Will You Need to Take With You to The Reef?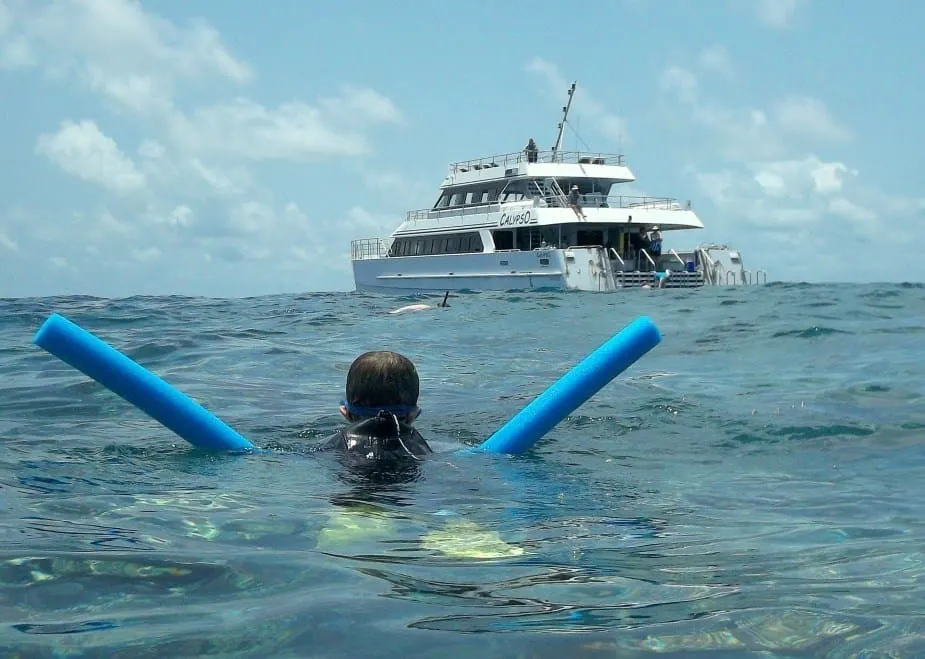 Swimwear, a towel and sun protection are essential. You can take your own snorkelling gear if you prefer. I generally take my own long sleeve, long-leg wet suit in winter. I don't like the short suits provided on most boats. You can usually borrow floaties, lifejackets or pool noodles out there for kids or weak swimmers. Stinger suits are generally provided by the boats in stinger season.
Sunblock is now considered a huge problem on the reef, the chemicals destroy marine life. Therefore, either get a safe product, or cover yourself as fully as possible with sunsuits, rashies and so on. In stinger season you will have to be fully covered anyway. Several boats provide reef-safe sunscreen.
We generally wear our swimmers under our regular clothes for the journey out but after being in the water all day you will want something warm and dry to change into for the return trip.
There are toilets or changing rooms on most boats or pontoons if you need them. Some boats will have a fresh water shower to rinse off at the end of the day
Underwater cameras are questionable. I've never got decent pictures with a disposable nor with the kids' cheap waterproof digitals (although the above photo of my son on the surface was taken with a waterproof camera.) But then, I'm no photographer.
It was difficult to take underwater photos unless you really knew what you were doing. Most of the boats have their own photographer who will swim around taking shots all day, you can then buy his images of you as well as stock images of the reef and fish as well as any cool creatures that visited during your day.
Or you could get yourself a GoPro. These days, of course, there is GoPro and these work just great! See my shot below. To use your GoPro on the reef you'd probably be wanting a floating handle, as below.
Drones are generally not a good idea and it's against local regulations to use them near a boat or people. We have a drone license and had special permission to use our drone from one of the reef boats.
Do Great Barrier Reef Tours Operate During Stinger Season?
Yes, they do. Your chances of encountering a deadly jellyfish are slimmer on the reef than in inland waters but most boats and cruises will require visitors to wear a full-body stinger suit as a precaution.
You could possibly take your own stinger suit or wet suit, but they do stock them and usually have them in many shapes and sizes. Sometimes you'll pay extra for gear hire, sometimes not.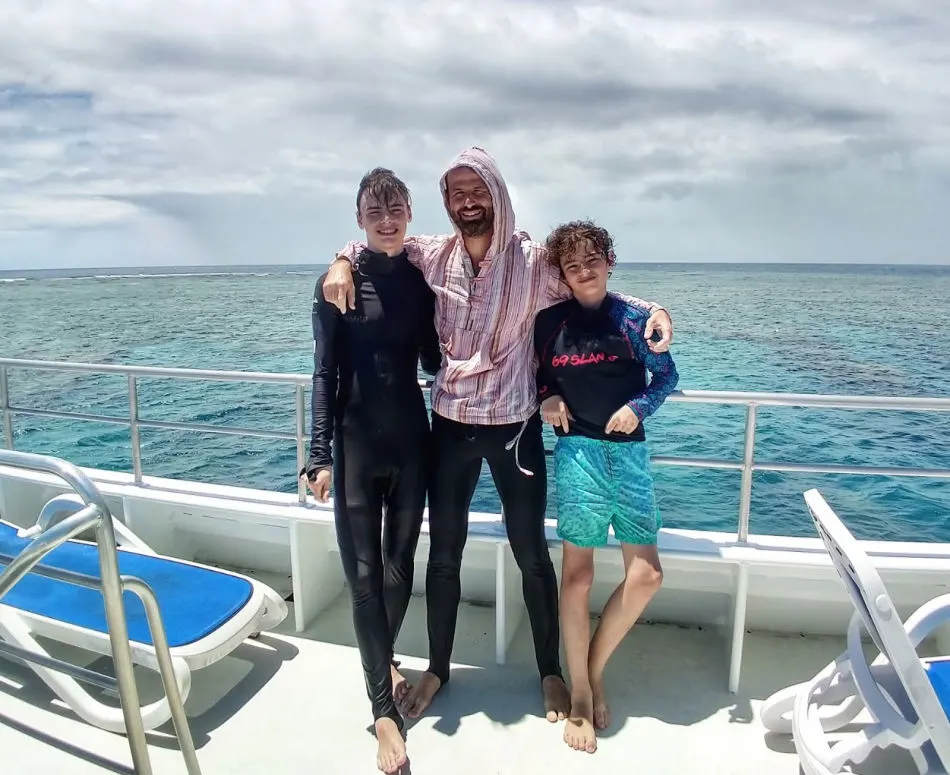 If you are visiting Port Douglas during the wet season (summer) keep a close eye on long term weather forecasts, cyclones visit us in the north and at those times the reef just won't be happening.
That said, you can often have incredible conditions on the reef in December. If it's rainy in Port Douglas, you could still experience stunning conditions on the reef.
Is Lunch Provided on The Reef?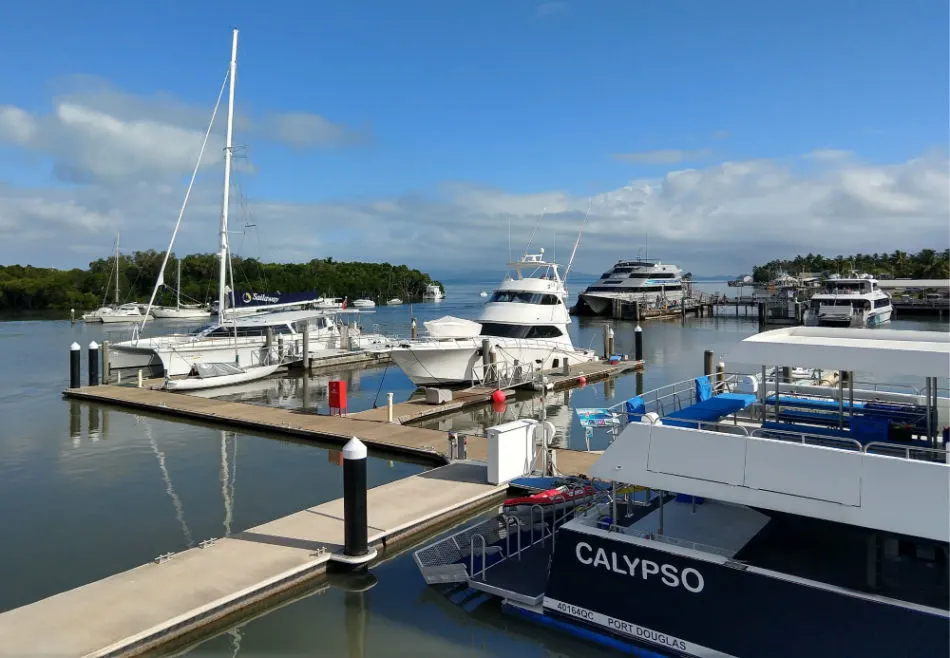 Most of the reef fleet from Port Douglas used to provide a really good tropical buffet lunch. Covid restrictions stopped this but buffets are returning. If buffets aren't possible an individually-wrapped lunch is still good! We've never had a bad one and everyone eagerly looks forward to a solid meal after a morning in the water.
You can sometimes find some hot items on some reef buffets and in winter, these are very welcome.
Wavelength wins for me as all food was vegetarian, helping us reduce our impact on the planet.
Most boats will also provide cake, fruit, tea or coffee, you get incredibly hungry after snorkelling and they do like to keep you well-fed. Check what your chosen boat provides.
What If You Don't Want to Go in The Water?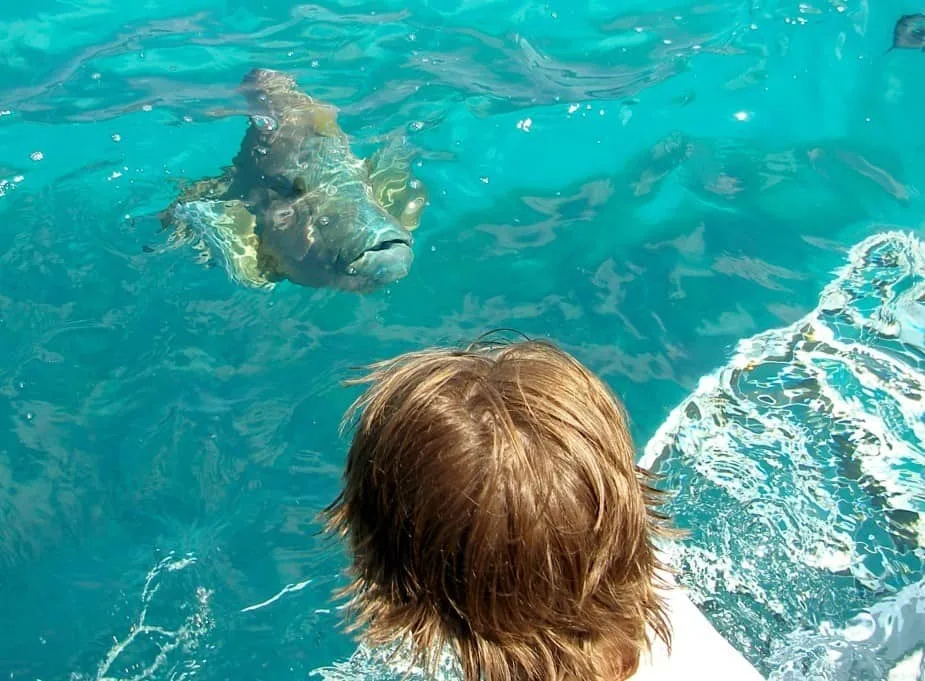 Yes, you can still see the reef without getting wet.
If you have concerns about age, lack of water confidence, or anything else that makes you unsure about snorkelling or diving, there are glass-bottom boats and semi-submersible tours waiting to show you the GBR.
The big pontoons can also have underwater viewing areas where you can see plenty of fish and watch the snorkellers and divers exploring. Check which each operator provides.
If you plan to go to Low Isles and snorkel from the beach, be certain that your chosen boat will take you to the beach (possible by glass bottom boat sometimes) and not drop you in the sea a considerable swim from the island.
Quicksilver Outer Barrier Reef Full Day Cruise. Pontoon Based with Semi Submersible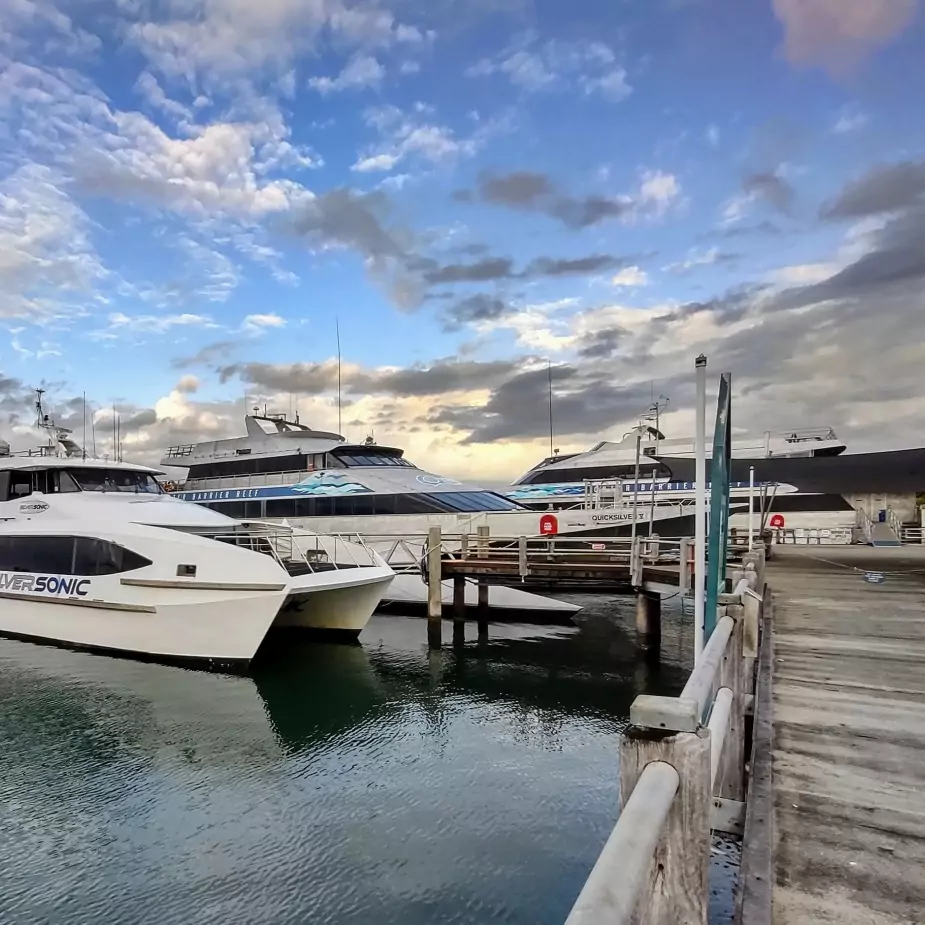 Quicksilver own the biggest ships (boats?) operating out of Port Douglas and passengers spend their day at a permanent pontoon on Agincourt Reef. Quicksilver are the large silver vessels in the background of our photo above.
We've taken this trip many times, as snorkellers and scuba divers and it's always been great. The pontoon offers an underwater viewing gallery and you'll find that because the structure is permanent, many sea creatures have made their home around the pontoon's anchor points.
There always used to be fish feeding, plenty of steps for swimmers to access the ocean, lifeguard supervision and marine biologist talks. Extra features such as helicopter tours, marine biologist-guided dives and introductory dives should be available at additional cost.
Your day lasts around 7 hours, and boarding commences normally at 9.30 am at Port Douglas Marina. Because the Quicksilver boats are faster, your day can start a little later. Enquire about pick-ups from your hotel. Some of the other boats go out earlier.
Click through here to see the Quicksilver catamaran and pontoon in place on the reef and to book.
Silversonic Great Barrier Reef Dive and Snorkel Adventure
Silversonic is another one we knew well a few years ago, and liked, but haven't used recently. Silversonic is primarily a dive boat. It's advertised that Silversonic takes you to 3 locations on Agincourt reef and it's an 8 hour day.
Touring the reef with Silversonic was a great experience, we used this one for scuba diving as adults, never with the kids or for snorkelling.
This ship held a license to swim with dwarf Minke whales in season (Minke season is roughly July to September).
Minke whale tours from Port Douglas are available. Click through here to check information on Silversonic and to book.
Great Barrier Reef, Diving and Snorkelling From Port Douglas with Divers Den – Currently Closed Due to Covid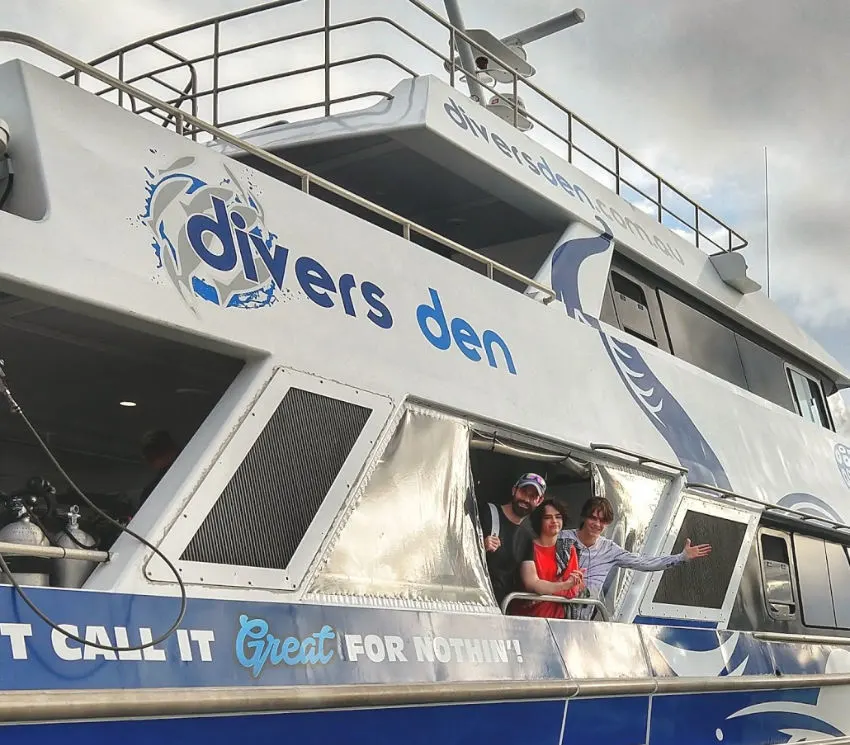 We've used Divers Den twice recently. This is around an 8 hour day including pick up from your central Port Douglas hotel. You normally have 4 hours in the water at 2 different outer reef locations. Divers Den took us to Agincourt Reef most recently in May 2019 and we had a great day.
The crew on their Port Douglas boat – Aqua Quest – were superb and the 2 dive and snorkel sites we visited were interesting and quite different. A hot lunch was much appreciated as the temperatures dipped for our tropical winter.
The only thing Divers Den didn't give us was a marine biologist talk. For that, we think you'd like Wavelength or Calypso.
Guided snorkelling and free guided scuba diving were available when we travelled with Aqua Quest. Elsewhere there is often a charge for scuba guides. Introductory diving is a possibility on Aqua Quest too and looked to be extremely popular.
We have also used Divers Den out of Cairns and had a fabulous time. The Divers Den team taught my son to scuba dive and looked after us on a 4 day liveaboard. Everything was perfect.
Aqua Quest is almost identical to their Cairns boat, Reef Quest, but the crew tell me that the Port Douglas operation is usually less busy, giving you a better day out.
You can book Aqua Quest from your Cairns hotel too. Port Douglas Reef boats generally head further north than the Cairns operators, this is certainly true of the Divers Den operation. The outer reef sites we visited with Aqua Quest were parallel with Cape Tribulation.
Divers Den are a well-respected local business, now owned by a New Zealand company – they were previously called Deep Sea Divers Den, the name has changed. Snorkelling was included in the price, diving was extra. Divers Den operated Aqua Quest out of Port Douglas (The Cairns boat is Reef Quest, the Live Aboard is Ocean Quest).
Wavedancer Great Barrier Reef Sailing Tour with Snorkelling, Glass Bottom Boat and Scuba Options
Wavedancer is an absolute beauty, but this sailing boat won't normally take you to the outer reef, instead, you can enjoy your day on the reefs and beaches of the Low Isles for a full day or an afternoon.
This day trip lasts approx 7 hours and you can enjoy a complimentary glass bottom boat tour and guided snorkelling with a marine biologist. Check availability for your dates.
We've taken this trip twice, but not recently, and it was very enjoyable. We saw a lot of turtles and a huge variety of fish, many extremely large.
Returning to Port on the deck of a catamaran with somebody playing guitar was a wonderful experience. Wavedancer was owned by Quicksilver. Click here to book a full-day Low Isles tour on a luxury catamaran
Wavelength Reef Cruises – Snorkel Only.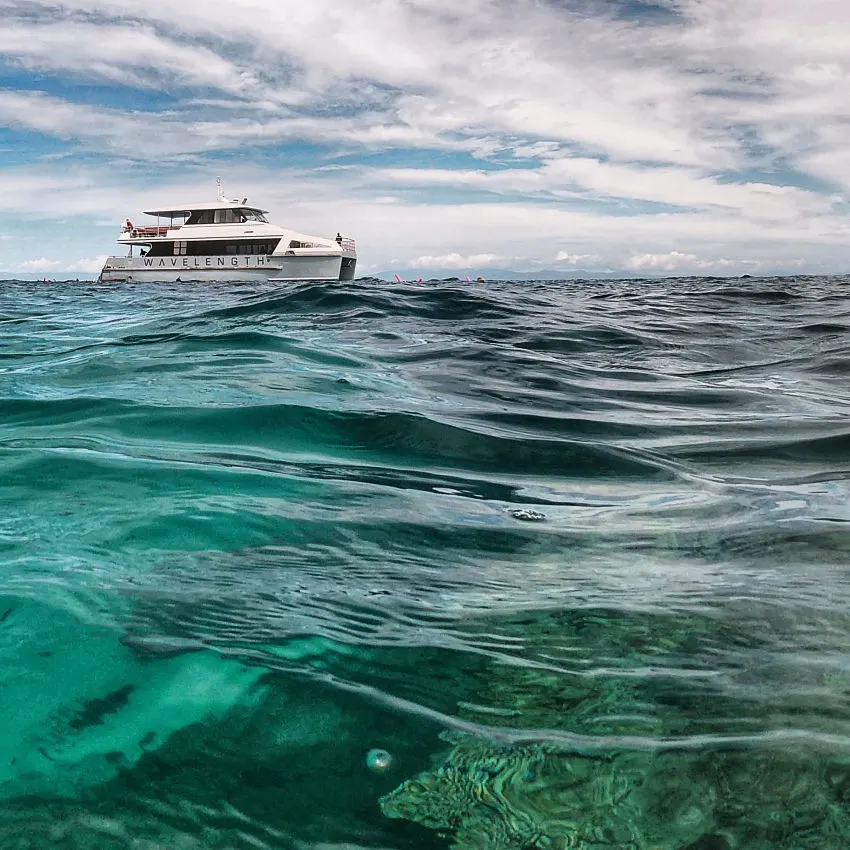 Wavelength are a smaller operation and family-owned. They're most certainly my pick for a great day snorkelling with a strong eco edge. They are one of only 2 family-owned (at time of writing) reef companies operating out of Port Douglas. We happen to know the owners, they bought the Wavelength boats and moorings a few years ago. John and Jenny are both marine biology graduates and committed to reef conservation. Wavelength is a smaller outer-reef snorkel operation.
We always love our days snorkelling on Wavelength and the 3 reefs they take visitors to every day are absolutely beautiful. Their marine biologist talks were some of the most informative and eco-conscious I've heard and I love that all food was vegetarian. The boat we were on was only 6 months old and sparkling new. The Wavelength website is here.
Calypso
Calypso were a family-run operation until recently. The company has now been sold and in our opinion, it's not quite as good as it was. We last went to the outer reef with Calypso in January 2019 and haven't been out since, so can't comment, sorry. We have been to the reef many times with them in the past. They have multiple boats operating out of Port Douglas for both divers and snorkelers, full-day, and half-day.
The boats are nowhere near as huge as the Quicksilver boats, but still a fair size. We enjoyed our day on Calypso, but things seem to have slipped just a touch in terms of food and maintenance of the boats. Maybe it was just teething problems and everything will come good once the company has fully changed hands.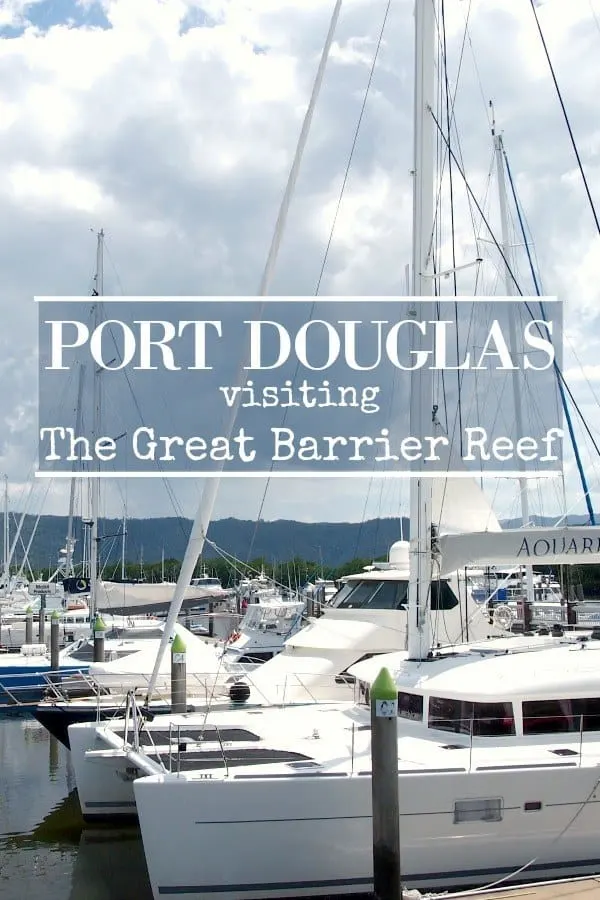 There are other dive and snorkel boats operating out of Port Douglas, as we get a chance to try them we'll add them to this post. We feel that we cover the best, most popular and most well known GBR cruises here.
Shop This Post
There are now loads of sunscreens and sunblocks on the market that claim to be coral friendly, you should be able to find them in supermarkets or pharmacies. For a Go Pro, look here, Go Pro aren't expensive these days depending on which model you choose. For the waterproof handle – we own and use this one on the reef, look here.
Obviously there is loads more high tech gear for underwater photography but that's then a serious investment. Yes, we've taken our drone out to the reef with special permission from the boat's owners and a commercial license but it's not really a great idea and we think it could actually be illegal in Australia, just double-check Queensland drone laws. You certainly shouldn't fly a drone close to whales or other wildlife.
We hope you found our round-up on options for visiting the Great Barrier Reef from Port Douglas useful. You can also visit from Cairns and there are options from north of the Daintree river. One thing's for sure, even if you only do it once in your life, it is absolutely worth every cent you spend to see one of nature's greatest marvels. You'd probably like our Things to Do in Port Douglas blog post next. If you enjoy sailing, you should check out the sunset sail options from Port Douglas too, on Sailaway or another luxury catamaran, or Shaolin. Have a great holiday in paradise!
If you'd like to hire a car during your stay, use this car rental comparison tool to find the best deal!

We also suggest you take a look at this company to get a quote for all kinds of the more tricky adventure or extended travel insurance.

Try Stayz / VRBO for an alternative way to find rentals on homes/apartments/condos in any country!