This post may contain affiliate links.
Port Douglas has just one beach, Four Mile Beach. Another site claims Port Douglas has multiple beaches, they're a large, commercial site and are trying to cash in on the keyword "Port Douglas Beaches". That keyword exists because Port Douglas has a hotel called "Beaches". We live in Port Douglas. We live minutes from Port Douglas beach. There is only one beach in Port Douglas but many nearby. Let me tell you about Port Douglas Beach, year-round, and a few beaches nearby.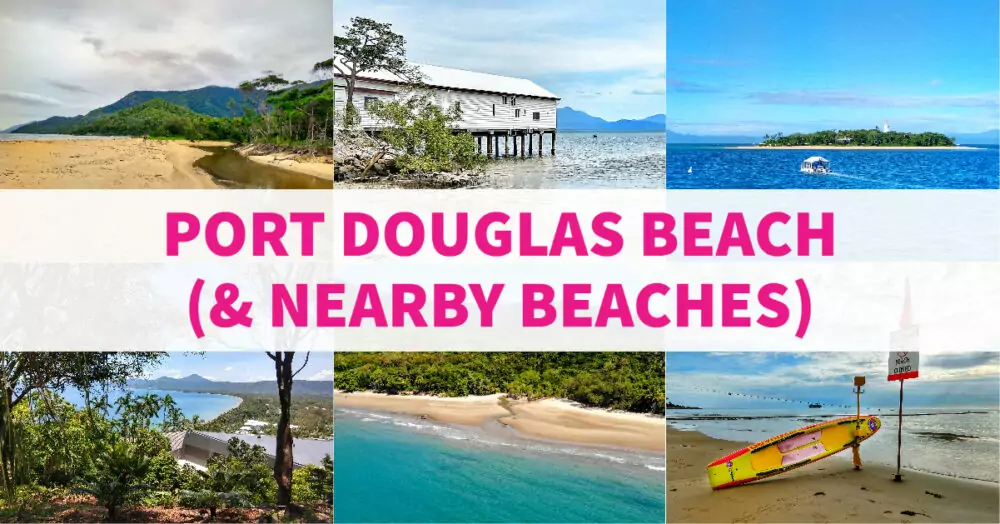 Port Douglas is in Far North Queensland, Australia. It's in the tropics, so we have beach weather year-round. Give or take.
Port Douglas has some beautiful and interesting wildlife. That wildlife includes saltwater crocodiles and deadly jellyfish. So you probably need to know about those if you're planning to visit the beach in Port Douglas.
The little town of Port Douglas has a village-like feel and is hugely popular as a holiday or short break destination. Most of our visitors take trips to the Great Barrier Reef from Port Douglas.
Tourists and locals use Port Douglas beach almost constantly. Wildlife incidents are rare, but read on.
Port Douglas Beach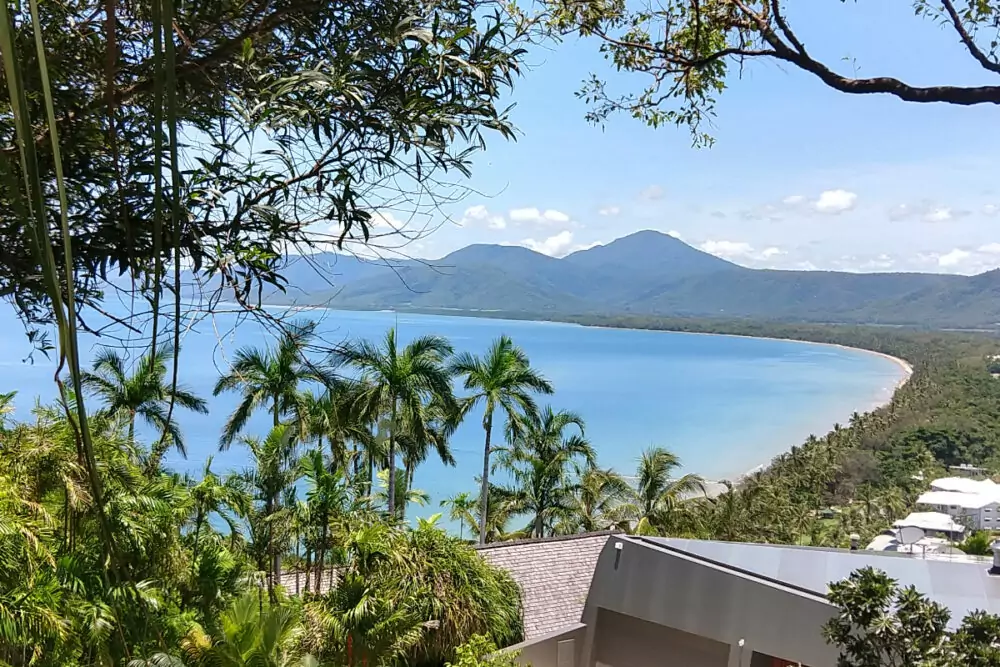 Port Douglas has one long sandy beach, Four Mile Beach. It is not four miles long. The beach stretches from Macrossan Street, the heart of Port Douglas, south to the mouth of the Mowbray River.
You can walk the full length of Port Douglas beach in about 45 mins to an hour. At the northern end of the beach, a rocky outcrop ends the stretch of sand. You can walk around this outcrop using the Flagstaff Hill scenic walk, it's a nice scenic walk, great for a stroll or serious exercise.
This scenic walk has a lot of steps and steep slopes. It's probably not for you if you have mobility issues. It makes a good place to run for athletes, and those aspiring to be athletes.
As you round this rocky outcrop you will find a tiny bay, with sand. I've never seen anyone using this beach as it almost directly faces Dickson's Inlet, which is where the crocodiles live.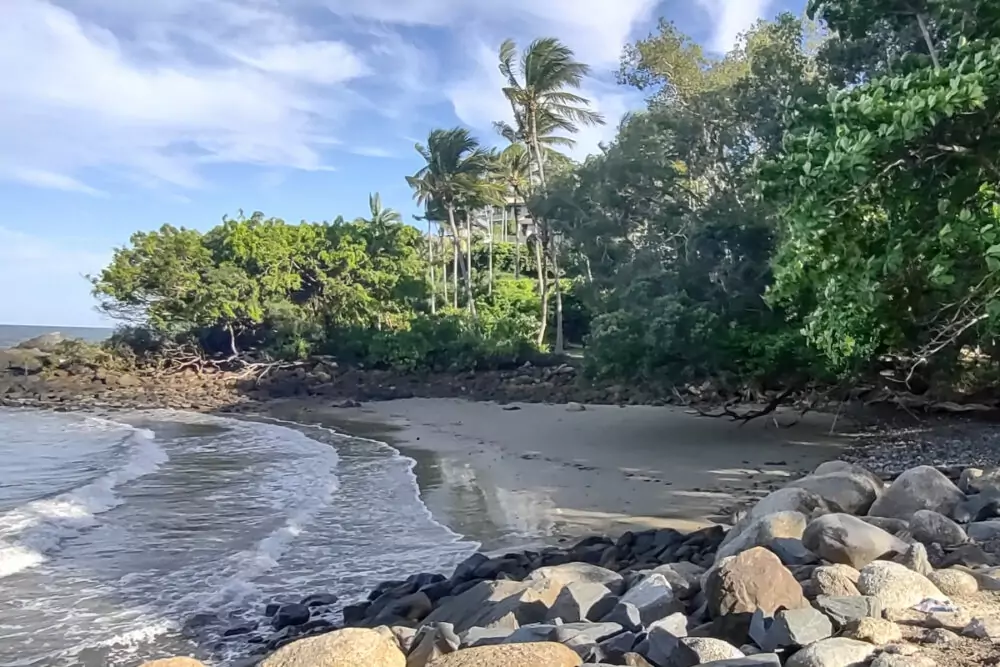 This bay is a popular wedding venue in Port Douglas, as is Rex Smeal Park, a grassy area with palm trees overlooking the inlet.
There is more sand at low tide further into the inlet near the sugar wharf. Neither are safe for swimmers so I would never consider these when thinking of beaches in Port Douglas.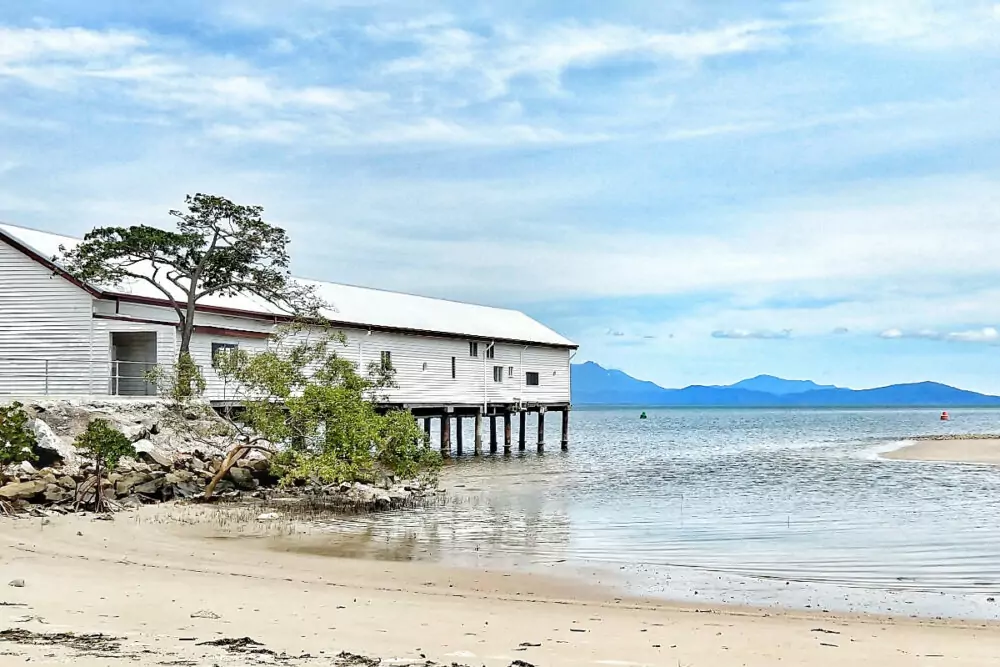 Stick to Four Mile Beach.
To the north of Port Douglas there are more beaches, Cooya Beach is before Mossman, Wonga Beach is further north before you hit the Daintree Village, the Daintree River and Daintree Rainforest.
The beaches to the north of Port Douglas do not have stinger nets and have a greater crocodile risk. The beaches in the Daintree and Cape Tribulation have high crocodile risk too, but are unspoiled and beautiful.
To the south of Port Douglas you have a string of beaches collectively known as the "Northern Beaches" before you hit Cairns. Cairns is about an hour south of Port Douglas by road, and lies on a muddy estuary, containing crocodiles.
Several of these Northern Beaches have stinger nets and lifeguard stations and are used for swimming. Palm Cove is particularly popular as a holiday spot, with plenty of tourist hotels.
Port Douglas Beach Conditions
If you plan to visit Port Douglas beach for a swim, there is an easy way to check current beach conditions.
Do as we do and check the Port Douglas Beach webcam. This is the link.
If you see waves it's possible that the beach may be closed to swimmers in stinger season. If the waves are coming over the edges of the stinger net, it's not doing its job.
If the lifeguards and surf lifesavers are there, during their working hours, you should be able to see a sign indicating safety and current conditions. They sweep the net daily to check for marine stingers (jellyfish) in season.
Port Douglas Beach Stinger Net
How Long is Four Mile Beach?
Four Mile Beach is actually 4 Km long, measured as the crow flies from the mouth of the Mowbray River and the southern end to the rocks at the base of Flagstaff Hill. The beach actually gets its name from the Fourmile family. I haven't been able to find out anything about who the Fourmile family, when or why they put their mark on Port Douglas history, but I'd love to know. If you know, pop it in the comments.
Can You Take Dogs on Four Mile Beach?
The southern end of Four Mile Beach, between Cowrie St and the Mowbray River is a dog-friendly beach. Look out for signs about how and where dogs are permitted at most beach entrances. If you'r looking for a place to stay in Port Douglas with a dog, you need our post. Keep dogs away from the water's edge at the Mowbray river, crocodiles can take dogs in Australia.
Other Beaches Near Port Douglas
Oak Beach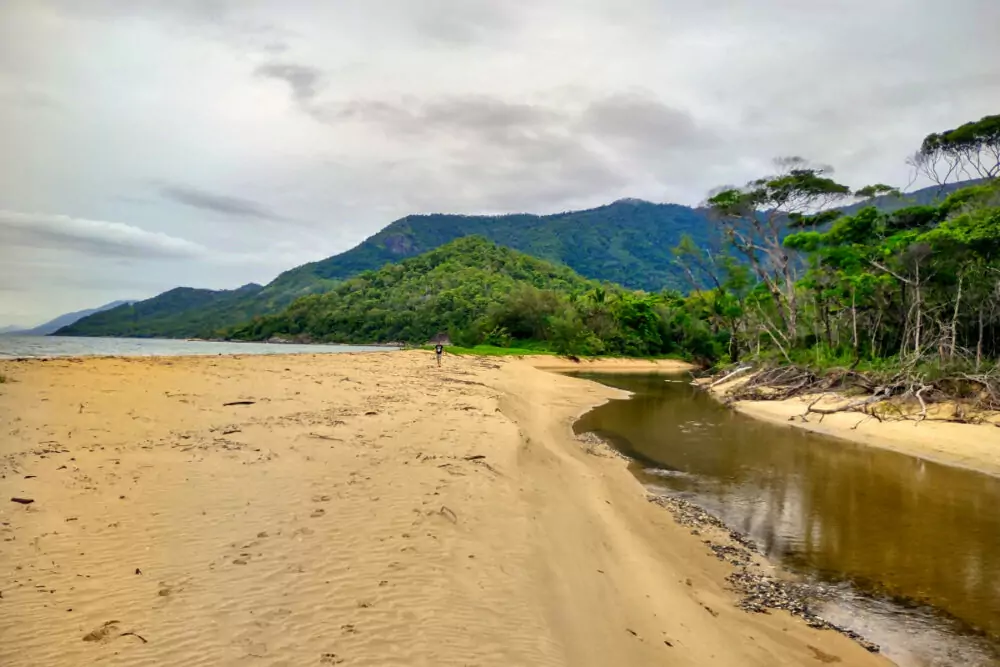 Oak Beach is approximately 16 Km south of Port Douglas, a 15 min or so drive.
Oak Beach has a small residential area and a creek running to the rear of the main sandy beach.
Wonga Beach
Wonga Beach is at least a 30 minute drive north of Port Douglas, at a distance of 37 Km approx. It's quite a big residential area.
Cooya Beach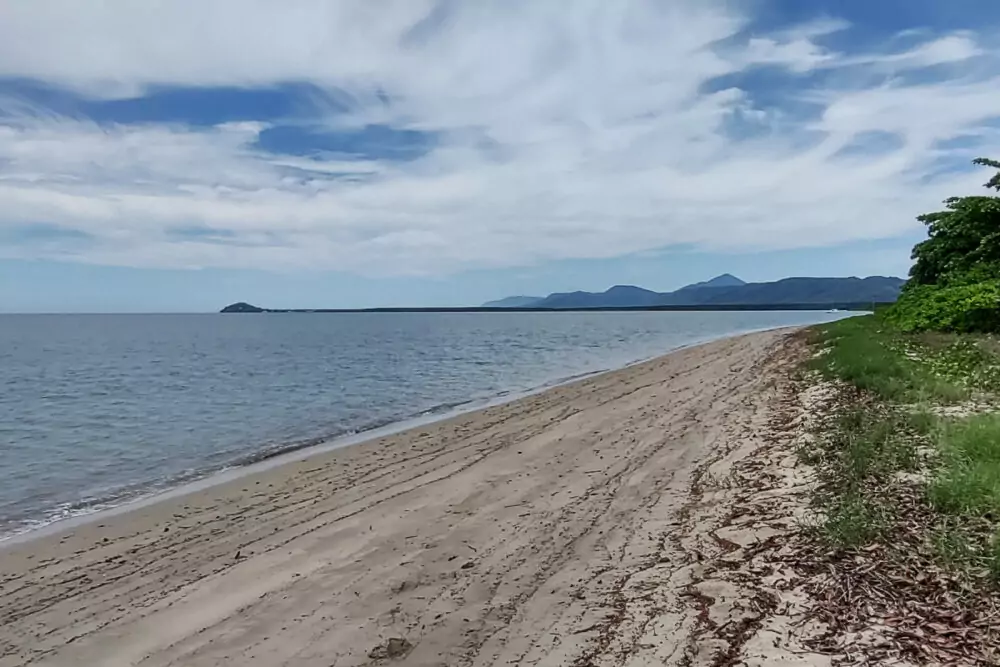 Cooya Beach is to the north of Port Douglas on the way to Mossman. It's the closest Coral Sea beach to Mossman.
Cooya Beach has some modest play equipment for small children and a slipway for boats. The boat ramp opens onto the river directly behind Cooya Beach at the north end of the Cooya Beach Road.
There is no lifeguard station and no stinger net at Cooya Beach. There are abundant warning signs about crocodiles and jellyfish.
To drive from Port Douglas (Macrossan St.) to Cooya takes about 17 mins (18.5Km) along the Captain Cook Highway.
Pebbly Beach
Pebbly Beach is to the south of Port Douglas
The drive from Port Douglas to Pebbly Beach, Queensland, is about 14 mins, 14 Km. There is also a Pebbly Beach in New South Wales.
Ellis Beach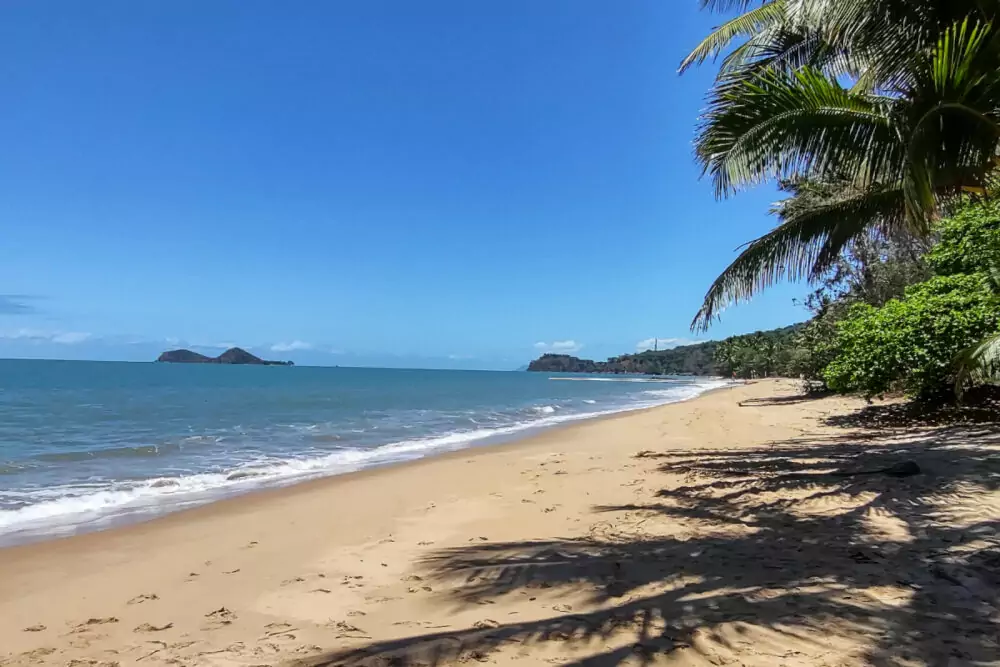 Ellis Beach is another of the beaches between Cairns and Port Douglas, this one does have a lifeguard station and a stinger net in season.
Palm Cove
Palm Cove is a major holiday destination on the way north from Cairns to Port Douglas.
It has a nice stretch of sand, a jetty, or pier, and many tourist facilities and good hotels.
You'll see Double Island just of Palm Cove beach
Port Douglas Beach Activities
Activities available on Port Douglas vary with time of year, weather conditions, and tourist numbers. Broadly, expect the following activities to be available on Port Douglas Beach.
These beach activities are a very small part of the extensive things to do in Port Douglas.
Deckchair and sunshade hire
Inflatables to rent
Kayak hire
Segway tours
Kite surfing
Stand up paddleboarding
If you have brought your own snorkel and mask, it is worth snorkelling inside the stinger net. You'll sometimes find very large fish trapped in the folds of the net.
We saw a large guitar shark or shovel-nosed ray inside the stinger net just last week.
Keep a safe distance from the net and do not touch it.
Port Douglas Beach Wrap-Up
Port Douglas has a great beach. It's kept very natural, so expect some natural marine debris. As with many beaches in Queensland and Australia there is no development on the beach itself.
If you're looking for souvenir shops and restaurants, find those on Macrossan St and at the Port Douglas Marina.
If you'd like to hire a car during your stay, use this car rental comparison tool to find the best deal!

We also suggest you take a look at this company to get a quote for all kinds of the more tricky adventure or extended travel insurance.

Try Stayz / VRBO for an alternative way to find rentals on homes/apartments/condos in any country!