This post may contain affiliate links.
Port Douglas is a lovely holiday town in Far North Queensland Australia. It's the perfect place to stay for visiting the Great Barrier Reef and the Daintree Rainforest. It really is a great holiday destination. Are you planning a trip to Port Douglas? Here's what you should look out for when planning a trip or visiting Port Douglas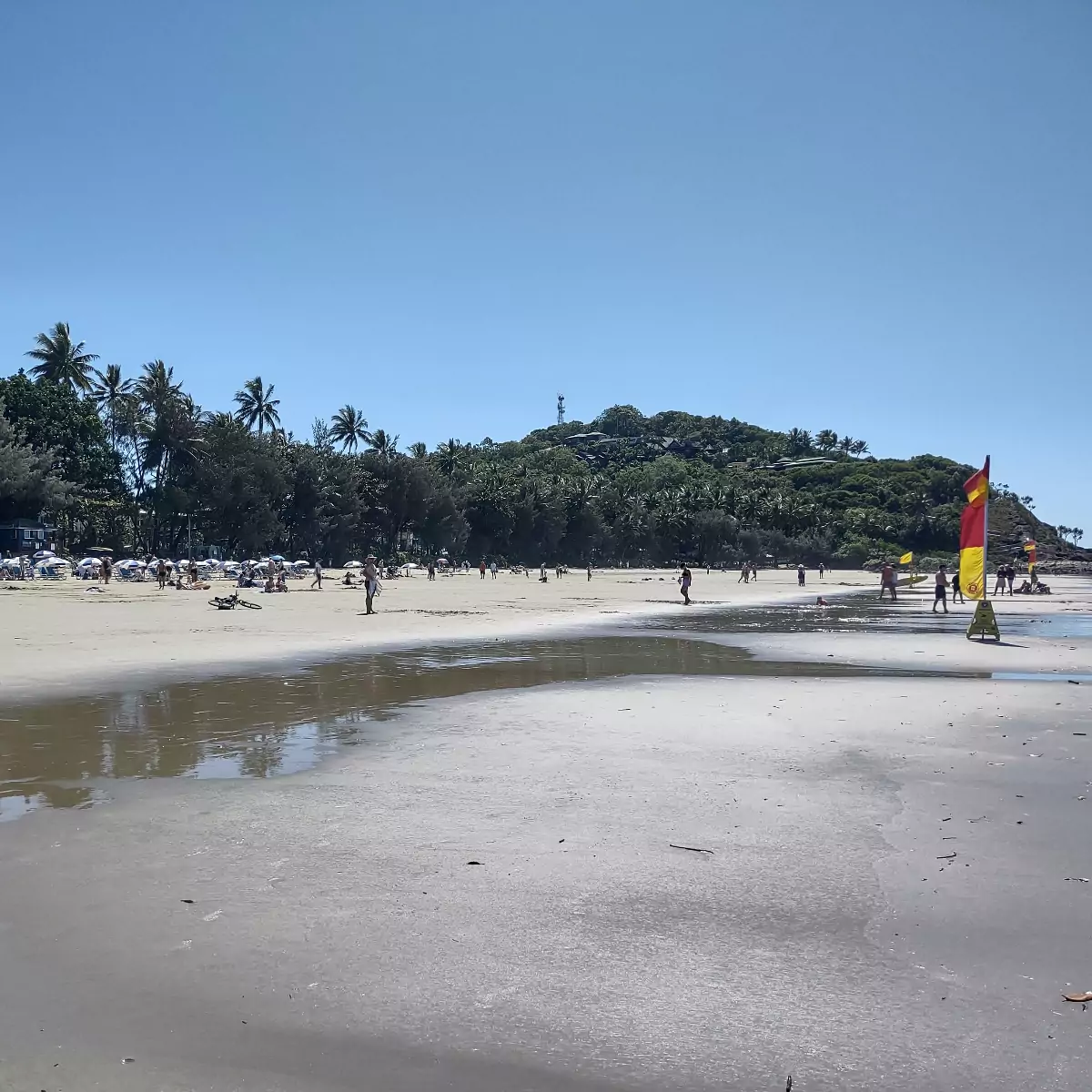 The author, Alyson Long, has been a Port Douglas resident since 2007 and a professional travel blogger and writer since 2012. This website, World Travel Family, belongs to Alyson and her family. The Long family now own a farm on the Tablelands and James Long works on The Great Barrier Reef. Thanks for supporting our site, it's a family business.
Port Douglas Mistake #1 -Dangerous Wildlife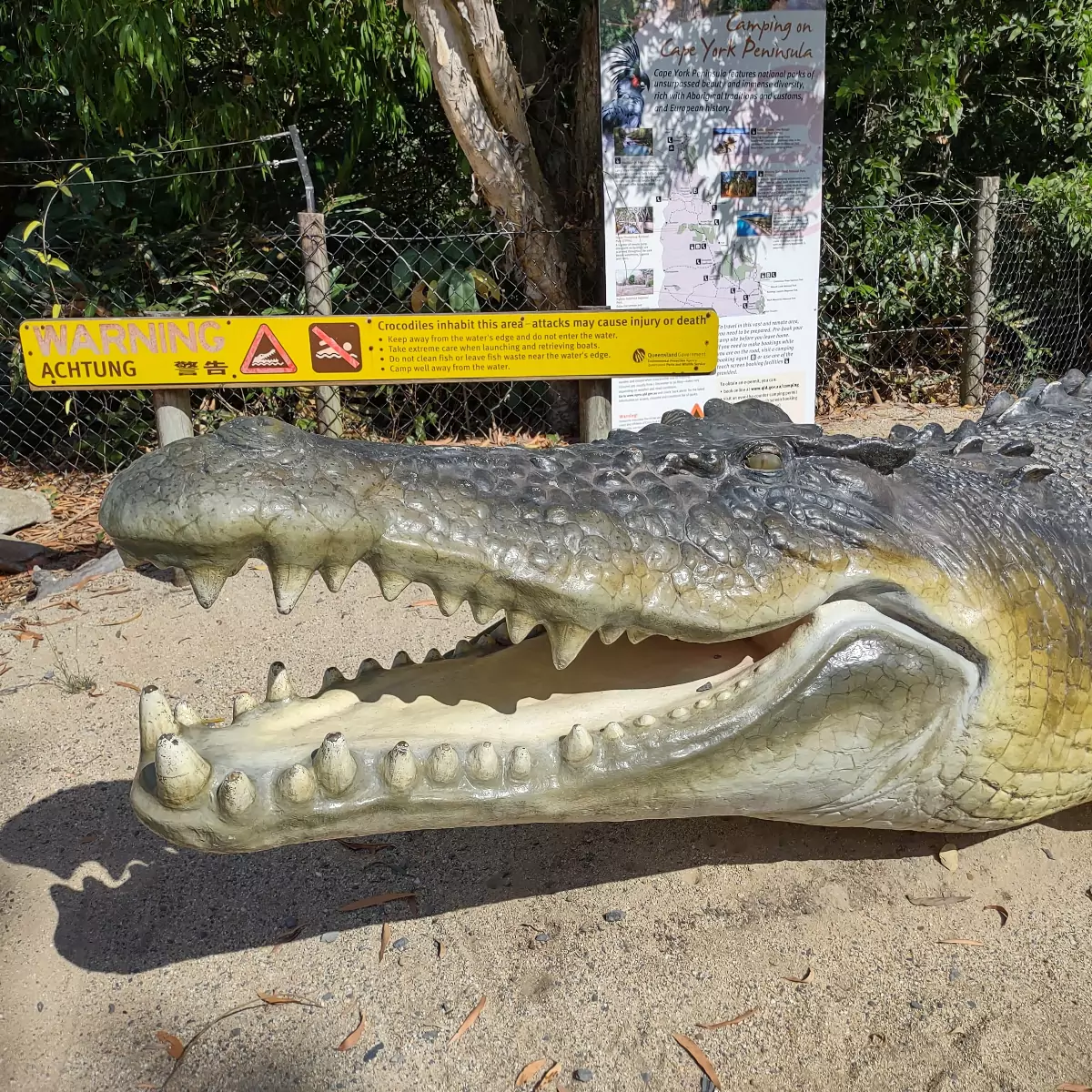 The Douglas Shire is home to a number of creatures that can potentially kill you, don't worry too much, just be aware.
The cute and cuddly Australian wildlife, like koalas, you won't find other than in the Wildlife Habitat, but you may see some other local inhabitants.
There was a dingo puppy in Port Douglas until quite recently. The council had the poor thing destroyed. So a big mistake to make would be telling the council (or social media) if you see a dingo, keep it quiet!
There are large saltwater crocodiles in and around Port Douglas. They are a tourist attraction, people come here to see them and take crocodile-spotting tours on The Daintree River or on the Dickson Inlet in Port Douglas.
Always assume there are crocodiles in any body of water, salt or fresh, unless a local can tell you otherwise. I'm a local – I'm telling you to be careful!
We do have plenty of fresh water swimming holes, waterfalls and creeks nearby, these are considered safe to swim in. But you can never be 100% certain. Crocodiles don't like cold water, so in theory they shouldn't stray too far up-stream into cold water flowing down from The Tablelands.
For Pinterest!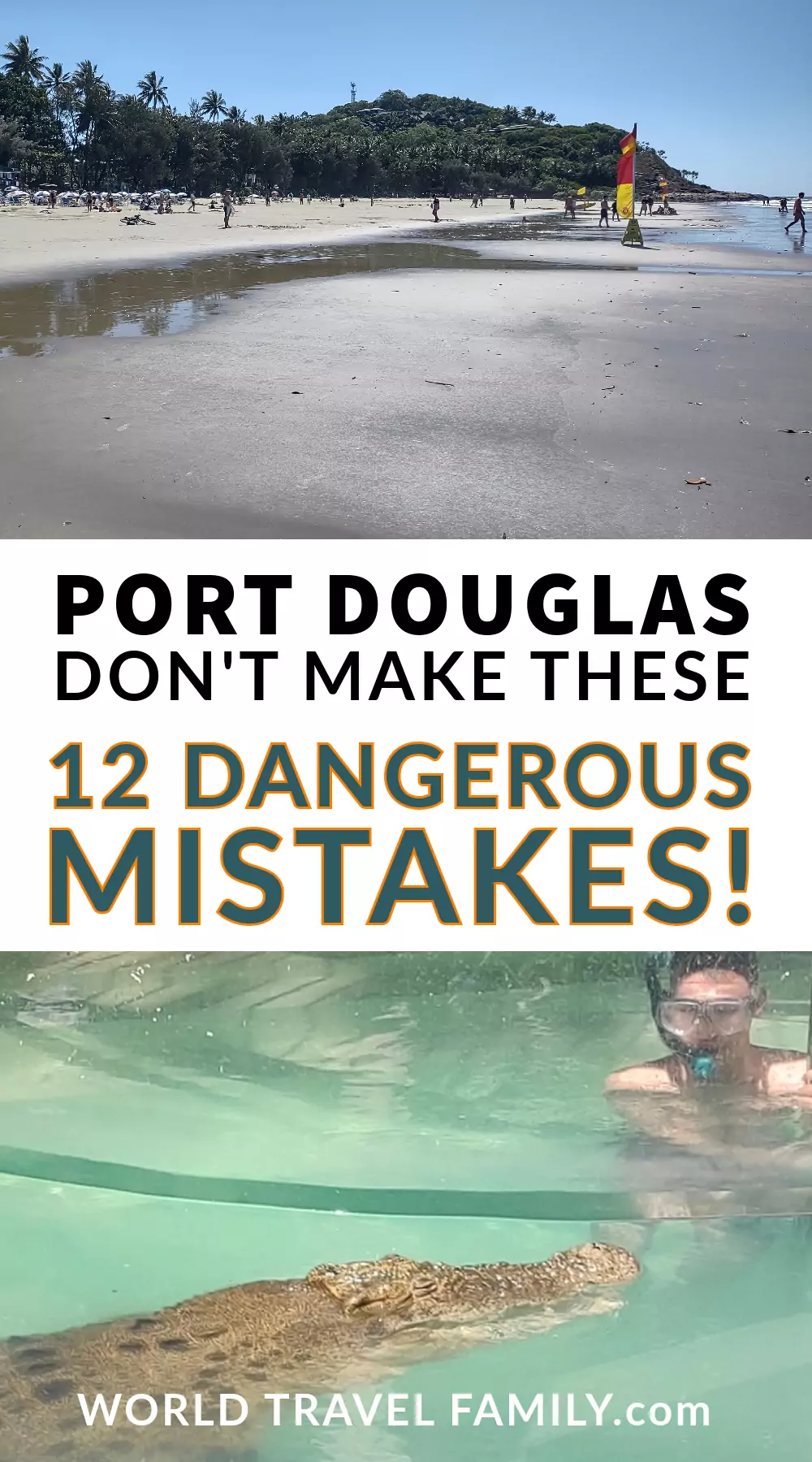 There are a lot of snakes in the region, including the poisonous Eastern Brown and Inland Taipan, but you're very unlikely to see one around town. There are pythons and tree snakes, you may see one, do not touch and stay well away.
Can you swim on Port Douglas Four Mile Beach, yes, thousands of locals and tourists swim here every year. Can you swim in the Daintree River or Mowbray River – absolutely not! Both have plenty of crocodiles, and potentially bull sharks.
Mistake #3 Touching Dangerous Plants
We have a plant called "stinging tree" or gympie gympie in Far North Queensland. Do not venture off marked trails and paths into the bush or rainforest. You could end up in a lot of pain.
We have had Gympie Gympie growing on our property in Julatten, if you want to see what it looks like check out our post on the dangers of Far North Queensland.
You may be close to a stinging plant at Mossman Gorge, there are warning signs to stay on the trail.
Around Port Douglas itself, you won't find it in the manicured flower beds and gardens.
Mistake #2 When Organising a Trip to Port Douglas, Planning to Rely on Local Public Transport
Port Douglas doesn't have much in the way of public transport, the best ways to get around are by renting a car, using the private shuttle buses, or by using the electric scooters that can be found around town.
Renting a car is advised as it's a substantial drive between Port Douglas and most major attractions and towns. Get a quote on car hire here.
You can also utilise tour companies if you want to explore the surrounding attractions, such as the Daintree Rainforest. Most will pick you up from your hotel.
Book your tours in advance, online, to be certain of a spot. This is a good place to do that and we highly recommend this particular tour.
Mistake #3 Packing too Much for FNQ
A common travel mistake is always packing too much.
Port Douglas's heat and humidity can make even light clothing feel stifling depending on the time of year. So while planning to stay in Port Douglas, check what the weather will be like during your stay and pack clothes accordingly.
It's very unusual to need more than a light fleece in the evenings in winter. The cooler months are June, July and August, but it's still pretty warm!
There are a few clothing stores in Port Douglas where you can purchase appropriate clothing should the need arise, both cheap (Cotton On) and luxury clothing outlets on Macrossan St.
Don't forget to bring a way to take some photos, be that your phone, camera or GoPro, Port Douglas has plenty to offer in terms of scenic views!
If you plan to bring a drone be aware that local drone laws are strict. Check the regulations for Queensland. We are commercial drone licensed, if you're not, drone usage is very limited.
If you are snorkeling on the Great Barrier Reef or exploring the Daintree Rainforest you'll see plenty of amazing places! Snorkel boat crews will usually take photos for you. If you choose to use Wavelength Reef Cruises (our favourite boat from Port!) the photos are included in the price. Book Wavelength Here. It will be the first tour on the page, top left. This boat only uses this platform currently.
Mistake #4 Visiting Without Proper Visas, Currency, and Documentation
Australian border security has a bit of a reputation for being harsh, and not without reason. Be very careful what you try to bring into Australia. A lot of food items aren't allowed.
Obviously, you need to make sure you have a valid passport and visa for Australia.
Bring some cash with you or get some out at an ATM on arrival at the airport. You can usually get a better rate on arrival. There are cash machines on Macrossan St, not far from the Marina (if you are arriving on a cruise ship tender).
The official currency of Australia is the Australian dollar ($ Au), not US $. We do see American visitors trying to use US $ and they often tip in US $.
As for visiting an international destination, ensure you have proper travel insurance. We use this company, get a quote here.
Credit cards are accepted in Port Douglas almost everywhere. In hotels, grocery stores, and restaurants. You may need cash for some market stalls at the Port Douglas Sunday Market, but it's common for them to take cards.
Mistake #5 Not Bringing Sun Protection
The sun is very intense in Port Douglas and burns quickly. You must protect yourself from the sun, even on cloudy days.
Sunscreen is available on arrival, but Australia is expensive, you may do better bringing sunblock from home.
Look for reef-safe sunscreen if you plan on going in the ocean.
Bring a hat, have clothes that cover your skin to prevent sunburn.
Wearing a long sleeve rash guard while snorkeling etc is a good idea.
The place most people burn is around their hairline while snorkelling. Just because you're face-down in the water, doesn't mean the sun can't get to you.
Mistake #6 Drive on the "Wrong Side" of the Road
In Australia vehicles drive on the left. America drives on the right.
There was a terrible head-on accident near Port Douglas a few years ago when a car pulled onto the highway on the right and drove straight into an oncoming truck. Be careful!
I'll also warn you that some local drivers are terribly aggressive and tailgating is rife. We have 2 lane highways here, be careful. There are a lot of accidents on the narrow, winding coast road from Cairns to Port Douglas, and on the range roads up to the Tablelands.
You are likely to hit the wipers a bunch of times when you mean to indicate. I still do after 15 years here!
Mistake #7 Not Booking The Right Hotel!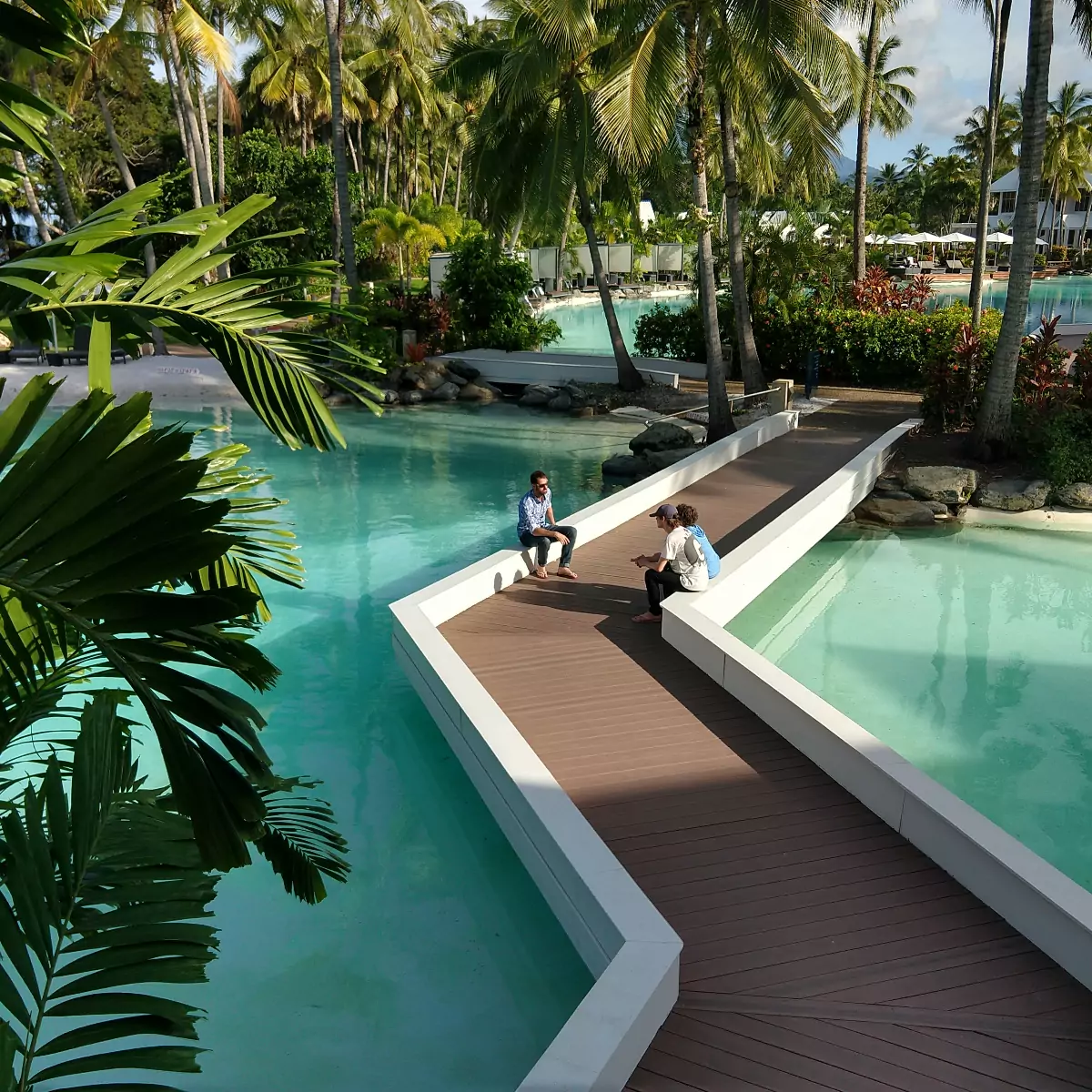 My top two hotel recommendations for Port Douglas are The Sheraton Mirage and the Pullman Sea Temple.
Both are beautiful luxury resorts with huge lagoon pools, both are close to, almost on, the beach.
You can find family rooms or rooms for a couples break (you can even get married at The Sheraton's chapel). Swim out rooms, plunge pools, and villas with kitchens are all available.
Take a closer look at The Sheraton here, at Sea Temple here.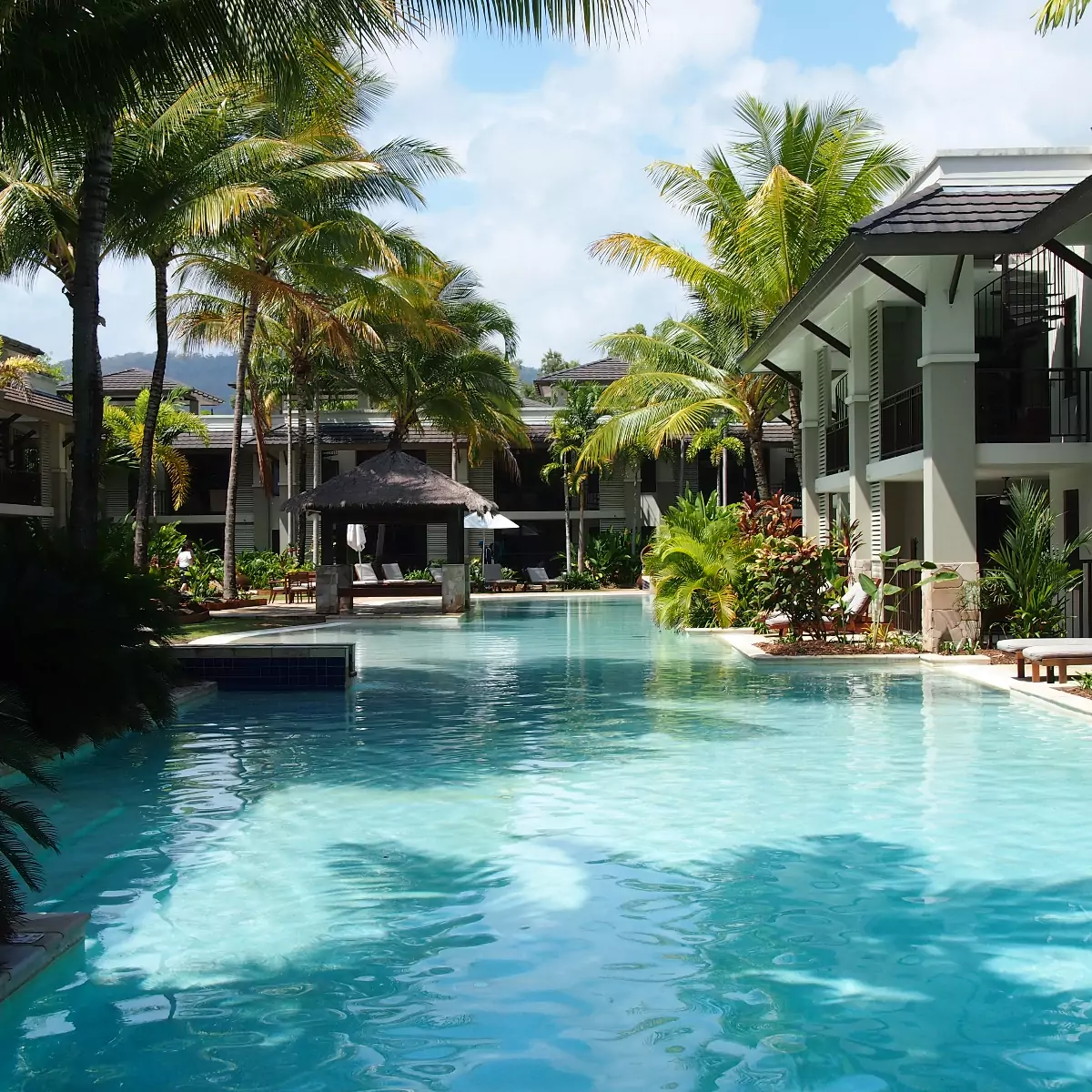 Beachfront development is banned in Port Douglas to keep the beach naturally beautiful. The Sheraton is the closest you will find to "beachside."
Mistake #8 Consider Booking Self-Catering Accommodation
Food is expensive in Far North Queensland, more so than in the southern cities of Australia. In part, this is down to transport costs.
This makes restaurant food that much more expensive. Eating out, particularly for a family, is an expensive hobby.
You may want to self-cater at least some of the time.
We recommend you get some grass-fed steaks from Mallone's Butchery, and some local prawns fresh of the boat, and spark up the barbecue!
There are free gas barbecues along the beach esplanade and in some parks. This is common in Australia.
If you do use the barbecues it is considered very rude not to clean them after you.
You'll also find free drinking water taps (called bubblers in Australia) nearby.
Please bring a drinking water bottle, we don't like plastics on the reef! (This is the bottle we recommend, insulated steel, not plastic. Plastic leaves a taste.)
Mistake #9 Not Being Prepared For Mosquitos
Mosquitos will like to bite in shady areas or around dawn and dusk. If you are a mosquito magnet read our tips for avoiding mosquitos, born through living and travelling in the tropics.
In Port Douglas we also have tiny biting insects, sand flies or "midgies". You may encounter these around the inlet at certain times of year. When a midgie bites it will leave a red circle on your skin.
There are ticks in theory, (paralysis ticks) we treat our pets and livestock for ticks, but I've never seen a tick in Port Douglas.
Mistake #10 Not Going to The Reef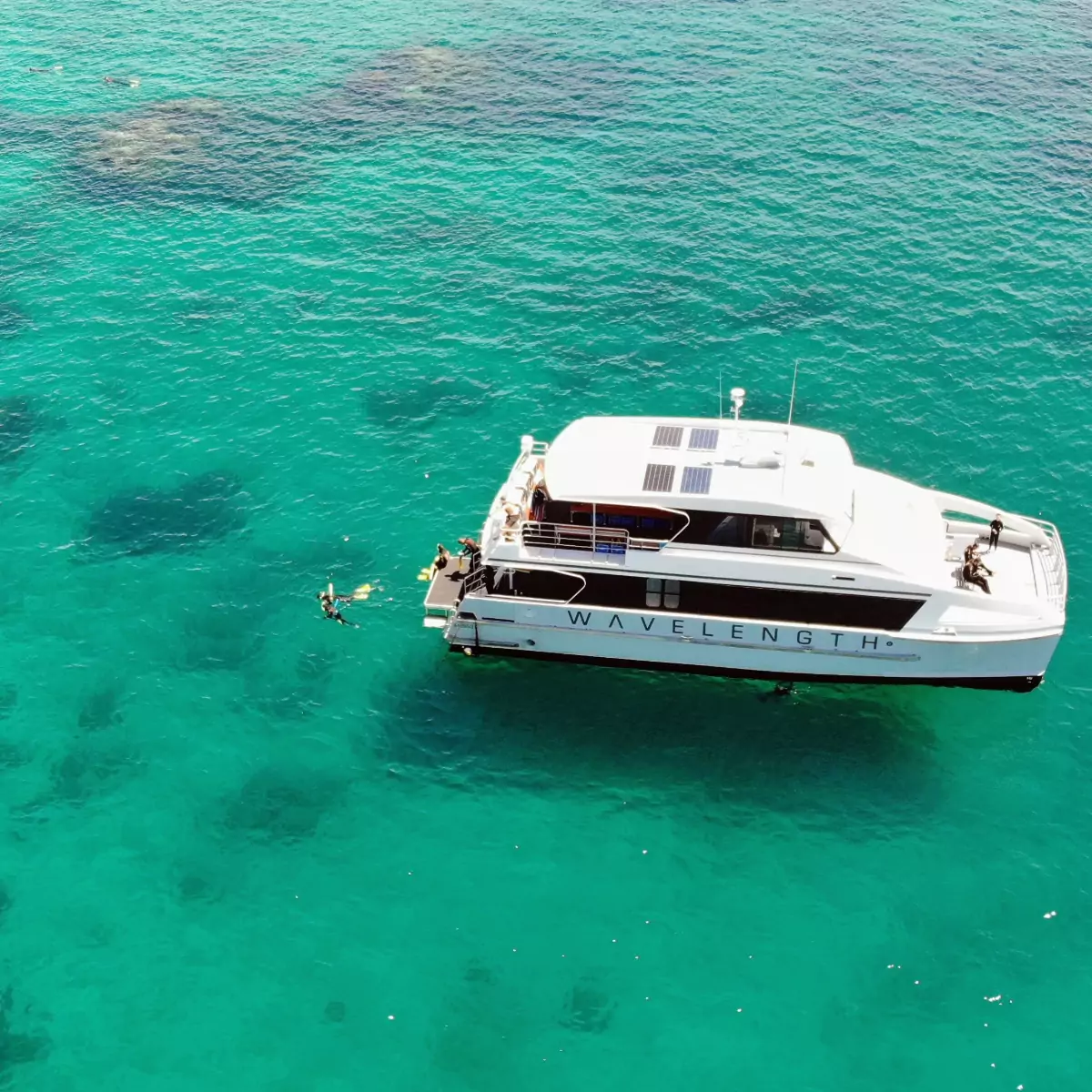 The Great Barrier Reef is a natural wonder, you have to see it. It's a very big, very expensive day out, but grab the chance, just do it!
If you're a weak swimmer you can use flotation devices and the crew will help you. You will see plenty of people snorkelling on the reef using pool noodles or life jackets.
If you're scared of deep water or sharks, your fear will probably disappear as soon as you see the fish.
If you are prone to seasickness, take medication before you start to feel sick.
It is just so beautiful out there, a day to remember forever.
You need to book. Check the weather forecast if you can, pick your best day, and book it. Book Wavelength here. That's the boat we'd choose.
Another nice excursion from Port Douglas is a sunset cruise on either a luxury catamaran, or an old Chinese Junk. Book this activity for one evening of your stay. Use our links above for a best-price booking option.
Mistake #11 Not Seeing The Port Douglas Hinterlands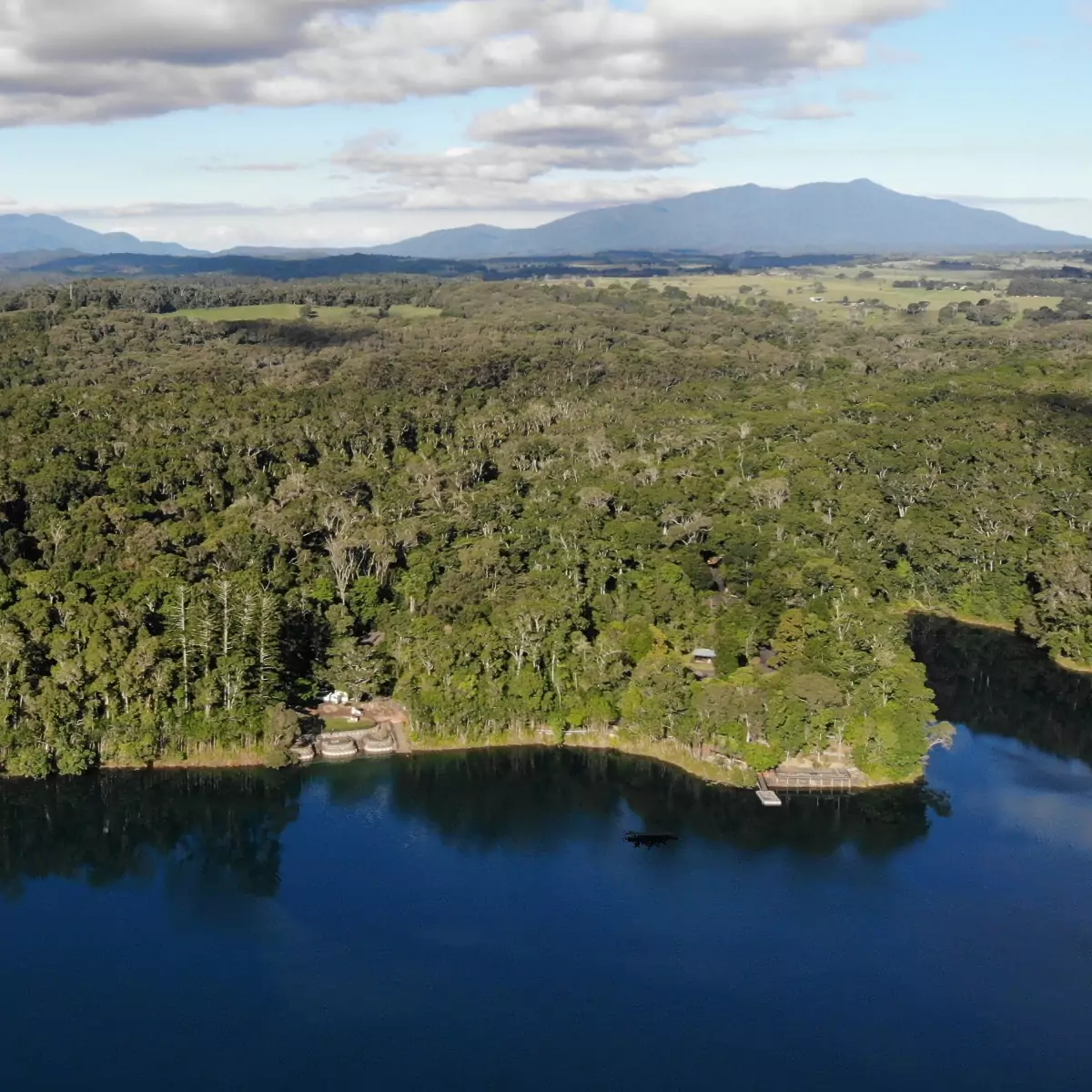 I just published a post about all of the attractions on the Tablelands. It's very different from the hotter, drier coastal strip.
If you want to see real country Australia, or swim in beautiful waterfalls, or even take a hot air balloon ride, come up our way! The Tablelands Guide is here.
Mistake #12 Not Doing Enough Research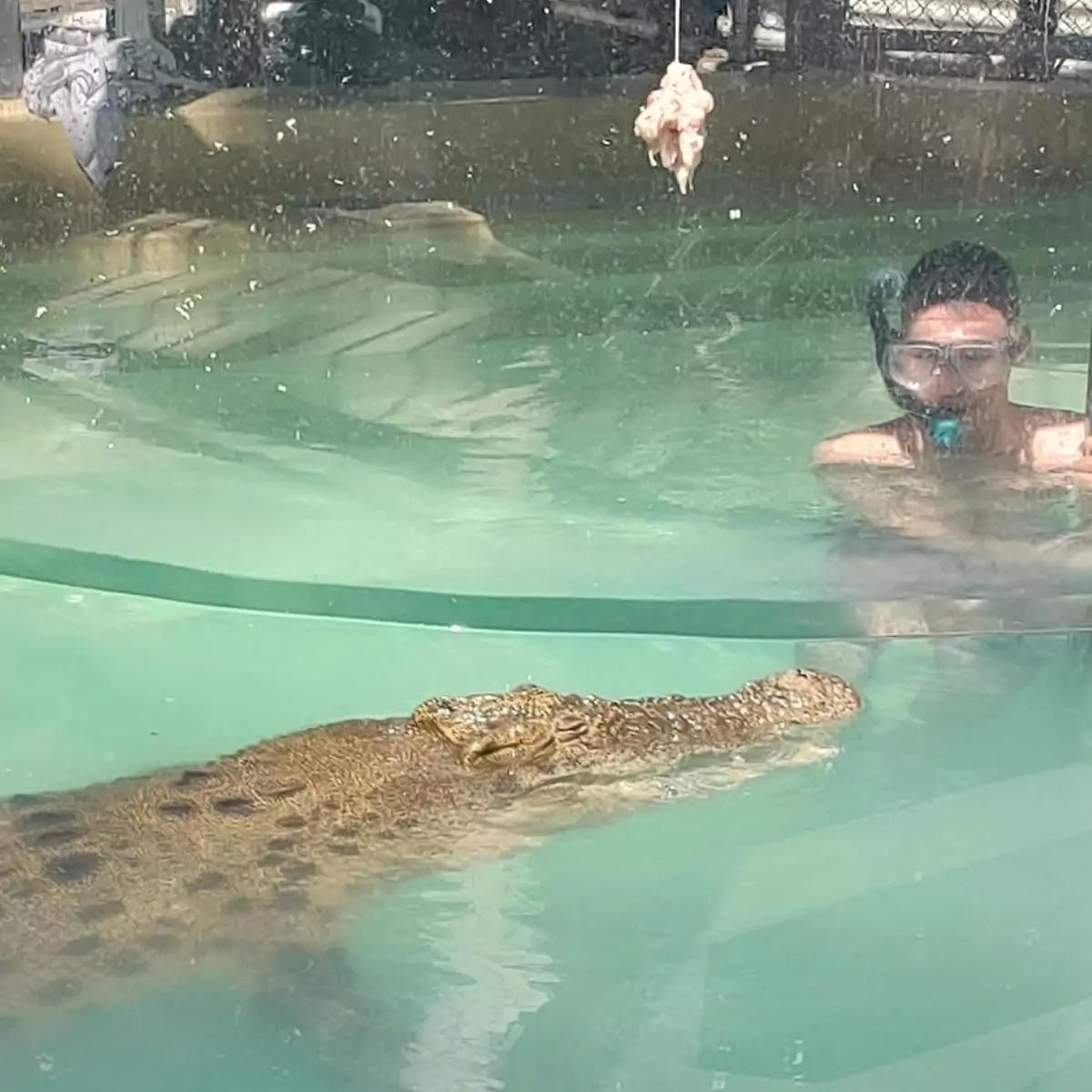 There are just loads of cool things to do in, around, and near Port Douglas. I'll give you some of our guides below.
You need to look at things to see and do in Cairns and decide if Cairns is worth visiting for you. Also look at our post on the best day trips from Port Douglas, then also consider how you will visit the Daintree Rainforest (also Mossman Gorge). Bookmark those 3 posts and you'll have the best trip possible!
Can I remind you to save this post to Pinterest? You may need it again. Thanks.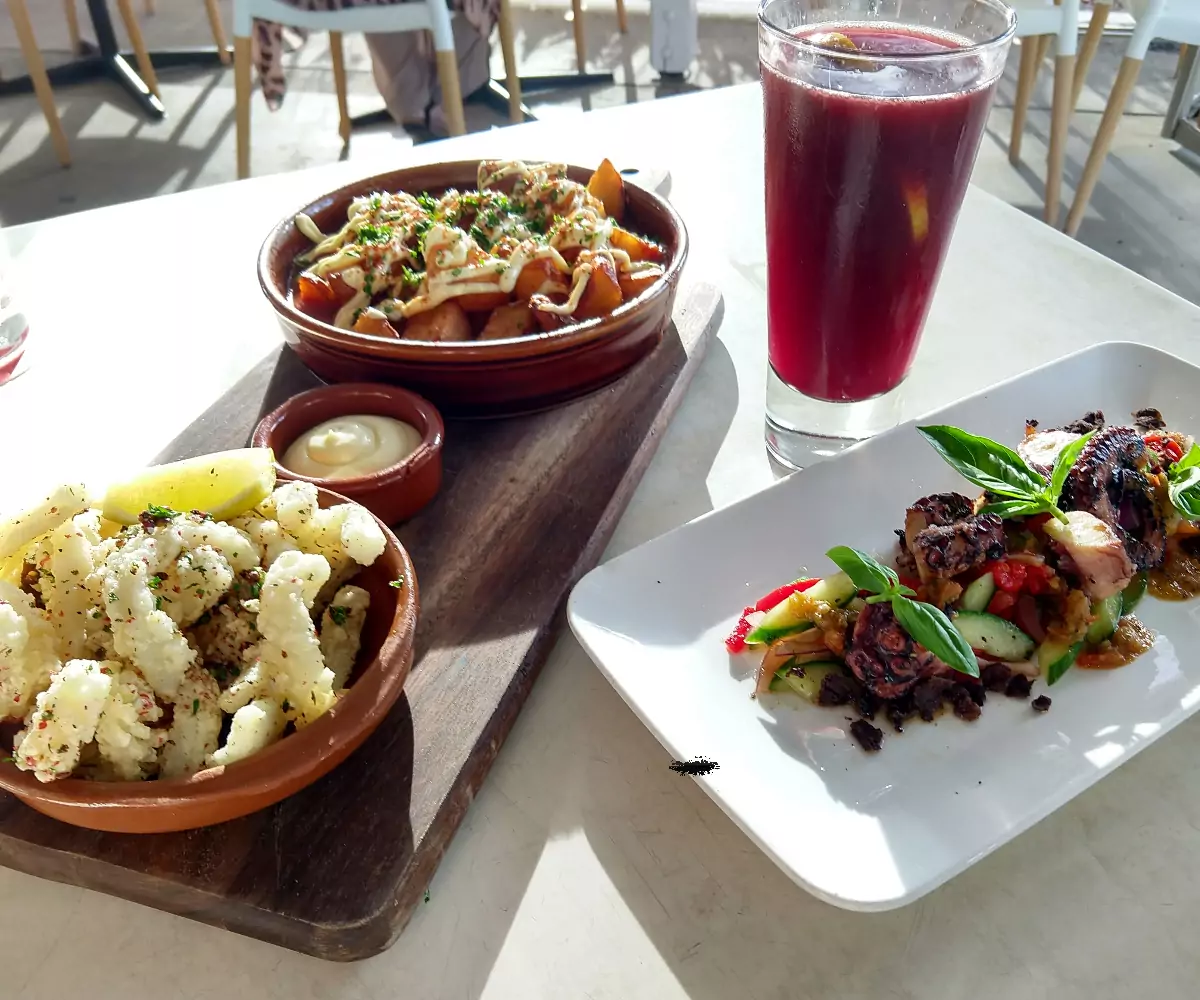 Something else to research is where to eat. There is good food in Port Douglas and some very ordinary food. My husband used to be an executive (head) chef here, he's written this guide to Port Douglas restaurants and we make a point of dining out often and reporting on our findings. See the essential Port Douglas Restaurant guide here.
So that's our tips for visiting Port Douglas, staying safe, and having a great time! If you have any questions about our home, put them in the comments or contact me by email. My email address is on our Contact page.
If you'd like to hire a car during your stay, use this car rental comparison tool to find the best deal!

We also suggest you take a look at this company to get a quote for all kinds of the more tricky adventure or extended travel insurance.

Try Stayz / VRBO for an alternative way to find rentals on homes/apartments/condos in any country!