This post may contain affiliate links.
Planning a family gap year, where to go, destinations, costs, ideas, itinerary, saving for travel, budgets, and our experiences of being on a family gap year. We sold everything to travel the world with kids then aged 6 and 8. Through choice we would never have gone home. We have a wealth of information to share with you below on how to travel the world with kids.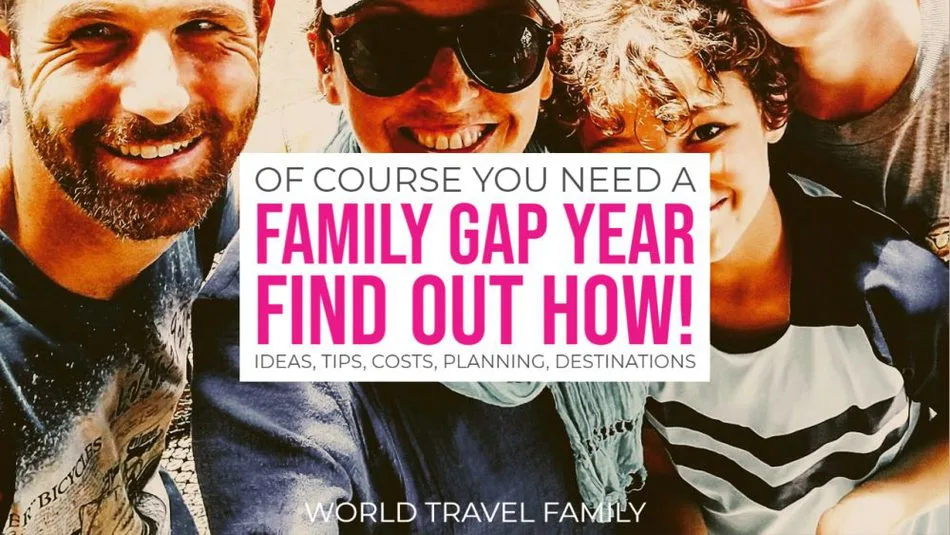 Our family gap year turned into almost 6 years but we can certainly help you plan a one year round the world trip with kids.
Family Gap Year
You can take a family gap year with kids or any age, with a single parent or guardian, or 2.
You can involve friends and relatives. There really are no set rules in taking a family gap year, you can take your family sabbatical, your way.
We started when our kids were 6 and 8 and now they are teens. Or gap year took up most of their childhoods and it was a very good idea.
We need to give you all the tips, ideas and destinations you need to plan your family gap year in multiple blog posts, you will find what you need below.
First some steps or tips. Read these in our video, then dive in.
What is a Family Gap Year?
A gap year is one year, 12 months, a break from work and school to take a sabbatical, to travel.
Families with kids or indeed babies and toddlers take gap years.
I also know of more than one family who took grandparents on a family sabbatical, making their travels multigenerational.
A gap year is a longed-for sabbatical, a break from the daily grind, a time to do something different and be together as a family, to reconnect and explore.
We talk about gap years as being just one year, but families do embark on extended travels for a few months or even several years.
Our family's gap year lasted six, almost seven years. Travel, education, fun, and adventure can be the purpose of a family gap year.
First Steps in Planning a Family Gap Year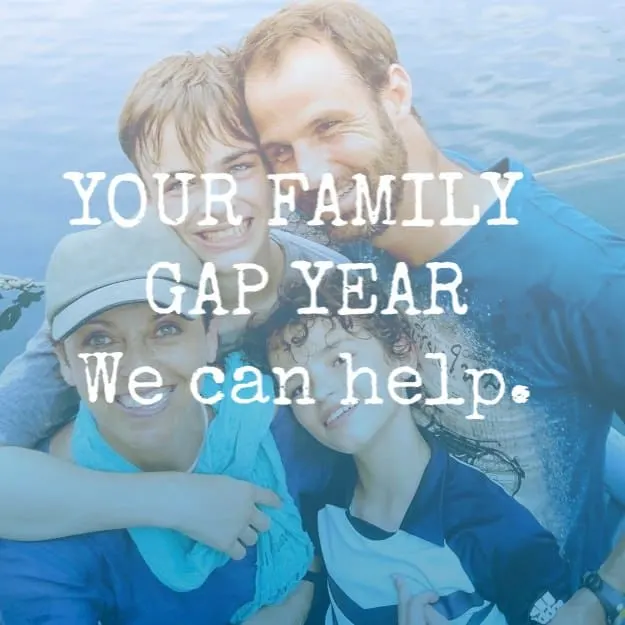 Convince your partner.
Brainstorm destinations. Make a list. A family gap year bucket list if you like, of places you just have to go. ( The destinations we cover on this website lie beyond that "destinations" link or you can find them any time in our top menu. We cover over 50 of the most popular family travel destination countries)
Consider how you're going to escape work, school and mortgage.
How will you pay for it? Most people fund 1 year on savings and selling possessions.
Does it look possible? Set a date. 12 months from now is good.
Tell the world, no going back on your word now!
Start saving like crazy, sell stuff, simplify, minimise.
Think about what you're going to do about your home and possessions. Rent it out? Sell it all? What will be your best option? We had our house rented for 6 years, with just our important possessions stored in the loft. There are pros and cons to every option. Read our post on selling it all to set off and travel.
Get your head around homeschooling, or if you prefer, understand worldschooling. Start being your kids educational facilitator, right now. The sooner you start the better.
Think of creating a remote income stream if your gap year should really be two years, or six. Blogging is good but it's a lot of work and isn't a quick fix. How else could you start an online business or location independent income?
Look into RTW (round the world) tickets or just book a 1-way ticket to anywhere and make up your trip as you go.
Get Insurance! Travel and health cover is vital and will likely be a big expense. Not so many companies will cover gap year, long term or open-ended travel. There is a specialist, this is the insurance company we have used for the last few years on the road.
Start reading through our blog posts below, we have heaps of information to help you plan, visualise and make your family's trip around the world happen.
How To Decide Where To Begin Your Family Gap Year?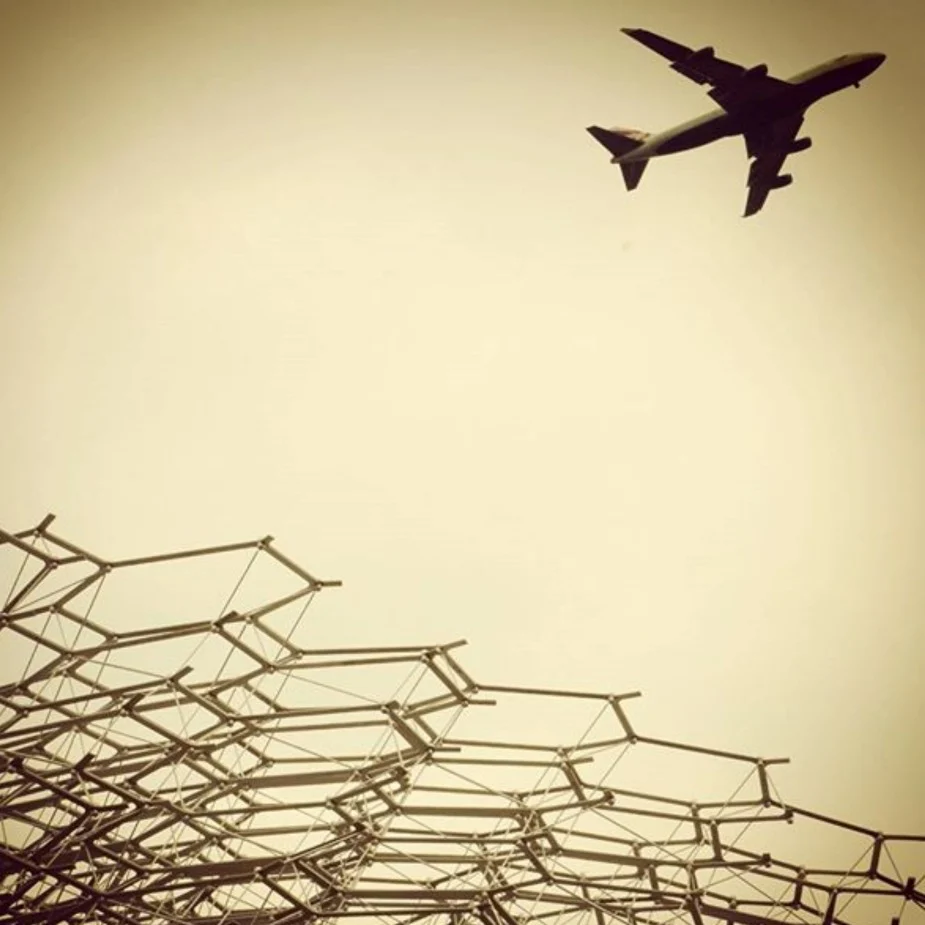 I have one very good tip for you here.
Obviously, your family gap year needs to have a route that makes sense, you don't want to backtrack and travel distances twice, but there's a better way to pick a starting point than throwing darts at a map.
Go to Skyscanner. See which flights, to where, are cheapest. That will give you a great starting point!
This one only works if you're in the US, if you're anywhere else in the world, go to your local Skyscanner, .co.uk, .com.au and so on. Then enter your home airport.
Select "everywhere" as your destination. Hit that "one way" button then search for whole month and cheapest month.
You'll be shown the cheapest months to fly and the cheapest destinations.
This is actually how we plan most of our flights, cost and convenience, plus cheapest days and months to fly.
Budget and Costs For a Family Gap Year
Our family gap year, for 4 people cost us $30,000. This sum included visiting Southeast Asia, Sri Lanka, The UK, a USA Road Trip, Central America and 2 Atlantic cruise crossings.
You can read more detail about real, honest costs in our costs breakdown for one year of travel.
If you're interested in budget travel and how to keep your gap year costs as low as possible we can help you in many ways. Firstly, take a look at our budget travel tips and ideas.
Next, you'll need to figure out how to use Skyscanner to save money and plan the most effective route. Planning is important, see how we go about planning long-term travel, pen and paper, and brainstorming.
You may also like to check out some cost comparisons for one year of travel. There is incredible variation in what people spend and what they consider "budget".
We can also give you tips on how to travel for free, there are a few good hacks, but a lot of them won't work well for families.
Information To Help You Plan Your Family Gap Year Destinations.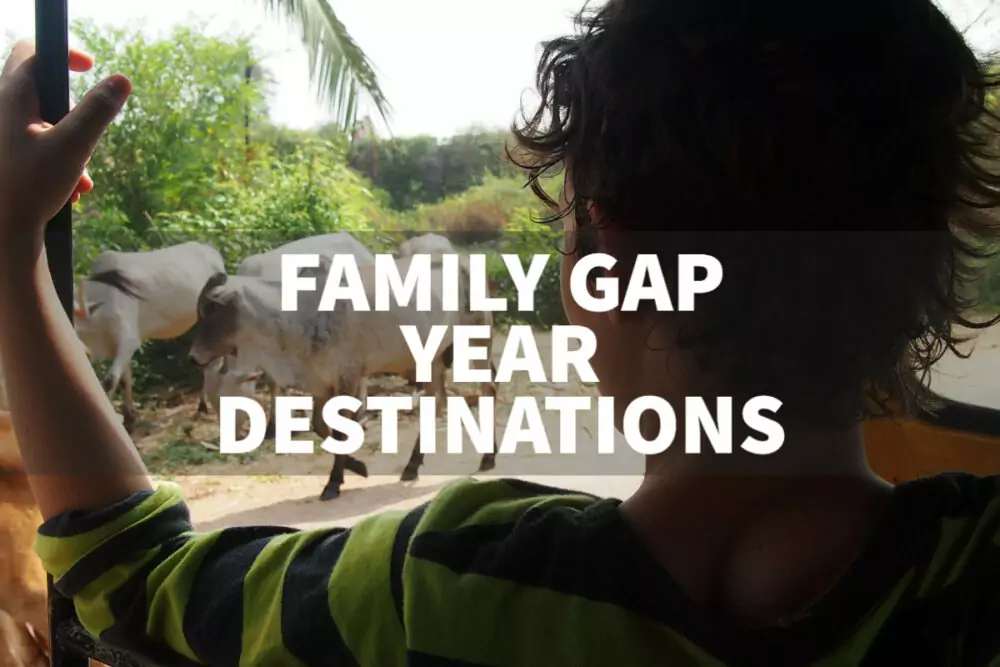 Posts on this site are here to help you plan your itinerary, budget, book anything necessary, and generally prepare.
There are a lot of blog posts and we cover Asia extensively, Europe, Australia, some of Africa and parts of the Americas.
If you use the search function you should be able to find destination-specific posts.
A particularly helpful one would be Southeast Asia with kids, a great place to start thinking about your gap year itinerary.
Some families are more interested in Europe, some want to explore Africa, others want to head to Australia, New Zealand, even Antarctica.
The choice of destinations won't be the same for every family.
I can tell you, for sure, that Southeast Asia is best suited to this style of travel, and is the cheapest and easiest part of the world, with some of the most rewarding destinations.
But maybe your bucket-list of gap year places is different. A top 20 of places to visit during your family gap year, is below.
Obviously, these are just our ideas, but they could give you some inspiration.
Kennedy Space Centre Florida
The Great Barrier Reef, Australia
Sydney Harbour, Australia
Hobbiton, New Zealand
Angkor Wat, Cambodia
Hoi An, Vietnam. A Unesco listed ancient town.
The war museums and tunnels of Vietnam
The Grand Palace in Bangkok
Kathmandu, Nepal
India, Goa and Kerala are probably easiest.
Sri Lanka, for ancient cities and surf beaches
Maldives, a short hop from Sri Lanka.
London, you have to visit London with kids, it's superb!
Tour the ancient sites of Greece.
Venice
Romania – Because it's a hidden gem.
Slovenia, stunning countryside and loads of outdoor activities.
I'd love to rank places on cost and how easy they are to travel, one day I'll create a full chart based on our experiences, I've made a simple table below.
Remember, this is based on our own personal experiences and opinions. You may disagree!
If a country isn't in the chart, we've either not been there, or it's mid-range.
| | | |
| --- | --- | --- |
| Expensive | Cheapest | Next Cheapest |
| Australia | Vietnam | Romania |
| London | Thailand | Hungary |
| Singapore | Laos | Slovenia |
| Scotland | | Cambodia |
| London | | Sri Lanka |
| Bhutan | | Malaysia |
| Tibet | | Nepal |
Of course, budget will be determined by which activities you choose within that country.
Nepal is very cheap, but if you take a 3 week trek and pay for a guide and porters, it suddenly becomes expensive.
Your gear requirements can push costs up too. If you have to buy everyone in the family good hiking boots and Berghaus waterproofs, plus Osprey backpacks, your expenses rise.
Another thing people ask is if a country is child-friendly or not.
I'm yet to come across a country that isn't child-friendly, we all have children. It depends on what you choose to do in those countries.
I think, more importantly, is a country adult-friendly?
Will you parents cope easily or will nerves get frazzled through running into obstacles? Our hardest countries to travel, below, with our reasons.
Egypt. If you're not experienced in haggling and dealing with persistent touts, Egypt could fry your nerves. The traffic is bad, the pollution is bad, one train was disgusting, others were spotless and brand-new. It's incredibly hot, it's normal to visit the big attractions very early to dodge the heat. But we love Egypt, we've been twice, once for a month with kids. Some people struggle. Hotels for regular holiday-makers are great, but at the budget end, not so great.
India. Again, this is a country we love, but others struggle with. It's not as cheap as it was, prices have gone up. Crowds, pushing, shoving, constant attention, I've been groped by random men twice. There is corruption, terrible poverty and you will see things you maybe don't want to see. My younger son was very upset by cripples and lepers begging. If you have a child that feels the suffering of others intensely, it can be rough on them. Accommodation can be bad, but spend big, and it's superb. Open train doors are a major safety issue for your small children and the road death rate is terribly high. Some parts of India still require malaria prophylaxis.
Australia. Don't underestimate the size of Australia. It is huge. As a result of this getting around is expensive and time-consuming. You can't zip around Australia on budget flights as we can in Europe or Asia. Accommodation is expensive, as is food and "things to do". For instance, a trip for our family to the Great Barrier Reef is $800 to $1000. Au. Costs will add up, and getting to Australia is also expensive. Our best flights to Australia are normally from Bali or Kuala Lumpur. We've travelled around by bus and train but your best option would probably be a car or camper van. If you pick a camper van, don't come in summer or get one with good aircon.
Cambodia. I find Cambodia hard because you can still see the scars left by Pol Pot's regime. The Killing Fields, prisons, and human suffering are hard to take and the juxtaposition of neon-lit tourist streets is jarring. This is another country where my son was upset by disfigured beggars. Children, in this case, a very bad experience for him to see things he couldn't understand. Getting around can be hit-or-miss. We've had buses break down and not turn up for hours. It's a very long drive from Bangkok, probably better to fly. We also experienced a 4-day power outage in Cambodia. No water to flush, no fans or aircon, and no ATM machines. But crossing by land from Vietnam was quite the adventure. Angkor Wat is unmissable. We love Cambodia. but it's probably the hardest country in Southeast Asia. You'll see a sharp difference as you cross borders from modern Thailand or Vietnam.
Myanmar. We still haven't been because of ongoing political turmoil.
We hope the information above is helpful. Of course, others may totally disagree, these are just a few of our thoughts, feel free to ask any questions in the comments, or, of course, you can e-mail me.
We used to offer hour-long Zoom consultations (for a fee). If any of you feel strongly that you'd like this help, we can bring that back.
The Age of Your Kids Will Affect Gap Year Plans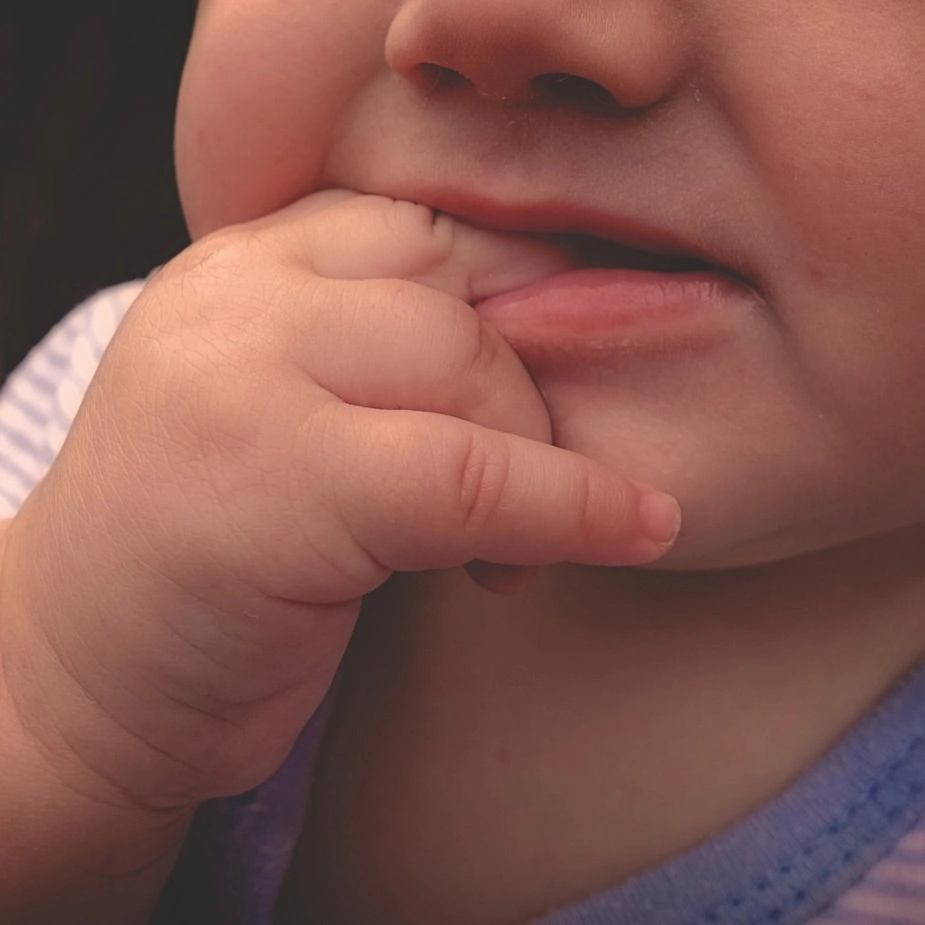 Obviously, we parents have to be mindful of our kids' ages, personalities, interests, and capabilities.
If you have tweens and teens you'll probably be able to take on more adventurous destinations than families with babies and toddlers.
We took our young teens to Everest Base Camp for instance. That's not a walk I'd take with younger kids.
We travelled with our kids from birth to older teens, so we had a good think about the best age to travel with kids.
I wouldn't set off on a gap year to any of the more interesting destinations until a child was old enough to understand basic hygiene.
No fingers in mouths, no crawling on the floor, no touching things they shouldn't. I wouldn't do it.
But people do, all the time and have good experiences.
I'm just going on my own maternal instinct and experiences of having sick babies and toddlers, at home, with my doctor, pharmacist, hospital, and washing machine.
I'd also be very mindful of risk to small children around busy roads, on buses without seat belts, and near deep water.
We had a nasty accident in a hotel room once, involving a glass table-top.
This was in a 5 -star hotel in Sydney and I was a new mum to my first toddler.
All sorts of dangers lurk in unknown hotel rooms, particularly at the budget end. Do a mommy risk assessment as soon as you check-in, every time.
As the years progressed and I found myself travelling, mostly solo, with my 13, 14, 15, 16-year-olds, I wrote this post on how to travel with teenagers and love it.
The key is to respect their needs and who they are.
I love travelling with teens, in many ways it's the best time (our recent trip to Jordan for instance).
However, if your teen is fully embedded into school or social life, you could struggle to get them to leave.
It's not a problem we ever had, my kids have travelled their whole lives, but it's common.
COVID came and changed the world, unfortunately. Yes, we worldschooled our teens to 15, but then we faced a long lockdown in Australia.
They did return to formal education at that point and did amazingly well.
Read about why we quit homeschooling here, and how they carried on with iGCSEs using an online school.
Useful Information For Your Family Gap Year
There are loads of videos on our site to help with your gap year planning. If you use the search function or browse by tag and category you should be able to find everything you need. If you can't reach out to us at contact@worldtravelfamily.com. We have, in the past offered a family gap year planning service and we could possibly help you plan.
Finding The Money To Travel
One of the first-ever posts I published was called finding the money to travel, and it went viral. It's still valid, take a look. It's very closely linked to this one on how families afford to travel the world.
We sold a lot of our possessions, I remember we made $6000 from a week-long garage sale. That said, we kept everything important to us and it went into storage for 6+ years.
Most items survived storage well.
I'd suggest you get rid of as much "stuff" as you possibly can. Storage is expensive.
Our possessions were tucked away in our loft, giving us free storage.
The rent we received from tenants covered most of the bills, but we still had to pay some big expenses, like replacements to air conditioners and the pool pump.
Some families keep their houses, others sell. We kept ours and rented it.
We were blessed with good tenants who paid on time for the entire time we were away.
Should you sell or keep your house? This will depend on individual circumstance. We chose to keep ours but I wished we'd sold.
Homeownership was a millstone around our necks and we eventually had to go back to sell up. And then the world ground to a halt.
We hope you find this information useful. Our website has over 1,000 posts, slowly I'm sifting through them to find which are most useful to you in planning your family gap year.
I'm updating this page often. Bookmark it, maybe to Pinterest, and come back or ask in the comments. What information do you need? We're happy to help if we can.
If you'd like to hire a car during your stay, use this car rental comparison tool to find the best deal!

We also suggest you take a look at this company to get a quote for all kinds of the more tricky adventure or extended travel insurance.

Try Stayz / VRBO for an alternative way to find rentals on homes/apartments/condos in any country!