Planning a family gap year, where to go, destinations, costs, ideas, saving for travel, budgets and our experiences of being on a family gap year. We sold everything to travel the world with kids then aged 6 and 8. We never went home. We have a wealth of information to share with you below.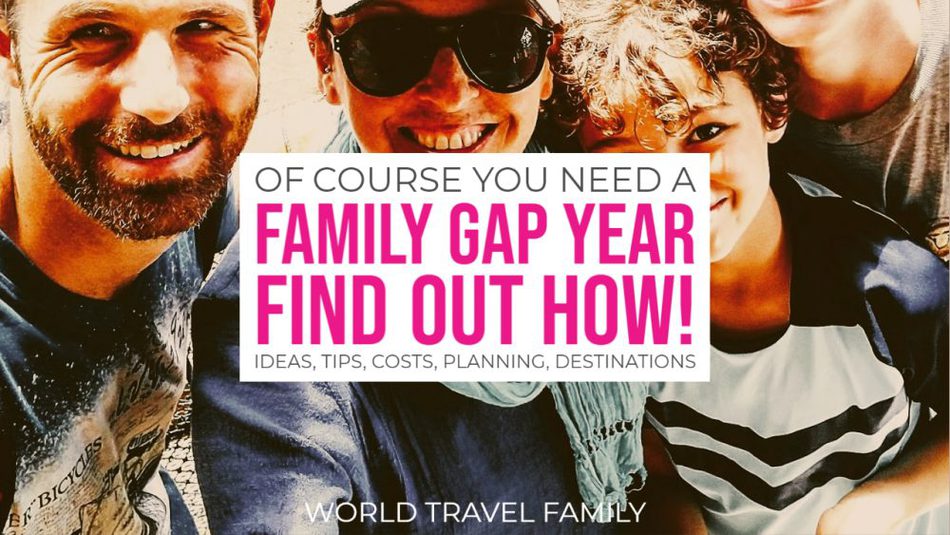 Our family gap year turned into almost 6 years but we can certainly help you plan a one year round the world trip with kids.
Your Family Gap Year
We started when our kids were 6 and 8 and now they are teens. We need to give you all the tips, ideas and destinations you need to plan your family gap year in multiple blog posts, find what you need below. First some steps or tips. Read these, then dive in.
Any post on this site may contain affiliate links. We earn commission on these should you make a purchase. All recommendations are genuine and we are not paid to include products, hotels, and so on.
Planning a Family Gap Year. First Steps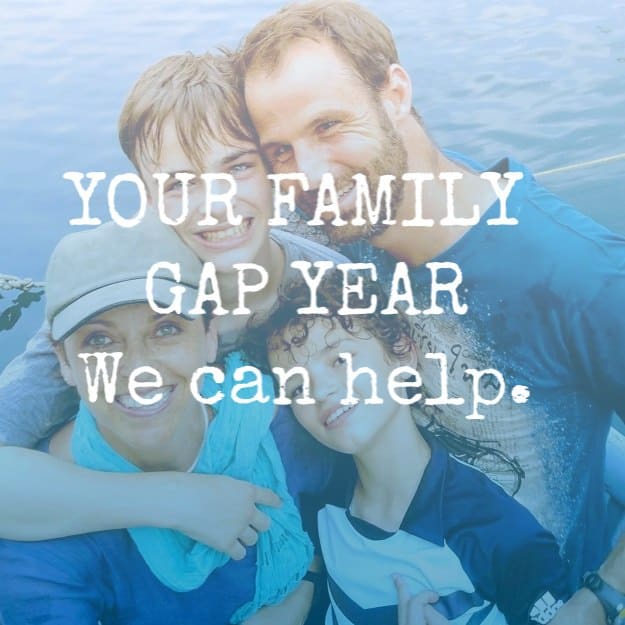 Convince your partner.
Brainstorm destinations. Make a list. A family gap year bucket list if you like, of places you just have to go. ( The destinations we cover on this website lie beyond that "destinations" link or you can find them any time in our top menu. We cover over 50 of the most popular family travel destination countries)
Consider how you're going to escape work, school and mortgage.
How will you pay for it? Most people fund 1 year on savings and selling possessions.
Does it look possible? Set a date. 12 months from now is good.
Tell the world, no going back on your word now!
Start saving like crazy, sell stuff, simplify, minimise.
Get your head around homeschooling, or if you prefer, understand worldschooling. Start being your kids educational facilitator, right now. The sooner you start the better.
Think of creating a remote income stream if your gap year should really be two years, or six. Blogging is good but it's a lot of work and isn't a quick fix. How else could you start an online business or location independent income?
Look into RTW ( round the world) tickets or just book a 1 way ticket to anywhere and make up your trip as you go.
Get Insurance! Travel and health cover is vital and will likely be a big expense. Not so many companies will cover gap year, long term or open-ended travel. There is a specialist, this is the insurance company we have used for the last few years on the road.
Start reading through our blog posts below, we have heaps of information to help you plan, visualise and make your family's trip around the world happen.
Budget and Costs For a Family Gap Year
Our family gap year, for 4 people cost us $30,000. This sum included visiting Southeast Asia, Sri Lanka, The UK, a USA Road Trip, Central America and 2 Atlantic cruise crossings. You can read more detail about real, honest costs in the roundup posts below.
Information To Help You Plan Your Family Gap Year
The posts below are here to help you plan your itinerary, budget, book anything necessary and generally prepare. There are a lot of blog posts below, have a look.
Family Gap Year Planning and Execution
The posts below will help you plan, execute, budget for and enjoy your family gap year. This is a carefully curated list. Bookmark it and come back often as we do add new content regularly.
We hope you find this information useful. Our website has over 1,000 posts, slowly I'm sifting through them to find which are most useful to you in planning your family gap year. I'm updating this page often. Bookmark it and come back or ask in the comments. What information do you need? We're happy to help if we can.
Alyson is the creator of World Travel Family travel blog and is a full-time traveller, blogger and travel writer. A lifetime of wanderlust and now over 7 years on the road, 50+ countries allowed the creation of this website, for you. She has a BSc and worked in pathology before entering the travel arena and creating this website. World Travel Family Travel Blog has been helping you travel more, better and further since 2012, when Alyson and James first had this life changing idea. On this site you can find endless travel information, tips and guides plus how to travel, how to fund travel and how to start your own travel blog.