A list of the best places to visit in Bangkok complete with highlights for shopping, sightseeing, fun things to do for kids, cultural and historic places to see, food experiences and some off-the-beaten-track places to visit. There is a huge amount to see and do in Bangkok that is family-friendly and suitable for people of any age. Bangkok is the best place to visit in Thailand for families because it's so diverse, with loads to see and do, but you'll need our guide to discover these best places to visit. We've also created a map for you with these Bangkok highlights marked.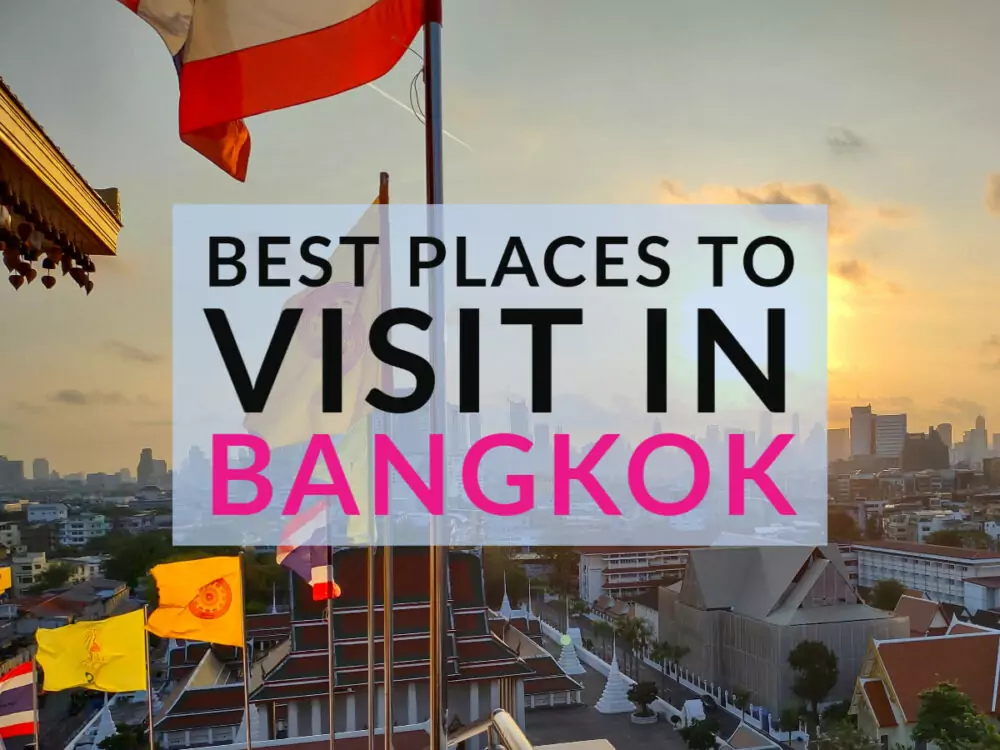 Bangkok is a city with so many facets, so many variables that in 20 years of travel to Thailand, I've still not seen it all, nor had enough.
This post is a guide for new travellers to Bangkok, maybe families with children or teens planning a trip to Thailand, who have no idea what Bangkok has to offer. You'll need our help to find these must-see places in a kind of Bangkok bucket-list of attractions.
I can't include everything but these are some of our favourite things to do in Bangkok with family, some are hidden gems, somewhat off the main tourist track, some are must-sees. We hope you find our guide to places to visit in Bangkok, the capital of Thailand, useful.
Best Places to Visit in Bangkok
The best attractions to visit in Bangkok depend on your family's interests and preferences. As a shortlist of top must-visit places, we recommend the following, The Grand Palace, a boat trip on the river (this could be a dinner cruise or longtail boat tour), the Green Lung, Wat Pho and Wat Arun. You can read about all of these places, plus many more, in our post.
Can you do us a favour and save this pin to Pinterest? Thanks.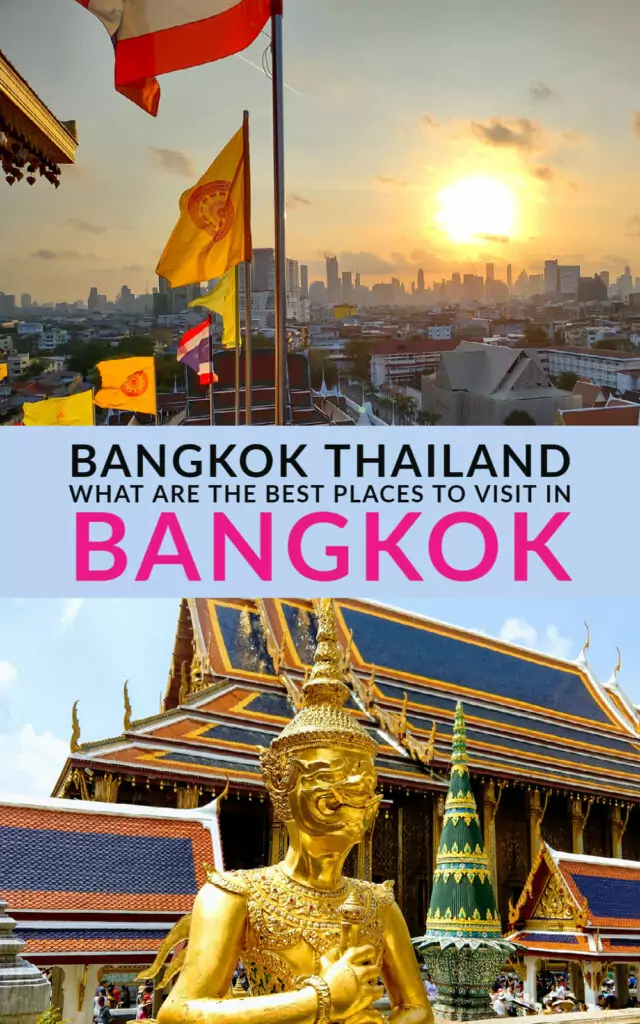 Use this list of interesting places to see in Bangkok to create your itinerary. You can see many of these places by taking a self-guided walking tour or use a vehicle.
It's easy and cheap to visit these places in Bangkok by taxi, Grab car, Uber or tuk tuk. Some parts of Bangkok are also covered by a metro system (BTS). A lot of this is covered in our post on how to get around Thailand.
We almost never use the BTS in Bangkok, it's not necessary to use it for most tourist places.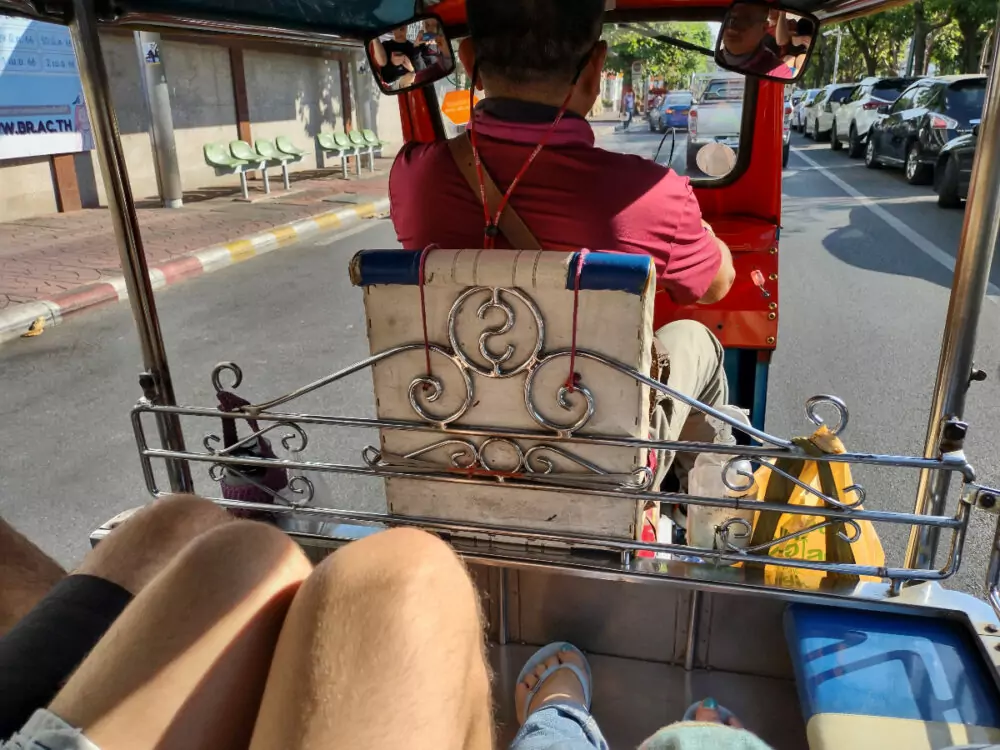 We'll tell you how to get to these places where we can, plus locations on the map, (yes, we made you a map of Bangkok!) admission fees, directions and reference links for further information.
You can also book tours of Bangkok, and from Bangkok, we'll give you booking links on this page, and if you use them, thank you, it helps.
We'll also give you ideas on where to stay near each of these attractions in Bangkok, again, thanks for using our links.
Don't restrict yourself to the big name Bangkok Wats that we mention below in our post. As you explore on foot you will find a Wat almost on every street, go in, take a look, be respectful.
One big tip if you have kids – Pokemon Go can sometimes show you really cool places you'd otherwise miss.
Bangkok's Wats are all stunning and fascinating places to see. There are actually over 400 wats in Bangkok, at least 10 Royal Wats.
You must be dressed respectfully to visit a Wat, cover knees and shoulders and remove your hat. Take off your shoes for any inside areas, shoes are normally kept on your feet in the grounds, so wear shoes you can slip off easily, thongs or flip flops are perfect if you can walk in them. We can, we walk miles in Bangkok in flip flops.
One of Bangkok's Wats has the biggest solid gold Buddha in Thailand, that's at Wat Traimit. Read about that one below.
We've given you admission prices and opening hours for these Bangkok attractions where we can, but do double check them, they can change.
What's special about our Bangkok travel blog is that we actually visit each localtion ourselves and take our own photos to give you genuine first-hand information. We hope you can see the difference, too many travel bloggers today dont. So if you like our approach please do sign up to follow or drop us a comment, we love to chat.
This post may contain affiliate links from which we earn commission.
1. Visit the Grand Palace in Bangkok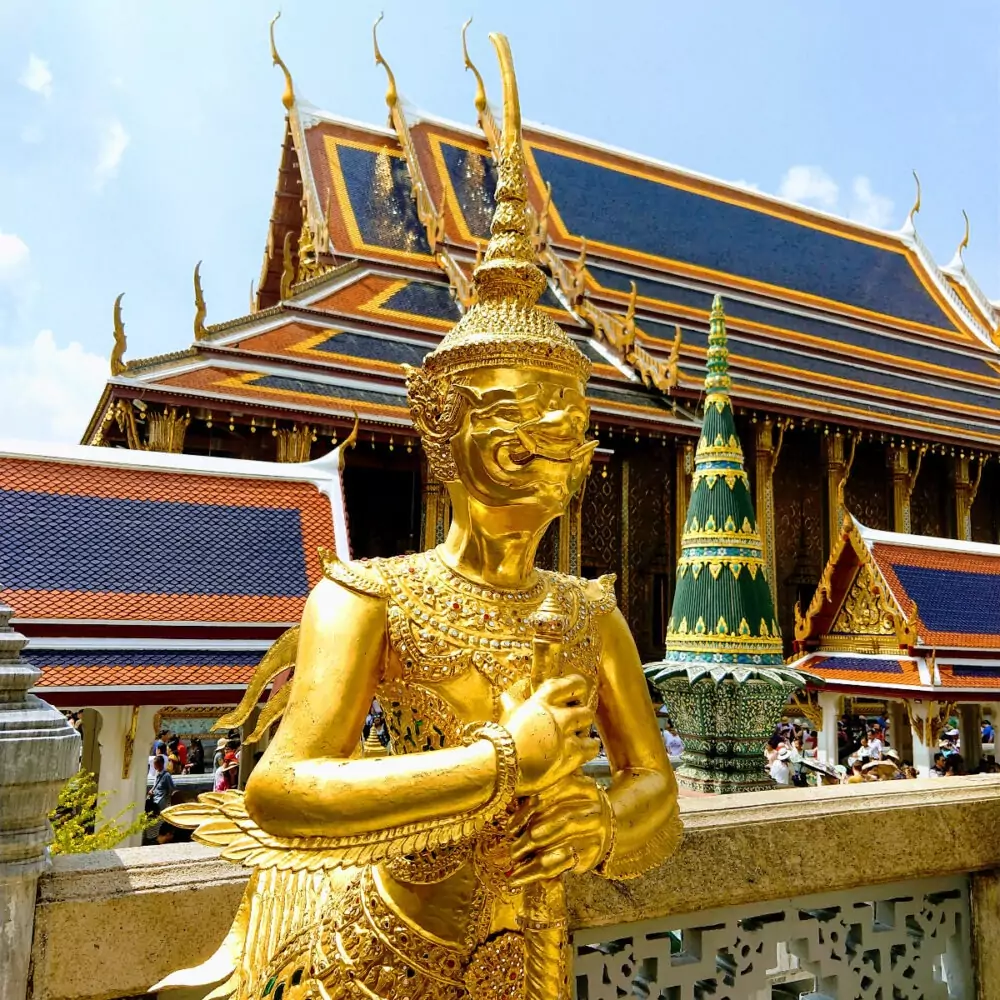 The number 1 best place to visit in Bangkok is the Grand Palace. You can shop and visit beaches anywhere in the world, but there is only one Bangkok and only one incredible, stunning, beautiful Grand Palace.
The old palace was home the dazzling Kings of Thailand since 1782, in the reign of King Rama I and is incredibly ornate and beautiful.
Your visit is likely to be long and hot visit, there will be crowds, so get there early and take your water bottle. (buy a good one here, steel is best in our experience.)
Wat Phra Kaew, the temple of the Emerald Buddha, is within the Grand Palace and covered by your admission charge.
You'll also need to wear suitable clothing, cover legs and shoulders and wear respectable footwear. If you forget and visit the Grand Palace in shorts, sarongs are available at the gate.
Interestingly, the Royal Family moved out of this palace around the time of Rama V. This King constructed the New Palace (below) the old palace, with its collection of magical buildings was too hot, so the story goes.
King Rama IV was the king the musical "The King and I" was based on, by the way, yes he was a real king of Thailand and allegedly had 82 children. (source) Rama V was his son, Chulalongkorn.
We have a whole post on hotels and accommodation near the Grand Palace, it's a good area to stay.
Address: Na Phra Lan Rd, Khwaeng Phra Borom Maha Ratchawang, Khet Phra Nakhon, Krung Thep Maha Nakhon 10200, Thailand
Opening Hours: 8.30am to 3.30pm daily, according to the official website.
Admission Price: 500THB, $15 US, $22 Au, 12 Pounds Sterling for foreigners and non-Thai tourists. Exchange rates do vary, use these prices as a guide only.
Grand Palace Map Location.
2. Visit the New Palace in Bangkok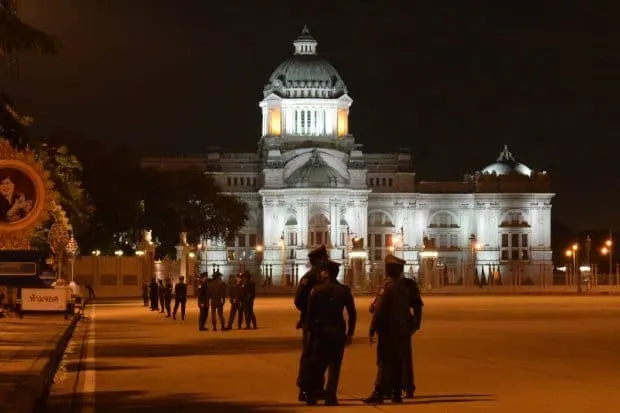 The New Palace (Dusit Palace or Vimanmek Palace) isn't a must-see in the same way as the Old Palace is, I'm including it just for completeness, but it's interesting to see this new Royal residence modelled on Versailles in France.
This new palace is to the north of Phra Nakhon and of Rattanakosin Island. (I'm working on a post about Rattanakosin Island if you're not familiar with that division of Bangkok.)
King Rama V loved to travel and brought French architecture to Bangkok. I haven't been inside as yet but this Royal Palace in Bangkok is open to the public at certain times.
Try to take a look at night, it's very pretty. We took the photo above on an after dark cycle tour which included the New Palace and many Old Bangkok sights.
This tour was free for guests staying at the Old Capitol Bike Inn, you can read our post about our stay there (it was for my 50th birthday, we had a beautiful family room, with excellent breakfast) or take a look at that hotel on Booking.com, or Agoda, we liked it a lot. Links open in a new tab to not interrupt your read.
After-dark tours of Bangkok are very popular because the city is so beautifully lit, you can do these tours by bike or tuk tuk usually, and they can often be combined with food tours.
Book an after dark cycle tour of Bangkok here on Viator, or here on GetYourGuide.
Check out the after dark tours of Bangkok by tuk tuk on GetYourGuide here, or on Viator here.
You can even take an after dark tour of Bangkok by e-scooter now, see it here.
Address: Dusit Palace is in Dusit District of Bangkok and sprawls over a large area, see map.
Opening Hours: The New Palace is open to the public irregularly as it is a Royal Residence. Special events will close this palace.
Admission Price: We're read the 500 Baht admission price for The Grand Palace also includes admission to Dusit Palace (if it is open) but we're unable to confirm this at present.
Map Location For Dusit Palace Here
3. See Bangkok's Giant Swing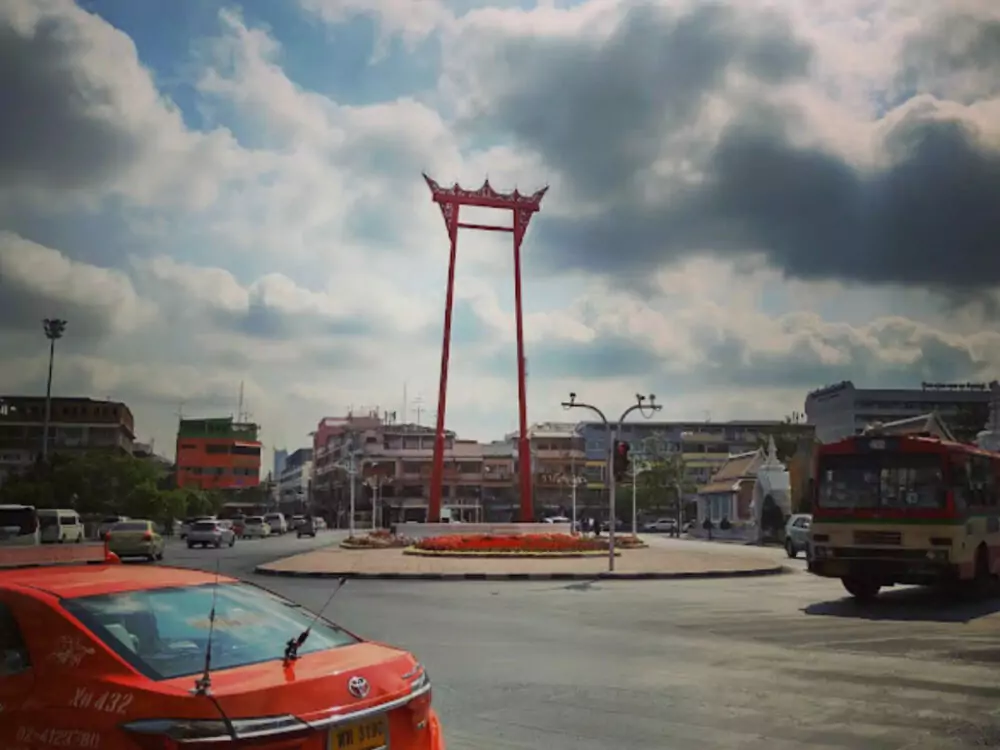 The Giant Swing is a historic monument in Old Bangkok located at what was considered to be the exact centre of old Bangkok. This swing was used as a swing in a religious ceremony (The Brahmin Ceremony) and is a reputation of the stability and peace of the city.
The Giant Swing (known locally as Sao Chingcha) was commissioned in the reign of King Rama 1, Phraphutthayotfa Chulalok, (born 1737, in Ayutthaya, Siam—died 1809 in Bangkok). It was used for a Brahmin New Year ceremony called Triyampawai and Tripawai.
The swing is no longer used for the ceremony after too many deaths and injuries amongst the participants. It was last used in 1935. The swing you see today is a recreation of the much older wooden swing which became damaged by lighting very early in its existence.
It is a centre of worship in its own right for the people of Bangkok.
The Giant Swing is worth seeing but not something to go out of your way to see. It's lit up at night and looks quite spectacular.
You will probably pass the Giant Swing in a taxi or tuk tuk at some point, or simply add it to your self-guided walking tour of old Bangkok.
The street that approaches the Giant Swing is interesting in that the shops specialise in religious items it's best to walk this way, along Dinso Road, to the Giant Swing if you can.
The start of Dinso Rd is at The Bangkok Democracy Monument and this road will take you straight to The Giant Swing, see below.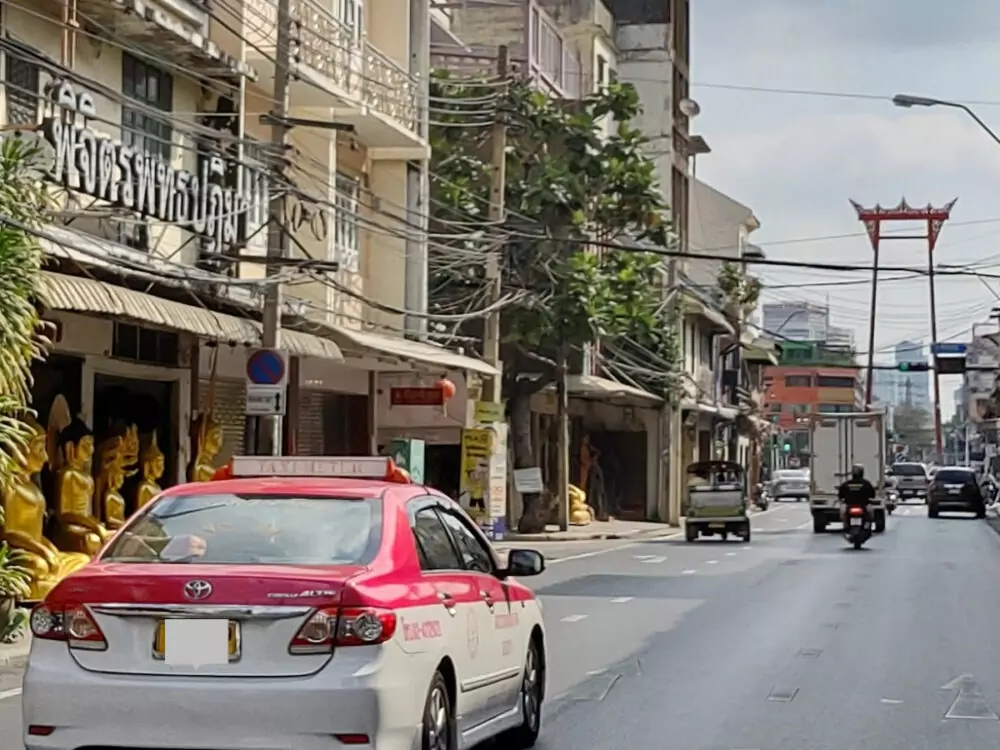 You should see many huge golden Buddhas lining the street outside rows of old shop houses, this is Dinso Road. It, and the Giant Swing are on Rattanakosin Island or Bangkok's old town zone in the Phra Nakhon district of Bangkok.
Directly behind Bangkok's giant swing is another large Wat, this is Wat Sutat Thepwararam, this Wat was constructed next to the swing to symbolise the importance of both Buddhism and Hinduism in Bangkok and in Thailand.
There are a number of Hindu shrines and Temples nearby too.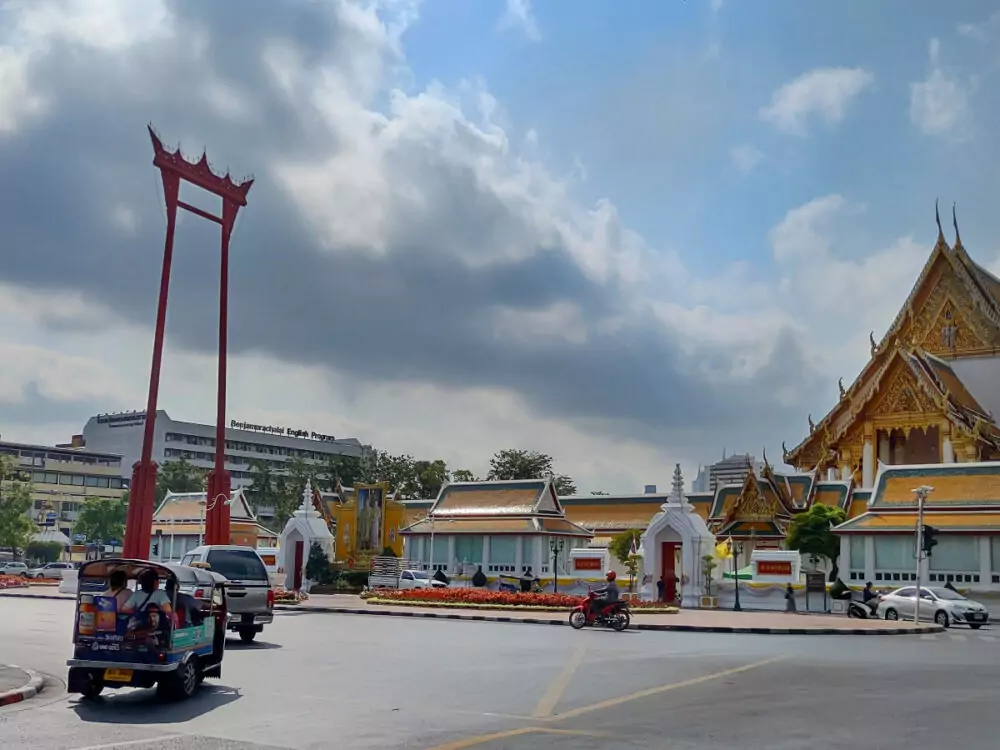 The full name of Wat Sutat Thempwararam is Wat Suthat Thepwararam Ratchaworamahawihan, admission is free for Thai people, tourists and foreigners need to buy an admission ticket, price, 20 Baht.
The admission fee may change.
Wat Sutat Thempwararan also known as the Golden Swing Temple is worth visiting as it is one of the oldest and largest Royal temples in Bangkok. It's interior is magnificent. If you have plenty of time in Bangkok you should certainly see this Wat and the Golden Swing Area.
There are several famous old restaurants and street food stalls in the area around the Giant Swing, plus plenty of new modern food outlets.
Nai Ouan restaurant has been famous for serving delicious Yen Ta Fo (or Yentafo) Bateng (pink noodle soup with fishballs) for 50+ years, Rad Na Ching Kee restaurant, serving bowls of Rad Na (Thai/Chinese noodles with pork gravy) for more than 80 years and a branch of Mont Nomsod (a chain dating back to 1964) serves sweet snacks like toast or bread with sweet toppings nearby on Dinso Rd.
On our most recent trip to Bangkok we stayed in a very nice family room (with teens) in a hostel, it was a budget option but we liked the location a lot, it allowed us to visit the Golden Mount (below) for those incredible dawn views and the Democracy Monument, Giant Swing, Khao San etc were an easy walk away. Check out this hostel here on Booking dot com, here on Agoda.
Giant Swing Address: 239 Dinso Rd, Bang Khun Phrom, Khet Phra Nakhon, Krung Thep Maha Nakhon 10200, Thailand
Opening Hours: Always open
Admission Price: Free
Map Location For Giant Swing Here. (opens in new tab)
4. See Bangkok's Democracy Monument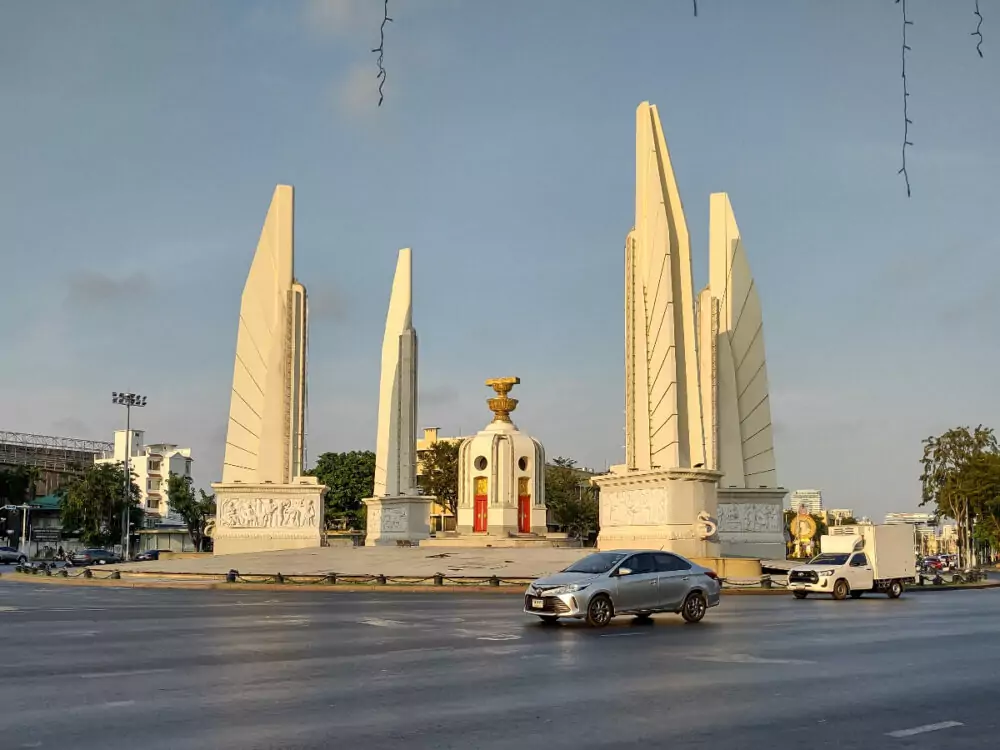 Bangkok's Democracy Monument is in the centre of a traffic roundabout on Ratchadamnoen Rd, one of Bangkok's main roads. It is at the start of Dinso Rd, that will take you to The Giant Swing and Giant Swing Temple, past fascinating shops selling religious items.
The Democracy monument is beautifully lit at night and will be included in many Bangkok after dark tours.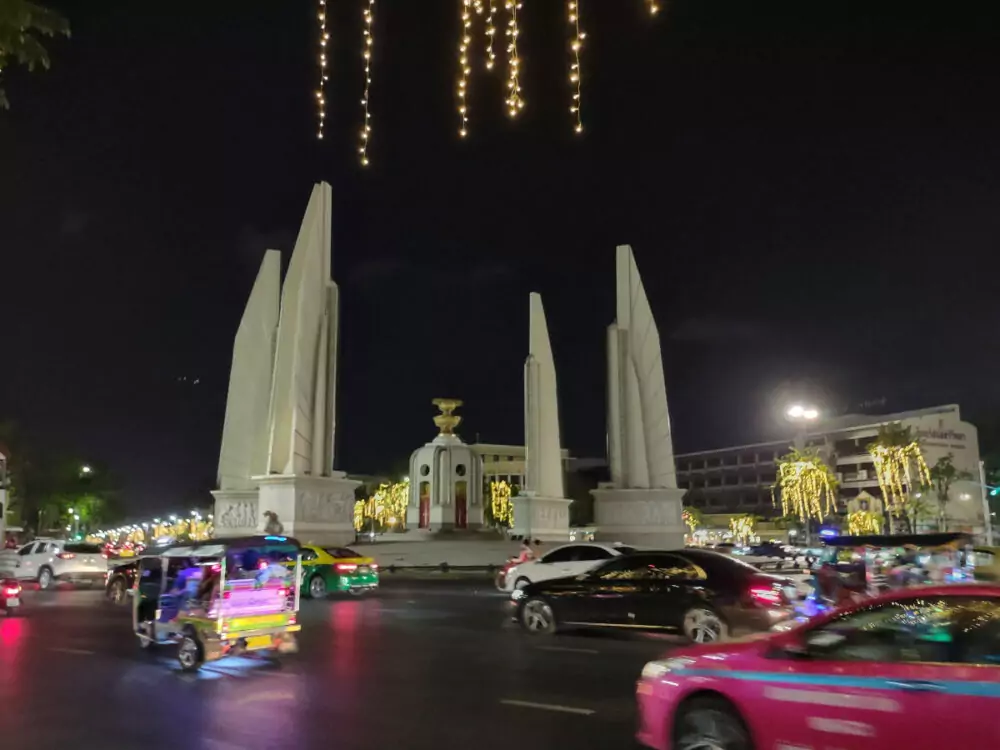 It's not something to go out of your way to see, but is worth taking a look, by day or night. If you're walking from the Khao San Rd Area to The Giant Swing it's best to walk this way and cross at the pedestrian crossings near the monument.
Map Location Democracy Monument Bangkok Here (Opens in new tab)
5. Visit the Golden Mount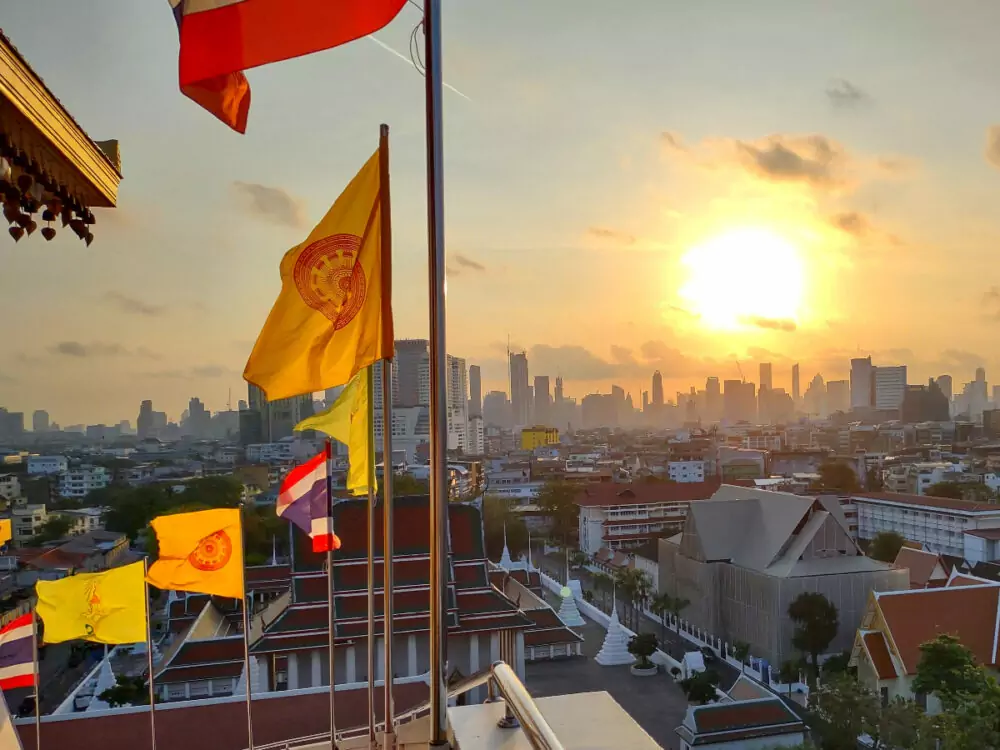 The Golden Mount in Bangkok is well worth visiting, particularly if you can get there for dawn for incredible views of sunrise over Bangkok. The whole of Bangkok is indeed golden.
The Golden Mount is not technically open for dawn, but the gates were open and locals told us to go ahead and start climbing.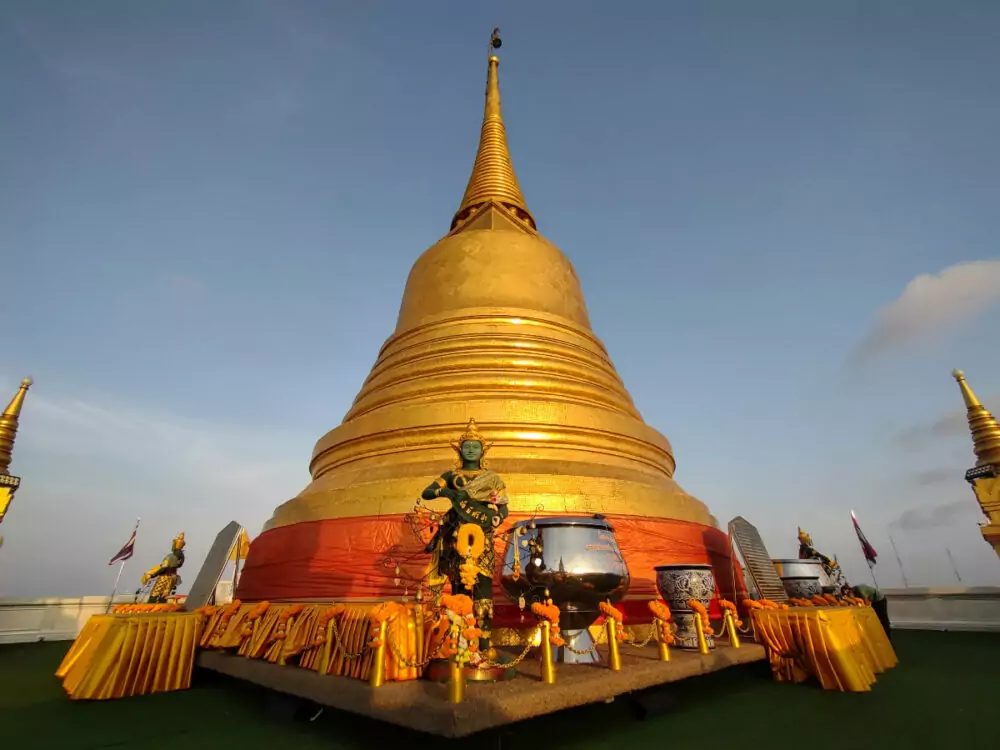 I've never included this Bangkok attraction in a "things to do in Bangkok" post before, I didn't think it was a stand out attraction, but visiting at dawn was phenomenal. Sunset must be nice too, if you can get in, so give it a go.
Of course this attraction, being a religious site, is free for locals, there is an admission charge for farangs, and an attendant at the top did spot us and make us buy a ticket.
All was fine, we got in early before official opening hours to take in the view, and paid the price, it was worth it.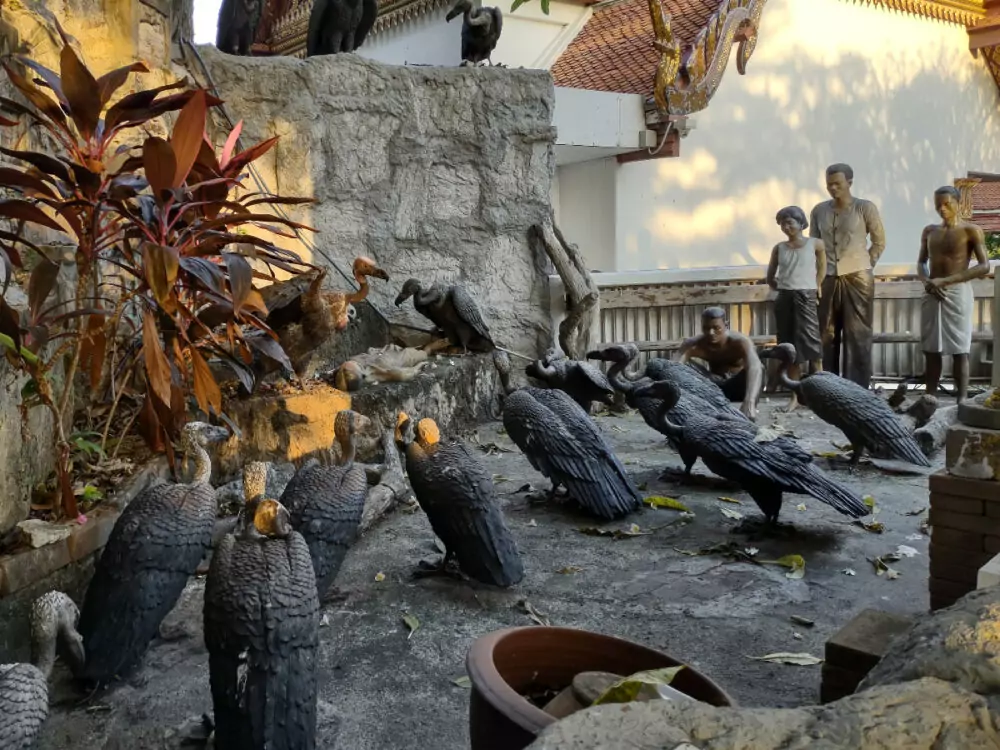 This site is pretty big, so to fully explore it you could allow an hour or two, or you could just take a quick look and climb to the top. There are a lot of steps so this one isn't for you if you have mobility issues, there's no easy access.
After our climb we enjoyed a very nice (not cheap) breakfast at a klong-side café nearby, Duklong Café and Eat. They served western and Thai style breakfasts. It's marked on our map.
The Golden Mount (Phu Khao Thong) is also called the Golden Mountain and is in the same location as Wat Saket. Wat Saket is a historic temple and monument dating from the Ayutthaya Period (1400s). The Golden Mount itself was added in the reign of King Rama V (1800s).
The structure is actually a man-made artificial hill topped with a golden chedi and adorned with various statues and scenes of religious and historic significance.
Address: Phu Khao Thong off Th Boriphat. 344 Chakkraphatdiphong Road Pom Prap Sattru Phai, Bangkok.
Golden Mount Opening Hours: The Golden Mount is officially open from 7.30am to 5.30am.
Admission Price: The Golden Mount is free for Thai people, Foreigners pay a ticket price of 50 Baht (50THB= $1.50 US, $2.19 Au, 1.35 Euro, 1.19 pounds sterling at time of writing.)
Where is the Golden Mount on the map of Bangkok? Here. (new tab)
6. Visit Wat Ratchabophit And Bangkok's Royal Cemetery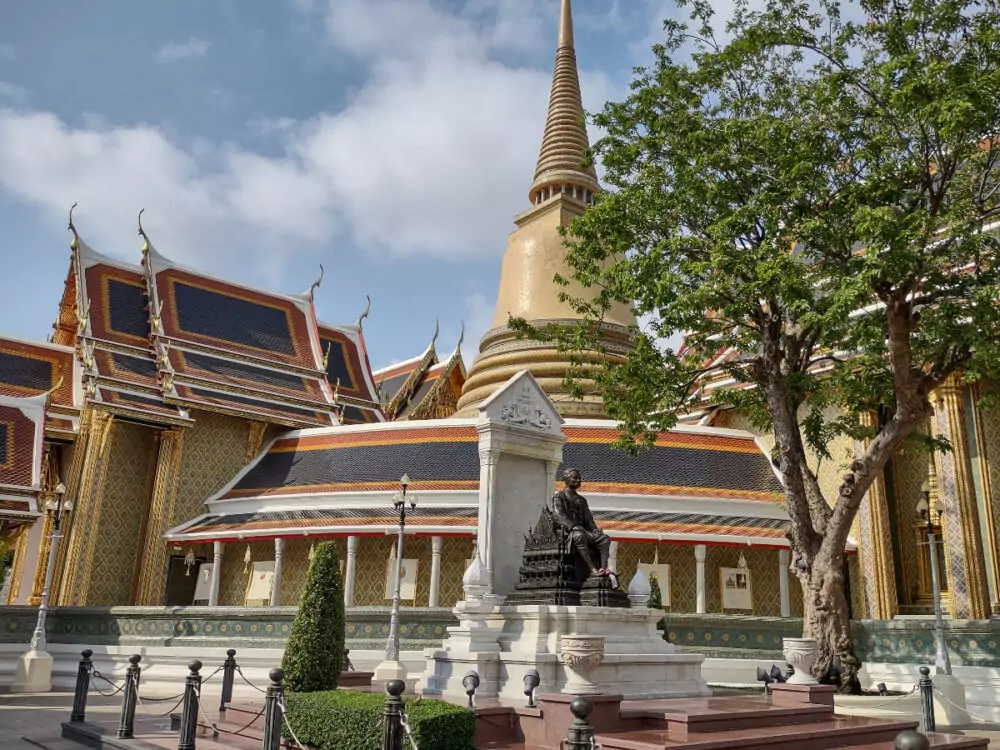 Wat Ratchabophit is a stunningly beautiful temple in Bangkok featuring ornate mosaic work (photo below)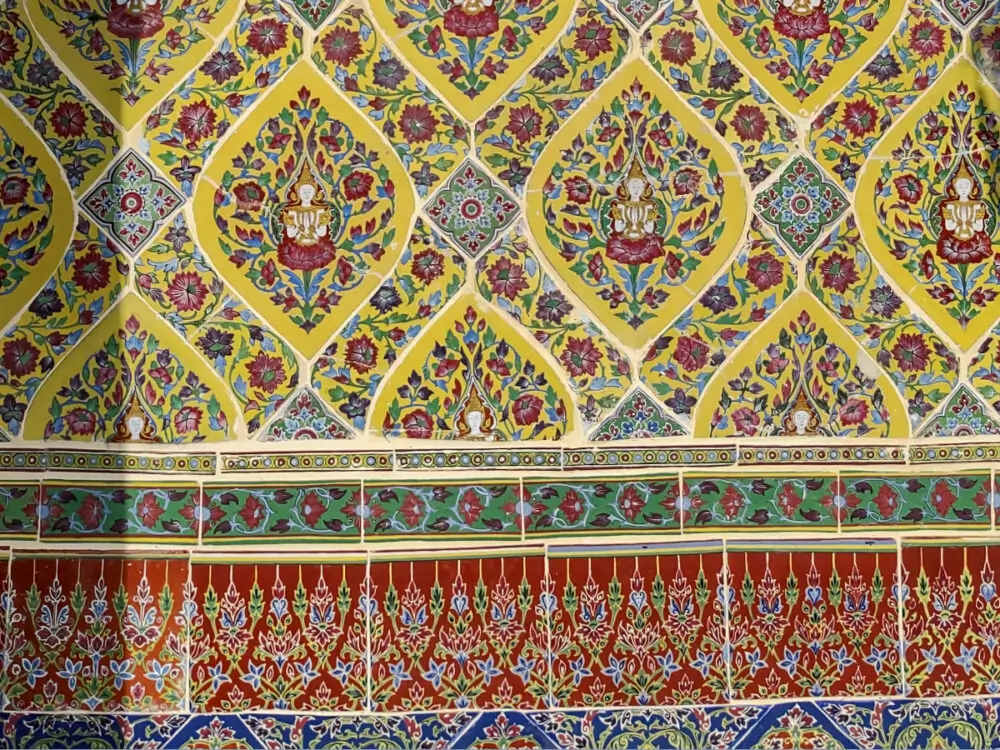 If you're on a tight budget you'll be pleased to know that Wat Ratchabophit is free to enter and that its an easy walk from the Khao San area of Bangkok again in the Phra Nakhon district of Bangkok on Rattanakosin Island.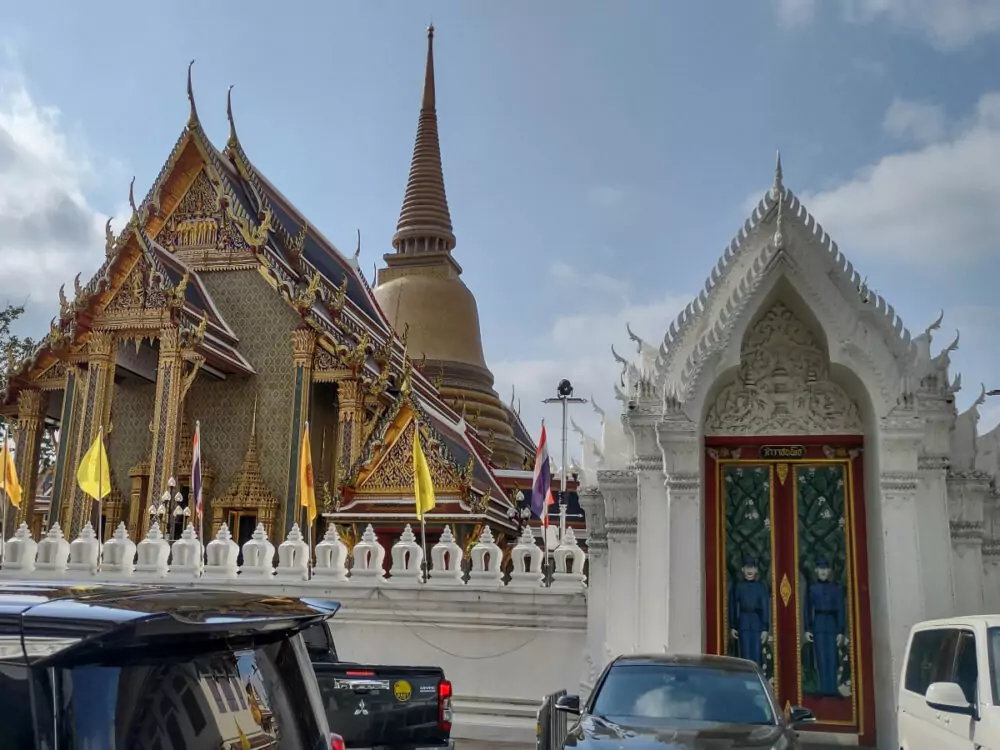 One of its entrances is on Ratchabophit Rd, the gates with the figures in the photo below.
There is another entrance (the western entrance) gives visitors access to the Royal Cemetery area and an entrance on Fueang Nakhon Rd
Address: 2 Fueang Nakhon Rd, แขวง วัดราชบพิธ Phra Nakhon, Bangkok 10200, Thailand
Opening Hours: About 8am to 6pm
Admission Price: Free
Map Location.
7. Visit Markets in Bangkok
There is a video on our site about haggling in Bangkok shows my then 8-year old practicing his haggling skills. It's very easy, just keep smiling.
You will need to haggle at most market-style stalls (and with taxi or tuk-tuk drivers without a meter) but most shops will be fixed price.
You will find market stalls and small shops around the Khao San Rd area in the evening, but there aren't nearly as many as there used to be.
If you want a big market, go the Chatuchak Market. We have never visited becaause we've always been able to buy whatever we needed elsewhere in Bangkok.
Chatuchak Market is only open on weekends. More to come on this.
8. Visit Dusit Zoo Bangkok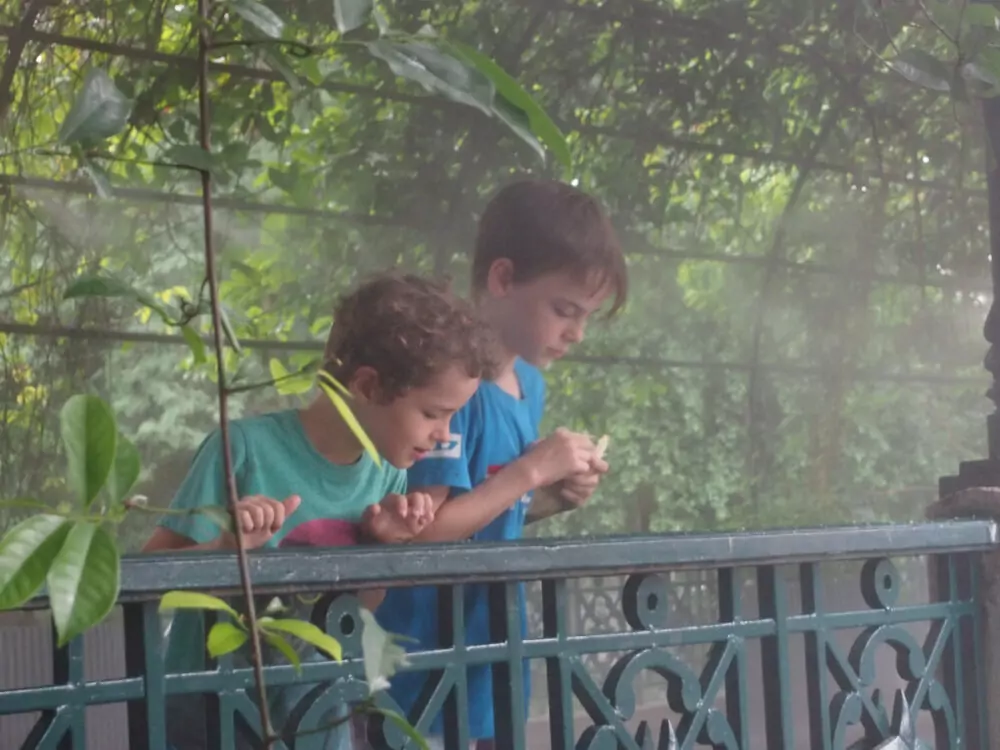 The Bangkok Zoo, Dusit Zoo, should be a family pleaser. It's not the worst zoo in the world and it's not the best, but if you're looking for a good place for kids to have a run-around and have a family day out, this works.
There is a boating lake and playground for small children. Dusit Zoo is almost opposite the New Palace in Dusit, to the north of Rattanakosin Island.
In our post on Dusit Zoo we describe two unusual attractions, the two-headed turtle and shark fishing, without hooks.
Address: Dusit Zoo, Khao Din Park, 71 Rama V Rd. Dusit Bangkok 10300
Opening Hours
Admission Price: Adults 100 Baht, Children over 135cm 20 THB, Students 50 Baht. (Check prices here.)
Map Location for Dusit Zoo.
9. Visit Wat Arun in Bangkok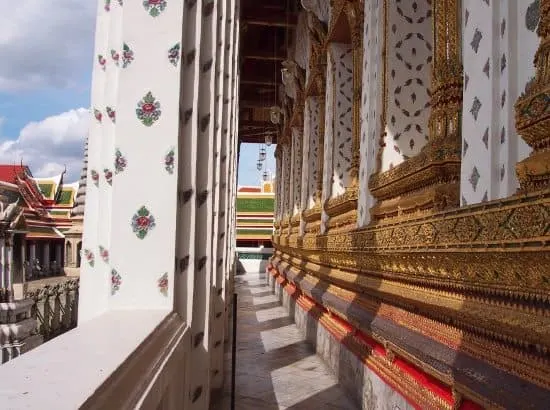 Wat Arun, also called the Temple of the Dawn is right on the riverbank, almost opposite the Grand Palace and Wat Pho.
There are several big-draw Wats that you need to see in Bangkok. The bigger Wats have an admission charge. Children are free if they are shorter than the ticket office desk, usually.
Most Wats will be free, so just exploring Bangkok on foot, stopping at any interesting Wats you see, is a free thing to do in Bangkok. There are an incredible number of beautiful temples and monasteries, I couldn't possibly list them all.
We have a full post about Wat Arun here.
10. Visit Wat Pho in Bangkok
Wat Pho, the temple of the Reclining Buddha. The Wat's full name is Wat Phra Chetuphon Wimon Mangkhalaram Rajwaramahawihan and the golden reclining Buddha is 43m long and encrusted with gold and mother of pearl.
We have a full post about Wat Pho here.
11. Visit River City Bangkok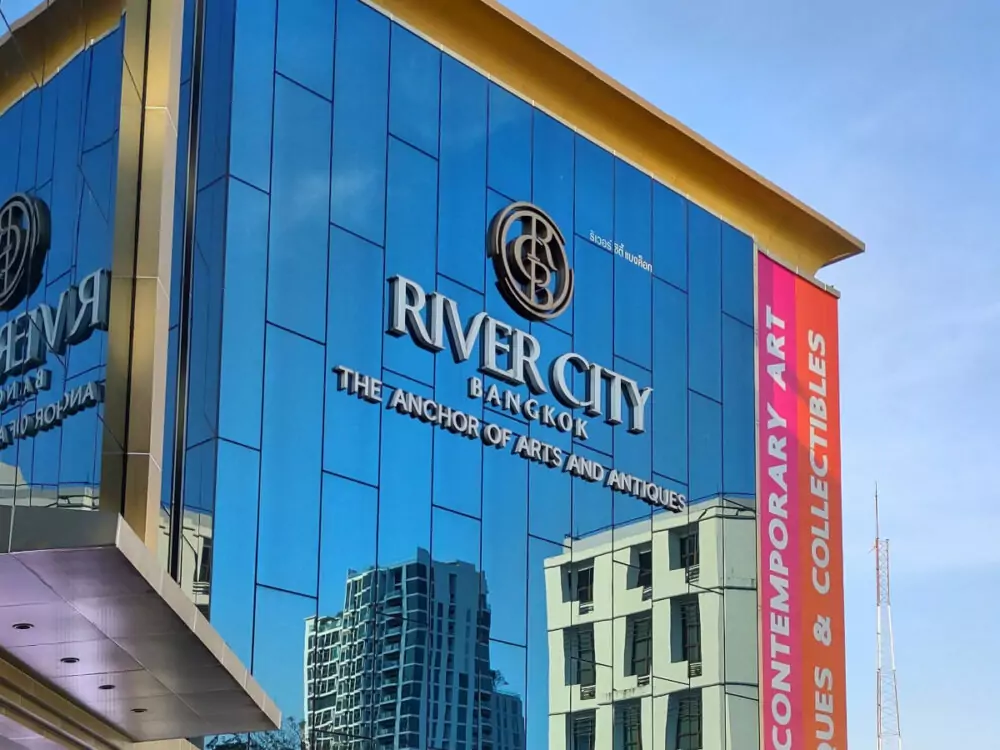 River City is a relatively new Bangkok attraction (opening 1st December 1984), on the river, which we visited for the first time this year.
Billed as Bangkok's art and antiques hub, River City's main function is that of auction house, but the interior is mall-like, with huge glass fronted shop-like subdivisions, aile collecters' showcases.
this place is full of the interesting and the quirky, with all types of art and antiques on display from all over Asia.
This one doesn't fall into the "must visit in Bangkok for first timers" category but it's certainly worth your time.
It's almost opposite Bankok IconSiam, and adjacent to pier, we marked it on our Bangkok map.
12. Explore Bangkok's Green Lung (By Bike)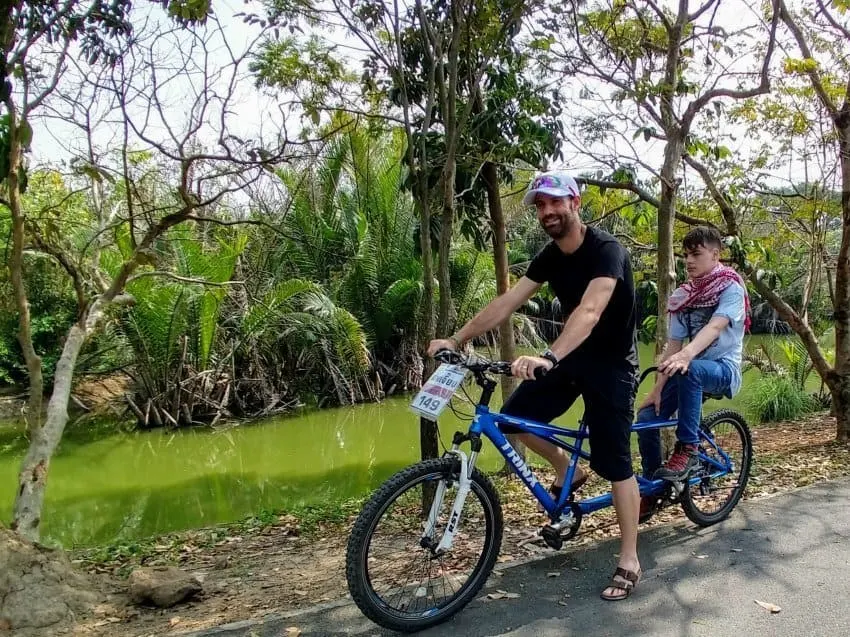 Bangkok's Green Lung (an area called Phra Pradaeng or Prapaedeng) is a part of central Bangkok that most tourists never see but that is popular with local visitors. Take a little ferry boat (around 20 Baht from Klong Toey Port) to this island of green wetlands stuck in a loop of the Chao Phraya River.
On arrival grab a bike and explore.
You'll find temples, conservation area, fighting fish museums, towers for viewing birds and greenery (Bang Krachao Park), even a weekend floating market. Bangkok's Green Lung is a trip well worth doing.
Bike hire is normally included in the fee you pay to the boat lady. This is a welcome, calm antidote to Bangkok's bustle. There are a few restaurants and cafes over there to grab lunch. There is a famous hotel come guest house within the Green Lung area, check out the Bangkok Tree House here.
13. Visit a Hindu Temple in Bangkok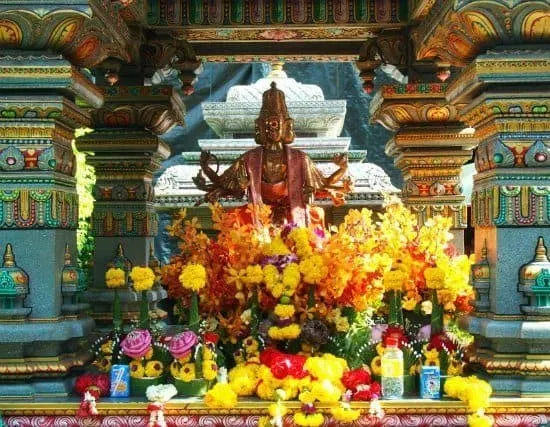 If you've never seen a brightly painted, ornately sculpted Hindu temple, now is your chance. This one is in the Silom district of Bangkok, on the corner of Pan Rd. This street just happens to house one of our favourite hostels. Pan Rd has excellent vegetarian food too.
14. Visit Bangkok's Waterways by Long Tail Boat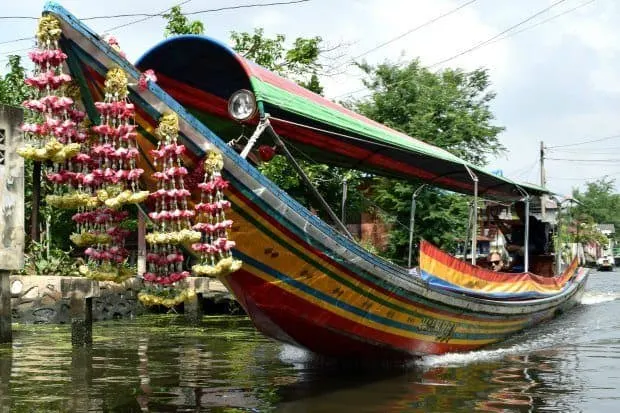 The Chao Phraya river is large and choppy, it flows through the heart of Bangkok and is a busy thoroughfare.
Find yourself a long tail boat driver and get him to take you on a tour of the khlongs, the waterways behind the main river. You'll need to haggle. There will be drivers hanging about at most piers, just ask one of the ticket sellers.
Alternatively, book a tour, this gives you a fixed price and no dramas. Book a long tail boat tour of Bangkok's backwaters and klongs here.
You'll see a way of life, a style of building, that would seem to belong in Bangkok's past, but still exists if you take the time to look. Watch out for giant monitor lizards too, you'll find them in all of Bangkok's khlongs and lakes.
15. Visit Bangkok's Chinatown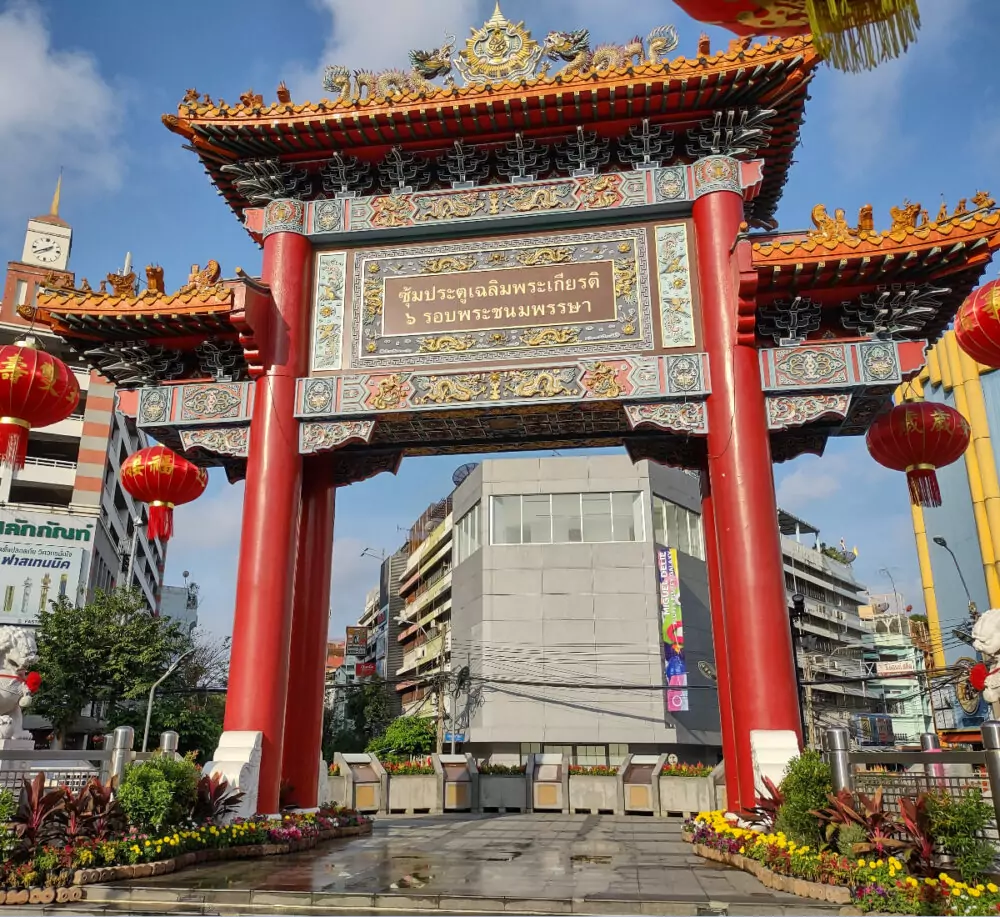 I have to admit, I'm not the biggest fan of Bangok's Chinatown, which is why I hadn't been here in over 20 years. But we did visit on our most recent trip for several reasons.
I did it for you, to check it out and to take photos of Bangkok Chinatown, night and day, to see the huge red gate, which I took a photo of (above) and to visit Wat Traimit (next section) which is right opposite said gate.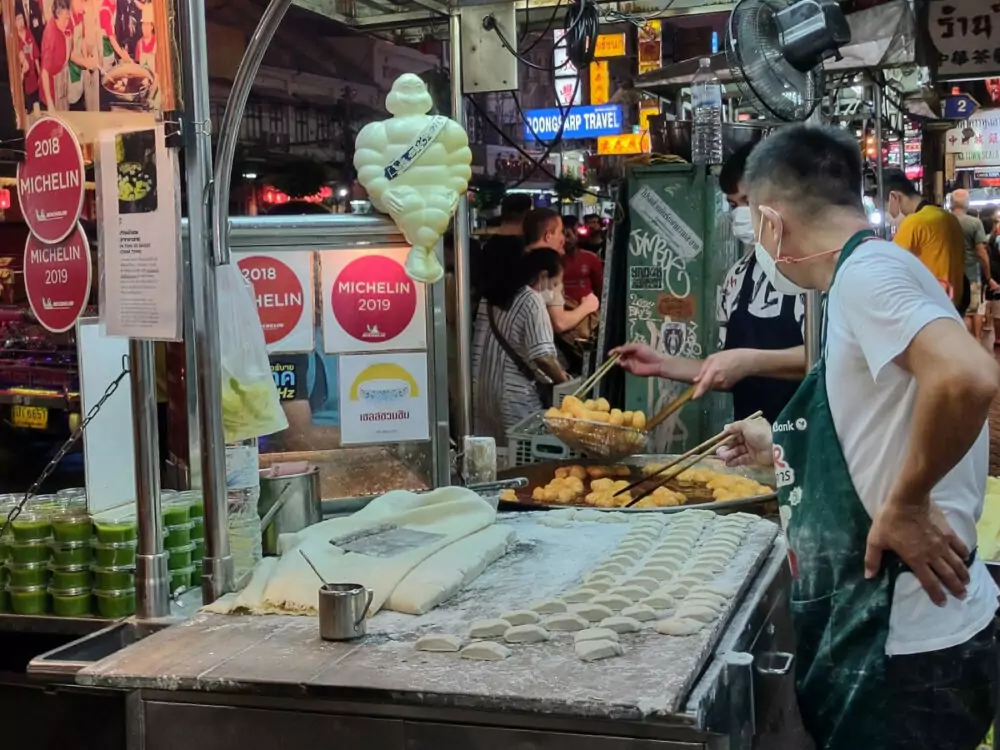 We actually walked to Chinatown from the Golden Mount, and back, which is quite a long walk.
Is Chinatown worth visiting, no, there is nothing very interesting in Chinatown in our opinion, other than sharksfin soup restaurants and birds nest food enporiums and some Chinese/Thai street food stalls that have made it to the Michelin Guide.
Incidentally, the only Michelin Star holding street food stall is not in Chinatown, it's a Thai food restaurant very near the Golden Mount. And very close to the hostel we stayed at on this trip. Unfortunately it was closed.
On this trip we booked a street food tour of Chinatown by night, to see what we were missing out on. The food was pretty boring we thought, deep fried dough, for instance, several variations on pork and fish ball soup and some crab fried rice.
Chinatown is also incredibly busy by night, even now, post pandemic, the crowds looking for the famed street food were huge and we had to queue for most restaurants and stalls, even with a guide.
If you love this type of Chinese Thai food you may love it, it was OK, but we prefer more Thai food. I will write all this up for you soon. The red gates are marked on our map, right opposite the temple with the biggest solid gold Buddha in Bangkok.
Is it worth taking a street food tour of Chinatown in Bangkok? Yes, absolutely, you should taste Chinese Thai food and find these Michelin Guide stalls if only for the purpose of comparing and contrasting, but we don't think the food is nearly as delicious as food elsewhere in Bangkok.
But it's personal taste. Book this Michelin Guide street food tour of Bangkok here.
16. Visit Wat Traimit For The Biggest Gold Buddha in Bangkok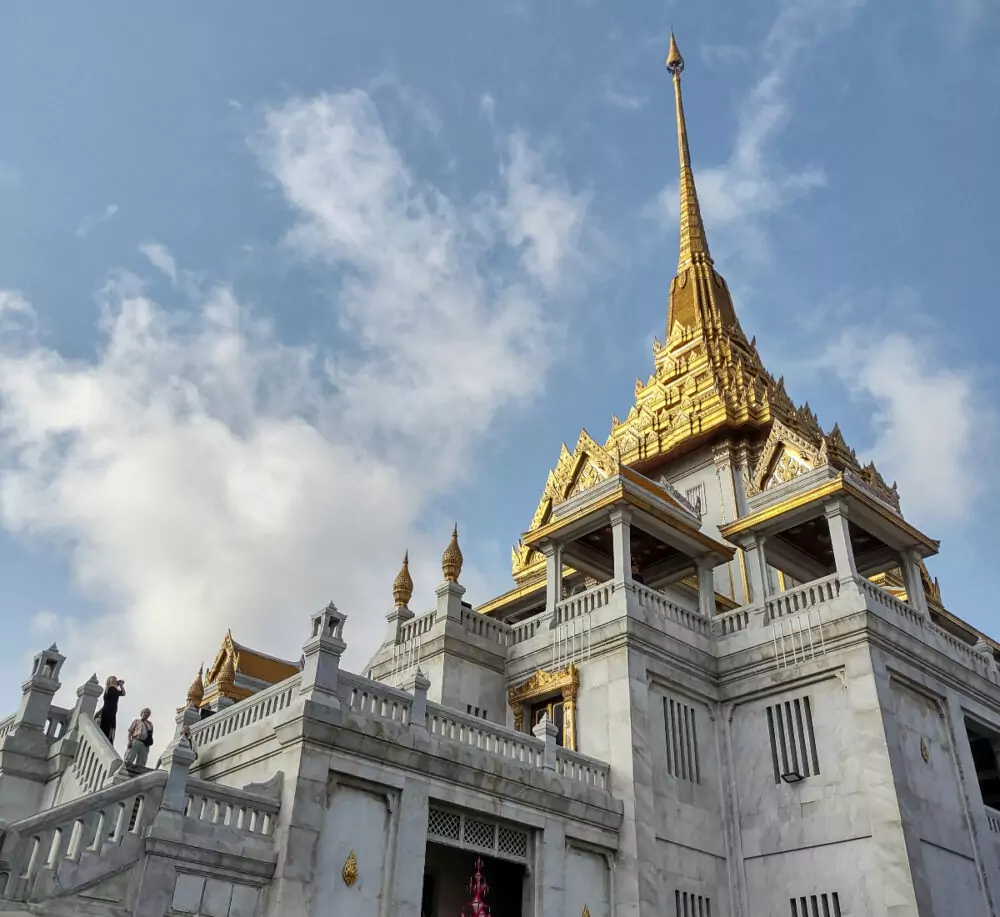 One of Bangkok's Wats has the biggest solid gold Buddha in Bangkok (but not in Thailand, that's at Wat Traimit.)
This one is directly opposite the giant red Chinatown Gates.
17. Visit the Pig Shrine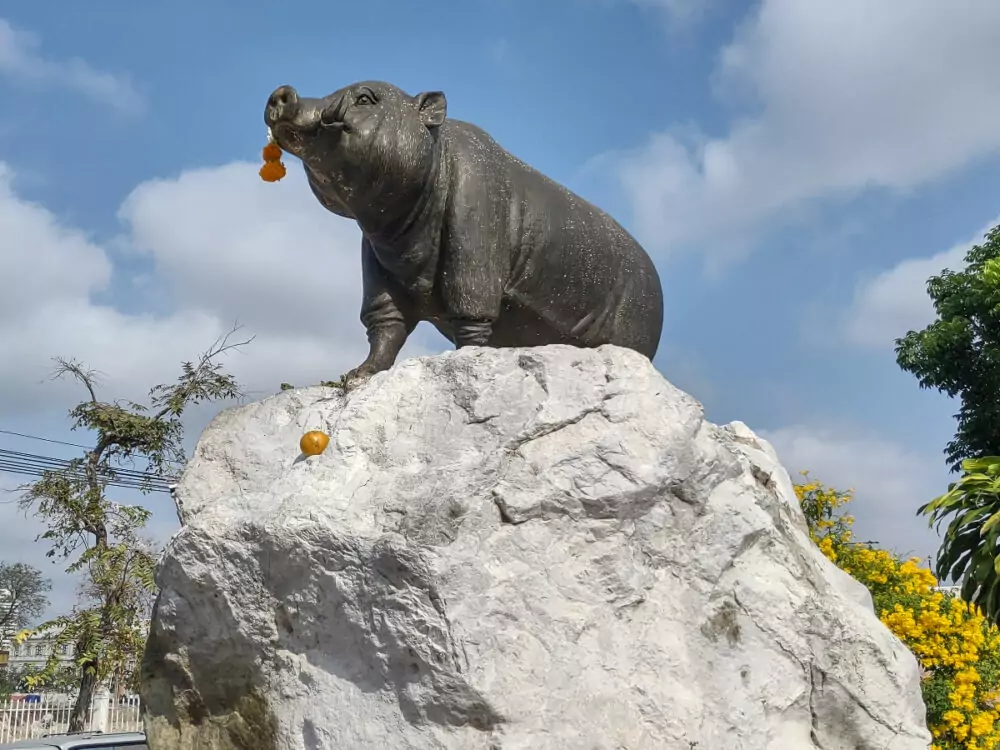 I love this little pig shrine in old Bangkok. It's located between the Grand Palace and Wat Ratchabophit (above). If you're walking from the Grand Palace to The Giant Swing or Golden Mount, it's on your way.
The Pig Shrine, which I've called "The Golden Pig Statue" for years in my head, has an interesting story attached to it. I was told (over 20 years ago) that if you visit Bangkok's Golden Pig Monument you will always return to Bangkok.
I've been back over 30 times, so the pig worked his magic on me.
We marked to pig on the map for you.
18. Visit Bangkok's Jubilee Monument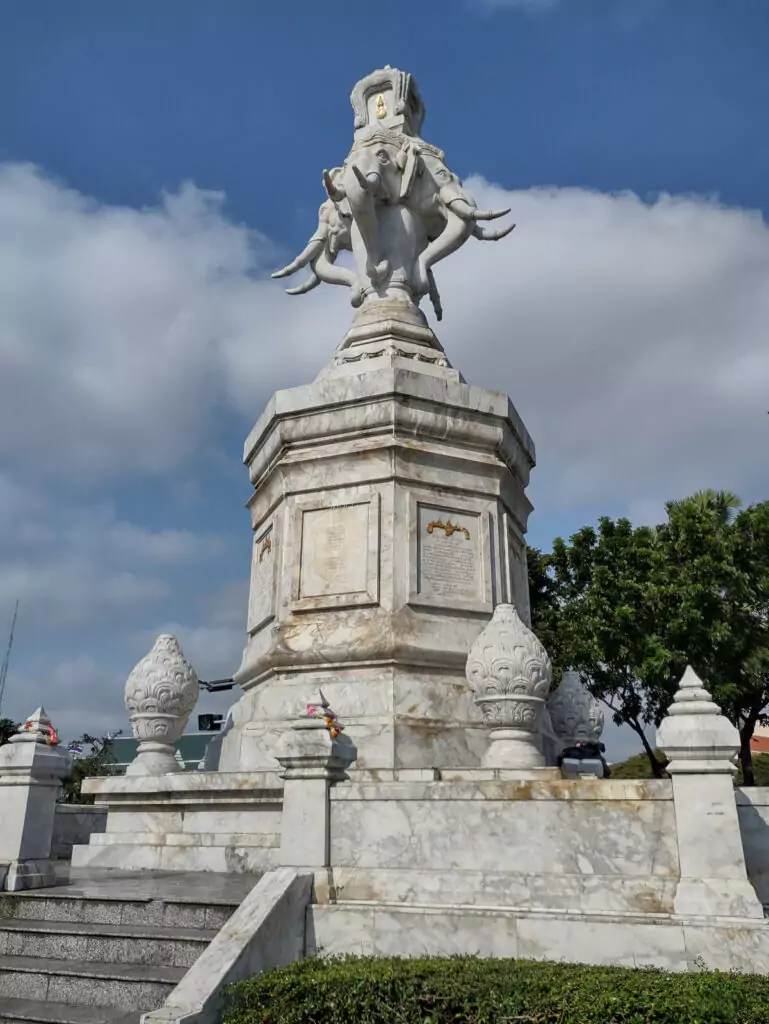 The Golden Jubilee Monument isn't a "must-see" in Bangkok, but it's interesting and you most probably will see it during your time in Bangkok.
This monument is located between Khao San Rd and the Grand Palace, in the middle of Ratchadamnoen Klong Rd just before Piklao Bridge (heading west). It's in the centre of a pedestrian crossing so if you cross the road here you'll walk right past it.
It is a monument to honour King Rama IX (the much-loved old king) and was erected to mark his Golden Jubilee in 1996.
The monument has a 4 headed elephant or Erawan (the Thai name for a mythical elephant, Airavata). This is unusual as Erawan statues normally have 3 heads.
Don't confuse this with the Erawan Museum and Statue (which is huge), that one is outside Bangkok and quite difficult or expensive to get to. It's near the Ancient City, which is a sort of model village of Bangkok. I haven't been yet because its always just been too difficult, but we will soon.
19. Visit Bangkok Sea Life Aquarium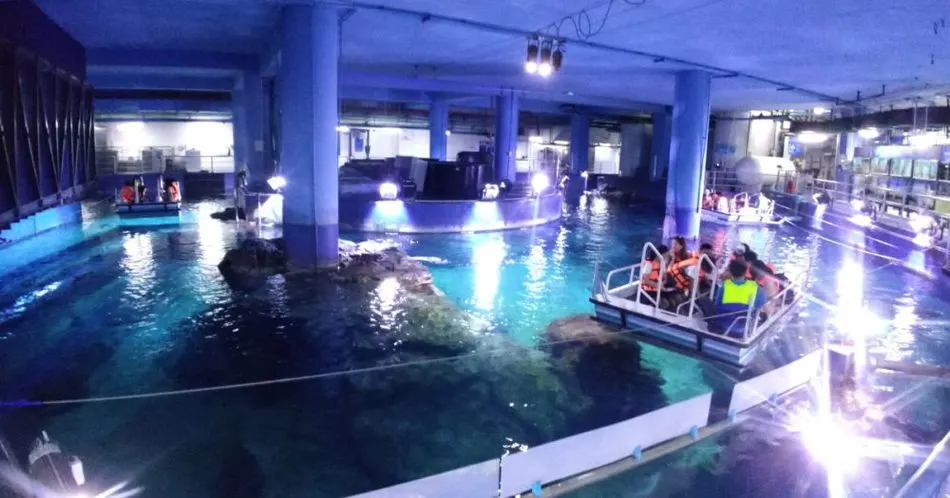 The Sea Life aquaria are a chain and Bangkok's Aquarium is a very good one and well worth visiting. You can take a ride on a glass-bottomed boat over the shark tank, that's something we've not seen in other Sea Life aquaria worldwide.
The Bangkok Sea Life Aquarium is in the basement of the huge Siam Paragon Mall in Sukhumvit. There's a great food court just above in the mall if you're looking for food near the Bangkok Aquarium..
Address: SEA LIFE Bangkok, B1-B2 Floor, Siam Paragon, 991 Rama 1 Rd, Pathumwan, Bangkok, 10330, Thailand
Opening Hours : Sea Life Ocean World Aquarium is open 10am to 8pm every day, with last entry at 7pm. Check for changes or closures on their website here.
Admission Price: Book a discounted combi ticket for the aquarium and Tussauds – it was cheaper for us.
Map Location Here
20. Visit Lumpini Park Bangkok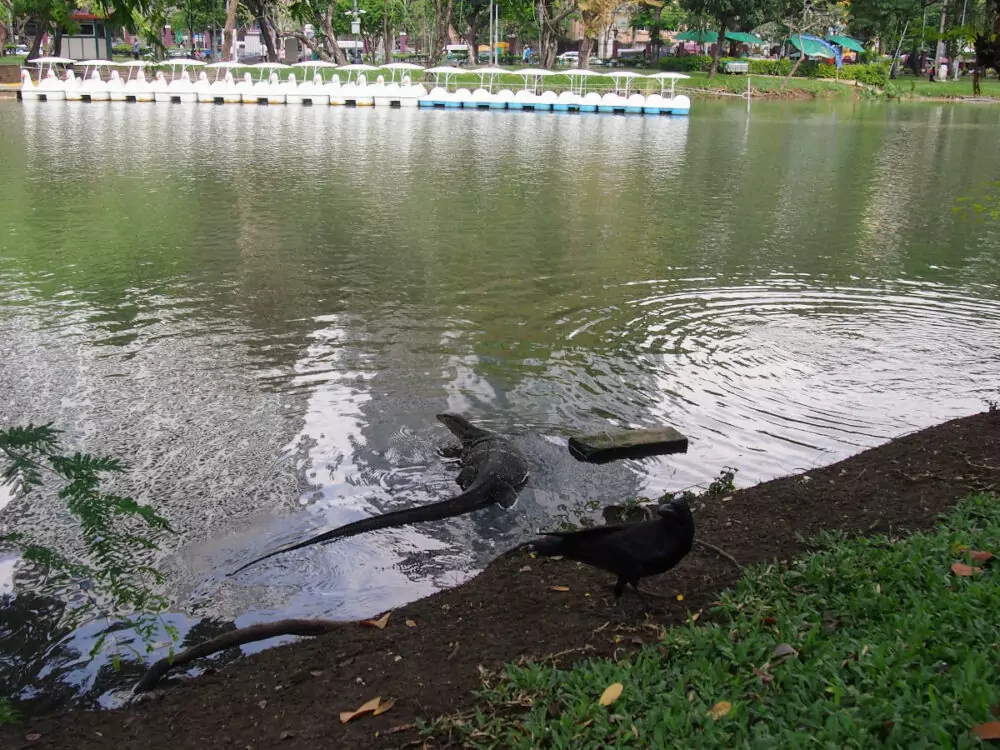 This is a lovely park in central Bangkok. The park large green areas perfect for kids to play or for adults to work out.
There are plenty of play facilities and this is also a superb place for spotting giant monitor lizards and turtles. Try not to go in the middle of the day, there's not much shade.
You also stand a good chance of seeing monitor lizards in the khlongs around Bangkok.
Lumpini or Lumphini Park is adjacent to the Silom MRT station (blue line), we used to walk here from our hostel in Silom.
Address: Lumpini Park,192 Wireless Road Pathum Wan, Bangkok Thailand
Opening Hours: 4.30 am to 10 pm
Admission Price: Free
Lumpini Park Map Location Here
21. Visit the Iconic Khao San Rd in Bangkok
Love it or hate it, you still have to see it. My love affair with this area started in the 90s but I'm not sure I still love it today. We got a shock when we visited the Khao San Rd in 2023 after a certain substance was legalised in 2022.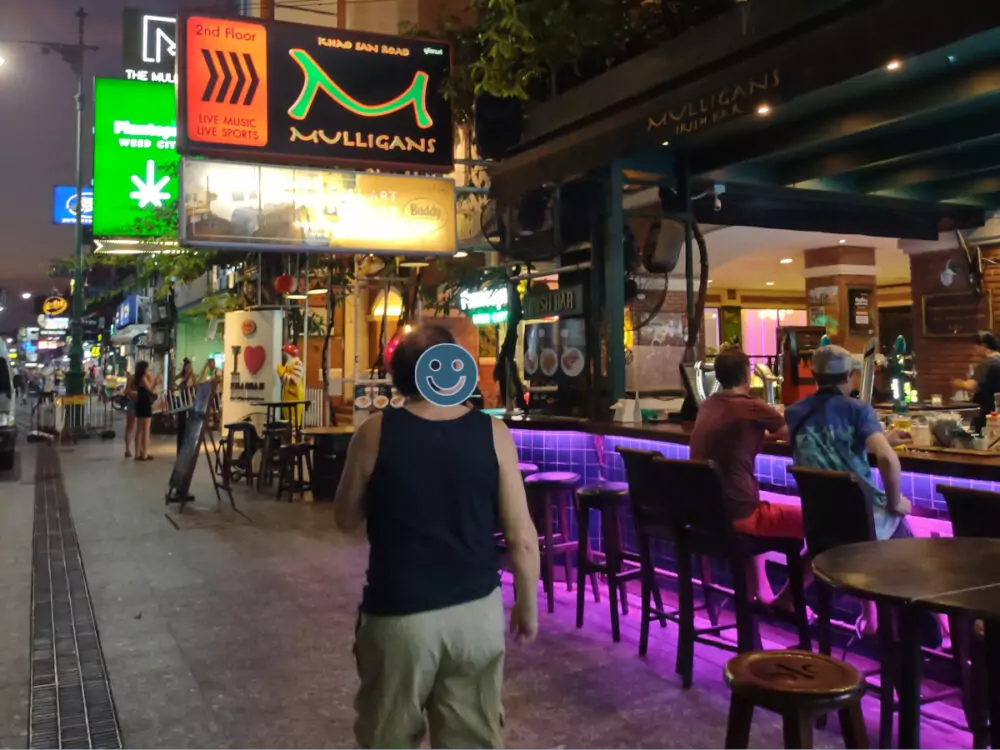 The street has also been extensively modernised, and I wouldn't say its an improvement.
I'm writing a full posts about the Khao San Rd which should be out very soon, I have a lot to say.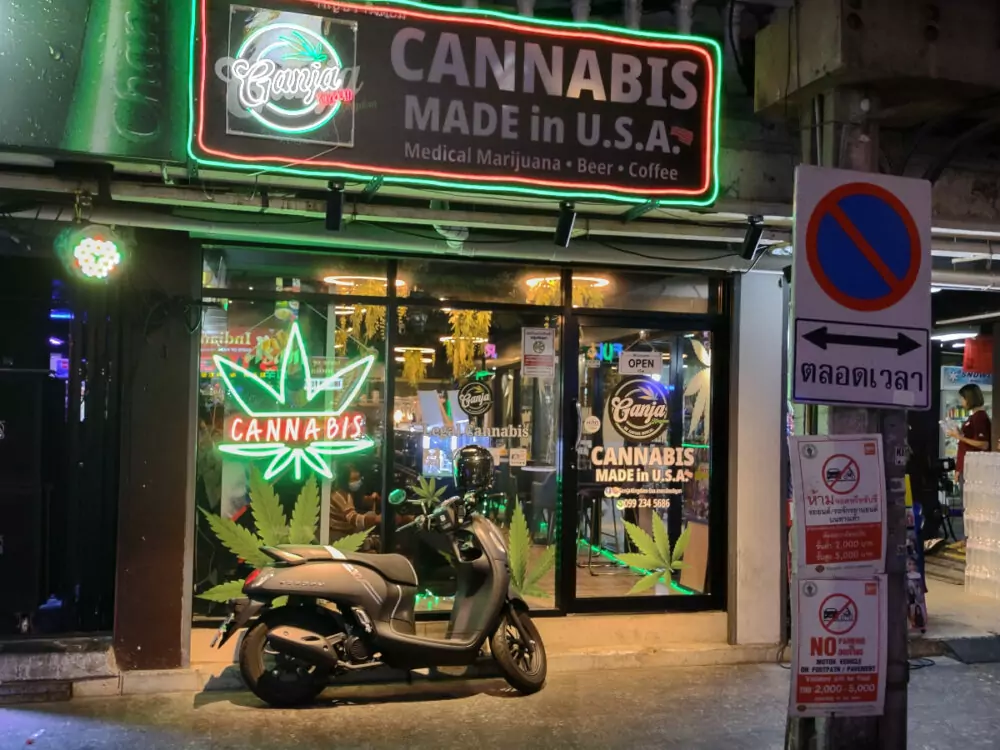 The Khao San Rd used to be fun, this time it was very quiet with much of its vibrancy removed.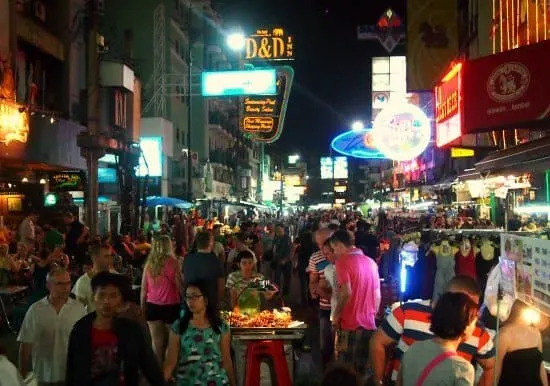 My children used to love hanging out here in the early evening, interacting with the street vendors and playing with whatever toys they can haggle for.
You can still grab a meal on the pavement on Rambuttri Rd (the next street over and now very much part of the scene, both are marked on our map) or a pad thai from a street stall.
Maybe don't go for the scorpion on a stick, it's not nice to scorpions.
We think staying near this area is a great idea, it's central and a short walk from the river to hop on a river taxi. The Grand Palace and Old City aren't far away. (See our Bangkok hotel recommendations, for this area and others, here)
The streets 10 minutes or so walk from Khao San Rd become much quieter and you can feel and see Old Bangkok away from the Khao San crazies. It's a good area to base yourself.
Khao San Rd location: The Khao San Rd is in Bangkok Thailand, on Rathakosin Island
Opening Hours: All day, all night, getting busy after sundown.
Admission Price: Free
Map Location of Khao San Rd.
22. Visit the Hospital to Learn about Thailand's Snakes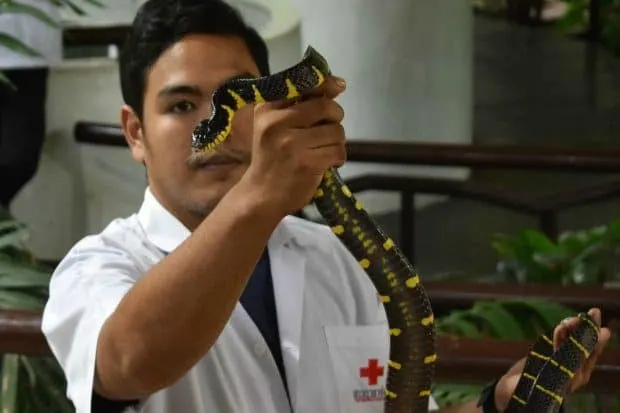 The Bangkok Hospital Queen Saovabha Memorial Institute has a venom research and antivenom production facility. Over time, this hospital department has created a tourist facility of educational and entertainment value. We visited in 2016, for the first time. It's really worth going, highly recommended and more ethical than other Bangkok snake shows.
You can easily spend half a day here but get here at the right time, the snake shows are at 11am (weekends) and 2.30pm (weekdays) ( at time of publication please check for yourself). You can also see venom extraction if you get to the hospital snake department at the right time. The snake farm shuts early, at noon, on weekends. There is a fascinating museum on site too.
23. Take a Food Tour in Bangkok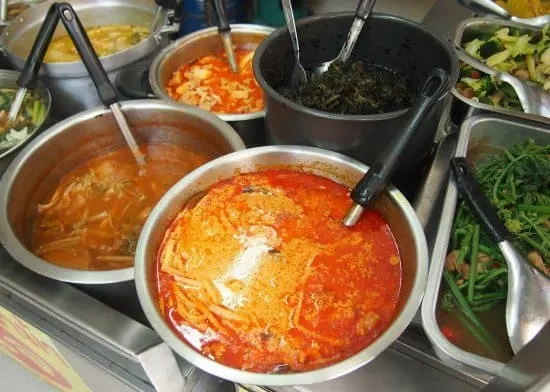 There are several to chose from, lunchtime, early evening or late at night, touring Chinatown or other districts.
Check out the food tours available in Bangkok here and book before you arrive. You may like to check out our complete guide to Thai food before your visit. For new visitors to Thailand, this is a good way to build confidence in ordering Thai food from the best outlets, the places the locals visit. My kids love to eat ( and cook) so if you are looking for things to do in Bankok with family of older kids or teens, this works whereas a dinner cruise could be too dull.

24. Visit Thailand's Floating Markets from Bangkok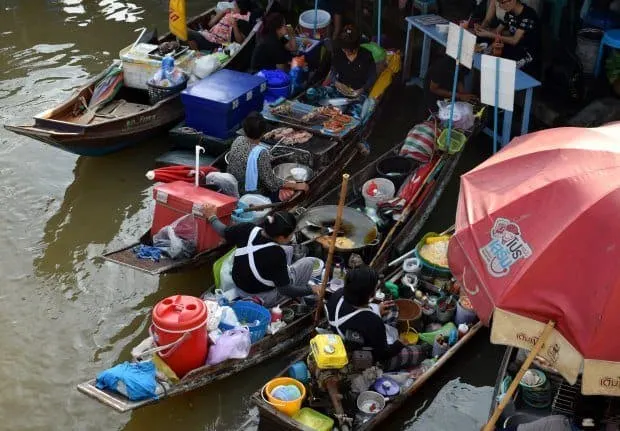 The big, famous floating markets are a fair way out of Bangkok, about 100 Km. Many people visit as part of a day tour or organised morning trip. We visited Damnoen Saduwak, the main tourist market, from Amphawa, a nearby floating market and one we found much nicer.
If you have time, get down to Amphawa for a day or two, it's very different to Bangkok and the markets specialise in amazing local seafood. If catching local buses and making your own arrangements isn't for you, you can book a Floating Market Tour before you arrive or try to organise a local driver to take you. Bargain hard over price.
There are plenty of other floating markets in and around Bangkok, if you visit our Amphawa post (above) you can find out more.
Tha Kha is another good one and this can also be visited as a day trip from Bangkok along with the famous railway market, Maeklong ( where stall holders get out of the way of oncoming trains 8 times per day). Find our full post on a Tha Kha and Maeklong tour here.
25. Take a Day Trip to Kanchanaburi From Bangkok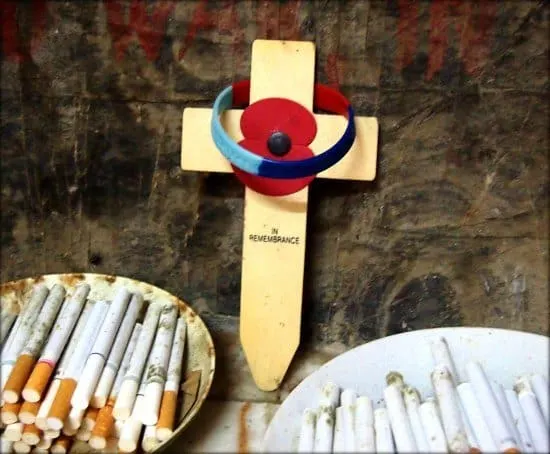 Kanchanaburi and the famous Bridge on the River Kwai are another popular day trip from Bangkok. Again, we took the train out to Kanchanaburi and stayed a week, but for a short visit, book a Kanchanaburi Tour or even take a taxi.
The Death Railway and a couple of interesting war museums are here. It's worth staying longer for the peace of life on the River Kwai. The infamous tiger temple is (was) in Kanchanaburi. At the time of writing, it had thankfully been shut down after the monks' involvement in tiger trafficking was exposed. It seems to open and close quite regularly so check for yourself.
We wouldn't recommend going there nor to the nearby Kanchanaburi Safari Park after seeing a tiny leopard cub chained in the Kanchanaburi market by way of advertisement.
26. Take a Day Trip to Ayutthaya From Bangkok
Same story here with Ayutthaya, you can visit this second ancient capital as a day trip by booking an Ayutthaya tour, or head out there by train and spend a couple of days exploring and taking boat trips at your leisure. Ayutthaya is a UNESCO listed heritage site and Thailand's second ancient capitol after Sukhothai. Sukhothai can also be reached from Bangkok but bus time comes in at a hefty 10 hours or so.
27. Shop for Electronics and Photographic Equipment in Bangkok
The top floor of the MKB centre, one of Bangkok's huge malls, is an Aladdin's cave of electrical gadgetry.
Full of wonders and innovations, it's worth taking a look, prices can be amazing but quality is variable. There are plenty more huge malls in the Sukhumvit district, clothes and shoes are a speciality too. We rarely visit this side of town.
For genuine electronics try the Fortune Mall or Building. All of the usual high-quality computer, photographic and phone outlets are here and it's very hassle -free. You can claim back tax at the airport on departure.
MKB Centre also has some excellent clothing outlets on lower floors, there are some very good quality T Shirts here with great designs, and also lots of fake labels.

Admission Price: Free
MKB Centre on Map
28. Get a Traditional Thai Tattoo in Bangkok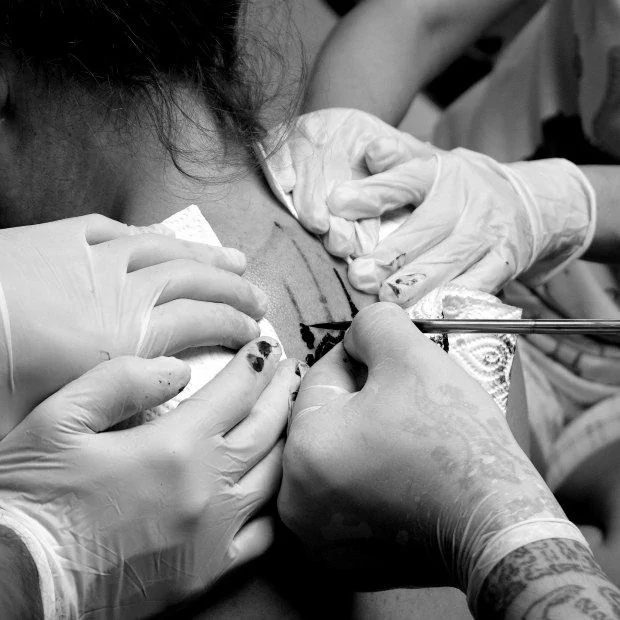 Why not? I did, read about my sak yant here. You'll need to find a monk or an ajarn to perform the ceremony and bless you with protective magic. Yes, my whole family came along.
29. Take a Cycle Tour of Bangkok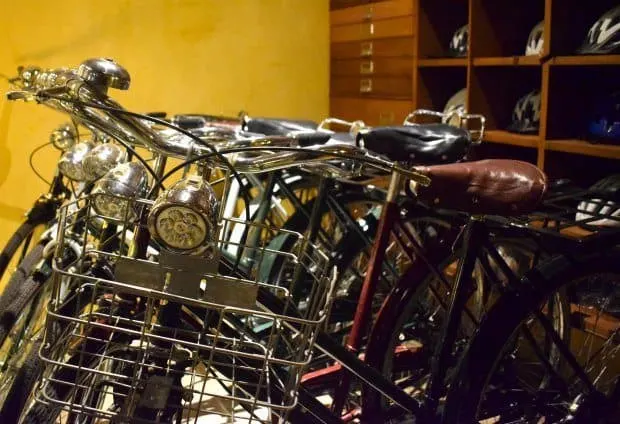 We took a cycle tour of Bangkok by night on our last trip and very much enjoyed pedalling genteelly around the old city after dark.
A tour like this will probably take you past the Giant Swing and various temples and historic structures lit up by night.
Our tour was complimentary, provided by our rather nice hotel, The Old Capital Bike Inn. Other bike tours are available.
30. Madame Tussauds Bangkok
Highly recommended for adults, older kids and teens, Tussauds Bangkok is a whole bunch of fun and a very good place to visit.
It's a weird feeling having The Obamas, The Queen and Madonna staring at you. It's all about selfies and honestly, this was the best fun we've had in months.
You can visit Tussauds and The Bangkok Aquarium on a combined ticket to make them a little cheaper. Both are in the big malls in Sukhumvit and it's just a 10 minute or so walk between the two attractions. When you're done maybe cross the road to the MKB mall for some cheap clothes, souvenirs, or electronics.

Admission Price: Bangkok Tussauds tickets are best combined with aquarium tickets, look here.
Places To Visit in Bangkok Map
Our map of things to do in Bangkok is below. You can see that most of the best things to do in Bangkok are clustered in Phra Nhakon and Dusit, in and around Rattanakosin Island (Old Bangkok). This makes this area of Bangkok the best part of Bangkok to stay.
We think this map will be very useful to anyone visiting Bangkok, particularly first timers, if you like this feature let us know, we can make more.
Is Bangkok Worth Visiting With Family?
Bangkok is 100% worth visiting with family. Bangkok is so diverse that there is something for everyone, be it cultural attractions, food experiences, wonderful hotels and shopping or kid-friendly attractions. Bangkok could keep your whole family happy for weeks. We'd go as far as to say that Bangkok is the best place in Thailand for families. It's an amazing city.
While many holiday makers take their families to Phuket for the beaches, there is not very much by way of cultural attractions in Phuket and Patong is too sleazy for many families. We think Bangkok is a much better destination with more to do and see, but obviously, the city does not have beaches, although it does have some amazing family hotels with incredible pools for relaxation.
How Much Time to Spend in Bangkok With Family?
If you plan to see most of the cultural and historic attractions in Bangkok, enjoy Thai cuisine, and maybe visit some fun places in Bangkok for the kids, you will need at least 5 or 6 days to really experience Bangkok. In reality you could stay much longer and not run out of things to do.
There are loads more things to do in Bangkok and over time I'll add them to this post, but for today, that's enough. It's one of our very favourite cities in the world and even now, after 20+ visits over 20+ years, we're still enjoying the old and discovering the new. Back to our main Thailand Travel Page
If you'd like to hire a car during your stay, use this car rental comparison tool to find the best deal!

We also suggest you take a look at this company to get a quote for all kinds of travel insurance.

Try Stayz / VRBO for an alternative way to find rentals on homes/apartments/condos in any country!