This post may contain affiliate links.
Amphawa Floating Market is one of Thailand's best floating markets and is an easy distance from Bangkok for a day trip, weekend or overnight stay. It's in a lovely part of Thailand, Samut Songkhram and this area is worth your time. Amphawa Floating Markets are open on the weekends, Friday to Sunday and they are afternoon / evening markets. They officially open between 2pm and 8pm. They are also open on Thai holidays. (Check these opening times, things could change). Read more on the markets below, how to visit, tours, why you should visit and more information on other floating markets in Thailand.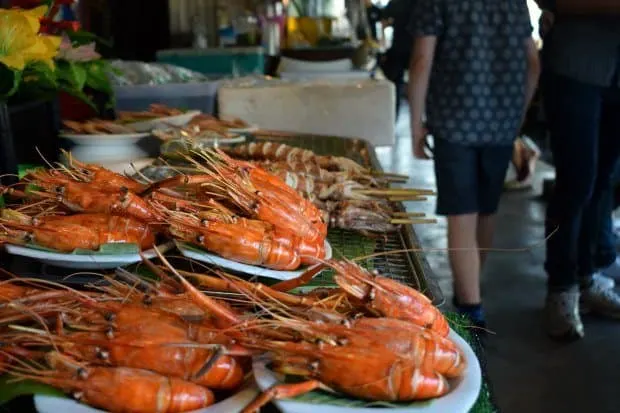 Amphawa
Everyone has heard of Thailand's floating markets and many visitors take an organised tour to the tourist Mecca, Damnoen Saduak. There are actually at least 5 floating market sites within reach of Bangkok, we wanted the real deal, something most western tourists don't see, something that was still Thai, so we headed to Amphawa Floating Market for a weekend on the river.
Short video on Amphawa below.
Amphawa is about 90 Km southwest of Bangkok in Samut Songkhram and you could do it as a day trip, we opted to stay 2 nights in the unspoiled rural lushness surrounding the market. We stuffed up a little and ended up booking a hotel too far from Amphawa market, a 300 Baht tuk-tuk or 15 Baht songtaew ride away. In the end it turned out well, the young owner took us on a personal guided tour in his car, including Damnoen Saduak floating market ( just up the road), the Temple in a Tree and a strange little zoo.
We later took a second tour of this region to discover more floating markets and nearby Maeklong railway market. Read our Amphawa Floating Market Guide here with mention of other floating markets and the Maeklong railway market, nearby.
Amphawa is an afternoon and evening market and it's all about fish and seafood. The little market boats piled high with amazing looking crabs, prawns and squid wait near the banks while street stalls sell fish cakes, whole fish and unidentifiable fish-based dishes.
At Amphawa traditional shophouses line the waterways. You can stroll along the banks or take a boat tour. You'll have no difficulty finding a boat. The area is incredibly pretty and lovely to explore on foot.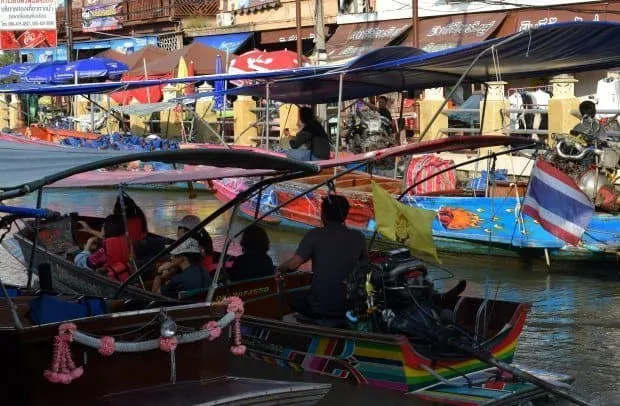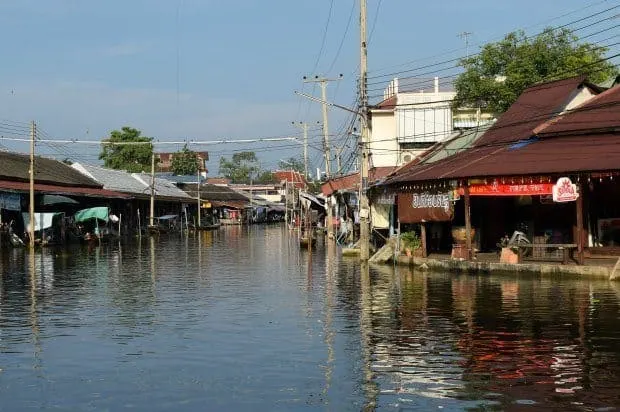 These fish cakes in a sticky, sweet, hot sauce were beyond good and cooked right in front of us at a street stall. Cost, 20 Baht, 50p.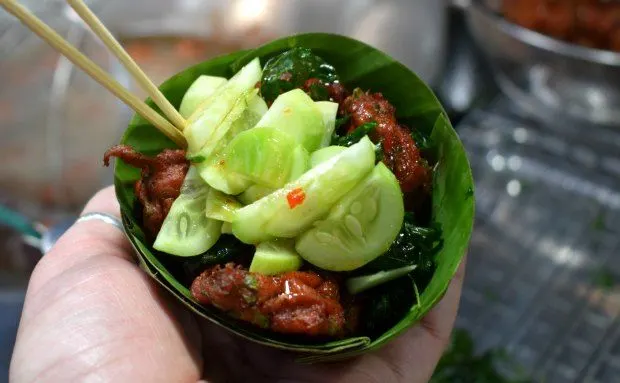 We didn't try the crabs, prawns or squid, but maybe we will next time. It's well worth going back for a second Amphawa feast, try as many dishes as you can.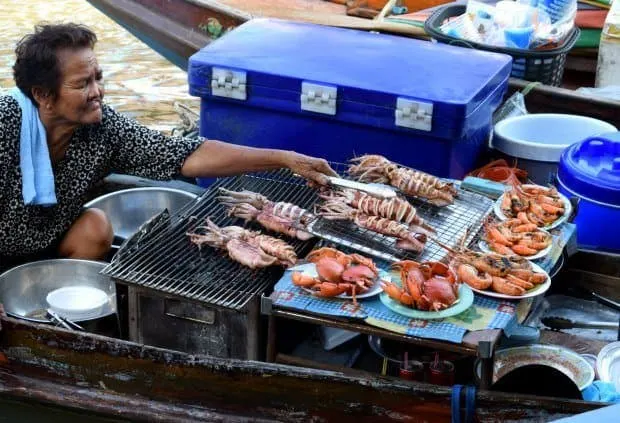 Steamed pork dumplings, again made amazing by their sauce. 20 Baht/portion.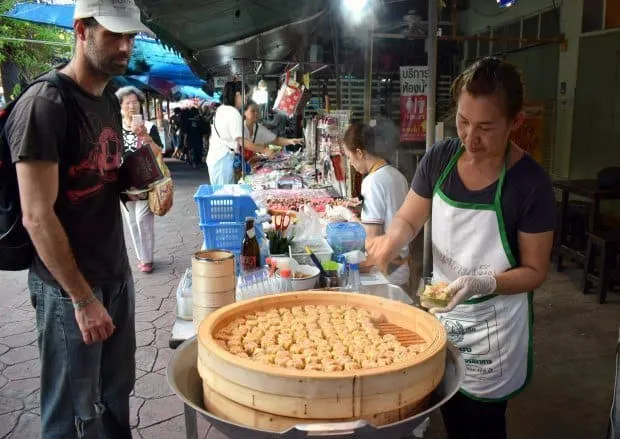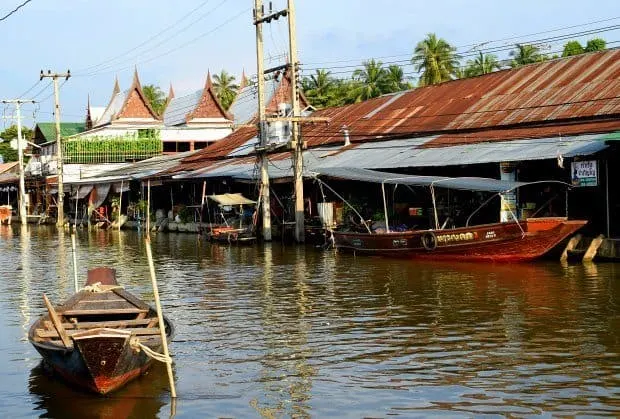 Some of the boats serve whole seafood, others soups and noodles, order from the steps along the riverside and your dish is prepared to order.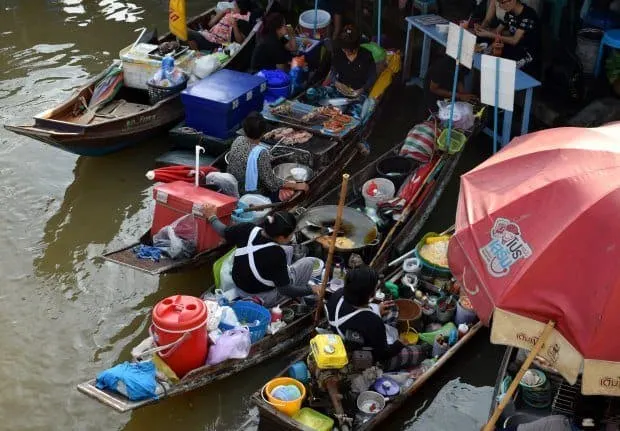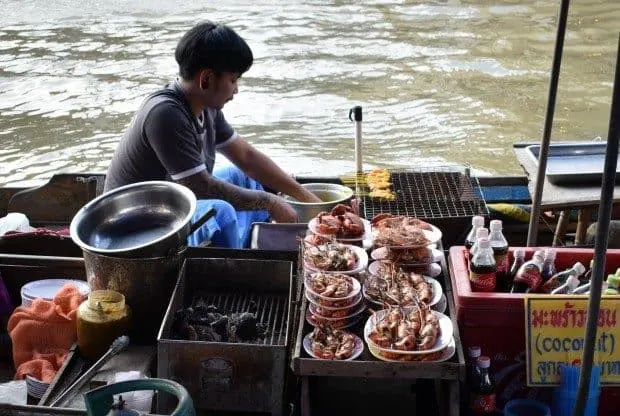 Amphawa isn't just about seafood, you'll also find loads of sweet, sticky treats. There are souvenir and T-shirt stalls, but not the tourist tat of Damnoen Saduwak. We think Amphawa market is a far nicer experience than its touristy big brother.
Amphawa Floating Market Opening Times
The Floating Market at Amphawa is a weekend, evening and afternoon market. It's officially open Friday Saturday and Sunday and official Thailand holidays, at 12.00 a.m. – 09.00 p.m. It doesn't get going fully until mid-late afternoon. Outside these times some places can be open and you can still walk around the klongs. The last bus leaves around 7.30 pm ( double-check this!)
Visiting Amphawa
Amphawa is a weekend, afternoon and evening market, others are morning markets. It makes sense to me to stay overnight or a weekend break would be a lovely thing to do. This area is unspoiled farmland, very Thai, very tropical and it makes a lovely change after bustling Bangkok. We've now visited this area twice, once as a day tour from Bangkok, once as a 2-night stay, both were good. See further information in the box below.
What To Eat at Amphawa?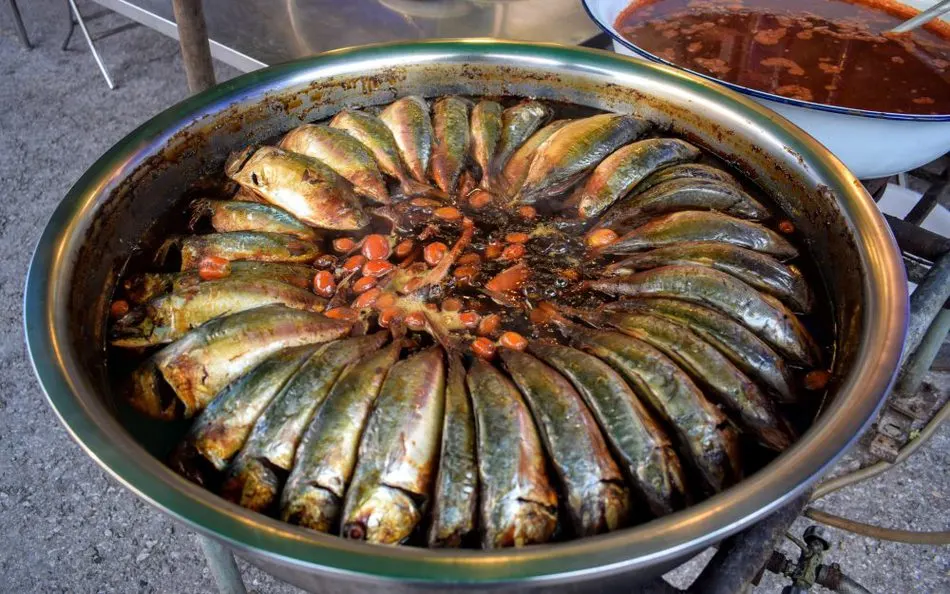 Obviously personal taste varies but we highly recommend the jumbo prawns and grilled squid along with the small snack foods like Thai fish cakes and pork dumplings. Everything looked good. One dish we didn't try was that above, a stew of whole fish. If you try this dish let us know what it's like!
You will also see a lot of stalls selling sweets and deserts, traditional Thai desserts are a big feature because this is a sugar-producing area. We saw sugar being made at nearby Tha Kha Floating Market. Aside from sticky rice with mango, look out for Thai jelly sugar candy (Khanom Alua) and little glazed donuts. The chocolates we tried weren't so good, they were more about looks than taste.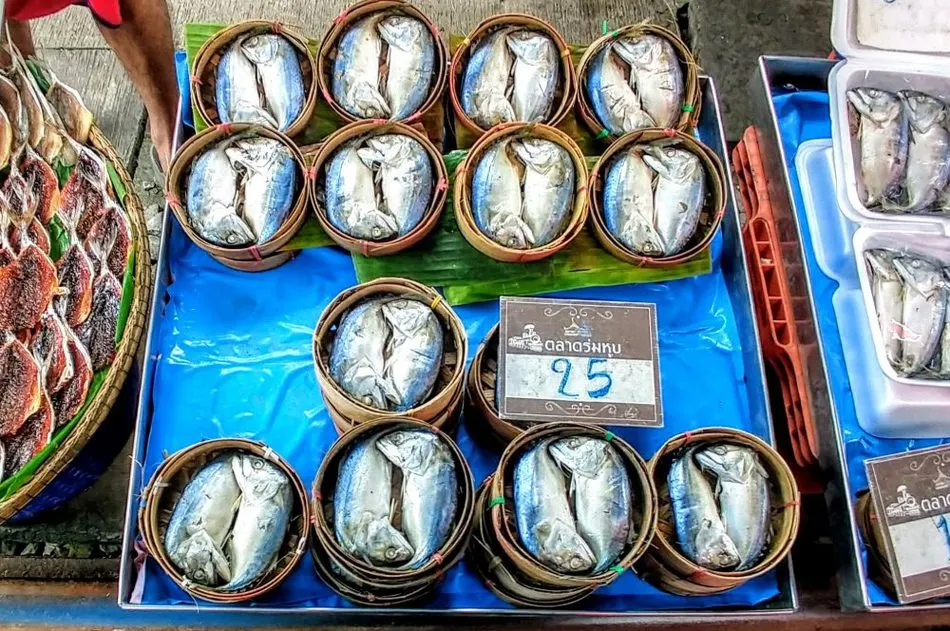 Pla Tuu Mae Klong is the signature dish of this region, the little bent fish crammed into steamers can even be bought as cuddly toys and keychains. The fish is a type of mackerel famously served in Samut Songkhram Province.
You'll also find most dishes served in Thailand including green papaya salad ( som tham), noodles and noodle soups including boat noodle soup and Thai curries.
Look out for the herbal drink stores. We didn't try them but there were stalls dedicated to these herbal beverages.
Hotels Near Amphawa Floating Market
If you are staying in Amphawa consider:
Rimrabeang Cafe and Suite. It has some of the best ratings in Amphawa and tends to sell out. It's right on the water's edge. Around $100 per double. More details here.
Baanrack Amphawa. Such an adorable building and again, right next to the water. Doubles around $25 including breakfast. Amazing reviews! More details here.
Tours to Amphawa Floating Market
You can book a day tour to Amphawa from Bangkok easily, some options include:
Get Your Guide offer hundreds of tours within Thailand, including this day trip which also includes the amazing Maeklong railway market. They have a price guarantee, find the tour cheaper and they refund the difference. We use Get Your Guide often to reserve tours in advance. See the Amphawa and Maeklong tour here
Bangkok to Amphawa
Bus or private tour (or taxi) only. There is no train. The bus, it's a minibus, leaves from Pinklao bus station Bangkok and passes through Maeklong for the railway market. The journey is about 1.5 hours to Amphawa and costs around $3 each. Just turn up at the bus station and buy a ticket. In 2018 we believe the buses are also going from the Southern Bus Terminal. Pinklao is closer to central Bangkok. It's confusing because Pinklao is also called the Southern Bus Terminal sometimes. Bangkok bus terminal ( Southern) is Sai Thai Guo . You need to check the Thai names. You should be safe with Pinklao because that's where we got the bus. But do your homework, getting the right information can be tricky.
Amphawa Floating Market With Kids
Amphawa with kids is fun. There are plenty of things to do here to keep the kids interested. Keep a tight hold of little ones, they will be very close to the water at all times and safety railings aren't common.
There are toy shops, market areas with a fun-fair type vibe, and endless sweet treats to buy. My boys' favourite is sticky rice with banana, but there are all kinds of things to tempt them. Your children may enjoy a boat ride or the little ferry nearby. The fake Lego is very good!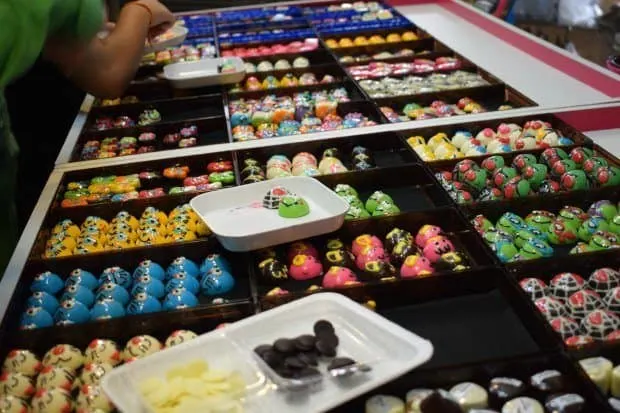 As darkness falls and the fireflies come out to play, Amphawa gets even prettier. After dark more stalls open, but we never saw big crowds. We were visiting not long after the King's death, maybe that decreased number of Bangkok visitors, but the crowds we'd read about weren't there on Friday or Saturday.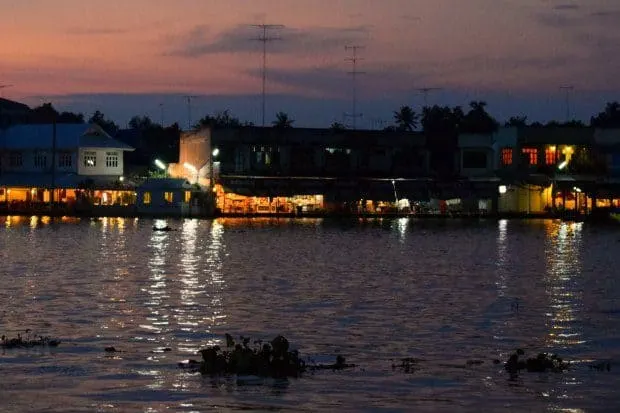 Amphawa is a weekend market. We arrived on Friday afternoon and left Amphawa on Sunday morning after a second evening visit.
Accommodation Near Amphawa Floating Markets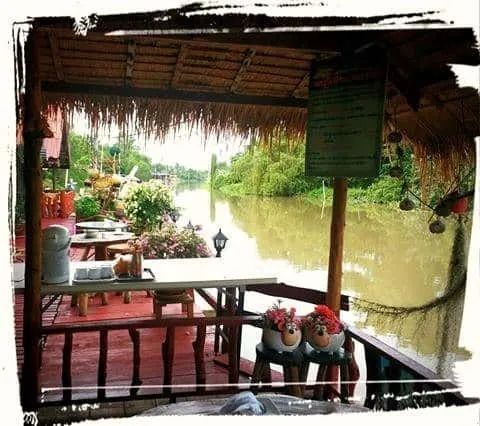 Finding the Best Deals on Amphawa Hotels, Guest Houses and Hostels
Amphawa does get full particularly on weekends so it's best to book in advance. To find the lowest prices try Agoda, they are Asia specialists and often have more selection and some great deals. Booking.com can usually help you with fully refundable reservations. People booking a long time in advance often like to take this option.
We stayed at Banmaimo Resort, a collection of basic wooden villas, with aircon, breakfast, and private shower rooms, right on the river bank. It's a lovely spot and we very much enjoyed the experience. It's a fair way out of Amphawa but the countryside is stunning. The young owner, Nu, gave us a tour by car which we very much appreciated, otherwise you'll need to use songtaew and ferry to get to Amphawa markets.
There are places to stay right in the floating market area, although you will pay more and on weekends they will be fully booked. There are some beautiful boutique hotels and hostels just a step from the water's edge, perfect for a weekend away. Check out these and other Amphawa accommodation using the booking engines mentioned above.
How to Get to Amphawa Floating Markets From Bangkok
We took the bus from Pinklao bus station. Cost 70Baht ( under £2.00) per person, it takes about an hour and is a comfortable ride. The minibus drops you at the 7-11 right next to the Amphawa floating markets. From here we took a tuk-tuk to our hotel. This minibus stops at Maeklong Railway Market on the way. Maeklong is the market on the train tracks, where the stalls have to pull back when a train passes through, so it's very possible to do both in one day. Day trips and tours are also available.
Things to Do in Amphawa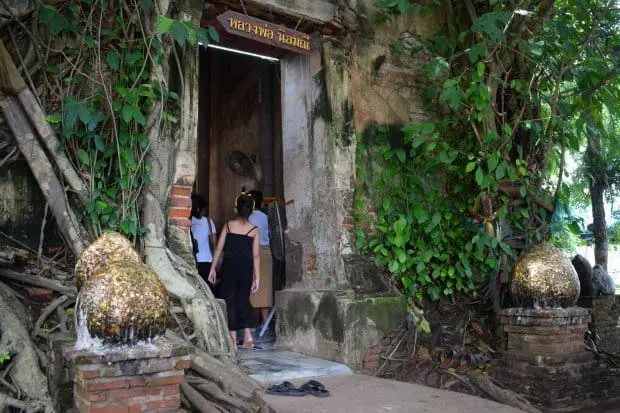 If you're not content to just graze your way around the markets, there are some interesting sites to visit nearby. Don't miss the "Temple in a Tree" Wat Bang Kung. Right opposite is a strange zoo come WW2 aircraft collection. They have camels, crocodiles and an ostrich along with various deer, horses, goats and water buffalo. Admission is free. Boat rides are popular, including evening cruises to spot the fireflies. You can certainly fill a morning exploring this area, it's a million miles from tourist Thailand!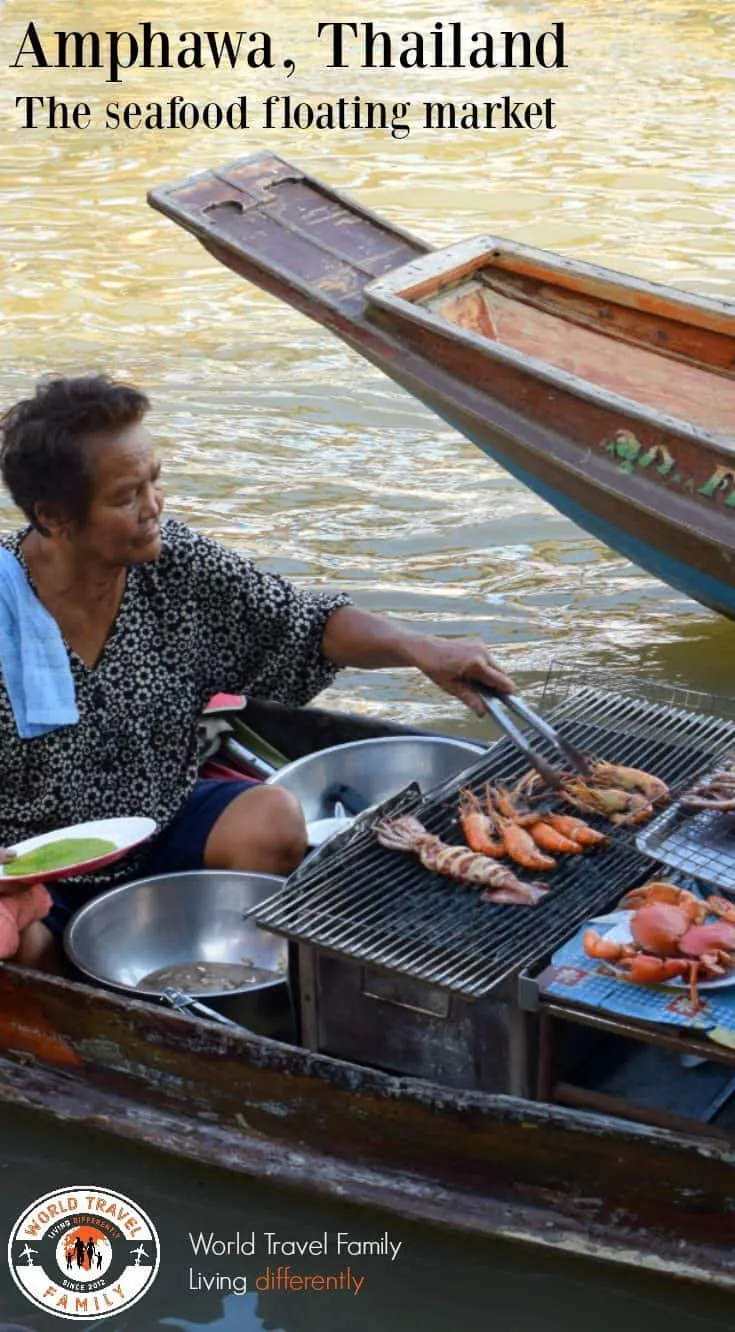 Which Floating Market is Best?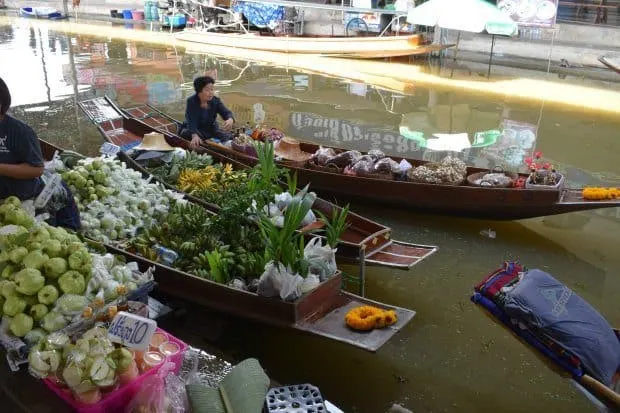 Damnoen Saduak Floating Market is probably the most famous and most visited floating market in Thailand, but is it the best? We don't think so. For us Amphawa Floating Market wins, but while you're in Samut Songkhram do check that one out as well as Maeklong Railway Market and Tha Kha Floating market. They all offer something different.
Damnoen Saduak Floating Market. Thailand's best known, most touristy, floating market is about 100 Km outside Bangkok and not far from Amphawa floating market. We visited this one too, a post is coming. We'd suggest Amphawa as a better option. Damnoen Saduak is a morning market, Amphawa an afternoon and evening market, so it's easy to do both. Damnoen Saduak seems to specialise in pork noodle soup, Amphawa in seafood
Talin Chan Floating Market is within Bangkok, about 12 Km from downtown. If you hire a long tail boat for a khlong tour you will probably pass this one as we did. It's very small.
Khlong Lat Mayom Market
Bang Nam Pheung Floating Market
Tha Kha Floating Market Tha Kha is again, near Amphawa, it's smaller, more authentic, almost tourist-free and the food is out of this world. See our full post on Tha Kha and nearby Maeklong railway market, here.
More Information on Travel in Thailand and Thai Food
We hope you make it down to Amphawa floating market during your Thailand trip and we hope this post helps you decide which floating market to visit, there are plenty of choices. It took us around 20 years to discover this little gem. For more on travel in Thailand head back to our main Thailand Travel Blog page. or you could read up on what's on the menu in Thailand in our complete guide to Thai food. Looking for more things to do in Bangkok, try here.
If you'd like to hire a car during your stay, use this car rental comparison tool to find the best deal!

We also suggest you take a look at this company to get a quote for all kinds of the more tricky adventure or extended travel insurance.

Try Stayz / VRBO for an alternative way to find rentals on homes/apartments/condos in any country!