Your options for getting from Bangkok to Kanchanaburi include train, bus, taxi and minibus. There is no airport in Kanchanaburi, you can't fly. Read on for more information on getting to Kanchanaburi, video of what the train is like, information on how to book train or bus tickets plus day tours, hotels in Kanchanaburi and things to do in this fascinating, peaceful, part of Thailand.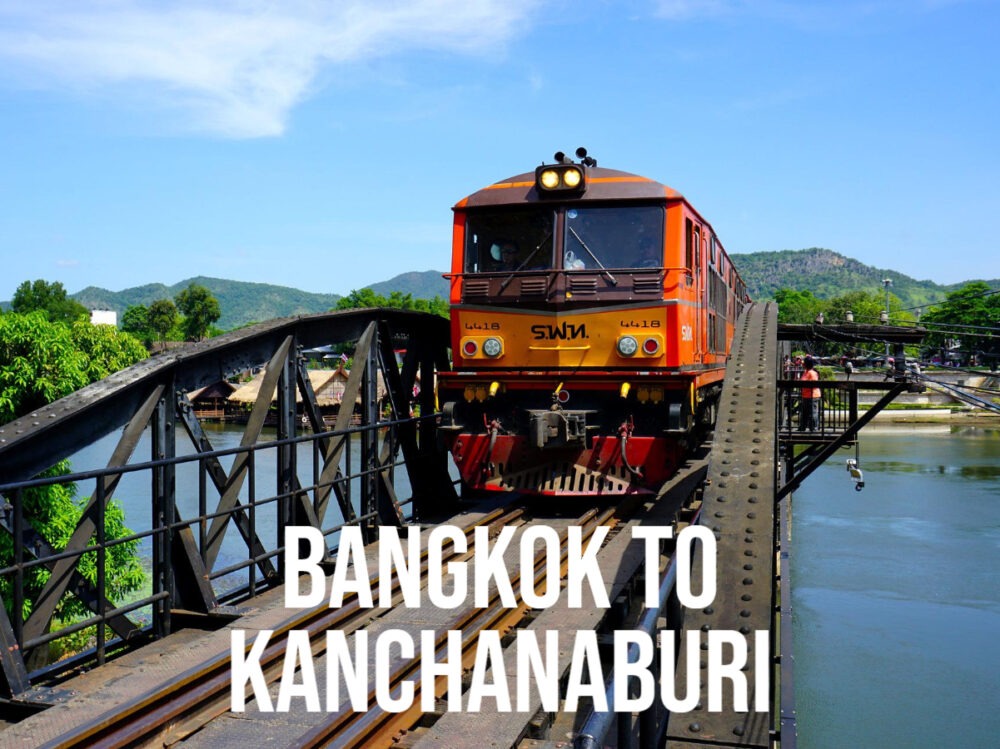 If you'd like to book a day trip or tour to Kanchanaburi from Bangkok, that is also possible. We took the Bangkok to Kanchanaburi train to spend a few days relaxing on the laid-back River Kwai, what a great train journey and what a beautiful place Kanchanaburi is.
Kanchanaburi's most popular attractions, The Death Railway, The Bridge on the River Kwai, Elephant's World, and Erawan Falls, make for a great trip from Bangkok!
Also find out here, a perfect way to book transport to Kanchanaburi, online and in advance.
---
Bangkok to Kanchanaburi
There are multiple ways to get from Bangkok to Kanchanaburi Thailand by road and rail, or, Kanchanaburi is close enough to visit from Bangkok to visit as a day trip.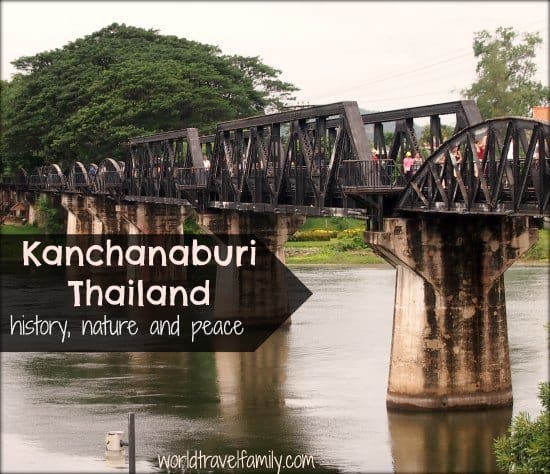 How to Get to Kanchanaburi From Bangkok
You have a few choices, this was the information we had, a few days ago. Things change, you need to check. There is the train, a regular minibus service, tours and transfers, scheduled buses as well as the options of driving or taking a metered taxi.
---
Booking Tickets to Kanchanaburi from Bangkok
There are only 3 ways of booking train tickets in Thailand:
Pay an agent or tout a fee.
Go to the train station yourself
Use 12Go Asia to book online here , tiny fee, tickets can even be delivered internationally.
We highly recommend booking your tickets through 12 Go, it's simple, no fuss, minimal expense and reliable. They also handle bus ticket bookings and better rates than many agents will give you. We use them, we recommend them.
---
The Bangkok to Kanchanaburi Train
The train to Kanchanaburi goes from Thonburi Station in Bangkok, that's not the main train station, it's a tiny one. It's not far from the Khao San Rd area, on the other side of the river.
We paid 150 Baht from the Khao San temple to Thonburi station, you could probably find a driver who would charge you less or, ideally, use his meter. We beat our driver down from 200 and then lost the will to fight. He was the sweetest guy, he made the kids little origami flowers while we were stuck in traffic jams.
Taking a river ferry or boat most of the way to Thonburi Station is a cheaper option, the station isn't far from the jetty.
The train cost us 100 Baht each. We had to pay full price for both of the children ( 6 and 9) The Bangkok to Kanchanaburi train left at 7.50 am or 1.55 pm when we travelled.
---
Video – Bangkok and Kanchanaburi Train
Video from the Bangkok Kanchanaburi train and look at Kanchanaburi itself. You can see exactly what the train and Kanchanaburi are like. As you can see from our teenagers, we've done this journey many times in their lives. Check it out!
---
Bangkok to Kanchanaburi by Taxi
The taxi driver to the station tried to talk us into taking the taxi straight to Kanchanaburi for just over 1000 Baht. It would have been quick and only cost us about 500 Baht or so more than 4 train tickets, but we would have missed out on the pleasant train ride.
People sometimes go from Bangkok to Kanchanaburi for the day by taxi, or private tour, they check out the sights and return to their Bangkok hotels at night. Bangkok to Kanchanaburi isn't far. See tour options below.
---
Minibusses to Kanchanaburi
There are a million travel agencies in the Khao San Rd area that will put you on a backpacker's minibus to everywhere from Cambodia to Burma.
The one we tried quoted us 250 Baht per person to Kanchanaburi from central Bangkok. So for a family, it was quite pricey, children pay the same price.
Interestingly, the return minibus from Kanchanaburi to Bangkok seemed to only be 150 Baht according to the signs on the street in Kanchanaburi town. Buses and minibuses in Thailand and all of Southeast Asia can also be booked through 12Go Asia here.
---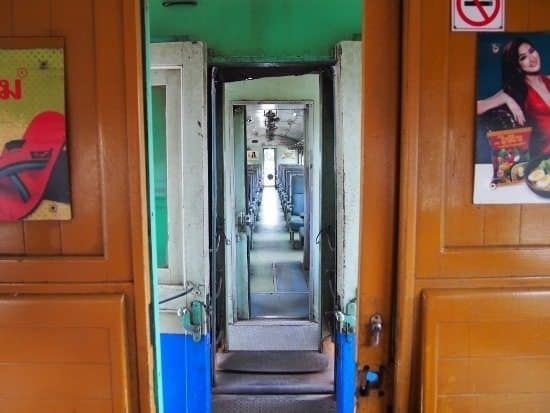 As always with minibuses in Thailand, shop around and compare prices, don't take the first offer. Be aware that these drivers go very fast where they can.
---
The Train Journey – Bangkok to Kanchanaburi
The Bangkok to Kanchanaburi train takes about 2.5 hours, so the journey doesn't drag on and get tedious. Our journey took almost 3 hours, we arrived at around 5 pm, plenty of time to walk the few meters from the station to the main strip of guest houses.
Trains are a wonderful way to travel, the older the better. The passenger is compelled to do nothing, just gaze out of the window at the changing countryside.
The train to Kanchanaburi stops a few times at small Bangkok stations, this doesn't go on for long, the time between stations get longer and eventually, you're rolling through some of the prettiest rural scenery you can imagine.
We saw goats, cows, water buffalo, hundreds of cranes, egrets, ducks and chickens around the rice fields. The seats are wooden, no padding, the windows are open, keep an eye on your kids!
My boys thought it was great just looking out of the window. If you are hungry or thirsty vendors will keep you supplied with snacks. I can recommend the omelette rice with spicy chicken. Train food is usually good because it's made for the locals, not the tourists.
I'm not sure if there were toilets, we didn't look. It rained hard for a while, you can pull up the windows then. The open windows give you a lovely breeze and there are ceiling fans that help a bit when you are sitting at stations
---
How far is Kanchanaburi from Bangkok?
Kanchanaburi is 201KM, 125miles, as the crow flies, from Bangkok.
---
How Long Does The Train Take From Bangkok to Kanchanaburi?
This seems to vary. Some trains are faster than others. Check the timetables, our journey took 3 hours, but the timetable said 2.5 hours. Travelling by road should be quicker if traffic is good.
---
1 Day Tours from Bangkok to Kanchanaburi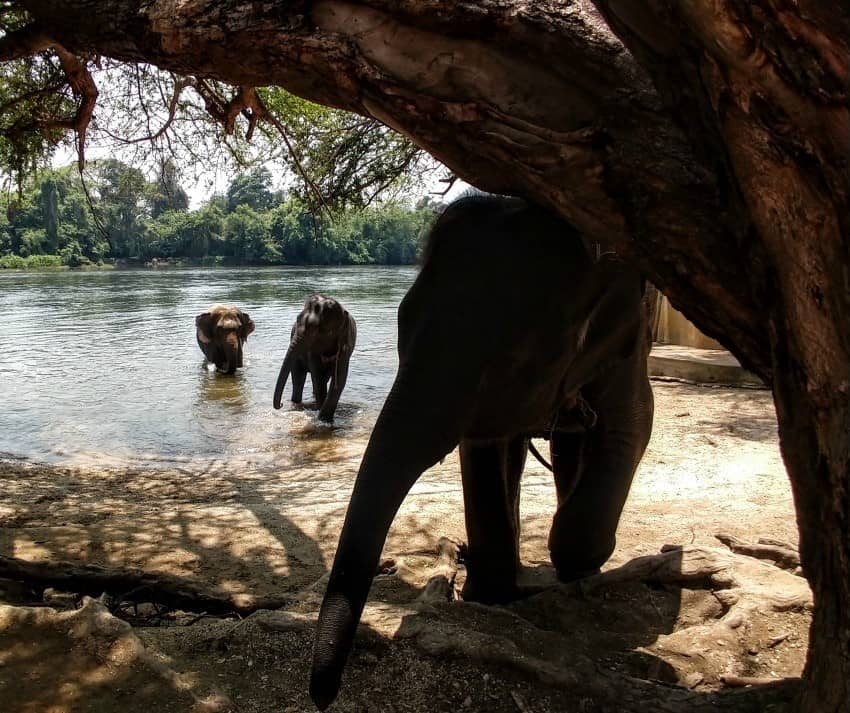 Of course, if you are short of time or not keen on handling all of these arrangements yourself, you can easily book a 1 day tour to Kanchanaburi from Bangkok and have everything taken care of for you.
We generally use Get Your Guide for these tours, we've used them in several countries now.
They have a best price guarantee. If you can find the tour cheaper elsewhere they refund the difference and offer all the reassurances of being a large, well respected international company. Try the following:
River Kwai and Death Railway Tour From Bangkok (here)
Kanchanaburi Ethical Elephant Sanctuary Visit From Bangkok (here)
Ethical Elephant Sanctuary and Historical Highlights Private Tour from Bangkok (here)
Kanchanaburi Tour from Bangkok including Death Railway WWII and River Kwai (here)
---
---
How to Find the Best Deals on Hotels, Guest Houses, Hostels, Rafts or Resorts in Kanchanaburi
We recommend checking the two booking platforms below to find the best price on your dates.
Agoda are Asia specialists and they often have a bigger selection. To get a refundable deal, a long time in advance (some people reserve 3 or 4 hotels and confirm closer to the date) Booking.com usually works best.
Accommodation in Kanchanaburi includes guest houses, river rafts, hostels, resorts and hotels from cheap to luxury. We found prices to be good. Kanchanaburi is cheaper than Bangkok. Scroll further down for a few recommendations or see our post on where to stay in Kanchanaburi.
---
Accommodation in Kanchanaburi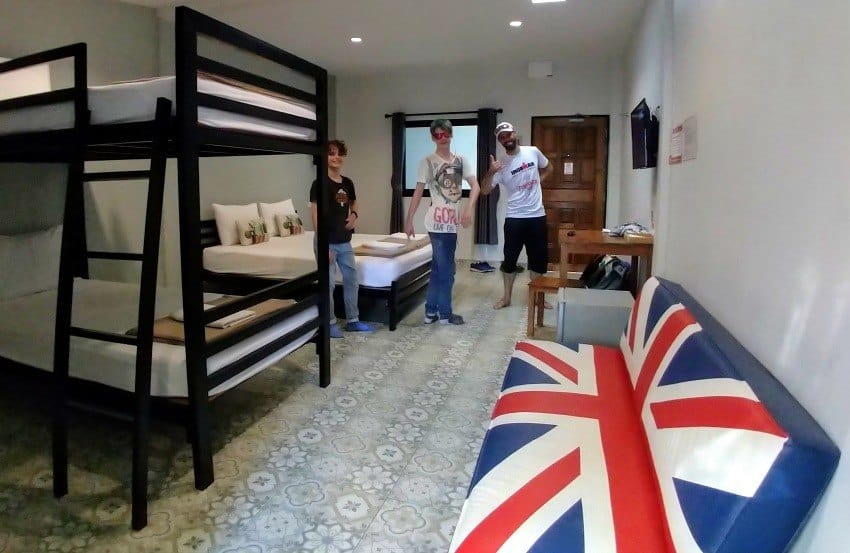 For Warm Well Hostel see here. We used this hostel recently, the family room pictured above, and were very impressed by it. It's new, clean, smart and spacious. It's an easy walk from here to the riverside or the famous bridge.
Alternatively, a local Kanchanaburi motorbike taxi can drop you anywhere. These days we always book our accommodation in advance.
On arrival in Kanchanaburi by train on our first trip, we hadn't reserved anywhere. We didn't want to trawl up and down finding the best place at that time in the afternoon. Instead, we went with the first cheap place we found, the Jolly Frog, an old Lonely Planet favourite that's now very run down, but cheap. 2 twin rooms cost us just 200 Baht each. (we wouldn't recommend this place.)
Kanchanaburi was so much cheaper than Bangkok when we visited. The next day we moved to popular Sugar Cane Guest House ( click through here for current rates) for a simple, affordable raft room on the stunning river. They serve good food, we revisited recently to eat and enjoy their views while staying at Warm Well (above). Sugar Cane are in the top 20 hotels in Kanchanaburi on Trip Advisor. Their rooms are simple but the location is perfect.
For Sugar Cane 2, Find the best deal, compare prices, and read what other travelers have to say at TripAdvisor.
Not everyone wants to travel as budget as we did on this occasion, luckily there are plenty of options to suit every pocket.
---
Hotels in Kanchanaburi
A selection of Kanchanaburi hotels, with good reviews and recommendations. We checked the Trip Advisor ratings at the time of publication, these may have changed.
---
Things To Do In and Around Kanchanaburi.
Kanchanaburi is rich in war history and well supplied with museums. You will find many natural attractions and national parks in the area, including waterfalls.
Kanchanaburi is also of note for its Neolithic history, artefacts have been found here and you can find a display at the Jeath War Museum.
The following things to do and see are in or near Kanchanaburi Thailand.
The famous Bridge on the River Kwai,
The Hellfire Pass and Memorial Museum,
The Jeath War Museum,
Don-Rak War Cemetary,
Chonk-Kai Cemetary,
The Bridge War Museum,
Three Pagodas Pass,
Erawan National Park,
Ban Khao National Museum,
Sri Nakarin National Park,
Pong Teuk
Elephants World,
Sai Yok Yai,
Prasat Muang Singh National Park.
Wat Dong Sak
---
---
Alternatively, why not take a cruise on the river or enjoy a local cookery course.
The infamous Tiger Temple and Safari Parks are also near Kanchanaburi and now there is an ethical elephant rescue park, Elephants World.
Our favourite thing to do in Kanchanaburi, just relax!
---
Bangkok to Kanchanaburi – Conclusion
This is the river view from The Jolly Frog guest house. Isn't it gorgeous?
Read more posts on Kanchanaburi here, about being Busy Doing Nothing on the River Kwai or on onward travel from Kanchanaburi to Bangkok and on to Laos.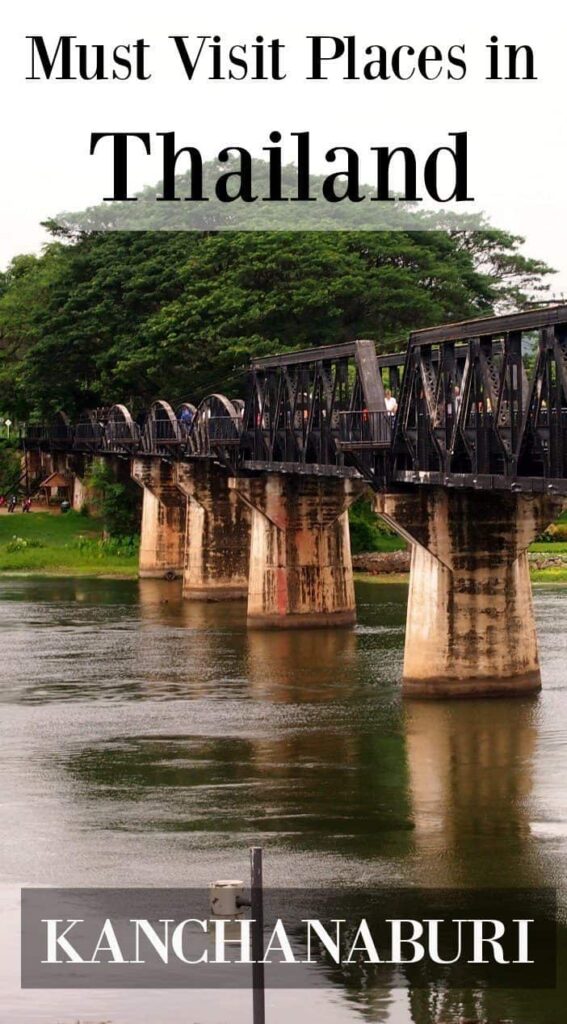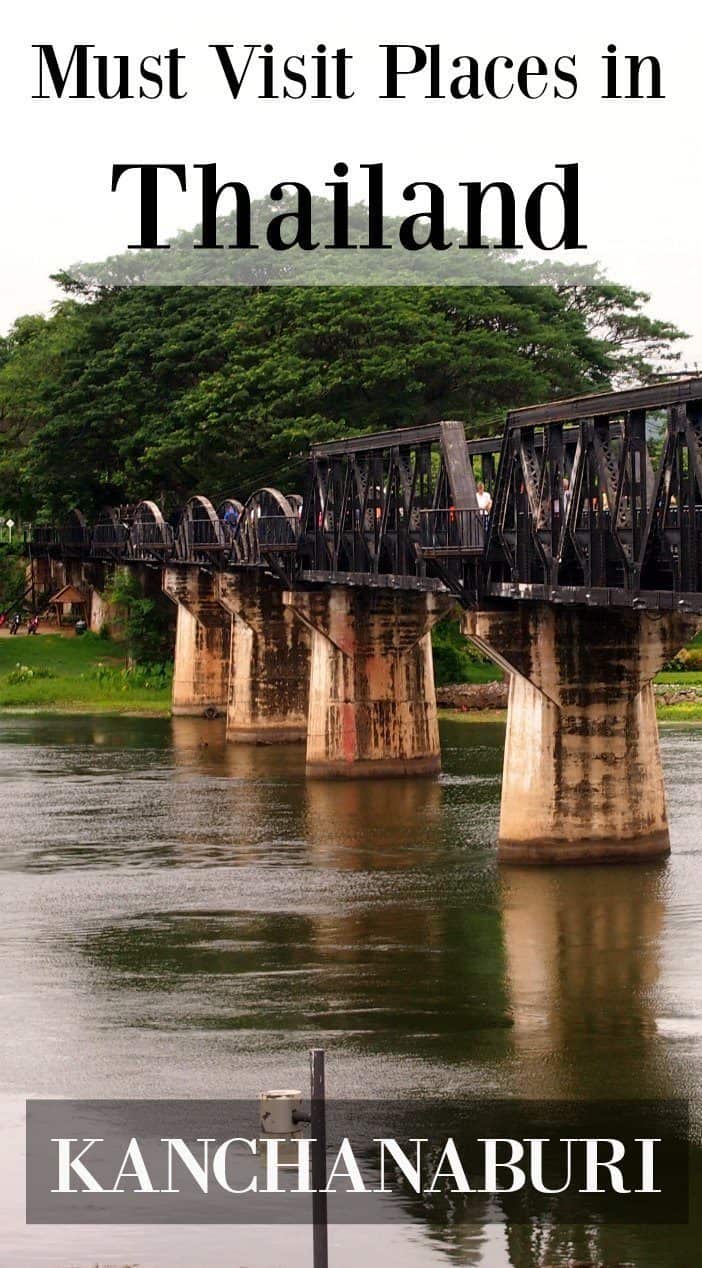 We love Thailand's capital and there are endless things to see and do in Bangkok, but Kanchanaburi is something entirely different. Kanchanaburi is peaceful. This makes it a desirable destination for digital nomads and slow travellers along with the daytrippers, backpackers and holidaymakers
It's well worth the short train ride from Bangkok to spend a weekend or a few days checking out the attractions or chilling on the River Kwai. And getting to Kanchanaburi from Bangkok is half of the fun. If you'd like more information on travel in Thailand, don't miss our main Thailand Travel Blog page, plenty of information there for singles, couples or families taking any sort of trip in Thailand.
If you'd like to hire a car during your stay, use this car rental comparison tool to find the best deal!

We also suggest you take a look at this company to get a quote for all kinds of travel insurance.

Try Stayz / VRBO for an alternative way to find rentals on homes/apartments/condos in any country!