This post may contain affiliate links.
A "things to do in Bangkok" post could easily turn into a book. This is a city with so many facets, so many variables that in 20 years of travel to Thailand, I've still not seen it all, nor had enough. These days I bring my children, they love this city too and ask to return often. This post is aimed at new travellers, maybe families with children or teens, who have no idea what Bangkok has to offer. Let me give you a brief taste of this fascinating city. I can't include everything but these are some of our favourite things to do in Bangkok with family, with children, with friends or solo. PG rated things to do in Bangkok.
Best Things to Do in Bangkok
The best things to do in Bangkok depend on your interests, we recommend the following as must-dos, The Grand Palace, a trip on the river, the Green Lung, Wat Pho, Wat Arun, there are many other places listed below that could be more suited to your personal taste.
This post may contain affiliate links from which we earn commission.
Visit the Grand Palace in Bangkok (The must-see!)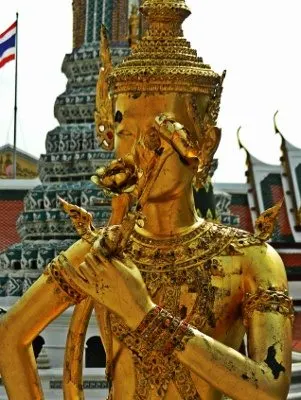 A friend once asked me, a new traveller to Thailand, what my number 1 thing to do in Bangkok would be. I told her to visit the Grand Palace. She ignored me, went to the shopping malls instead, then hopped on a plane to Phuket. Big mistake! You can shop and visit beaches anywhere in the world, but there is only one Bangkok and only one incredible, stunning, beautiful Grand Palace.
It was home the dazzling Kings of Thailand since 1782, in the reign of King Rama I. Yes, it will be a long, hot visit, yes there will be crowds, but you can't come to Bangkok and not see it, it's out of this world.
Interestingly, the Royal Family moved out of this palace around the time of Rama V. This King constructed the New Palace (below) the old palace, with its collection of magical buildings was too hot, so the story goes.

Visit the New Palace in Bangkok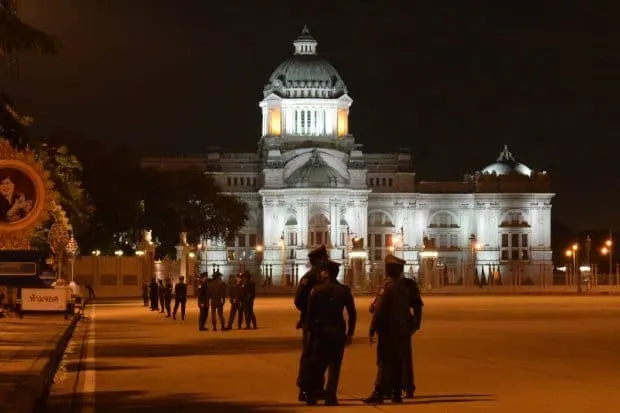 King Rama V loved to travel. His New Palace is modeled on Versailles in France. I haven't been inside as yet. Try to take a look at night, it's so pretty.
Learn to Haggle in Thailand
The video on our post about haggling in Bangkok shows my then 8-yearold practicing his haggling skills. It's very easy, just keep smiling. You will need to haggle at most market-style stalls and with taxi or tuk-tuk drivers without a meter.
Fixed price is becoming more and more common in Bangkok but if never hurts to ask for "best price?" My advice with taxi drivers is to find one who does have a meter, I have no time for the cowboys.
Visit Dusit Zoo Bangkok
The Bangkok Zoo, Dusit Zoo, should be a family pleaser. It's not the worst zoo in the world and it's not the best, but if you're looking for a good place for kids to have a run-around and have a family day out, this works. There is a boating lake and playground for small children. Dusit Zoo is almost opposite the New Palace. In our post on Dusit Zoo we describe two unusual attractions, the two-headed turtle and shark fishing.
Visit the Famous Wats in Bangkok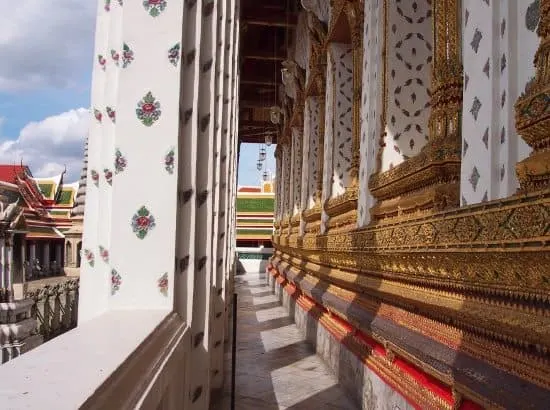 There are a few big-draw Wats that you need to see. The bigger Wats have an admission charge. Children are free if they are shorter than the ticket office desk, usually.
Wat Arun, the Temple of the Dawn, right on the riverbank, almost opposite the Grand Palace and Wat Pho.
Wat Pho, the temple of the Reclining Buddha. The Buddha is 43m long and gold and mother of pearl encrusted.
Wat Phra Kaew, the temple of the Emerald Buddha, is within the Grand Palace and covered by your admission charge.
Visit all the Wats in Bangkok
Don't restrict yourself to the big name Bangkok Wats. As you explore on foot you will find a Wat almost on every street, go in, take a look, be respectful. They are all stunning and fascinating places to see. There are actually over 400 wats in Bangkok. You must be dressed respectfully, cover knees and shoulders and remove your hat. One of Bangkok's Wats has the biggest solid gold Buddha in Bangkok (but not in Thailand, that's at Wat Traimit.
Explore Bangkok's Green Lung (By Bike)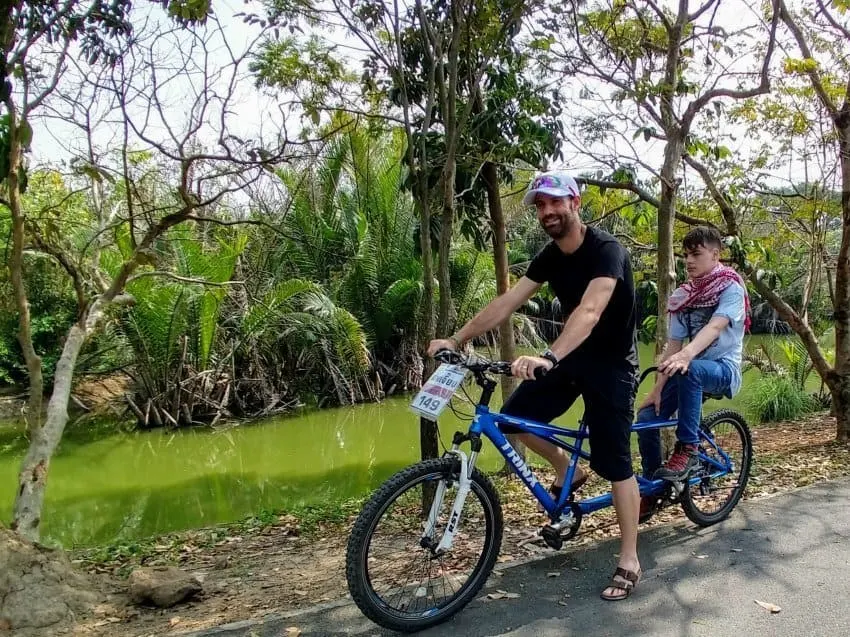 Bangkok's Green Lung ( an area called Phra Pradaeng or Prapaedeng) is a part of central Bangkok that most tourists never see but that is popular with local visitors. Take a little ferry boat ( around 20 Baht from Klong Toey Port) to this island of green wetlands stuck in a loop of the Chao Phraya River. On arrival grab a bike and explore.
You'll find temples, conservation area, fighting fish museums, towers for viewing birds and greenery ( Bang Krachao Park), even a weekend floating market. It's a trip well worth doing. Bike hire is normally included in the fee you pay to the boat lady. This is a welcome, calm antidote to Bangkok's bustle. There are a few restaurants and cafes over there to grab lunch. There is a famous hotel come guest house within the Green Lung area, check out the Bangkok Tree House here.
Visit a Hindu Temple in Bangkok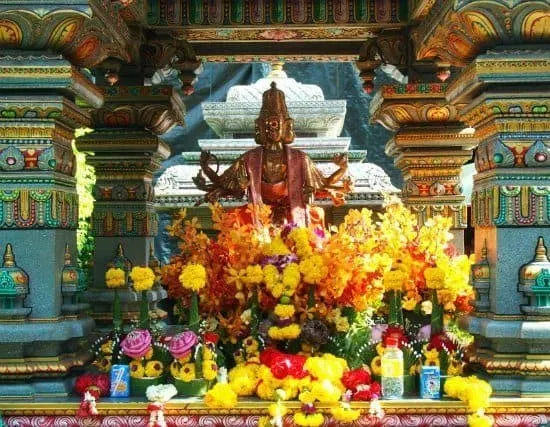 If you've never seen a brightly painted, ornately sculpted Hindu temple, now is your chance. This one is in the Silom district of Bangkok, on the corner of Pan Rd. This street just happens to house one of our favourite hostels. Pan Rd has excellent vegetarian food too.
Take a Tour by Long Tail Boat in Bangkok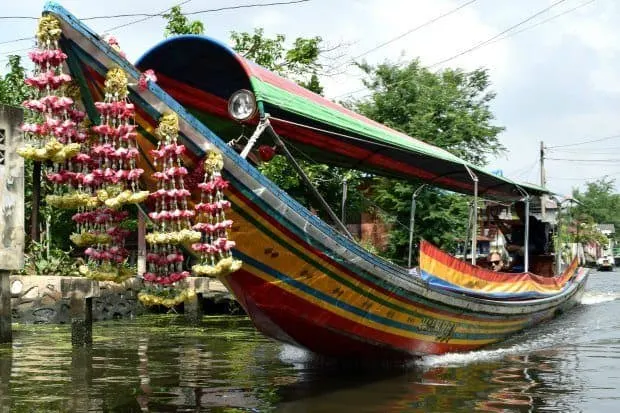 The Chao Phraya river is large and choppy, it flows through the heart of Bangkok and is a busy thoroughfare. Find yourself a long tail boat driver and get him to take you on a tour of the khlongs, the waterways behind the main river. You'll see a way of life, a style of building, that would seem to belong in Bangkok's past, but still exists if you take the time to look. Watch out for giant monitor lizards too, you'll find them in all of Bangkok's khlongs and lakes.
Lumpini Park Bangkok
This is a lovely and large green area perfect for kids to play or for adults to work out. There are plenty of play facilities and this is also a superb place for spotting giant monitor lizards and turtles. Try not to go in the middle of the day, there's not much shade. You also stand a good chance of seeing monitor lizards in the khlongs. Lumpini or Lumphini Park is adjacent to the Silom MRT station, we used to walk here from our hostel in Silom.
Go to the Hospital to Learn about Thailand's Snakes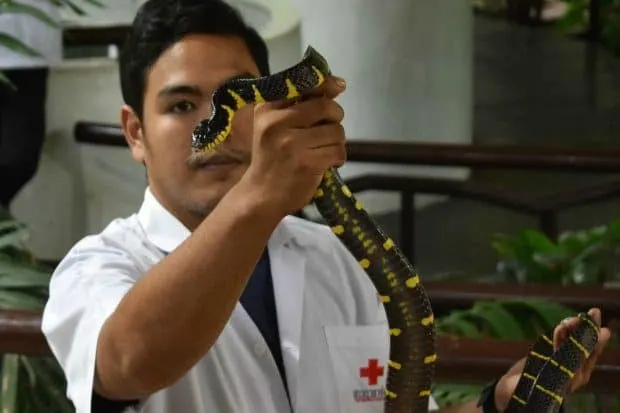 The Bangkok Hospital Queen Saovabha Memorial Institute has a venom research and antivenom production facility. Over time, this hospital department has created a tourist facility of educational and entertainment value. We visited in 2016, for the first time. It's really worth going, highly recommended and more ethical than other Bangkok snake shows.
You can easily spend half a day here but get here at the right time, the snake shows are at 11am (weekends) and 2.30pm (weekdays) ( at time of publication please check for yourself). You can also see venom extraction if you get to the hospital snake department at the right time. The snake farm shuts early, at noon, on weekends. There is a fascinating museum on site too.
Take a Food Tour in Bangkok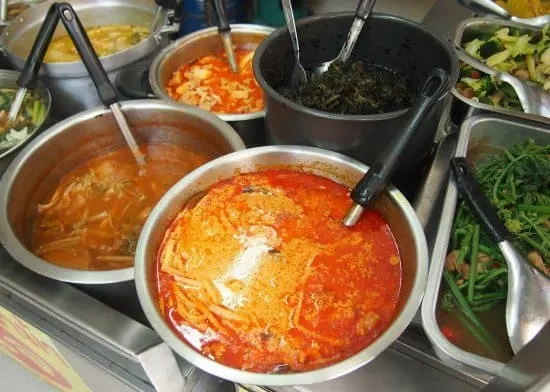 There are several to chose from, lunchtime, early evening or late at night, touring Chinatown or other districts.
Check out the food tours available in Bangkok here and book before you arrive. You may like to check out our complete guide to Thai food before your visit. For new visitors to Thailand, this is a good way to build confidence in ordering Thai food from the best outlets, the places the locals visit. My kids love to eat ( and cook) so if you are looking for things to do in Bankok with family of older kids or teens, this works whereas a dinner cruise could be too dull.

Take a Day Trip to one of Thailand's Floating Markets from Bangkok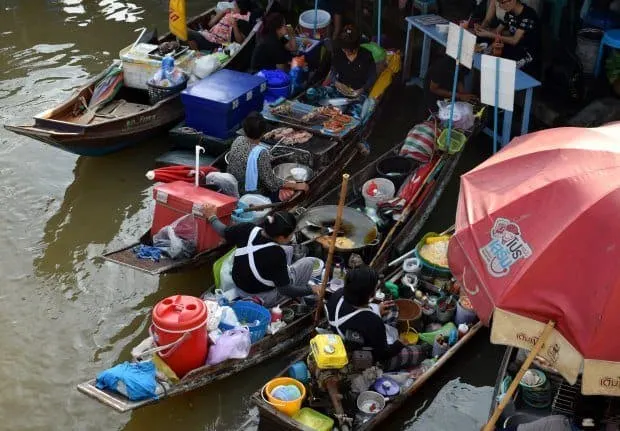 The big, famous floating markets are a fair way out of Bangkok, about 100 Km. Many people visit as part of a day tour or organised morning trip. We visited Damnoen Saduwak, the main tourist market, from Amphawa, a nearby floating market and one we found much nicer.
If you have time, get down to Amphawa for a day or two, it's very different to Bangkok and the markets specialise in amazing local seafood. If catching local buses and making your own arrangements isn't for you, you can book a Floating Market Tour before you arrive or try to organise a local driver to take you. Bargain hard over price.
There are plenty of other floating markets in and around Bangkok, if you visit our Amphawa post (above) you can find out more.
Tha Kha is another good one and this can also be visited as a day trip from Bangkok along with the famous railway market, Maeklong ( where stall holders get out of the way of oncoming trains 8 times per day). Find our full post on a Tha Kha and Maeklong tour here.
Take a Day Trip to Kanchanaburi From Bangkok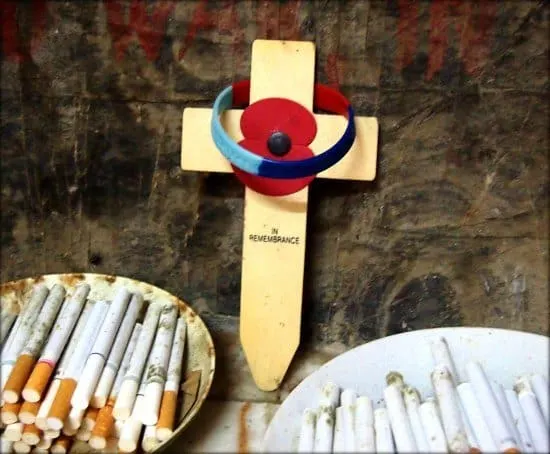 Kanchanaburi and the famous Bridge on the River Kwai are another popular day trip from Bangkok. Again, we took the train out to Kanchanaburi and stayed a week, but for a short visit, book a Kanchanaburi Tour or even take a taxi.
The Death Railway and a couple of interesting war museums are here. It's worth staying longer for the peace of life on the River Kwai. The infamous tiger temple is (was) in Kanchanaburi. At the time of writing, it had thankfully been shut down after the monks' involvement in tiger trafficking was exposed. It seems to open and close quite regularly so check for yourself.
We wouldn't recommend going there nor to the nearby Kanchanaburi Safari Park after seeing a tiny leopard cub chained in the Kanchanaburi market by way of advertisement.
Take a Day Trip to Ayutthaya From Bangkok
Same story here with Ayutthaya, you can visit this second ancient capital as a day trip by booking an Ayutthaya tour, or head out there by train and spend a couple of days exploring and taking boat trips at your leisure. Ayutthaya is a UNESCO listed heritage site and Thailand's second ancient capitol after Sukhothai. Sukhothai can also be reached from Bangkok but bus time comes in at a hefty 10 hours or so.
Shop for Electronics and Photographic Equipment in Bangkok
The top floor of the MKB centre, one of Bangkok's huge malls, is an Aladdin's cave of electrical gadgetry. Full of wonders and innovations, it's worth taking a look, prices can be amazing but quality is variable. There are plenty more huge malls in the Sukhumvit district, clothes and shoes are a speciality too. We rarely visit this side of town.
For genuine electronics try the Fortune Mall or Building. All of the usual high-quality computer, photographic and phone outlets are here and it's very hassle -free. You can claim back tax at the airport on departure.
Get a Traditional Thai Tattoo in Bangkok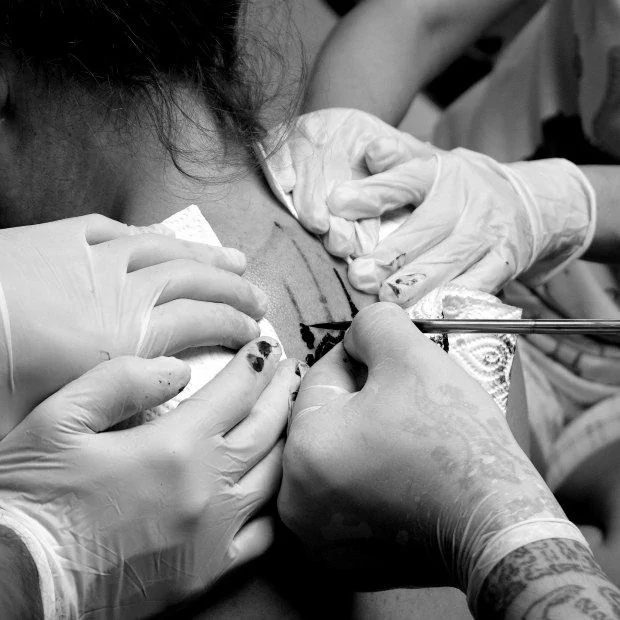 Why not? I did, read about my sak yant here. You'll need to find a monk or an ajarn to perform the ceremony and bless you with protective magic. Yes, my whole family came along.
The Red Light District
I'm not going to tell you where it is. It's in Bangkok, it's avoidable, and it's not an area you'll find by accident. Don't worry, you won't see much evidence of sleaze unless you go looking for it and with your family, you surely won't want to.
Visit the Iconic Khao San Rd in Bangkok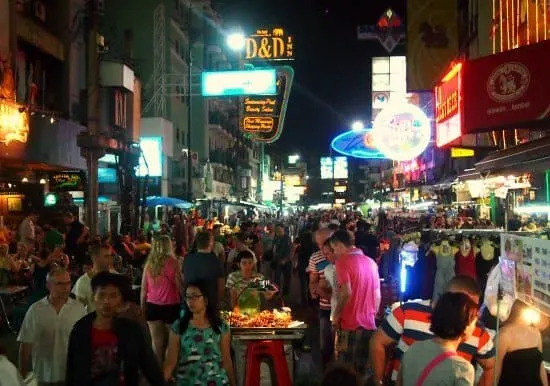 Love it or hate it, you still have to see it. My love affair with this area started in the 90s, I still love it today. It's fun, it's crazy, it's lots of laughs but it's going downhill. My children adore hanging out here in the early evening, interacting with the street vendors and playing with whatever toys they can haggle for.
Grab a meal on the pavement on Rambuttri Rd (the next street over and now very much part of the scene) or a pad thai from a street stall. Maybe don't go for the scorpion on a stick, it's not nice to scorpions.
We think staying in this area is a great idea, it's central and a short walk from the river to hop on a river taxi. The Grand Palace and Old City aren't far away. (See our Bangkok hotel recommendations, for this area and others, here) The streets 10 minutes or so walk from Khao San Rd become much quieter and you can feel and see Old Bankok away from the Khao San crazies. It's a good area to base yourself.
Take a Cycle Tour of Bangkok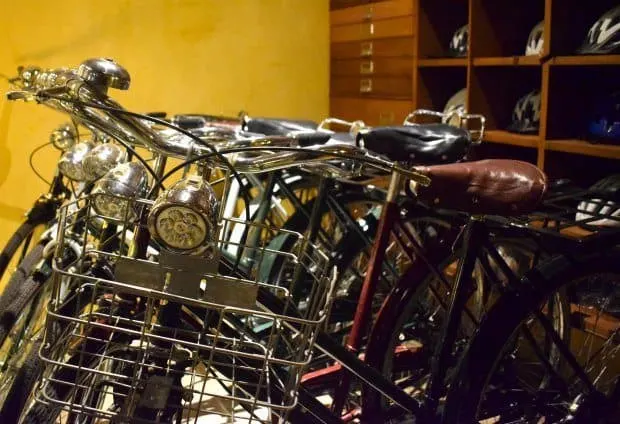 We took a cycle tour of Bangkok by night on our last trip and very much enjoyed pedalling genteelly around the old city after dark.
A tour like this will probably take you past the Giant Swing and various temples and historic structures lit up by night.
Our tour was complimentary, provided by our rather nice hotel, The Old Capital Bike Inn. Other bike tours are available.
See Bangkok's Giant Swing
The Giant Swing is a historic monument in Old Bangkok and is worth seeing but not something to go out of your way to see. It's lit up at night and looks quite spectacular.
You will probably pass the Giant Swing in a taxi or tuk tuk at some point, or simply add it to your self-guided walking tour of old Bangkok. The street that approaches the Giant Swing is interesting in that the shops specialise in religious items.
You should see many huge golden Buddhas lining the street outside rows of old shop houses.
Visit Bangkok Sea Life Aquarium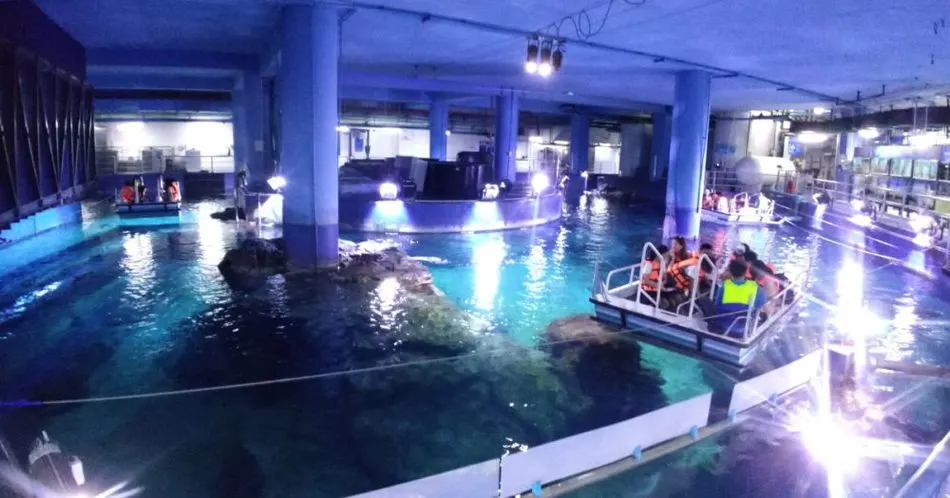 The Sea Life aquaria are a chain and Bangkok's Aquarium is a very good one and well worth visiting. You can take a ride on a glass-bottomed boat over the shark tank, that's something we've not seen in other Sea Life aquaria worldwide.
The Bangkok Sea Life Aquarium is in the basement of the huge Siam Paragon Mall in Sukhumvit. There's a great food court just above in the mall if you're looking for food near the Bangkok Aquarium..
Madame Tussauds Bangkok
Highly recommended for adults, older kids and teens, Tussauds Bangkok is a whole bunch of fun and a very good place to visit.
It's a weird feeling having The Obamas, The Queen and Madonna staring at you. It's all about selfies and honestly, this was the best fun we've had in months.
You can visit Tussauds and The Bangkok Aquarium on a combined ticket to make them a little cheaper. Both are in the big malls in Sukhumvit and it's just a 10 minute or so walk between the two attractions. When you're done maybe cross the road to the MKB mall for some cheap clothes, souvenirs, or electronics.
Is Bangkok Worth Visiting With Family?
Bangkok is 100% worth visiting with family. Bangkok is so diverse that there is something for everyone, be it cultural attractions, food experiences, wonderful hotels and shopping or kid-friendly attractions. Bangkok could keep your whole family happy for weeks. We'd go as far as to say that Bangkok is the best place in Thailand for families. It's an amazing city.
While many holiday makers take their families to Phuket for the beaches, there is not very much by way of cultural attractions in Phuket and Patong is too sleazy for many families. We think Bangkok is a much better destination with more to do and see, but obviously, the city does not have beaches, although it does have some amazing family hotels with incredible pools for relaxation.
How Much Time to Spend in Bangkok With Family?
If you plan to see most of the cultural and historic attractions in Bangkok, enjoy Thai cuisine, and maybe visit some fun places in Bangkok for the kids, you will need at least 5 or 6 days to really experience Bangkok. In reality you could stay much longer and not run out of things to do.
There are loads more things to do in Bangkok and over time I'll add them to this post, but for today, that's enough. It's one of our very favourite cities in the world and even now, after 20+ visits over 20+ years, we're still enjoying the old and discovering the new. Back to our main Thailand Travel Page
If you'd like to hire a car during your stay, use this car rental comparison tool to find the best deal!

We also suggest you take a look at this company to get a quote for all kinds of the more tricky adventure or extended travel insurance.

Try Stayz / VRBO for an alternative way to find rentals on homes/apartments/condos in any country!