This post may contain affiliate links.
Ayuthaya (also spelled Ayutthaya or Ayudhya) was the second capital of old Siam (1360-1767) after Sukhothai. It's got history on its side, but is it worth a visit during your trip to Thailand? What about those all important "things to do?" We think it's well worth a visit. Getting to Ayutthaya from Bangkok is easy and the historic park is quite magnificent, after all it's a UNESCO world heritage site. But we travel with kids, so how was visiting Ayutthaya as a family? This was my second visit, my first was as a single backpacker back in 1997, pleasingly, little had changed in Ayuthaya and there was plenty to do for a few days.
Ayutthaya Travel Blog, Getting to Ayutthaya from Bangkok, Where to Stay and Things to Do.
Ayutthaya, this time with kids age 4 and 6 years, we spent time enjoying river boat rides, wandering the temples and ruins, feeding the fish and seeing elephants. I think it was the first time they ever saw elephants. Just outside Ayutthaya was the craziest place we've ever been, a bizarre floating market attraction with battle re-enactments and blood splattered actors roaring ferociously. The kids made friends with these fearsome warriors and had a cool afternoon of stage fighting and pyrotechnics. All this and a lovely place to stay, delicious breakfasts, hot chocolate and good Thai food. Near Ayutthaya are various sites suitable for day trips, you'll find these further down the page. We highly recommend the easy trip to Ayutthaya from Bangkok even if you're on a short vacation, as we were this time.
Getting to Ayutthaya From Bangkok
Ayutthaya is only around 85Km north of Bangkok by road, so it's possible to visit the Ayutthaya Historic Park ( a UNESCO world heritage site) as a day trip if time is short. Tour companies offer pick-up drop-off tours from Bangkok hotels. Alternatively you could take a taxi ( approximately 1200Baht )
Buses run between Ayutthaya and Bangkok from various points in the city. Expect the journey to take 1 to 1.5 hours, fares sit at around 60 Baht,
For longer-term travellers, we would recommend taking the train and spending a few days to really explore the area.
Thailand is easy to get around, the trains are fantastic and Hua Lamphong Railway Station, Bangkok, is a travellers dream. There are even people whose job it is to help you find the correct ticket booth or platform, find them near the entrance desk.
The train to Ayuthaya takes two hours or so from Bangkok and costs very little ( around 240 Baht 2nd class/A/C 20 Baht 3rd class, less than a dollar). We chose 3rd class, it was fine.
It is also possible to make most of the journey between Ayutthaya and Bangkok by boat along the river.
Great Family Accommodation in Ayuthaya
For the first time, we stayed in one of the top places listed in the Lonely Planet.
We got a tuk tuk from the Ayutthaya train station, straight to Tony's Place, thinking that if they were full, there would be similar places in the same street, to find a beautiful vacant room waiting for us at a decent price ( around $35).
Like most of Ayutthaya, the guest house was flooded recently but they were well on top of repairs, there was some building noise and dust coming from downstairs during the day, but the building was beautiful and the room was perfect for us. Tony's Place has a lovely restaurant/bar/garden area downstairs where we hung out with the kids while they used the free wifi and we enjoyed a Thai curry and a beer.
Our family room was firmly in the flashpacker category, this wasn't a budget trip, with a huge bed downstairs and a second bed on a mezzanine level. It featured an en-suite shower room, TV and air-con. There are loads of spots to just sit and relax around the wooden balconies and verandas of the guest house. They're recently installed a new pool.
Breakfast was not included, but it got the banana pancakes and hot chocolate thumbs up from the kids.
Our room was directly above the stage, so, if live music bothers you, maybe stay elsewhere, but we sleep through anything.
The Evening Boat Trip Around Ayutthaya
Our guest house booked this cruise for us and arranged a pick up, it takes you right around the town, which is mostly on an island formed by rivers. We stopped at a few temples, fed the fish and checked out the ancient ruins at Wat Chai Wattanaram. The enormous gold Buddha at Wat Phanan Choen is spectacular at 19 m tall, don't miss it.
It was really obvious how devastating the floods must have been, the high water mark was still visible on buildings around town.
Towards the end of the trip we rounded a corner to see elephants on the river bank. I was going to say that this was the highlight for the kids, but actually, they loved everything about the trip. We stopped to get up close with the elephants, one came into the water and did a few tricks for us in exchange for bank notes placed in his trunk. A great way to get parents to hand over cash in exchange for delighted children but maybe not so great for the elephant.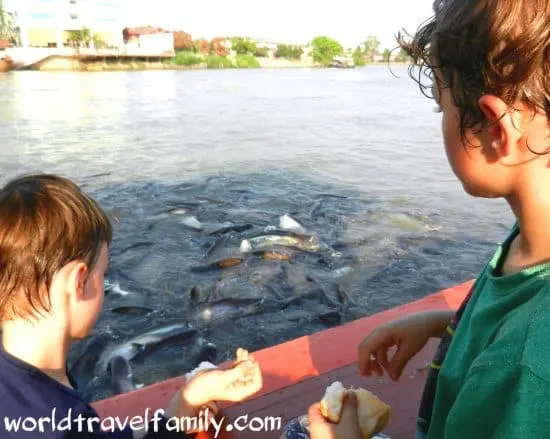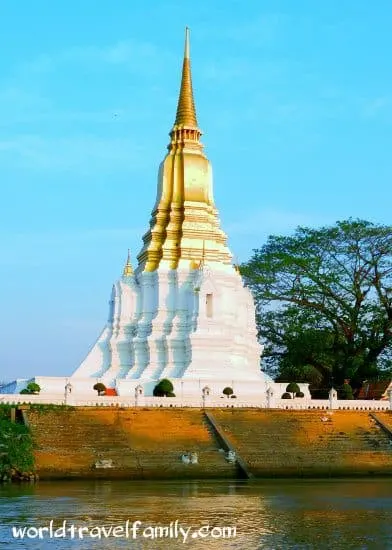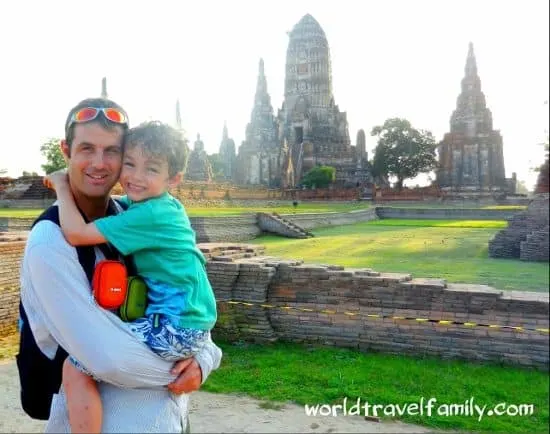 Things To Do In Ayutthaya and Nearby
We would recommend a day trip by tuk tuk to Bang Pa In Palace and spending half a day or longer exploring the Ayutthaya Historical Park, including the Elephant Taxi Kraal, Old Royal Palace and Wat Phra Si Sanphet. There were plenty of Wats that we didn't make it to and plenty of attractions involving elephants, good and bad, you could easily spend far longer here than our 3 days.
The night market is OK, not very big, but we got some decent street food there and the kids enjoyed the bouncy castle.
There is a floating market attraction a little way outside Ayuthaya, it was a man-made tourist trap complete with drugged tigers for tourists to have their happy snaps taken with when we last visited.
I'd read some terrible reviews. After arriving and being snobby about it for a while, the kids made friends with the actors re-enacting the Siam Burma Wars, they had an amazing time, I'll have to write another post about that one.
We tried to visit the Ayuthaya Klong Sabua Floating Market and Water Theatre, a confused and non-English speaking tuk-tuk driver took us there, it was shut. We think it was destroyed in the floods or maybe he took us to the wrong place. Who knows?
Many people choose to explore Ayutthaya by bike. Our kids were too young for this but if you'd like to read more about the experience of touring Ayutthaya by bike, read Erika's story.
A Quick Note On Air Pollution
We were in Ayuthaya in February and the air pollution was terrible. This is as far north as we got on this trip, we couldn't face Chiang Mai and breathing the smog up there. After Ayuthaya we headed back south to Koh Samet for cleaner air. Keep an eye on the air pollution websites the air quality fluctuates and some years are worse than others, Bangkok was fine, the further north you get the worse it seems to be.
So Do We Recommend Ayuthaya?
Yes, absolutely, but we recommend Thailand generally, it's a fantastic place to take kids, easy, great value for money, amazing food, spectacular and educational. Have you been? Would you like to? I'd love to find out what you made of Ayuthaya. This post was not sponsored by Tony's Place, Ayuthaya Thailand we recommend them because we liked them!
Back to our main Thailand Travel Bolg and Directory page
If you'd like to hire a car during your stay, use this car rental comparison tool to find the best deal!

We also suggest you take a look at this company to get a quote for all kinds of the more tricky adventure or extended travel insurance.

Try Stayz / VRBO for an alternative way to find rentals on homes/apartments/condos in any country!