This post may contain affiliate links.
The Khao San Road is an icon of Bangkok and of Thailand. It's where travellers have gathered for decades to find lodging, food, and souvenirs. This part of Bangkok is perfectly located near many of Bangkok's major cultural attractions which made it a great neighbourhood to stay in Bangkok. This post is about the Khao San Road, then and now. In 2023 (now, our last visit) it was very different to how we remembered it pre-lockdown. What's on the Khao San Rd, how to get there, where to stay on or near the Khao San Rd, and how this incredible street and area has changed over the years.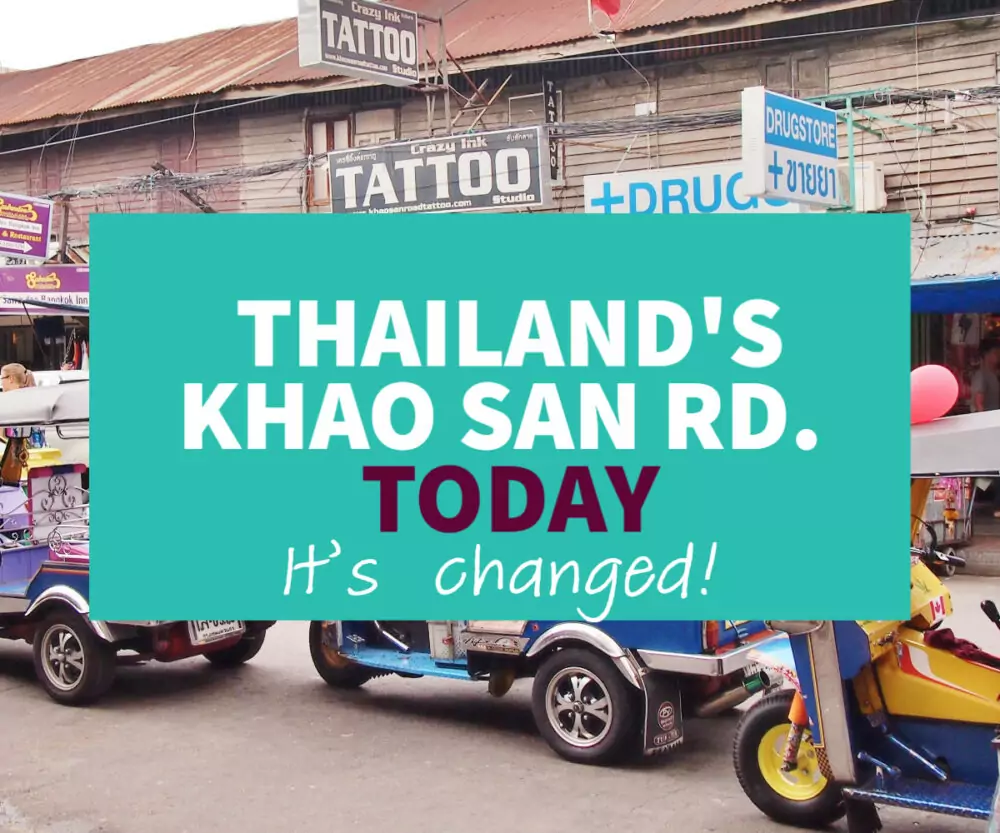 Staying on the Khao San Rd itself is probably not a good idea, it can be very noisy late at night, but just a few streets away and you are in a very good area in Bangkok to stay. We'll talk more about where to stay near the Khao San Rd in this post, we'll also give you a map!
We can also give you some good pointers on where to eat near Khao San Rd, and where to avoid.
I first visited Khao San Road over 2 decades ago as a young (ish) traveller. I loved this street immediately and got lost in the labyrinth of tiny shops and old buildings.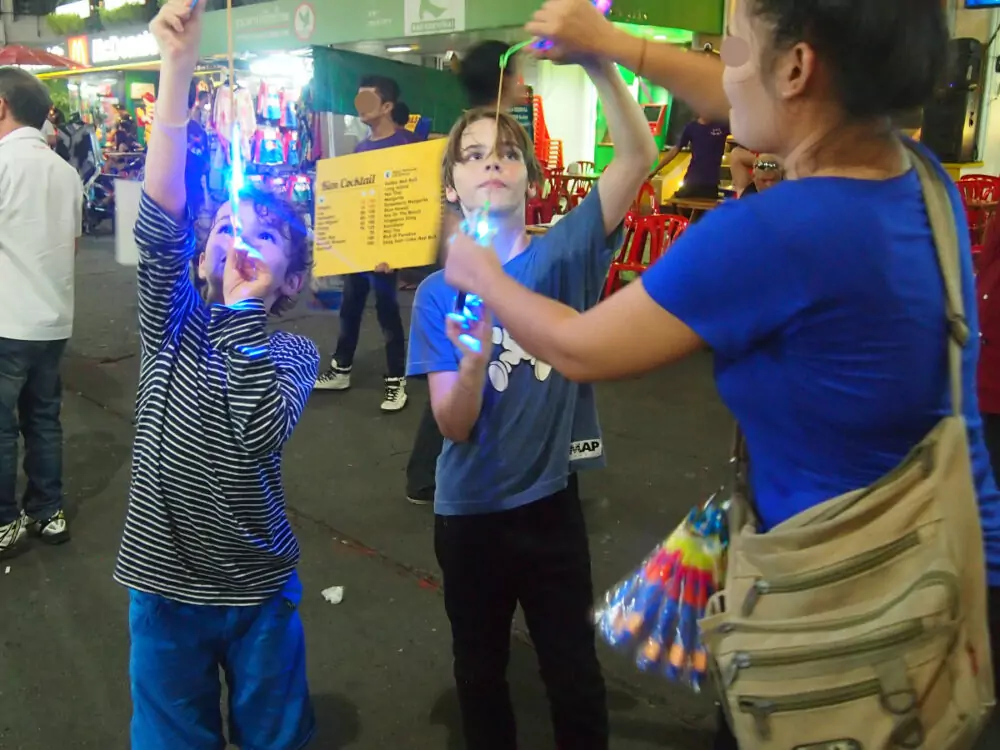 I've since visited hundreds of times as a backpacking couple and as a backpacking family with kids from 3 yrs old to 18 yrs. I couldn't wait to bring my kids here as soon as they were old enough to really travel.
We always loved visiting this part of Bangkok, and it's the area of Bangkok we normally stay in when we're in town.
The Khao San Rd as we knew it is now seems largely gone, but the surrounding streets remain as vibrant as ever. I know that some hate it, preferring the quiet life, but everyone should see it.
Khao San Rd. Bangkok, Thailand
hide
Khao San Road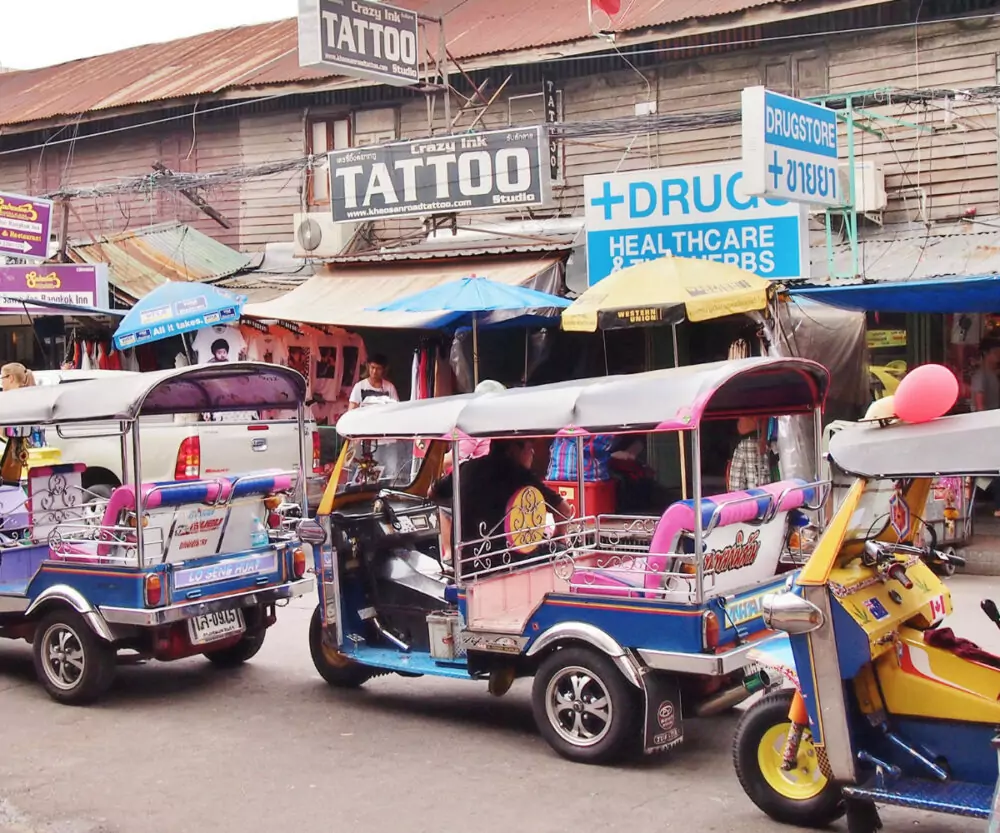 This post is about the Khao San Rd. Its location, places to see near the Khao San Road, what to see and do and walks to take. We're very fortunate in that we've been visiting this street for over 20 years, we've watched it change and we saw its history.
This Road, Soi Khao San is very different today to when I first visited, by chance, way back then.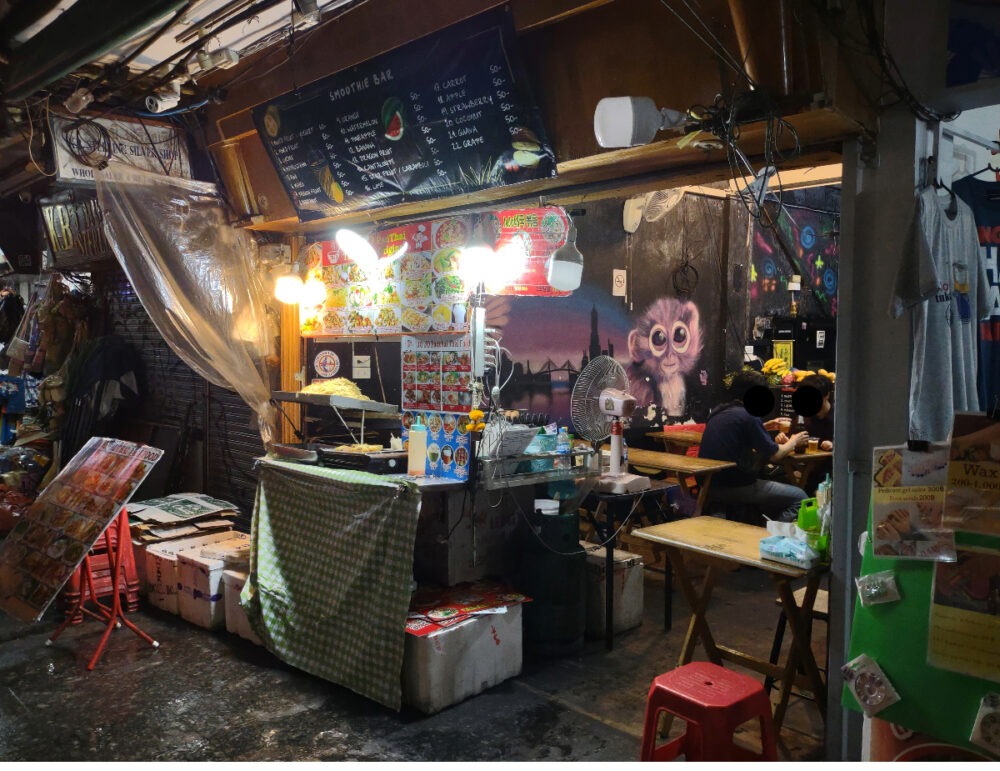 I have to say, the changes are not for the better in our opinion, a lot of its charm has gone and the modern has arrived. Some may prefer that.
This is still an excellent part of Bangkok to stay, close to everything, so read on.
This post explains what Khao San Rd is like now.
Where is Khao San Rd?
Khao San Road (Soi Khao San) is a street in Bangkok, a centre for travellers, backpackers and tourists in Thailand's capital city. It is located on Rattanakhaosin Island, an island formed by a loop in the Chao Praya River and a canal or klong, Khlong Ong Ang.
Rattanakhaosin island and district is the old heart of Bangkok, and here you will find The Grand Palace and Temple of the Emerald Buddha, Wat Pho, The Golden Jubilee Monument, Golden Pig Shrine and Wat Wat Mahathat Yuwaratrangsarit plus many other important monuments and buildings.
Khao San Rd is in Bankgok Thailand, a city in the northern hemisphere, 13 degrees north of the equator. This latitude is in the tropics. Thailand is in the continent of Asia, in the Phran Akorn district of Bangkok. It is in Southeast Asia, a subregion of the Asian continent.
Bangkok's tropical climate brings rain to the city between July and October. These wet months are also very hot, but October is a good time to visit northern Thailand when the weather will be cooling down.
Khao San Rd Bangkok Map
The map of Khao San Rd's location may take a second to load, give it time, it is fully interactive and we've marked places of interest near Khao San Rd for you.
We recommend you double check the location, names of stations, transport connects and so on for yourselves. We've done our best but we're not native Thai speakers, and things do change. The map should help.
Is Khao San Rd a Good Place To Stay in Bangkok?
Khao San Rd used to become very busy and can be noisy at night with multiple bars playing loud music. We wouldn't recommend this road as a good place to stay if you like to go to bed early.
If you can find accommodation within walking distance of Khao San Rd, and there are many options for hotels, guest houses, and hostels, then yes, the Khao San Rd area. (Phran Akorn district) is a very good place to stay.
From here much of Bangkok is within walking distance for travellers wishing to experience the history and culture of Thailand.
From Khao San Rd there are excellent transport options, in particular, the multiple boats and ferries on the Chao Praya River. These are marked on our map.
You can also find most of Bangkok's major tourist attractions within walking distance of the Khao San Rd or the Khao San Area. Wat Pho, Wat Arun, the magnificent Grand Palace, and more, are nearby. These are normally considered the best places to visit in Bangkok.
You always used to be able to organise onward transport, day trips and tours from this area too, but these offices seem fewer now. You can book all this online today, of course, so this makes perfect sense. So if you want to visit Elephant's World or the Best Floating Market, even onward travel to Phuket, Chiang Ma, or Kanchanaburi, you can do it via our site.
Khao San Rd is not the cheapest place to stay in Bangkok, you'll likely find cheaper places in the less popular parts of the city, but there are plenty of accommodation options nearby at all price points.
Bangkok is more expensive than many other parts of Thailand generally, other than the big beach resort places popular with package tourists, like Phuket, or Krabi.
If you're in Bangkok to shop, you may prefer to stay closer to the MTS system or the huge modern malls. These are not in this part of Bangkok.
How To Get To Khao San Rd
There are several ways to get to Khao San Rd from all locations across Bangkok.
You can easily get a taxi or tuk tuk to the Khao San Rd from any area of Bangkok. A well-known location like this should be familiar to any driver. A tuk tuk is a novelty experience, if your driver won't use a meter you must agree a fixed price in advance. A tuk tuk (3 wheeler) should be easy to find if you stand at any roadside and flag one down.
Remember that you can usually haggle the price down quite a bit with tuk tuk drivers. These are good for short-range trips with smaller groups (3 adults normally), if you want to go a bit further you might need a taxi.
You can usually find taxis all over Bangkok, though it will be easier near busy roads, most taxis use a meter, though it's worth asking before you get, in just in case.
Keep in mind if you're taking a longer trip your driver may ask if you want to use the motorways, or freeways, if so, you will be expected to pay the toll booth fees, which shouldn't be more than about 50 Baht at each toll booth.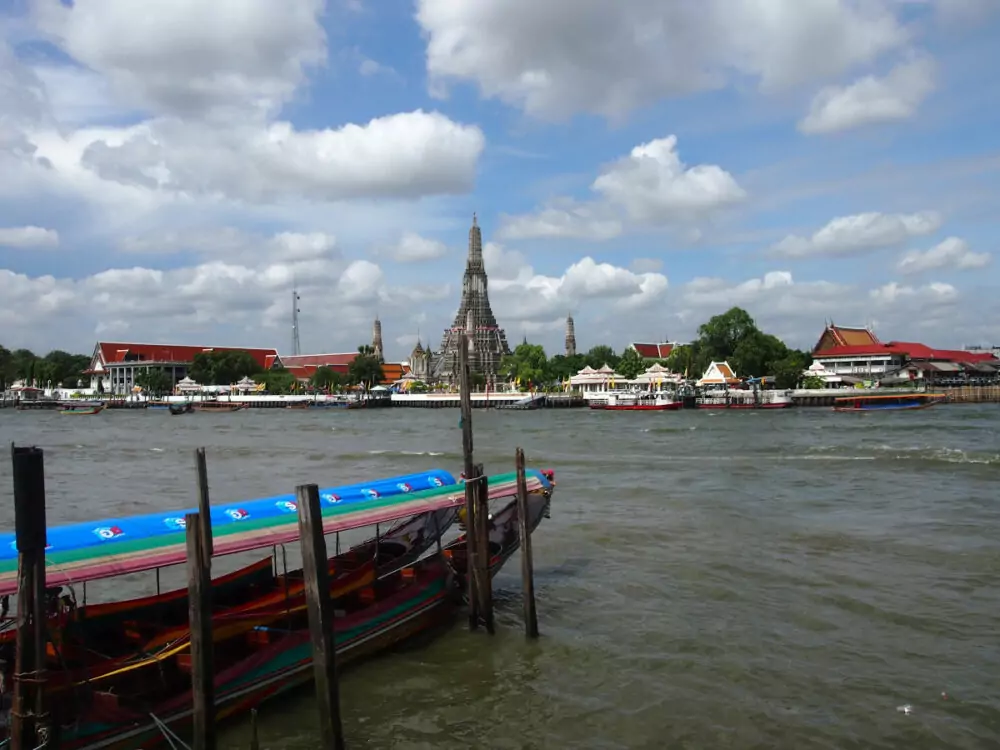 Another great way to get around Bangkok is via ferry or water taxi, as Bangkok has the Chao Phraya river running through the middle of it. There are ferry terminals (piers or jetties) all along the river and you pay by the number of stops. The Phra Arthit jetty is the closest to Khao San Rd and takes just a quick walk to get to the Khao San Rd from there.
When you disembark at Phra Arthit jetty, continue walking to the end of the covered walkway lined with shops. This opens onto the main road, Phra Arthit Rd. Take a left and walk maybe 50m, you need to cross this road. There is an alleyway just past a 7-11 convenience store, which takes you through to Rambuttri Rd. Take a left, keep walking to the main road, Chakrabongse Rd. You need to cross this road and take a left into Khao San Rd. We marked this walking route on the map for you.
The nearest Bangkok metro station (BTS Skytrain – Bangkok Mass Transit System) is on the blue line and it's the other side of the river from Khao San. You will need to cross the PinkLao bridge on foot. There isn't really a convenient metro stop for this part of Bangkok but I believe there is one under construction. Obviously things found change in future, please check for yourself.
We've visited Bangkok dozens of times and we very rarely use the metro, it's easier to walk or take a cab or tuk tuk. There are also public buses in Bangkok, again, we've never had any need to use them.
How To Get To KS Rd From Suvarnabhumi Airport
Suvarnabhumi Airport is to the east of central Bangkok, and international arrivals on full-service airlines are most likely to arrive at Suvarnabhumi.
Suvarnabhumi Airport has a new train line that will take you into the heart of Bangkok. This train line only goes to Ratchathewi Station, which is not close enough to Khao San Rd for you to walk easily with bags (about 4.5 Km).
Ratchathewi Station is conveniently close, here you can get on the BTS green line, or catch a public bus. Honestly, it's much easier and quicker to just get a taxi at the airport.
Both airports have well-organised taxi ranks. You simply take a ticket and wait your turn, taxis flow in and out of the airport constantly and they will be metered.
How to Get to Khao San Rd from Don Muang Airport (BKK) Airport
Don Muang is the airport to the north of central Bangkok and is the airport used by most budget airlines.
You can now catch a train to or from Dom Muang International Airport, it will get you closer to Khao San Rd and Old Bangkok, at Bang Sue Station, it does connect to the blue line, but you do have to get a bus or taxi to connect to Khao San Rd or walk 3km over PinkLao Bridge to cross the river. Taking a ferry may be better. Follow our instructions (and map) on how to walk to Khao San from the river jetty.
Again, it's really much easier to take a taxi from the taxi rank at the airport.
All of this information is very subject to change, things are being built, new train lines appear and old stations close. Please double-check everything before making your journey. We've done our best to be helpful!
How to Get To Khao San Rd from Sukhumvit
Sukhumvit is where you'll find the big shopping malls in Bangkok. The best way to get to or from Sukhumvit District is to take a taxi. Traffic can be terrible over there, expect congestion, don't take a tuk tuk.
A lot of trains service Sukhumvit, so if you're coming here the BTS should be helpful.
To walk from Khao San to Sukhumvit should take about an hour. The Jim Thompson House is also over towards Sukhumvit.
We don't think Sukhumvit is a good place to stay in Bangkok, Old Bangkok is much nicer in our opinion.
Silom isn't too far from Sukhumvit (and Lumbini Park) and Silom has good BTS connections. We stay in Silom sometimes, just for a change. We use Mile Map Hostel in Silom fairly often for a quick budget stay. This is a link to Mile Map on Agoda.
Is Khao San Rd Safe?
Khao San Rd is usually quiet by day, and busy by night. I've visited hundreds of times and never had any problems with safety or security, so I would consider it a safe part of Bangkok. That said, we're never here late at night, only in the early evening.
Obviously, I can't say if it's safe or not, just tell you about our experiences.
On our last visit to Bangkok, this road was much quieter than we've ever seen it before, with fewer shops and stalls.
If you're on the Khao San Rd late at night, or wandering the streets nearby in the early hours, I would not consider it safe. The same goes for any city.
Take sensible precautions against theft, be careful how you handle your money, and if you have small children with you, hold their hands, I've lost a child here when he wandered off looking at some cool thing. The street vendors helped me find him in no time.
We always visit in the early evening (and stay nearby) when there are plenty of families around. People have always been very kind and helpful in this area, particularly with kids. Maybe invest in child safety devices for travel, like the wrist links and ID tags we feature in that child safety post.
We've never had any theft, pickpockets, or any bad experience on Khao San Rd, or anywhere in Thailand. The only place we've experienced thefts is Malaysia, Australia, Jordan, and an attempted theft on a train in India. We take sensible precautions and use anti-theft bags or daypacks.
An anti-theft bag like this one can be very useful for travel as they have built-in security features like anti-slash fabric and metal reinforced cross-body straps. Check one out here.
Khao San Rd With Kids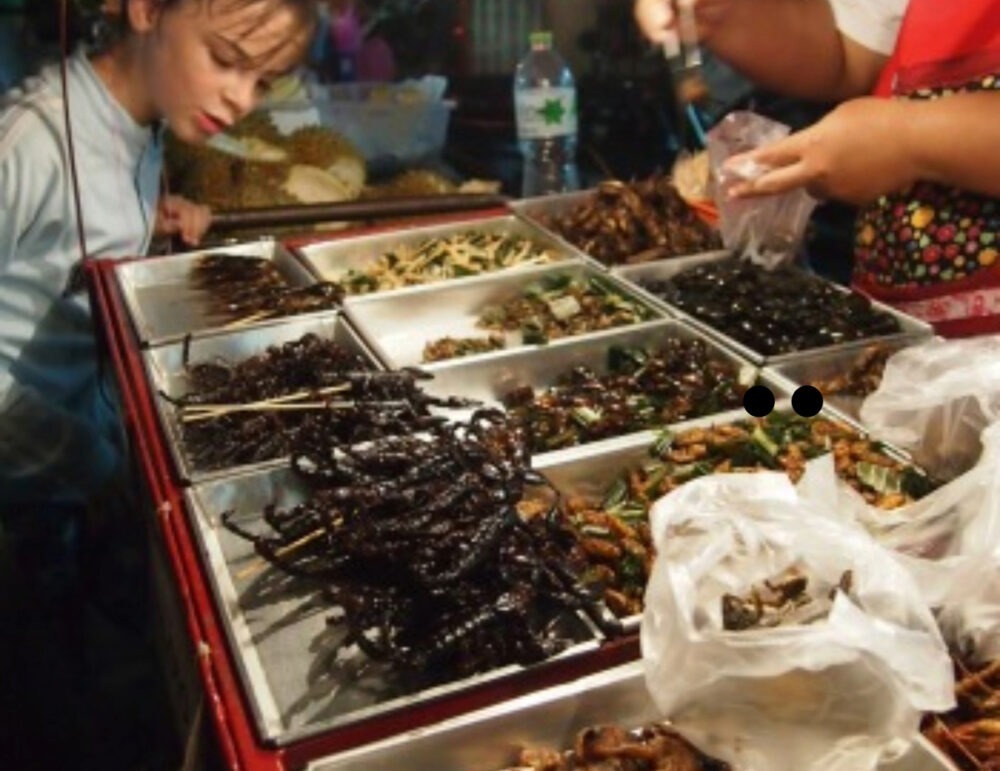 Khao San Rd is usually absolutely fine with kids although we have noticed sleaze creeping in recently. Things are becoming more and more developed here and a lot of the old buildings that had so much charm are vanishing or have already gone.
There used to be loads of fun shops and souvenirs for kids to look at, on our last visit a lot of this had gone. Not all, but a lot had gone, replaced by the shops below.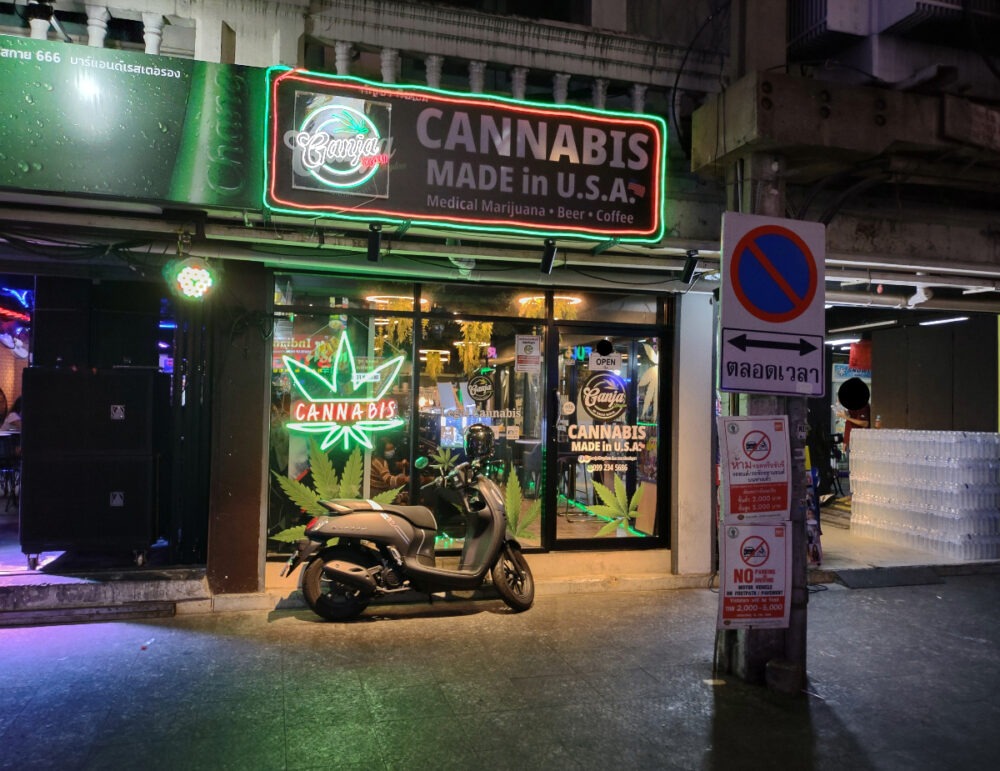 What is Khao San Rd Famous For?
Khao San Rd is an icon of backpacker life in Thailand and in Southeast Asia. It's where many travellers congregate, and begin their journeys after arriving in Thailand. It's featured in the movie "The Beach", it's where the hungry come to feed. Buy the book here, read it. The book is much better than the film.
What is There To Do At or Near Khao San Rd?
On Khao San Road itself and in the little alleys either side you could shop for clothes, jewellery and souvenirs, eat, drink, get a massage, have your hair braided or get a tattoo. You can still buy essentials at one of the 7-11 stores (there seem to be fewer of these now) or grab a burger at McDonalds.
Today this road is much quieter though, with fewer opportunities for all of these things and more, a lot more, shops that only sell legal marijuana in various forms.
You used to be able to book tours and transportation from many small agencies in the area, have beauty treatments or a tattoo.
My favourite thing to do on the Khao San Rd was to just watch the world go by and explore the tiny alleyways packed with shops, that lead off the road.
Most of Bangkok's cultural attractions are near Khao San Rd. You can walk to the Grand Palace or Wat Pho. Wat Arun can be reached by ferry, or you can find a long-tail boat tour at the nearest jetty.
Old Bangkok is nearby, with the Giant Swing and Erawan Monument.
The Golden Mount is a little further away but still within easy walking distance. The view from the top of the mount at sunrise is really worth seeing. There's a nice hostel near The Golden Mount that we've used and liked, try Here Hostel on Booking dot com. They do have private rooms and a restaurant downstairs.
The only Michelin Star Street food stall is within walking distance of Khao San, as are many places to eat.
Where To Stay on or Near Khao San Rd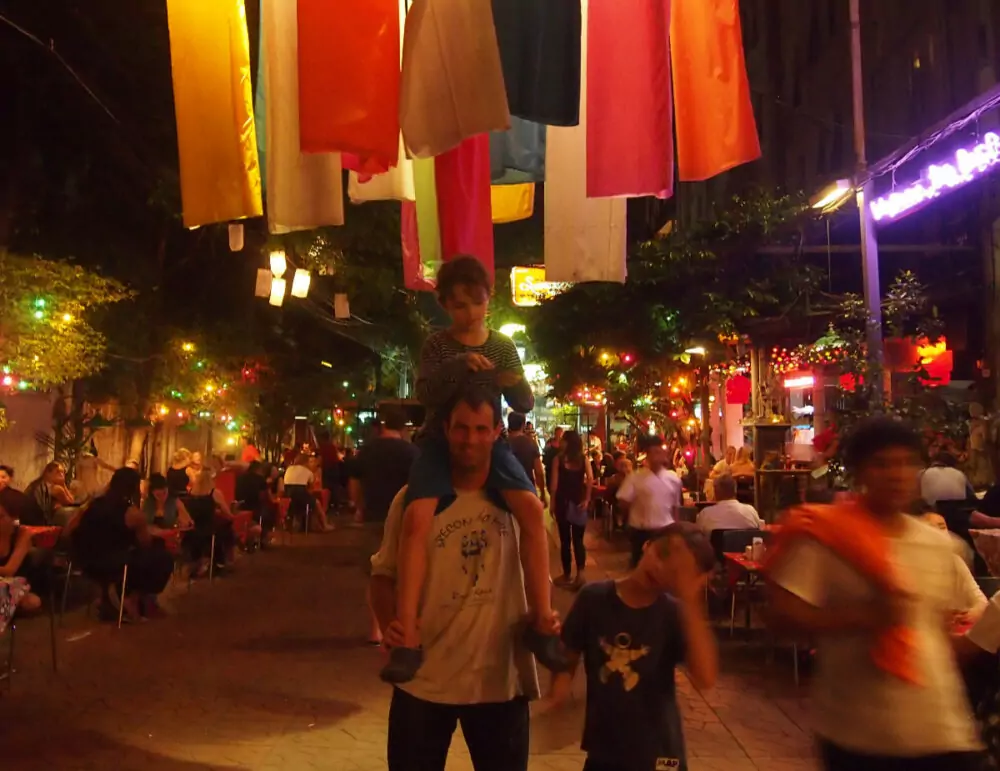 Family Friendly Accommodation Near Khao San Rd includes Rambuttri Village Inn, an old favourite which has been extended recently. They had a rooftop pool the last time we stayed. Check out Ramnuttri Village Inn on Booking.com here. This is a fairly cheap hotel, not luxury, but we found it absolutely fine and the location is great.
In the photo above this hotel is to the back right of the photo.
If you need a room for a family of 3, 4 or a larger family, near the Khao San Rd, we have a few suggestions for you. I wouldn't suggest staying on Khao San Rd with kids as noise levels can be high, but there are plenty of quieter places nearby that are great for families.
Old Bangkok is very close to Khao San Rd and has some lovely, atmospheric places to stay.
Cheap Accommodation Near Khao San Rd
There are a few cheap places to stay near the Khao San Rd that we can personally recommend. Try Ramnuttri Village Inn on Booking.com here. This is a fairly cheap hotel on the road directly next to Khao San Rd. It's quite a large hotel with a new wing and when we last stayed there was a rooftop pool and pretty courtyard with fish pond at the front.
It wasn't too noisy as it is set back from the road.
Hotels Near Khao San Rd
Khao San Rd is surrounded by many Old Bangkok and Riverside hotels. For more information on these hotels (particularly for families), see our post on Bangkok hotels.
The Old Capital Bike Inn is one we particularly enjoyed, a boutique hotel, very affordable, and an easy walk away.
We'll be adding more hotels near here soon.
Where To Eat Khao San Rd
I'm going to suggest that you don't eat anywhere on Khao San Rd itself. Instead walk to the next street, Rambuttri Rd, via the alleyways lined with shops and Thai traditional massage parlors, and find somewhere there. There are plenty of places to choose from at multiple price points.
Rambuttri Lane, on the other side of the main rd. from Rambuttri Rd (Soi Rambuttri) has more restaurants, street food stalls, pad Thai and banana pancakes. You'll probably find the cheapest food possible in this area, behind the Temple.
In this area, you will find Indian food, a Starbucks coffee shop, McDonalds, pizzas, and of course Thai food of various quality. There are also some nice independent bakeries and coffee outlets.
If you want something special to eat in Bangkok, the only Michelin star street food stall isn't too far away from Khao San Rd. It's within walking distance. However, this street food at Jay Fai is not cheap and you can expect long queues. We marked this place on the map for you too.
On our last visit to Bangkok, we booked s street food tour of Chinatown Bangkok, including Michelin-listed street food outlets and a visit to Jay Fai, unfortunately, her shop was closed.
Chinatown is a good walk from Khao San Rd, we've walked the distance. It may be too far for some.
You can check out the food on this tour (Chinese Thai is very different from the food we normally consider "Thai") on our twin site, World Travel Chef, here, the post is Night Market Food in Bangkok's Chinatown. To book this tour online, direct, go here.
Has Bangkok's Khao San Rd Changed Too Much?
Is it still worth visiting the Khao San Rd? It has changed a lot, we were shocked at the extent of the changes.
Unfortunately, we only had a few days in Bangkok on this last trip, not really long enough to form a good enough opinion.
Things in Bangkok change often, but we've noticed over the years that things tend to drift back to where they were over time. I hope the street vendors will return, we'll be back very soon to find out, for us, yes, it's always worth visiting the Khao San Rd. But time will tell if these changes are for good, or temporary.
There are undoubtedly "nicer" parts of Bangkok and they're not far away, but this historic part of Bangkok is always interesting. If you visit this area, let us know how its doing in the comments. We probably won't be back until 2024 and we'd love to know how things are going for tourists over there. Cheers.
If you'd like to hire a car during your stay, use this car rental comparison tool to find the best deal!

We also suggest you take a look at this company to get a quote for all kinds of the more tricky adventure or extended travel insurance.

Try Stayz / VRBO for an alternative way to find rentals on homes/apartments/condos in any country!