This post may contain affiliate links.
This post deals with things to do in Ao Nang and trips to take from Ao Nang, a beach area in Krabi province, Thailand. Krabi is on Southern Thailand's west coast, approximately 800 km south of Bangkok. It's part of the mainland, not an island, and is famous for beautiful limestone formations which continue out through the islands of Phang Nga Bay, Phi Phi Island, and towards Phuket. There are various attractions on the mainland in and near Au Nang Krabi, plus many excursions and boat trips constituting the best things to do in Au Nang. Au Nang can also be spelled Ao Nang, both are in Krabi Province Thailand.
Updated for 2023.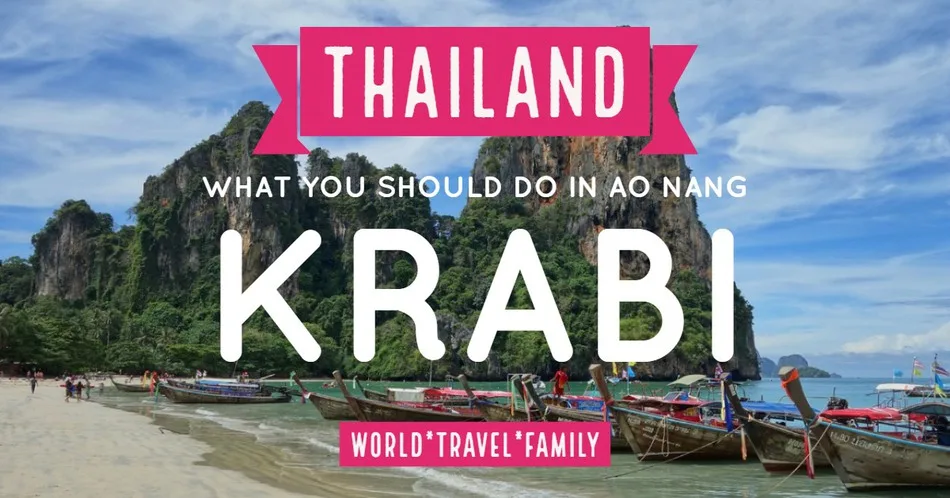 Krabi is a beautiful beach destination and also a start point for ferries to Phi Phi islands made famous in the movie The Beach.
There are numerous things to do in and around Krabi however it is no surprise that most tours focus on the beaches and surrounding islands.
Adventure activities in the region include scuba diving, rock climbing, zip lining and snorkelling but there are some beautiful religious buildings and cultural experiences to be had here too.
Best Things to Do in Ao Nang
Our widget, below, will show you the best activities and tours available in Ao Nang and Krabi, for more information on these activities, keep reading.
Visit Railay Beaches & Caves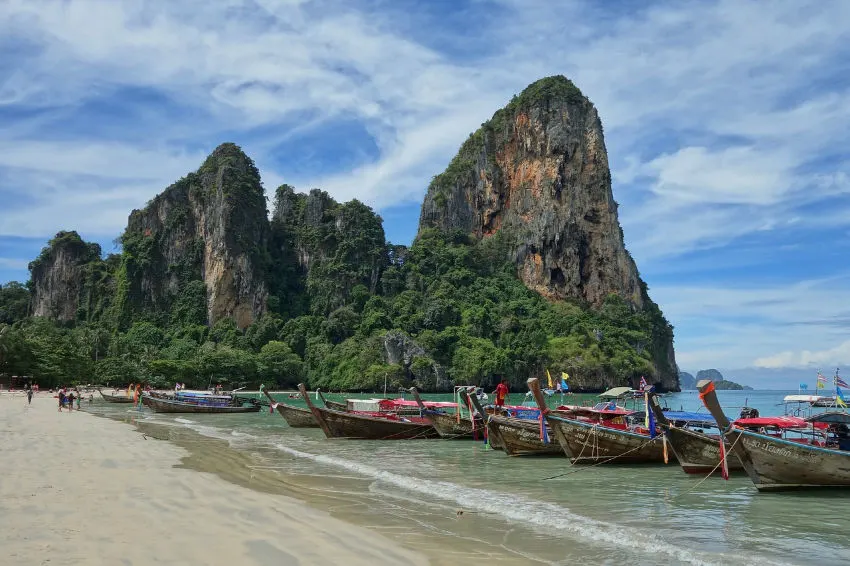 Located south west of Krabi city and just south of Ao Nang, Railay is often referred to as one of Thailand's most beautiful beaches and with good reason. White sands, crystal clear waters and towering limestone cliffs define the area.
Railay Beach has an East and West. East Railay is where the Krabi boats come in. West Railay is considered the best beach for swimming.
Rock climbers love the area for the amazing limestone cliffs that make it a climbers paradise.
There is accommodation from budget to luxury in Railay, or you can visit for the day from Au Nang. You should probably book Railay hotels early as they aren't in huge supply at busy times. For Railay hotels, hostels and beach huts, try here.
Getting to Railay Beach is easy with regular boats leaving Ao Nang.
Take a Trip to Krabi Town and Night Market
Despite the tourist boom in the last few decades Krabi town has retained its small town charm. Locals still go about their daily lives along the river where local fishing boats pull up with their daily catch.
What Thai town doesn't have a buzzing market? Krabi Night Market runs from Friday through to Sunday and has over 50 stalls selling everything you could imagine. Combined with over 70 food stalls this is a food lovers paradise and not to be missed if you're in the area.
Temples to visit in Krabi town include include Wat Kaew, Wat Bang Riang, Wat Klong Thom and Wat Sai Thai with Wat Kaew Korawaram ( below) being the most popular.
A Boat Trip to Koh Phi Phi
Made famous as the setting in the movie 'The Beach' this group of islands is between Krabi on Thailand's mainland and Phuket, Thailand's largest island. Getting here is by boat only as there are no airports.
It takes about 45 minutes by speed boat from Krabi and there are two islands. Phi Phi Don and Phi Phi Leh. Phi Phi Don is the larger inhabited island that everyone goes to. Leh is where the movie was set and is currently closed to tourists after mass tourism over the last 20 years took a toll.
Despite the huge amounts of tourists Phi Phi Don is still a tropical paradise and well worth the trip out here. Just try to go early to beat the crowds or stay the night for an even better experience.
You can book a full day trip, including Phi Phi here.
Take the Four Islands Tour
A classic Four Islands Tour is a popular day trip from Au Nang Krabi and nearby holiday locations. This seemed to me to be the number 1 thing to do in Au Nang, we booked it, but the weather forced us to cancel.
The Four Islands are Koh Poda, Koh Gai (Chicken Island), Koh Tub and Koh Mor and tours also often stop at Phra Nang Cave Beach at Railay – a stunningly beautiful beach. Tide times and conditions will determine exact itinerary.
Most 4 Islands tour give you opportunity to walk on a white sand strip between Chicken Island, Koh Mor and Koh Tub. Open water snorkelling stops include Koh Yawasam and Chicken Island . Koh Yawasam is the better of the two but conditions on the day will determine where you'll be able to go.
Your Four Islands Day Trip generally also includes a picnic lunch. Take a look at a Four Islands day trip here
Seven Islands Trip
The Four Islands Trip can become a Seven Islands Trip and sunset cruise. In this instance you will spend more time on the boat, enjoying the view. This tour goes out around lunchtime and returns after dark.
Visit the Four Islands Independently be Chartered Boat
It's possible to charter your own boat to explore the islands off Au Nang rather than taking one of the tours above.
You'll probably take a long tail boat and be ready for the entry fee (approximately 400 baht) levied by the National Park on all foreign visitors at Poda Island, this admission price covers all four islands on the day of your trip.
Head to Krabi Emerald Pool at Thung Teao Forest Natural Park
Once of Krabi Province's natural attractions Thung Teao Forest Natural Park is home to a vast array of wildlife from birds to mammals. A lowlands forest it is perfect for hiking and exploring if you get sick of the beaches.
The Emerald Pool is a large freshwater lagoon perfect for swimming in. Also called the Crystal pool the water is clear and surprisingly warm.
The National park entrance is located about 60 km south east of Krabi town and takes just over an hour to get there in a car.
Climb to Wat Tham Sua aka Tiger Temple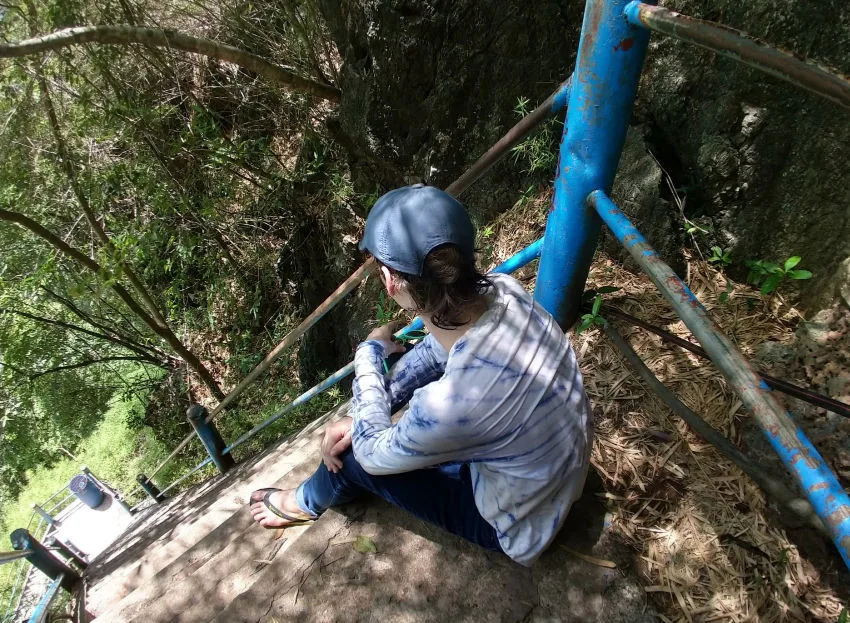 This trip is well worth doing but the climb is pretty tough. Be sure to take water.
The climb up took us around 40 minutes and we did it in flip flops. There are high steps and sometimes you'll be in full sun. I wouldn't take small children.
The complex at the foot of the mountain is worth a visit in itself and I'll produce a full post on this place, we have some great photos.
To get to the Tiger Temple we booked a mini bus transfer, our driver dropped us off and picked us up a few hours later. I'd recommend you do this, taxis and Grab cars are ridiculously expensive in Krabi.
Unlike the infamous tiger temple in Kanchanaburi this temple gets its name not from captive tigers but from the tiger prints inside the caves. Another version of tiger temple history states that the first monk to stay there in 1975 saw tigers roaming freely around the area.
You won't find tigers drugged and chained here, instead you will find monks, historically living in the region's many caves.
Access to the temple is via a long and steep staircase, originally 1260 steps (it was recently redone which added in another 40 odd steps) to the summit. You'll be rewarded with 360 degree views once you make the temple.
Monks live in a seperate area which is accessed by another 184 steps. A word of warning regarding monkeys. They are active in the area and they have been known to attack and injury people, just be careful. We saw quite a few but we had no problems with them.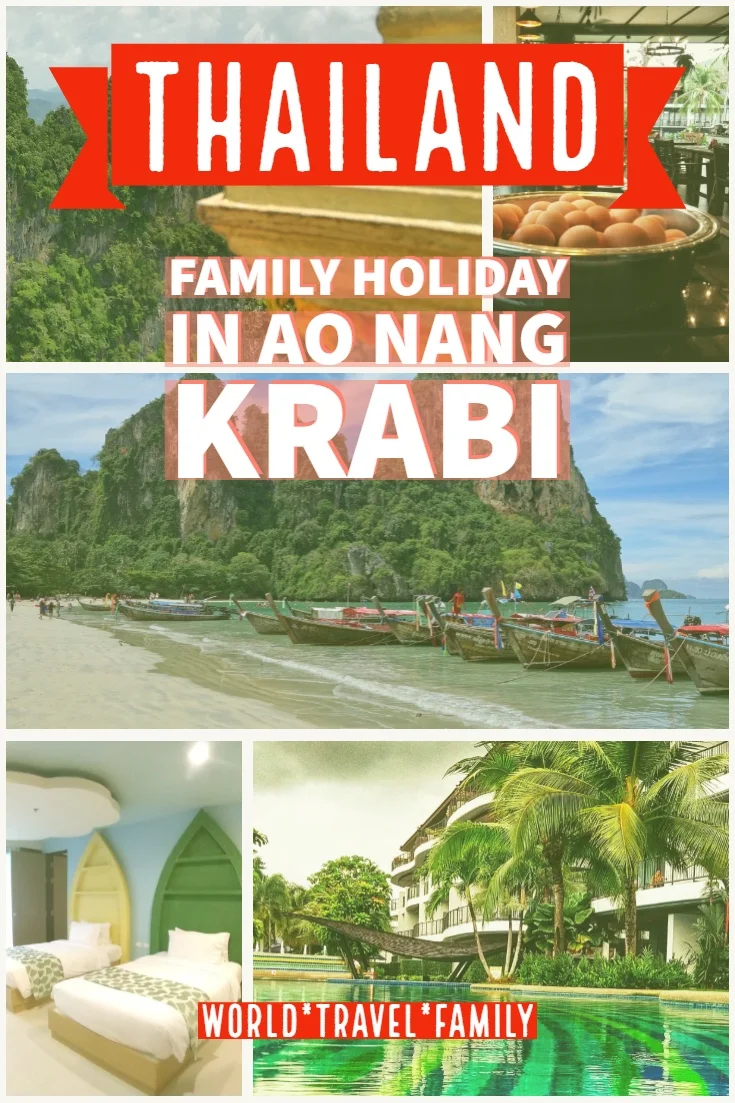 Relax at Your Accommodation or Resort
A lot of tourists visit Krabi to enjoy their hotel's facilities, be that spa, gym, pool, child friendly devices and activities or wining and dining.
We tested two styles of accommodation in Ao Nang Krabi.
Standards were good at both and prices were reasonable. One was more suited to families, one for budget travellers and couples.
As I said up top, we were based in Au Nang. This is as good a place as any to stay while you explore Krabi.
Family Resort Hotel – Holiday in Resort Krabi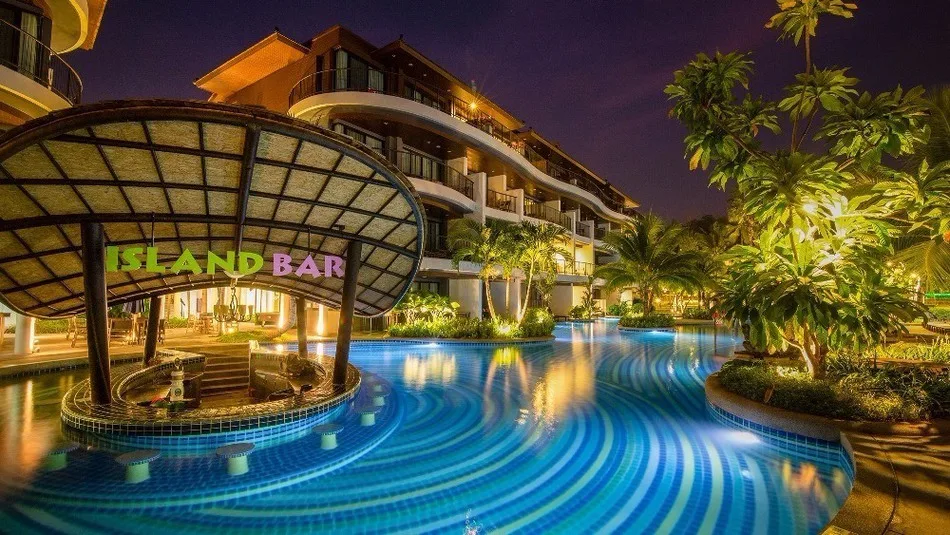 The Holiday Inn Resort Krabi gave us a kids' suite that was huge and superbly suited for kids. The gardens at this Holiday Inn resort pleased me greatly, featuring immaculately kept grass, frangipani, koi and other tropical delights.
These grassy expanses housed several pools with water slides and playgrounds for little ones. They have a good kids club and teens club on-site. We were hugely impressed with what this hotel offered families and we'll be writing about it soon.
If you'd like to spend a little more, go for a pool-side kids suite, they're pretty special (pictured above). Check out the Holiday Inn Resort here.
An Airbnb Apartment in Krabi
Our AirBnb apartment was also good, this was a modern, clean twin room with a kitchenette and balcony in a complex with a very good pool and gym. Airbnb seems to have plenty to offer in Krabi as do Stayz/VRBO. Check out apartments and holiday lets in Krabi Province here.
Where To Stay Near Ao Nang Beach, Krabi
Our list below shows hotels and other accommodation near Ao Nang beach. The hotels nearest the beach at Ao Nang are at the top of the list, as you scroll down you'll be moving further away.
You will find further pictures and video clips from both on our Instagram and Facebook accounts.
We were not paid to produce favourable reviews, all opinions are our own.
Head to Koh Lanta
Koh Lanta is a district of multiple (52) islands in the southernmost part of Krabi province. More unspoilt than Au Nang, Krabi, Phuket and Phi Phi, with clean water, coral gardens and untouched jungle, but mass tourism has now arrived in the form of big resorts.
You'll need to go by boat, Koh Lanta is around 70Km from Krabi.
Wat Kaew Temple
Wat Kaew Korawaram is a rather spectacular Buddhist temple in Krabi, it is slightly reminiscent of The White Temple near Chiang Rai in Northern Thailand.
It is one of the largest temples in Krabi, but is not as well visited as Wat Tham Suea (The Tiger Cave Temple).
Phra Nang Cave Beach
Another pretty beach but an unusual convex shape with two limestone columns in the middle. Phra Nang Cave formed at the southern end You can go here by longtail boat from Ao Nang for clean water, white sand and a lovely backdrop. This beach will be crowded with tour boat passengers agenuinet certain times as it's part of some Four Islands tours. A good spot for kayaking and classic Krabi photography.
Enjoy Thai and Indian Food
Surprisingly, you will find a lot of Indian food in Au Nang. It seems as if every other restaurant is owned by Indians and most serve Indian, Thai and Western dishes. Ao Nang is a Muslim area, there is plenty of Halal choice which means you will have to find a non Halal place to eat pork.
We struggled to find good food in Ao Nang Krabi Province at first and honestly, room service at the Holiday Inn was as good as any of the restaurants we tried in the first few days and around the same price.
After some searching we found The Jungle Kitchen in Ao Nang, it serves good Thai Food, nothing spectacular, just good Thai food as you will find all over Thailand. The setting and service are great. Jungle Kitchen gets top ranking on Trip Advisor so you may have to book. We got there at opening time, 5 pm, and there was plenty of availability. It's a fair walk from the beach front, maybe 10 minutes along the main road into the less touristy hinterland of Ao Nang.
If you want to find really good Thai food in Ao Nang and Krabi province, it's probably best to book a cooking class, take a look at the options we list on this page (below).
Another small gem we found was Buzz Organics. They serve a few vegan dishes and the portions are huge. The food here was really enjoyable and fresh, Buzz serves mainly Western and Middle Eastern dishes.
You'll also find Mc Donalds, Starbucks and most fast-food chains in Au Nang
Take a Thai Cookery Class
You'll find cookery classes all over Thailand and Ao Nang is as good a place as any to take a cookery class and discover how easy Thai food is to prepare at home. You can take a look at such a cooking lesson here.
Book a Transfer from Krabi Airport to Au Nang – Plus Important Air Asia Tip
If you're flying out of Krabi on Air Asia, know that the Air Asia check-in for international departures is (or was at the time we visited) in the domestic terminal, not the international. They are side by side, and it's not far to walk, but it had us scratching our heads for a while.
Also be aware of Air Asia baggage size and weight limitations, they're fairly brutal. See our post on flying Carry On Only and another on Bags for Air Asia Baggage Sizes.
The Krabi airport is a fair way from Au Nang but the locals will give you plenty of options on how to transfer between the two. There are taxis, Grab cars free transfers for some hotels and mini bus shuttle services. The mini bus is cheaper for 1 or 2 people, for a family of 4, you could probably get a taxi or private transfer for about the same price.
We can never get over how expensive taxis are in places like Krabi and Phuket, it really is hugely different to Bangkok and northern Thailand.
You could of course hire a car or scooter for your time in Ao Nang. Scooters are cheap but come with some danger, road death rates in Thailand are high. We find driving in Thailand pretty good away from big city traffic, we did it in Phuket and I wouldn't hesitate to do it in Krabi. You'll need our post on hiring a car and road-tripping in Thailand here.
Enjoy Au Nang's Nightlife
There is nightlife, Au Nang is a bit of a party place. If that's what you're after head towards the beach front and markets area off the main road.
More Au Nang, Krabi, and Phuket Information
Phuket and Krabi province are very close and the same islands, Phi Phi, etc. can be visited from either Phuket or Krabi. Krabi province can be accessed either by road, boat or air .
Krabi airport is international and is a few kilometers outside Krabi town and half an hour to an hour from Ao Nang. Thai railway doesn't go past Krabi and the nearest train station is over 100 km to the east.
Ao Nang is a popular beach and holiday destination. We were based in Au Nang, we aimed to get to neighbouring Railay but bad weather and an early wet season stopped us, in May.
Railay is reached by boat, but is also part of the mainland. We've also spent time in Phuket which can be reached easily from Krabi.
Most of the boat trips and bay and island tours are interchangeable for Krabi, Ao Nang and Phuket.
Conclusion,
We enjoyed visiting Ao Nang, it's always good to be back in Thailand and return to the familiarity of Thai food, 7-11s, sawadee-ka and night markets.
We had bad luck with the weather and both of us, Mum and son, had flu, so we didn't do as much as we'd hoped and we were very glad to be in such comfortable accommodations.
There were loads of things to do in Ao Nang and surrounding areas but we just couldn't do them all.
Would we recommend Ao Nang in the wet season – no. With so many activities being boat-based this wouldn't be a good place to be.
Thailand is a fantastic country, perfect for a family vacation but don't expect an undiscovered paradise. The huge beach resort towns of Southern Thailand have been popular with package tourists for decades. Really, it's up to you what you make of them. I would say that I prefered Krabi to Phuket, it's less developed, I think that had we managed to get to Railay I would have liked that more again. If you're looking for a quieter beach area, travel on to maybe Khao Lak, Kho Lanta, Ko Yao Noi, Koh Yao Yai or Koh Jum. There are innumerable transport options in and out of Ao Nang by boat and road, all are pretty simple to arrange. Want to return to our full Thailand travel blog and guide, just click through, or take a look at our related posts below. Enjoy your trip!
If you'd like to hire a car during your stay, use this car rental comparison tool to find the best deal!

We also suggest you take a look at this company to get a quote for all kinds of the more tricky adventure or extended travel insurance.

Try Stayz / VRBO for an alternative way to find rentals on homes/apartments/condos in any country!