This post may contain affiliate links.
Thailand is a fantastic, easy, and cheap country to travel around. Thousands of backpackers, travellers and holidaymakers travel within Thailand, and all the other countries in Southeast Asia, daily, this post is about travel options, booking tickets, and arranging travel in and around Thailand, but the same applies to all countries adjacent to and near Thailand. We're going to give you a tool to use for all of your travel needs in Thailand, out of Thailand, and within the region. How to get around in Thailand for first timers!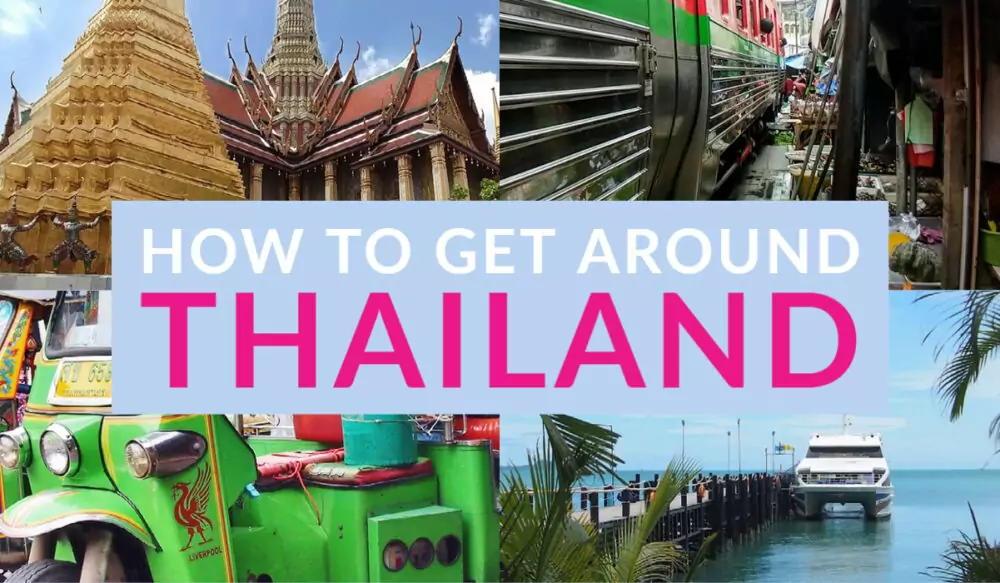 Travel Around Thailand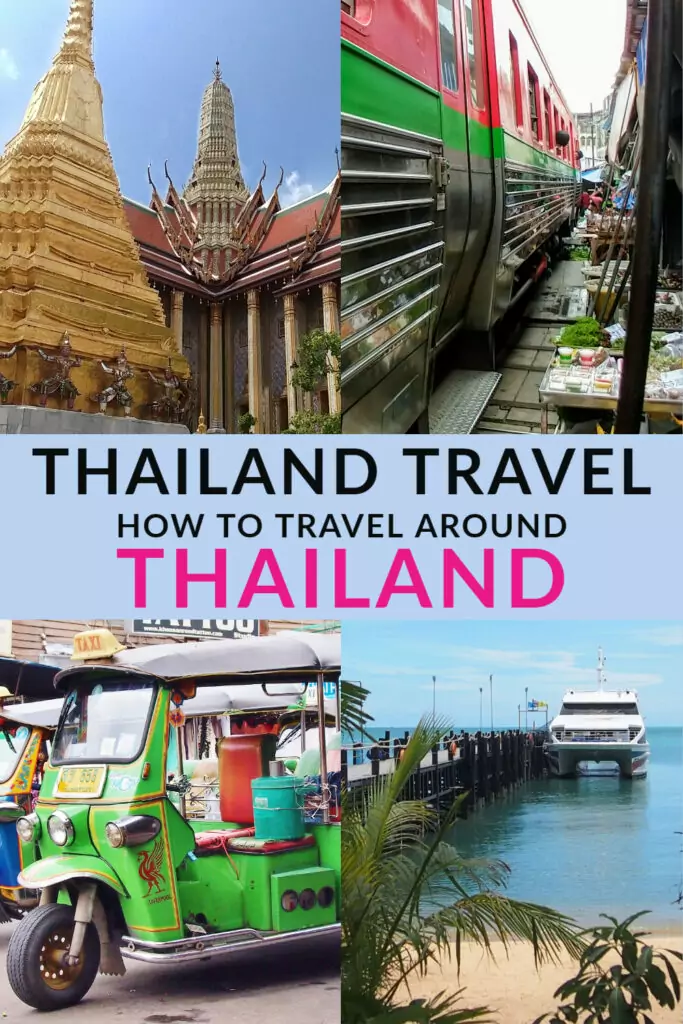 Most travellers or holidaymakers will use a variety of methods for travelling between cities in Thailand, or sightseeing, or travelling from Bangkok and Phuket, or other Thai islands. We've tried to give you some insight into what these forms of travel are like in Thailand, what to expect, costs, and convenience.
Options For Getting Around in Thailand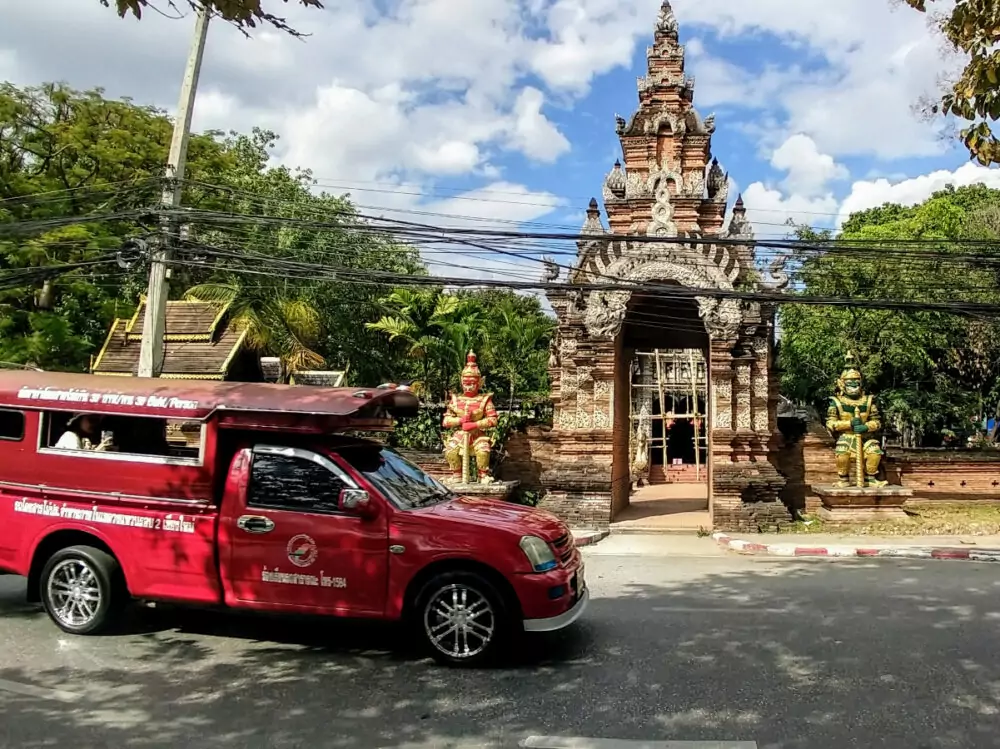 How to get around Thailand? You have a lot of options. Thailand has numerous airports, so you can fly domestically and to neighbouring countries. Thailand also has a good rail network, there are both day trains and sleeper trains, plus Metro trains in big cities like Bangkok.
You also have many choices in road travel to get around travel. You can rent a car in Thailand, this is a good option for Northern Thailand and we've rented a car of Phuket. The brave and well-insured can rent scooters easily.
If you'd like your vehicle to come with a driver, there are luxury coaches, sleeper buses, double-decker recliner buses, minivans, minibuses, tuk tuks and taxis. Then there is the songtaew, a form of transport unique to Thailand, we think.
Then there are Thailand's islands. How to get to the islands that don't have airports? There are ferries to book.
How To Get Around Thailand By Air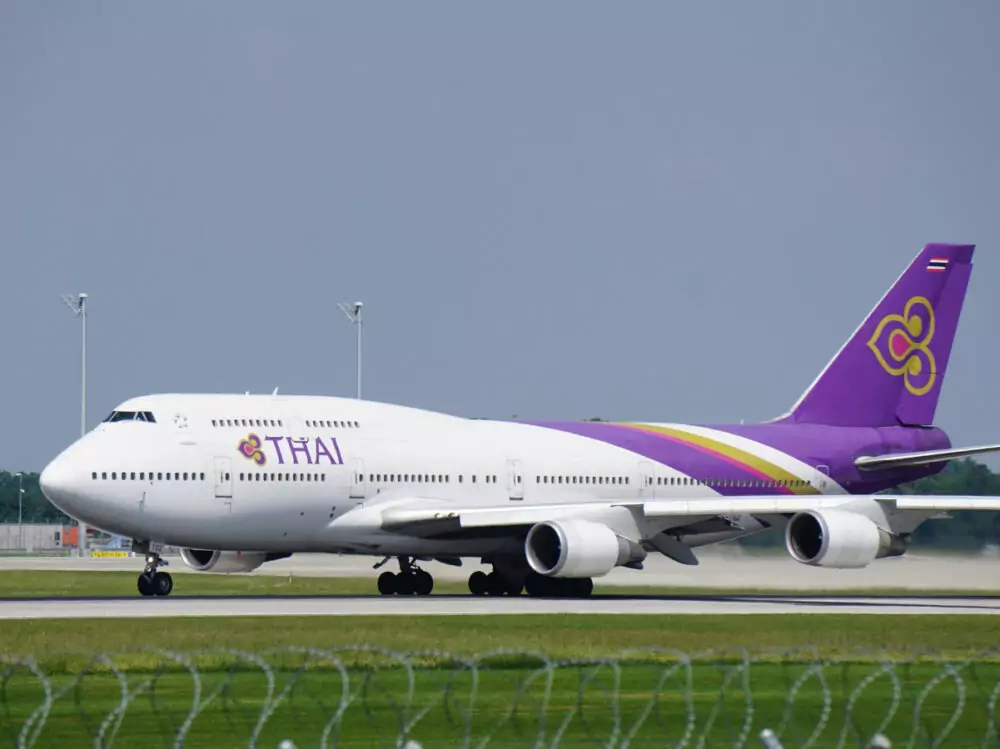 I normally tell people to read our tips on using Skyscanner to find the best routes, times, and prices, but on short domestic flights, this may not have such a huge impact on costs.
If you're flying from London to Australia, then yes, some Skyscanner hacks will save you a lot of money, but on short internal flights don't worry so much. Internal flights are generally cheap in Thailand.
If you'd like to look at seasonal variations in prices of internal flights in Thailand, just open Skyscanner here and type in Bangkok to Chiang Mai (or anywhere) and in the departure date box, click, and enter "cheapest month". Choose a one-way flight.
Hit "enter" and you'll be shown the cheapest flights month by month. By doing this I found flights on this route between $12 (US) and $90. If your dates are only a little flexible it still pays to do this because flights do fluctuate day by day.
If your travel dates are fixed, I'll send you to our branded booking tool which I give you our link to further down the page.
If for instance, you want to travel between Bangkok and Chiang Mai on public transport, you can compare all your options here.
Airports in Thailand
There are airports in Bangkok (2 airports), Chiang Mai, Phuket, Krabi, Ko Samui, Chiang Rai, Hat Yai, Mae Hong Son, Sukhothai, and many more!
Smaller Thai islands, like Ko Phangan and Ko Tau, don't have airports, these you can reach by public ferry, or private charter if money is no opject!
Airlines in Thailand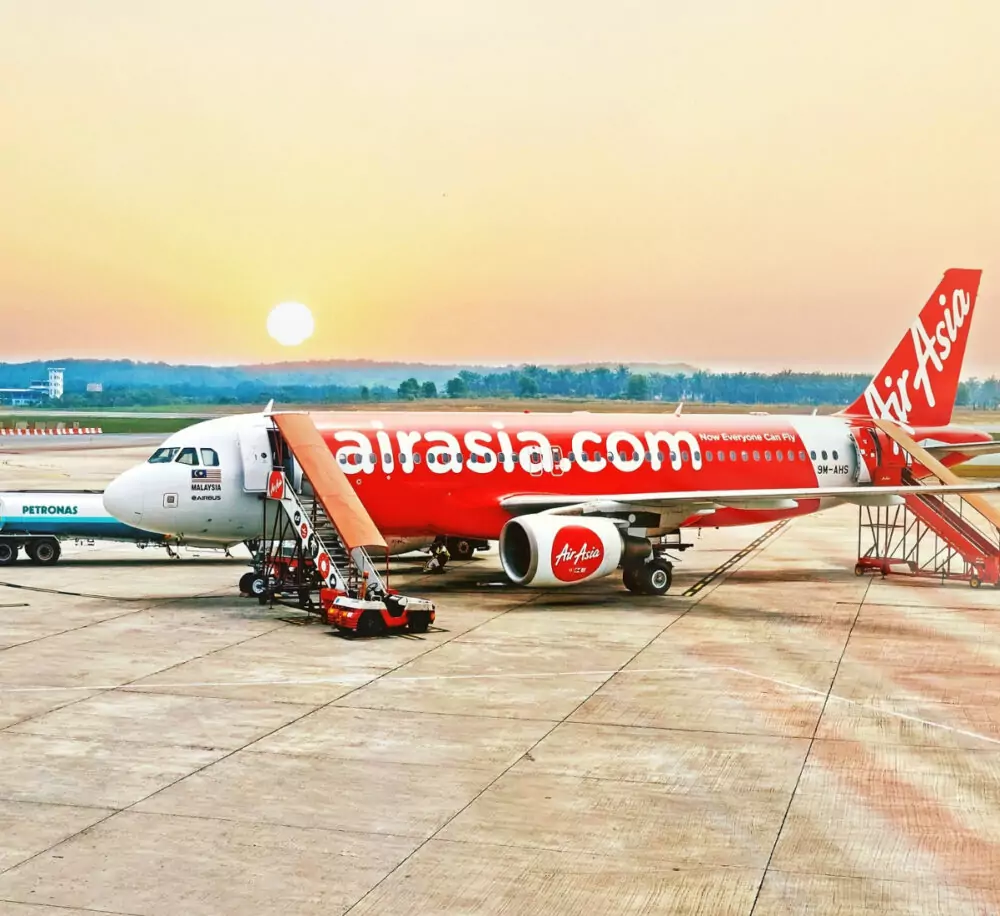 AirAsia flies most routes in Thailand and to other countries in Southeast Asia. AirAsia is based in Malaysia and almost always gives us our cheapest prices. AirAsia flights can even be "free" with passengers only paying fees. Look for AirAsia's sales to get these special deals.
On short flights they are absolutely fine, AirAsia flights can get uncomfortable for long flights. I really don't like the 8+ hour AirAsia flights out of Australia, for instance. Be certain that you understand AirAsia baggage allowances, they're not the same as for European airlines.
There are dozens of other airlines operating within Thailand, including Thai, Nok, VietJet and Lion. Thai Airways is a full-service airline and Bangkok Airways is considered a luxury airline. Thai is one of my favourite airlines for long-haul international flights.
How To Get Around Thailand By Train
Train travel can be a memorable part of your holiday or vacation in Thailand, with the iconic sleeper train journey from Bangkok to Chiang Mai being something of a classic. I tell all visitors to Thailand to take this train if they have time as there's just something special about Thailand's sleeper trains.
Day trains are easy to catch in Thailand too. Bangkok to Kanchanaburi is an easy, short day train trip and thee are a great way to get around Thailand as a tourist if you want to get from A to B, rather than take sightseeing daytrips from one base.
The Metro trains in Bangkok are easy to navigate and cheap.
How To Get Around Thailand By Boat
You have several options for travel in Thailand by boat. Island hopping will be by ferry, in Bangkok there are many ferries plus the option of exploring the klongs (canals) by long-tail boat. Sleeper boats, old rice boats are also an option on Thailands inland waterways.
There is another option, explore Thailand by chartering a boat or yacht, with or without a skipper and crew.
Get Around Bangkok Thailand, by Boat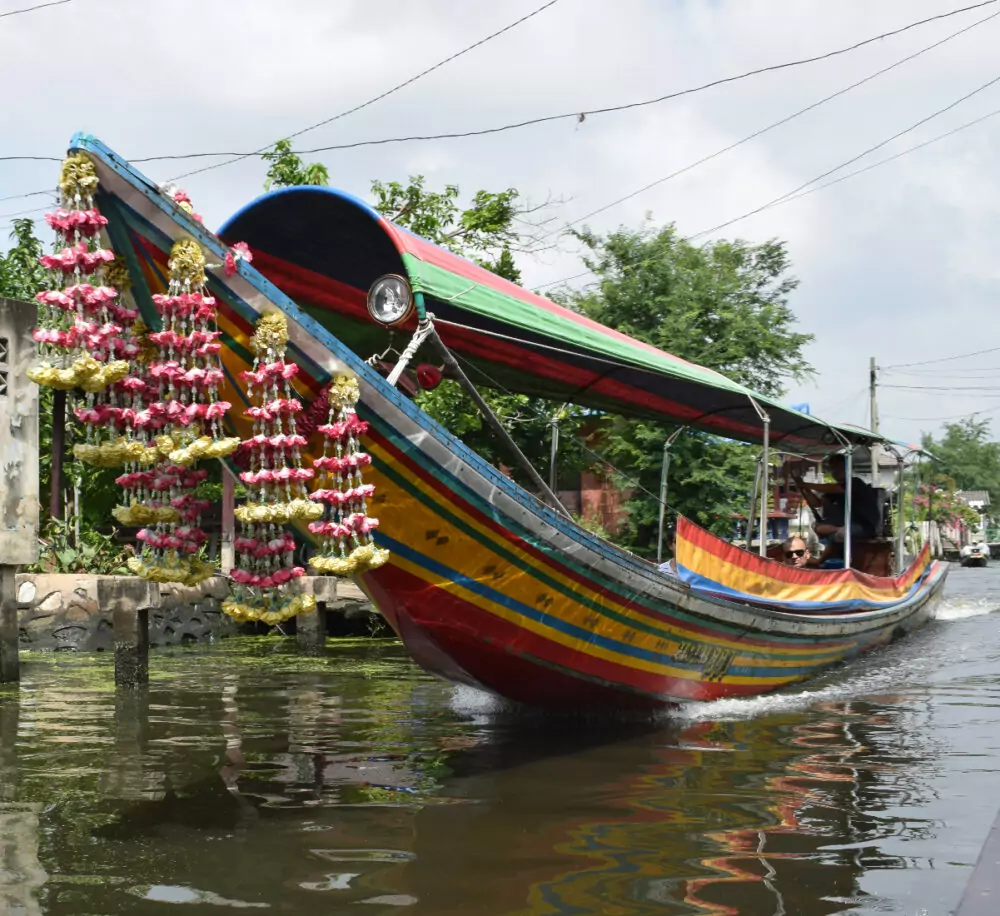 There are a lot of possibilities for getting around Bangkok Thailand on the river, by boat. The Chao Praya river is like a huge freeway running through the city and there are all manner of public ferries and water taxis, plus long tail boats available for charter.
There are also various evening dinner cruises in multiple locations in Thailand. You can even sleep on the water in floating raft hotels in Kanchanaburi.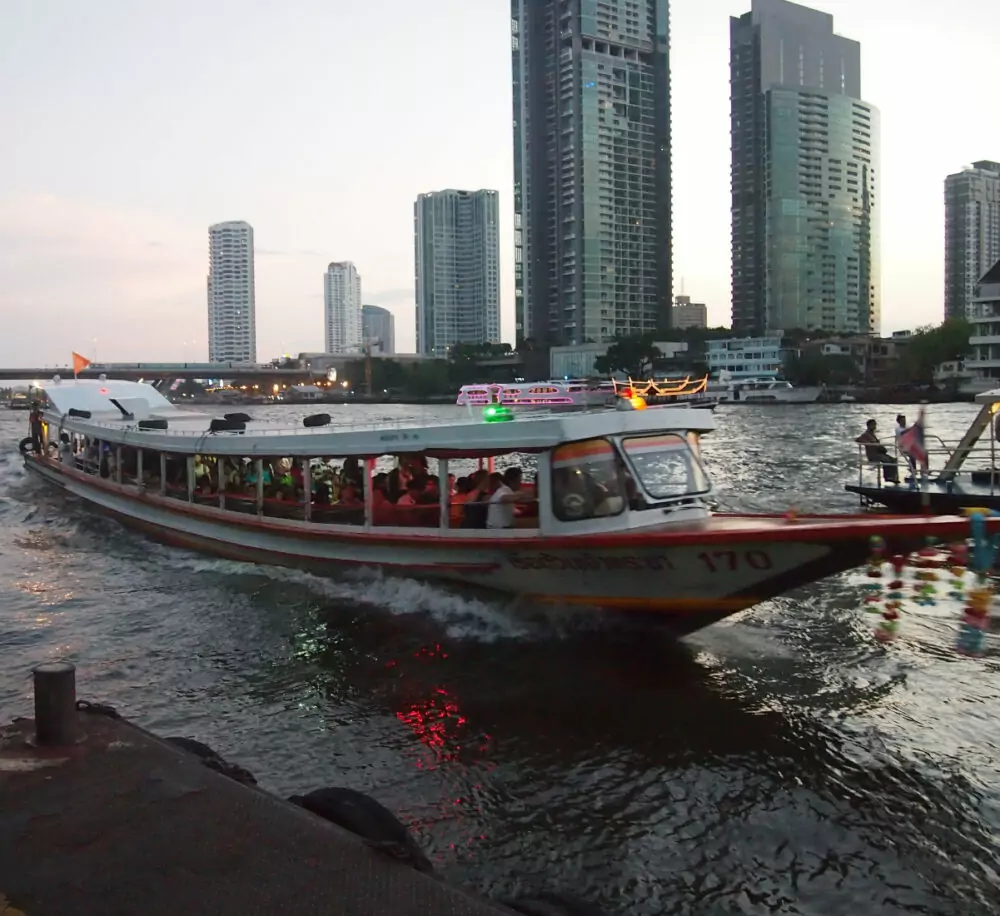 Book Ferries in Thailand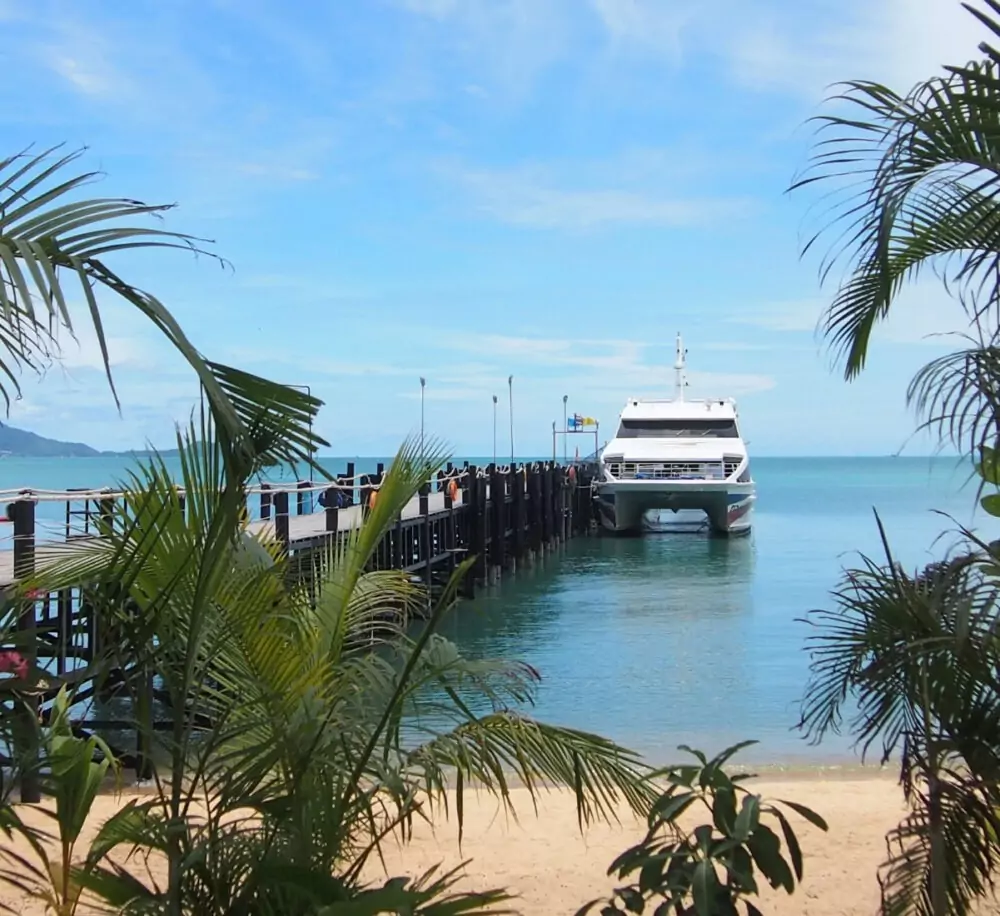 If you want to visit the island of southern Thailand, you'll likely need to catch a ferry. Only the larger islands, like Phuket, and Koh Samui, have airports. Phuket is actually connected to the mainland by a road bridge, so you can even drive to this Thai island.
To book a ferry in Thailand, use our branded tool link at the bottom of the page and type in your departure point and destination.
Private Boat Charter in Thailand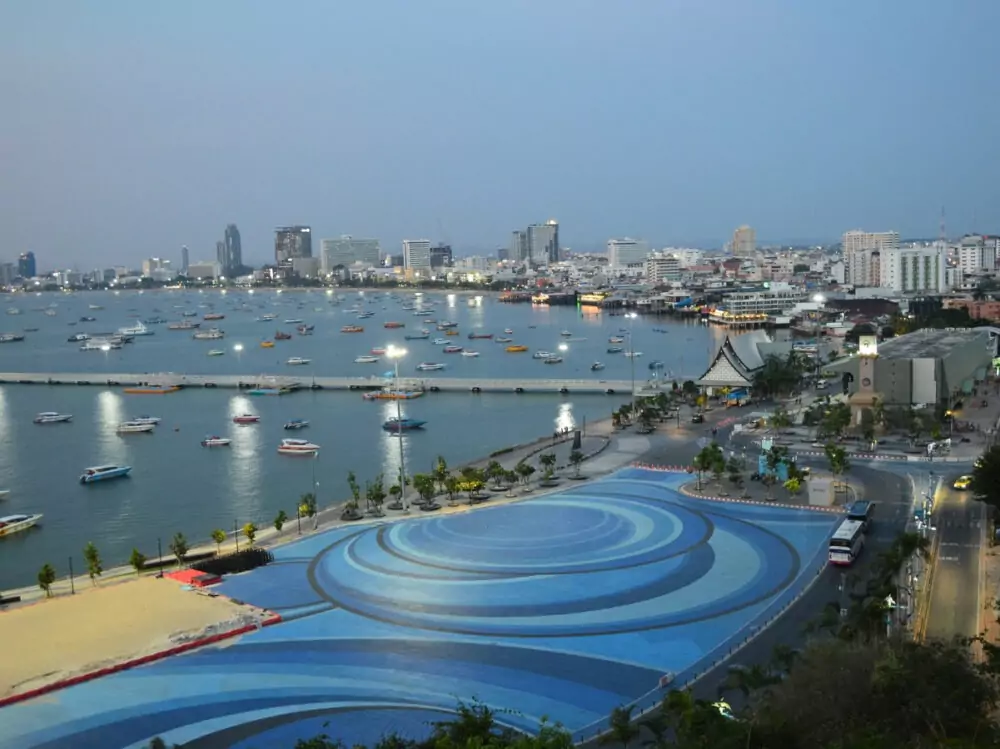 For those with plenty of money, chartering your own boat or yacht to island hop in Thailand would be a dream. Daily costs aren't too extreme on the simpler boats, but prices rise to tens of thousands per day on luxury yachts.
To do this, take a look at options on this specialist boat-charter site, this is world-wide, with plenty of Thailand options. You can rent your dream boat from Koh Chang, Koh Samui, Pattaya, Chonburi, Chalong, Phuket, Ao Nang (Krabi) and more places. Choose from Captained or Bare Boat, from luxury yachts and sailboats to fishing boats and Chinese Junks, per day, per week or per month.
This is the company you need to use for private boat charter in Thailand and overseas.
How To Get Around Thailand By Road
Road options for getting around Thailand include car, taxi, tuk tuk, minibus or van, coach, sleeper coach, and more!
Hire or Rent a Car
Not many people consider hiring or renting a car in Thailand, but we've done it and the experience was superb.
I wouldn't recommend self-driving in or near Bangkok, the traffic is crazy, but in Northern Thailand a road-trip can be a dream!
We've also hired a car on the holiday island of Phuket. This is a good option if you want to really explore the island and get away from the resorts and beaches, but traffic does get very congested around Phuket tow. Pick a car up from the airport, drop it back at the airport, this is pretty much always the way to get the best rates.
Use this car hire comparison tool to find your best deal on car hire in Thailand, or anywhere!
Hire or Rent a Scooter or Moped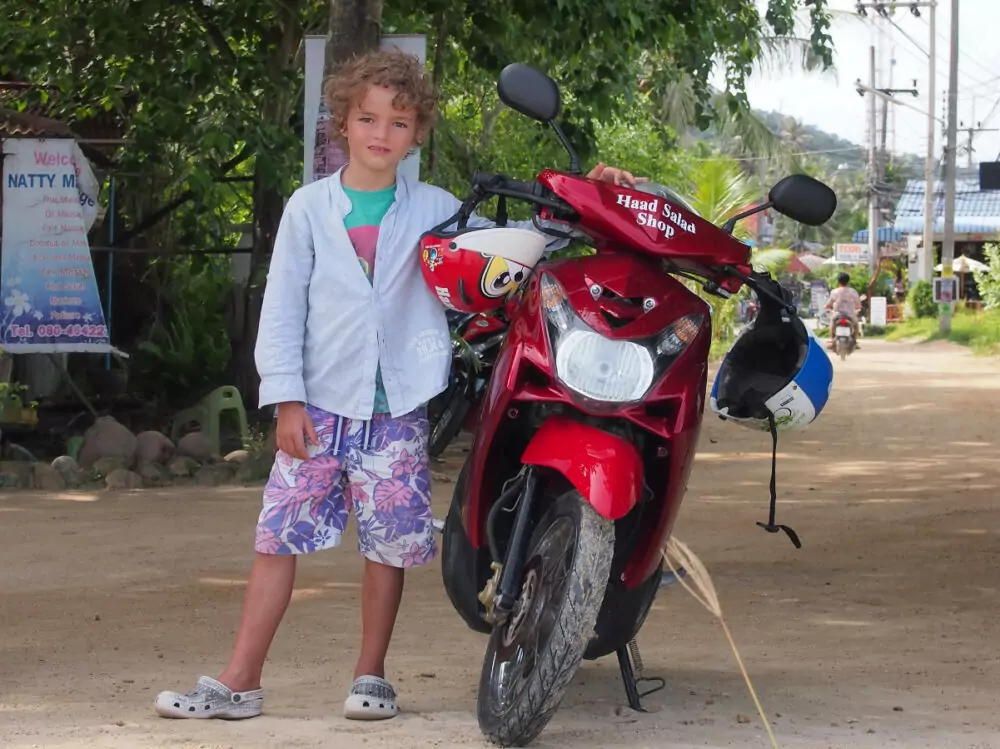 Are you brave, fearless, experienced, and well-insured? Hiring a scooter or moped in quiet parts of Thailand is a cheap way to get around.
I'm not going to recommend it because you'll soon notice the number of backpackers in Thailand with scoter-related injuries, burns and scrapes. Road accident rates are high in Thailand. Yes, we've done it, would I do it again? No way. I'd rather book a car, bus, train, or a tour.
I'd rather walk! Walking tours are popular in Northern Thailand, by the way, I've done that too, staying in Hill Tribe Villages.
You will also have your documents checked by traffic cops and may need to get out of these checks by offering "incentives." An international drivers license is a very good idea.
For insurance, check out these guys and make sure they cover you for scooter driving! We've been stung and had mishaps.
Hail a Taxi or Tuk Tuk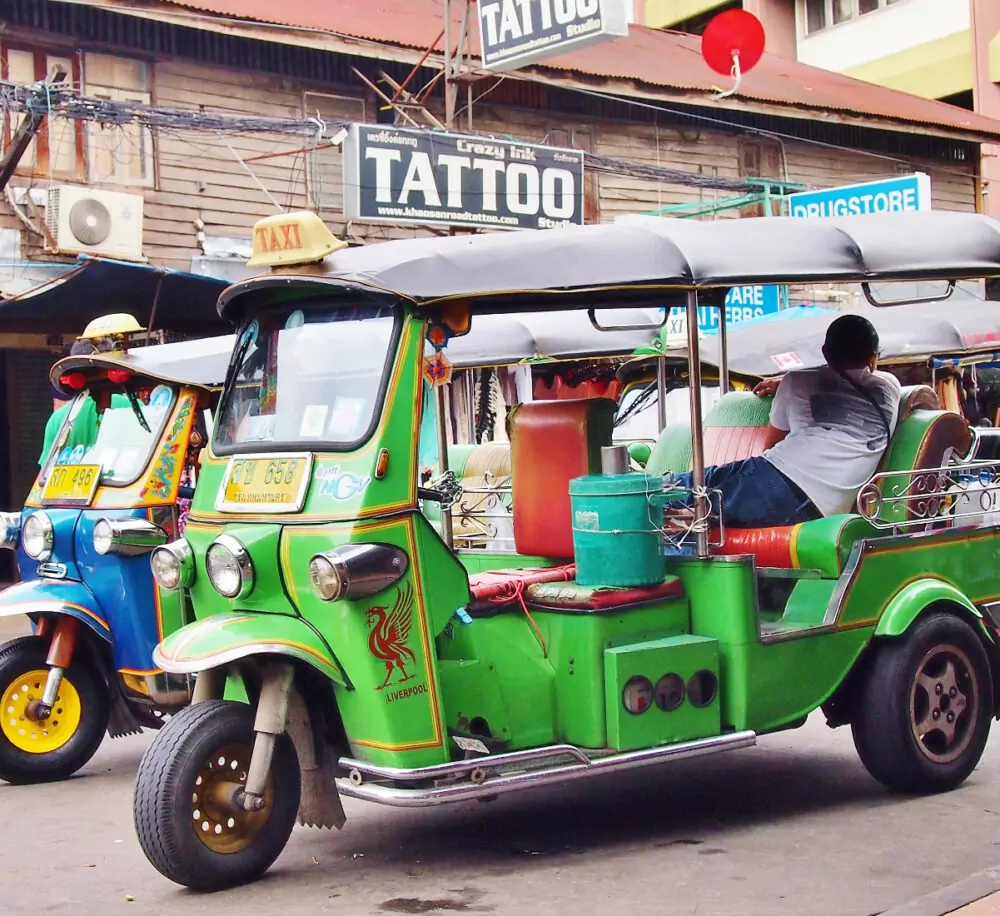 Tuk tuks are fun and an easy way to get around Thailand over short distances, but read this paragraph carefully first!
Tuk tuks are no fun in heavy Bangkok air pollution and heat. If you're going to the malls, particularly around Sukhumvit, you will be stuck in traffic. Take an air-conditioned taxi.
You simply hail a tuk tuk and there are plenty on the streets. However, if you flag down a tuk tuk near a major tourist attraction or area, particularly Khao San Rd or the Grand Palace, your driver is very unlikely to want to use his meter and you MUST agree on a price before you get in.
To find out how much you should be paying for a tuk tuk journey, just Google "cost of tuk tuk from A-B" to get an idea. You'll need to haggle but don't over-haggle and make yourself look foolish, you're normally quibbling over cents. Tuk Tuks are usually more expensive than taxis in our experience.
If you're away from major tourist hubs your driver will normally use his meter and everything will be fine, but ask first. Just say "Meter?"
You can fit 2 adults 2 kids plus bags in a tuk tuk, just about. Are they safe? We've never had any problems with them, they're a fun way to get about with different cities having different styles of tuk tuk. Hold on tight to young kids.
Getting Around Thailand by Sangtaew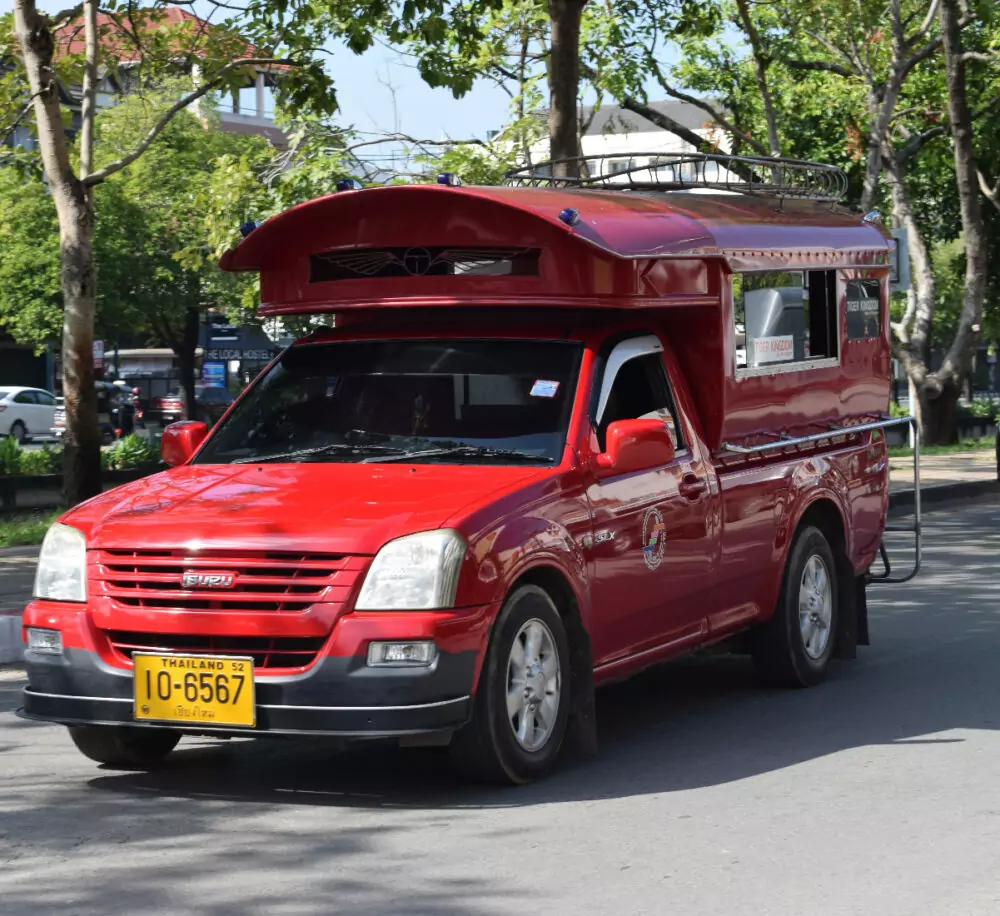 Songtaews normally have a fixed rout and fixed fare, but you can flag down a songtaew and continue on that set route for as far as you'd like to go. You normally tell your driver where you need to get off and he will stop.
These songtaews are a popular way to get about in Chiang Mai, where expats living in the city have plenty of time to figure out the system! Passengers sit in the back on two long benches. Hold on tight.
If you have to ask the price you're leaving yourself open to being overcharged. Find out the price in advance and give the driver the correct money. This way of getting around should be very cheap, but you can be overcharged badly on arrival at Chiang Mai train station.
We also used songtaews to get around Amphawa, from our riverside lodging to the Amphawa floating markets.
Getting Around Thailand by Bicycle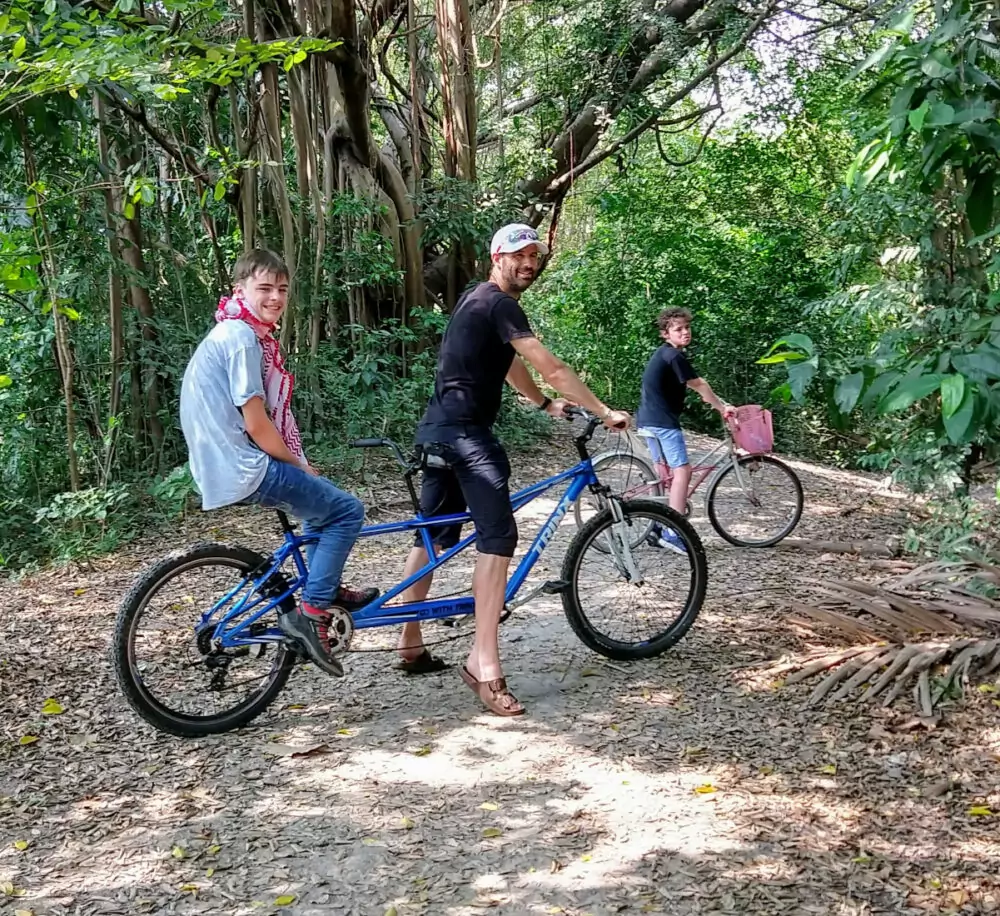 There are a few places in Thailand where it's popular for tourists to hire or rent bicycles to explore by bike. Two that we know of are Bangkok's "Green Lung" where we rented the tandem bicycle above and Sukhothai, a large ancient city and park area. We talk about the Green Lung on our post about things to do in Bangkok.
We also took a bike tour of old Bangkok, after dark, when we stayed at The Old Capital Bike Inn in Bangkok. It's a great place to stay, check it out!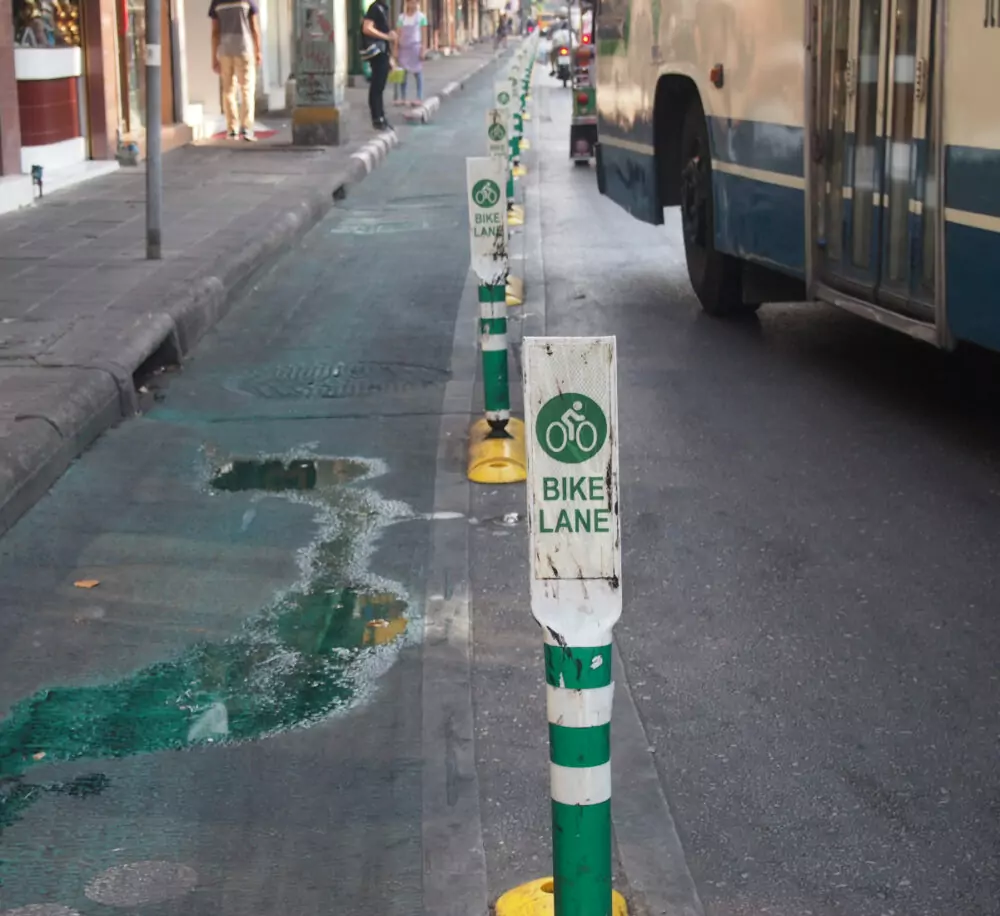 Bike lanes do exist in Bangkok, this photo was taken in Bangkok.
Using bicycles to explore as you travel is a great way to stay fit and healthy, but outside of pedestrian areas, like those above, I'm not going to tell you it's safe.
How To Get Around Thailand – Tours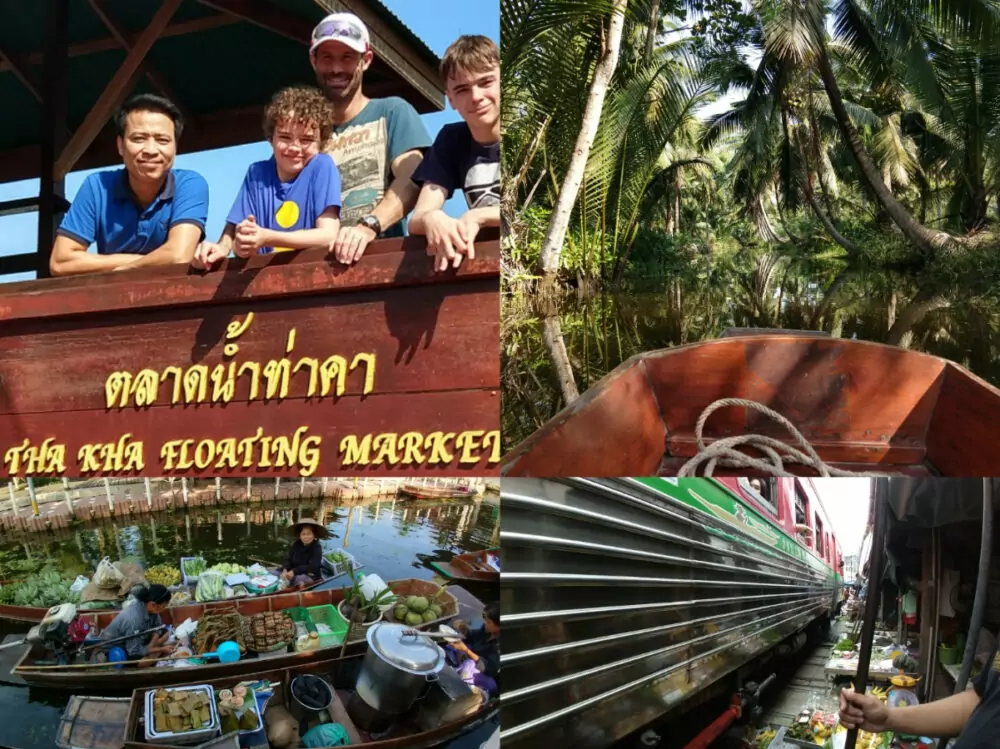 Booking organised day trips, small group tours, or private tours is just a fantastic way to see Thailand, or any country. Having a local guide is generally gold, and you'll learn and see so much more than if you go to these places alone.
Booking a tour in advance, online, will also save you leg work, vacation time, haggling and money. If you think you can get a cheaper price on the ground and you have plenty of time, go for it, but these days we book tours where we can.
It's just so much easier! You will normally be picked up from your hotel too, no walking in the heat to the bus terminal or train station!
So for instance, the following tours are available, and really good options in Thailand. Click through to check them out.
You can visit the incredible temples of the ancient city of Ayutthaya from Bangkok as a day trip.
You can book a city highlights tour of Bangkok. This will save you loads of time and head scratching over how to catch the ferries and buses/tuk tuks.
From Phuket you can book your boat tour of Phi Phi island, snorkelling and more, easily.
From Chiang Mai you can visit Doi Inthanon, without the tuk tuk drivers waiting to overcharge you for the return trip.
Of course you can visit the floating markets from Bangkok. We thing Amphawa Floating Market is much better than Damnoen Sudaway, and if you're heading in that direction, Maeklong train market is a must see. Check out your floating market options here.
All of the above tour links go to GetYourGuide, which we use ourselves, often. Viator is very similar and also a good choice with similar price guarantees. If you'd like to see if Viator have any better tours, see their Thailand options here. Viator are sometimes better than GetYourGuide for more obscure destinations, we find.
Places you should see in Thailand include, The Grand Palace in Bangkok (#1 must-see), Wat Arun, Wat Pho, The Giant Swing, Old Bangkok, Chiang Mai, Pai, Mae Hong Son, Lod Cave, Amphawa, Sukhothai. You should try to visit an ethical elephant attraction, there is one near Bangkok at Kanchanaburi. Some aren't as ethical as some would like. You can visit this one as a day trip from Bangkok, but we recommend staying a night in Kanchanaburi if you can for the River Kwai, Erawan National Park, and the WW2 history.
Read up on things to do in Kanchanaburi or how to get to Kanchanaburi from Bangkok by train, here.
I think if you use our links you'll find everything you need to plan a Thailand itinerary of any length, any style.
A Tool To Plan Your Travel Around Thailand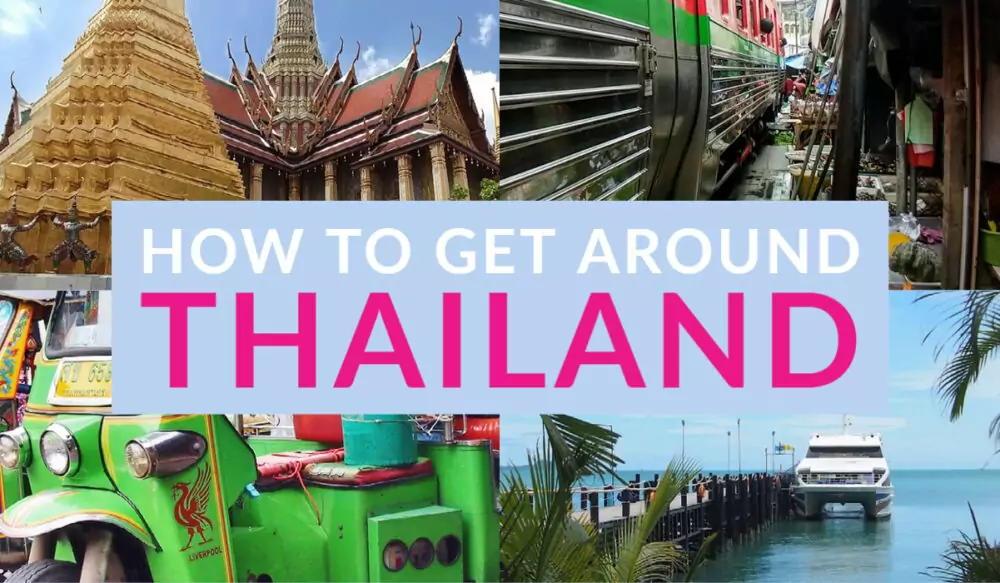 This is the tool we want to share with you, to let you compare prices, timetables, journey durations and availability. This is your one stop shop for booking transport in Thailand, and just about anywhere else. Just use our own branded interface here. You're welcome.
We hope our post on getting around Thailand was useful to you. You can use the sites we mention above for travel in many, many countries. Maybe bookmark this post to find our links easily. Good luck, enjoy Thailand, it really is cheap and easy to get around, and lots of fun! What should you pack for your journey around Thailand? Visit our travel essential gear post. All of our posts about travel in Thailand are here. Head to Amazon to buy your guide book, or anything else!
If you'd like to hire a car during your stay, use this car rental comparison tool to find the best deal!

We also suggest you take a look at this company to get a quote for all kinds of the more tricky adventure or extended travel insurance.

Try Stayz / VRBO for an alternative way to find rentals on homes/apartments/condos in any country!