This post may contain affiliate links.
Ethical elephant attractions in Thailand are a bit of a hot potato so over the years we've decided to just not get involved. We haven't done anything involving elephants since back in the days when we were all OK to ride them. Then suddenly it wasn't OK and a huge publicity campaign made elephants something I just didn't want to touch on this blog. We finally decided to break our ban this year and take our kids to Elephants World in Kanchanaburi, an ethical elephant sanctuary near Bangkok.
You can get to this elephant attraction from Bangkok as a day trip, or, do as we did, and spend a few days on the River Kwai.
Kanchanaburi is a lovely little town and one we've been to several times. ( Read all about Kanchanaburi, things to do and how to get there, here). We had a great day with the crew at Elephants World, learned some new things and got to hang out with the 'phants.
No regrets, no issues at all. We thought the place was good and are happy to recommend it to anyone. As a zoology graduate, elephant lover and somebody who's read around the subject extensively, I'm cool with it. Have a look at our day with the elephants and swimming in the River Kwai below.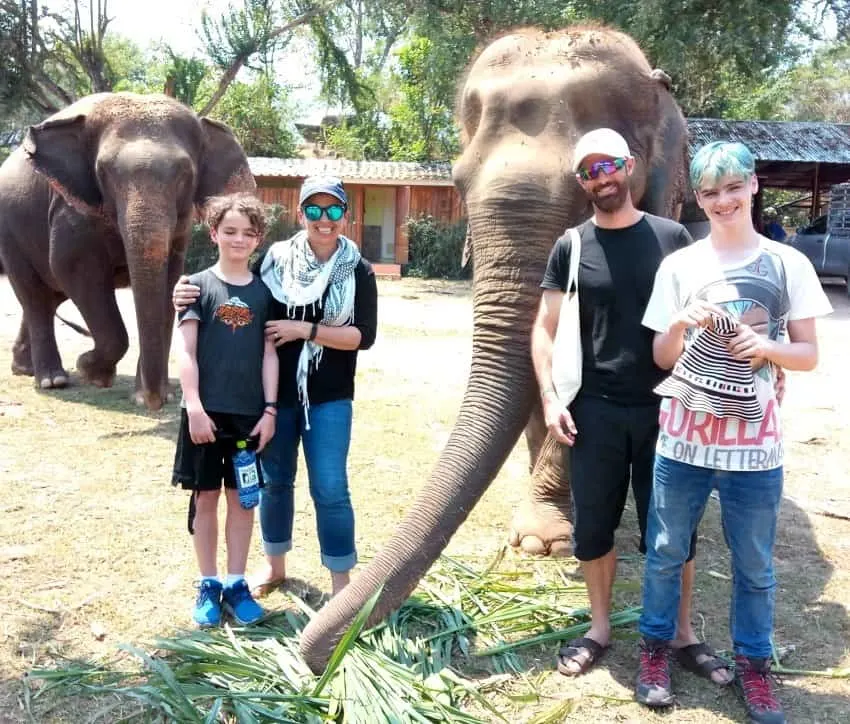 We were happy to be guests of Elephants World on this trip and were under no obligation to present them in a positive light. We don't work that way.
We weren't even obliged to create this blog post or even a review. There are many animal attraction in Thailand that are vile, we'd never go near them, this includes anything involving tigers. This place was fine by us. All views, as always, are our own.
Video from Elephants World Kanchanaburi
Watch what happened during our day at elephants world.
Meet the Elephants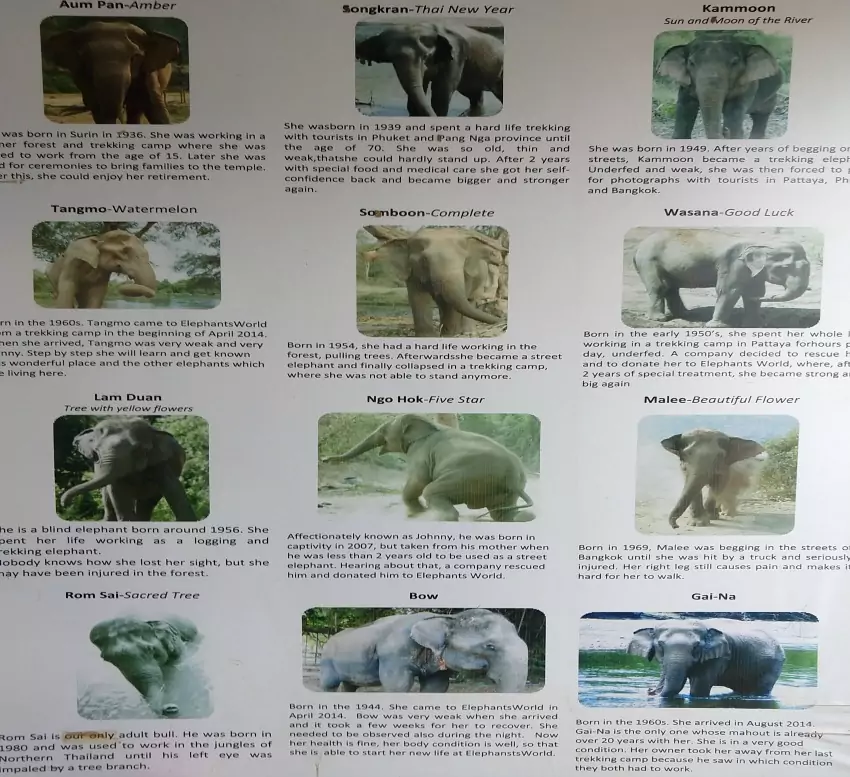 They have over 20 elephants at Elephants World in Kanchanaburi, most would come under the headings of unemployed, elderly or injured. They have all been in some way rescued. Several toothless elderly elephants that would survive nowhere else, blind, unable to eat, unfit to work, are housed here and allowed to roam.
They can play in the mud and the river and generally have a nice time. All of the main herd of elephants is female bar one baby ( rescued from tourism) , but there are a couple of males on site. Obviously these need to be kept separately and handled differently once they are mature.
One of the females is pregnant, she arrived pregnant and her calf is due next year. Some are a little dangerous or troublesome, they wear a red rope around their necks to warn visitors to keep their distance. The team of mahouts are always on hand to keep them in order, make sure everyone is safe and break up any fights.
There are also a lot of dogs on site, street dogs, rehomed, I believe.
It was wonderful to see the herd interacting with each other and playing freely in the river and the mud. When the mahouts turned on the taps in the main pool there was excited trumpeting ( which scared the Bejeezus out of me at first) as they called to each other to hurry up and come join the fun. It was lovely to see.
What Did We Do During Our Day at Elephants World?
Mostly we just hung out with the elephants. The highlight for the kids was playing in the mud and the river towards the end of the afternoon. For western kids or adults who have never been around elephants before, just being at the park with them must be such a thrill.
We're elephant old hands, we've been around them all over Asia and even seen them in the wild in Sri Lanka, so elephants in and of themselves don't get my boys too excited. It was the activities at Elephants World that they loved most. See those in the video above.
We got to find out a little about the animals' diet and be involved in preparing watermelons and cutting grass before making elephant truffles. Balls of yummy elephant stuff that we could hand feed to one toothless old lady.
The boys loved cutting the grass, sharp blades, boys like that. Getting an idea of the sheer volume of food that the 'phants need was quite an eye opener for them and we all learnt a little more about elephants' dietary requirements.
They now fully understand why they can't have an elephant as a pet and what a massive job and expense it is to keep them. This is a huge problem in Thailand.
For you, for Pinterest.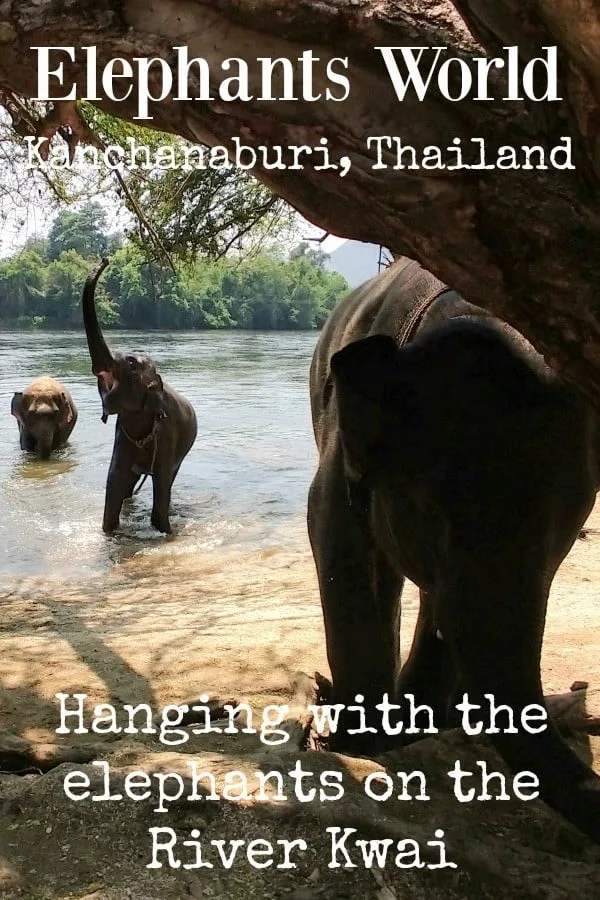 I should also mention that lunch was included in our day at Elephants World and it was superb! Really good, 10 out of 10 guys, with vegetarian and ( I think) vegan options available.
How to Visit Elephants World
We have a full post on Kanchanaburi ( here) and we've spent a lot of time in this riverside town. You can visit as a day trip from Bangkok, being picked up and dropped off at your Bangkok hotel, but it would be a very long day.
It's easy to get to Kanchanaburi, so go check our post on trains, buses and accommodation. This is certainly a great way to see and learn something about elephants if you only have time to visit Bangkok ( and not Chiang Mai, for instance). If these places don't make money, who will look after these elephants?
The elephants' plight in Thailand is a tragedy of our time.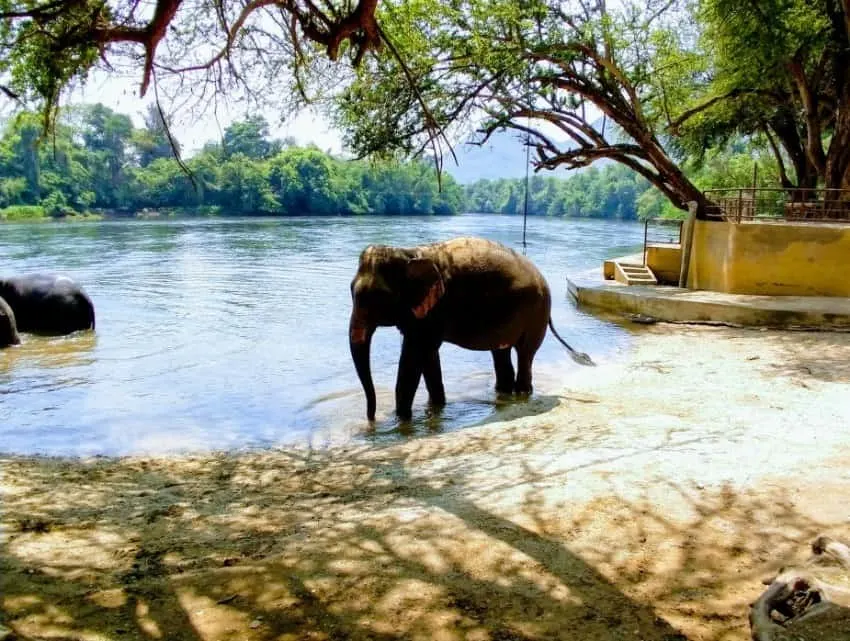 Find a day trip to Elephants World from Bangkok here we use and recommend this company). This tour will also allow you to see the famous Bridge on the River Kwai and see a little of Kanchanaburi
So yep, all good. I'm still not very comfortable in posting about ethical elephant sanctuaries in Thailand, or any animal attraction. But the elephants here seem to have a good life. There are lies in this industry and a lot of mis-information. Everyone thinks they're an expert because they saw something on Facebook. If you're going to take part in any animal tourism, just weight it up and do your own research. Don't get on an elephant's back in a howdah if you can help it, don't support animal circuses or anything where baby elephants are chained at the roadside ( as we saw frequently in Phuket) But elephants do important work all over the world and without them things like, for instance, poacher patrols in Chitwan National Park, wouldn't work. It's not black and white, nothing is ever black and white. Remember this is a big money industry and nothing is as it seems.
If you'd like to hire a car during your stay, use this car rental comparison tool to find the best deal!

We also suggest you take a look at this company to get a quote for all kinds of the more tricky adventure or extended travel insurance.

Try Stayz / VRBO for an alternative way to find rentals on homes/apartments/condos in any country!