What trekking gear do you really need for Nepal? What should you pack for Nepal? Trekking gear companies tell you to buy x, y and z before you even think of setting foot in Nepal or the Himalayas for fear of death. I'm here to be more realistic. You don't need everything they try to sell you. Items to pack, travel essentials for Nepal.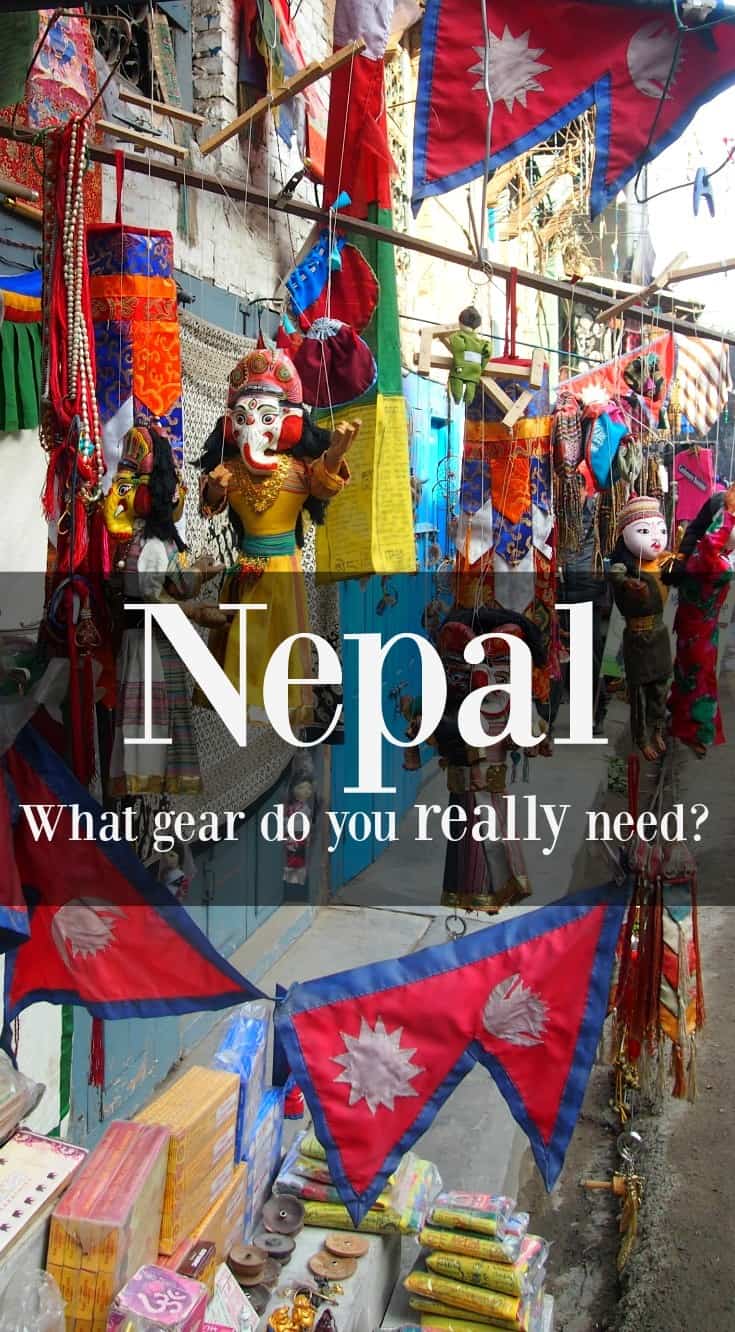 Keep your money in your pocket a little longer and read on. We've trekked Everest region, Everest Base Camp (October, twice) and the Annapurna Circuit in winter (February), so let's get real here about the trekking gear and equipment you will need for Nepal.
Some people head off for a walk looking like they're summiting Everest and that's overkill. Don't be that guy.
Shoes or boots for Nepal trekking are an important consideration, be sure to read that section of our post.
Nepal Trekking Gear
I'm not going to advise you, just tell you what we found necessary or unnecessary, obviously, you know your body and its comfort levels.
That will affect your choices when buying Trekking Gear for Nepal
You have to make your own call and tell me what you decide in the comments. OK?
The gear you need in Nepal will also totally depend on how long you're trekking and how high you're going, at what time of year.
Our treks have been in winter to early spring and in October, peak season.
If you pay a porter to carry your gear, sure, you can take the kitchen sink, but those of us who prefer to carry our own pack have to think about weight and necessity.
Buying Trekking Gear in Kathmandu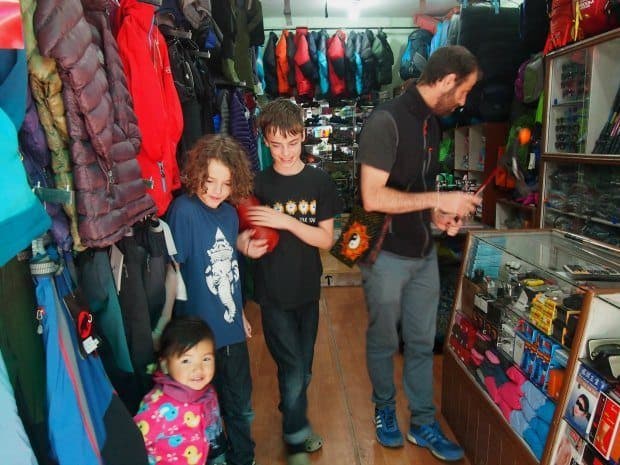 The Thamel area of Kathmandu is packed with trekking gear shops. Some trekking gear is genuine and sports a hefty price tag, most is fake but does the job just fine.
Always negotiate on price. Haggling is expected in these small trekking shops.
If you have a few days to spend in Kathmandu or Pokhara before your trek you can easily kit yourself out.
If you have children or you're a larger size, this is harder.
Whether or not to trust the quality of the fake gear? It's up to you. I have a lot of equipment bought in Kathmandu, as mentioned in this post, it's always done me just fine.
If you're short of time then bring your trekking gear with you. You'll want to spend your time enjoying the sights of Kathmandu, not traipsing from shop to shop.
If you get stuck and are heading off on the Everest Base Camp Trek, we noticed this year that prices were good and often fixed in Namche. This is new.
We bought extra socks and poles in Namche Bazaar at better prices than Kathmandu. Nothing was fabulous quality, but it did the job.
Buying Trekking Gear on a Budget
Don't scrimp on anything that could put you, your toes or fingers at risk.
Everything I tell you on this page will help you keep your costs down, but be wise, stay safe. Trekking in Nepal is expensive. It just is.
If you're really low on funds maybe wait a year or so.
Electronic Equipment for Trekking and Visiting Nepal
Power Packs and/or Solar Chargers in Kathmandu, Pokhara and the Himalayas
The power was off more than it was on a couple of years ago in Kathmandu and Pokhara.
Things are better now but if, like us, you're reliant on electronic devices like phones, laptops and Kindles, you will need electronic power back-up.
In the mountains it's normal for guest houses to charge you to plug in. Sometimes the fee is per charge, sometimes it's per hour.
It's a couple of dollars here and there and costs quickly add up (particularly for us as a family of 4) so it makes sense to take devices with ultra-fast charging capabilities.
I like to take solar powered power banks. This means we can charge as we walk with solar panels attached to our packs.
If you are travelling long-term it's always a good idea to carry these anyway.
You may also want a small, light regular power bank as the solars are pretty heavy. We take both for 4 people to cover any eventuality.
If you are shopping from the USA the model below would be our pick. Unfortunately it doesn't seem to be available elsewhere just yet.
We have a couple of Hiluckeys brand solar chargers which are still going strong, and a Hobest.
These chargers should be waterproof, dustproof and shockproof, have extra fast mains charging as well as solar, can charge 2 devices simultaneously via twin USB ports and should clip on the outside of your pack to charge while trekking.
A built in flashlight is a bonus and some come with a whistle and compass. Just be aware that these chargers are heavy, we only take one solar power bank for the whole family plus 2-3 regular, lighter, chargers.
For shoppers outside the USA, the Hiluckey solar chargers are the ones we took to Everest Base Camp.
We're happy to recommend them as a solid choice. We would only take a rugged model, at very least it should be waterproof and rapid charging is a must.
Check out our Hiluckey chargers below. If you need a lighter charger and happy to pay to charge it from the mains take a regular power bank or charger too.
A Good Camera or Camera Phone, Spare Batteries and Extra Camera Memory
The cold of the mountains makes batteries lose their charge quickly, you will need spare batteries.
As you most likely won't be taking your laptop on trek and internet coverage is spotty at best, you'll also be best taking plenty of memory.
As a professional travel blogger, I travelled with a Nikon D3300 , it was the most compact, most lightweight DSLR I could find at a non-scary price.
It's a popular camera because it's so good, an excellent entry-level DSLR and for the Himalayas and the wonders of Kathmandu, you will want a good camera.
Tip: Put your camera, phone and batteries inside your sleeping bag at night, tuck your camera inside your fleece during the day. Try to keep everything warm
However, technology has marched on and as of late 2017 I did away with the bulky DSLR in favour of an excellent camera phone.
The Samsungs are excellent, so are the Apples, but my choice was between the new Huawei and Moto models because of their twin lens capabilities.
In the end I went with the Motorola. This decision wasn't based on price, it's a cheaper phone, yes (so realistically, a better travel choice), but it had the 3 features I needed, those twin cameras to give me incredible wide-angle shots, toughened glass and water resistance.
None of the top dollar models offered those 3 things at the time.
I buy phones unlocked to use anywhere in the world with local sim cards.
When using a phone as your primary camera, instant backup to Google photos makes life oh-so-simple even for me as a travel pro.
The Motorola also has fast charging, super useful when lodges charge for charge by the hour.
Trekking Watches
A trekking watch maybe isn't essential, but it's certainly nice to have a watch with an altimeter, thermometer, barometer, and GPS.
My husband likes to have a watch with a heart rate monitor because he uses this for his Ironman training and events, I prefer the Casio watches for trekking.
Have a look at our full post on trekking watches here to see what's on the market.
He tracked our ascents, descents, pace, and distance on the EBC every day and it was great to be able to do that.
Knowing your pace gives you a better idea of how long it will be before you reach your lodge.
Other Nepal Trekking Gear
Water Bottles
On trek you will certainly need a large water bottle (1 L, 32 oz, a quart approx) see here , maybe two.
Wide-mouthed is best, you will often fill your bottle with boiled water or even black tea in the trekking lodges.
Otherwise, you can fill it from taps, hoses or streams and use purification tablets. If you feel safe doing that.
Make sure you can fasten your water bottle easily to the outside of your pack. You'll need to be able to access it easily
Camelback type drinking systems are also useful.
You can buy Nalgene type water bottles in Kathmandu but I'm not comfortable with them, are they real? Are the BPA toxins in the plastic going to leach into your water?
I'd buy these at home and know for sure they are BPA free.
Nalgene Tritan Wide Mouth BPA-Free Water Bottle. Above.
Tip: A water bottle filled with boiled water (or black tea) makes a good hot water bottle and is ready to drink in the morning.
If you'd like to insulate your water bottle neoprene sleeves are also available. Search from the link above.
Water Purification Straws, Bottles and Tablets
A Lifestraw will allow you to drink from streams and springs and there are plenty up there, each more sparkling than the next. I've never used one but I have friends who swear by them.
You could also carry water purification tablets, which we have used in India years ago, and on the Everest trek, purifying each bottle full of water as needed, or even opt for a water bottle with built-in Lifestraw technology.
The choice is yours, but on our last trek we simply carried 2 large bottles of boiled water or black tea from each lodge we stayed in, they're heavy, that's the downside.
Trekking Poles
Trekking poles are not essential, but they certainly make trekking easier and your knees last longer. I hike with one, others use two.
In my younger days I rarely used them, but it's very sensible, and safer, to buy at least one trekking pole.
I have one I bought in Kathmandu but there are some amazing ones available to buy online.
The best selling trekking poles on Amazon are shown below. As you can see, they are pretty cheap, mine, from Kathmandu, was about the same price.
I wouldn't go trekking in Nepal without one now.
Sleeping Bags
This one is a tough call. We've taken our own sleeping bags, bought cheap bags in Kathmandu, hired bags, and trekked without sleeping bags of any sort.
Trekking lodges supply blankets but I doubt they ever wash them. They are plenty warm enough, but do you want to use them?
A good solution is to take a sheet or fleece sleeping bag liner, see below, and for my entire EBC trek in October this was all I used.
Sleeping bags are terribly bulky to carry and it's a difficult decision to make, take one, or risk it?
If I were heading to Nepal specifically to trek (EBC, Thorong La, anywhere extreme) and buying and carrying gear wasn't an issue, I would absolutely take my own, high-quality trekking sleeping bag.
But for lower altitude hikes I maybe still wouldn't bother and maybe just take a fleece liner (below).
If you're going high look for a bag that is ultra-light (the lightest mummy bag on the market(at time of writing) is 1.9 pounds, but it isn't 4 season), mummy (to save bulk) with hood (essential) and ideally down.
It should be 4 season or suitable for below-freezing conditions. You'll be looking for something like the bag below.
This bag's little brother is the lightest on the market, but only takes you to 32F, not 15F.
This one is heavier at 2.9 pounds to the Hyke and Byke Shavano's 1.9 pounds, but you're carrying extra warmth at under $40 extra cost.
Check out the Hyke and Bike Quandary. See if you think this one will work for you.
You are unlikely to need a sleeping mat for Nepal, unless you know you'll be camping. Every trekking lodge I've ever stayed in had mattresses.
Sheet Sleeping Bags and Sleeping Bag Liners
Sleeping bag liners, in cotton, silk or thermal materials are a very good travel investment. They're not essential if you have your own sleeping bag, but if you plan on hiring a bag or not taking one at all, they're gold.
TIP: Always go for mummy-shaped sleeping bags and liners to reduce bulk and weight.
The Sea to Summit Reactor Extreme (use this link to inspect) claims to add up to 15C to a sleeping bag, is mummy shaped with box foot and drawstring hood (you will need a hood or hat in bed) It weights under 350g.
As I said I did the Everest Base Camp Trek without a sleeping bag, just a liner. I'm not recommending it, just saying it's possible.
You will absolutely need a warm hat to wear in bed, there is no heating in the lodges. I was fine, but I'm used to cold climates.
Travel Towels
You are fairly unlikely to take a shower during your trek, it's too cold and the guest house owners charge per hot shower, that is, if their solar heating is working.
Lower down, yes you may find showers and they will be variably hot.
Take a travel towel, they aren't usually supplied by the trekking lodge. You'll want one for drying your hands or cleaning your teeth anyway.
Micro towelling is good, we have towelling travel towels that are 20 years old, but microfiber is lighter and easier to wash and dry. We even use our Mountain Warehouse extra-large travel towels at home.
We recently did some research on which travel towel was best involving buying a bunch, weighing them and testing them out.
We wrote a post on our travel towel findings here.
Currently we're travelling with Eco Journey towels as well as our old Mountain Warehouse versions. A family can never have enough travel towels!
The Eco Journey towel also came with a free mini-towel which has been very useful for hands face or feet if you want to keep your main towel dry.
You can easily wear a mini towel it on the outside of your pack to dry it during the day. So we recommend two towels, one for showers, one for hands.
What to Wear Trekking in Nepal, Trekking Clothes and Trekking Boots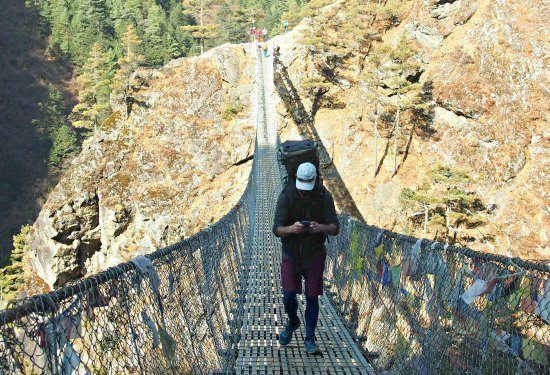 This is wear things get complicated, what clothing, shoes, boots, pants, jackets, and so on to wear in Nepal. Be safe, always be ready for bad weather. But use common sense too.
Nepal in January is very different to the peak trekking season in October. On our October Everest base camp trek we never saw snow. On the Annapurna Circuit in January-February, we say blizzards and waist-deep snow.
We haven't taken the gear you're "supposed" to buy on any of our treks. I've never owned a merino base layer in my life! Most of this recommended gear is seriously expensive, we haven't needed it.
Trekking Boots for Nepal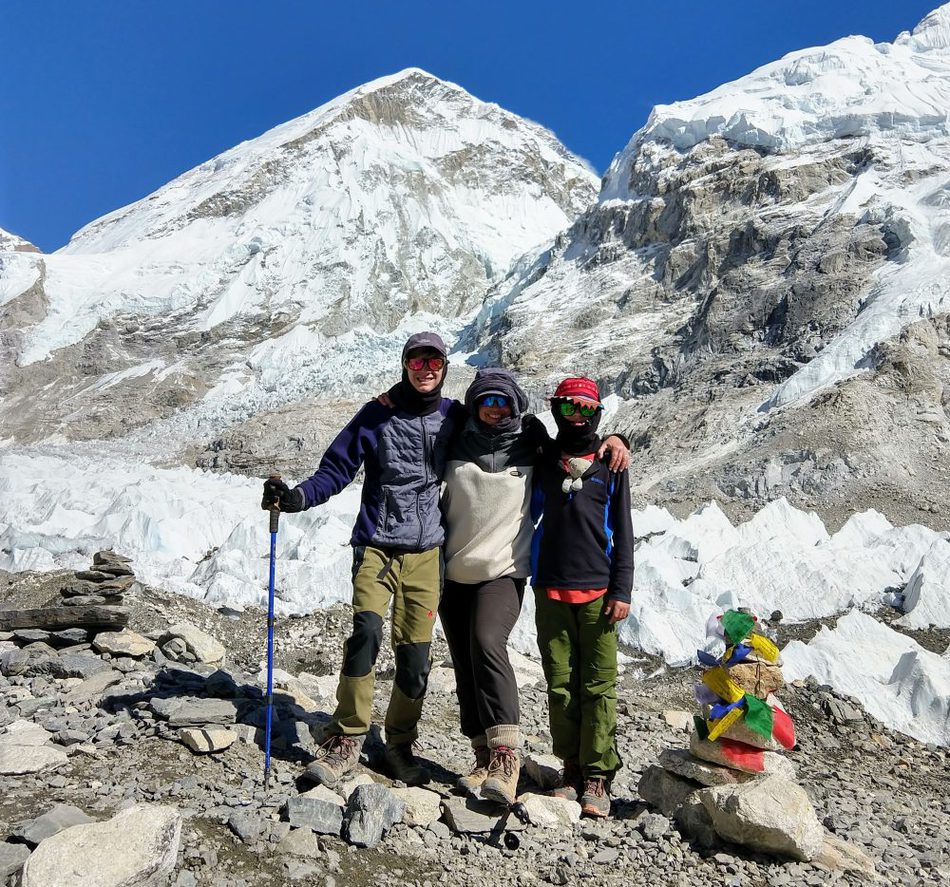 Don't feel you have to go out and buy the best trekking boots on the market just because you're going to the Himalayas.
My husband has been high in the Himalayas in running shoes and in top-of-the-range crampon-ready leather Scarpas.
I've been up there in light summer trekking shoes and in summer-weight hiking boots, the latter in deep snow.
One of the kids had hiking shoes bought in Kathmandu, the other had street shoes, winter-type basketball boots, he got to Tengboche Monastery.
We did great in all of the footwear mentioned above.
My husband preferred trekking in his running shoes right up past Namche Bazaar and into light snow, he found he slipped less, and walking was easier. Once the snow gets thicker, boots or good shoes are better.
My summer hiking boots did OK in deep snow, but I was hitting them with waterproofing spray every day. Wet suede, in deep snow, in winter, could have resulted in frostbite.
In snow, always add gaters (buy these on the trek or in Kathmandu, quality isn't critical), they help keep the snow out of the top of your boots.
Running shoes will do you for EBC in good weather and you'll see plenty of people doing this. I'm not advising you not to buy serious hiking boots, I'm just telling you not to worry too much particularly if you're not going into deep snow.
You'll notice that most of the trekking guides in Nepal favour trekking shoes not trekking boots. We were told by our guest house owner that shoes were better. But you do what you're comfortable with.
Frostbitten toes are obviously to be avoided. We've seen people cross the Thorong La in armpit deep snow in running shoes. It's not a great plan, but I've also seen the hard sell in the hiking shops to buy the most expensive gear, often from salespeople with no actual experience.
Just have your wits about you.
Do Trekkers Need Crampons?
Trekkers don't normally need crampons, but on certain hikes, where there's ice, they do.
You can buy crampons on a stretchy rubber frame that slip over your boots and shoes in Kathmandu and in Namche Bazaar.
Trekking Socks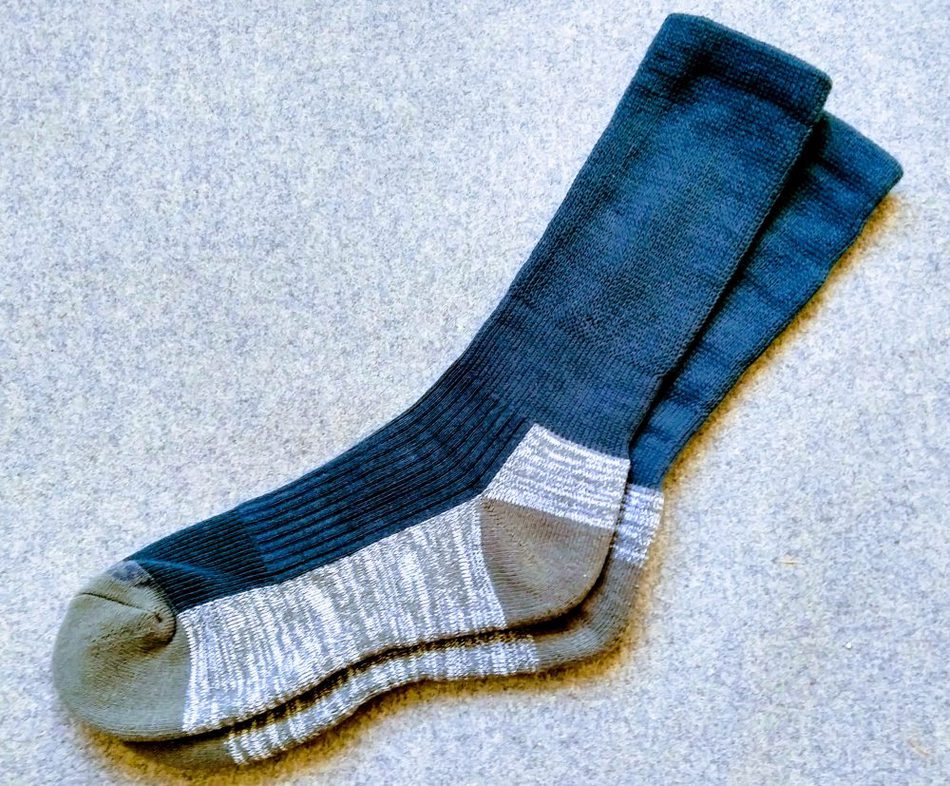 You will be wearing the same socks for multiple days without washing them. Unless, of course, you hire a porter to carry your wardrobe.
Sometimes I trek in thick hiking socks, sometimes in thin street socks, to me it makes little difference in well broken-in shoes or boots.
The extra cushioning on the bottom of designated hiking socks can be very nice though. Remember the EBC trek is only about 60 Km. It's not a huge distance.
You can pick up socks in Kathmandu but we struggled to find kids' sizes. I'd recommend bringing at least a couple of pairs of good socks with you from home.
Quality trekking socks like these are a good investment and can last decades (mine have!) Bridgedale are a classic, quality brand. You absolutely can't go wrong with Bridgedales or try the Isocool socks from Mountain Warehouse, click through below to buy those direct from Mountain Warehouse, online.
Mountain Warehouse Homepage – US
Mountain Warehouse Australia – Up To 70% off sale items for Men, Women and Kids! New lines every week!
I think a pair of Bridgedales for cold and high altitude and the Isocool socks for warmer days, lower down, works well.
We never get blisters, our boots fit well with any socks. If you hit the Bridgedale link and have a click around you'll see styles for women and men for different conditions. Take a look.
People recommend wool socks. We don't generally use wool but our Bridgedale socks do contain wool.
I've also seen people recommend, and use, wool booties in lodges. I would never do it. The toilets are likely to be wet and not terribly hygienic, I wouldn't wear anything other than my hiking boots in there.
We have our boots laced lightly so that we can slip them on and off easily in the lodges at night. You don't want trailing laces in those rest rooms either.
You really can't be cautious enough about hygiene on the Himalayan treks.
A dry pair of socks and dry clothes after your day of trekking is a good idea though. If you're wet, or sweaty, you will stay cold.
Trekking Pants and Waterproof Trousers
We've never bought trekking pants so can't comment. We've trekked in a strange mixture of jeans, leggings, yoga pants, running tights, and shorts and did just fine.
If you're going high or into snow add waterproof over trousers or special cold-weather trekking pants.
I also sometimes add legwarmers, a $1 buy in Kathmandu. I usually sleep in them too.
Base Layers, Thermals Jumpers and Jackets
People recommend thermals and merino this and that.
We just wear long-sleeved T-shirts, fleeces, hoodies, etc. I've never owned nor needed thermals for trekking or skiing.
We've taken down jackets brought from home as well as those bought in Kathmandu or even hired in Pokhara.
We've carried waterproof jackets and used them in blizzard conditions on the Thorong La (Annapurna's High Pass, see video above). What you take, as always, depends on how high you're going and the time of year.
I'd still steer clear of trekking stores' "must buy" lists or packing lists as guides.
You can buy huge, thick fleeces very cheaply in Kathmandu, I've had mine 15 years.
Sunglasses
Absolutely, you don't want snow blindness. We trekked with a guy who's glasses had broken, he had snow blindness for days and it's not nice.
This is the brand of sunglasses we've used recently, they're a budget buy for a family, but they are high enough quality, high performance and come with a lifetime guarantee. You can order them online, anywhere in the world.
If you have a bigger budget, buy Oakleys, they're the most indestructible sunglasses I've ever owned. I've been using Oakley sunglasses for hiking, trekking, cycling and skiing for most of my life.
Get dark ones, ideally polarised, the light can be intense off the snow.
Gloves
Fingers are particularly susceptible to cold. Yes, you need gloves of some sort but not necessarily top of the range.
Decathlon normally sells decent gloves. You'll need your gloves to have a wind and water-proof outer shell if conditions get bad.
Hats and Buffs
You'll want something on your head but it doesn't have to be a designer item. Buffs are great, but a cheap one from Decathlon does the job just fine.
Take a hat too, wide brimmed for sun, thick and woolly for warmth. You'll want your buff plus a hat at high altitudes or in winter.
At low altitudes, on sunny days, you'll be more worried about keeping the sun off. Scroll back up to the photo of us at Base Camp. It was taken on a "warm" sunny day.
On the top of the Thorong La in winter, we had hats, buffs, plus waterproof jacket hoods.
Toiletries for Trekking in Nepal
Take as few toiletries as possible because they will be heavy. The essential toiletries we take are the following:
a toothbrush
toothpaste
soap
sunscreen
lipbalm with sunscreen
hand sanitiser gel
toilet paper
We don't even pack a hairbrush and shampoo. Many lodges won't provide soap, making soap for handwashing and footwashing, is essential.
We tend to buy a medicated soap, such as Dettol. You'll need a plastic bag to carry it in. A soap box adds weight.
My husband does not take shaving gear trekking, I do not take makeup. You will see women wearing makeup on treks occasionally, it seems odd.
Also, take some sort of antiseptic cream or iodine for emergencies. Take some good quality band-aids or sticking plasters. We find fabric plasters stay on better than plastic.
Take any other medications you may need. We take altitude tablets, bought in Kathmandu, for emergency use only. We have a post about our experiences taking these at high altitudes.
I think it's a very good idea to take vitamins and minerals too. Your diet will be limited on your trek.
Check out what we're wearing in the video, this was in the worst possible weather you'll get, serious cold, blizzards ( we were stuck up there at high camp for 3 days) and 5,416m at the top of the Thorong La on the Annapurna Circuit. The height is similar to Everest Base Camp.
A sun hat, a kramer from Cambodia and a buff, along with the hood from my waterproof jacket, did me fine. A cap is great too, to keep the sun off your face, a wide-brimmed hat may be better.
If you're long-term backpacking you simply can't fill your bag with the perfect piece of gear for every occasion. If your trek in the Himalayas is a one-off, big event and you have cash to burn, sure, buy all the designer gear.
I'm not trying to give advice, just present you with options that will help you ignore the marketers, save the planet through consuming less and save your cash.
That's it for now, all can think of. I hope I've managed to put your mind at rest a little and help you realise that you don't have to buy all of the trekking gear on the list, to an extent you can make do with what you've got so long as you don't take risks. If you have any questions just put them in the comments and maybe I'll bump into you somewhere at high altitude one day. You can go back to our main Nepal Travel Blog page here
If you'd like to hire a car during your stay, use this car rental comparison tool to find the best deal!

We also suggest you take a look at this company to get a quote for all kinds of travel insurance.

Try Stayz / VRBO for an alternative way to find rentals on homes/apartments/condos in any country!