This post may contain affiliate links.
I've posted already about how much we loved the experience of trekking in Nepal's Everest region, so don't take what I'm about to say the wrong way. Just because I was scared half to death regularly and frequently by the scariest of scary bridges (and the odd path with precipitous drops, mud slides and general precariousness) and just because I *may* have been reduced to tears once or twice (or three times), doesn't mean I wasn't having a good time. I love the mountains with a passion, I even love the terrifying Hillary Bridge, and I'll be back in the Himalayas just as soon as I can, but that doesn't mean it's easy. Sometimes it's scary.
My dear husband decided to capture my reaction to the highest, worst, most terrifying of the scary suspension bridges in the Everest region.That's the Hillary suspension bridge just before Namche.
Just to clarify, this time we were on the Everest Base Camp trek but turned back just 2 days before Base Camp, we didn't think it fair to take the kids any higher at just 9 and 11, so we did some lower side treks instead. That, and we didn't have much by way of gear, hitting the serious snow in just running shoes didn't seem so smart. Our kids made it to Base Camp 2 years later.
If you need it our EBC trek packing list is available.
So if you're heading to Everest Base Camp, or trekking in the Everest region generally, these are the bridges you will be crossing. There are several and I'll save the worst, and the video of me mildly losing it, for the end of the post. Would you save this to Pinterest for us? Just hover and click.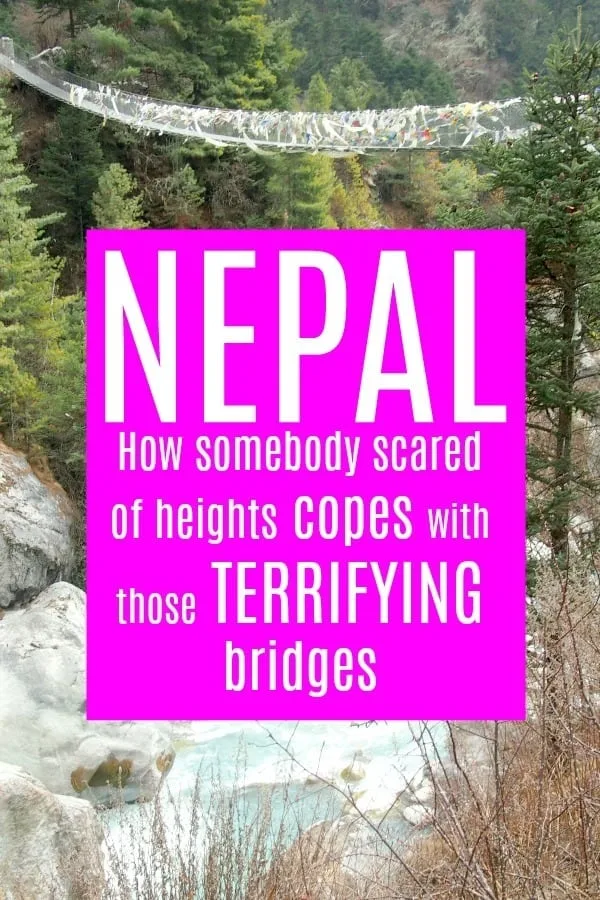 Suspension Bridges on The Everest Base Camp Trek
The bridge below was on day 1, as we descended from Lukla airport. As if the flight to Lukla wasn't hair-raising enough. I coped petty well with this one, better than I managed on the Annapurna circuit 16 years ago. My fear of heights may have diminished with age.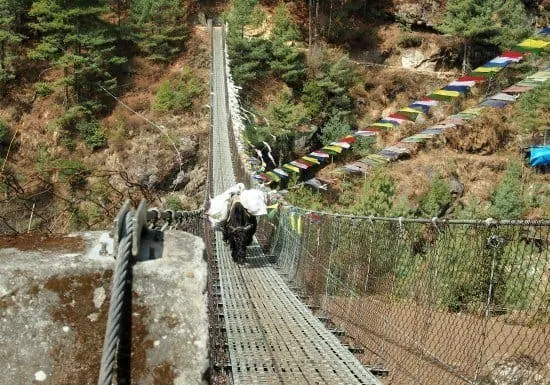 I'm scared of heights, really scared. I also suffer from anxiety, particularly where there is potential for my kids to plummet to their death in the meltwaters of the Khumbu Icefall, so yes, I freak out maybe more than most. But I never let it stop me.
To me, getting up those mountains is worth all the stresses and strains of the journey times 10 million, so I just get on with it. Here are some pictures of our favourite scary bridges from our Everest trek.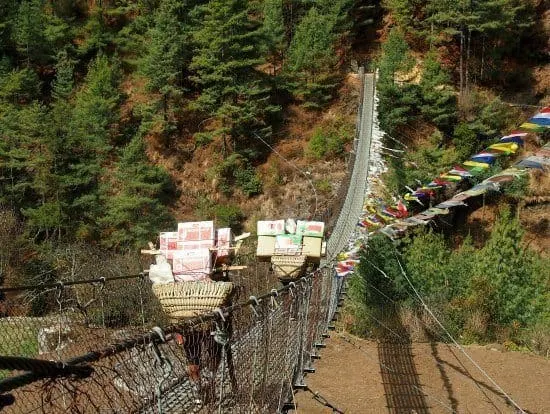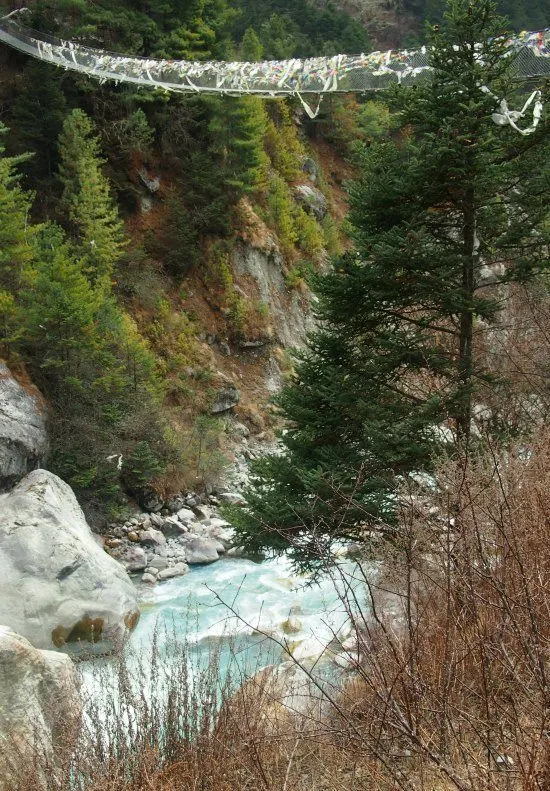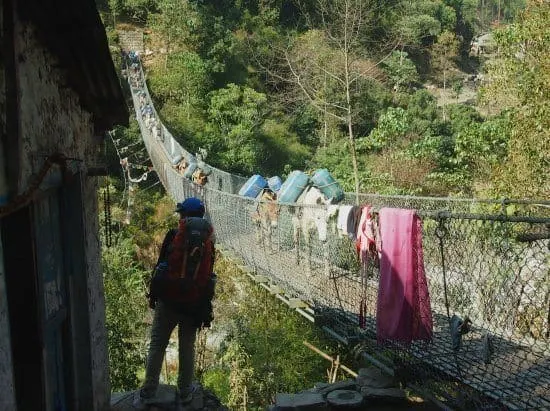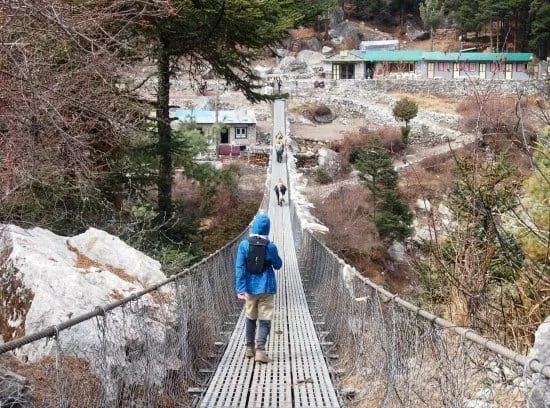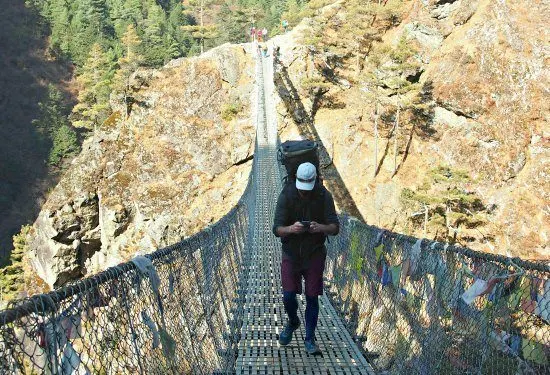 The Hillary Bridge
We've done some research and as far as we can see the bridge before Namche Bazaar, is named The Hillary Bridge after Sir Edmund Hillary. It is marked on Google Maps as such. I've crossed this bridge 4 times now and never seen it named, but we believe this is it.
There are two bridges here, the lower bridge is the old bridge and it's closed. The higher one is the one you'll cross today. According to the only information we can find, it is 125m high. We can't say if that's correct as very little information exists.
We believe the higher bridge was constructed in 2013. We crossed it in 2016 and 2018, both ways. The bridge spans the Dudh Koshi River and is the final bridge before Namche Bazaar.
Just above Namche you will find The Hillary School at Khumjung and the Hillary Memorial Chortens. There is a lovely statue of Sir Edmund at the school and one of Tenzing Norgay at the Everest view lookout just above Namche. You'll find more information in our Namche Bazaar post.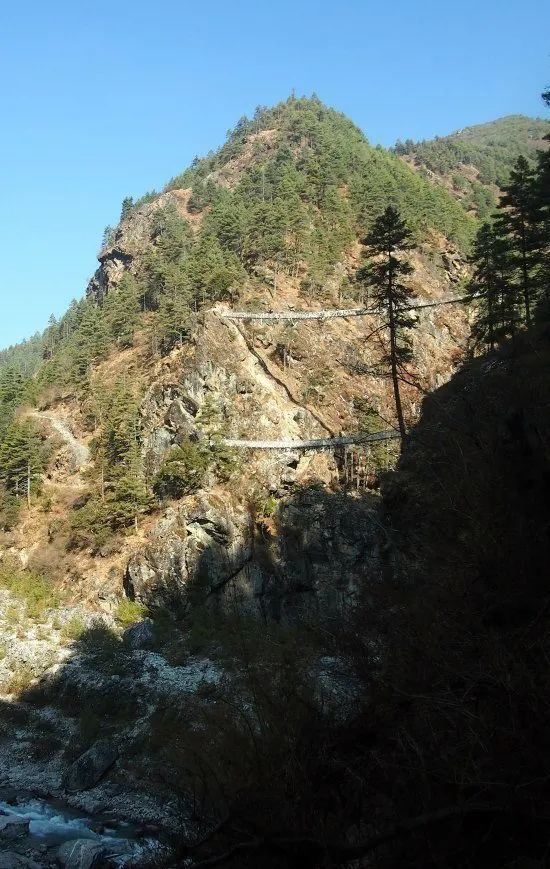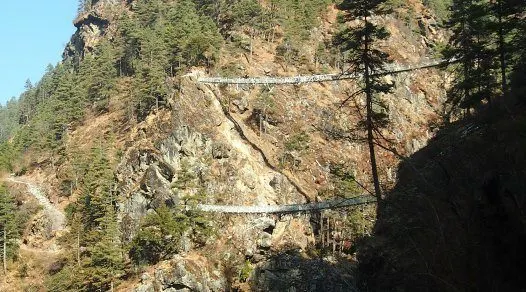 Hillary Suspension Bridge Crossing Video
So here's the video my husband took of me being pathetic. It won't win any Oscars but might give you a good laugh 😉
I react to fear by trying to organise everyone, so it's " Everyone Focus!" and " No chattering, pay attention!" and "Chef FFS stop bouncing the bridge!" Yes, they bounce, with every step. And SOME people don't give a flying one about those of us who may be terrified. You'll also notice my deathly grip on the hand-rail.
Sorry it's poor quality, he only had his phone, but you can see how high it was.
So would you do it? Could you do it? Are you just itching to do it? We're heading to Everest Base Camp again soon. If you see anyone sobbing, it will be me.
You might also like the post about the terrifying flight to Luka airport, or the even more terrifying bus ride from Phaplu to Kathmandu, if you feel the flight is too scary. I'm such a wimp. See our other Nepal content in the related posts section, bottom of the page.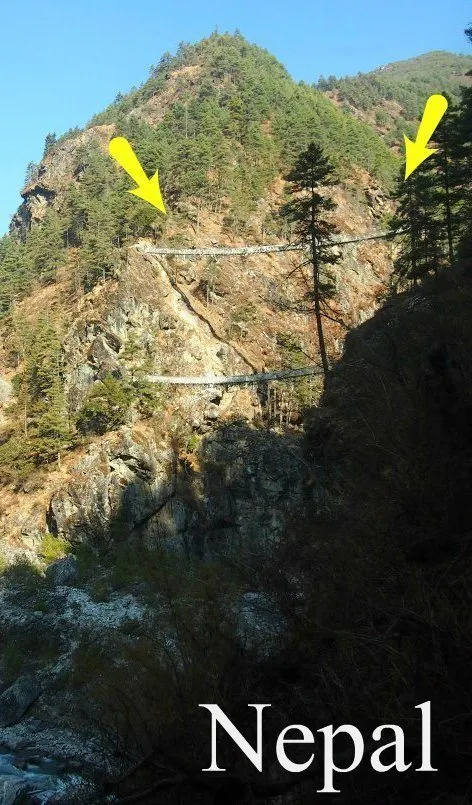 If you'd like to hire a car during your stay, use this car rental comparison tool to find the best deal!

We also suggest you take a look at this company to get a quote for all kinds of the more tricky adventure or extended travel insurance.

Try Stayz / VRBO for an alternative way to find rentals on homes/apartments/condos in any country!