Last Updated 16/09/2021
There are places to visit in Kathmandu that will take your breath away. Without a doubt, when you step off the plane into the hustle and bustle of Kathmandu you know you're in no other place. The smells, sounds, and sights as you negotiate from the airport into town will assault your senses. Many come to Nepal for the incredible Himalayas and the trekking that they offer, but the chaotic ancient capital has its own special wonders. You could wander the streets of Kathmandu for days and never tire, but here are the most famous, most iconic, most beautiful and sacred places to visit in Kathmandu, and the Kathmandu Valley.
We hope you find our guide to things to do in Kathmandu useful. We'd suggest you have at least 3 clear days to see Kathmandu before or after your trek because there is just so much to see, learn, and enjoy.
Our short video shows you more places of interest and historical, cultural, and beautiful places to see in Kathmandu. When you're done with the traditional sight-seeing, just wander, get lost in this ancient city. Find the shops, markets, and millions of religious places. You won't be sorry.
Please check and double-check all the information we give you locally as times, places, dates, and services do, as we found, change often. Restrictions and closures may apply.
Places to Visit in Kathmandu
The following places of interest and historic sites should give you plenty to do in Kathmandu and ideas for day trips from Kathmandu.
The 3 Durbar Squares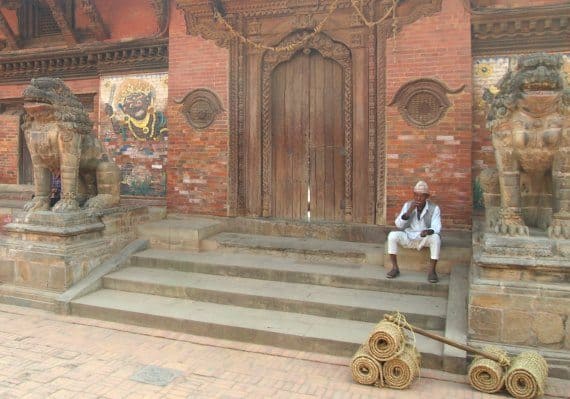 There are 3 Durbar Squares in the Kathmandu Valley, Kathmandu, Patan, and Bhaktapur. Durbar Square simply means Royal Square and these ancient places have some of Nepal's most magnificent architecture.
Kathmandu Durbar square with its ancient Palace, temples and sadhus is a sight to behold, from the child goddess Kumari's palace to the narrow winding streets of shophouses.
Nothing beats wandering the streets and temples till it's time to stop for a delicious local bite to eat in one of the many restaurants or street stalls. Look out for Jagannath Temple, Taleju Temple and other historic buildings within the Hanuman Dhoka complex.
Make sure you go into the palace where the child goddess lives and wait for her to come to the window. A surreal experience for even the most well-traveled nomad awaits at Kumari Ghar.
The festival of Dashain is when you may get to see the Kumari.
If you're not content with Kathmandu (Basantapur) Durbar Square there are two other nearby Durbar Squares ( Patan Durbar Square and Bhaktapur) in which to soak up the history of this magical city.
The horrendous earthquake did cause much damage and destruction to these ancient structures. Temples destroyed or badly damaged included Trailokya Mohan, Kasthamandap, and Maju Dega. We visited just after, and 2 years after the earthquake and the rapid repair work in some parts of the city was really quite impressive. Sadly, too many lives were lost and much suffering caused in Kathmandu Nepal.
Kathmandu Durbar Square, for Pinterest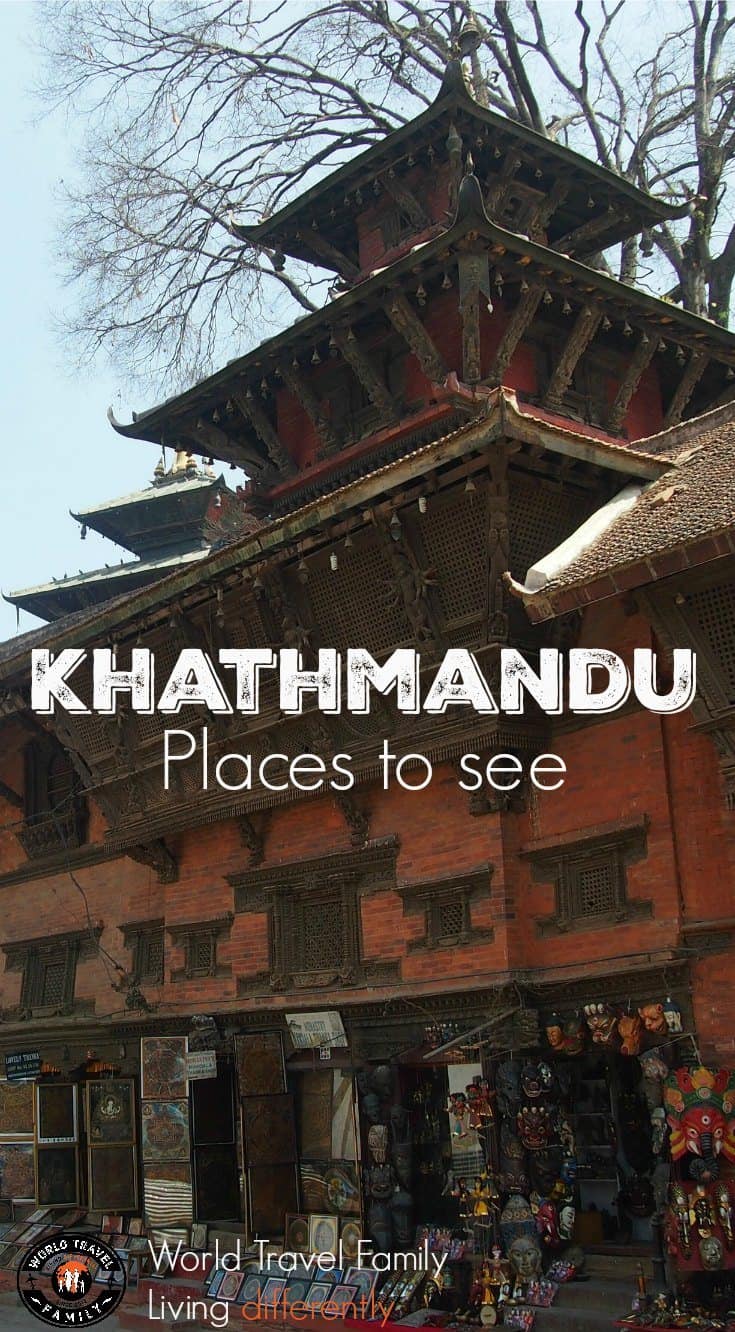 The Pinterest pin that I published with a spelling mistake! (above) It's been pinned thousands of times, so it stays.
Pashupatinath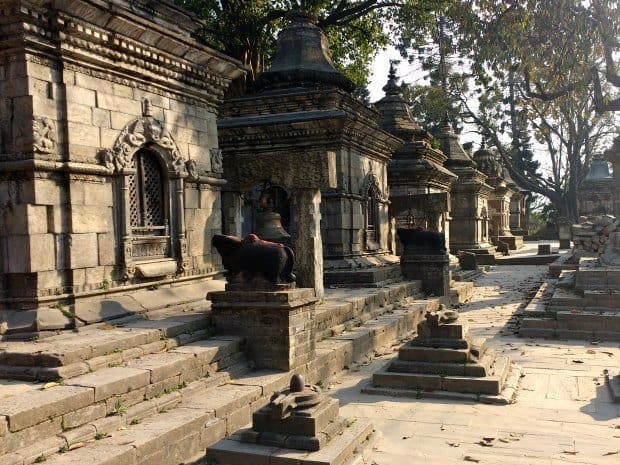 The temple complex of Pashupatinath, on the Bagmati River, with its monkeys, sadhus and regular worshipers is another icon of Kathmandu.
Access to the Hindu temple itself is strictly reserved for Hindus only but the outer Pashupatinath temple complex is open to all visitors for a fee.
Pashupatinath comes alive during Shivaratri where Sadhus from across the subcontinent converge on the holy site and receive their followers.
The burning ghats here are fascinating but confronting, if this is your first experience of death rights on the subcontinent be prepared for open cremations.
Swayambhunath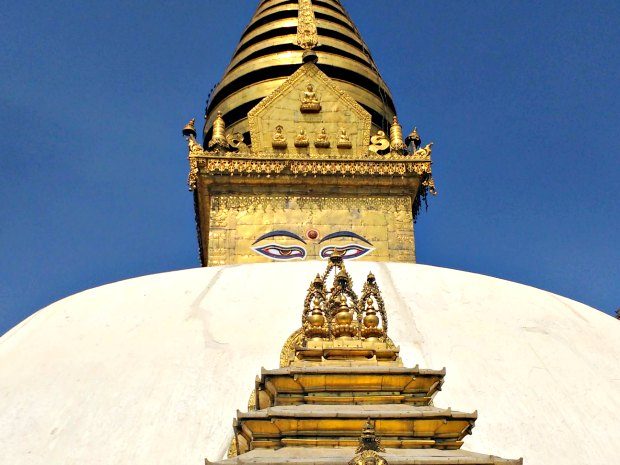 Swayambhunath overlooks the sprawling Kathmandu Valley from high on a hill to the west of Kathmandu. The name means sublime trees in Tibetan.
This temple is one of the oldest in Nepal and buildings on the site date back over 1500 years.
The complex features a main Stupa with peaceful Buddha eyes and smaller temples that surround the stupa. There was extensive damage from the earthquake in 2015 but it has been almost repaired some 18 months later. If you visit our post about Swayambhunath (link above) we include photos of "the monkey temple" today, 20 years ago when we first visited, and the earthquake damage.
Boudhanath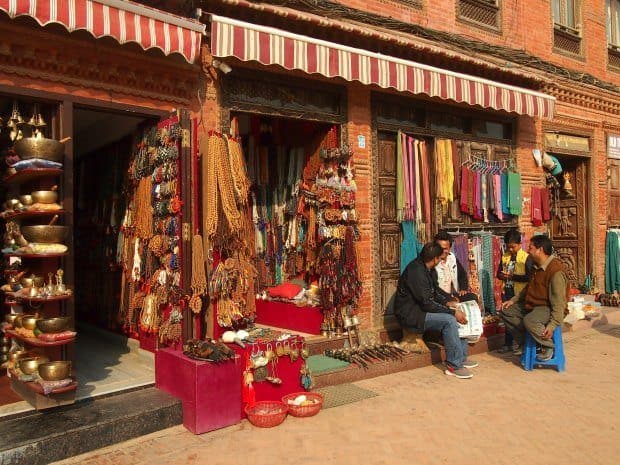 The most important site for Tibetan Buddhists in Nepal, the Boudhanath stupa is located 11km from the centre of Kathmandu in the northeastern corner.
The structure is the largest spherical stupa in Nepal and is an imposing stupa in its own right. Around its base, prayer wheels spin, and Tibetans make their kora. You'll then find some very interesting gift shops around its periphery.
Surrounded by more than 50 Tibetan Gompas (monasteries) it has been a UNESCO world heritage site since 1979.
The location was picked as it lies on the ancient trade route between Tibet and Patan, thus bypassing Kathmandu city which was a later development.
The Boudhanath dome was severely damaged in the earthquake, when we were there in 2016 it was almost completely restored, in 2018 it was perfect. We watched as locals, mostly women, carried loads on their heads to patch the dome. This one of the first places in Kathmandu that we saw fully restored.
Allow yourself time to explore the narrow streets and monasteries surrounding the stupa itself, this area is certainly one of the hidden gems of Kathmandu.
Thamel District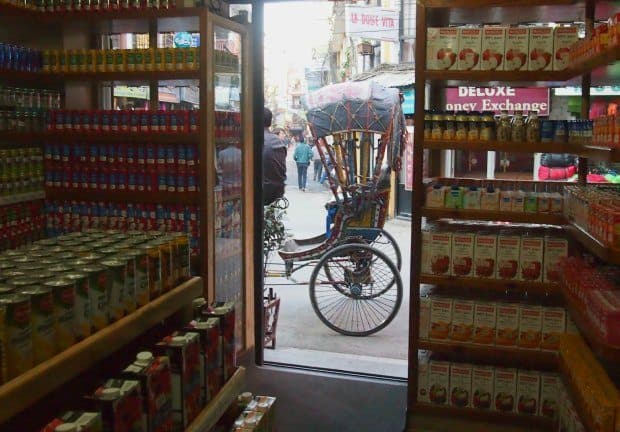 With its many trekking agencies, guest houses and shops full of trinkets and trekking equipment, this district has a buzz like no other.
Eager trekkers haggle for the latest knock-off cold weather equipment before heading up into the high reaches of either the Annapurna Circuit or Everest regions.
Just-returned trekkers head into the numerous bars and restaurants to talk about their experiences up in the valleys and on the peaks.
The vast multi-story corner shop that sells everything trekkers may need is constantly busy with people shopping for supplies before heading off. The sheer number of Mars Bars and Snickers sold here is mind-blowing, only matched by the price of one high up in the mountains.
If people-watching is your thing then this is the place to spend an afternoon overlooking the streets. Indulge in Nepali food or international, visit a few famous restaurants for the best momos in town. Stop and watch the world go by in Thamel.
If you're travelling on to Pokhara Nepal, Chitwan National Park, or Lumbini (the birthplace of Lord Buddha), even organising transport to Lhasa Tibet or Bhutan from Nepal (For geographical reference, check out "Where is Nepal?") there are plenty of travel agents and agencies in Thamel to help you. Likewise, you can book your flights to Lukla airport and find a porter or Sherpa guide for your trek. Thamel is the hub for all tourist activity in Kathmandu. Not least for shopping.
The Garden of Dreams is just on the edge of Thamel. This is a secret walled garden with an admission fee. I've been for a quick look, but we didn't feel it was worth paying to enter.
Freak Street
Freak Street is just off the main Kathmandu Durbar Square and it was where the hippie trail ended. It's interesting to visit and get a feel for Kathmandu as it was in the 60s and 70s. There is also some incredible street art in this area. We have a full post on Freak St. here. If you're looking for JuJu Dhao, king curd, or good cakes, you can find both things in the crumbling shops of Freak Street.
Bhaktapur
Bhaktapur offers the 3rd Durbar Square of the Kathmandu valley and is well worth the trip. In a taxi the journey should take you around an hour, the public bus will take longer. The distance is only about 25 Km but bad traffic and roads make the journey longer.
We have a full post on Bhaktapur here, we spent 4 days there in 2018 and highly recommend staying at least one night to see the town transform after dark, but you can visit Bhaktapur as a day trip.
Kopan Monastery
The Kopan Monastery overlooks the city of Kathmandu. It is just north of the Boudhanath center and is home to hundreds of monks and lamas. In normal times various classes and retreats are held here.
Nagarkot
Nagarkot is famous as a Himalayan view-point and can be reached from Kathmandu in around 2 hours or from Bhaktapur in 1 hour by bus or private-hire jeep. The road to Nagarkot is long and winding and was under repair when we were last there. It consisted mostly of thick clay mud. . We have a full post on Nagarkot Nepal here. Again, we spent a few nights here. There's not a huge amount to see or do in Nagarkot but there are some pleasant day hikes and nature trails in the area. This could be a good place to start your acclimatisation if you're heading to Base Camp and have plenty of time.
Kathmandu Further Resources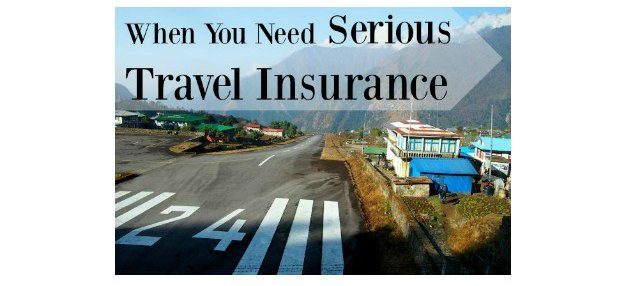 Swayambhunath for pinterest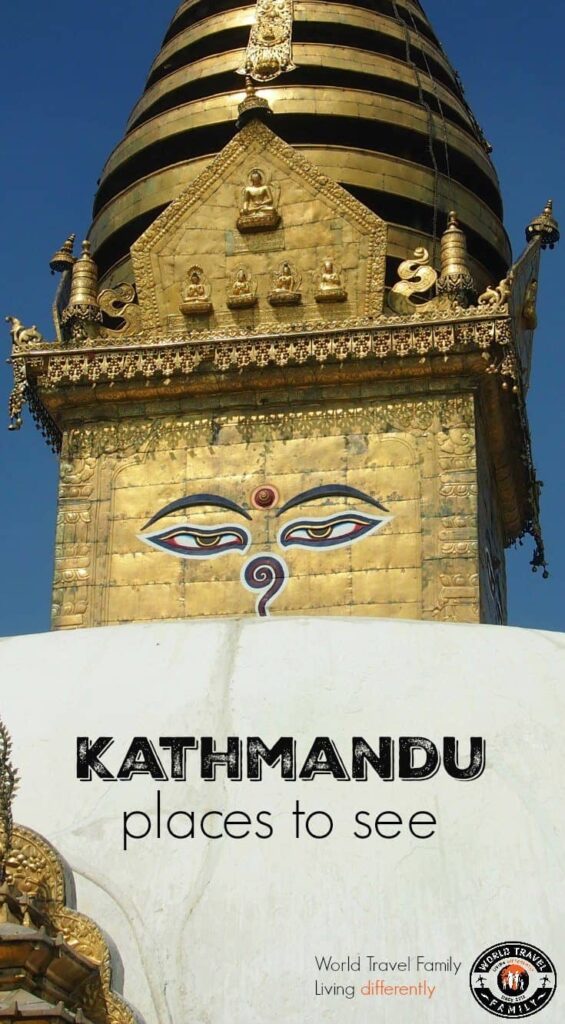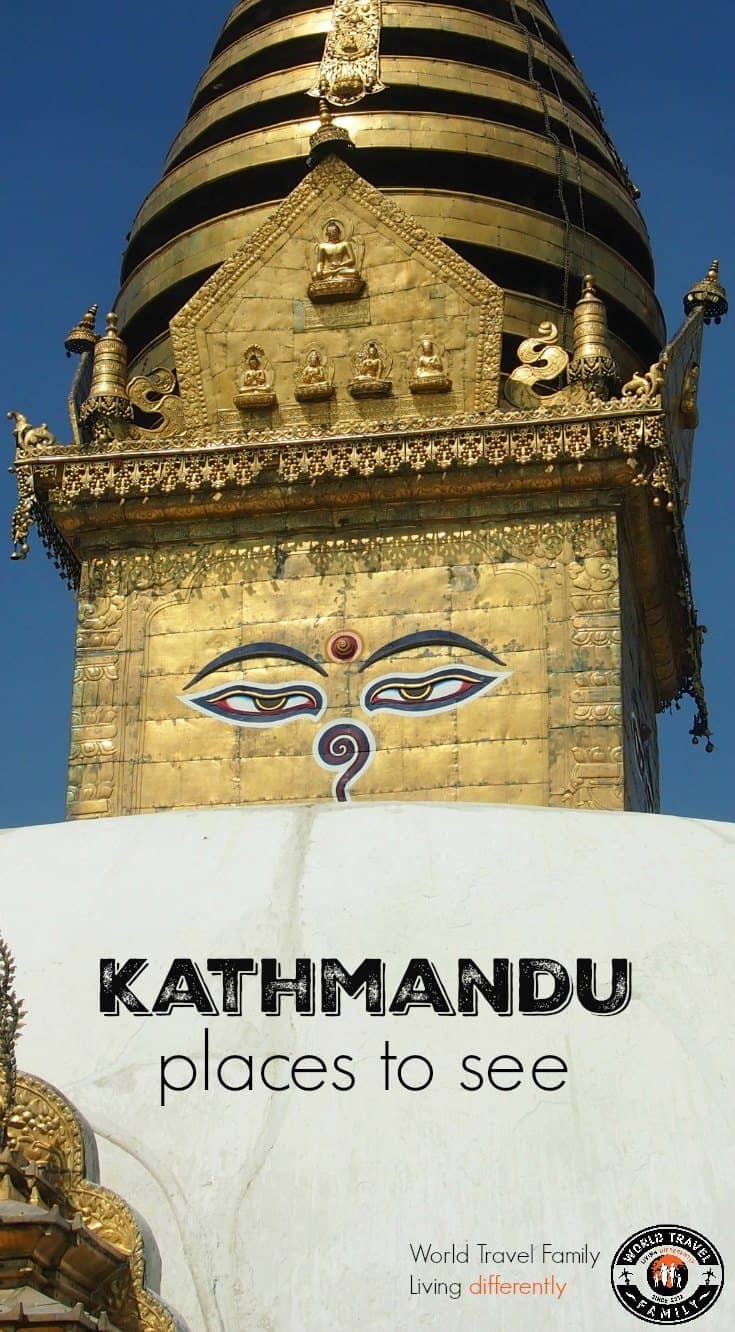 If you're looking for places to visit in Nepal outside of Kathmandu, or if you're thinking about trekking in the Himalayas, head back to our main Nepal Travel Blog and guide page for more tips, information, and ideas. Thanks for visiting, we have a passion for Nepal, tell us what your plans are in the comments below.