This post may contain affiliate links.
Patan Durbar Square is in the city of Lalitpur, Nepal. It is one of three Durbar Squares in the Kathmandu Valley and all are UNESCO listed. The other Durbar Squares can be found in Bhaktapur and in central Kathmandu at the Hanuman Dhoka Palace Complex. Durbar Square simply means Royal Square and describes the plazas and structures around and adjacent to the Royal Palaces of Nepal. The Patan Durbar Square is crowded with fascinating Hindu temples and Buddhist monuments of stunning beauty.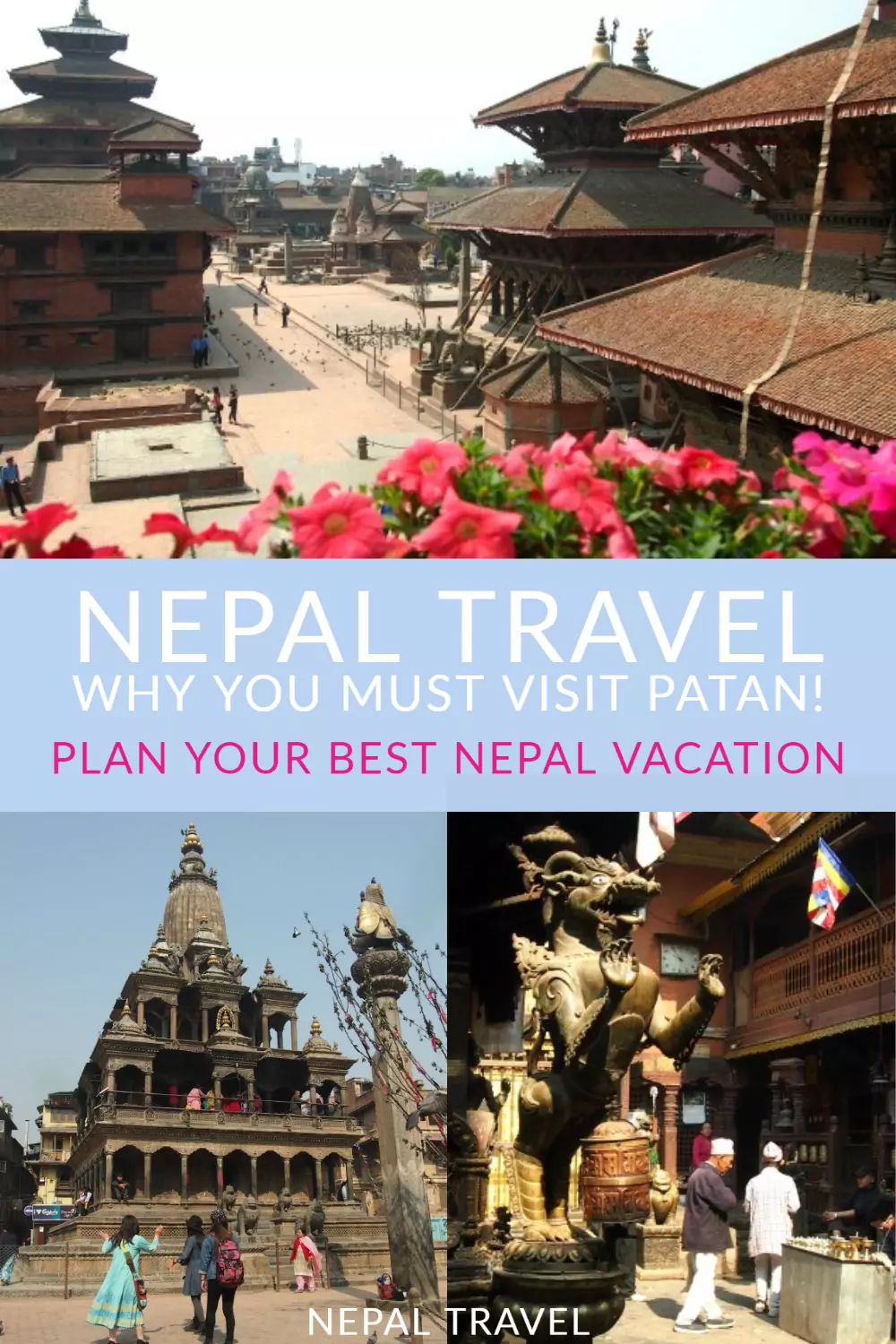 The Patan Durbar Square has many notable temples and buildings including the Krishna Mandir, Bhimsen Temple, Vishwanath Temple and Taleju Bhawani Temple. There is also the palace itself three main courtyards Mul Chowk, Sundari Chowk and Keshav Narayan Chowk. The Golden Temple or rat temple is just off the main Patan Durbar Square, to the north.
Watch our short Patan Durbar Square video below. It includes the other 2 Durbar squares nearby.
Patan Durbar Square also has its own Kumari (living child Goddess ) but unlike the Kathmandu deity, I don't believe it's possible to see her. I could be wrong.
---
Patan Durbar Square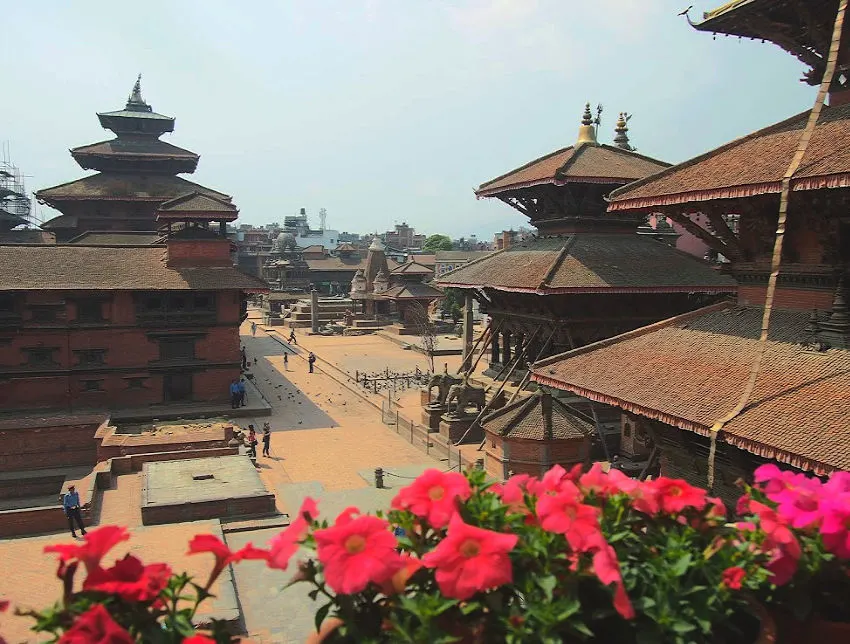 You may know that Patan Durbar Square was where we met Prince Harry in 2016. If you click through on the link you can read all about that, this page is now our main guide to Patan Durbar Square and surrounding areas.
It's one of many places to visit in Nepal. If you're short of time maybe just visit the Kathmandu Durbar Square and skip Patan and Bhaktapur, but if you possibly can, make time to see themall.
---
---
How to Get to Patan Durbar Square from Kathmandu
Getting a taxi is probably your best option. The distance from Thamel in Kathmandu (where most tourists stay) to Patan Durbar Square is around 6 Km and the taxi journey should take 20 minutes and over depending on traffic.
Obviously you could walk, it's only 6 Km and we have walked here without issue.
A local bus is also possible, again the journey should be under half an hour. Know that Patan and Lalitpur are interchangeable, both deriving from one word, Lalitapattan.
---
Patan Durbar Square Entrance Fee
Yes there is an admission fee and daily entrance fees tend towards the steep in Nepal. If you plan on visiting more than once or are staying in Patan you'll need to ask for an extended entry ticket and for this you will need your passport and visa. The same applies for Kathmandu and Bhaktapur Durbar Squares.
You can find admission fees for all Heritage sites in the Kathmandu Valley here. Note they are different for locals, western tourists and local tourists.
If you arrive by taxi your driver will probably drop you right in front of the ticket booth.
---
Does the Patan Durbar Square Have Much Earthquake Damage and Should You Visit?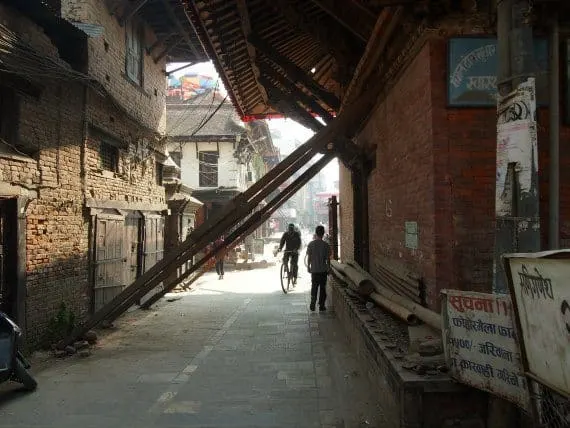 There is some damage at the Patan Durbar Square site but it could have been so much worse. One or two buildings have crumbled and many are propped up but yes, you absolutely should still visit. Damage isn't as bad as in some other parts of the Kathmandu Valley and restoration is underway.
---
---
Patan Durbar Square History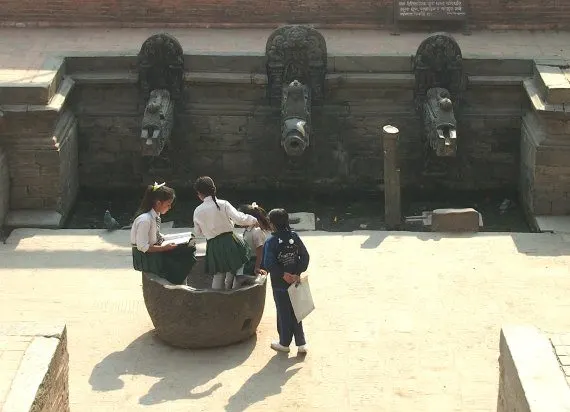 The Patan Durbar Square has not got a very clear history, most of the temples, shrines and buildings were built at different times under different kings. Collectively they are a stunning testament to Newari endeavour.
Lalitpur itself is cornered by 4 great Buddhist stupas said to be built by Emperor Ashoka.
This is a brief overview of some of the major temples, buildings and shrines that make up Patan Durbar Square and their history. A Durbar Square is a collection of buildings and courtyards, not really a single entity. It would equate to a Royal Court complex.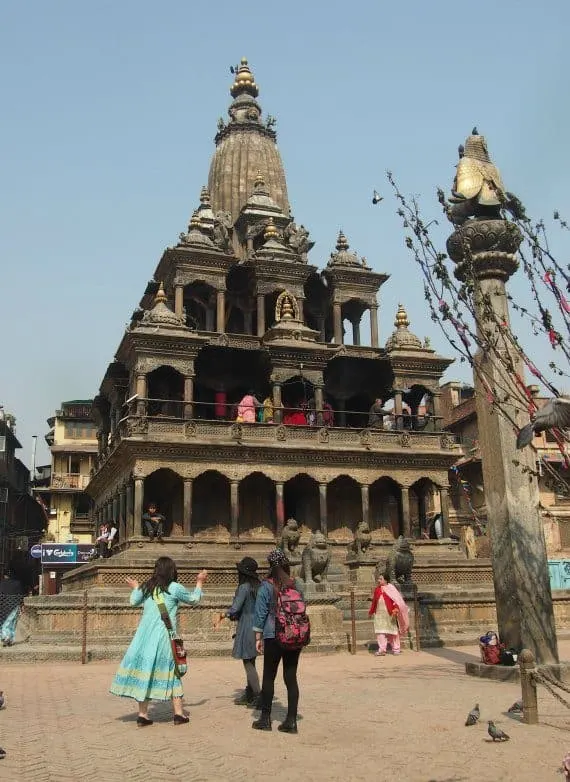 The Krishna Mandir was built in the 17th century. According to several sources it is one of the most important temples in the square. It is commonly thought that the temple was built because the king (King Siddhi Narsimha Malla) saw Krishna and his consort Radha standing outside of his palace in a dream.
He ordered that a temple be built in the same spot. This construction has engraved scenes from the ancient Hindu epics the Ramayana and the Mahabharata.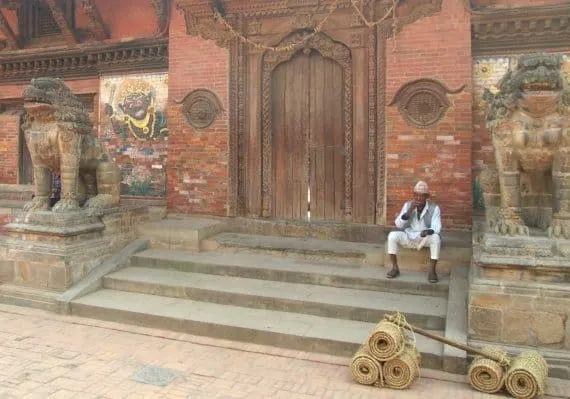 Mul Chowk is the largest and most famous courtyard of the palace. Bidya Temple and Taleju Mandir are inside. Statues of Ganga and Jamuna stand on either side of the shrine of Taleju riding upon a turtle and a crocodile respectively Taleju is an important Deity of the Nepali Kings. Next to the Bidya temple there is a wooden posts used to tether animals for sacrifice.
At the doorway in our picture above, you'll see animal entrails draped above the door. Had our guide not pointed them out I doubt we would have noticed them. Much of this part of Patan Durbar Square has been restored in recent years.
We've never been able to enter this courtyard to see for ourselves. Whenever we've visited it has been closed to the public.
---
The Golden Temple
The Golden Temple is a must-see in Nepal and it's hidden away on a little alleyway to one side of the Patan Durbar Square.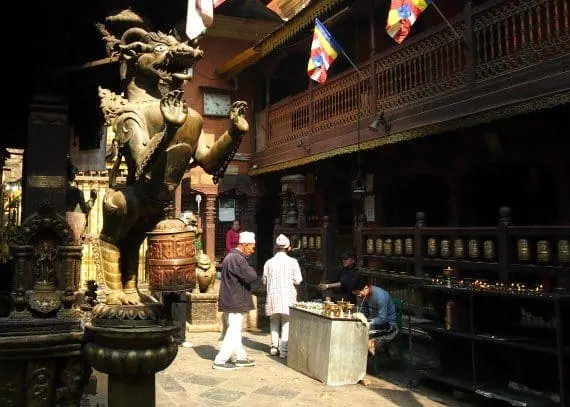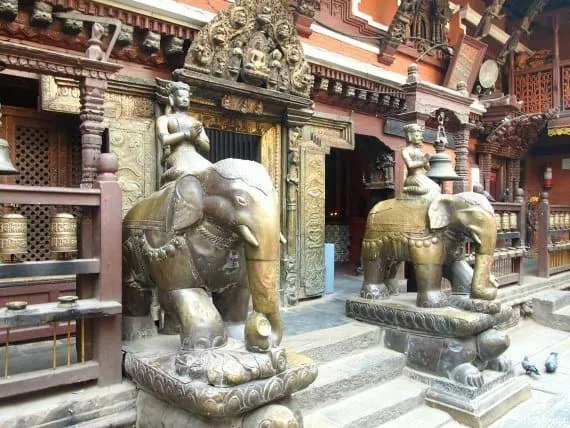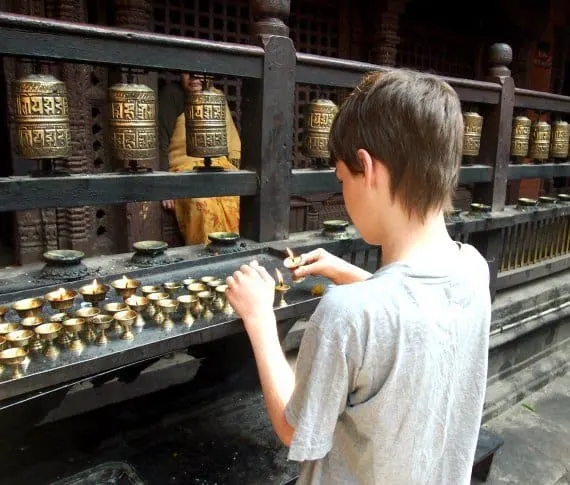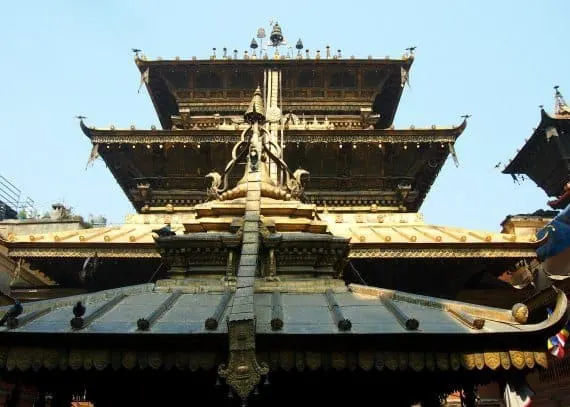 The doorway to the tiny Golden Temple is guarded by the male and female lion statues in the photo above. Just inside the doorway you'll find a little ticket booth. The entrance fee here is small.
---
---
Hotels Near Patan and in Lalitpur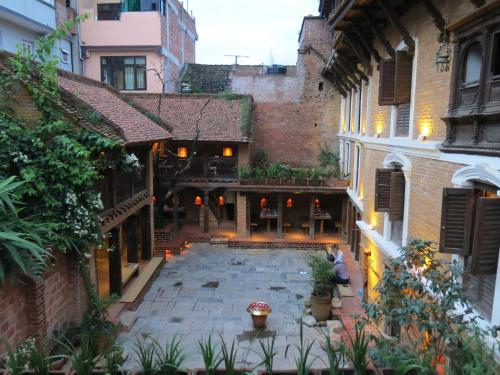 If you're looking for accommodation in Lalitpur or near Patan Durbar Square, check out The Inn Patan. It has some of the very best reviews in the area and has traditional charm.
---
Conclusion
Patan Durbar Square is well worth visiting as are all 3 Durbar squares in the Kathmandu Valley. Try to find out a bit about the buildings and history of these historic places before you go. We've visited several times now and in creating this blog post we've learned so much more that we just have to go back again.
If you'd like to hire a car during your stay, use this car rental comparison tool to find the best deal!

We also suggest you take a look at this company to get a quote for all kinds of the more tricky adventure or extended travel insurance.

Try Stayz / VRBO for an alternative way to find rentals on homes/apartments/condos in any country!