Have you heard that Nepalese food isn't so great? I have. Luckily I've been to Nepal many times, so I can tell you it's not true. Back when Chef and I trekked the Annapurna Circuit we enjoyed discovering Nepalese food, and on our second trip, trekking the Everest Region with kids, we were eating new regional variations on local Nepal food. This post will tell you a lot about traditional Nepali food and what food you can expect to eat as a tourist in Nepal.
Sure, Dal Baht can become a bit monotonous on the trekking circuit where ingredients and options are limited, but in the towns, particularly in Pokhara and Kathmandu, you really can get just about anything. Typically, real Nepalese food is flavoursome, hearty, healthy, and good. Great news for hungry trekkers.
We were, and are, mostly vegetarian, that's really easy for those of us who prefer to be plant-based in Nepal. Meat is abundantly available in Kathmandu, the towns of the Kathmandu valley, and Pokhara, less so in the mountains.
We have even tried our hand at a Nepali cooking class, knocking out our own fresh momos. That's a great thing for you to do in Nepal.
Here's a rundown of the typical Nepali food you will discover in Nepal.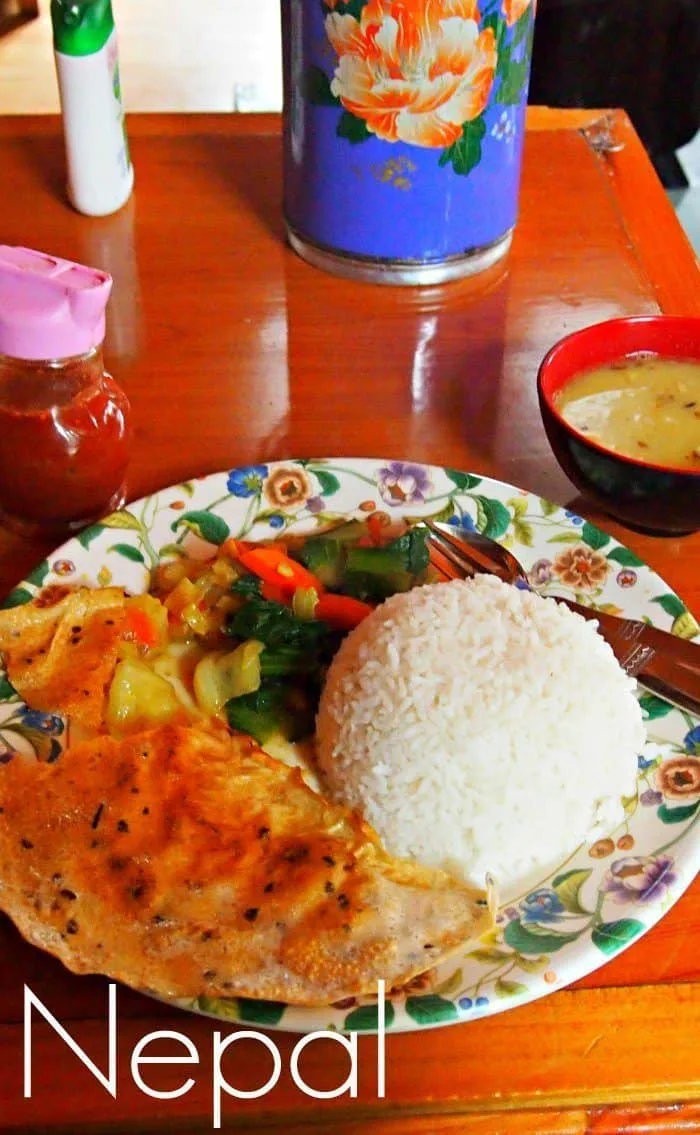 Nepal Food
Nepalese food features a delightful blend of Indian, Chinese, and Tibetan cultures. Nepal is a fascinating place with a cuisine full of complex and satisfying flavours that, due to the presence of Buddhist and Hindu traditions, appeal to vegetarians and meat-eaters alike.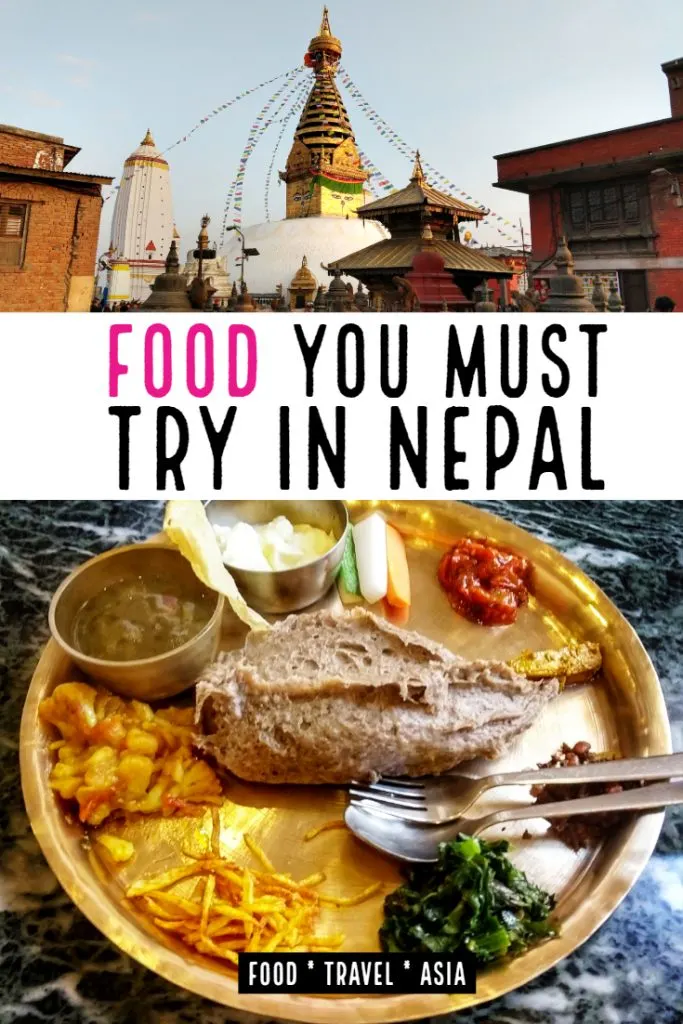 The condiments in Nepal are interesting and diverse. The simple and pleasurable act of eating becomes an opportunity for both cultural and historical exploration. Here is a look at specific Nepalese dishes and the cultures that helped form them.
Best Nepalese Foods To Try
The following, we think, are the best foods for you to try in Nepal or in your local Nepalese restaurant.
Nepalese Momo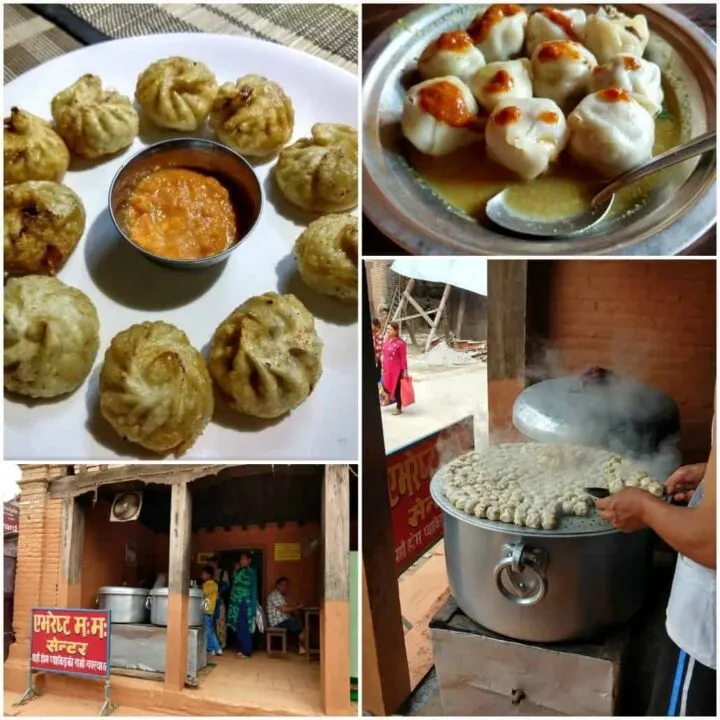 Nepalese dumplings, mo mo, are usually filled with steamed vegetables or meat and encased in a flour-based dough that is then steamed or fried. Sometimes the flour is mixed with oil, sometimes water.
Commonly eaten as snacks, momo are served with a delicious dip or sauce that can be strong and spicy. The Nepalese momo has a distinct shape, different to the Tibetan or Bhutanese momo, but within Nepal various shapes and sizes of momo can be found.
A great opportunity to enhance your children's palette by getting them to try a taste of the dip, momo is also something that tastes delicious on its own and rarely gets a refusal from a child.
This means that even picky eaters will find something to enjoy during a trip to Nepal.
Unfortunately, my kids now refuse to eat momos after being very sick shortly after eating them. I'll keep working on them!
Momos are often filled with buffalo meat. This is called "buff" in Nepal. You're also likely to see chicken and goat. Goat meat might be called "mutton" on Nepali menus. Vegetable momos are common and very tasty.
You can find a recipe for momo here. Good luck with the dough, it takes a lot of practice for those new to Nepalese cuisine.
Nepali Pulao (Rice Dish)
Rice is the foundation of many Nepalese meals, and the fried version, known as pulao, is delicious. Seasoned with turmeric and cumin, this common dish is accompanied by everything from yoghurt to papadoms.
Because it's commonly served as a vegetarian dish, it makes a perfect opportunity to discuss with your little ones the fact that the Buddha was born in what is now present-day Nepal, in the town of Lumbini (we've been, take a look!)
While he and his early followers were not strict vegetarians, many of the present-day devout Nepali people are. They fervently believe that the first tenet of Buddhism, "Do not kill," applies to all living things.
Meat does feature on Nepali menus and you should find steaks and minced meat fairly easily if that is your want. High in the mountains, you'll find more vegetarian foods. The ethnic groups of Nepal do vary, as do dishes.
Nepali Dal Bhat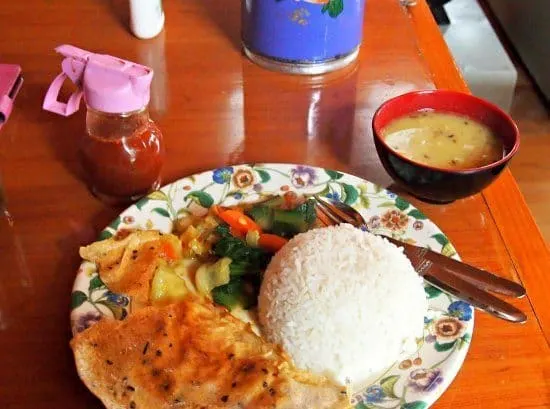 If there were such a thing as a national dish of Nepal, dal bhat would be it. Originally from Bengal, this dish is comprised of a minimum of lentil soup with rice and either a steamed seasonal vegetable or vegetable curry.
Sometimes it comes surrounded by a host of delicious accompaniments, including pickles, curries, meat, yoghurt (curd), chutney, and fish. The tastes of India, Tibet, and more can be found in dal bhat's accompanying dishes.
Dal Bhat is similar to an Indian thali, like those we enjoyed in Malaysia and of course, India. It is a combination of side dishes with rice, but the dahl soup is the classical component.
If you're very hungry in Nepal, always go for the dahl baht, free top-ups of all dishes are traditionally offered but they vanish in very touristy restaurants.
Jhaneko Dal
Another Nepali dal dish, this delicious red lentil curry is served with rice or chappati and contains garlic, onions, ginger, turmeric and chillies.
Nepali Sel Roti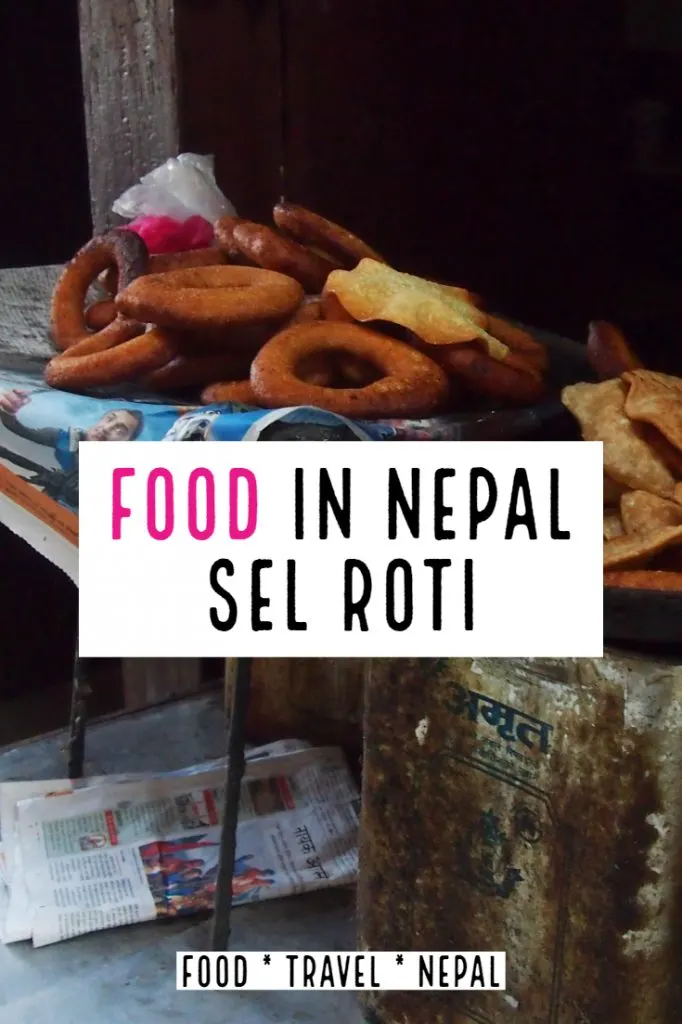 Consumed most regularly during Hindu festivals Tihar and Dashain, sel roti is a unique dish that resembles something like a cross between a donut and a bagel, although it's actually made of rice flour. Crunchy, sweet, puffy, and soft, this delicious bread is deep-fried and makes a wonderful breakfast or snack. Locals dip it in yogurt or serve it with vegetables, but it's also great on its own. Buy it from street vendors when you're out and about with your little ones, so you can enjoy it while it's fresh and hot.
If you choose, talk through some of Hinduism's more salient features since sel roti is a favored treat served during Nepal's two biggest Hindu celebrations.
Nepalese Soup, Thukpa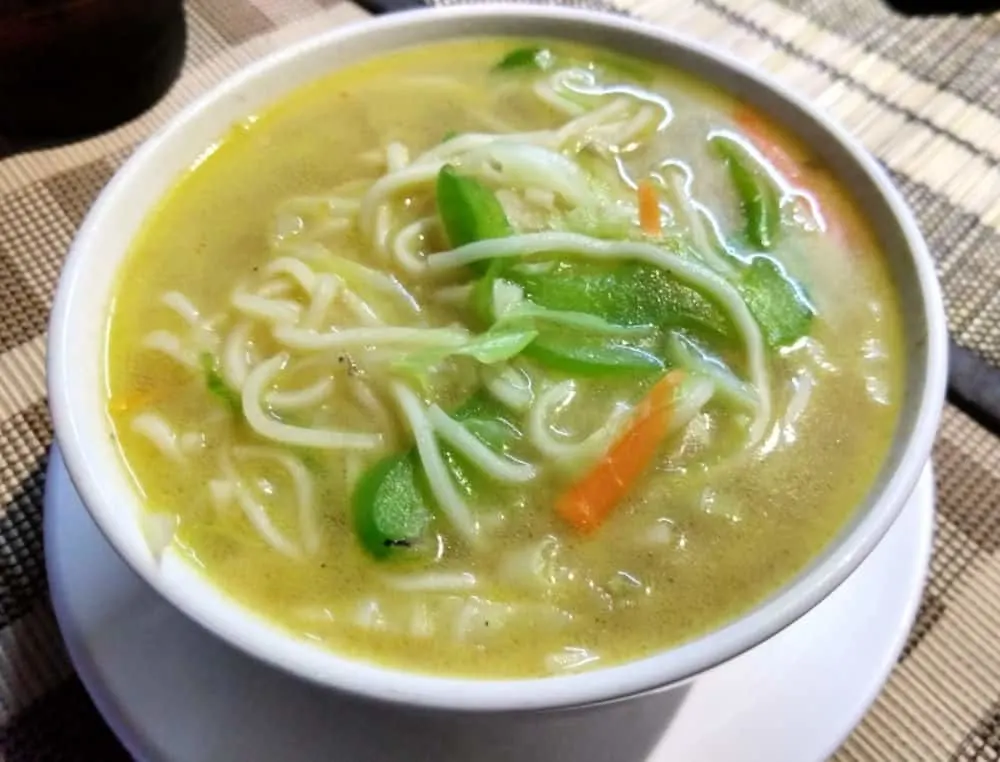 A thick noodle soup that can include meat, egg or just vegetables, thukpa is a winter delicacy from the mountains of Nepal that is often served with an accompanying dish of momo.
Influenced by both Tibetan and Chinese cuisine, the rich meat broth of this soup is carefully seasoned and can be made from a variety of different meats including yak, goat, lamb, and chicken.
While enjoying a steaming bowl with your family, talk with your kids about life in a cold, harsh, mountainous climate where hot, nutrient-rich soups aren't just something to enjoy, but something needed for survival.
This is my kids' favourite, vegetable thukpa. It's pretty similar to the Sherpa stew that you will find while trekking in the Everest region.
Gorkhali Lamb
Another popular winter dish, Gorkhali lamb is a curry dish that features a variety of intense and filling flavors and ingredients. Nepal and Tibet have both used lamb as a source of meat throughout their long histories due to its flavorful, tender taste and texture.
A dish that takes its time, the lamb is first slow-cooked in the curry with onions and potatoes before it is removed, grilled, and sealed with a spicy chili mix. It's then transferred back to the curry and cooked a bit more. Served with rice and roti, this dish is Nepalese comfort food at its finest, and whether or not you and your family are visiting during winter's chill, it's a pleasing and filling experience.
Nepali Dhido or Dhindo
Dhido is a new Nepali favourite of ours and is absolutely delicious. We first heard about it when watching the movie " Sherpa", there is a scene where the Sherpas enjoy Dhido before summiting Everest.
It's a cooked paste of buckwheat flour, rather like a thick porridge or polenta. Traditionally you eat it with butter or ghee which you mix into the Dhido with your hands. The dhido pictured above was a regular favourite of ours in Thamel Kathmandu. We never saw it on a menu anywhere else.
The staple food of Nepal tends towards rice, but in Tibet you'll find more barley and buckwheat. As the ethnic groups overlap, so do the diets.
Food in Nepal, Other Foods
Indian dishes are very common and usually good in Nepal. As a vegetarian I ate bowl after bowl of dal fry, channa, aloo mutter and palak paneer. My Chef husband preferred chicken curries.
Pizza is common, as is Chinese-style chow mein, overall, it's probably safer to stick to well-cooked local-style dishes.
Nepal, Kathmandu particularly, is notorious for tummy trouble (see how we did with Buddha Belly in this post)
Nepali Snacks & Street Food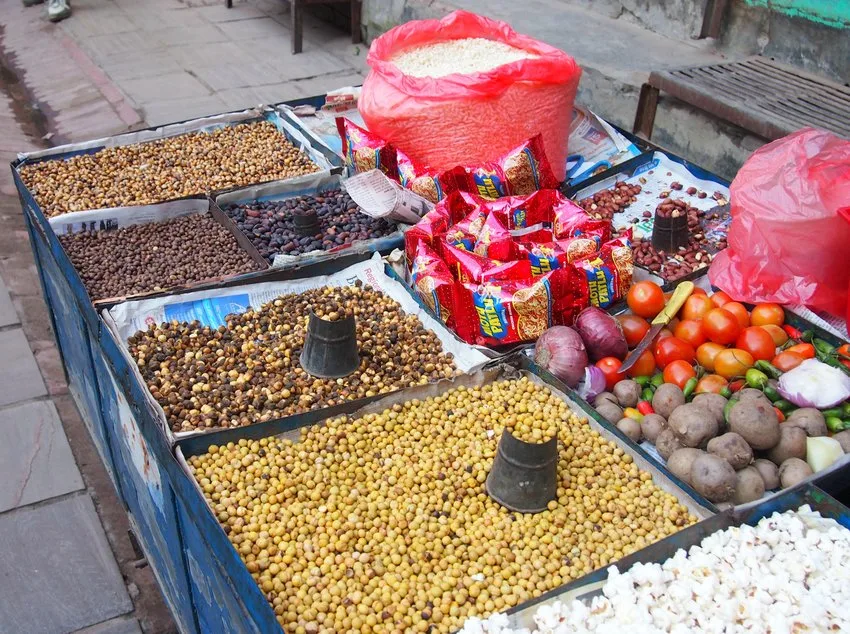 I've never been brave enough to try real Kathmandu street food as you'll see being prepared on carts and barrows in the evening. I've seen these street food vendors many times but never tasted the dishes they were selling.
These are old Kathmandu-style snacks, not the modern momos-to-go or burgers, falafel and fries.
Expect to see puris with salads and pulses, deep-fried sel roti (like a donut), meat on a stick, pancakes or fritters fried in oil or on a hot plate (like roti), popcorn and samosas.
You should encounter Baji, beaten rice. Baji is a word used by the Newar people of the Nepali lowlands. Chiura is another beaten rice food of cultural significance.
If you're health-conscious, steer clear of these carbohydrate items fried in vegetable oil.
We can highly recommend the freshly fried donuts on sale from tiny shops around Durbar Square in the evenings.
Also look out for juju dhau, king curd, for sale in little terracotta cups. This yogurt is a speciality of Bhaktapur, but we've found it on Freak St. in Kathmandu.
Nepali Food Recipes and Cooking
I've been searching the internet for recipes and cookbooks so that I can recreate the foods we ate in Nepal back home in our own kitchen. So far I've found the following.
I actually own this book, it's a classic and it's the book I always go-to for Asian recipes, from India, to Sri Lanka to China. Many of the dishes we enjoy in Nepal are in there. I Love it!
The Complete Asian Cookbook covers recipes from most countries in Asia and is an absolute classic.
Also take a look at Taste of Nepal. Another cookbook showcasing Nepali cuisine.
Nepalese Food on Your Trek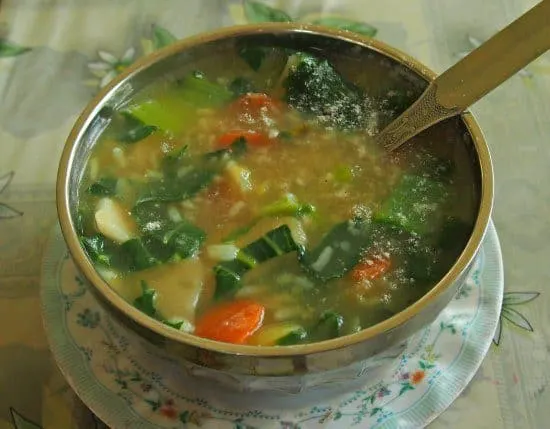 Having just returned from 12 days trekking the Everest region and previously spending 3 weeks completing the Annapurna circuit trek, we've spent a lot of time eating Nepali trekkers' food.
We have also, now, been to Everest Base Camp with the kids.
You will always find dal baht, even in tiny places without a menu, ask for dal baht and it will appear. Similarly, momos are ubiquitous.
The more altitude you gain, the more limited and more expensive, food becomes. Expect to eat a lot of potatoes (the only crop they grow higher up) fried with veg, cheese, or an egg. Likewise, noodles (chow mein) come with veg or egg.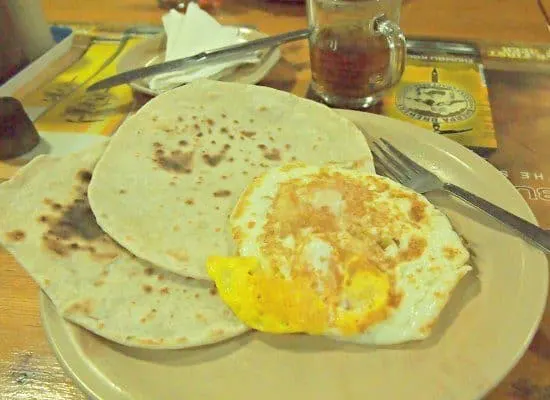 In the Everest Region, you will sometimes see Sherpa Stew, a thick soup containing, veg, rice and dough. Soups are common on menus, garlic soup is highly recommended for altitude adjustment.
For breakfast, you will find porridge, oatmeal with milk or without, eggs, any way you like and toast or chapatti. Lower down you'll be able to order muesli with hot milk.
Dal Bhat for breakfast is OK too and you may see locals eating tsampa (ground barley, sometimes wheat) mixed with milky Tibetan tea. People call it yak butter, but a yak is a male animal!
Nepali, and World Food
If you're interested in Nepali food are you interested in travel and destinations in Nepal, or maybe other world food posts? On our website we cover places we know well and Nepal is one of our favourite destinations in the world. Maybe you'd like to learn more about Swayambhunath, The Monkey Temple of Kathmandu? Our complete guide to trekking in Nepal could be useful for you or maybe you'd like to read how hard the Everest Base Camp Trek is (we took the kids). Our Nepal Travel blog and guide is here, we also cover most destinations in Nepal, including Lumbini, Nagarkot, Pokhara, and Bhaktapur, of course, we cover Kathmandu including Freak Street. For foodies take a look at our world food archives. Thanks for visiting our website and please could you save our pin to Pinterest? Thanks.
Nepal Videos
If you've already watched our video on Nepali food, above, there are more videos about Nepal on our site. Just head to our Nepal home page. If you're more of a foodie, head to our world food page, right here.
What is Nepalese Food Like?
Nepalese food varies with altitude and ethnic group. The major staple is rice, but higher in the Himalayas towards Tibet, expect buckwheat and barley as the major carbohydrate grains. Lentils and pulses are common along with dairy. Butter and ghee are abundantly used. Meats you will see in Nepali dishes include buffalo, goat, and chicken. The classic Nepali dish is dal bhat, rice with lentil soup and vegetable side dishes, sometimes curd. In the lowlands, towards India, you'll encounter more Indian-style dishes than Tibetan. There are also standard Chinese influences. Read more and see pictures in our post!
Meat is a rare luxury in the mountains and is probably best avoided, it's expensive and unlikely to be fresh. Meat has to be carried up to the high towns on a porter's back without refrigeration. While you are trekking in Nepal you will probably be hungry, you're burning a lot of energy just coping with the altitude, nothing hits the spot like a good dal baht or dish of fried potatoes. Enjoy your time in Nepal and hopefully, you'll find plenty of Nepali food to enjoy.
If you'd like to hire a car during your stay, use this car rental comparison tool to find the best deal!

We also suggest you take a look at this company to get a quote for all kinds of travel insurance.

Try Stayz / VRBO for an alternative way to find rentals on homes/apartments/condos in any country!