This post may contain affiliate links.
The Everest Base Camp Trek or EBC Trek in Nepal. What Difficulties with trekkers face? How difficult is the trek or hike, and what hidden difficulties exist besides the altitude and distance walked?
We got back from Everest yesterday. It's been an amazing 3 weeks, (yes, 21 days, not 14) and it's been tough, so, a few things you need to know about difficulty levels on the Everest Base Camp Trek (EBC) both for your entertainment and general information, and to help you decide if this Himalayan hike is for you.
There are hardships, problems, and pitfalls on the Everest Base Camp Trek.
Hopefully, we can help you get yourself to Everest with some first-hand experiences and tips, but what were the hard parts?
Did taking the kids add to the problems?
What's it really like up there? We'll tell you all that we can.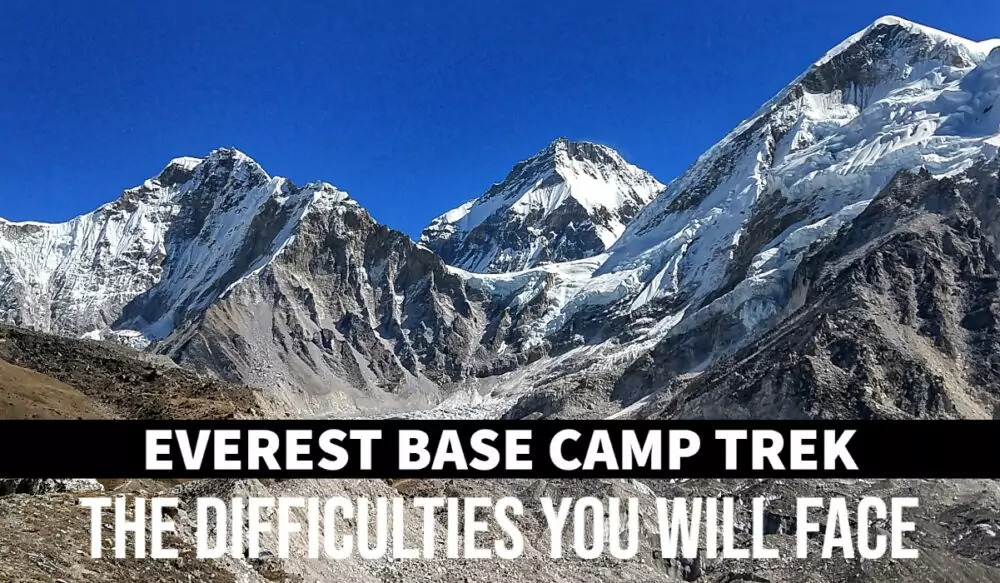 I've been accused of complaining – that's not what I'm doing here at all. I'm telling it like it is.
This post isn't about how I've wanted to get myself to Everest Base Camp for the last 20 years, nor how amazing these 3 weeks have been.
It's not about my happy tears when Everest came into view above Namche nor about those that came when I first saw the Khumbu Ice Fall or the memorials to those who died and to the great heroes of Himalayan climbing.
Take a look at our short video below, then read on.
No, there will be more on that. I can and will write dozens more posts on the trek, the route, the towns and villages and most importantly, how to arrange your own trek.
Don't go with a tour group, that's our most important tip.
Today's post is just about the difficulties and hardships of trekking to Everest Base Camp. They are worth it a million times over but I need to get them down before they evaporate from my mind forever, as they will.
I will remember these 3 weeks as a fantastic experience, a privilege and a challenge enjoyed by few. It was stunning up there.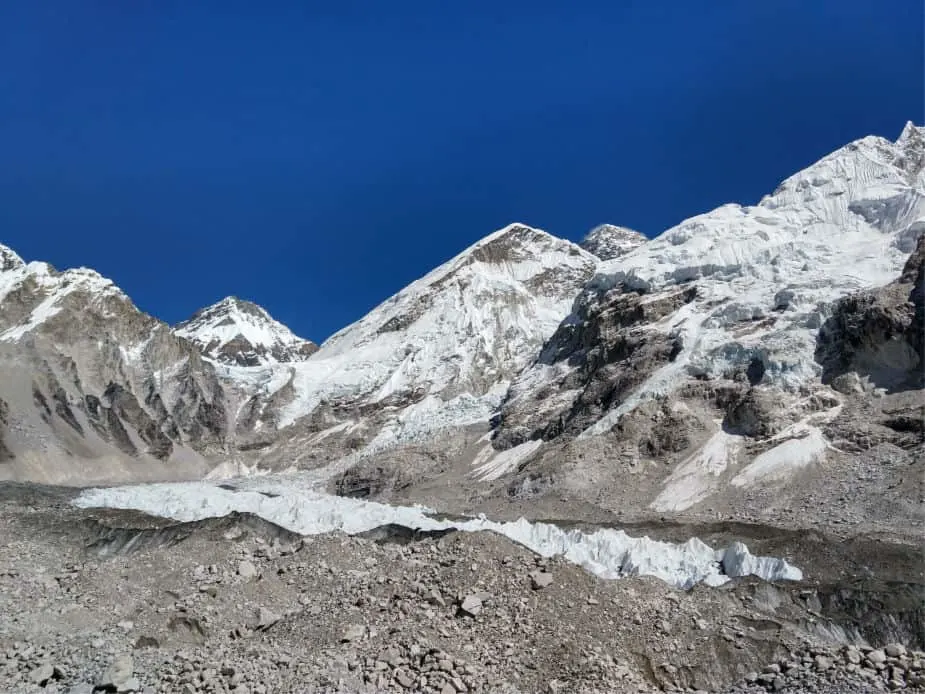 We trekked to Everest Base Camp without a guide or porter, we don't think they're necessary after trekking in Nepal a few times, but you may prefer to take one.
Self-guided trekking is very easy and the trails are usually obvious.
Snow can make them disappear as we found when trekking independently in the Annapurna region.
We do no training for any trek, we are plenty fit enough to walk and we think training is unnecessary.
My husband is super fit, I maintain moderate fitness for a 50 year old woman. My kids do not train and do not take part in any sports.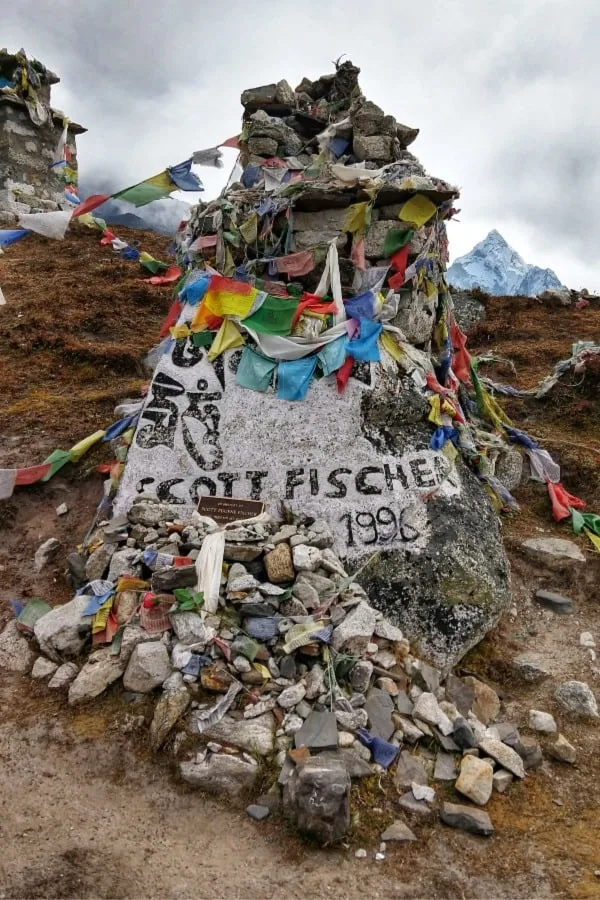 Everest Base Camp Trek Difficulties
These are the difficulties you will face on the Everest Base Camp Trek.
Altitude and lack of oxygen make everything difficult.
The distance to walk – it isn't very far, but there are steep ascents and descents.
Fear of heights, crossing very high suspension bridges.
Poor accommodation, few showers, little heat.
Limited food.
Dangers from yaks and donkey convoys.
Mud and rock slides.
Issues with charging electronic devices, little wi-fi
Crowding.
Frequent flight cancellations.
Sickness and injuries.
Scams and expenses
Unpredictable weather and extreme cold
Read more about all of these EBC difficulties, in detail, below.
First, a quick overview of what walking to Everest Base Camp actually involves. The journey to Everest base camp is a walk or hike. It is not a climb.
There are no ropes involved, no climbing, just a slow, steady hike at high altitude.
The distance you cover every day isn't that huge, or doesn't have to be.
What makes this hike difficult is the lack of oxygen, the weather, and the basic lodging conditions.
This trek is also difficult to fit into most people's lives, it takes 2-3 weeks to complete this trek, and not many of us have the free time available. As digital nomads, we do.
Is the Everest Base Camp trek dangerous? Yes, somewhat. You could become very sick up there. You could encounter rock or mudslides or be pushed off the path by yak or mule trains.
There are very few precipitous drops and the paths are mostly quite wide.
There are risks in everything, but we happily took our kids up there, that tells you how dangerous we think it is.
You cannot drive to Base Camp. Past Lukla, there are no roads. People do take helicopters up there and there are scenic flights.
There is a bus from Kathmandu to Phaplu. From there you have to walk 3 or 4 days to meet the main Everest Base Camp trail just past Lukla.
We've walked that route twice.
The flight from Kathmandu to Everest terminates at Lukla. Lukla airport, with its short sloping runway, is the gateway airport for Mount Everest.
We choose to carry our own packs, we don't use porters and we don't need a guide. I don't really see why anyone would need a guide, on this trek it's easy enough to just follow the path.
Carrying your own gear obviously makes the trek somewhat harder, but our packs don't bother us much, we're very used to carrying them. We also never get blisters because our boots fit and are broken in.
Now let's get into the difficulties.
There is Very Little WiFi, Phone Connection or Power on the EBC Trek.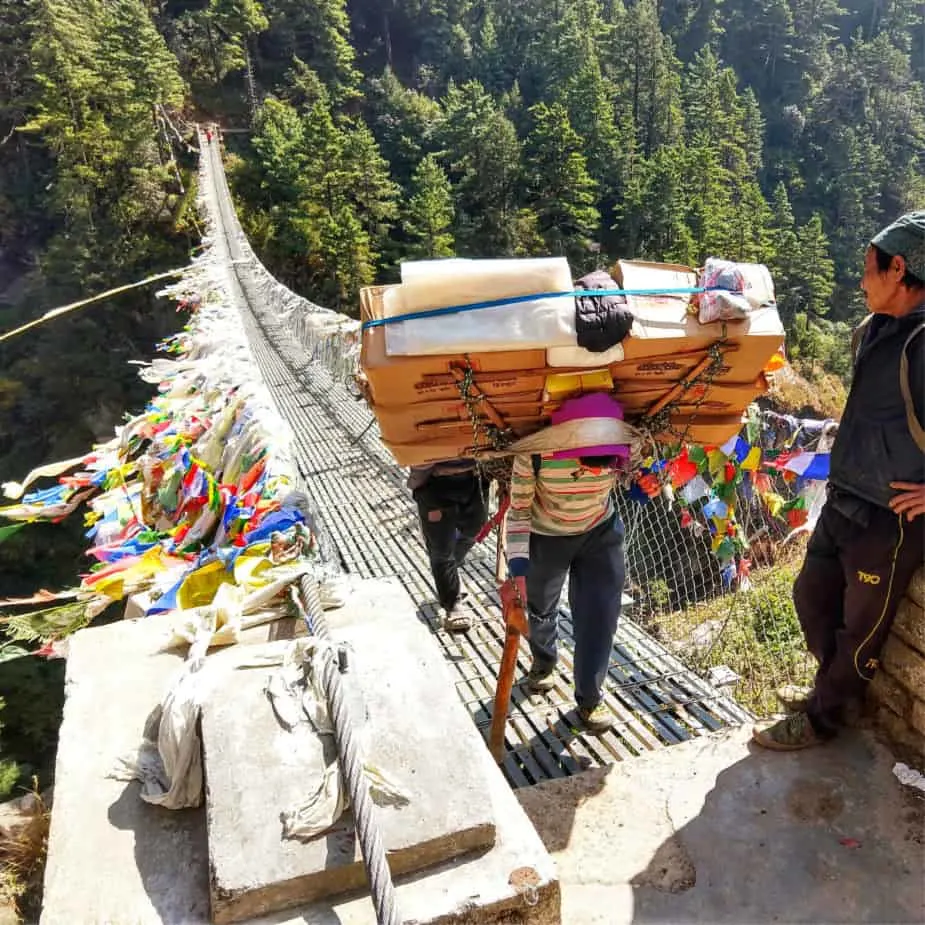 To you this may sound heavenly, 2-3 weeks of no email or social media, but for me (and the kids) it's tough.
I work online, I have to be online and I think we set out with false expectations of connectivity based on others' experiences.
We had local N Cell SIM cards and these worked well in Namche, partially in Lukla and there was a pitiful signal briefly in Gorak Shep. Mostly there was nothing.
The Everest Link WiFi is expensive and we couldn't justify the cost but you should be able to find this in lodges in most towns and villages.
There is free WiFi in guest houses (lodges / tea houses) and bakeries ( Namche) rarely, there is paid wi-fi more often, but every wi-fi connection we tried had upload limits and I was unable to back up photos.
It's pretty amazing that there is any connection up there and I was very grateful to connect at all, but working from the EBC hike was impossible. My idea of use-able internet and a non-professional user's idea are probably very different.
Finding a power supply was also hard, lodge owners charge you to plug-in per hour or per full charge and with 4 of us at ever-increasing altitudes, it would have been massively expensive.
Our solar charger was our best friend but didn't completely allow us to stay charged. One solar charger between 4 wasn't enough, but for solo or couple trekkers it should be fine.
The solar power pack weighed half a Kg, so we didn't want to buy two and add to the weight we were carrying. (See the solar power pack we use here, it was good)
At the end of the day it was nice at times to have no connection. It forced us to play Monopoly Deal for hours or just to go to bed early. As always, no WiFi is better than bad WiFi.
You Will Smell Like a Yak's Armpit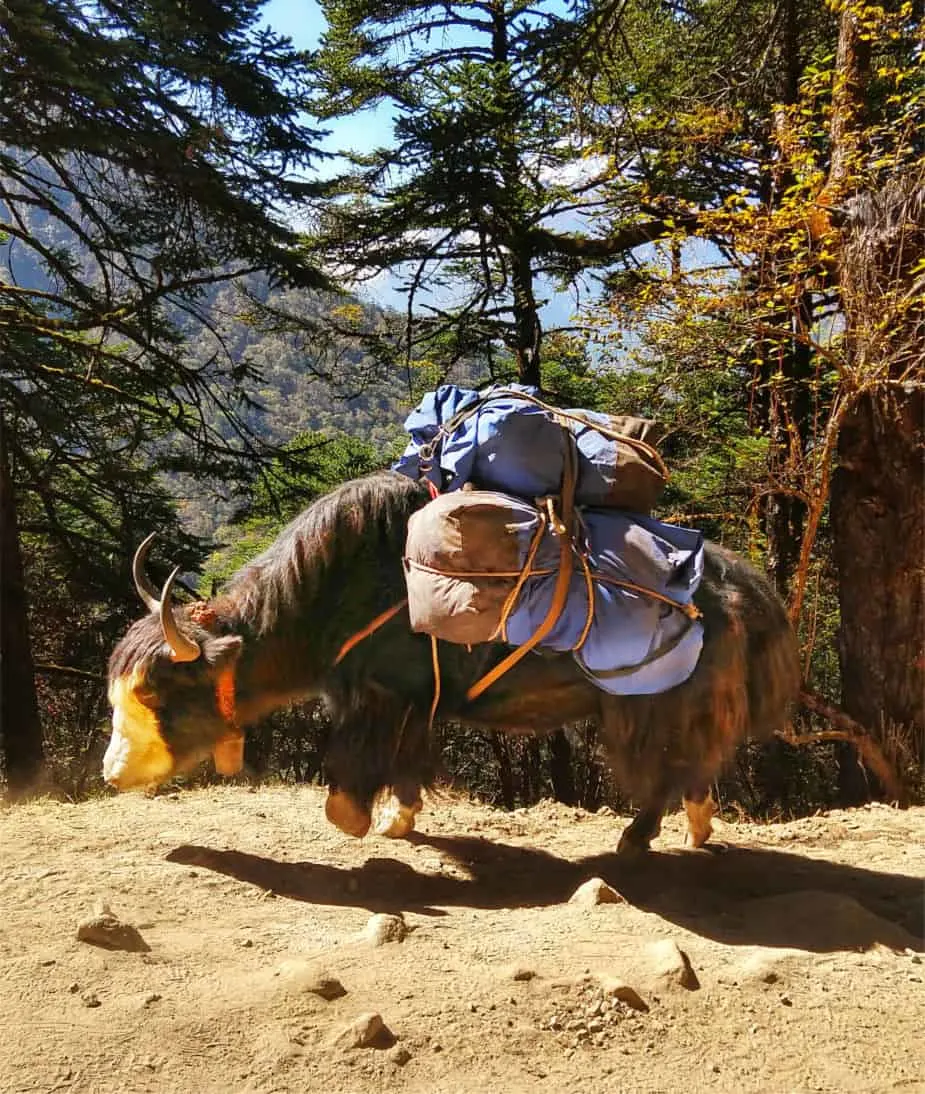 We planned for a 2 week trek, not expecting to have to walk up from Phaplu rather than fly to Lukla and not expecting to have to take extra rest days to recover from sickness. We ended up trekking for 3 weeks.
I had a system of wearing old clothes until they were dirty or no longer needed, then leaving them behind, it worked great, other than in the last week!
We all wore the same clothes for at least a week before we flew out, day and night.
Socks and shoes were the major stink offenders so we all bought a few new pairs of socks in Namche and dealt with toxic smelling feet using expensive wet wipes. But still, we stank.
For the record, socks were a reasonable $3 a pair in Namche and wet wipes $6 a pack so factor in buying more items on the trail to your Nepal trek packing list.
To say we smelled like a yak's armpit is probably offensive to yaks.
Yes, some lodges have hot gas showers, which you pay for. Chef had one shower between Phaplu and Namche, the rest of us didn't have one in 3 weeks.
The main issue was, we only took one full-sized travel towel which we were then unable to wash and dry. I won't use a towel after somebody else has used it without washing it. Chef continued to use it to wash his feet when he could. His feet remained the most toxic despite receiving most attention.
We should have taken one towel each, but then you're adding to weight. We also should have washed the towel in Dingboche where we had access to water in a non-disgusting sink and somewhere to dry wet clothes.
We did wash several pairs of socks here and they almost dried in the sun in 24 hours. We strapped them to the outside of our packs the next day to finish drying.
We wrongly assumed we'd be able to do more hand washing in Namche on the way down, but unfortunately, we couldn't.
On the way up we paid to get laundry done in Namche, it cost $16 for about 1 Kg of laundry. In Kathmandu, for comparison, laundry costs under $1 per Kg.
The lodge we ended up using in Namche had no shower at all and a bathroom I avoided like the plague – I even took my toothbrush to the bakery in the mornings to avoid using that bathroom. Namche was full and we were sick, so we just carried on stinking.
Sickness (giardia) also takes its toll on your usable wardrobe. Being fully prepared is a hard act to pull off when balancing quantities of clothing against the weight of your pack.
This would still not tempt us to take a porter, we like to carry our own gear and see it as part of the challenge.
Flights in and Out of Lukla are Often Cancelled, Ours Were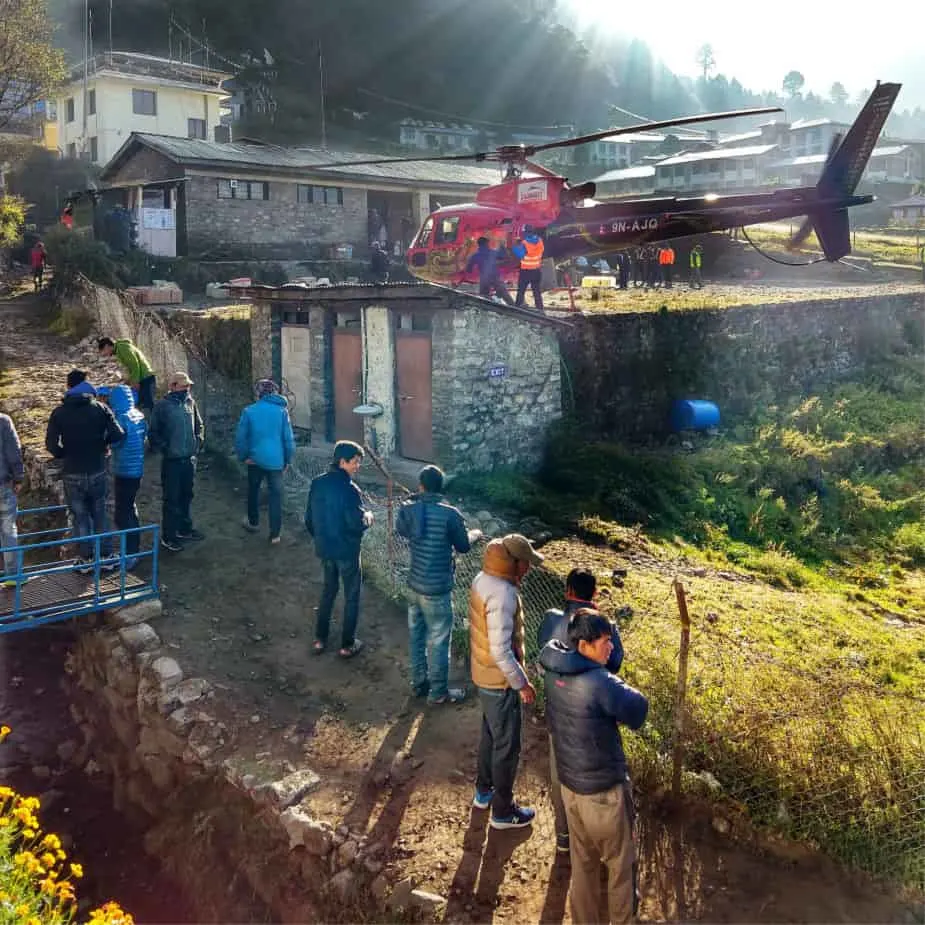 We had a bad feeling about our flights before we even got to the airport.
As we were arriving in peak season, October, blue skies were expected but huge volumes of trekkers heading to the Everest region meant we could only get 10.30 am flights on Tara airlines.
10.30 am is a late flight, you need to book the earliest one you can to stand the best chance of flying and that's usually 6 am.
Tara are good, they have a lot of planes and prices are lower than new-kid airline Summit, but the monsoon lingered this year and most flights had been cancelled for the last 6 days when we arrived at Kathmandu Tribhuvan airport.
There was no way we were flying to Lukla on that day.
If your plane is cancelled you go to the back of the queue and with 6 days of cancelled flights it was looking like we may be waiting a week to fly into Lukla.
Cash flowed from tourists' wallets as the helicopter touts did the rounds of the airports waiting area. Choppers fly when planes don't and prices were shooting up, we heard $2400-$2800 per chopper for 6 people with minimal luggage. Tourists with limited time and big dreams were snapping up those chopper places.
For 1 person it's not such a huge cost, but for a family of 4 a helicopter was unaffordable so we, along with 12 new friends, decided to fly to Phaplu and walk up rather than sit in Kathmandu airport for a week.
We're still in touch with some of the intrepid dozen and had fun walking with them for the first few days.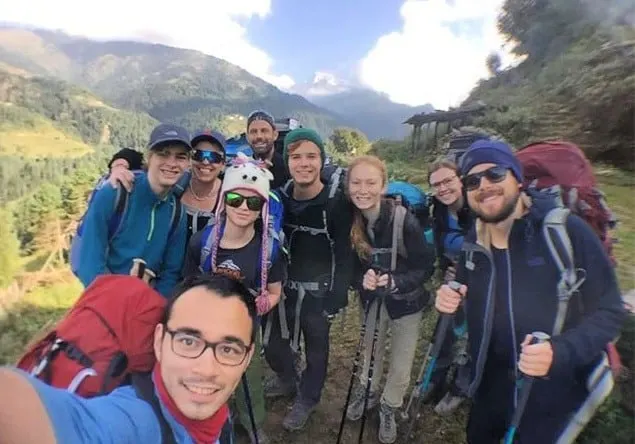 We 4 had walked down from Lukla to Phaplu 2 years previously and really didn't want to do it again, it wasn't great, but needs must.
Actually, this time around the Phaplu-Lukla walk was much more enjoyable due to drier trails, but still, it's a tough hike with a lot of climbs and descents.
Don't ever think these treks are gradual climbs, you're forever dropping down into valleys to cross rivers before tackling the next peak.
Flying out of Lukla was also troublesome and Summit passengers were having a lot more problems than Tara or Yeti coming back although we did, eventually fly out on Summit.
Summit planes are slightly bigger and newer. We ran into an old friend, Sherpa Nema, who facilitated our escape from Lukla.
Some people, again, had been waiting 4 days to get out.
Altitude Sickness, Viruses, Blisters and Giardia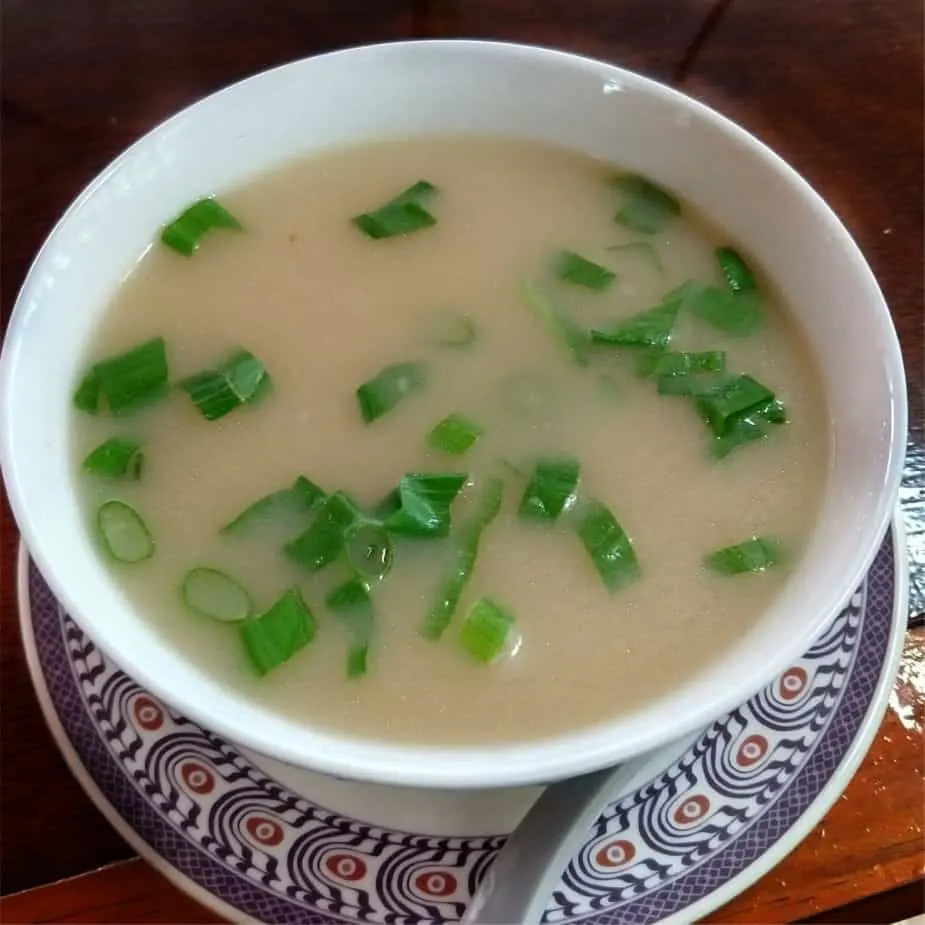 We had no real problems with altitude but a lot of people do and end up being choppered out.
The best way to avoid life threatening altitude sickness is to trek independently so as to allow yourself extra acclimatisation days and shorter ascents if needed.
I say no problems but you still feel the effects of altitude acutely, breathing is hard and I found my sleep was disturbed by having to take deep breaths often. The tingling extremities of hypoxia came and went, Diamox seemed to neither increase nor decrease the frequency of this sensation. None of us escaped these milder symptoms, but we had no altitude effects that made us think we should go down urgently and no altitude headaches.
Boo and I took Diamox as a preventative from Namche up, D and Chef chose not to. You can buy Diamox in pharmacies in Kathmandu for just a couple of dollars. We had no side effects.
They say to drink 4 L of fluid each day at altitude. I doubt very much that we got close to that. Four litres is a huge volume but we sank as much black tea and soup as possible to keep topped up and took slugs of water as needed while trekking.
We had 3 wide-mouthed 1 L Nalgene bottles between the 4 of us and 1 camel-back type system. We only needed 2 bottles as it was generally easy to refill bottles at every lodge or lunch stop. We used chlorine-based water purification tablets with no problems.
The health problems we had started at Lobuche, one stop from Base Camp, where I went down hard with a fever and cold symptoms. This virus spread to Boo, then Chef, then D over the coming days. Pack plenty of paracetamol, once the fevers started we ripped through our stash. Almost everyone up there got sick.
D also got hit by giardia, easy to spot with its characteristic eggy burps. Most cases of giardia don't require treatment but I thought about buying him a 1 dose antibiotic in Namche. It was available, but almost out of date and didn't look too trustworthy, so we adopted a watch and wait policy.
I checked all this with a doctor friend, she confirmed everything we were doing was fine.
He got better in a couple of days.
At one point we had a bathroom emergency above Dingboche, there was a toilet, but a roll of paper was $4.
At Gorak Shep that was also the price of 1 L of bottled water.
This was the only time we had to buy water in plastic, everywhere else we just used tap water with purification tablets but at Gorak Shep- no tap water.
A flask of boiled water would have cost around $10 up there.
You always need to carry your own toilet paper and soap. It's very rarely provided.
As D got sick we tried the activated charcoal capsules I'd packed, they seemed to help. We're new fans of this product that we'd heard so much about from friends. I had nausea in Lukla, the charcoal seemed to take it away. Maybe it was coincidence, but it seemed to work.
None of us ever get blisters because we don't wear two pairs of socks and only buy boots or shoes that fit. I like to wear thin socks. More on that in this trekking gear page.
You actually don't need boots either, not if there's no snow.
There are Too Many Trekkers Up There
As I said before, October is peak time. We were shocked by how many people were up there, having only trekked in Nepal in winter the last couple of times.
Of course, we're part of the problem, we were there too, we have no right to the mountain although some we met had a seriously entitled attitude.
It always seems to be older folks (in tour groups usually) with inconsiderate manners and entitlement issues.
At some points, the Everest Base Camp trail was clogged solidly with trekkers plodding onwards.
Sometimes you can overtake, sometimes you're stuck behind them.
Most of these trekkers were in large tour groups, adding guides and multiple porters with ridiculous amounts of baggage to the congestion.
Base Camp itself was a mosh pit of people scrabbling for photos.
You'll notice that our photos were taken a little away from the main pile of ice and prayer flags that mark the spot.
Again, some of the tour groups were being unpleasant, even aggressive as they rushed to get their trophy photo.
Whole towns were booked out with not a bed to be found and lodges and guides wielded their power by tapping into wallets.
Avoid the lodges the tour groups are using wherever possible.
I wouldn't trek in October again, we've had much better experiences trekking in February and March and actually missed the snow. We had no snow on the trails at all and temperatures hardly got below zero, but we did have stunning blue skies and mostly clear days.
That is what brings the trekkers in October.
For the record, contrary to the information in a recent Facebook meme, THERE IS NO LITTER UP THERE AT ALL.
These stupid, sensationalist memes that people spread with no knowledge of facts are deeply annoying. I saw one woman drop one sweet wrapper in 3 weeks.
There are actually frequent bins and recycling bins, never full or overflowing.
Prices are High, It's Expensive, There are Scams
As I said above, lodges being oversubscribed pushed prices up.
In Deboche we were royally scammed by a guide/lodge owner and had to pay $10 per room. That probably sounds cheap to you but the deal always was that rooms are free, you just pay for food.
Most places charge $2 per room, Lobuche had a fixed $7 rate.
There's too much to tell here and the room prices story and system is complex, but we wised up after a few days and made a point of staying in the towns the tour groups skip.
Rooms suddenly became free again and lodge owners were really pleased to see us. We were happy to give them our cash for a better experience.
On the trek in from Phaplu to Lukla, before we joined the main EBC trail, we had none of these problems. Rooms were free or cheap, food was better and more abundant.
Once we joined the EBC tourist trail, food prices almost doubled.
Accommodation Isn't Luxury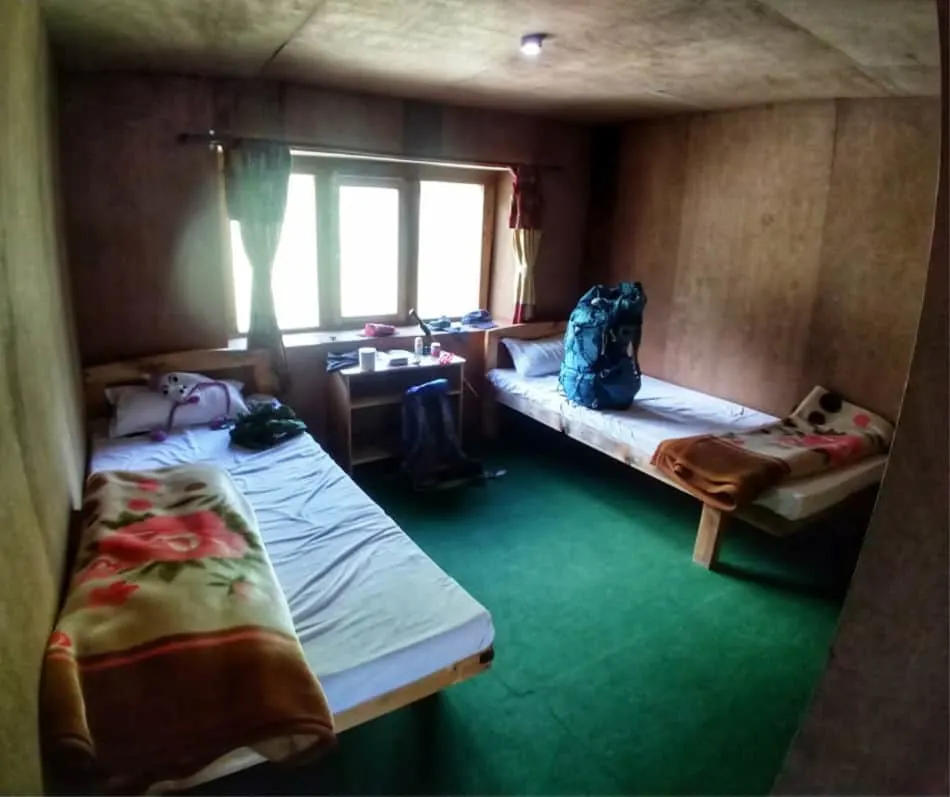 Accommodation is very basic, cold and variably clean. I'm totally cool with that, this is my third high Himalayan trek, but if you're new to this you need to know what to expect.
Rooms generally have 2 single beds, wooden cots with thin foam padding. A sheet, pillow and pillowcase and some sort of blanket or duvet are always provided. Don't expect them to be washed between customers.
We saw a few rooms for 3, but never one for 4 other than the guides' and porters' dorms.
Most trekkers bring sleeping bags, I just had a fleece liner and was, more or less, warm enough without a bag.
You will need to wear most of your clothes in bed, a dry change of clothes is warmest but not always possible. A warm hat to wear in bed is essential.
Renting a sleeping bag in Kathmandu was 80 Rs / day at High Himal in Thamel ( less expensive than Shona's) that's under $20 for 3 weeks hire, but a bag is 1.5 Kg and I didn't want to carry it. I was happy with my choice to not take a sleeping bag.
We've spent 2 winters in rural Romania at far lower temperatures and only ever used a regular duvet, so I was confident that I wouldn't need a sleeping bag for the Everest trek.
Also, 2 years previously, we'd trekked to Namche and beyond without sleeping bags, in winter. It was fine and we had -10 C in Namche at that time of year.
I'm glad the children had bags, but I was fine without. If you want more info on Nepal with kids, it's here.
Rooms are usually hard-board cubicles with no sound or heat insulation. You can get rooms with attached basic bathrooms, but usually you'll be sharing a toilet cubicle which may be squat or western.
They're not terribly clean.
Toilet paper needs to go in the bin and you'll be flushing or washing down with a barrel and scoop.
There will be no heating, or, in winter or at high altitudes, there will be a yak dung stove in the lodge's dining room.
I love these simple lodges (sometimes called tea houses) and the kids find them cosy. They're fun and authentic, but I can't imagine my mother staying in one.
Food and Nutrition Aren't the Best
We ate a lot of potatoes. Breakfast lunch and dinner, fried potatoes with a tiny amount of added onion, capsicum or cabbage. Top it with an egg for protein.
At Gorak Shep fried potatoes with veg and egg was $8 a plate.
Other than potatoes there are fried noodles, dal baht, momos, Tibetan bread and maybe pasta with tomato sauce.
There are plenty of soups but they're not usually substantial enough for hungry trekkers. I would have garlic soup often, Chef and the boys would go for the biggest, cheapest thing they could find.
Dal Baht is delicious and one of my favourite meals in the world. It's a good bet if you're starving because top ups come free but in very touristy lodges portions became small and top ups disappeared. $8 was the highest price we saw for dal baht. In Kathmandu we pay under $3.
Before anyone goes stamping their feet and complaining about rip off prices, remember that everything you eat up here has to be carried up, often for days. Everything just costs more the further you get from transportation and at Gorak Shep we were maybe 8 days from a road.
So filling up on carbs was easy, but protein and veg weren't a big feature. Dal baht has a very tiny amount of lentils in the dal soup and mostly consists of rice and potatoes.
Over 3 weeks the restricted diet starts to be tough and I lost my appetite completely from time to time. Be sure to take your usual vitamin and mineral tablets, you'll need them. We all lost a lot of weight, a stone each, possibly more.
Taking the Kids to EBC – Not Difficult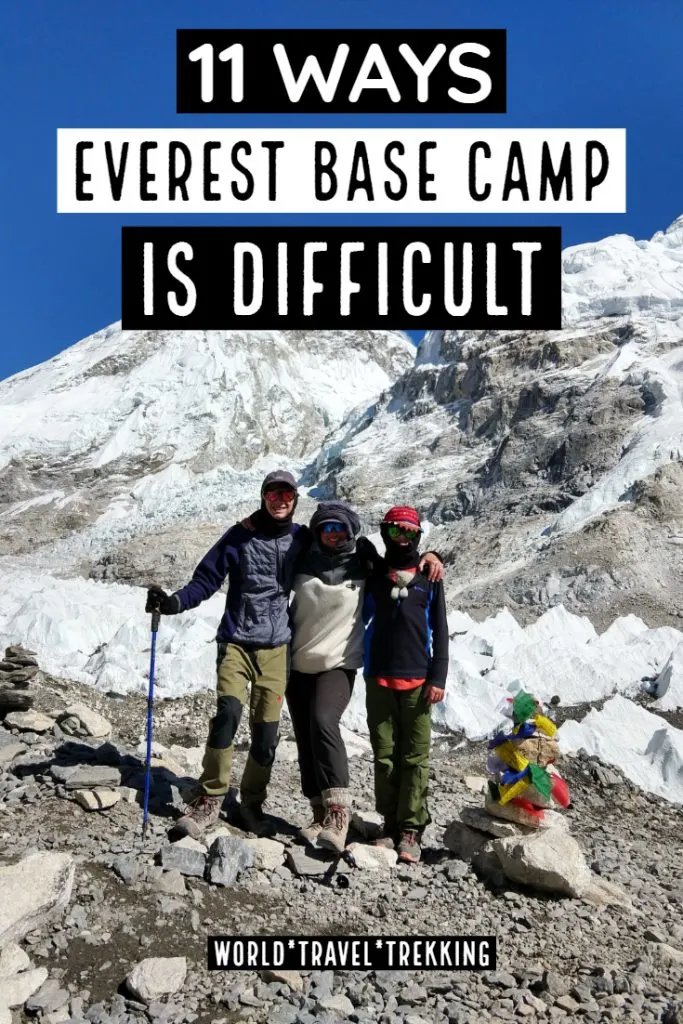 D, at 14 and a head taller than me raced ahead hardly noticing his pack. Little Boo and I trailed behind. He has short legs, I'm 52 and not very fit. Sometimes he had to hand his pack, just 2 or 3 Kg, over to his dad.
They were great and did incredibly well, so taking the kids to Everest Base Camp was no difficulty at all.
They both loved meeting people and chatting as we walked, D more so, Boo is still shy until he gets to know people.
They were a dream to trek with but they've had plenty of experience in walking, packing, travel, thinking for themselves and just being resilient, sensible and adaptable.
I wouldn't take kids below about 10 years old. I'd have to be very sure that any child wouldn't be a danger to themselves or others.
You need to keep a very watchful eye on kids up there and keep them ultra close.
At one point we passed a school group accompanied by teachers and porters, 16-17-yearolds. They didn't have a clue what they were doing and almost bowled Boo and I off some steps walking 4 abreast and chatting between themselves.
No way, on this Earth, would I allow my kids to go on an Everest Base Camp trek in a school group such as that. It's dangerous up there.
One girl was trailing behind complaining of sore legs already, after less than half a day walking.
It's a big responsibility taking kids on such a long hike, where safety is an issue, at altitude.
D wanted to complete the trek for the bragging rights, Boo wasn't so keen on this adventure but before we left Kathmandu he told me that he planned to be really good at it. He was, he was amazing.
He has grit and determination and broke into a run to be the first of us back into Lukla.
I'm very proud of them both. Yes, there was bribery and rewards, they both got $10 to spend on sweets last night, well deserved, and new computer games were part of our deal.
They're proud of themselves and successfully completing such a major challenge can only be good for their self-esteem.
Walking Difficulty of the Everest Base Camp Trek Itself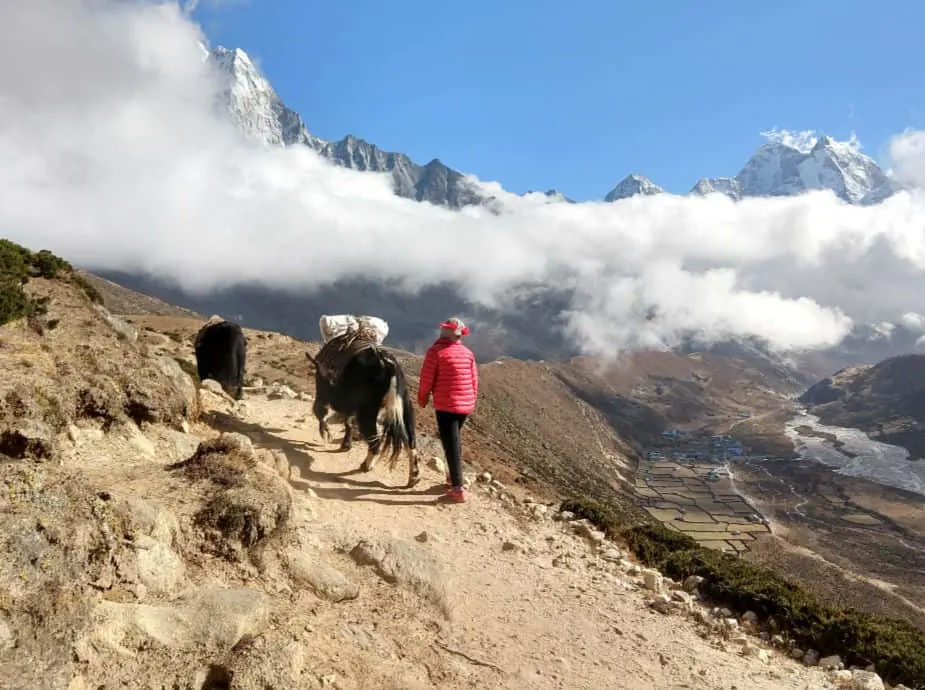 This is what people ask first, how hard is the walk?
I've put this towards the end because really, the difficulty of the walk is unimportant. The whole package is a challenge, all the factors above and more. The walk, well, most people can walk. We walked with people in their 60s and 70s, I am in my 50s, most people should be able to do this trek and high fitness isn't really required
If you're slow, go slow, that's fine. Let the hares race on. It's cool to be the tortoise and you'll likely acclimatise better.
This is why I say to not go with a tour group, you need to go at your own pace.
Yes, it's a tough walk. Every day you will gain altitude and lose it again as you drop to a river crossing. Then you'll face a steep uphill section to get back to where you were previously. This is no gradual ascent.
Above Lukla the trails are pretty good and well maintained but you'll still find rough, rocky and treacherous areas. Below Lukla, on the way to Phaplu, trails are bad and damaged by heavy donkey traffic.
The distance from Lukla to Everest Base Camp is under 60 Km, not far. The major difficulty lies in the altitude.
For me even turning over in bed made me breathless once we were high, so every uphill step made me pause. I aimed to never increase my heart rate because recovery with insufficient oxygen took too long. Slowly slowly, one step at a time.
We hardly noticed our packs after the first day or two, I was carrying around 12 Kg and was very glad that I'd invested in this good, new, trekking pack. It made all the difference. Chef carried between 15 and 20 Kg.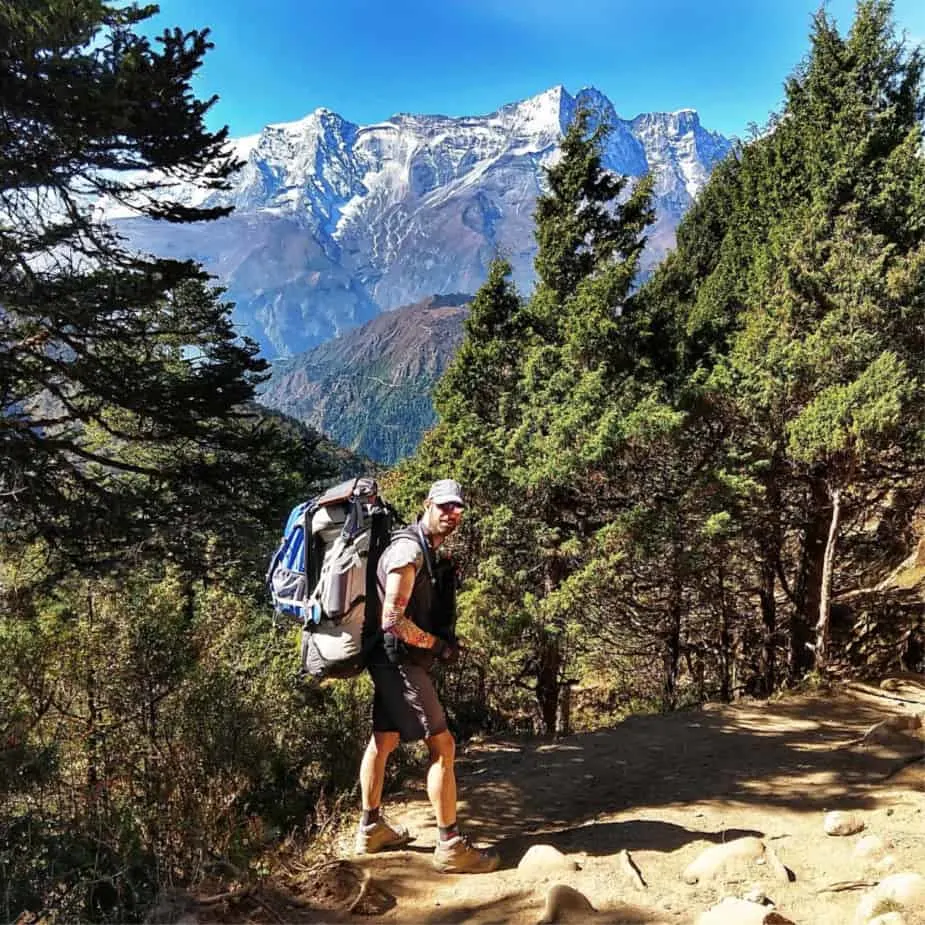 The hardest parts are obviously the up and down bits, flat parts do exist and they are easy. Some people find downhill harder, it's tough on knees, others, like me, struggle with uphill section.
The longest, hardest, uphill sections are the climbs to Namche and to Tengboche, both took us around 2 hours. Coming down those hills takes under half that time.
One of the hardest parts for me was the walk from Gorak Shep to Base Camp. You can see Base Camp in the distance, it looks like it's 10 minutes away, but the walk along the moraine of the Khumbu glacier took us 3 hours there, 2 hours back.
The path dips, weaves and climbs and at above 5,000 m altitude effects are brutal.
Because the Everest trek is a there and back rout (unlike the Annapurna Circuit, for instance, which is a loop) coming back down gets pretty boring as there is little else to see.
You can take different routes, go to Gokyo Lakes, Kumjung etc, but we weren't prepared to take kids over the Cho La pass even in summer ( our guide friend said this was a very bad idea too) and by the time we got to the Gokyo turn-off near Namche we'd all had enough.
We stuck with just the EBC plus the Phaplu walk-in.
Would I do it again? No. I've done it, I have no need to go back. this was also our second time as far as Tengboche, we took the kids for a walk up here when they were younger.
Would I do more high altitude trekking? Yes, of course, but not right now. I need time to recover and use good wi-fi before even thinking about any more hiking.
Did I love it up there? So much.
It's Scary on the EBC Trek
This is just me, I'm a wimp and terrified of my own shadow sometimes.
I really don't like heights and there are a lot to deal with.
Once you're over the hurdle of the flights on tiny planes and Lukla's short, uphill, landing strip, there are paths with precipitous drops, landslides and of course, the bridges.
The bridge above (see video, top) is just below Namche and I find it terrifying. It amazes me that so many people walk across it with no apparent fear at all.
It scares me and is a major issue.
My desire to be up in the mountains is stronger than my fear though, so I just have to woman-up and deal with it. I get there.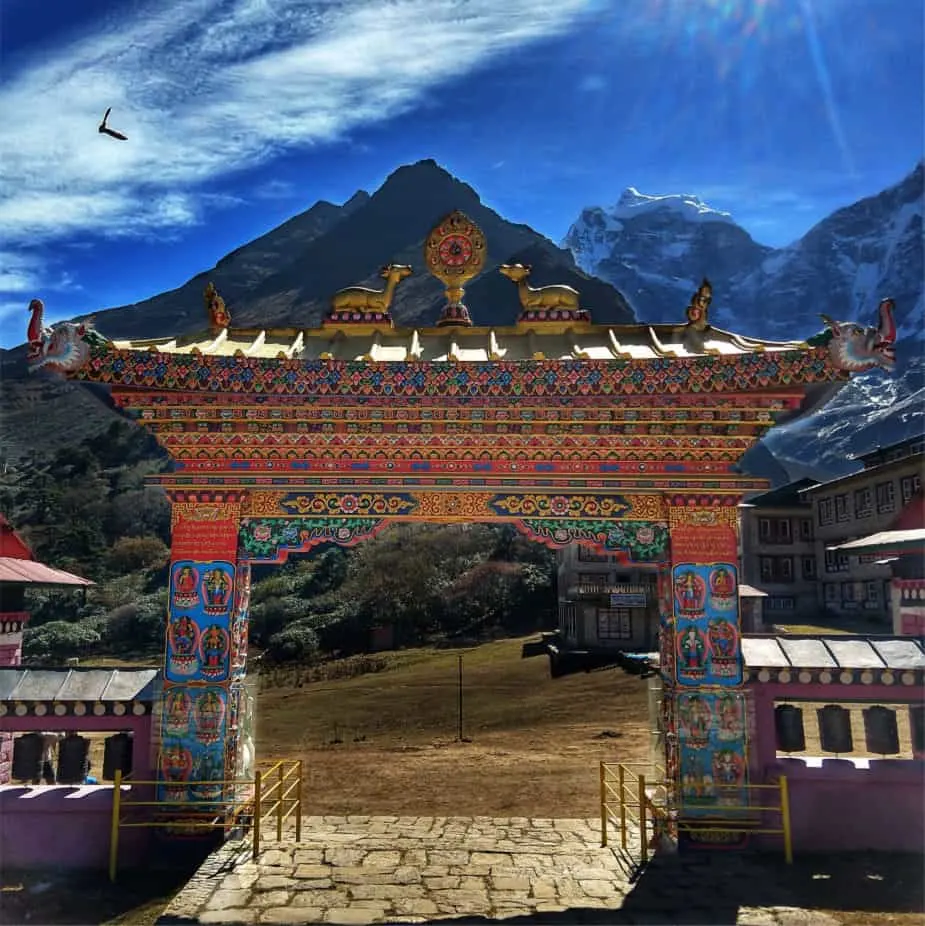 So yes, it was hard. I don't think any sane person would expect it not to be.
Tackling hundreds of feet of uphill and downhill on rocky terrain would present most people with difficulty at sea level.
The lack of oxygen at over 5000m, oxygen here is is at around 50% of normal levels, is something you feel on top of that.
I'm missing the mountains already despite being back in wonderful Kathmandu with more weeks of exploring ahead of us. It's always hard to leave the villages, people and views of the Khumbu.
A little video on some of the sticky, scary, annoying and hard parts on the Everest Base Camp Trek is at the very top of the page . Want to read more about Nepal? We cover Kathmandu, Chitwan, Lumbini, Bhaktapur and more on this site, look in the related posts below.
If you'd like to hire a car during your stay, use this car rental comparison tool to find the best deal!

We also suggest you take a look at this company to get a quote for all kinds of the more tricky adventure or extended travel insurance.

Try Stayz / VRBO for an alternative way to find rentals on homes/apartments/condos in any country!