I have my own microfibre travel towel as does my husband and both of the children. We've been travelling with them full-time for the last 4 years and before that we'd take them on shorter vacations and use them for sports, for visiting the pool, we even use them at home. They're smaller to pack, smaller to store, easier to wash, quicker to dry, antibacterial and generally all round fabulous. I honestly don't know why people still buy regular full-size towels, they're that good. We took a look at what's on the market ( including microfibre cooling towels) and review a few of the best makes and types to help you choose the best travel towel for you.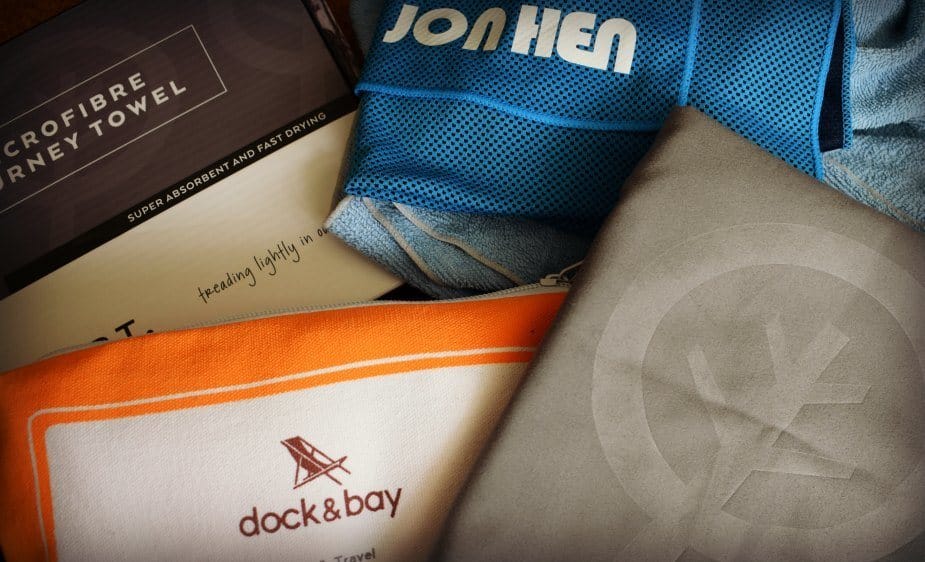 Choosing a Microfibre Travel Towel
What Size Travel Towel to Buy?
This choice is heavily influenced by gender and by proposed use. My husband is more than happy with a tiny towel to wrap round his waist, these towels are supper efficient at drying so size isn't really a consideration when it comes to absorbance. As a woman I like a larger towel to wrap right around me from armpit to knees. I also have long hair so to wrap and contain it effectively after a shower I do need a second, not quite so large, towel. The size you buy for your children will be dependent on their age and gender, medium should be adequate for boys, larger for teenage girls and up.
Some microfibre travel towels come in small medium and large, others come in a good range of accurately measured sizes. We'll highlight some for you below.
Weight and Size
If you're packing ultra light, maybe travelling carry-on only, you'll want to minimise size and weight. These microfibre towels are all small and weigh little, but some are significantly heavier than others. Typical weights are 200- 300g for a large size. Know your maximum weight allowance for your airline, these do vary dramatically.
Microfibre is an incredibly fine synthetic fibre which can be found in multiple products these days. A micro fibre towel dries four times faster is six times lighter and takes up a 1/8th of the space of a similar size standard towel. These towels seem to be very much a towel for life. As mentioned, some of ours have been heavily used for 20 years retaining their looks and functionality. I'd say that was a big advantage. Unfortunately they are not bio degradeable and they are made from non renewable resources . Like most things, it's a compromise, nothing is a perfect solution to saving the planet. They come out of the washing machine almost dry, so if you're the sort to use an electric dryer, no more tumble drying huge heavy towels and wasting the planet's resources that way.
Micro Towelling or Micro Fibre Suede Finish?
The majority of the microfiber travel towels on the market today come in a soft suede finish. Some have a luxury feel, others are too stiff. The Eco Dept towel below has the nicest feel of any that we tested. Towelling finish ( micro towelling) is also available it has similar properties to microfibre but a more traditional feel. We own some of these too, they are almost 20 years old and still going strong!
We Tested The Following Microfibre Towels for Travel, Sport, Camping, Gym or Home Use
EcoDept Microfibre Journey Towel #The Best Travel Towel We've Found#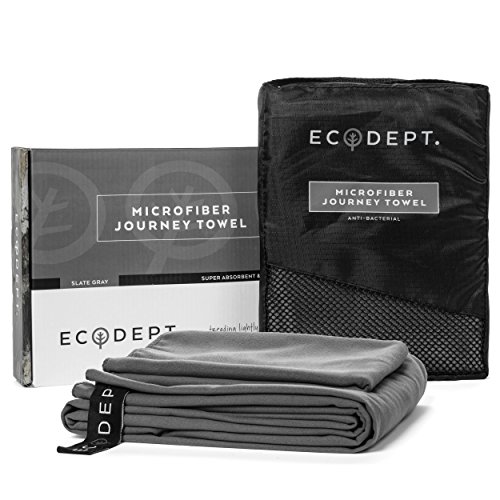 The softest, most luxurious feel of our selection.
Comes in its own bag, inside a quality box. Great for gifts
Comes with a free, small (60 x 38 cm) hand towel. Brilliant!
The soft grey is a lovely choice, also in hot orange and green.
Embossed Eco Dept logo adds to the luxury image.
The 132cm x 81cm ( 52 x 32 inch) size, wraps around me with full armpit to knee coverage.
This is a new purchase, but quality seems excellent.
This towel costs just a couple of pound or dollars more.
Ribbon hanging loop with snap fastening.
215 g, weighed by me.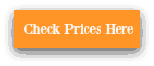 Mountain Warehouse Microfibre Travel Towel in Micro Towelling or Standard.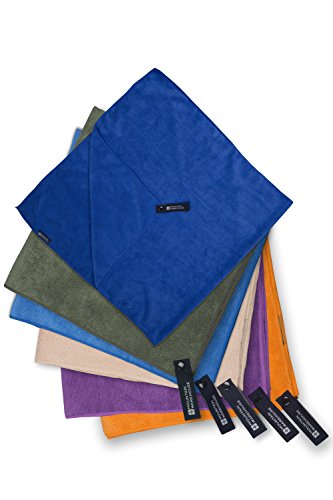 We have owned multiple travel towels from Mountain Warehouse for 3+ years, they've been used and laundered almost daily, have not faded and are good as new.
These are some of the cheapest travel towels available
They come in a range of sizes.
The large, at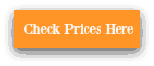 Dock and Bay Gym & Travel Microfibre Towel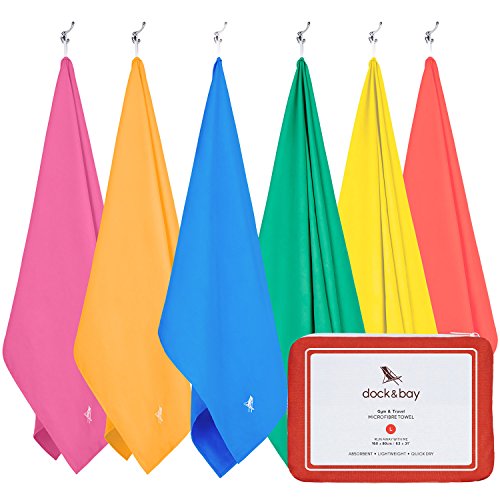 Comes in a neat canvas and mesh zip bag.
A big range of strong, vibrant colours.
The embroidered Dock and Bay deck chair logo says "summer holiday".
Edges are hemmed rather than overstitched.
The Large at 160cm x 80 cm ( 63 x 31 inches) is plenty big enough, from armpits to knees. Extra Large also available, Large is plenty big enough for a beach towel.
Elastic hanging loop
308 g weighed by me, excluding bag.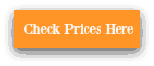 Jonhen Extremely Cooling Towel
I saw these cooling microfibre towels while I was researching travel towels and one just flew into my shopping cart. They cost almost nothing and they work ! You simply wet them in room temperature water, dry them slightly by squeezing and snapping, and they stay really cool for hours. Great for after or during workouts, including running, or for menopausal flushes. Also good for any tropical climate.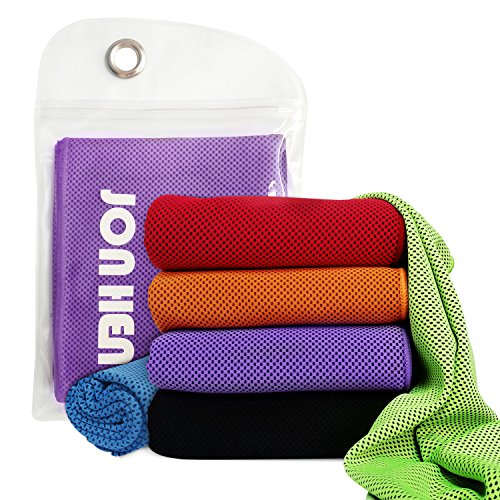 Amazing cooling
Works instantly
Tiny and lightweight ( 30 cm x 100 cm, 11.8 inches x 40 inches)
Great for sports, tropical climates and menopausal flushes ( we love it!)
Low cost
Choice of colours
Tiny waterproof carrying pouch.
Weight negligible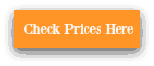 Which Microfibre Travel Towel For You?
Our pick is the EcoDept, it wins by a long way, but the Mountain Warehouse towels are solid performers too. Just pick your size, pick your colour and pack your bags. Happy towelling!